ON THE TRAIL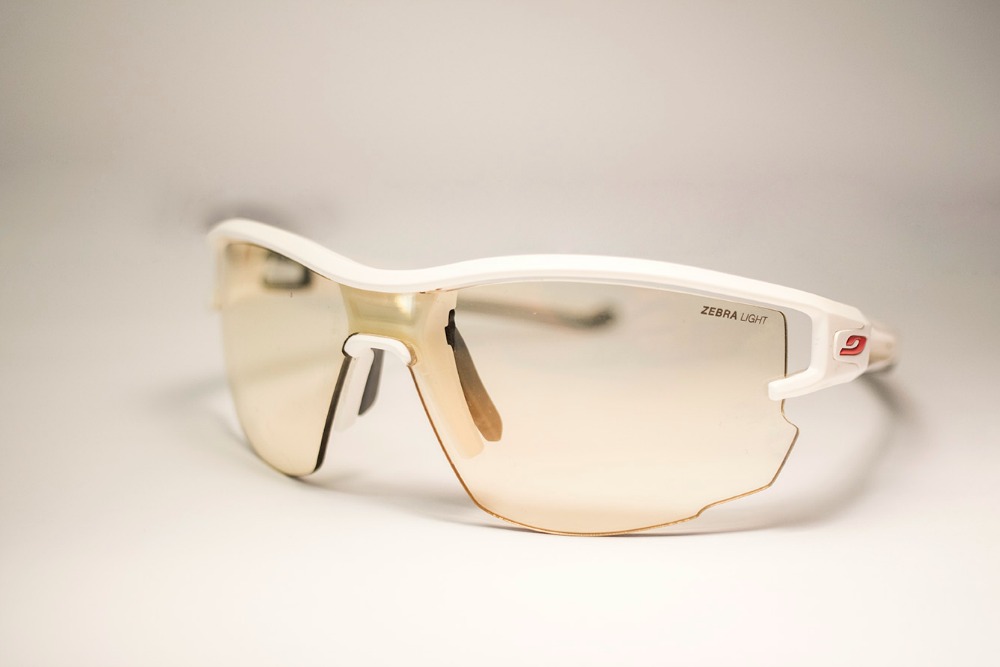 Founded by Jules Baud in the French Alps way back in 1888, Julbo was born in the mountains and made specifically for mountaineers looking to protect their eyes while scaling Mont Blanc. Fast forward to the present day, and this brand is still at the forefront of the mountain sport innovation game. The Aero model was designed by some of the best ultrarunners and mountain bikers in the world. Julbo had their priorities lined up when they came up with the Aero because low weight and maximum breathability are winning features. These shades weigh in at a featherweight 32 grams. Because of the Air Link dampening temple system and a wide field of vision, you tend to forget that you are wearing them. And this should be one of the ultimate goals when it comes to sport performance eyewear—functionality without the bother. The earpiece grippers are soft and comfortable yet keep the Aero firmly in place. The Aero also has subtle venting spaces between the frame and lenses—and that means no fog. Three lens options have you covered for tint preferences. I tested the Zebra Light photochromic lens. It instantaneously adjusts itself to changing light conditions which is a beautiful thing when you're on an evening rip on a single track that goes in and out of the woods. Overall consensus, chapeau Julbo!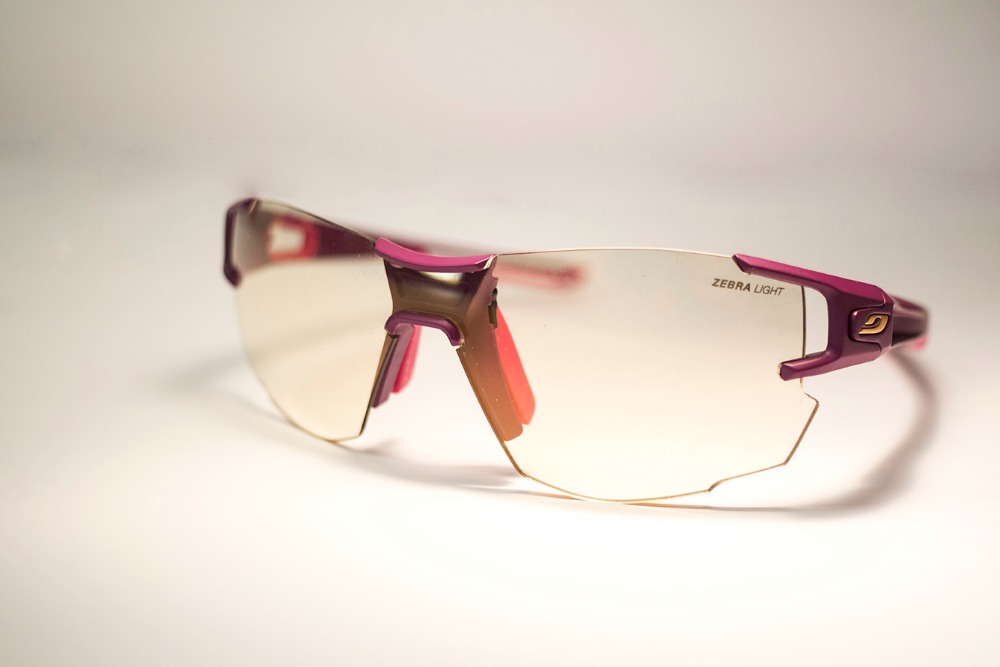 Designed for smaller faces (including, but not limited to, women), the Aerolite is a descendant of the Aero with all of the same design and ventilation, but with rimless lenses and an ultra-light frame. The Aerolite also comes in the photochromatic and Spectron lens, but we tested shades with the Zebra light lens. This lens is designed to resist fogging and transition quickly through three different levels of protection as you transition from sun to shade. Our tester rode, hiked, and rafted through canyons and rock formations in southern Utah and was super impressed with the responsiveness of the Zebra lens. Just like the Aero, these frames have a 3D nose fit allowing you to adjust fit in all directions. Riders with slim noses must meddle no further with slipping shades! Despite being so light, the Aerolites have striking durability, so feel free to take them up peaks, down valleys, and over your handlebars anytime.
ON THE WATER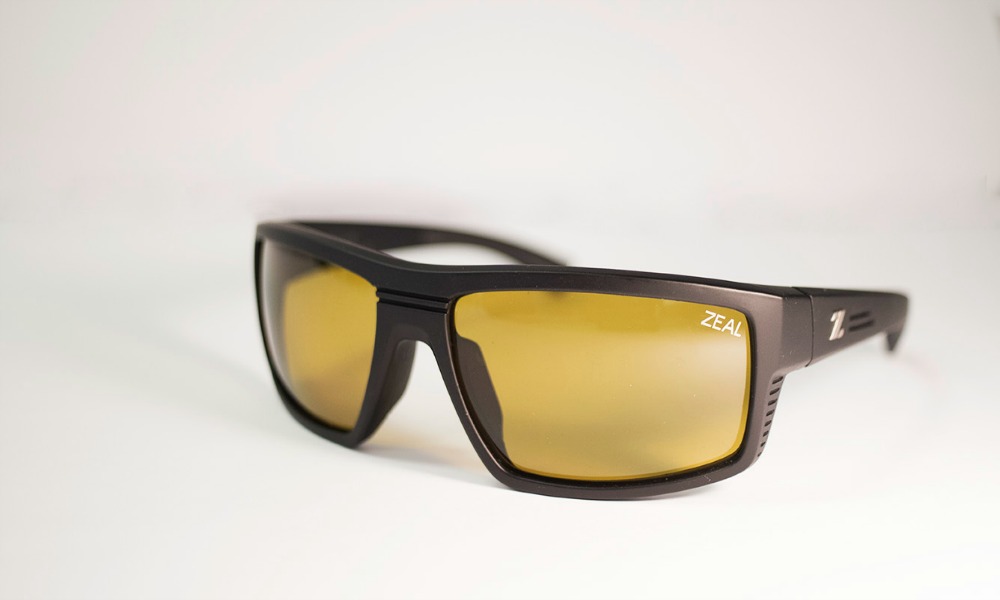 ZEAL Optics, based in Boulder, Colorado, is run by a small team of mountain enthusiasts who love to test their products in the wilderness after creating them in the office. ZEAL produces all of their sunglasses with plant-based materials in the frames and lenses with the principle of using less and giving more. The Decoy is a pair of shades with the kind of style and features that allow it to be comfortable in a multitude of situations. It comes with ZEAL's Automatic lens which is designed to keep your eyes comfortable in any light scenario, from dawn till dusk. This yellow-tinted lense combines photochromic technology and polarized protection all-in-one for enhanced clarity. The Automatic lens also features a backside Anti-Reflective coating that eliminates unwanted reflections or glares. Aside from the lens technology, the Decoy has tough, sturdy frame made with ZEAL's plant-based Z-Resin material. It is up for anything. Efficient Proflex Rubber used for the nose bridge and temples rounds out the package. You can do as many crazy maneuvers with your dome as you want and these things are not falling off. They also sit firmly on the upper part of your head for convenience when heading indoors or when the sun goes all the way down. ZEAL is the real deal.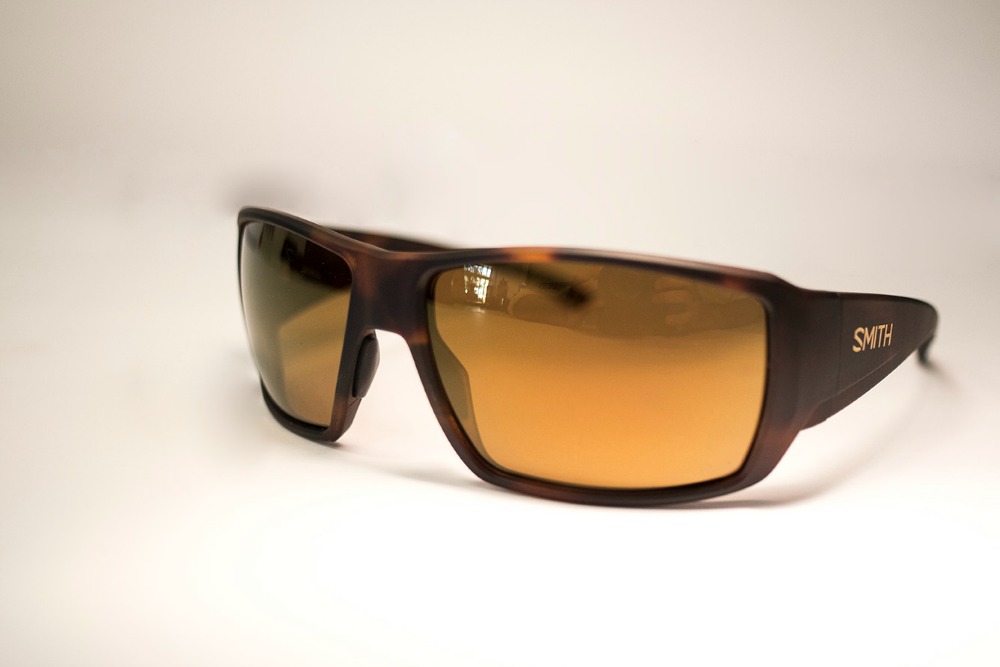 Smith Optics has been a well-established player in the active mountain lifestyle game for a long time. On their impressively long list of styles from casual lifestyle to sport performance, the Guide's Choice falls somewhere in the middle with a style and versatility that makes it a go-to for almost anything. The Guide's Choice is equipped with a lens that combines ChromaPop with polarization to enhance clarity and natural color.. This makes the Guide's Choice optimal for, you guessed it, fishing guides. And anti-reflective and hydroleophobic lens coatings shut out any annoying bright flashes. The frame is impressively light, especially for its slightly robust shape. It gives the wearer medium to large coverage and doesn't allow light to creep in from the sides. This is often essential when you're spending a long bluebird day on the water. Also convenient for being in the river or any active situation is a detachable sunglass leash that comes with the Guide's Choice.
ON THE TOWN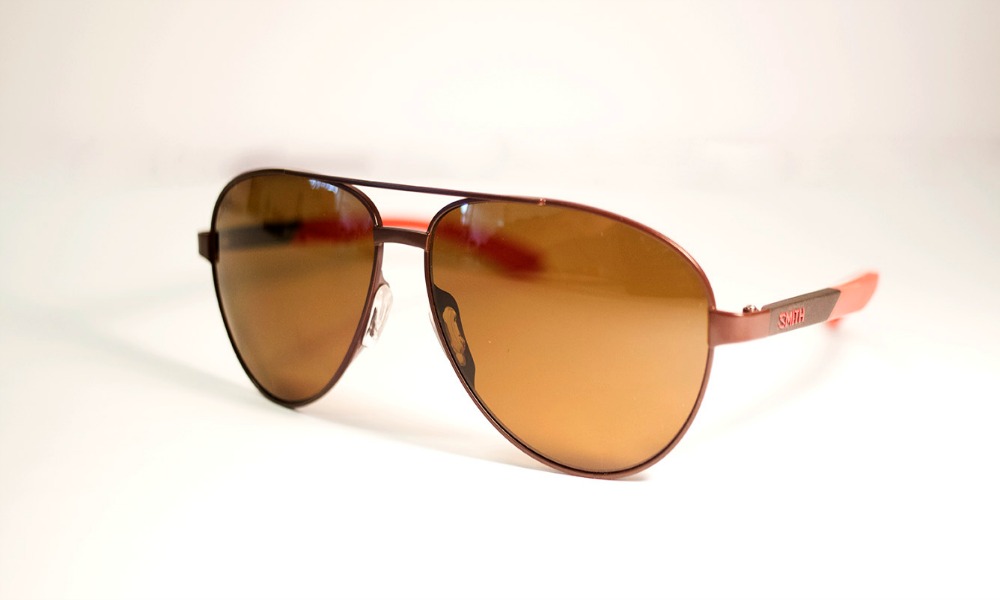 Do you love the timeless cool factor that the Aviator style embodies? Are you a huge Top Gun fan? Do you wear your sunglasses at night? If you answered yes to any of these questions AND you are looking for a fresh take on your favorite style, look no further than the Salute from Smith. The Salute is the culmination of the promise of the future meeting the best of the past. The polarized and carbonic lenses are optically tuned to ensure excellent vision and ultimate comfort for the eyes. A water and oil resistant coating takes away your fears about getting dirty while rocking these. Adding more modern touches to a classic style are the adjustable silicone nose pads. Unlike the nose pads on old Aviators that are slippery and attached to thin metal that often gets bent, these pads are grippy and sit at the nose bridge for superior performance. The entire front of the frame is made with durable and attractive matte brown stainless steel. Temple arms are made with lighter megol material with the ear areas being hydrophilic pads that are smooth, soft, and grippy. The red color of these pads compliments the matte brown perfectly and provides another new take on a classic style. It's official, the Salute is the new Aviator.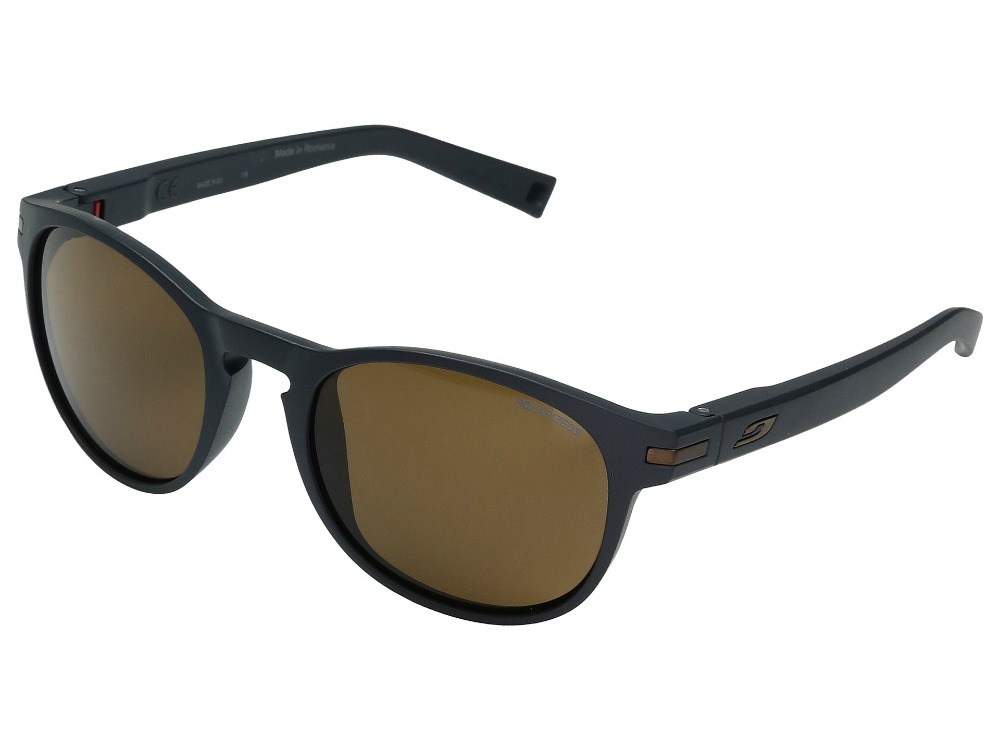 With the look of a fashion sunglass and the function of technical gear, the Valparaiso is a go-to for strolling, fishing, and/or eating ice cream in town. With category 3 polarized lenses, you can totally hit the river or the hills, but their cool-factor makes them at home on the streets. We tested the matte tortoise shell with green lenses, equipped with Rx capabilities, which improves sight on all levels (not just looking, but how you look). The frames are super stable and rest easy on your face. A bit to heavy to wear running, this pair is perfect for enjoying a beer, as we did several times during our testing period (just to be sure). If you do take them out fishing, you can take advantage of their polarized lenses with no worries that they'll fall into the water. Of all of the shades we tested, we were most impressed with the stability of these pair. They stayed in place through bouncy drives, dancing evenings, and afternoons spent rummaging through gear, making them one of the best for focusing through your big life.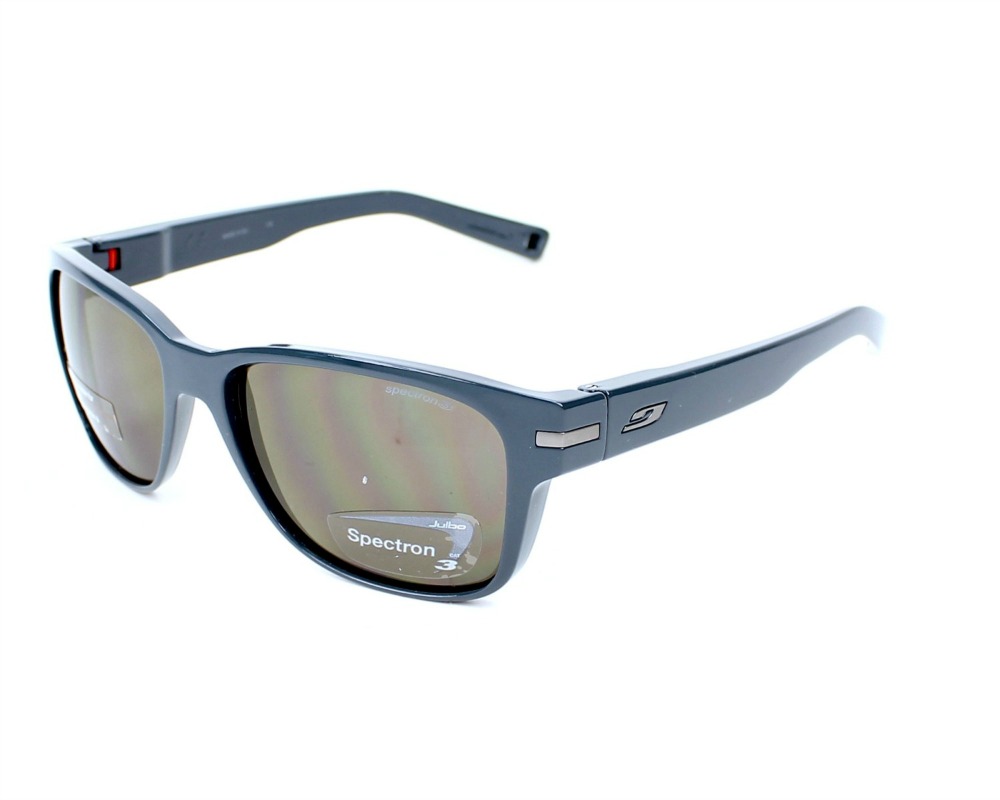 We picked up the matte dark blue Carmel and immediately thought they were too light to survive in the wild. We were wrong. Built with light, well-fitting frames and polarized 3 lenses, these shades work just as well on the street as they do in the woods. Unlike most other brands, Julbo has locked down the nose fit, as these rest lower and more comfortably than other models. We transitioned from work, to the river, to the bar deck without changing sunnies. The best part about all Julbo models is the lens material. While some other products will fade and scratch over time (you've seen 'bubbles' appear on your older models), Julbo lenses are individually cut to protect from wear, which we intend to do: wear them here, wear them there, pretty much everywhere.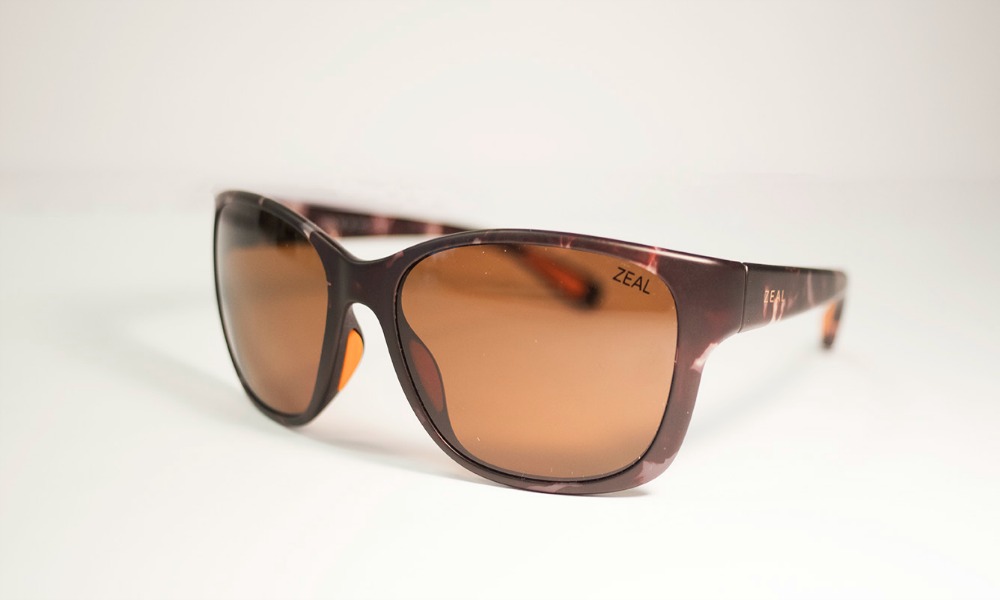 Steel Magnolias? Try Zeal Magnolia (Ok, sorry, had to).
The Magnolias are super lightweight, super adaptable, and one of our favorite sets of shades in this bunch. We listed them under best for taking out on the town because, in truth, this set of glasses is the best pair for driving through town we've ever worn. Aside from their front wheel manner, they double as equally functional trail sunnies as well. Made of Ellume bio-plastic lenses and z-resin bio plastic frames, these are a low-impact product that's good for the environment you love exploring. Additionally, these shades have their own rose-colored capabilities. Ellume lenses combine high-contrast with Zeal color filters designed for increased clarity and views. We can vouch, the world actually looks better through these shades, as will you.