A base camp for a big life!
Truckee, California is a town with deep roots in the ways of the Old West with the soul of an active, adventure-driven modern mountain town. Transportation has long been a part of the town's identity—the Emigrant Trail, the railroad, and now many forms of transportation play a role in everyday activities—mountain bikes, kayaks and rafts, skis—downhill and Nordic… . Dirt and paved trail networks are everywhere you look, whitewater rafting opportunities are abundant, and ample wilderness is right outside your back door. The town's name was changed from Coburn Station to Truckee to commemorate a Piaute chief who had guided and welcomed some of the first Europeans who came across the Sierra Nevada into the area. The story is that the chief rode toward them while yelling "Trokay!" which means, "Everything is alright!" in Piaute. And yes, everything is more than "alright" in Truckee—things are very, very good. Twelve miles from the shore of Lake Tahoe, eight miles from Donner Lake, and set along the banks of the Truckee River, the town of Truckee has a vibrant downtown area with great restaurants, shops, and its fair share of characters. It's a four-season destination with world-class adventure and recreation during every season. In other words, Truckee's got a small town vibe with big town opportunities.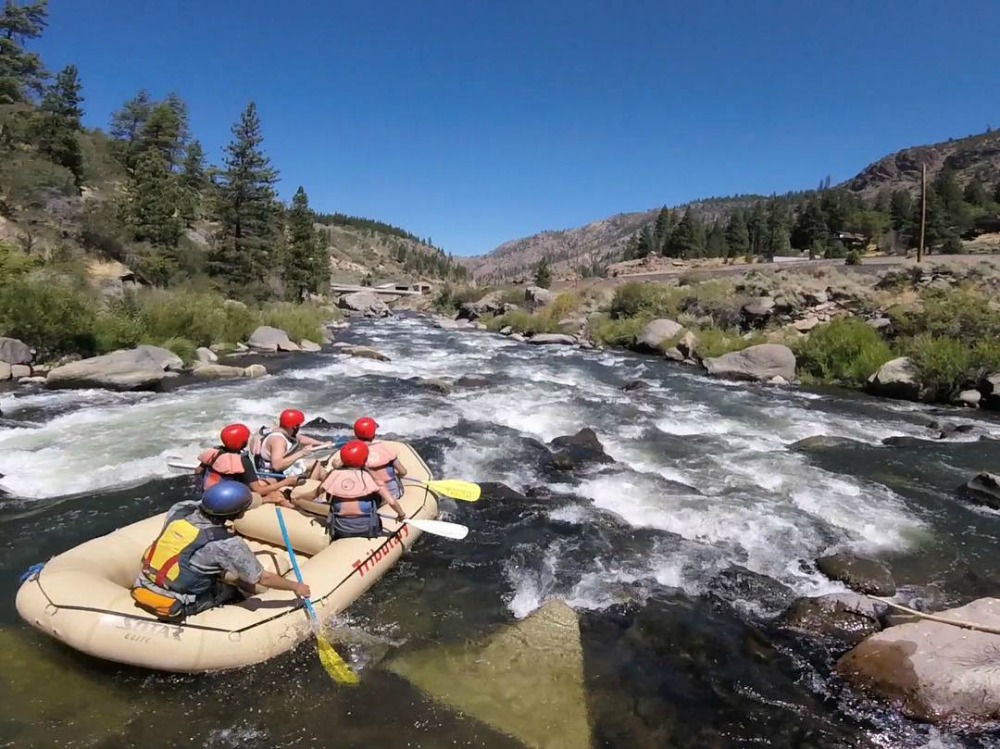 Play:
Cycling
The Truckee and surrounding Lake Tahoe area offer a plethora of jaw-dropping options for both rolling on the asphalt and on the dirt. For road biking, a must-do for all climbing enthusiasts is Donner Pass. At 8 miles in length with 1,211 ft. in elevation gain, this is definitely a legit ascent. The views of Donner Lake and the glacial valley below are spectacular with state highway 40 being classified as a scenic byway. Make it an out-and-back for a short 16-miler that demands a solid effort or connect into a longer route. Also check out the Brockway Summit Loop which can be accessed from Truckee and goes through Northstar, Kings Beach, Tahoe City, and Squaw Valley. This is a well-balanced ride of everything from flats to rollers to sustained climbing and fun high-speed descents. And the views are truly spectacular. The areas outside of Truckee around the entire circumference of Lake Tahoe offer continuous options for those on skinny tires.
For the dirt enthusiasts, the Truckee area has epic trails to shred in spades. At the top of the list has to be the Flume Trail. Starting at Spooner Lake in the Lake Tahoe National Park and ending 13 miles later in Incline Village, this trail is known as one of the best to mountain bike in all of the West Coast. An added plus for riders is that horses and dogs are not allowed on the trail. The Flume hosts the X-Terra Lake Tahoe triathlon race each year. It is famous for its cliff sections of sheer drop-offs that overlook the sprawling lake below. Other recommended rides in the area include Hole in the Ground Loop, Emigrant Trail, Donner Lake Rim Trail, and Northstar at Tahoe Downhill Trail. For all of you bikepackers, there are four warming huts in the backcountry of this region for you to make multi-day epic rides. The terrain around this area offers something for everyone with smooth dirt, rock gardens, expansive views, water crossings, etc.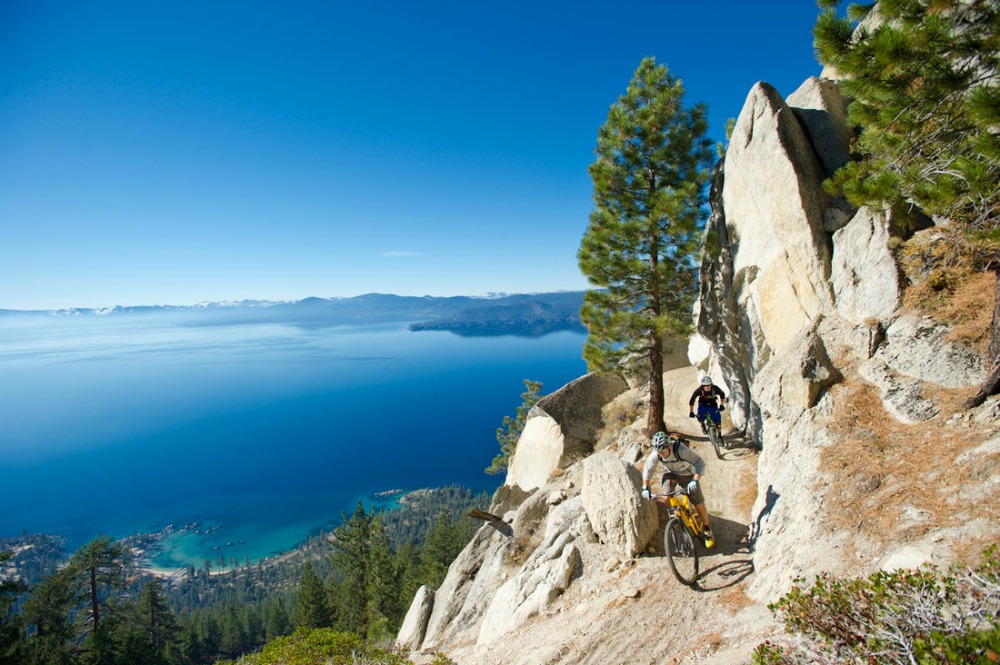 Skiing and Snowboarding
The Truckee area boasts access to the five world class ski resorts of Northstar California, Sugar Bowl, Donner Ski Ranch, Squaw Valley Alpine Meadows, and Boreal Mountain. Stay here for a week and hit a new mountain every single day. Northstar offers a growing mountainside village packed with upscale shops, fine dining, and slope side lodging. Over 3,000 acres of in-bounds terrain and 100 trails are at your fingertips. With consistently excellent snowfall, this mountain offers the best in tree-skiing, bowls, and terrain parks. Sugar Bowl Ski Resort is smaller (1,650 acres) but boasts fewer crowds and more mellow vibes. It is also known for having the one of the highest annual snow accumulations in the Tahoe area with 500 inches being the average number. Donner Ski Ranch is an excellent mountain for beginners and boasts low prices on lift tickets (we're talking an unreal $12 for five days of spring skiing). This small gem has over 500 acres of terrain on both the front and backside of the mountain and boasts beautiful 360 degree views at the top. Squaw Valley Alpine Meadows is famous for being massive (6,000 acres) and having extreme in-bounds terrain. The Village at Squaw Valley is a hotbed of entertainment and activity the mountain has one of the longest winter seasons in Northern California. Boreal Mountain is another smaller, family-friendly ski area with fun terrain and great deals on lift tickets. Come here if you want a less-crowded experience and prefer more mellow terrain.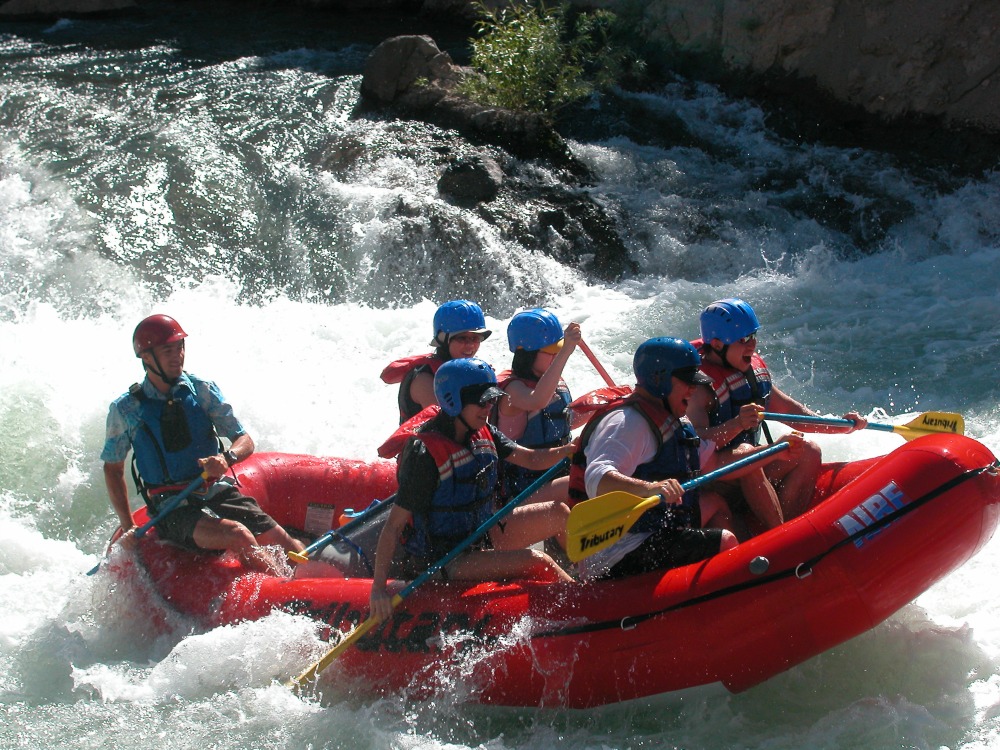 Whitewater Rafting
The Truckee Tahoe area is home to some of the premier whitewater rafting accesses in North America. Usually available from April until September, this activity is pure adrenaline, fun, and bonding for the whole group. 2 conveniently close bodies of water exist near Truckee: The Truckee River and the East Fork Carson River. Longer and more difficult options also exist with the American River and the Yuba River being worth the drive. Recommended guiding companies to go with include Truckee River Rafting Trips, South Fork American River Rafting, Middle Fork American River Rafting, East Fork Carson River Rafting, and North Fork Yuba River Rafting. The floats are always scenic and classes of rapids are abundant in all levels. Get to Truckee this summer and hit the river.
Hiking and Trail Running
It can be said with 100% confidence that the Truckee/Tahoe area is pure nirvana for those looking to explore pristine natural terrain on foot. Highlights just outside of town include Johnson Canyon, a single track that allows for exceptional views looking over Donner Lake. Just south of Truckee lies the Sawtooth Loop Trail, a nine-mile forested route with minor elevation gain that is great for a convenient run or stroll through the woods. If hiking to alpine lakes for a swim is more your jam, a must-do is the Loch Leven Lakes route. This scenic hike on the Donner Summit Trail leads to four different alpine lakes and is moderate in length. For those looking for a first-person history lesson of the wilderness area, get on the Commemorative Emigrant Trail and walk to the exact spot where the ill-fortuned Donner Party camped which is clearly marked by a large hollowed tree stump that was used for shelter and a plaque with information about their ordeal. Other areas with multiple trail options that are perfect for hiking and running include Waddle Ranch Preserve, and Prosser Creek Reservoir. Many of the Truckee Tahoe trails are dotted with an abundance of wildflowers in late spring and the vivid colors of the changing leaves in the fall. Beautiful and varied terrain, an impressive amount of trail options, and a great amount of historical significance make this area a foot-travelling mecca.
Golfing
As far as teeing it up in mountain towns goes, Truckee stands tall as one of the premier destinations in North America. The consistently perfect weather, stunning backdrop of alpine vistas, and abundance of challenging terrain combine to back this claim up. Another plus is that several world-class 18-hole courses are all located within 10 minutes of downtown Truckee. Check out Tahoe Donner Golf Course for a pristine course with towering pines, granite rock formations, meandering creeks, and great elevation changes. This is a public course with ridiculously good value and greens that are consistently voted "Best Greens in the Tahoe Region." Other must-plays are the championship courses at the Resort at Squaw Creek, Northstar California Resort, Lahontan Golf Club, Tahoe Mountain Club, and Nakoma Golf Resort. The crown jewel of golfing in the entire area has to be the prestigious Edgewood Tahoe course on the shores of Lake Tahoe. This is where the American Century Championship celebrity tournament happens every year. Edgewood is truly an iconic course that offers the most harmonious experience between the game and the natural surroundings.
Fishing
The Truckee River is certainly famous for its consistently good year-round angling. Fact: this body of water continues to produce the largest trout in the Lower 48. Local fisherman divide this river into 2 reaches of West and East. West Truckee River offers a variety of fishing experiences from pristine Sierra wilderness to urban fly fishing in town. Many an angler have been known to reel in beautiful trophy trout on this section of the river. East Truckee River tends to be larger and slower-moving with cottonwood and sagebrush banks allowing for excellent Rainbows and Browns. Other sweet bodies of water to throw a fly into are Little Truckee, Carson River, and Walker River. The excellent variety of settings from alpine streams to calm meadow water rivers gives you awesome fishing opportunities no matter what your experience level.
Stay:
The Ritz-Carlton, Lake Tahoe $$$
Located at the base of Northstar Resort, the Ritz is the place to stay for those who want to be fully pampered during their mountain adventure. Features include a slope-side spa, kids' programming, and residential suites. Relax at the heated mountainside lap pool or utilize the state-of-the-art fitness center. The suites come in a variety of sizes and pricing options and regular rooms are available as well. If you are feeling big-time, upgrade to the Club Level and have your own personal concierge, continuous eating and drinking options, VIP lounge with a fireplace, and the best views of the entire complex. ritzcarlton.com
Northstar Lodge by Welk Resorts $$$
Also located at the base of Northstar ski area, Northstar Lodge does luxury like no one else and even boasts its own gondola for supreme ease of mountain access. Exteriors and interiors are centered around a high-alpine sensibility and modern mountain charm with the use of all native materials. Each one of the villas features designer appliances and ranch house-style interiors. The lodge also has excellent amenities including a private owners' lounge, media theater, and ski/boot valet. Northstar Lodge also puts on a list of fun and unique activities including paddle boarding, kayaking, hiking, a drone flight school, a cupcake wars competition, and craft beer tasting of North Tahoe's best local brews. welkresorts.com/lake-tahoe
Hampton Inn & Suites Tahoe-Truckee $$
Just minutes away from downtown Truckee, this hotel receives yearly top rankings for value, service, and overall experience. The location is ideal for access to Donner Lake, the Truckee River, many golf courses, and a whopping 6 different mountain areas. An outdoor pool, fitness center, large meeting space, business center, and complimentary hot breakfast are some of the amenities available. 109 guest rooms and suites are on offer and include the Hampton brand guarantee of cleanliness, comfort, and modern technology. hamptoninn3.hilton.com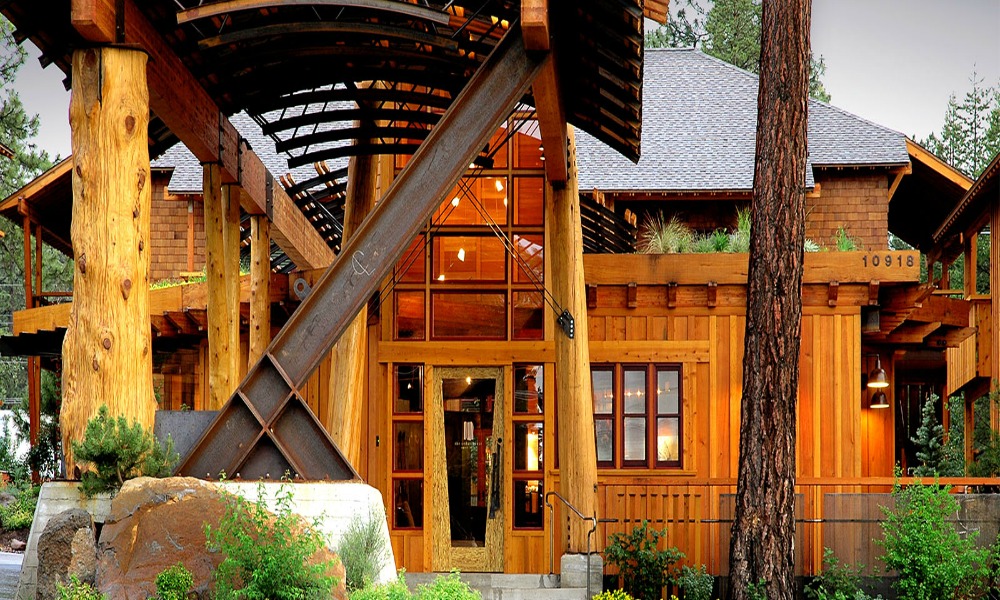 The Cedar House Sport Hotel $$
This is a European-inspired, modern mountain hotel that caters to the active lifestyle. The Cedar House has won numerous awards such as multiple tripadvisor.com Certificates of Excellence and a medal from Outside Travel Awards. The structure is a 100% Green building and everything is LEED certified. Sitting in a quiet and pristine location just 1 mile away from downtown Truckee, the Cedar House also welcomes your furry four-legged companions. Guest rooms are modern, cozy, minimalist, and designed for two adults. Be sure to take advantage of the large outdoor hot tub, free breakfast buffet, and more. cedarhousesporthotel.com
The Truckee Hotel $$
The Truckee Hotel was established in 1873 and was originally used by travelers as a stagecoach stop on the Dutch Flat Wagon Road. This historic building was extensively renovated in 1992 and the interior was recently remodeled with warm earth tone color carpeting, linens, finishings, and rich wood complements. Rooms are generally meant for two people with four family-sized rooms also available. Most of the rooms are European-style, equipped with a sink with a bathroom being down the hall. Enjoy a complimentary breakfast as well as a great live music venue in the hotel's first floor area. truckeehotel.com
Eat:
Red Truck
Head chef Larry Abney decided to let his culinary talents loose on the streets of Truckee after an impressive 20 years of experience in professional kitchens. If you're in town, be sure to keep an eye out for the boldly painted Red Truck. And check out their new permanent location at the Truckee Tahoe Airport. Everything is made from organic base products and the flavors are creative and bold. Think Asian, Middle Eastern, and Mexican inspirations such as the Naan Dog (beef hot dog with Red Truck mustard, hilbeh, caramelized curried onions, and spicy Indian relish), Naanwich (naan bread, hummus, labneh, fattoush, hilbeh, and tahini yogurt with your choice of pork, chicken, coconut curry lamb, or seasonal vegetable gashi), and tacos (with tzatziki, slaw, cucumber pico, and crispy Quinoa with your choice of meat). The food is sophisticated, the prices are great, and the convenience is unparalleled. Get to the Red Truck and let your foodie flag fly. redtrucktahoe.com
FiftyFifty Brewing Co.
This local area craft brewery serves up ridiculously tasty eats at their pub location on Broadway Road near downtown Truckee. Fresh, wholesome, and locally-sourced ingredients are used and the folks at FiftyFifty pride themselves on having sustainable practices in place. If you're there for lunch, check out delectable plates such as the Organic Chicken Wings, Ale Steamed Mussels, Kale n' Ale Salad, Pizzas & Calzones, All-Natural Baby Back Ribs, Huevos Rancheros, and an impressive assortment of burgers and sandwiches. Dinner recommendations include the super tender Lamb Shank, Tuscan Ravioli, House Made Meatloaf, and Orange Blossom Salmon. The atmosphere is clean, casual, cozy, and always welcoming with ample patio seating out back. And obviously, FiftyFifty is an excellent place to imbibe. More on that later. fiftyfiftybrewing.com
Trockay
Trockay is the place to go for the quintessential fine-dining meal and sophisticated experience. In 2011, John and Nyna Weatherson came to Truckee from New York and became owners and head chefs of this decidedly creative and modernist establishment. They bring the culinary sophistication and artistry of the big city to the Mountain West atmosphere. Start with appetizers such as the Pear in Variation with arugula, blue cheese, and balsamic or the Red Shiso with horseradish, ponzu vinaigrette, and beef carpaccio. Indulge in delicious seafood dishes like the Maine Lobster with Ravioli en Brodo and the Santa Barbara Mussels with vadouvan, coconut, and lemongrass. And how can you pass up the Roasted Loin of Venison or the Sauce Perigueux? This is luxury in the mountains at its finest. restauranttrockay.com
Moody's Bistro & Lounge
Located downtown in the first floor of the historic Truckee Hotel, Moody's serves up phenomenal food and an awesome atmosphere with a regular rotation of great live music. With a classic lounge-inspired setting, it's easy to see why this spot is definitely a staple of Truckee's dining and nightlife scene. Recommended eats include the Spicy Octopus Crostone, Ahi Poke, and Maple-Glazed Pork Belly. Moody's also has a large variety of fresh pizza, burgers, salads, and soups starting as low as $4. High quality local ingredients are always the emphasis and creative flavors are the norm here. There is also an elegant private dining parlor which can seat as many as 50 people for a special dinner event. moodysbistro.com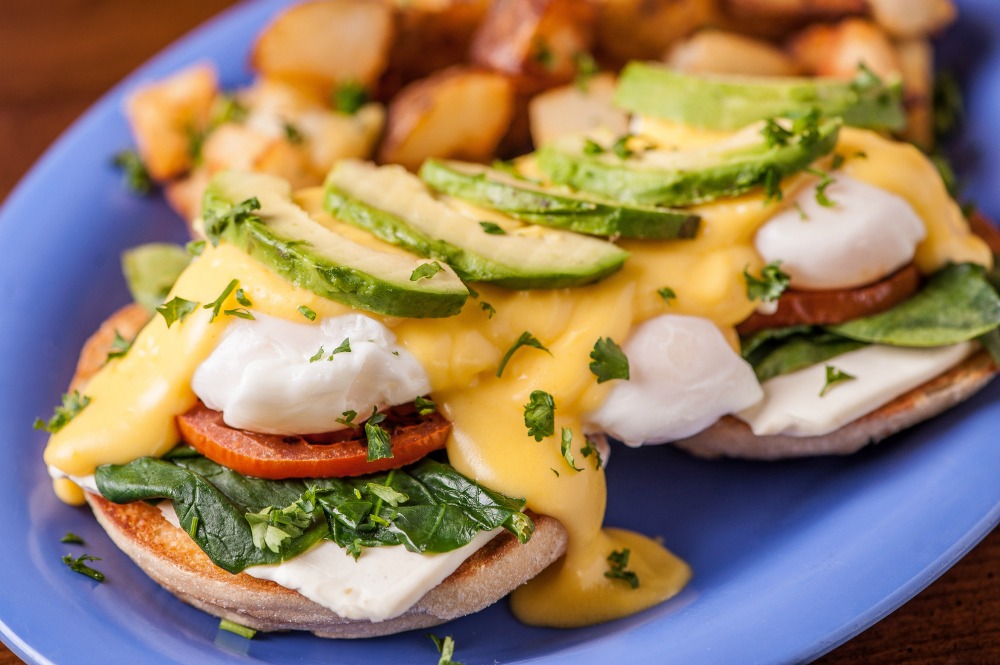 Squeeze In
Loved by the locals, Squeeze In is THE spot for breakfast in Truckee. They claim to have to the best omelettes on the planet and they just might be right. Squeeze In is so confident in their cooking that they even guarantee that you will love your meal or it's on the house. Go for specialty omelettes such as the Racy Tracy (sautéed mushrooms, Monterey Jack cheese, bacon, avocado), the Spanish Flay (diced red bell peppers, potatoes sautéed with smoked paprika in butter, Monterey Jack cheese, seasoned eggs), or the Lake Taco (taco-seasoned ground beef sautéed with onions and peppers, tomatoes, Monterey Jack cheese, topped with sour cream and jalapenos on the side). Not feeling like an omelette? Go for a ridiculously good breakfast burrito, classic fresh pancakes, specialty salty sweet chocolate covered bacon, salad, or a variety of amazing sandwiches. There are also many vegetarian and gluten-free options to choose from. squeezein.com
Truckee Tavern & Grill
Sophisticated rustic. American fare. Great atmosphere and creative cocktails. Co-owners Chris St. Martin and Ryan Dierks are dedicated to offering the freshest ingredients in elegant, rustic, and delicious dishes. The fresh-obsession is also firmly planted behind the bar as well as in the kitchen. Mixologist Dierks creates seasonal cocktails using fresh and local ingredients. Upstairs on Main Street, Truckee Tavern is a don't-miss experience. truckeetavern.com
Drink:
FiftyFifty Brewing Co.
FiftyFifty is the premier craft brewery in the Truckee area. The mantra of this company is "Find Your Balance." This is fitting when you take a look at their well-balanced list of beers from barrel-aged specialties to sessionable flagship ales. It's also a good motto for living in a mountain community and finding your balance between work and play. Out of over 30 brews, 14 beers are always on tap with the others being seasonal or limited releases. Standards include the Leg Lifter Ale (Mosaic hops, berry and earthy tones), Manifesto Pale Ale (restrained malt backbone, caramel notes, light to moderate hop character, mild citrus/pine finish), and Rockslide IPA (West Coast style, aggressive Amarillo, Centennial, and Summit hops). Look out for brewmaster's specials for the beer snobs such as the Trifecta Belgian Style Tripel, Blonde Barleywine, Barrel Aged Really Tasty, Highland Session Scotch Ale, and Landslide Double IPA. There is also a full bar for wine and cocktails. The atmosphere is always on point with a great mix of locals and visitors. fiftyfiftybrewing.com
Uncorked Truckee
Attention all wine lovers, head to Truckee's downtown district and stop by Uncorked for a glass or two. Choose from a truly impressive and evolving collection of wines from California, Oregon, and Washington as well as limited-production imports from all over the world. Uncorked offers daily wine tastings and wine maker events throughout each month. Enjoy the relaxed atmosphere of the wine bar or enjoy the pure mountain air and sunshine with available outdoor seating. You can even join the wine club and enjoy two bottles monthly that are handpicked by Uncorked. Salute! teloswine.com
Old Town Tap
Located in the heart of downtown Truckee, this is a go-to spot for exceptional cocktails, craft beers, and excellent wines. Try the signature Yes Whey made with gin, house made whey, lemon, egg whites, prosecco, and rose bitters. Old Town Tap is also famous for its ridiculously good Bloody Mary. The bar is equipped with a whopping 16 beer taps and 12 wine taps that pour only the best in both genres. The beer list is heavy on California craft breweries such as Auburn Alehouse, Firestone Walker, Hermitage, Modern Times, and Jackrabbit Brewing. Wine taps feature a great blend of wineries from California, Italy, France, Spain, and Argentina. The building has a very cool gastro pub and modern Northern Italian style and the service is always exceptional. oldtowntaptruckee.com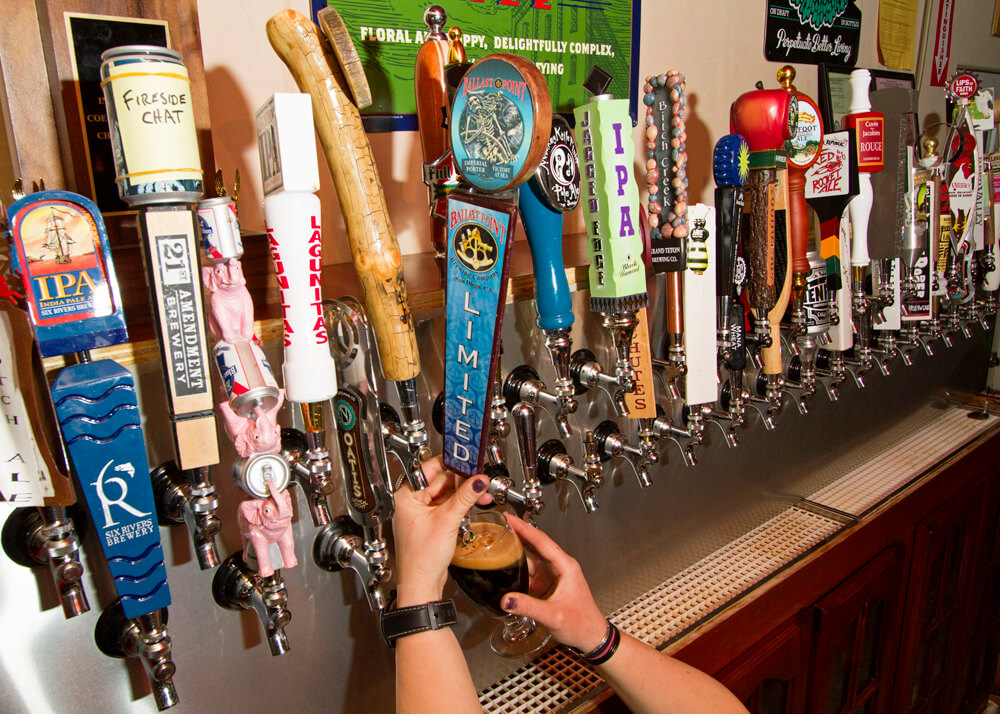 Mellow Fellow
With a mind-blowing 40 beers on tap, it's safe to say that Mellow Fellow has the most extensive collection of beers available of any bar in the area. The beer list is constantly changing and features delectable craft brews from California and around the country. The environment is welcoming and family-friendly. Think of this place as your favorite local neighborhood watering hole. Fun daily events are always happening and good vibes are the norm. Every mountain town should have a place like Mellow Fellow. mellowfellowpub.com
Pastime Club
Head to this spot if you want the authentic and real local dive bar experience. The vibe is unpretentious and the locals who frequent this establishment are said to be very friendly and willing to give you the insider's scoop on Truckee. Taps at the bar are home to a good mix of generic macros (PBR, Coors, Bud, etc.) and craft brews (Deschutes, Stone, Lagunitas, etc.). Pastime is also home to some awesome live music and open mic nights. The bartenders here have a reputation of always being efficient and super friendly. Come for the drinks, stay for the stories. pasttimepub.com
The Pour House
This is a great option for the wine enthusiast who doesn't wish to break the bank on his or her bottle selections. With an exceptional list of whites such as Austrian Gruner Veltliner, Italian Pinot Grigios, and classic California Sauvignon Blanc, The Pour House has you covered for the best experience in chilled wine sipping this summer. Featured reds include Oregon and California Pinot Noirs and Italian Chiantis. And while you're sipping that vintage be sure to pair it with a plate of locally and internationally sourced cheeses as well as olives, nuts, crackers, salami, olive oil, honey, and chocolate. The Pour House is known for its knowledge and welcoming nature. Sit inside at the intimate wine bar and talk with an expert or relax on the open air deck. thepourhousetruckee.com
Shop:
Word After Word Bookshop
It's only right that an authentic mountain town has at least one bookstore. After all, the alpine world has been a source of inspiration for countless literary legends and their finest works. Conveniently located in Truckee's downtown district, Word After Word is a true independent bookshop that strives to have a diverse selection, easy-to-browse layout, and the most helpful staff members. Make sure to peruse the great selection of Tahoe-area history titles including information about the railroad. There's also a fun area designed for the little ones so bring the whole family. Word After Word opened this past February and has been going strong with rave reviews and a positive buzz around town. wordafterwordbooks.com
Atelier
This is a truly unique and local collaboration between artists, collectors, and community through workshops, supplies, and limited edition art pieces. Recently founded in 2015, the main goal of Atelier is to be the creative hub of the local art community. Available for purchase are a collection of hand-sourced 2-D prints, paintings, designer art wares, and an exclusive collection of art supplies and materials. This is the place if you're looking for unique and locally-made items such as pine needle baskets, acrylic abstract paintings, screen prints, printed cocktail napkins, leather keychains, and much more. Support that homegrown creative scene in Truckee by making a visit to Atelier in the historic downtown district. ateliertruckee.com
Cabona's
Cabona's started out way back in 1918 as good old general store that provided all necessary products for those living year-round in this mountain town. These days this establishment has become the place to go for high-end clothing and signature Sierra Nevada style. Cabona's carries excellent casual sportswear brands for men including Pendleton, Bugatchi, and Woolrich. Other goods on offer are a full line of Brighton handbags and belts, small leather accessories, shoes, jewelry, watches, gifts, fragrances, and sunglasses. Cabona's is extremely thankful for the continued support from the community over the years and makes an annual contribution of discontinued merchandise to Tahoe Forest Hospice Thrift Store as well as donations to several local non-profit organizations. Shopping here is a high-end experience blended with local charm and a personal touch. cabonas.com
Tahoe Sports Hub
The go-to place in the area for anything related to year-round mountain recreation activities, Tahoe Sports Hub has you covered for all of your gear needs with some of the best brands on the current market. The Hub has presently been voted the best sporting goods shop in all of the Tahoe Truckee area. Choose from the largest selections of stand up paddle boards, kayaks, and paddle accessories if you're looking to get out on the water this summer. Looking to do some ski touring this spring? This shop can outfit you with the best in alpine touring skis, boots, bindings, and skins. The Hub also has everything you need for backcountry safety gear and boasts the area's best selection of splitboards. Other finds include rock climbing gear, disc golf equipment, and camping gear essentials. The staff is always knowledgeable and great deals are the norm. tahoesportshub.com
Simply Tahoe
This boutique clothing shop started from a clothing line created by 2 locals who grew up on the shores of Lake Tahoe. Simply Tahoe is located in the Village at Northstar and carries products from local area companies such as Big Truck hats. The core of the items offered here are from TahoeMade and include t-shirts, tanks, hoodies, jackets, locally-made pottery, art pieces, home accessories, and jewelry. Simply Tahoe continues to get rave reviews for its inviting interior design, superb product knowledge, and friendly customer service. This is a local shopping experience that you don't want to miss. northstarcalifornia.com
Truckee Variety Co
Head to the downtown Truckee location, especially with the kids in tow, for the best in toys and art supplies from a local gem. Truckee Variety Company offers the best in whimsical and old school products that are guaranteed to put a smile on the face of anyone regardless of age. A great selection of games, postcards, candies, gifts, craft kits, costumes, and more is at your fingertips. Truckee Variety is good old fashioned Americana at its best. facebook.com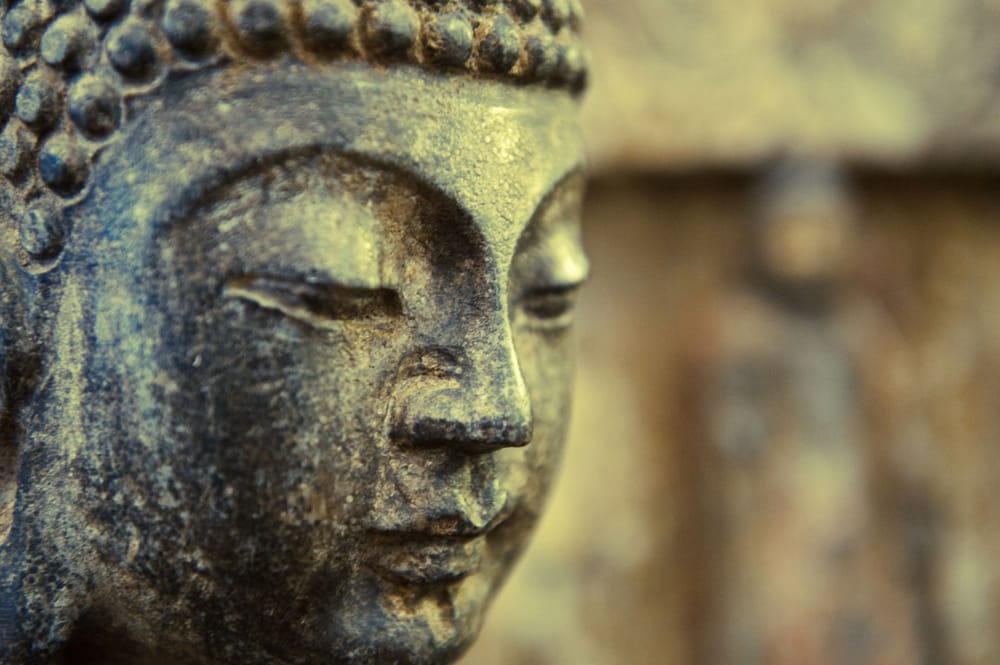 La Galleria
A staple of the Truckee shopping scene for more than 30 years, La Galleria offers creative fine art gift items made from all over the world. Think pieces such as mosaic jewelry handmade in Guatemala, bead work from Israeli artist Ayala Bar, and Kisii stone art from Africa. The interior space of this store contains beautiful running water features with petrified wood, marble slabs, and copper edging that soothe the senses and draw the eyes. Go to La Galleria for that extra special gift that any recipient will cherish forever. lagalleriatruckee.com
Do:
Floating the Truckee River
One of the best summertime outings in most mountain towns is simply floating down the river, ice cold can of beer in hand, with friends and family all around you. The Truckee River has long been known as one of the best places in the country to have the all-time best floating party. For all of your equipment needs, Truckee River Raft Company is conveniently located in Tahoe City at the start of the river. The float is generally 5 miles long and takes about 2-3 hours. You will be treated to many awesome sights from the scenic beauty along the river to the shenanigans of the fellow floating enthusiasts around you. Some people have been known to float small portable BBQs or use king-sized air mattresses as their vessel of choice. At the end of the journey, be sure to stop at River Ranch Lodge and Restaurant at the entrance to Alpine Meadows. Hang out on the deck with some delectable eats and cocktails and take in the scene. You've reached the culmination of the party. And when you've had your fill, catch a free bus provided by the Truckee River Raft Company to get back to where you parked.
Martis Peak Fire Lookout
Looking for a historic spot that is easy to access and gives you some of the most spectacular views in all of the Truckee Tahoe area? Look no further than the Martis Peak Fire Lookout. Accessible year-round, the trail climbs up a steep grade to the fire lookout structure which is over 100 years old. At the viewpoint you will be able to take in Lake Tahoe, Donner Lake, Prosser Lake, Boca Lake, and Stampede Lake. The cabin at the lookout is open to the public and features a sketched in map of all of the surrounding mountain peaks.
West End Beach of Donner Lake
Take advantage of the happening beach club atmosphere that this place offers all summer on the west shore of beautiful Donner Lake. West End Beach is set up like a beach club in the Hamptons or the Mediterranean where users pay a small fee for access and a long list of amenities that include a playground, basketball courts, tennis courts, boat rentals, and the Pier Thirty-ate snack bar, and more. Lake gear available for rental includes paddleboats, double and single kayaks, stand up paddleboards, sailboats, innertubes, and prone paddleboards. Enjoy the perfect summer day at the beach club in an alpine lake environment.
Lost Trail Lodge
This is a 4-room rustic cabin located near Truckee in a pristine wilderness area that is only accessed on foot, snowshoes, or cross country skis. Depending on the season and availability, guests can reserve a single room or the entire lodge for that perfect off-the-grid getaway. There is also a separate cabin available with its own fireplace. And like a true European mountain rifugio, this place provides all of the bedding, cooking, and comfort materials so you don't have to schlep a bunch of gear. Running water is provided by the lodge's own wells and electricity comes from solar and wind energy. The common area is stocked with board games, books, and several acoustic instruments for all the troubadours out there. This is the perfect base camp for summer and winter backcountry activities and it is also dog friendly. losttraillodge.com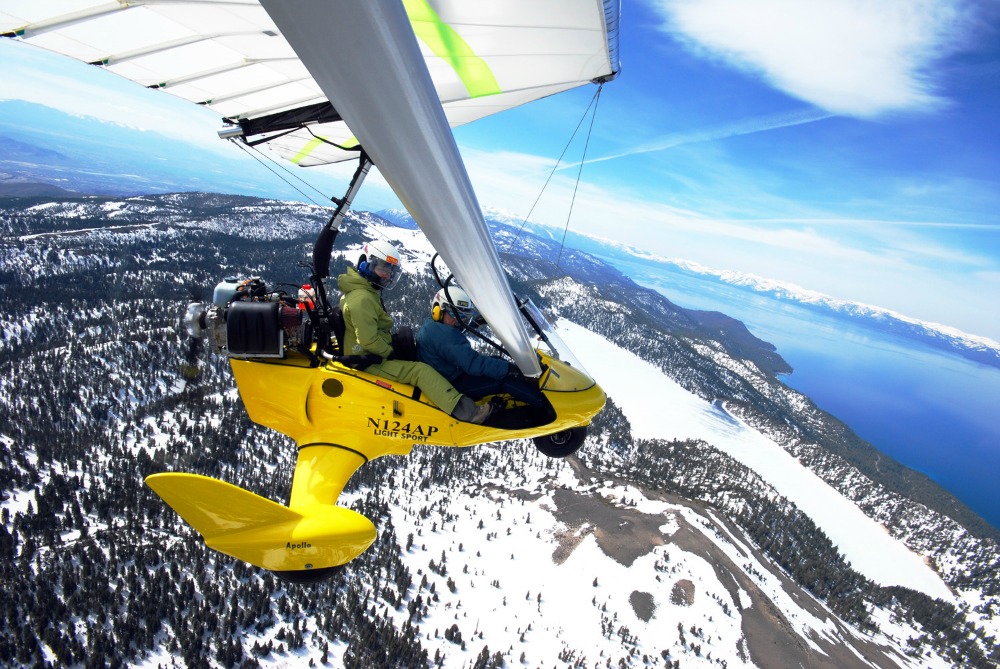 Hang Gliding Tahoe
Have you ever dreamed of being able to fly? Hang Gliding Tahoe offers up the closest thing with letting you operate your own motor-powered hang glider over the Carson Range and into the Tahoe Basin. An instructor will accompany you but once you learn the basics he or she will give you total control. Sessions can be booked from 1 to 3 hours at a time. Professional camera techniques such as the wing-mounted camera allow for the best in capturing this unique and exhilarating experience forever. And there are no lengthy safety instruction classes required to attend before getting up in the air. Book a session with Hang Gliding Tahoe and become an eagle for a few hours. hangglidingtahoe.com