The rugged and spectacular Dolomite mountains might look intimidating to people who don't make regular high-alpine trekking a part of their everyday experience. Many of the peaks may seem near impossible to reach to those who don't know the difference between belaying and rappelling. But there's a way of mountain travel that doesn't take the technical skill and years of practice required for hard-core climbing and still allows hikers to ascend to heights and traverse to places they would not go without some support—the via ferrata (or iron path).
Although the technique and practice of via ferrata date back to the early 19th century, it's most commonly associated with World War I because Italian soldiers built via ferrata to safely traverse mountain passes. Consisting of anchored ladders, cables, rungs, steps, and bridges that help less experienced or novice climbers take on daunting routes, via ferrata trails are classed by number, like rock climbing routes, and vary in length and difficulty. Routes connect throughout the Dolomites, so it is possible to link together multi-day adventures.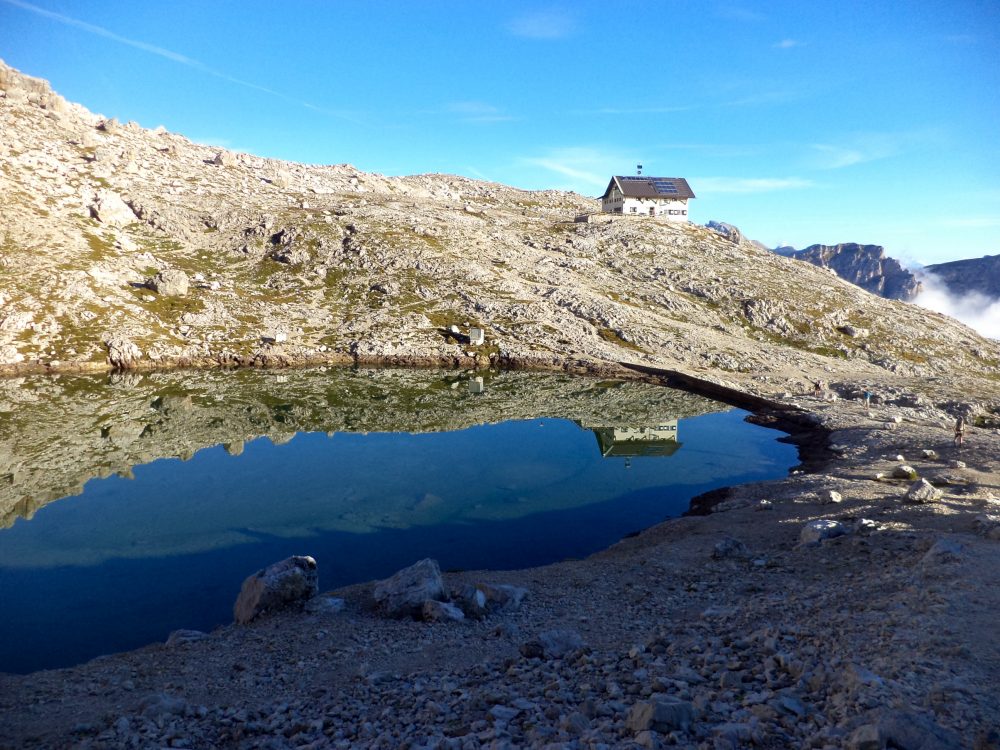 For Sigi Vogl and Muffy Ritz,  adventure is more than a vacation, it's a way of life—and a way of life they love sharing with other people. Sigi is a first-generation American whose parents came from Ecuador and Austria. The alpine culture of Austria was strong in his family, and he took to skis at an early age. While serving in the U.S. Army, Sigi was a ski guide and patrolman in Garmisch, Germany. And that was just the beginning of his alpine education. He stayed in Germany for four years after his service, immersing himself in the alpine life and, with the help of some accomplished mentors, Sigi took to climbing, ski mountaineering, kayaking, and Nordic skiing.
That was 40 years ago, and Sigi has been guiding ever since. He's an affable man with a generous smile who is armed with a plethora of stories. Stories chiseled from stone and sweat and perseverance. He's a guide after all—the type of person for whom a good day is one full of challenges. But like the mentors who helped shape him—climbers and alpinists at the top of their fields—Sigi is a careful study of risk and risk management. He says, "I dream of being in the vertical world every day. But it's a delicate balance between freedom and caution. And that's what I love about guiding, I help people find the right balance for them."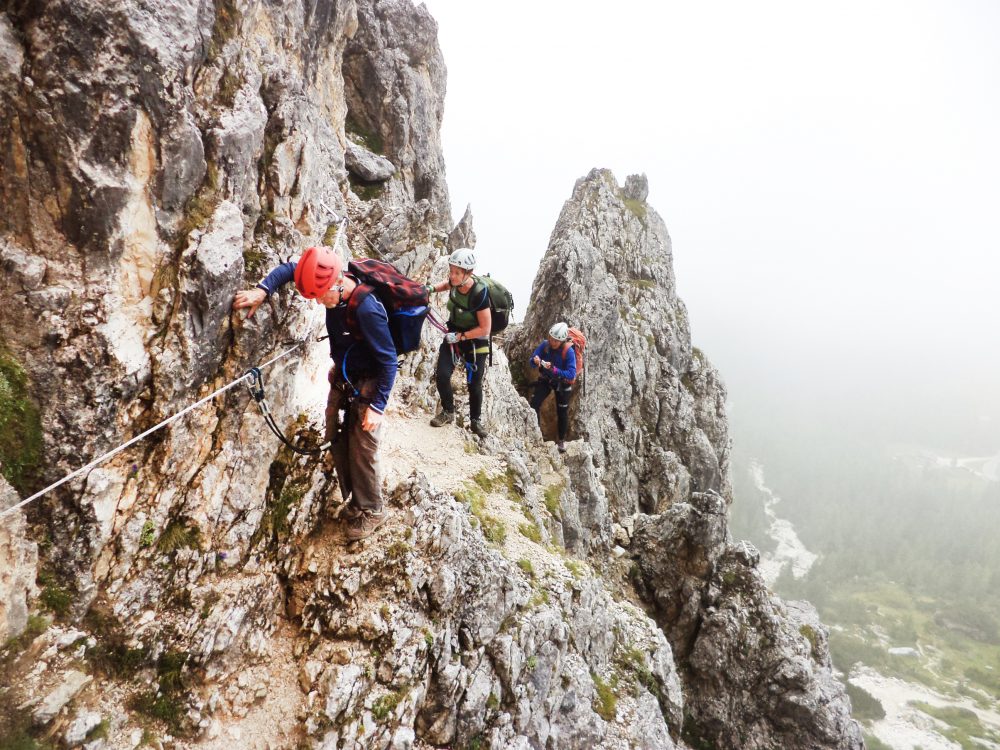 His guiding partner is a legend in many sports—in fact, there doesn't seem to be a mountain sport that Muffy Ritz can't do—and do well. Three-time Race Across America (an ultra-endurance bicycling race covering 3,000 miles and 170,000 vertical feet in under 12 days for a solo rider) runner-up, two-time winner of the American Birkebeiner (the largest and one of the longest over-50K Nordic ski races in the country), and former U.S. Nordic Ski Team member, Muffy is not only a competitive athlete, but she is also a beloved coach and guide. If there's an activity that involves endurance, speed, mental toughness, strength, and smarts, Muffy has chased it across the globe—hiking, biking, skiing, climbing, and adventure racing.
After cutting his climbing teeth on the rock of the Dolomites, Sigi continued climbing all over the world, but had made his home in Sun Valley, Idaho, for many years, when a friend from Germany—the manager of the largest resort in Germany, Zugspitz—called to say that a group of hotel owners from the Dolomites were touring the West's resorts and would be in Sun Valley. As their local tour guide, Sigi did not disappoint. Not only did he show them the recreational advantages of living in Sun Valley, but there may have also been some late-night dancing and revelry. Sigi says, "I connected with these Italians like brothers. We had a blast, and they love Sun Valley to this day."
Connections matter. We all understand that. But connections when traveling to parts unknown can make all the difference in the world. For Sigi and Muffy and their clients at Adventure Dolomiti, their adventure travel company, the connections that Sigi made during the Italians' grand tour have led to a very special sort of trip in Alta Badia, Italy. "When Muffy and I decided to start Adventure Dolomiti, I knew we had great contacts, but until I went to Alta Badia to set up our first trips, I did not know the extent of our contacts and the historical significance of the region," says Sigi. Turns out, Andy Varallo, their main contact there, is a key player in the year-round tourism in Alta Badia and throughout the Dolomites. He is the General Manager of Skicorosello Corvara (a ski consortium that allows for a centralized management of ski areas in the Dolomites) and his grandfather was Franz Kostner, the man who built the first ski lift in Italy on Col Atl, which is on the resort that Andy runs for his family. Andy's grandfather also developed the idea of interconnecting other ski resorts in the Dolomites under one ski pass—the largest ski interconnect in the world known as Dolomiti Superski, an organization for which Andy serves as president. And, fittingly, Andy's father was a member of the nation's alpine ski team and represented the country in the 1972 Olympics.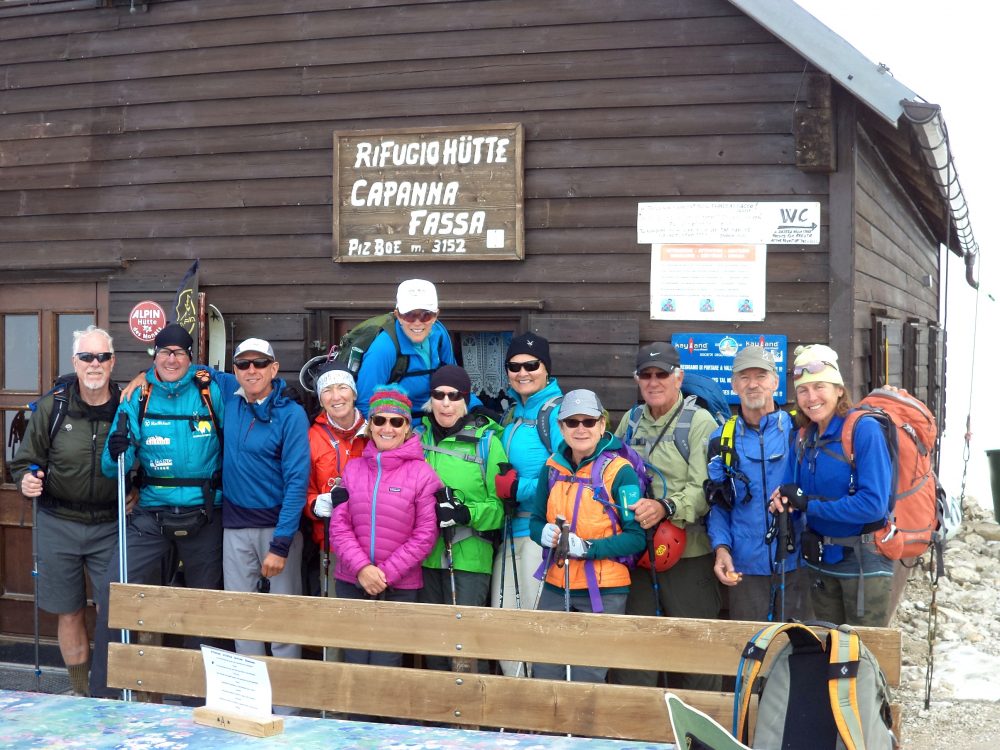 Sigi and Muffy understood that they had struck gold, the sort of gold that turns into lifelong friendships and unparalleled trips to Italy with clients who get the experience of feeling like they've come to visit good friends. Sigi says, "Andy is a kind, caring person with a young family and a fantastic smile. We stage our trips out of his hotel and our clients say that the familiarity, the connections, and the friendships we've developed make our trips like nothing they've ever experienced before."
Muffy, a woman who is clearly a doer, but someone who takes great joy in getting others to do with her, says, "Our first clients in September 2014 were a group of friends, active but all different levels of comfort with climbing and hiking. We explained the via ferrata, and we also explained that all the routes we'd be taking had options—you could opt for the most challenging or tap out and go the easy route. We wanted to make the trip open to anyone looking for a little adventure. How much adventure would be up to the individuals."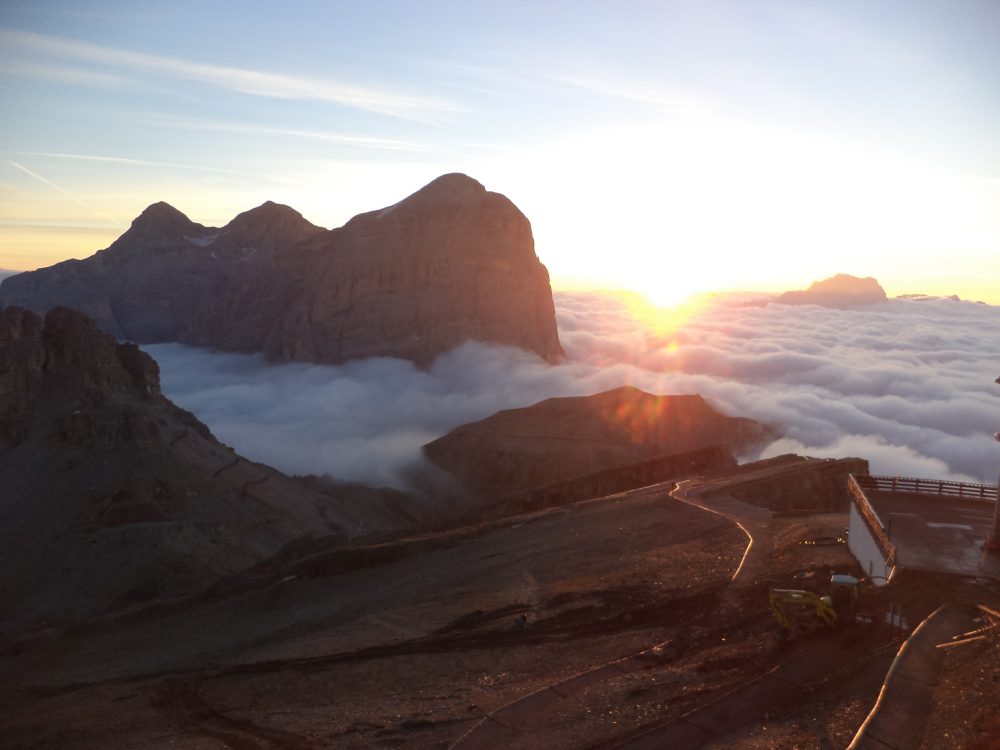 As it turns out, the group had great chemistry. Robin and Sam East, two of the travelers, enjoyed the experience so much that they are planning their next adventure with Muffy and Sigi. About this first go, Robin says, "It was a memorable trip—we were in such good hands. Muffy, Sigi, and our accomplished and personable local guides were careful and cautious, but always gave us the confidence to push ourselves if we wanted." About the benefits of having the local connections, Sam says, "The relationships that Muffy and Sigi have with the town, the locals, the guides, the operators of the rifugios (literal translation, "mountain refuge," the mountain huts spotting the Dolomites) really made the trip unique. We based out of Hotel Ladinia (the Varallo family hotel where Andy's father and grandmother still live) and spent two nights in a rifugio. It was great to have a home base but explore from there. We were introduced to many aspects of the Dolomite culture—the passion for alpine exploration as well as their love of community. By the end of our nearly two-week trip, we had not only seen the area, we had truly experienced it.
Sigi confirms that they work with experienced local guides who have the highest training in mountain safety. "Muffy and I feel it's important to work with as many local tourism professionals as possible. This gives us the local connection to provide an exceptional and personalized experience. We work with a local IMFGA-certified (International Federation of Mountain Guides Association) guide named Pippo who brings professionalism and lots of personality." Muffy adds, "With the three of us and a small group of clients, we can individualize the experience. Want to challenge yourself with the higher-level via ferratas while another part of the group is looking for a more mellow hike? Perfect. We can accommodate that. It's important that our clients have an experience that invites them to move outside their comfort zones, but also gives them an option to go another route."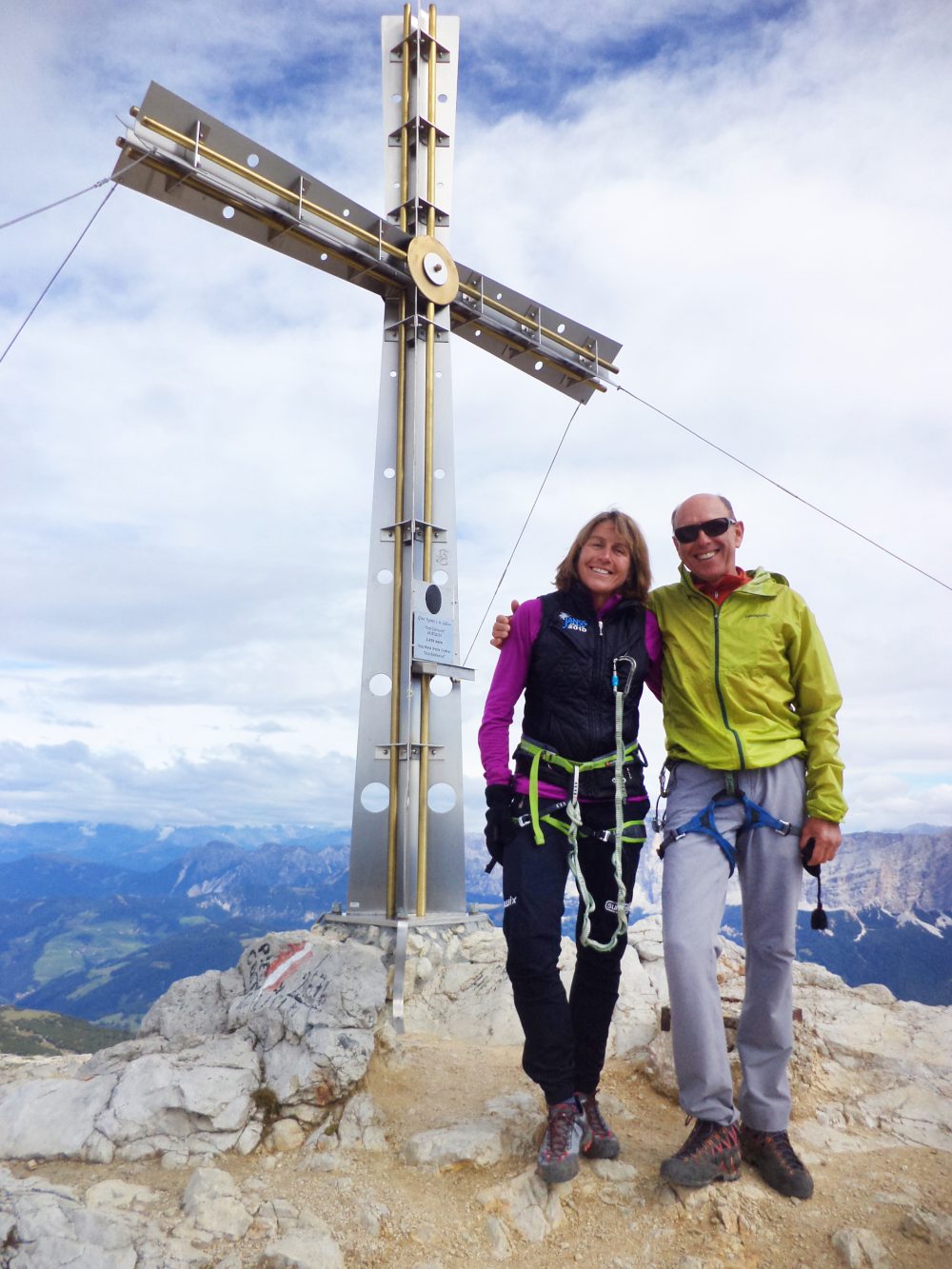 How often do people choose the easier route? "Sometimes," Muffy says, "but not as often as you would think. We see our clients doing things they never thought they could, traveling the more challenging routes, totally focused and determined en route, and then at the top, the look on their faces is priceless." Sigi adds, "It's like they have an entirely different sense of themselves after they choose the challenge and meet it. That's why we do this."
But that's not the entire reason. After talking with Robin and Sam East and after hearing Sigi and Muffy's stories, the food and drink and the cultural immersion is also a very big part of why they do it. Robin says, "The high point of the trip for me was the combination of things—the generosity of the people, the beauty of the area, the adventures we were able to go on—from via ferrata climbing and the rifugio experience to relaxing spa days to an intimate dinner in an old farmhouse that had been converted into a restaurant." And if you give them the chance, Muffy and Sigi can both wax on about the quality of food and the grace of the hospitality in the area. Muffy says, "Everything we are served is prepared with such care. From the hotel staff at Ladinia to the staff at high-altitude rifugios—the food is remarkable. But the way everyone welcomes us—like family—really makes the experience special."
For Sam East, the apex of his journey came at the highest apex of the region—Piz Boè. "Before leaving for the trip, I had read that the region, that the mountains had been ancient sea beds—at 10,000 feet, I found a piece of coral, part of the ancient sea floor." How's that for perspective?