Stephen MacKay and David Hildreth certainly didn't pick the easiest place to open a winery. In a state with under ten registered wineries and strictly regulated alcoholic beverage sales, these young entrepreneurs have decided to defy all odds. Setting up shop on historic Main Street in Park City, Utah, Mackay and Hildreth are determined to blend their own wines, change the way you (yes, you) think about wine, bring a classic tasting room environment to the mountains of Utah, make good wine accessible to a variety of people (and income levels), and become the official wine of après. Yes, their goals are lofty, but these two are well on their way through this list and are turning some heads as they go.
In March of 2016, Mackay and Hildreth officially opened the doors of Old Town Cellars for business. Less than a block from the base of the town lift, their new tasting room is well situated to become a new favorite après hangout, whether you're on skis, board, bike, or foot.
Big storefront windows let the late afternoon sun stream into their lounge area peppered with high tables, inviting sofas, and a minimalist mountain-style decor. A glass wall separates the seating from their wine-making area so customers can peer into the process behind their blends. They serve their wines by the glass, or by tasting portions, from a long bar at the back of the shop where a roll of butcher paper mounted to the wall lists their seasonal blends. At $2 per tasting, you can try all six of their current wines for less than single glass at most restaurants in the area.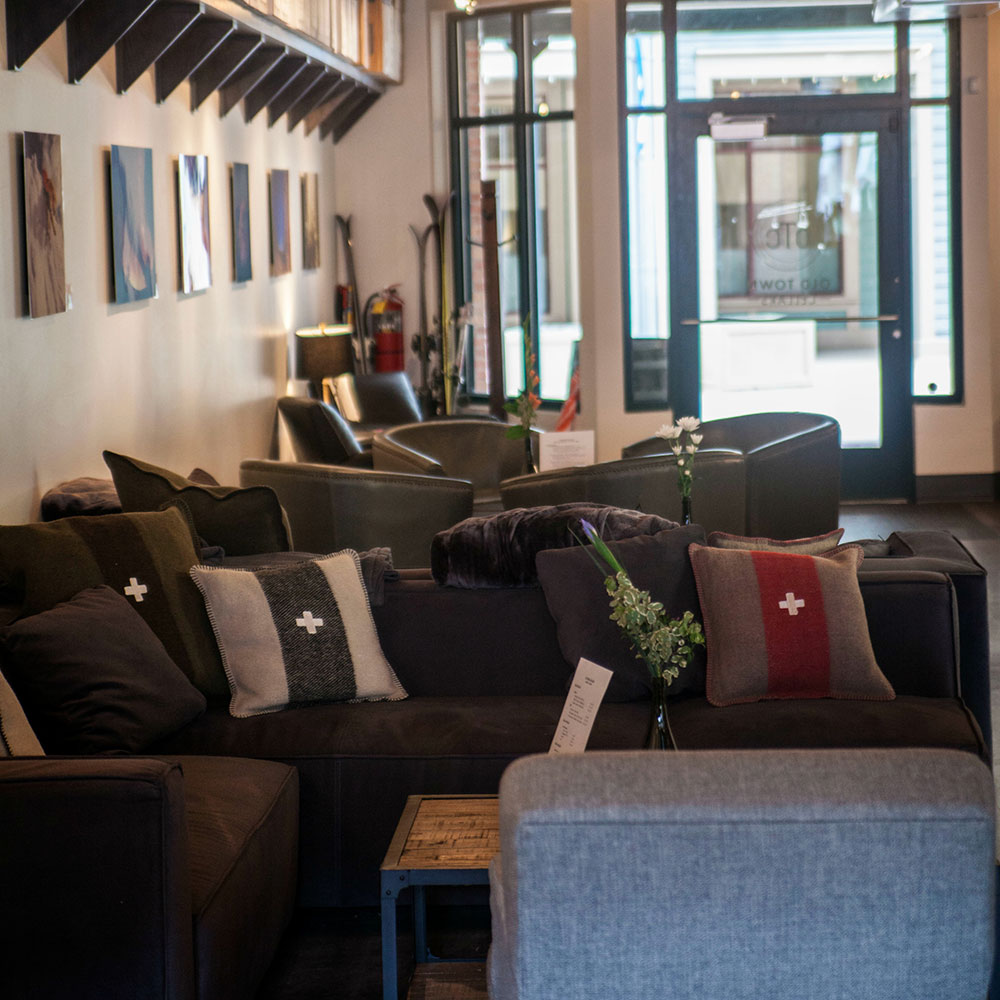 Local art on the walls (and on their wine labels) gives for a great community vibe—something that's hard to build in a tourism-driven economy. Mackay and Hildreth can't be much over 30, but they've successfully created a space that is inviting to a variety of people. With wines sold by the bottle ranging from under $15 to over $40, they're clearly making a statement about the accessibility of this enterprise. The two set out to demystify wine and make it accessible to everyone—from wine connoisseurs to local ski bums—and they're sticking to that.
We sat down with co-founder Stephen MacKay to learn a bit more about their story. Here's what he had to say:
Sarah Betts: Why start a winery in Utah? What motivated you to take on this project?
Stephen MacKay: Everyone that envisioned and built Old Town Cellars has ties to skiing, wine and the outdoors, both professionally and recreationally. We asked ourselves what was missing in our home town and came to the conclusion that a winery in a non-wine-growing region was the answer. However, the true motivation was taken from wanting to work for ourselves and was inspired by Yvon Chiounard, founder of Patagonia, and his book, Let my people go surfing.  His legacy resonated with who we are as mountain people, and what we want to accomplish in working for ourselves in an industry whose roots are far removed from the snow capped peaks and Aspen filled mountains of Utah.
SB: Tell us about the process of getting OTC up and running? How long did it take to evolve from a seed of an idea to the real thing?
SM: David had the epiphany while riding a lift in Park City two winters ago while I was working in Laguna Beach, California as a sommelier. He talked to me a few weeks later when I was back in town for the Sundance Film Festival and we decided to pursue the venture. In total it took about 14 months from inception to opening our doors.
SB: Most interesting or challenging thing you have learned in this process so far?
SM: The most challenging thing for us in our first business venture has been to accept and be patient with the process. We are learning that the business will go along at its own pace, especially when dealing with government entities, and we need to be more adept in our anticipation of what needs to be accomplished to ensure our success moving forward.
SB: Wine isn't the classic "après" drink… how are you changing people's minds about this?
SM: To answer this question I think we need to look at why we started this business. De-mystifying wine has always been a passion of mine. It has been fun to break down the traditionalist mindset of what wine is and make it accessible to the public in a liquor control state. Wine seems to have had a negative, snobby or pretentious connotation associated with it over the last few decades. We aim to bring it back into the limelight as something that's accessible and enjoyable for the general public. We are trying to do so through a casual yet elegant tasting room environment that can be highly educational without seeming overbearing.
SB: You blend your own wines on site in Park City. Tell us how you pick certain varietals to blend and which regions you like right now.
SM: We're all about transparency at Old Town Cellars and to be frank, I had to swallow my own biases for what I like to drink to understand the current market in the United States and especially in Utah to bring the people what they want. We did a fair amount of market research and I talked to a lot of friends across varying disciplines of the wine industry to make sure we had a pulse on what people are drinking and where the market would turn next. I like all regions and think each has something unique to bring to the table.
SB: How many "mistake" blends do you end up with before you find the perfect one to bottle and sell?
SM: We brought in hundreds of samples from friends on the West Coast and the bulk wine market to decide on six initial wines to blend and launch. I don't think we made any true mistakes because everything was part of the learning process. Our mishaps were mostly with spillage and overfilling our bottling line. It happened multiple times but that's what we get for bottling until the wee hours of the morning.
SB: You just opened OTC in March correct? What are the next steps? Tell us a bit about the food, art, events and growth you hope to see this summer.
SM: We've just partnered up with Beltex Meats in Salt Lake City as our charcuterie purveyor. Phil and John are chefs turned butchers and are some of the most passionate people we've met along the way. We've also teamed up with Robbie and Anna at Ritual Chocolate in Park City. We aim to expand our menu a bit as we head into the summer months, although our model is a tasting room and not a full restaurant. We rotate artwork on a month-to-month basis from local friends and nationally recognized photographers to keep the space fresh for repeat guests. We've already seen a great local response to our opening, but we want to continue to strive for fresh ideas and new partnerships.
SB: Strangest/funniest moment you've experienced in starting OTC?
SM: Someone demanding tequila and vodka from a tasting room in a winery. This is certainly the most PG response we can give as anyone in the alcoholic beverage industry can attest to many more colorful stories late night over their favorite beverage. Come on in and we'll tell you ours.
SB: Best wine you've ever had?
SM: There are too many to count. For us, wine is subjective. A great wine could be a $10 table wine with friends, or something much more expensive on date night. Wine is about connecting with people, food, history and enjoying the gift of life. To label one wine as the best we've ever had would be inappropriate. The beauty of the wine industry is that it keeps surprising you! Don't get me started on quoting Forrest Gump…
SB: Tell us a bit about the wines you're making right now. How will your wines change with the seasons?
SM: We've started with six blends, including a Southern Rhone Style white out of Paso Robles, two different Chardonnay blends, a Sangiovese blend and a Cabernet Blend from Washington State and an Oregon Pinot Noir. We picked this first group of wines based on their accessibility. We wanted to offer something that would be really well received during our business launch.  We are now working on a rosé for summer as well as some other high acid whites and another red blend. We are proud to say that our first red blend is almost sold out only a month into business.
SB: Best drink post mountain bike ride on a hot summer day?
SM: The one already in your camelback, followed by a Wasatch, Epic or Park City Brewery beer and a shot of High West Whiskey. We're all about supporting our brethren in the alcohol industry here in the Utah, especially when we are the fledglings of the group.
SB: We hear you can buy a bottle of wine on Sundays at OTC (a novelty in Utah) are the rumors true?
SM: Currently, no. We are working out some kinks in our licensing that even our lawyers missed and will keep social media updated as to our progress. Right now we are open seven days a week but only able to sell bottles out the door Monday through Saturday.
SB: So ski season just came to an end, what are you looking forward to now?
SM: We are really excited to be featuring a few artists this summer that the four of us have been following for a while. Travis Parr of Parr Studios who has been producing artwork for Icelantic Skis for a decade, and Dan Campbell of Dan Campbell Photography who is a prominent photographer in the Mountain West (and a BigLife Mighty Teamer!). We're definitely excited for the Park City summer Arts Festival, a boost in traffic during the high summer season, oh yeah, and some summer adventures of course.
Learn more about Old Town Cellars and grab a glass for yourself!