It all started when a mutual friend thought Jackson Residents Nona Yehia and Penny McBride ought to meet. There were simply too many things they had in common. They were smart and savvy, loved food and architecture, the town of Jackson and its community, and well, they were cute and small in stature, and this friend thought they'd be a dynamic duo. Thankfully, her intuition was spot on, and that's when the cultivation of a big idea began.

When Nona Yehia, an architect, whose firm E/Ye Design has become a force of innovative design in Jackson (Persephone Bakery, Picnic, Stio, the Hip Pocket Home, and the Teton Boulder Project), met McBride, a Northern Colorado farmer whose affinity for agricultural systems and knowledge of sustainable communities guides her everyday life, they discussed their desire to "provide and produce food locally and employ as many people as possible." An ambitious goal, no doubt, when considering the obvious.
Jackson, Wyoming, is cold. Most months, the Tetons scrape the sky decorated in white. And, with the town's altitude at 6,237 feet, it's not the ideal location to plant a seed. The growing season is often less than 60 days, and bless the soul who is prepared to tackle the daily management of those precious tomatoes. But Yehia and McBride thought a less-than-distinguishable plot of land (30' x 150') owned by the Town of Jackson abutting a parking structure might be the solution to the growing concern of access to year-round fresh produce.
Food insecurity for Jackson's lower-income folks is real, as is the struggle to justify the high cost of having fresh produce shipped in from far-off places. And, for others who fork over their "Whole" paycheck for nutritious kale and its green cousins, it's a glaring reminder of the isolation of living in a small mountain town. Winter storms can often inhibit shipments, leaving a vulnerable veggie aisle.
The idea of supporting local businesses, educating the community on the source of its food, and operating a socially-conscious organization appealed to the founders. And, if that "to do" list wasn't enough, they fully intend on employing developmentally disadvantaged individuals within all facets of production. In Wyoming, 78 percent of the employable developmentally disabled population is without work.
Relying on an inexhaustible unity of purpose, Yehia and McBride approached the technical, visual, architectural, communal, political, environmental, ecological, economical, and social aspects of their urban farming dream head on, and frankly, became (in Silicon Valley parlance), disruptive innovators. Harvard professor Clayton Christensen says, "It's important to remember that disruption is a positive force. Disruptive innovations are not breakthrough technologies that make good products better; rather they are innovations that make products and services more accessible and affordable, thereby making them available to a much larger population." Yehia and McBride were ready to bet the farm that their vertical farming dream could work in Jackson.
This honorable pursuit came with growing pains. Big ones. Like skepticism on steroids. With their Vertical Harvest concept bolstered by seed money from 1% for the Tetons (the first local chapter of 1% for the Planet, Yvon Chouinard's foundation that encourages businesses to give back to their environments), they hit the streets. Unfortunately, at first, the public just didn't get it. A chorus of questions came at them, "Why are you trying to do this? What's so important? Shouldn't we be housing people instead?" Understanding the hesitation, Yehia would reply, "When you're trying to do something new, it's really difficult. It takes innovation to solve problems." Embracing their detractors as much as their supporters, the two remained undaunted by their lengthy obstacle course. They've been working at this for the last six years.
With hundreds of meetings, dozens of design reviews, and an often-scarring political process, the turning point came when a Tea Party representative and the former mayor understood that a public-private partnership could work. That relationship gave Vertical Harvest the link to the Wyoming Business Council who awarded them with a $1.5M grant via an application from the Town of Jackson. (VH leases it from the Town of Jackson and pays a 4% recapture fee for economic redevelopment). This model of public progress grew from perseverance and advocacy—and the momentum just grew from there. What started as a small group of founding members, a grant from Community Foundation Jackson Hole, and contributions from Jackson Hole Mountain Resort and Lucky's Market, had grown into funds totaling $3.8 million from community resources as diverse as First Interstate Bank, Energy Conservation Works, Grand Teton Lodge Company, a handful of extremely generous donors, and a bounty of committed investors. Their green was more than just money. It was a declaration of sorts that a community with like-minded individuals could grow something. Something big that could cultivate independence, wellness, awareness, and inspiration—the four core values that the women envisioned would connect and sustain the community's future.
Once the funding was secured and building approvals signed, the town buzzed with anticipation. Yehia and McBride's journey of funding, designing, and building one of the world's first vertical hydroponic urban farms—AKA a gorgeous, sustainable, semi-automated greenhouse that will yield close to 100,000 pounds of fresh, locally- grown produce year-round on a mere 1/10 acre—had officially sprouted in all its photosynthesized glory.
With coverage in magazines like Atlantic Monthly, this Vertical Harvest model is promising and could spread to other mountain towns with similar growing challenges.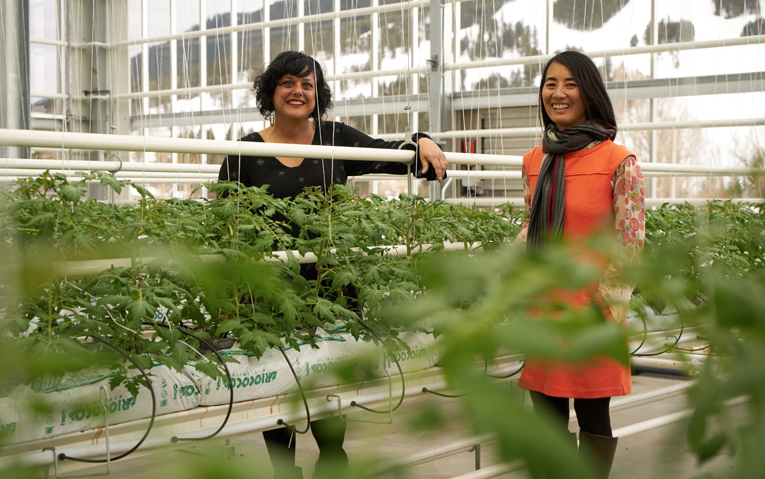 South-Facing Spectacular
The site area measures just 4,500 square feet, but multiply that by three stories, and consider the carousels of growing trays on conveyor belts with timers that maximize the sunlight, and the growing area expands to 18,000 square feet. That's literally 44,000 pounds of tomatoes, 37,000 pounds of lettuces, and 4,400 pounds of micro-greens and herbs per year.
The vertical nature of the project presented some lighting challenges. "When you stack the greenhouses, you have to artificially light the project. Because we had our social imperative, we wanted to be a beautiful and sustainable place to work. Our greenhouse engineer, Thomas Larssen, knew that by combining artificial and natural light, we would bring our energy footprint down," says Yehia. Each crop needs a different light spectrum, and they'll utilize HPS (High Pressure Sodium) bulbs for the tomatoes and LED (Light Emitting Diode) for the lettuces and micro-greens. And the natural light pours in from the walls of windows.
Here's a not-so-dirty reminder—hydroponic farming requires no soil, therefore it eliminates the risk of disease and the need for those pesky pesticides. "In a hydroponic growing system, plants receive their nutrients directly in the water. They're grown in an organic material. In our case, it will be coconut husks that the plants will be residing in, and they'll get their nutrients from water that is constantly fed through their root system," states McBride.
This productive and environmentally-friendly method saves the obvious…land. Added bonus? No exposure to the unsavory run-off from traditional farming operations. Want more? Water is recirculated, which translates to a 90% reduction in a typical farming scenario. And, by locating Vertical Harvest in town, fewer people have the need for transportation, reducing residential traffic and cutting down the transport of food to town. Remember those winter storms?
Get vertical
Let's take a tour and start at the top. Third floor, please. There's a viewing platform to witness the year-round commercial tomato production with 10 massive rows of tomato plants growing on a high wire, which also utilizes the ceiling as an extra floor. When facing Snow King Mountain, you have beefsteak on the east, cherry on the west, and oh yes, pollinated by bees.
Because going vertical required a sun study, the solar exposure is dialed to take advantage of the microclimates within the building. Single-paned glass allows maximum heat, and every pipe is a heating pipe. Larssen Ltd., a company that has constructed greenhouses in Siberia and Iceland, designed Vertical Harvest to maintain a downright cozy internal temperature of 67° with a design temperature of -30°.
And then there's the art. This is Jackson's first vertical exhibition space. With Ben Roth's metal sculpture, Scotty Craighead's photography, and Mark Dunstan's mixed media as just an example of the art expected to be on exhibit, the public is sure to experience a healthy dose of seasoned and emerging artists. Add a video screen describing the greenrooms and their inner workings, and the airy space exhales with growth. It blurs the edges of the indoor and outdoor environments. And the view from the town ski hill, Snow King, includes Vertical Harvest's stunning rotating walls of red and green.
Beyond tomatoes
Welcome to the lettuces, micro-greens, and herbs. On the second floor, Yehia confirms, is where the true innovation is on display. The "T"-shaped conveyor belt on roller cables brings the plant directly to the employee who will either plant or harvest. Lettuce could be on your plate within three to five weeks. Director of Production, Timothy Schutz, capitalizes on his vast skills in greenhouse system design, plant nutrition and crop selection, by making certain scheduling and production stay on track.
But who, you ask, will seed, harvest, and deliver all this deliciousness? From the beginning the women prioritized integrated employment. In 2012 when McBride was a sustainability consultant, she was asked if she knew of any employment opportunities for the developmentally disabled. Her quest to fulfill the void and provide meaningful employment became a guiding principal for the project. Yehia's brother is developmentally disabled, so she shared McBride's commitment to integrated hiring. The Governor's Council on Developmental Disabilities became another cornerstone for Vertical Harvest's business model. It became so important that when the doors open this spring, upwards of 20 individuals will have become experts in hydroponic farming with over two years of training in germination and propagation, as well as vital teachings in customer service, social media, and fundraising. With their combined knowledge in vocational rehabilitation, agro-ecology, and environmental education, Employment Facilitator, Caroline Croft Estay, and Educational Coordinator, Joelle Lazzareschi, have empowered and engaged an important population. "The impact on our trainees has been palpable. That is meaningful to me," Yehia claims.
From the central atrium to the third floor is a rotating living wall. Simple in its application, yet striking in its presentation, this living wall gives space for donor recognition and offers access to plants. At street level in the public area is the "living classroom" where the community can engage in training and education, and purchase specialty crops, in addition to those tantalizing tomatoes and that lovely lettuce. Yehia excitedly states, "Imagine this room filled with adults and kids learning about science, food, and health from people with developmental disabilities. It's really redefining what this population can do." Partnering with local organizations like Slow Food in the Tetons, Full Circle Education, and local schools, Vertical Harvest can contribute to the teaching of healthy food practices as well as teaching hydroponic farming techniques to future generations.
And, the pièce de résistance? St. John's Hospital (a VH partner) will conduct their Wellness Institute's diabetes program in the classroom to "communicate their message of prevention" and emphasize that nutrition's trail leads to good health. For the hospital and Hole Food Rescue (an organization that redistributes over 5,000 pounds of excess nutritious food to over 1,000 residents in Jackson every week) the nutritional value of Vertical Harvest surpasses its minimum daily requirements for a plant-rich diet providing optimal health. Their products will be available in local markets and pre-purchase orders from the area's restaurants (Vertical Harvest's Culinary Circle, which includes Jackson Hole Mountain Resort) guarantee the business model "will generate modest profits to ensure its fiscal sustainability."
Need more to love? A retail store called, "MARKET" defines the year-round urban farm experience. Every week, "Market Day" highlights local farmers and producers who may not have a retail or wholesale license, yet have tasty, artisanal products (cheese, jams, pickles) to share.
The Health of the Community
But, back to the difficult questions the dynamic duo had on replay, "Why are you trying to do this? " Here's what cultivating that field of dreams really brings to the community. Aside from stimulating innovation and collaboration, inspiring local and global sustainability, and creating food and jobs, its significant impact comes in the form of connection and opportunity. Yes, Vertical Harvest encountered more than its share of bruised knees while getting off the ground, because it does more than just feed people. It connects us all to our neighbors, elected officials, business owners, schoolteachers, farmers, tradesmen, athletes, children, hospital workers, and more importantly the developmentally disadvantaged. It also connects a community to its sustenance and puts that community in the driver's seat. This is cause for celebration. How about being surrounded by new art and fresh food? For some folks this is a luxury. If you think about the elderly population in any town, a 20-minute walk to buy fresh produce, visit with friends, view art, and eat well is a luxury. Now imagine if that person were alone for the better part of the day. Statistics show that loneliness can increase the risk of death by a whopping 26%*. That simple walk for food, friendship, and exposure to a compassionate, well-educated, sustainable community could impact an individual's longevity. For others who are wildly connected virtually, in 20 minutes they may connect with just as many folks at Vertical Harvest as they would during their 20 minutes on Facebook or Instagram.
"There is no ecology without community, no community without participation, or development without equity."** The meaning of Vertical Harvest, and other urban greenhouses throughout the world is truly a form of stewardship, which is rewarded by cooperation and diversity. These two determined women raised the question of horizontal approaches to social innovation and strategic alliances, daring Jackson's community to think beyond that first seed. The abundant talent and network of relationships that keep a town of 22,000 vibrant, adaptive, progressive, and willing, foraged on the roots of common sense and its appreciation of nature and arrived at a beneficial outcome for its most valuable asset, its residents.
Perhaps it was second nature.