Why adventure matters now more than ever.
There are robins chirping outside the window.  Not casual chirping, but the sharp calls and answers during the hectic days of nest building and egg laying that ensue with unfurling leaves and lengthening daylight.  The river behind the house is roaring from seasonal snowmelt and aspens are rustling in the breeze; wildflowers are celebrating their riotous but short blooms before the high heat sets in. It's the beginning of another summer in Idaho…and Mother Nature's oblivious to our human pain – our global pandemic, economic depression, political elections, and civil rights unrest. Right now, thousands of families are dealing with COVID-19's devastation, bank accounts and businesses are in peril, protestors are marching, and entire countries – including our own – are exploding in unrest, fear, and instability.   
But thankfully, nobody's told the birds.   
They're still mating, carefully tending their nests and singing loudly in the trees. For all our troubles, green things are still pushing through the dirt, fox cubs are still being born, trout are still jumping at hatches, and as of this morning, the sun still decided to shine. Earth's northern hemisphere has waltzed into another summer and another chance at rebirth. Paying attention to Mother Nature's unfailing commitment to embracing Life is a profound meditation in perspective. 
And so with great intention – and also with great privilege and gratitude, we turn off the news. We stop the scrolling. We leave the house.  We get in the car and drive north.  We turn our backs on the constant influx of the modern world and go to kneel at the feet of the oldest teacher of all  – Mother Nature.  Nudging our boats into the slipstream of a wild river current, away from the noise and chatter, we leave behind the cell reception, the wifi, the schedules, and the laptop. We loosen the ties that bind and head off for an adventure. 
Adventure.  That physical exploit of toil, challenge, and time…does it still have a place in our increasingly busy and fraught world?  Aren't there more important and responsible things to do these days, like invent a vaccine, clean the oceans, reduce emissions, fight for social justice…. save the planet?  And besides, weren't adventures born out of the need for exploration? Today the world seems fully explored, filmed, written about, and seen – from satellites to GoPros to iPhones. What's left for adventure to reveal that can't be streamed or Googled from the comfort of our homes?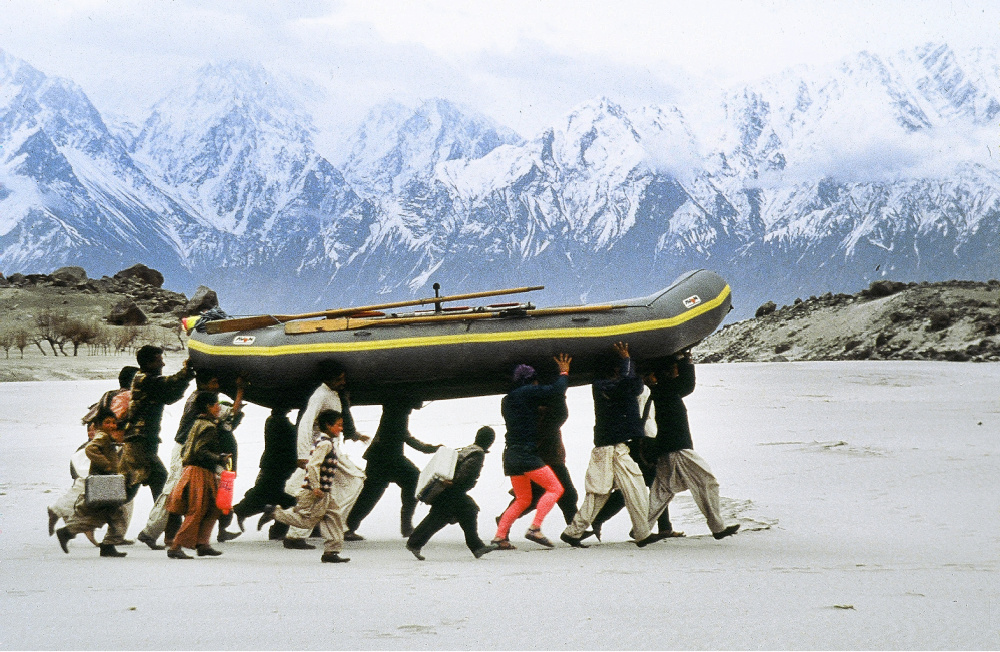 What indeed. 
Simply and profoundly: Our truest selves. 
Every adventure combines four major elements; Risk, Effort, Excitement, and the Unknown. These are the very same elements that comprise the act of living itself.  And so, perhaps we are on to something important when we examine what Adventure can teach us about Life. 
An old mentor once said "you can't buy an adventure, you can only buy the opportunity to have an adventure. What you make of it, is entirely up to you." As the years go by, these words seem wiser and more relevant than ever.  We are a world gone frantic with busyness, short attention spans, and worry…and yet grown soft from immediate gratification. Most of us feel that if we've paid for something, we're entitled to it. As a species, we're hardwired to innovate, to solve problems, to create faster, easier ways of doing things.  But a meaningful adventure – like a meaningful life – isn't something you can buy, shortcut, or commoditize with any authenticity.   
It is – and always will be – the experience that matters. Whatever you get out of an adventure, whether it's a new skill or a memory, you've earned it through some measure of embracing risk, effort, excitement and the unknown.  From pushing through inertia, fear, or doubt to the other side, where excitement, change and transformation await you.   
Many years ago, in Gilgit, Pakistan a six foot tall blonde Australian woman wearing an outback floor-length duster stepped off a bus with a suitcase. Her name was Margaret and she was on a solo adventure going up the Karakoram Highway, across the central Asian plateau to China.  Not only was she traveling in a dangerous part of the world alone as a woman, she was an older grandmother and she only had one arm. She'd lost the other arm years ago as a young woman in a bus accident in India, after which she'd vowed never to return to Asia and to settle down and live a sensible life.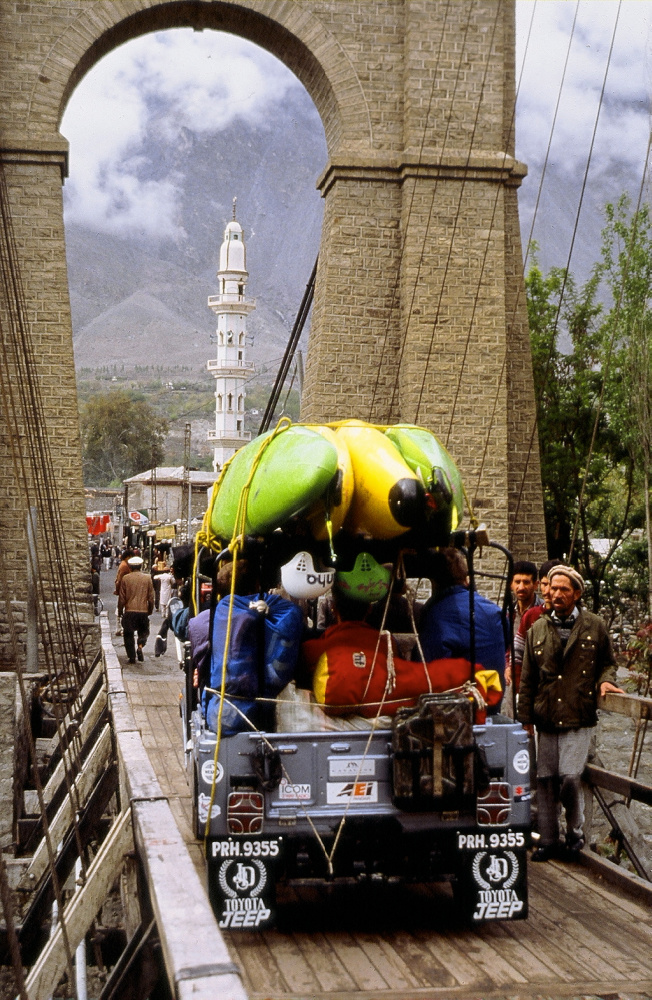 But decades later, after her husband had passed and children grown, Margaret found herself tired of living the expected life and longing for the adventures she once had. And so she packed her bags at 70 years of age and took off, winding her way through Africa and Asia until she ended up in this dusty Himalayan village with not much more to it than Taliban freedom fighters, scrawny chickens,  and our modest expedition company guiding raft trips on the Indus River to the occasional intrepid traveler.  
We learned over tea that Margaret had been denied rafting the Zambezi in Zambia due to her having one arm, and we quickly decided we'd take Margaret out on the Indus despite the high water and dangerous conditions. She was a grandmother on an adventure and we just couldn't deny her. The memory of Margaret howling with excitement as we worked to keep the raft from flipping through enormous breaking waves and intense rapids is something that has stayed front of mind over the many decades since.  
We put Margaret on a bus leaving Gilgit and she disappeared in a cloud of diesel and dust up the Karakoram.  We never saw her again and we don't know what became of her…but Margaret was a person fully embracing the unknown and living her questions.  No more expectations for her, only experiences. She had pushed through to the other side of her fear and was fully living life as an adventure – letting risk, effort, excitement, and the unknown teach and transform her. Inspiring and heartwarming, it was something impossible to forget. 
Go on enough adventures and you begin accumulating a library of lessons from Mother Nature that feel metaphorically applicable to everyday life. You learn kayaking isn't about going down the river, it's about learning to control your boat across the river so you can anticipate obstacles and avoid danger. Climbing Everest isn't actually about summiting, it's about the journey to get there –  including the effort of training hard and "paying now" instead of "paying later" on the mountain. Entering a big rapid on a river is about purposefully embracing the unknown, and using everything you know to get safely to the other side.  
At its heart, Adventure teaches you to do everything you can do to be ready for a challenge, and then forces you to surrender with equanimity to the millions of things that happen beyond your control.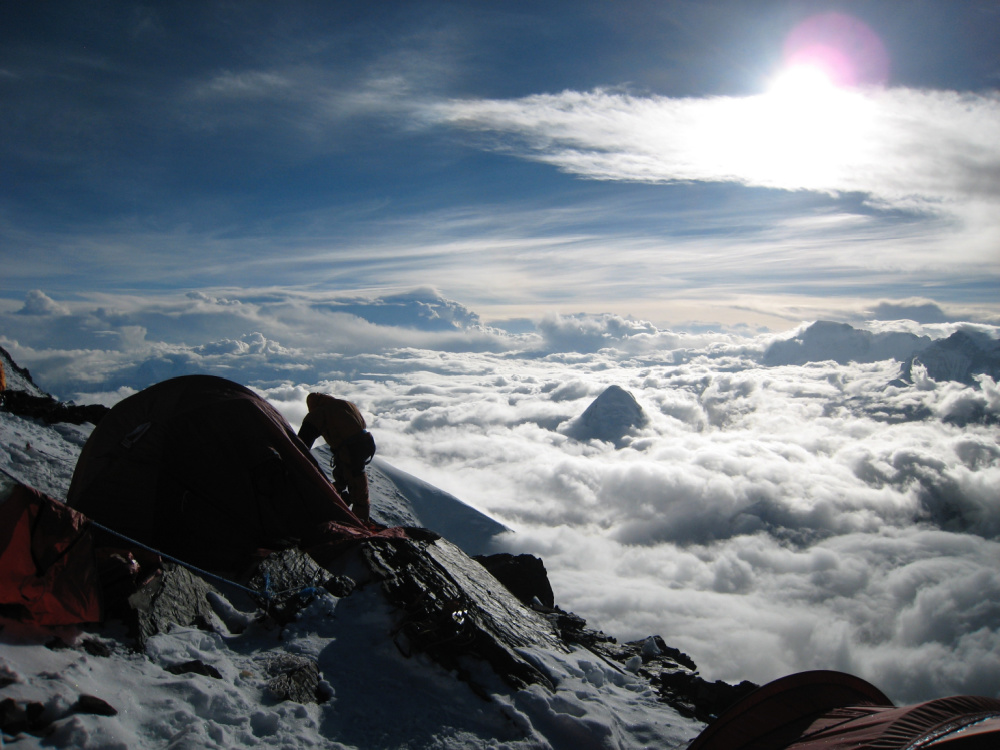 If that's not a metaphor for living life, what is? 
But maybe the power of adventure is bigger than teaching these tactical lessons in the field. Maybe the real power of adventure lies in its potential to change us. It doesn't matter whether the adventure is climbing Everest or a weekend camping trip by the river. Through intentionally pushing us out of our comfort zone, adventure demands we stand at the edge of who we think we are…and look out over the exciting new territory of who we could be if we learned to embrace risk, embrace effort, embrace the unknown. Adventure inspires us to be more, do more, live more, while sowing the seeds of those changes within us. 
Today, as we spin toward deeper and deeper challenges across the globe, with higher and higher consequences…Mahatma Gandhi's advice seems to ring more true than ever. We cannot begin to change the world until we learn how to change ourselves. We cannot begin to change ourselves until we honestly examine ourselves, test ourselves, and face ourselves. There is no truer mirror for self than Mother Nature.  She cares not for your title, your bank account, your car, or your education. She asks only human questions and rewards only human responses.  
Old-fashioned, real adventures in Mother Nature may seem like antiquated excursions that few have time or interest for pursuing in today's fast-paced world. But it seems that these real adventures may be precisely what we desperately need – experiences that awaken us, that teach us who we are and show us who we can be, that change us… so that the world in all her reflections of us – may be changed as well. 
Which is to say, especially in this fast and furious modern world, adventures matter more than ever.