Smell that? It's snow on the horizon. Better dig out your gear, tune your skis, and plan your ski trips. The snowsports industry is an ever-evolving one, and one evolution that has been a huge win for consumers is the Mountain Collective pass. With 14 destinations on the menu, two days at each destination with a third day on the mountain of your choice, the Mountain Collective pass is just the ticket for anyone who finds it hard to commit to one good thing.
Professional skier McKenna Peterson never really takes a break from skiing as she chases powder through the southern hemisphere while the rest of us are whitewater rafting and mountain biking through 80-degree days. Now that she's looking down the barrel of her next winter season, McKenna, a woman who loves mountains far and wide but has a hard time committing to just one, offers up her BigLife abridged guide to making the most of your Mountain Collective pass depending on what skier type you fit into. No, we're not talking Type I (beginner), Type II (intermediate), or Type III (expert). We're talking about how you like to roll.
THE POWDER HOUND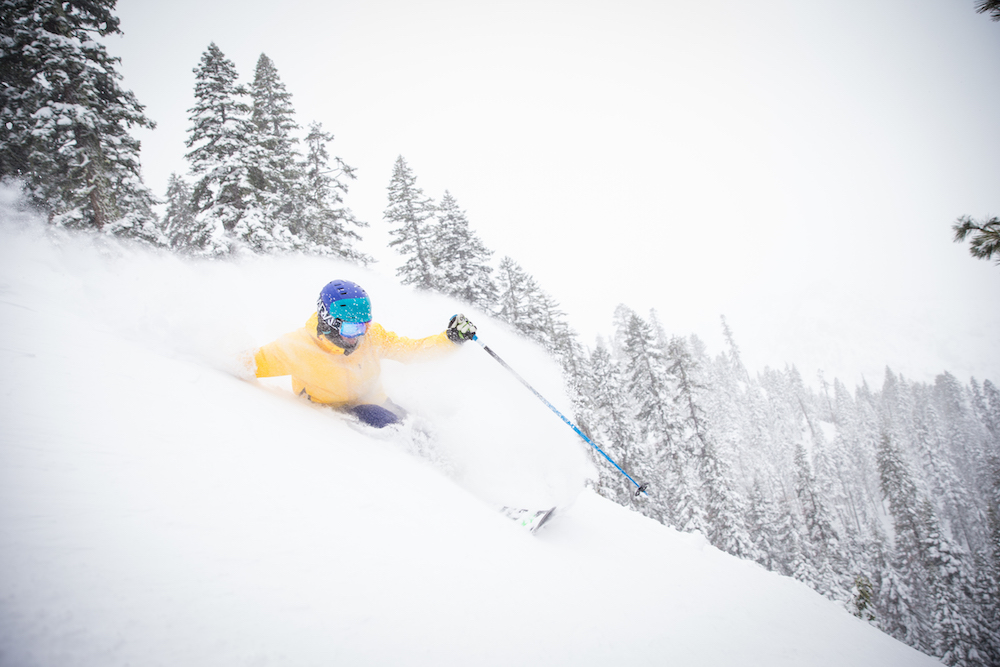 How to Recognize If You're a Powder Hound:
You live in your van or on a friend's couch. The draw of untracked powder and vow to worship Ullr has you roaming from one ski resort to another depending on weather patterns. You have opensnow.com set as the homepage on your four-year-old Macbook Pro—the graduation gift your parents hoped would inspire you to further your education or secure gainful employment.nLittle do they know, you are studying; you are analyzing jet streams and temperature gradients.
The Ultimate Powder Hound Link-Up:  Alta/Snowbird |Jackson Hole | Squaw Valley/Alpine Meadows
Alta/Snowbird
Begin at Alta/Snowbird where you have two days of skiing and 50% off any additional day.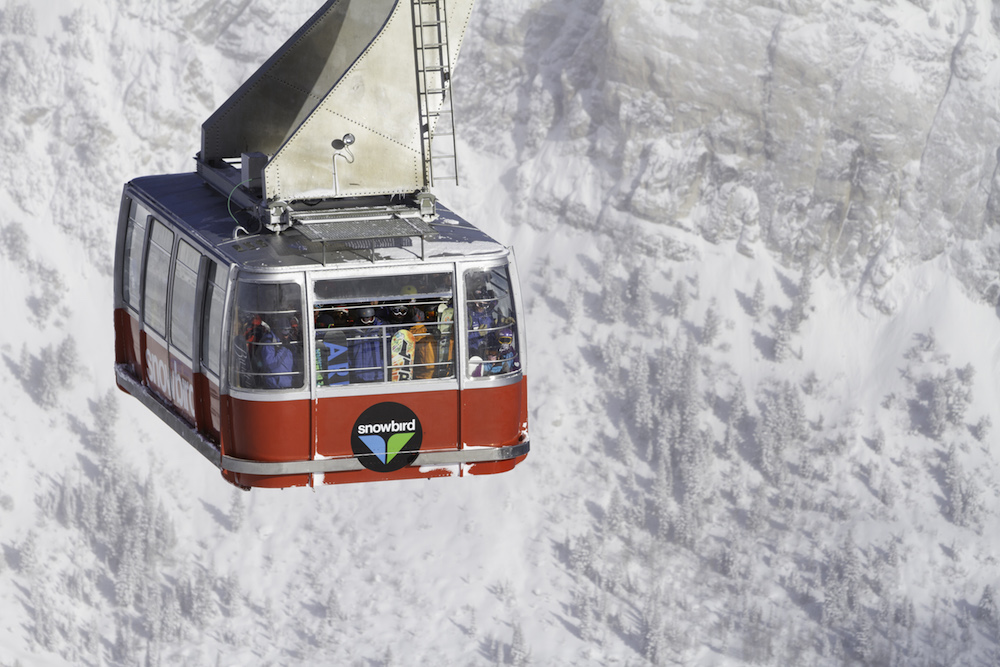 The Plan
If it's a weekday, hit up Snowbird and make tram laps until your legs fall off. The Cirque holds some of the best terrain on the mountain if you can navigate the spicy entrance and the expansive mineral basin can house stashes of untracked powder far longer than the rest of the resort. Weekend? Head next door to Alta—skiers only, sorry boarders— where you will find fewer people and shorter lift lines. After tearing up all of Supreme lift and Wildcat, drop into Keyhole to ski back to The Bird. You may be surprised by the deepest turns of the day.
AprÈs
Head to Alta's Peruvian Lodge, where, if you're lucky, you will find killer live music and ski bunnies dancing on the bar. Or grab a $5 shot and beer at Snowbird's Tram Club—definitely the best bang for your buck in Little Cottonwood Canyon.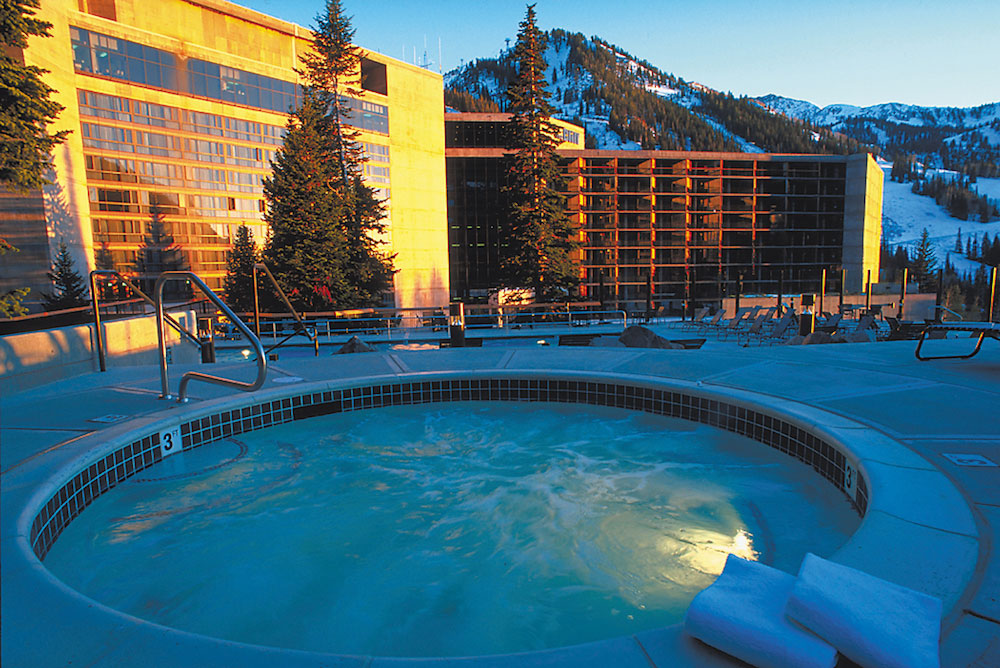 Sleep
Snowbird's Cliff Lodge where you can receive up to a 25 percent-off Mountain Collective discount. It is worth getting a room at the Cliff solely for access to the rooftop pool and spa.
If you are, in fact, sleeping in your van, you will need to drive back to the city. There is no overnight parking anywhere up Little Cottonwood Canyon. On your way to the Walmart parking lot, make sure to stop by Lonestar Taqueria for the best burrito in town or swing by Hector's for scrumptious tortillas and homemade sauce.
Jackson hole
A scenic 4.5-hour drive from SLC makes Jackson Hole the obvious next destination.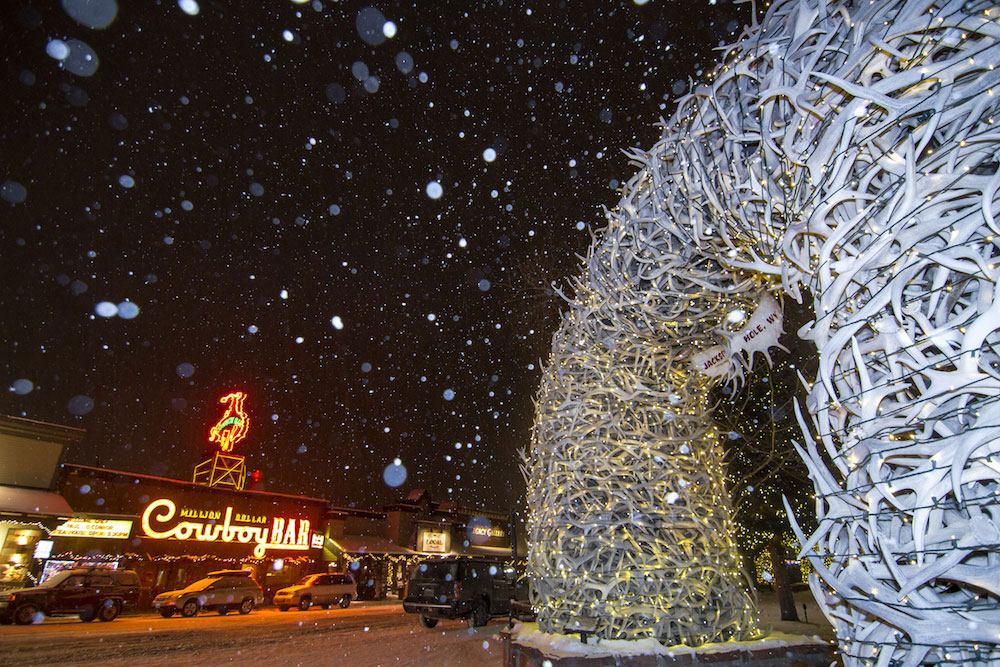 The Plan
With over 4,000 feet of vertical drop and the majority of its terrain rated 'expert,' Jackson is a beacon of light to North American powder hounds. Grab a quick and hearty breakfast burrito at D.O.G. before heading up to the Village. Park in the carpool lot where, if you have more than three people in your vehicle, parking is free.
AprÈs
The Stagecoach in neighboring Wilson is the place to get schooled in dancing. The Stagecoach is a must, especially if you are passing through on a Sunday night.
Sleep
Reasonably-priced rooms do exist (especially with your Mountain Collective discount). Check out the Town Square Inns  and the Jackson Hostel for the best rates. If you're a trustafarian disguised as a van-living powder hound, splurge and stay at The Four Seasons,  Aprés at the Handle Bar is definitely worth it (not to mention The Four Seasons' waffles—you will certainly be properly fueled for your big day of powder!).
Squaw Valley / Alpine Meadows
Stock up on Red Bull because Squaw Valley is where you are headed next, and you have an 11-hour straight shot. we don't recommend attempting the drive overnight after lapping the Jackson Hole tram bell to bell, but it has been done. No good story ever started with "let's wait until tomorrow," right?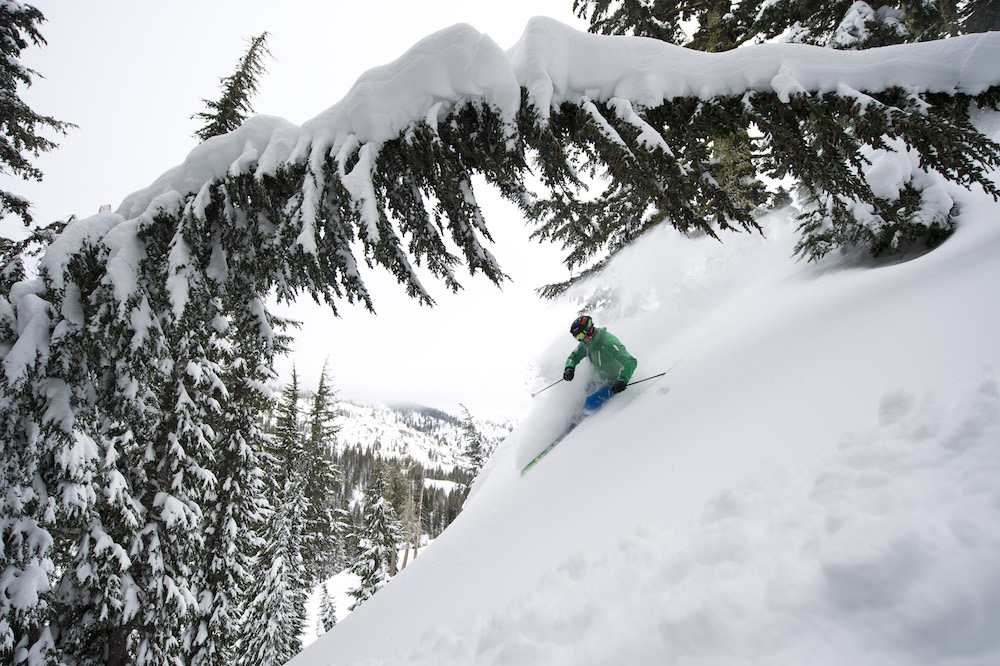 The Plan
Start the day off on KT-22—likely the most famous chairlift on the West Coast. Spend the morning ripping powder and spines. Top it off with a cookie from the Wildflour.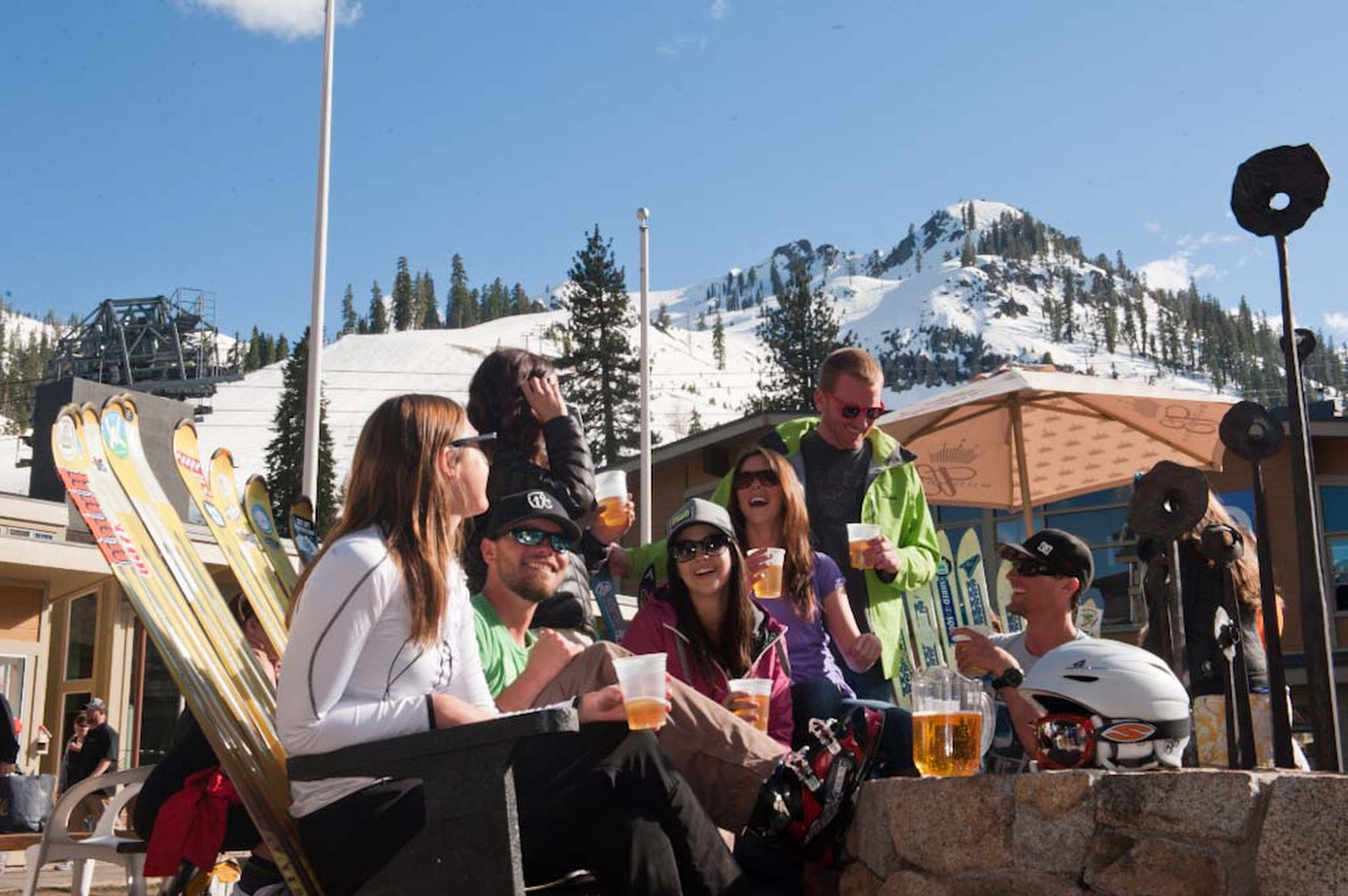 AprÈs
The Chamois is where you will find cold beer and great company.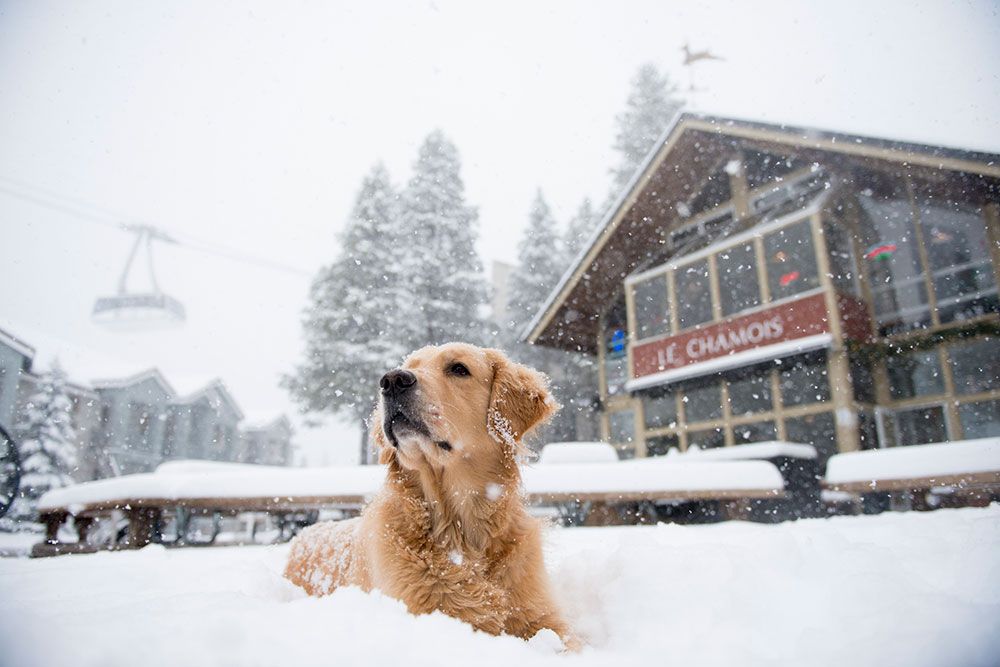 Sleep
There aren't many resorts that allow overnight parking where you can sleep in your vehicle. Fortunately, Squaw is one that welcomes the vanigans (the Powder Hound's version of a hooligan) out there. The number of available spaces are limited so nab your spot early. And if you are cooking bacon in the parking lot, make sure to share with the locals.
+2 SKIING: FAMILY FUN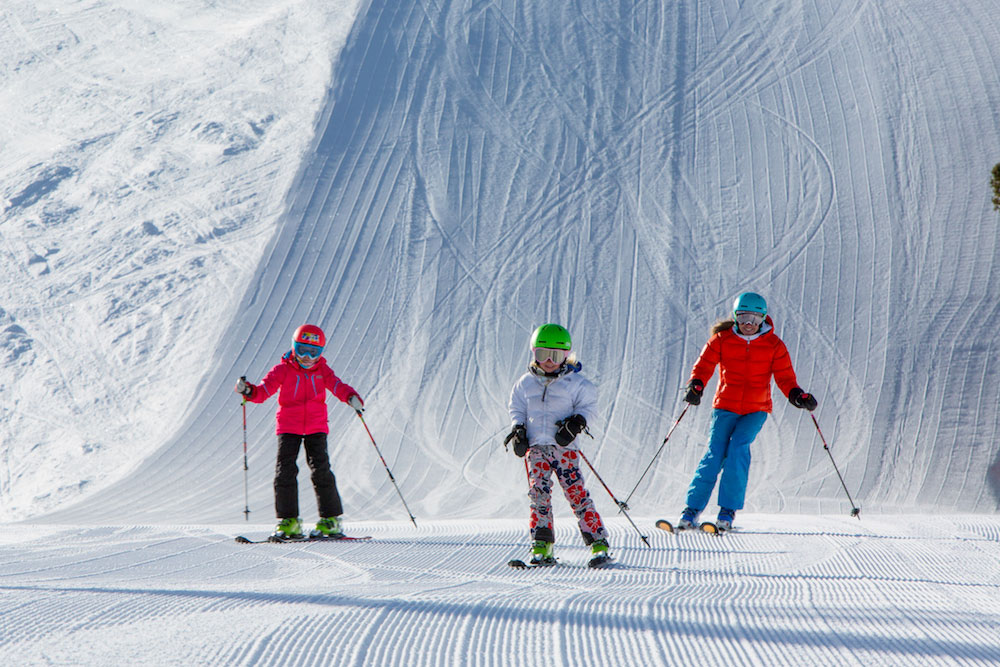 How to Recognize If You're a +2 Skier:
Look at your credit card bills—the drain on your finances is the first clue. The second is the amount of stuff that you have to travel with these days. Those ankle biters do not travel lightly. The Ganters, a Colorado-based family, are Mountain Collective experts and lovers of all things skiing. Every year, the Ganters make use of their Mountain Collective passes to take ski vacations during the kids' school breaks. Why? "Because skiing is a lifestyle, something you can do forever and something we can do as a family," says Wes Ganter, the father leading his flock to the slopes each season. "You can't do that with too many other things." One of the Ganters' favorite link-ups is Aspen to Sun Valley to Jackson Hole. Since we've already covered Jackson for the Powder Hounds, suffice it to say that Jackson rocks for families as well. And BigLife recommends a newcomer to the Mountain Collective family—Revelstoke.
The ultimate +2 (or more) link-up: Aspen/Snowmass | Sun Valley | Revelstoke
Aspen
Aspen is calling. do not ignore the call. Not only is the skiing world-class, but the off-mountain options are world-class as well.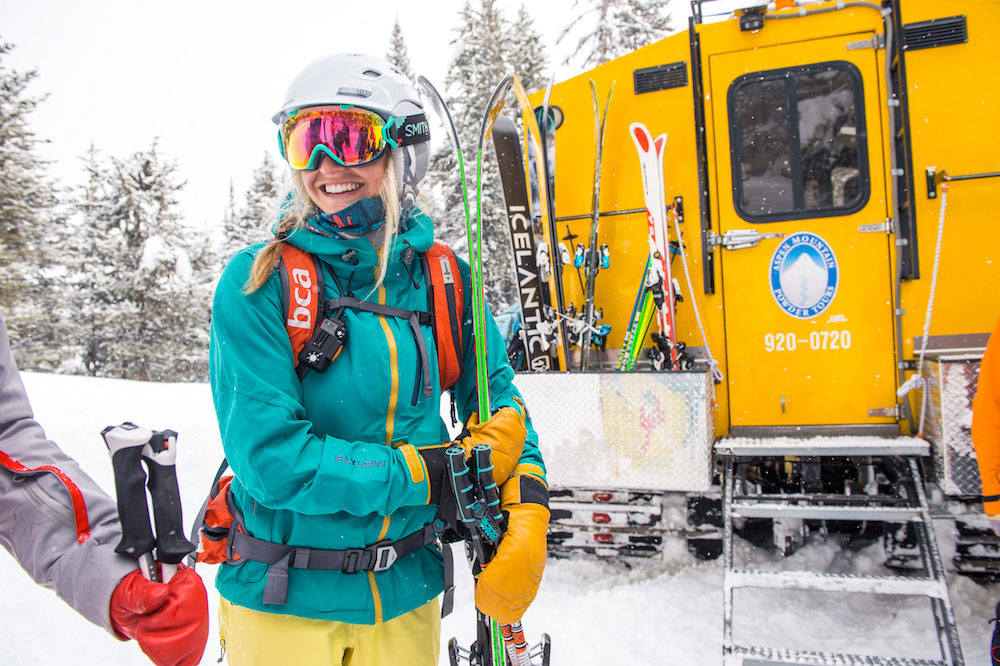 The Plan
Aspen, Colorado, and its four surrounding mountains have plenty of terrain options for all ability levels. Choose to ski the steeps at Aspen Mountain (Ajax) or hit up the Lowdown Park at Snowmass where the kids can learn to slide boxes and put some air under their skis. Stop by the super pipe on Buttermilk resort to watch past and future Olympians progress their sport.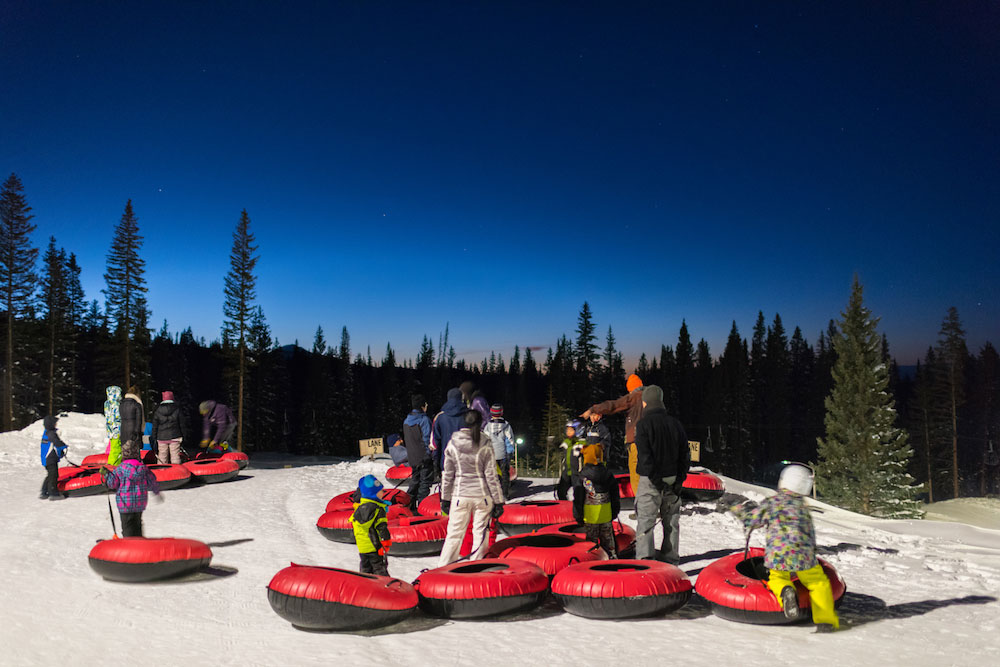 Kids AprÈs
Ullr Nights, a nighttime party at Elk Camp on Snowmass, is fun for the whole family. Take an evening gondola ride up to Elk Camp for outdoor winter activities such as tubing, ice skating, snowbiking, s'mores, and hot chocolate by the bonfire.
big Kids AprÈs
Do not pass "Go" until you visit the Aspen Art Museum and have dinner out on the town; Aspen has many great options for dining out sans kiddos!
Sleep
Lodging options in Aspen and Snowmass are many and cater to a wide range of budgets. Aspen Limelight Hotel, a hip hotel with a keen sense of style, humor, and fun is one of our faves. Exclusive Mountain Collective discounts, available through the resort's website, will help keep some green in your pocket.
Sun Valley
Sun Valley is perfect for families, boasting A great ski school for the kids, perfectly groomed slopes for the moms and the dads, and ample bowl skiing for the adventurous. With more flights servicing the local airport than ever, Sun Valley has never been so close!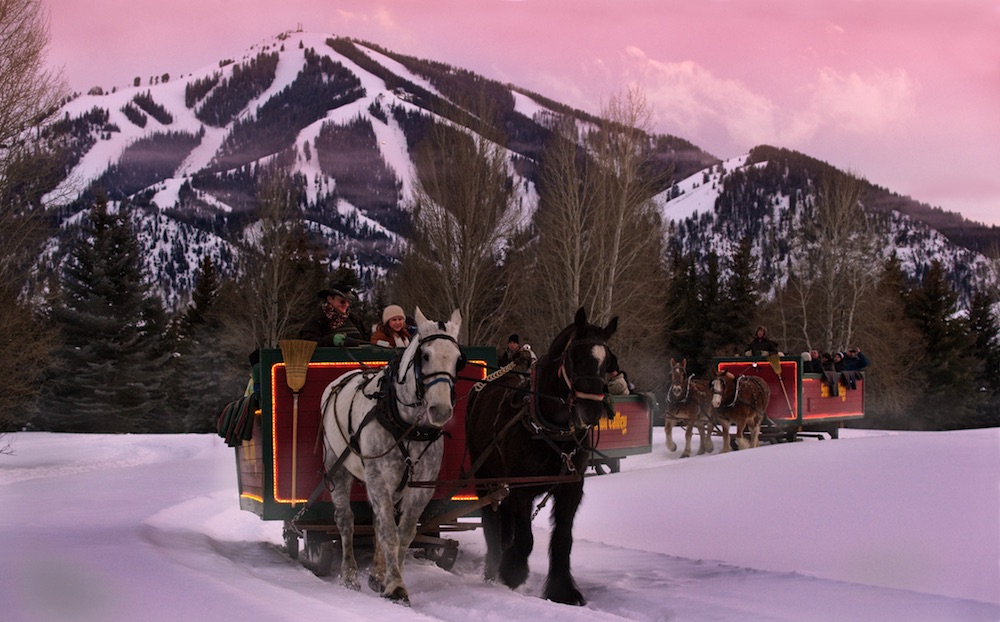 The Plan
Sun Valley has really upped its game over the past few years, making major on-mountain improvements to Dollar Mountain, home to the notable terrain park and progression pipes, and completely overhauling the famous Sun Valley Lodge. The plan while in Sun Valley? Ski and get to know the area. Ketchum, the town one mile from the resort, is full of character and great things to do.
AprÈs
Drag your tired legs into Apple's Bar and Grill at the Warm Springs base area for a juicy burger and a healthy dose of après fun. Marvel at the 'locals' history of skiing that plasters the walls at Apple's. A sleigh ride over the river and through the woods (literally) will be the cherry on top of your family's dream vacation. Wool mittens (for all) and a flask of your favorite spirits (for mom and dad) are recommended.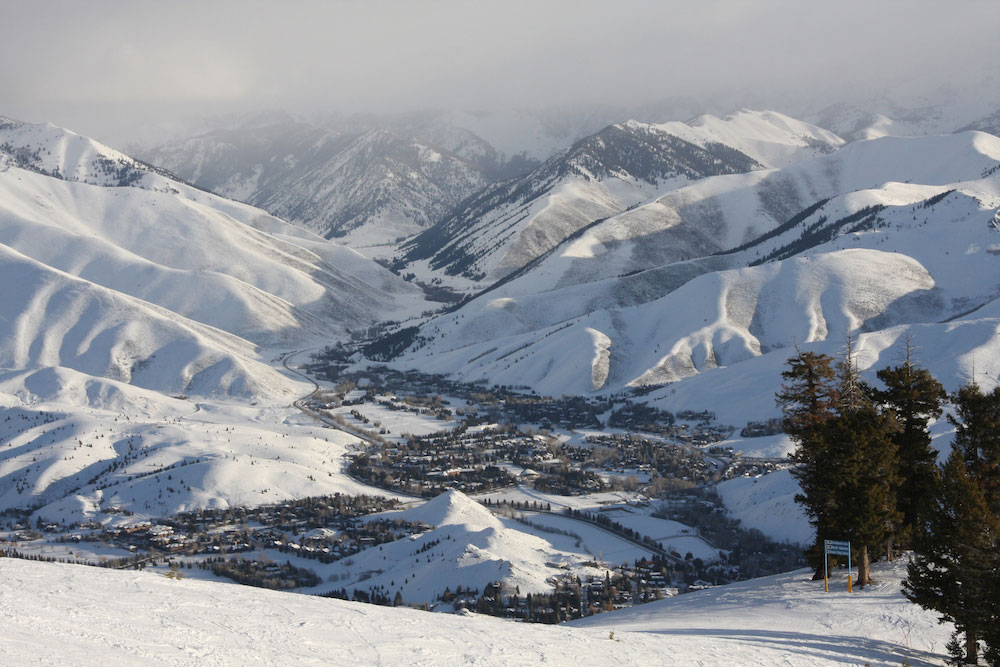 Sleep
The newly renovated Sun Valley Resort is a treat for families with ice skating, outdoor pools, a bowling alley, a spa, and great restaurants. Knob Hill Inn is a great in-town boutique hotel with a European feel. The Ketchum Limelight Hotel opens in 2017 and will be a great option for an in-town stay.
Revelstoke
Revelstoke, a new addition to the mountain collective line-up, might not be on your immediate radar for family travel. We think that's all the more reason to go there. well, that and it's never too early to get the little ones addicted to powder. It's all the reason you need to ensure your kids have their passports ready.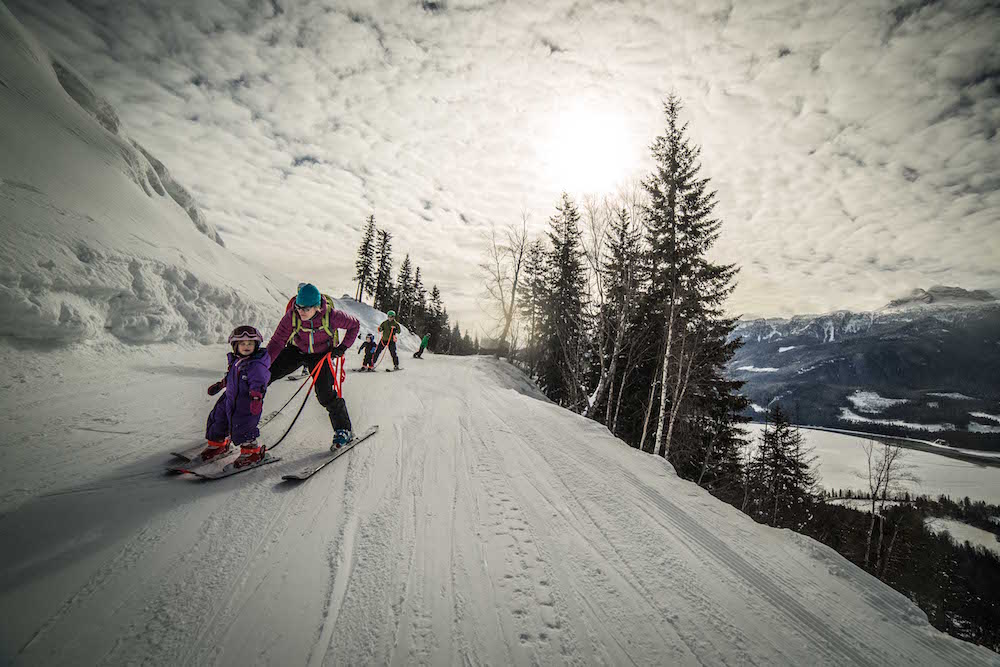 The Plan
Yes, to get to Revelstoke , you will be traveling to Canada and you will either need to rent a car or take The Stoke Shuttle from the Kelowna airport (approximately a 2.5-hour drive), but the skiing will be worth it. If your kids are beginners, sign them up with the Kids ROC, Revelstoke Outdoors Center, for good fun and good instruction. If the big kids are feeling a bit adventurous, sign up with Selkirk Tangiers Heli Skiing because as long as you're going to Revelstoke, you're going to want to stay longer than your two days!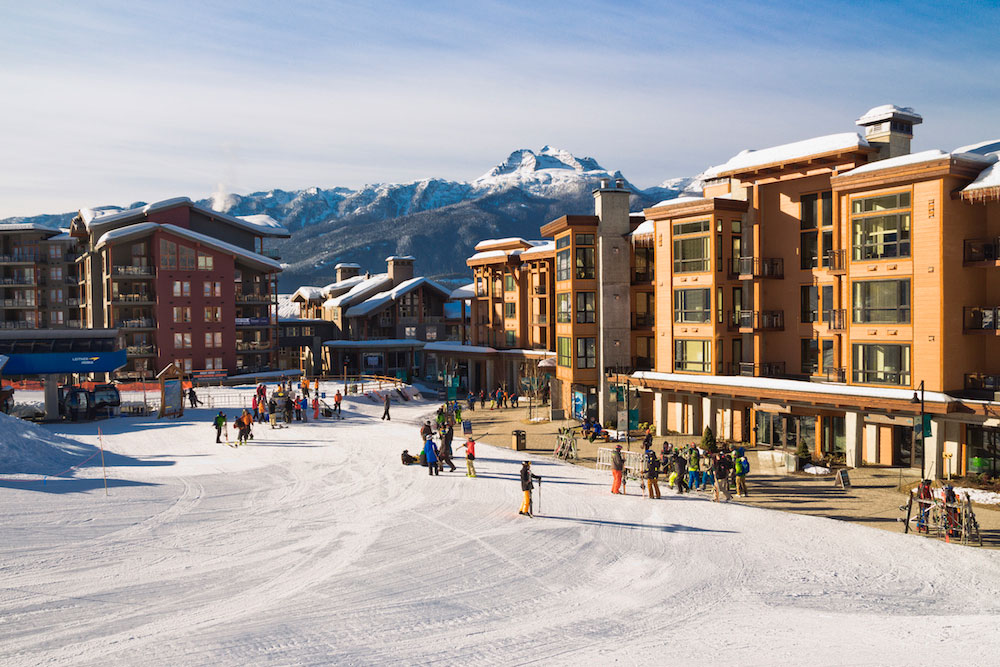 AprÈs
Revelstoke has the most vertical feet in North America (5,620 feet) and a good history of deep powder days. Yes, your legs are going to be tired. But don't neglect to have a drink at Rockford or The Mac (McKenzie Common Tavern) at the base of the resort in Sutton Place Hotel.
Sleep
Why go move around more than you need to? Stay at Sutton Place at the base of the mountain and get a good night's sleep before you do it all again.