We know. Some of you have had enough of the snow and you're ready for perfect single track. But hold on, as a wise man once said, "love the one you're with." It's still ski season—what's more it's SPRING skiing season and there are so many things to love about spring skiing. Skiers of all ilk are swooshing in their skivvies, the après parties are even better because it's warm and sunny out, and the air about all of our beloved ski towns is celebratory. Writer, interior designer, and captain of our spring ski team went on the perfect spring skiing road trip armed with Honey Stingers (for energy and staying power), a Mountain Collective pass (for easy access to some of the world's best skiing), Advil (for when he went a little overboard on the après), and a finely tuned sense of adventure (because you should never leave home without one). Sack started in Steamboat, Colorado, his hometown, and then headed to the great
Where to Go, Ski, Eat and Sip
GO: Steamboat
Ski: Heavenly Dayz, this aptly-named run is a long, open groomer facing due west, maximizing your sun exposure (= tanning time). When you are ready to head in for après, ride it through to See Me and straight into The T Bar: the locals' favorite place for unwinding after a long day on the hill. (It's a tough job but someone's got to do it, right?) Chef Trace Holloway crafts a culinary experience in the old ski patrol shack. This "5-star dive bar" extends outside with a wide reach of outdoor seating for bagging rays and listening to reggae beats played over the killer sound system. Eat: The Rosti  Drink: The Amputator IPA from local Butcherknife brewery.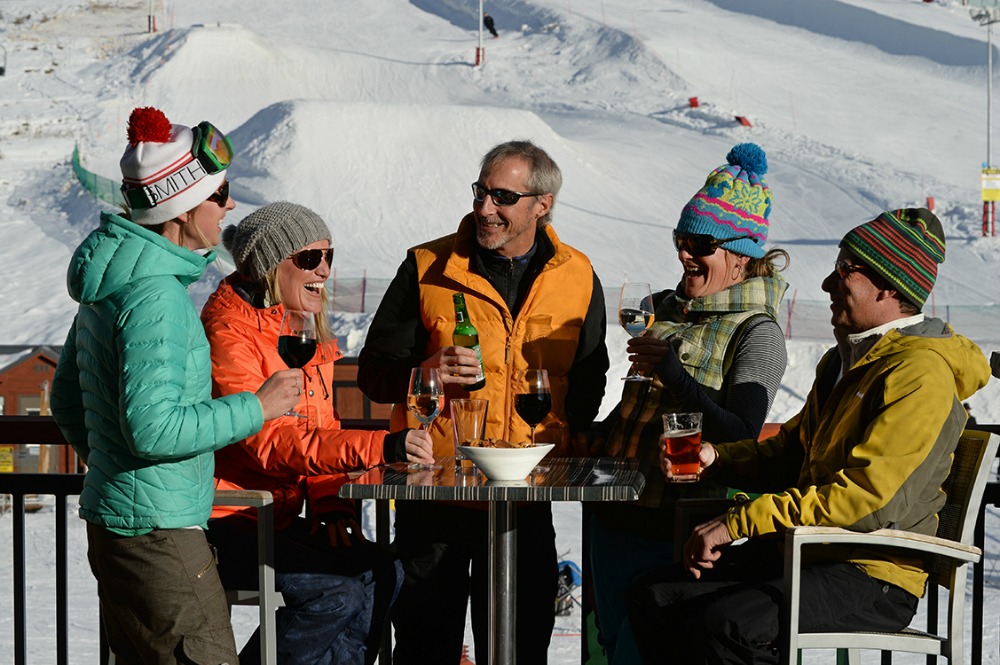 GO: Lake Louise (Mountain Collective)
Ski: The Men's Downhill, site of the World Cup downhill. This run drops you across the frontside of Lake Louise Mountain with a finish line just meters away from the Kokanee Kabin A classic yurt with large outdoor deck and fire pits and ample space for unwinding in the sun after a day on the slopes. Eat: The Poutine Drink: An ice cold Kokanee of course!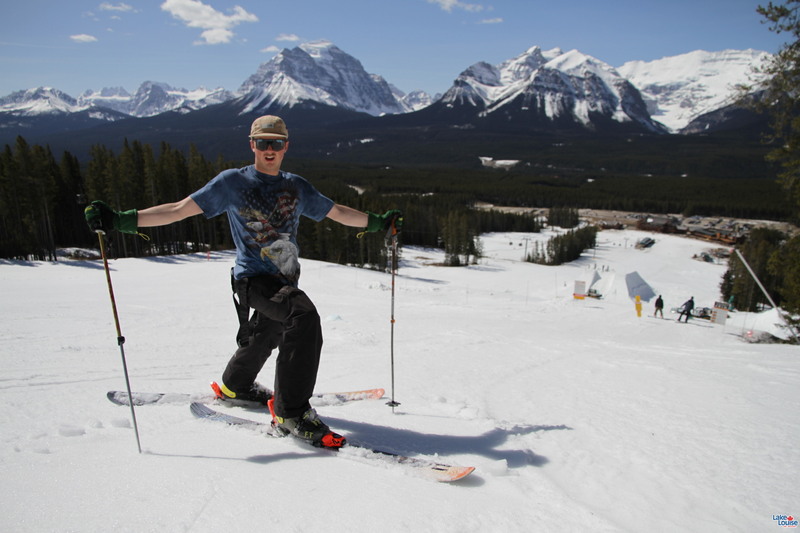 GO: Revelstoke (Mountain Collective)
Ski: Snow Rodeo. End your day by skiing the largest vertical drop in North America along this winding run which takes you from 7,300′ all the way back down to 1,680′.  Afterwards, you've earned some downtime at the generous outdoor patio of The Mackenzie Common Tavern. A hip gastropub style restaurant with comfy seating and great atmosphere. Eat: The Dirty Chips Drink: The Ugly Sweater (Revy's version of the Manhattan), which comes in a small bottle for you to pour and share as you see fit.
GO: Whistler
Ski: Harmony Ridge. Ski along the canyon overlooking Blackcomb Mountain—some of the best turns and views around. Following your sun-drenched turns, make your way to the base village and into The Longhorn Saloon where the party starts for those just off the slopes (or for those who may have never made it to the slopes). Eat: The Longhorn's Legendary Nachos. Drink: Champagne, and don't be surprised if your companions are spraying champagne all around, celebrating a sunny day on the slopes.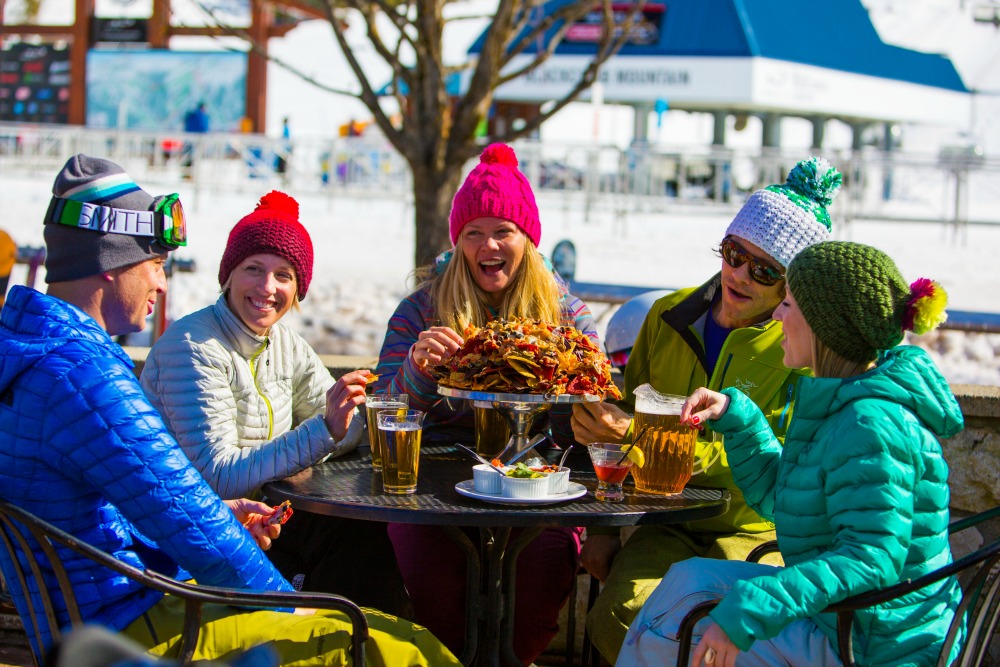 GO: Deer Valley
Ski: Orion. Grab late day corduroy turns on some of North America's best-managed snow before strutting (yes, you're in Deer Valley, you strut) onto the patio at Burgers & Bourbon at the Montage. Eat: The Tatanka Burger. Drink: The Double Barreled, made with Park City's own High West Whiskey.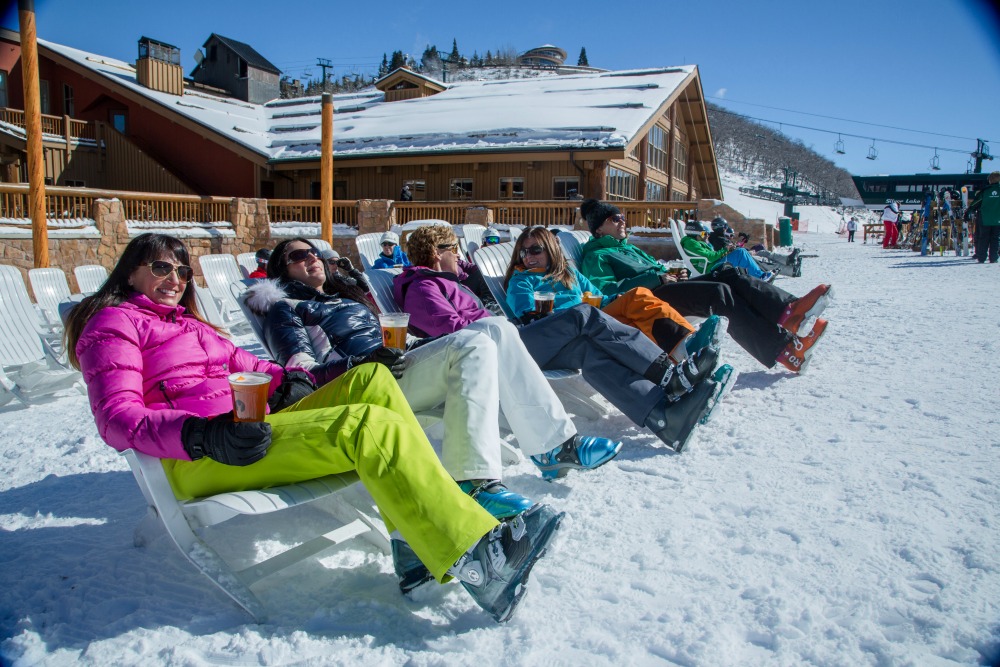 GO: Aspen Mountain (Mountain Collective)
Ski: Ruthie's Run to Summer Road. Perfect for the transition to actual summer, this run is a near top-to-bottom groomer providing great views down valley to the east, and plenty of UV rays. Pop of your skis at the bottom of the original lift 1A and make your way into town to snag a spot on the patio of The Grey Lady. Eat: Raw Oysters Drink: Their on-tap version of the Moscow Mule, the Escobar Mule.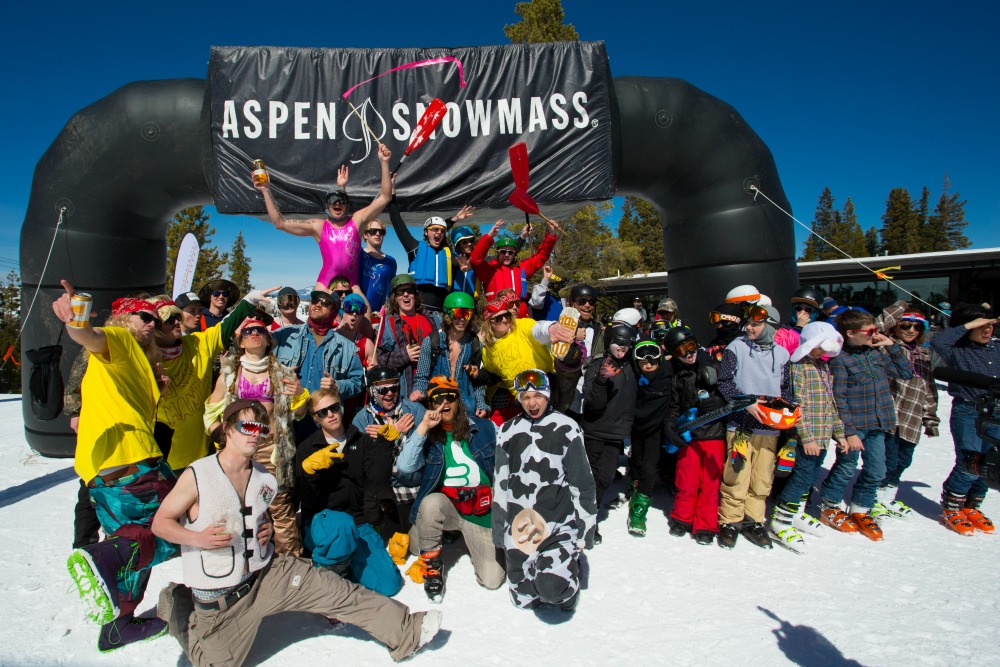 GO: Telluride (Mountain Collective)
Ski: Misty Maiden. Take a casual finish on Colorado's most aggressive mountain with some easy turns down Misty Maiden which feeds you directly into Gorrono Ranch Restaurant. A classic 100-plus-year-old mountain cabin with a huge outdoor patio adorned with Adirondack chairs where you can lounge, sip a cocktail, and take in all the Vitamin D you've been missing this powdery winter. Eat: The Alligator Ribs. Drink: A local draft from Telluride Brewery.