The Chilkat Mountain Range comes into view from the window of the small airplane that is carrying us to Haines, Alaska. Hedvig Wessel, a Freeride World Tour athlete who makes most of her turns in the Alps, has been glued to the window since we left Juneau. I can see her face brighten as the mountains get bigger and more loaded with snow. This is Hedvig's first ski trip to Alaska. These are new sights to see. Professional big mountain skier, Lexi duPont, has been skiing in Haines for over 10 years and has flown this route many times. Still, Lexi is as mesmerized by the scene as Hedvig. The view is breathtaking. Novelty is insignificant. I start to pick out peaks that I recognize, naming the glaciers that feed into the ocean, remembering their intricacies and unique features. It's a bluebird morning. The glassy water of Lynn Canal clearly shows the reflection of the towering peaks, meaning there are calm winds today. My heart races with anticipation. It's a heli-skier's dream; clear skies, fresh snow, and good friends. I know that we will be skiing today. Straight from the airport to the heli pad to never-never land.
Haines is a tight-knit fishing community nestled into the northern corner of southeast Alaska. The locals are as friendly as they are tough, a necessary trait for those living in rural Alaska. Coined 'the spine skiing capital of the world,' Haines and its ski scene were made famous through ski and snowboard films of the '90s and early 2000s. As a teenager, I was captivated by images of the best riders in the world navigating steep spines, at high speeds, in chest-deep snow. When I made my first trip to Haines in 2017 I found that, yes, it truly is the spine skiing capital of the world but also so much more. The mountains around Haines serve up whatever it is that you are looking for. Couloirs? Yep. Spines of all shapes and sizes? Of course. Playful wind lips and rolls? Snowboarders love 'em. A 5,000-foot glacier run with epic views? Right over here, and over there, and over there—you get the picture. The amount of high-quality, aesthetic ski terrain is what makes the mountains around Haines special and the skiing world-class. Any one of these peaks would be a gem in the Lower 48. Here, they are stacked together, in every direction, for miles and miles.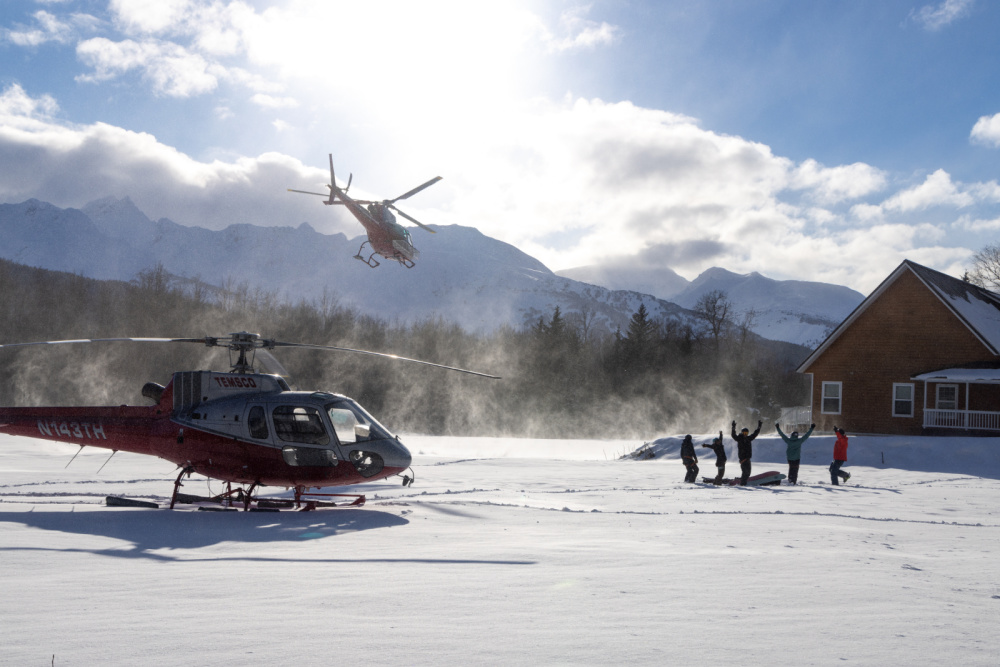 There is a welcome party standing outside the airport, a reunion of sorts. I greet friends and smile at familiar faces as we collect our ski bags and load up the Stellar van. Reggie Crist, owner, operator, and lead guide for Stellar Adven-ture Travel, welcomes us with open arms. Through the big smile and 'welcome home' aura, I can tell Reggie is chomping at the bit. The sky is blue, and he wants to go skiing.
Reggie is a pioneer of the Haines heli-ski scene. With over 20 years of experience in these mountains—making first descents, starring in ski films, and guiding groups through some of the best skiing in the world—Reggie has a love fort his place that is as apparent as it is contagious. Jadedness has eluded him. Sharing the life-changing, mind-blowing experience that can be found in these mountains brings Reggie an unmatched amount of excitement and joy. Lexi, who organized this current trip, returns to Haines with Reggie year after year, she says, "Because of his deep intimacy with the terrain. His experience up here is vast—he has skied every line, many times."
As we pull into the driveway at the Stellar Adventure Lodge, the first thing we see is a shiny red helicopter waiting for us in the front yard. It's go-time. Located 18 miles outside of the town of Haines, the lodge strategically sits in the middle of prime heli-skiing terrain. A few of the ski runs can even be seen from the back deck. Within an hour of landing in Haines, we are loaded up in the helicopter and searching for our first line. The helicopter banks a few turns over Booter Bowl, a moderately angled bowl of raised ridges and broad gullies. The snow quality appears perfect, but you don't actually know until the helicopter touches down. Upon landing, the skids settle into the snowpack and keep settling. Lexi looks at me and begins to giggle, "Belly-deep, baby!" The helicopter is sitting 'belly-deep' in the snow, meaning that we are in for a good run.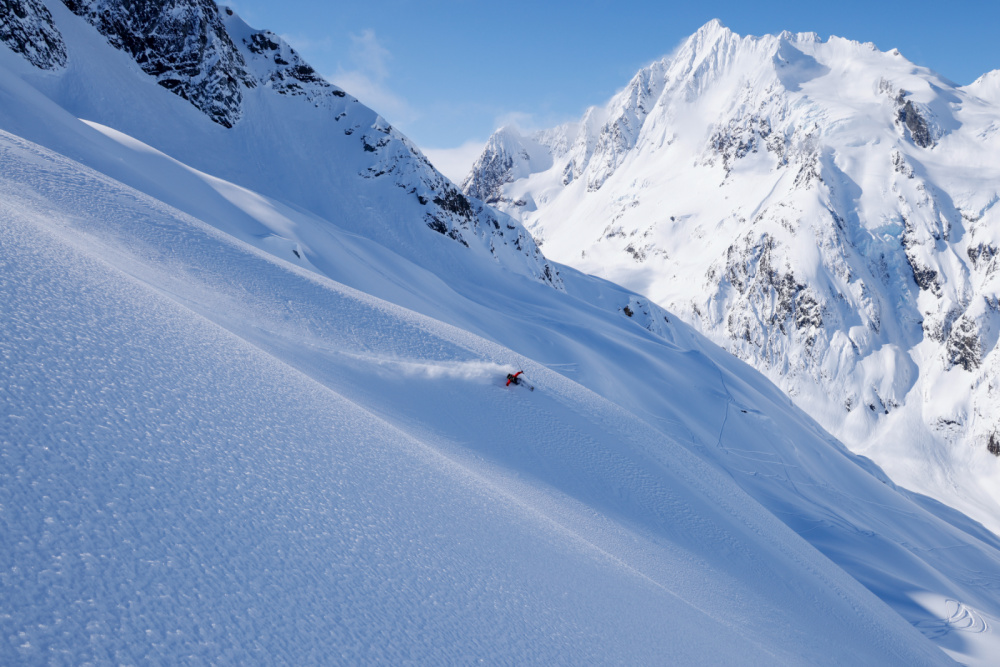 Cold powder billows over Hedvig's head as she drops off the ridge. I follow next, falling into an equalized rhythm of rights and lefts that can only be found when the snow is perfect and the slope consistent. This is what we came here for—if the trip were to end after this first run, it would be a success. Lucky for us, there is plenty more for the taking and our guide for the day, Joe Eppler, knows exactly where to go.
The guide team with Stellar Adventure Travel is a tight-knit, carefully chosen family. Passion for the mountains and the joy gleaned from shared experiences are the things connect the guide team and motivate their success. Stellar runs trips year-round in Japan, Chile, Argentina, Idaho, and, of course, Alaska. The same core guide team works all these trips, ensuring a dynamic that prioritizes communication, safety, and companionship. With Haines as the hub that brought the guide team together in the first place, their combined experience in the area is immense. "The Stellar guides are catalysts for confidence," says Bill Onderdonk, who is on his first heli-ski trip with his daughter, Zoe. "They take time to guide each person individually, inspiring confidence and comfort—plus it's just fun." Bill and Zoe just had their single best day of skiing, ever, he says… "by a wide margin."
Our guide, Joe, has been doing what we are doing today for the previous three weeks, yet, he is just as happy as we are making lap after lap. We are the final group to return to the Stellar Adventure Lodge at the end of the day and the wood-fired hot tub is already prepped and roaring as we land the helicopter in the yard. One of the other groups made a pit stop on the way back to the lodge to grab a piece of glacial ice and a cocktail party is taking place on the back deck. Glacial ice margaritas, stories of everyone's adventures, and a relaxing soak make for the perfect wind-down from day one in Haines.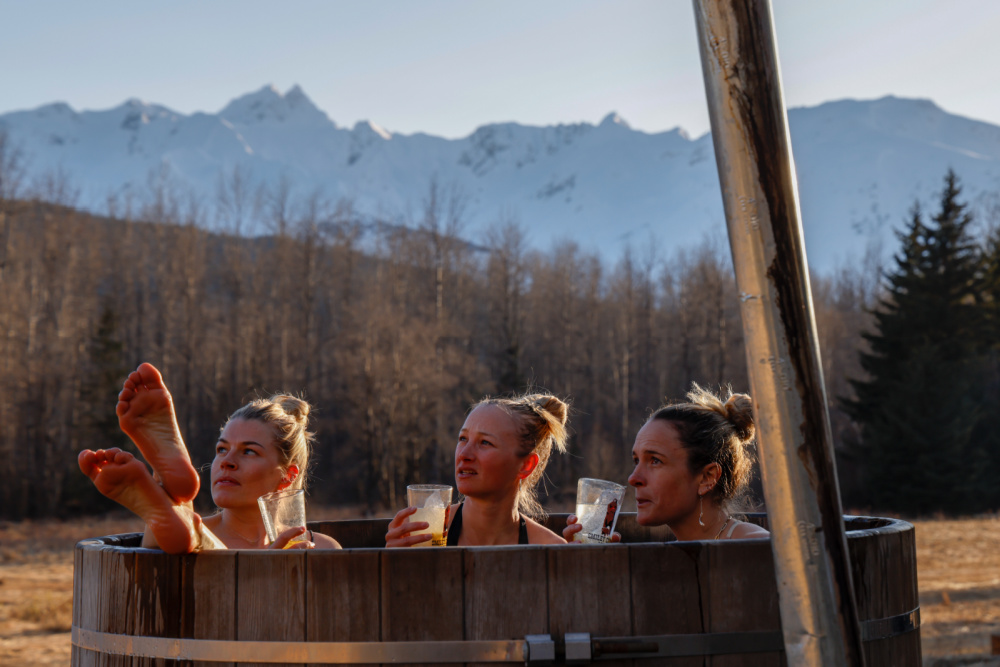 The Stellar Adventure Lodge has a revolving door of guests, guides, and friends of all ages from all over the world. Resembling more of a home than a lodge, families with kids in tow, ski patrollers, the business elite, and legends of the ski and snowboard world all gather on the couches and at the dinner table. It is a laid-back atmosphere where activities and intriguing conversation are abundant. At any given moment, there will be a card game taking place in the sun room while professional film skiers show yesterday's GoPro footage on the big screen and kids play ping-pong in the garage, all amongst the aromas of Chef Jessica's phenomenal cooking. Reggie's ability to bring people together from different places, with varying talents and skills, and show everyone an equally great time is what makes the Stellar experience unique.
The week doesn't fly by. We savor the moments on skis and off, linger over each interaction. The connections made are deep and the time in the mountains is inspiring. It is our last day of skiing and all of the Stellar groups are in the same zone. The terrain in this drainage is large and varied, ranging from impossibly steep and technical to straightforward and leg-burningly long. There is enough space for the groups to ski all morning and not cross another track. I choose a line with a blind rollover entrance to a wide, soft spine. I pick up speed, feel like I'm flying, and keep full control until I reach the flat run-out and can let my legs relax. Another Stellar group is waiting at the bottom, and I ski up to cheers, high-fives, and pats on the back. It feels good. The drainage is buzzing with reverberated energy. All guests, guides, and athletes are equally stoked. "That was cool, can we go up there and ski that line?" asks a rider in the group. "Sure thing," replies their guide, and the group is whisked to the top of the ridge. Now it's my turn to watch and cheer for my new friends as they ride down, one at a time, with plumes of snow hanging in the air behind every turn.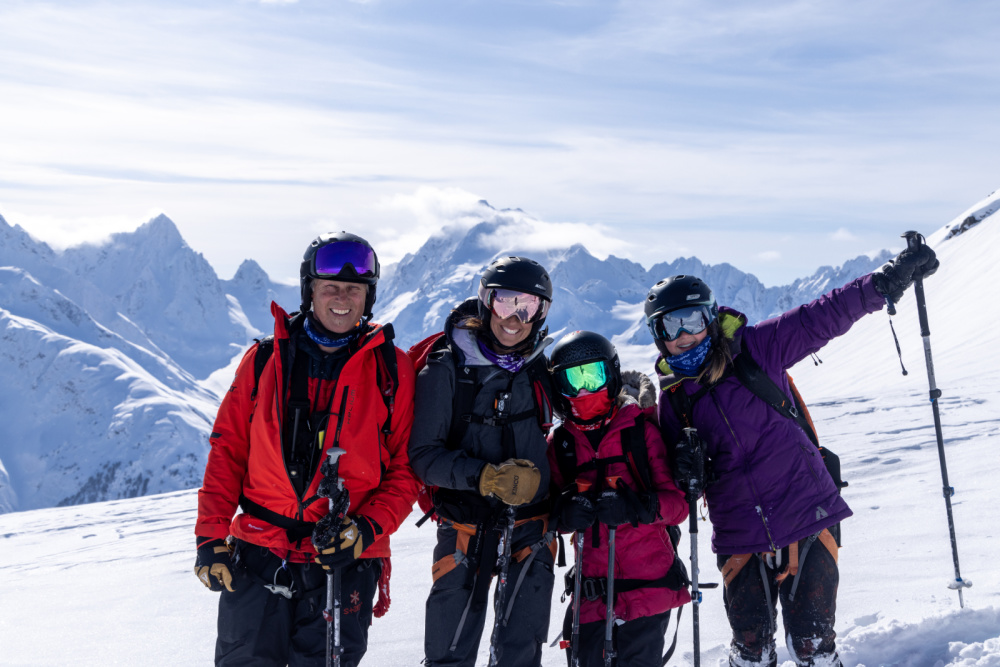 DO YOU HAVE TO BE A PROFESSIONAL SKIER TO ENJOY HELI-SKIING IN ALASKA?
As owner and operator of Stellar Adventure Skiing, Reggie Crist wants it to be known that you do NOT have to be a pro skier or even an expert skier to enjoy heli-skiing in Alaska. "The beauty of the breadth and depth of our experience skiing these spines and this terrain is that we know where we can take skiing enthusiasts at the intermediate level," he says. In other words, don't be intimidated by what you see in the ski flicks. There is Alaskan backcountry waiting for you too!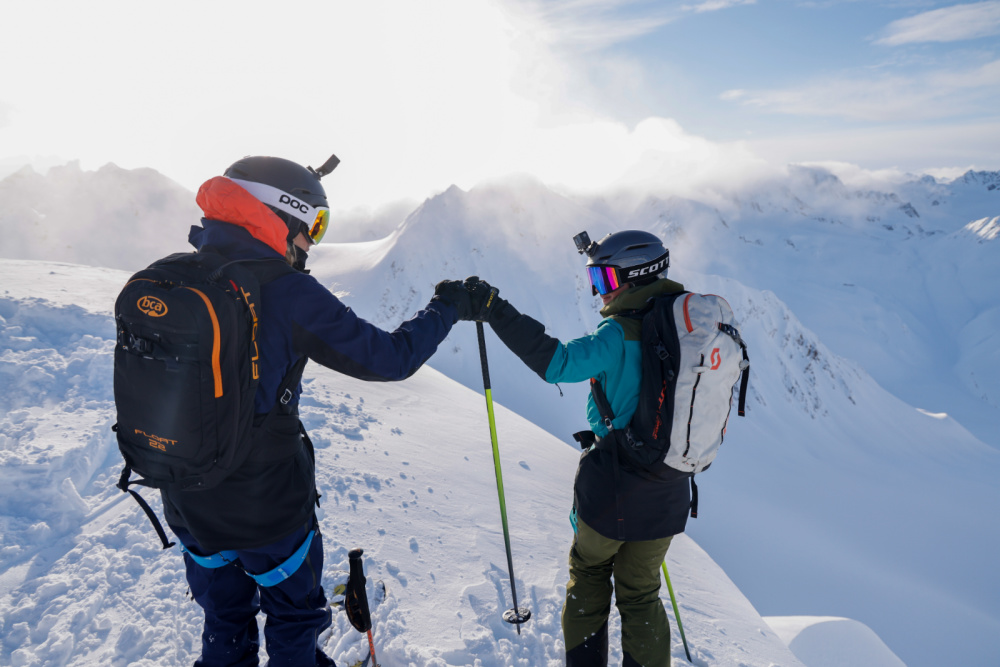 LET'S GO!