The moment you take your ski boots off is second only to the moment those boots carry you through the perfect pow line / GS turn / spring corn / backcountry ascent as the best part of your ski day. Those of us that share a common affinity for binding our feet into tightly fitting boots to slide down some fluffy white matter know the feeling of relief all too well. Unbuckle – ahhhhh. Pry sweaty ski sock covered foot out of boot with all your might – ahhhhh. Slide that foot into a significantly more comfortable vessel and head out for après festivities – ahhhhh.
There's a pivotal moment in this sequence of events where even a cardboard box seems more inviting than your ski boot. However, what snuggly little boot gets to caress that pungent, straight-from-the-ski-boot foot is second only to the beer on tap at the local bar as the best part of your après ski routine.
Thankfully, the folks over at The Original Muck Boot Company are taking après for your feet quite seriously. This is not the time to slush hop across the parking lot dawning your favorite sneakers, nor is it the time to sport a clunky snow boot into the bar. This, my friends, is the time to slide that foot into a waterproof, fleece lined, functional boot with a slip resistant sole that says, "This is not my first day on the bunny slopes."
With a huge variety of styles for men and women, the Muck collection has something for just about every type – from the ski bum to the fashion first. The BigLife crew put a few of our favorite designs to the test (puddle jumping, snow bank leaping, beer drinking, and all). Here's what we think your feet deserve après ski all winter long.
Tremont Wellie Tall (Women)
This is Muck's "Fashion Forward Performance" boot, and it is nothing short of its title. This boot stays true to the classic Wellie look, with a heeled sole and a sleek rubber calf that rises to just below the knee. What sets it apart from other Wellies, and makes it our top pick as an après boot, is its full fleece lining that keeps your feet significantly warmer than most rubber boots do, without loosing its stylish Wellie look. While I find most heeled boots quite slippery on unstable ground, the Tremont Wellie was sturdy on ice and snow, with it's "slip resistant" sole design really paying off. My perpetually cold feet were cozy warm in these boots after a cold day on the mountain. I sport them to and from yoga and around town on the colder days without ever feeling like they are too much booth for every day use. The whole boot is completely waterproof so the sloppy parking lots and deep puddles are never an issue, and the boot is rated to °- 50° Fahrenheit, which I hope I never experience but I feel prepared to face when I have these on my feet.
MSRP: $149.95 | Shop for the Tremont Wellie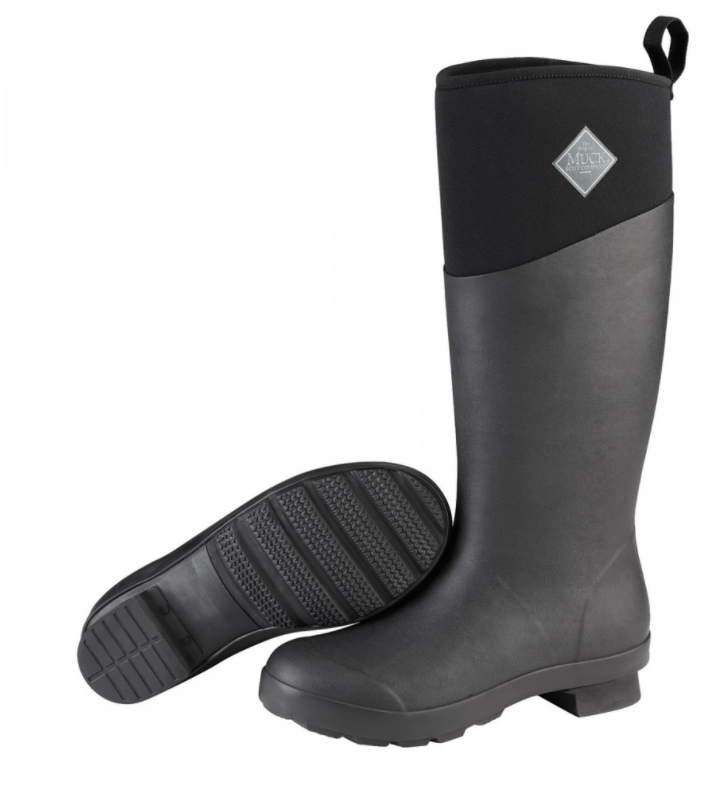 The Arctic Après Lace Up (Women)
This classic leather boot, complete with laces and a faux fur trim, hits that fashionable but functional cabin-in-the-snowy-woods look right on the head. They are the grown up version of those cute little boots you used to wear as a kid – the kind that make you think of sledding, Christmas carols, and hot cider. They're certainly going to earn you some style points, but they don't skimp on practical and functional measures. The entire boot is lined with a cozy fleece that keeps your foot warm for hours, while the exterior of the boot maintains a waterproof barrier against the elements. The sole has a significant amount of traction and I had no problem walking across the ice and snow with these on my feet. These boots more than satisfy the classic snow boot look, with a little extra function and a sleek, streamlined fit that feels good to wear inside and out.
MSRP: $199.99 | Shop for the Arctic Lace Up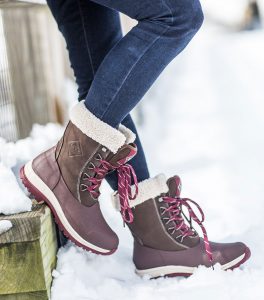 Arctic Excursion Mid (Men)
You just want to shovel the driveway AND walk into work in the same boots – is that too much to ask? Not with this boot. The Arctic Excursion boot is a true all-purpose winter boot that's completely waterproof and fleece lined, yet wearable, walk-able, and good looking. Both the slip on and lace up versions are easy to pull on, yet fit snugly around your foot without the clunky feel many other snow boots carry with them. The "aggressive" rubber sole provides excellent traction (yes we tested aggressively) and the shock absorbing midsole keeps your legs and back feeling good even after a long day on your feet. The BigLife guys deem this boot the "work-life balance boot" – a boot that does it all without any fuss.
MSRP: $139.99 | Shop for the Arctic Excursion Mid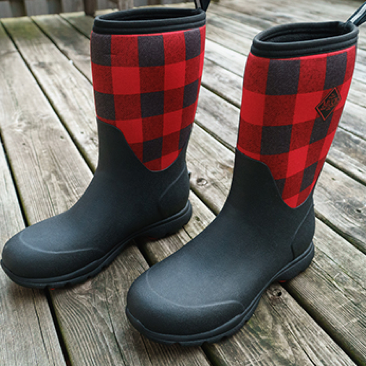 Arctic Sport Tall (Men)
If you're considering the Arctic Excursion boot above, but want a little more BEEF in your boot, this is the choice for you. A little more extreme in all directions, this calf-high boot is built for optimal functioning in the coldest of conditions. The stretch-fit topline hugs your calf to keep the snow out and the warmth in, without suffocating your lower leg. Fleece lining throughout the boot keeps your feet warm, while the waterproof exterior keeps everything dry. The same rugged sole ensures optimal traction, while the midsole and contoured footbed offers extensive cushioning for your feet. This is not a boot you want to wear to the office, but it's certainly fit to slide your feet into after a long day on the mountain. It will carry you across sloppy parking lots to the bar and back, through miles of deep snow, and anywhere in-between.
MSRP: $169.99 | Shop for the Arctic Sport Tall