Grand Targhee Ski Resort and the surrounding towns of Driggs and Victor are hidden gems as far as ski towns go. In between more famous counterparts – Sun Valley to the west, Jackson Hole to the east – the area sits on the eastern edge of Idaho, teetering the border of Wyoming, in the Caribou-Targhee National Forest. The majestic Teton peaks serve as the backdrop for this pristine, down-home valley.
Grand Targhee ski resort is known for its ridiculously consistent accumulation of fresh and seemingly endless powder, great variety of terrain, and minimal crowds. A true western mountain town, Driggs has been listed as one of the 10 best outdoor recreation destinations in the U.S. by National Geographic. Victor, its sister town, is likewise a unique little community with rustic western roots, now thoroughly populated with folks who appreciate it's access to the outdoors and its small town vibe.
With direct access to the Teton range,  the Targhee area is a spectacular mountain destination with opportunities for recreation year-round. Even in peak season, the crowds are significantly smaller than in Jackson and Sun Valley. While perhaps having less to offer in terms of culture, the three towns have an impressive number of restaurants, hotels, shops, galleries, and events considering their smaller size. The culture of the real American Mountain West is what's on tap here, and it is infectious. This place also offers exceptional value with prices being consistently lower than the more populous ski towns in the Mountain West.
Something for Every Season
Winter: Skiing, snowboarding, Nordic skiing, fat biking, snowshoeing, snowmobiling, wildlife, 2 national parks, backcountry tours, fishing, sleigh rides, festivals, art, nightlife, and spas.
Spring: Skiing, snowboarding, Nordic skiing, fat biking, snowshoeing, mountain biking, hiking, wildlife, 2 national parks, fishing, festivals, nightlife, art, spas, Spring Break camps for kids, Spring Break events for adults, and slack season deals.
Summer: Mountain biking, fishing, hiking, trail running, golfing, disc golf, camping, horseback riding, backcountry tours, camps for kids, rafting, wildlife, 2 national parks, climbing, festivals, nightlife, summer concert series, art, and spas.
Fall: Mountain biking, fishing, hiking, trail running, golfing, disc golf, camping, horseback riding, backcountry tours, early season skiing and snowboarding, wildlife, 2 national parks, climbing, events, nightlife, art, spas, and slack season deals.

Stay:
The Tower Residence $$$
This is a slope-side boutique hotel that sits overlooking Grand Targhee Resort's main plaza with views of the mountain. The package comes with a full kitchen, two bedrooms each with their own bathroom, expansive living room with panoramic views, private washer/dryer, and 2 VIP parking spots. Enjoy a killer day on the mountain without getting into a car, kick back in the hot tub or pool, and walk to your choice of several places to eat dinner. The Tower Residence is the ultimate place to stay for those hardcore skiers and boarders that want to have the highest level of convenience and comfort. grandtarghee.com
Teton Springs Lodge & Spa $$$
Located on the outskirts of the serene town of Victor, this luxury establishment prides its self on offering guests any creature comforts they desire while being in a remote location away from the hustle and bustle. Get majorly pampered at the Stillwaters Spa, where relaxation and ambience are the number one priority. The spa and salon features a full range of treatments and a two-person therapy suite with fireplace. Get to the Natural Retreats Storehouse for excellent café breakfast and lunch. In the evenings, the Storehouse transforms into a wine bar with appetizers and a full cocktail menu. The Headwaters Grill is the on-site restaurant for serious meals with a casual bar area as well as the more formal Fireside Dining Room. Teton Springs lodge has 66 suites and regular rooms to choose from. naturalretreats.com/teton-springs-lodge-spa-idaho-vacation-rental
Teewinot Lodge $$
Part of Grand Targhee Resort, this hotel sits right at the base of the mountain but is simultaneously an excellent deal in the mid-price range. The architecture is all classic log structuring with an open hearth lobby. A great place for families and couples alike, Teewinot offers a pool, hot tub, spa, and on-site dining. The rooms are spotless with modern updates such as free wi-fi and flat screen television. As far as location and quality, Teewinot is definitely one of the best values in the area. grandtarghee.com
Teton Teepee Lodge $$
Located about halfway between Driggs and the ski mountain, the Teton Teepee Lodge offers probably the most unique lodging experience in the area. The building is literally a giant teepee. The lobby/common area is comprised of the entire central area. The guest rooms radiate in a circle off of this main room. The lobby features a uniquely open central fireplace that serves as a sweet gathering place. There is also pool, ping-pong, and foosball on offer. Guest rooms are simple, clean, and include their own private bathrooms. Teton Teepee Lodge sits on a spectacular viewing point of the surrounding Teton Mountains as well. Stay here if you want to make your differentiate your experience from the normal skiing trip. tetonteepee.com
The Pines Motel $
The Frantz-Nielson family has operated this establishment for over 40 years. Known for its authentic charm as a small European guesthouse, The Pines Motel Guest Haus sits just a block away from downtown Driggs. The building was originally a two-story log cabin that sat on land homesteaded by Leland Monroe Driggs himself. It was built in 1900. Amenities of this motel feature in-room refrigerators and microwaves, wi-fi, chemical-free outdoor Jacuzzi, and pets are allowed. Come to the pines if you want to surround yourself with the historic pioneer culture of Driggs and have a truly genuine guest experience. The guest service from John and Nancy Nielson is one of a kind. thepinestetonvalley.com
Sioux Lodge $
Sioux Lodge sits smack dab at the base of the ski mountain. This large hotel offers two bedroom suites, loft suites, and studio suites. If you're willing to go with a studio suite, you will not find a better deal for a place to stay that is literally on the mountain. That's right, you'll be walking to the lift each morning. All guests have access to a resort shuttle, heated outdoor saltwater pool, hot tub, and exercise cabin at Grand Targhee Resort. While the building is a little dated (think 1970s mountain architecture), this is made up for by friendly service, clean rooms, exceptional location, and price point. There's a reason Sioux Lodge has been going strong for all these years. grandtarghee.com
Eat:
Branding Iron Grill $$$
Grand Targhee Resort advertises the Branding Iron Grill as they're best-kept dining secret. This is a mountainside restaurant that serves exceptional Rocky Mountain fare in a friendly and casual atmosphere. Most items from the menu are house-made from fresh local ingredients. If you go with the smoked barbeque ribs or the bison burger, know that the meat is Wyoming-raised beef from the famous Durham Ranch. Branding Iron Grill is all about farm-to-table cooking, supporting sustainable farming techniques, and providing that true Grand Targhee experience. grandtarghee.com
Forage Bistro & Lounge $$$
Forage boasts one of the most eclectic and creative menus of all the dining establishments in the Teton Valley. With items ranging from mushroom ravioli with smoked trout to lamb enchiladas and an Aka-Ushi beef burger, this restaurant specializes in the fusion of local, French, Italian, and Japanese cuisine. And sometimes all at once. The setting is small so make sure you get a reservation, especially if you're going for dinner. forageandlounge.com
Trap Bar & Grill $$
The Trap is arguably the most well-known and popular place to get some grub on this list. Known as a phenomenal après spot, this restaurant sits right at the base of the mountain in the village of Grand Targhee Resort. Be sure to get the Wydaho Nachos (waffle fries covered in everything fresh and homemade salsa) which were voted "Sluttiest Slopeside Nachos" by Ski Magazine. Go healthy with the pecan berry salad which includes, you guessed it, fresh locally-sourced berries. Or go big with a bison sloppy joe or the cod fish and chips, each comes with a big side of waffle fries or tater tots. The Trap is also a great place to watch the game with 8 flat screens. And come in late for a constant rotation of live music. grandtarghee.com
Knotty Pine Supper Club $$
Head to downtown Victor and the Knotty Pine if you're looking for a well-rounded Rocky Mountain lunch or dinner. It has come to be known as an authentic local institution. The building is a small, rustic log cabin and live music acts are on steady rotation. In fact, Knotty Pine is well-known for hosting some of the most raucous shows in the Mountain West. This place serves unique fare such as duck fat truffle fries, Belgian waffles with chicken, Teton pasta with sun-dried tomato pesto, and bacon-encrusted Bison meatloaf. Highly popular with locals and visitors alike, Knotty Pine fills up quickly during high season. knottypinesupperclub.com
Big Hole BBQ $
This is a no-nonsense Western American Barbeque joint located in Victor. Big Hole is famous for its "Idaho meets Mexico" selection of BBQ tacos. If you're feeling like a sandwich, try the award-winning pulled pork, slow smoked beef brisket, or the prime rib with caramelized onions. Big Hole is also open for dinner with amazing entrees such as classic BBQ pork ribs and spicy Mahi shrimp. Save some room for some cheesecake drizzled with huckleberry sauce and topped with whipped cream. The setting is small and cozy with the signature welcoming atmosphere this region is known for. Grab a dinner reservation because this place fills up. bigholebbq.com
Chops Eats $
Chops is an excellent local lunch spot located in Driggs. The building is a walk-up-to-the-counter shack on Main Street with outdoor eating space only. Plan on doing take-out if you're there on a cold winter's day. Menu items are all made with locally-sourced ingredients and there are vegan-friendly options. Chef Johnny has a passion for getting creative with choices ranging from The Beetnik (beet-centric veggie sandwich with quinoa and roasted carrot vinaigrette) to the Teton Philly (coffee maple roasted pork loin sandwich with sage smoked provolone). Go to Chops if you're looking for a quick, cheap lunch with quality ingredients that breaks out of the mold.
Drink:
The Trap Bar & Grill
That's right, The Trap makes it on this list yet again. This is the go-to place to party if you want to do it slope side. The bar always has 14 taps featuring local and regional microbrews such as Snake River Brewing and Wildlife Brewery. There's also a full liquor selection with locally distilled potato vodka and signature drinks including The Trap's famous Bloody Mary's, Mountain Margaritas, and Teton Tea. Hit the après scene or go late-night for the live music. The Trap also hosts numerous events throughout the winter season.
The Royal Wolf
Head to Driggs and The Royal Wolf for drinks at a down-home hangout that is a regular spot for the locals. Just off of Main Street, this establishment prides itself on having a friendly atmosphere that is suitable for anyone. The interior is fairly open with a large Old Western-style L-shaped bar, tables, and pool table. The drink menu seems to prioritize an impressive liquor selection with numerous brands of your favorite spirit on offer. There are always 8 beers on draft, bottled beer, wines, and mixed drinks. Featured drinks include a jalapeno margarita and a huckleberry martini. The Royal Wolf is the bar to go to if you want something authentic and local. theroyalwolf.com

Wildlife Brewing
Wildlife was founded in 2003 in Victor and now boasts 20 barrel tanks as well as a canning line. Their mission is to provide easily accessible premium beers to each craft beer consumer throughout the Yellowstone region. Wildlife has earned an impressive list of craft brewing awards including 6 from the Northern American Brewers Association. The brewpub features 7 of their very own beers on tap. The sessionable Point It! Pale Ale is the most popular among the locals. A must-try is the flagship Mighty Bison Brown Ale that is simultaneously dark and malty with a hoppy finish. Aside from the beer, Wildlife is known for its excellent atmosphere. The space is large and "mountain modern" style. Several types of games are available including pool, shuffleboard, darts, and bubble hockey. wildlifebrewing.com
Grand Teton Brewing
This is the most well-known craft brewery in the Teton Valley area. Founded in 1988, Grand Teton Brewing is the original brewery of the Grand Teton and Yellowstone National Parks. Head to their pub onsite at the brewing facility to quaff a classic 208, Sweetgrass pale, or Bitch Creek brown. Try the newly-brewed Coming Home barley wine which is a special seasonal for this winter. The pub features trivia night every Tuesday and a free pint on every Wednesday to those who ride their bike to the brewery. Free brewery tours are on offer Monday through Friday as long as the brewing schedule isn't too busy. Finally, fill up a stainless steel growler before you leave so that you have an excuse to keep coming back.
Grand Teton Distillery
Head to Driggs to taste some exceptionally smooth vodkas and Teton Moonshine whiskeys. Teton Distillery's signature premium potato vodka has won numerous awards and is currently ranked number 1 in the world. Their liquors are proofed with pristine mountain water, made with famous Idaho potatoes, and sometimes flavored with local berries. Think huckleberry vodka and apple pie whiskey. The distillery offers courses on everything from how to develop a discerning taste to how to the entire production process. The environment is always low-key and friendly. There is a great tasting room as well as a gift shop on site.
Do:
Ski/Snowboard Grand Targhee Resort
The mountain at Grand Targhee is the lesser-known, lower-key, hidden gem to that of its bigger neighbor at Jackson Hole. This is the place you go for minimal to zero lift lines, mind-blowing powder stashes, and mellow vibes. Access revolves around two high-speed quads that access each of the twin peaks of the mountain. Dreamcatcher takes you to the top of Fred's Mountain and Sacajawea brings you to the top of Peaked Mountain (both at around 9,850 ft. elevation). The true powder hounds can then hike the ridgeline from either peak to Mary's Nipple (9,920 ft.) to drop in from the highest point for some powder lines through wide open bowls and glades. Grand Targhee mountain has something for everyone with a superb beginner's area with its own quad down low and a mid-section with awesome intermediate to expert runs with another quad lift access. If you really want to have an experience to remember, book a day with Grand Targhee Snowcat Adventures. The cat takes 12 skiers or boarders into 602 acres of untracked powder. The resort also hosts its excellent "Knowledge is Powder" skill camps throughout the winter. These are for the skier or boarder who wants to truly hone their off-piste skills. With one of the most consistent snow accumulations in the Mountain West, Grand Targhee is one of a kind.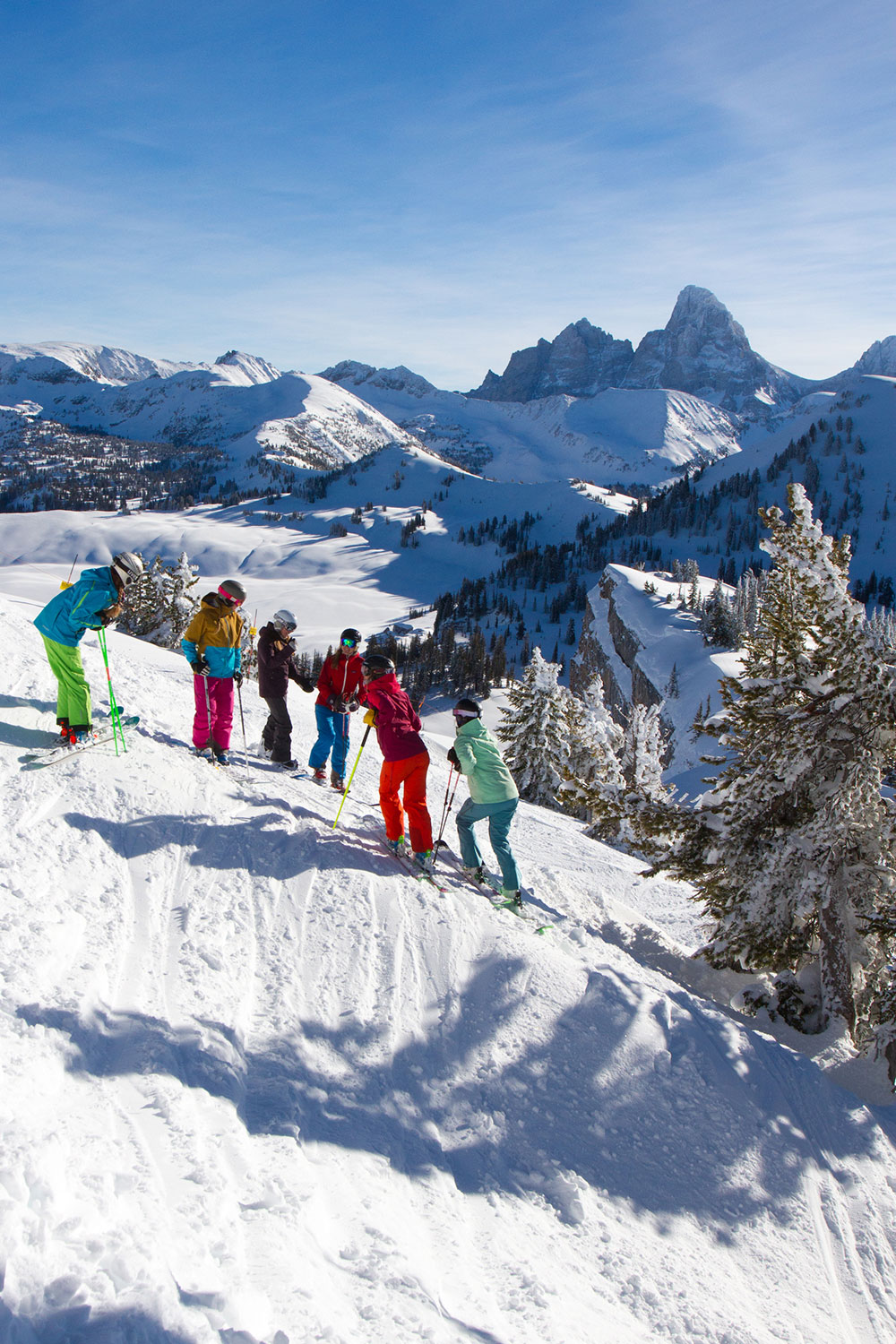 Yostmark Backcountry Tours
Professionally guided tours, avalanche training, and instruction on all types of Nordic skiing are the things that Yostmark specializes in. Most of the tours hit the Teton Pass areas of Edelweiss Bowl, Mail Cabin Creek, Mount Glory, Mount Oliver, Taylor Mountain, and Noodle Ridge. There's also a side-country tour that climbs up to Mary's Nipple, uses a snowcat for multiple runs, and skis 3,000 ft. to the bottom of Teton Canyon before skinning and skate skiing to the parking lot. Owner Rich Rinaldi and his staff of expert guides will put you into places that will leave you stoked and dumbfounded.
Fat Biking
Grand Targhee is a true innovator when it comes to fat biking. This is the first resort to embrace winter fat biking on its Nordic trail system. All 2-wheel addicts rejoice, in Targhee biking is truly a year-round activity. Purchase a day or season pass and you can enjoy 15 km of groomed Nordic trails and 4 miles of singletrack. Hit up Teton Mountain Outfitters near the mountain or Habitat in Driggs and rent yourself a fat bike. Other trails in the area include Jolly Green Giants and the Rick's Basin network. You can also put some lights on the steed and ride at night for a light show from the valley below. If fat biking is really your jam, be sure to be a racer or a spectator at 2 local races this winter. The first is December 10th and the second is January 2nd.
Grand Targhee Nature Center
The Grand Teton Valley is a spectacular and pristine environment for a wildlife refuge. Head to the Nature Center and have a resort naturalist inform you on everything about the local animals, geology, and ecology of the region. The Nature Center combines learning and outdoor recreation with guided snowshoe tours where you can learn about the forest in winter. These 2 hour tours teach you about winter ecology, how to track animals, bird calling, and the Greater Yellowstone ecosystem. Bring the whole family as these tours are great for ages 10 and up. Nordic ski tours are also available for those intermediate and up who want to learn about the same thing. These tours are free if you buy a valid lift ticket.
Anew Massage
Treat yourself right after a serious day of recreation by going to Anew at their Grand Targhee Resort or Victor locations. Massage services are designed to fit the individual needs of each client with a goal of actually eliminating the cause of discomfort completely. Types of massages available are hot stone, Swedish, deep tissue, sports, and therapeutic. They also specialize in orthopedic injury and rehabilitation work as well as neuromuscular therapy. And when you're finished with your massage, relax in the healing waters of a heated outdoor saltwater pool and hot tub.
Tubing Park
This is a place where people of all ages go to truly be a kid. Grand Targhee Resort boasts the Papoose conveyor service lift at the tubing park for the ultimate maximization of good times. The park stays open until 7:00 pm so you can slide under the lights. Tickets include the use of a high-quality snow tube as well. Bring the whole family and all your friends a winter activity that has quickly become one of the most popular things to do after skiing.
Shop:
Teton Mountain Outfitters
Located in the village of Grand Targhee Resort, this is the one-stop shop for all things mountain gear related. Being at the base of the ski mountain, you can always get what you need with convenience if a piece of gear breaks down or if you just simply forgot something (it happens). Teton Mountain Outfitters prides itself on always having a great selection of the latest for men, women, and children. Custom boot fitters are on hand for dialing in the perfect fit. The shop also exclusively offers Grand Targhee logo wear.
Guchiebird's
This quaint shop in Driggs features jewelry, accessories, unique gifts, kitchenware, and art. Husband and wife team Guch and Chuck have a reputation with locals and visitors alike as always being friendly, knowledgeable, and creative. Guchiebird's is the place to go for that quirky, unique find that grabs a person's attention and curiosity. All items have excellent craftsmanship, quality, and attention to detail. Yours truly especially likes the bike chain bottle openers.
Habitat
Habitat is often regarded as the best place to go for anything having to do with snow, dirt, and the mountain lifestyle. Friendly employees love to give out local knowledge and product advice to get you stoked. The expansive shop on Main Street in Driggs has everything you need for a backcountry adventure, park shred, or downhill lap mission. Habitat prides itself on hand-picking quality brands that they truly want to represent. Be sure to grab at least one piece of stylish Habitat swag on your way out so you can spread the word about this fine establishment.
The Wardrobe Company
This is a large department-style store offering apparel, footwear, and housewares. The Wardrobe Company has been going strong for over 85 years and is a third generation owned business. Apparel choices range from active wear to leisure with many well-known brands to choose from. 22 brands of footwear are available with the focus being on hiking and running. And the homewares section prides itself on offering an eclectic mix of high-quality products from real soy candles to high-tech gadgets for the kitchen. Head to the store on Main Street in Driggs.
Victor Emporium
If you're looking for a classic corner store experience in an old Western mountain town, hit up Victor Emporium. This place is famous for its homemade milkshakes and old school soda fountain. Treat yourself to a huckleberry shake, lime soda, or a classic ice cream sundae. Peruse the selection of local souvenirs, post cards, and bumper stickers. Grab a shirt or hat so you can represent Victor at home. Victor Emporium is a slice of old Americana at its finest.
The Board Shop
Located at the base of the mountain in Grand Targhee Village, this is the place for all-things snowboarding. The Board Shop is known for its excellent service and superior knowledge. You can get outfitted head-to-toe with the latest brands and styles. Brands include Burton, Never Summer, DC Shoes, Skull Candy, Spacecraft, and DaKine. A selection of high-quality rental boards and boots is also at your disposal if you didn't feel like schlepping your own gear. The Board Shop is also an official Burton Learn to Ride Center, offering beginners a sweet option for learning how to carve.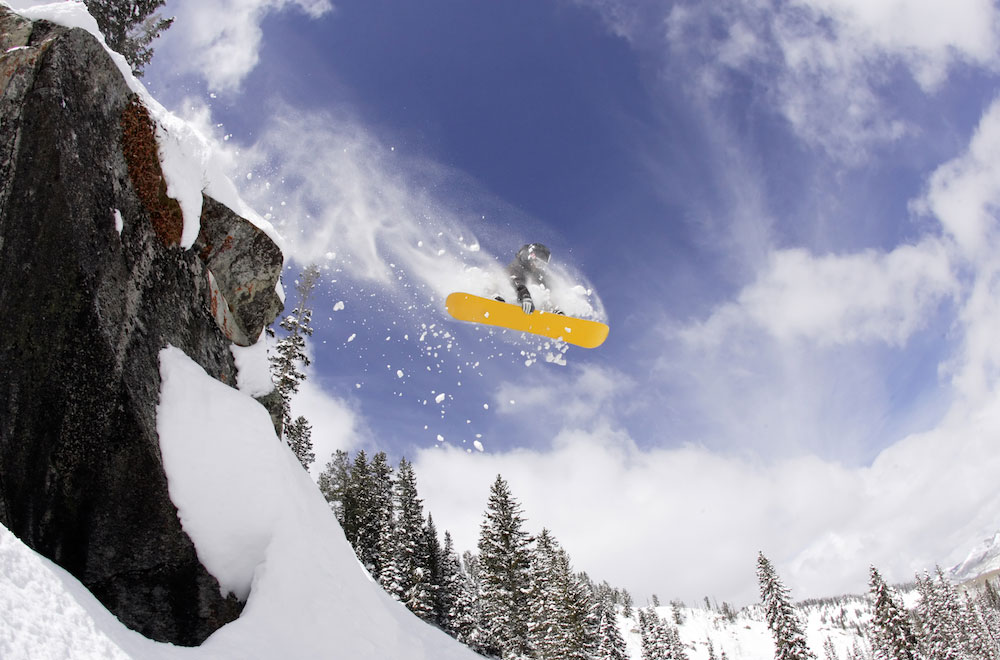 See:
New Year's Eve Torchlight Parade & Fireworks
The New Year's Eve festivities at Grand Targhee Resort are truly quite the spectacle. This annual tradition officially kicks off with the Adult's Torchlight Parade. Skiers and riders 12 and up can participate in being one in a flowing, glowing line of people holding burning flares as the snake down the mountain at night. Immediately following the parade, a massive fireworks show transfixes the crowds. From there it's off to the Trap Bar & Grill for live music and bringing in the New Year. This is how you celebrate New Year's Eve, Grand Targhee style.
Big Mountain Telemark Competition
Witness the best downhill free-heelers compete on the gnarly slopes of Peak Mountain in real life. This annual Grand Targhee Resort event will run March 3-5. Competitors are judged based on line choice, fluidity, technique, control, and style and are rewarded for using the natural terrain features in the most creative ways possibly. It's hard enough doing these freeride competitions on regular skis. Try doing it with your heels unattached. Adults and juniors will be competing on the Reliable and Bobcat runs.
Yellowstone National Park
This world-famous national park is about a 2 hour drive from Grand Targhee Resort. While admittedly offering fewer options during the winter, Yellowstone is absolutely mind-blowing when covered in the fluffy white stuff. The Old Faithful Snow Lodge is open from December 16 to February 27 this winter. The area is only accessed by commercial oversnow vehicles during these months. Visitors have a variety of ways to explore their surroundings once settled in the Old Faithful area. Guided tours are available in the modes of snowshoe, Nordic ski, or snowcoach. Be sure to witness the famous frozen Lower Falls and the Upper Geyser Basin.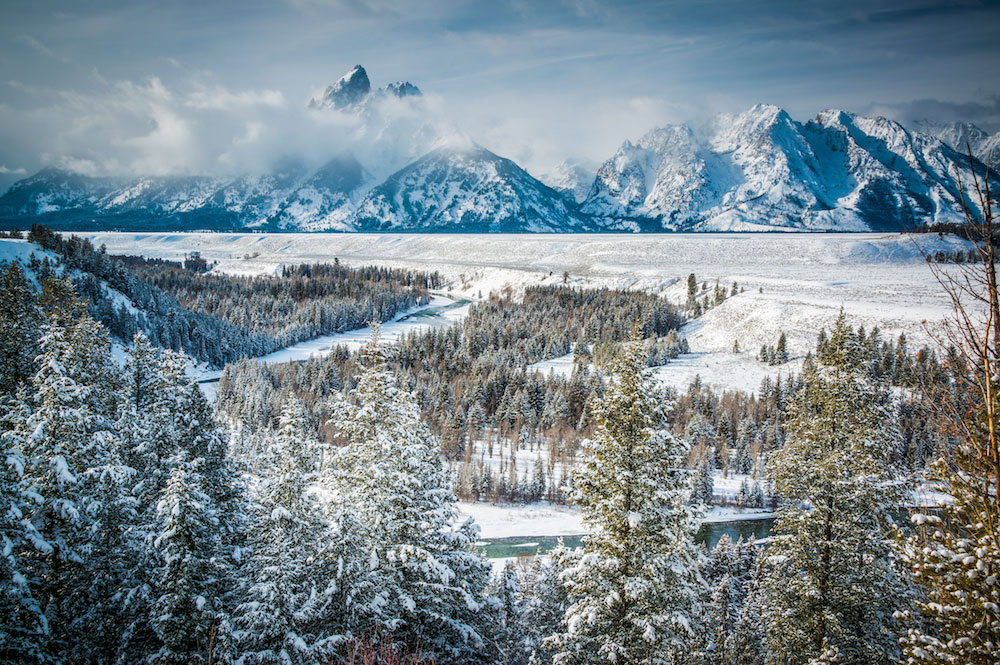 Grand Teton National Park
Only about an hour's drive northwest of Targhee, this national park is internationally known for its jaw-dropping Teton peaks and ample wildlife. During the winter, Teton National Park transforms itself into a cold weather recreation mecca with cross-country skiing, snowshoeing, and photography opportunities abound. The park's main roadways are plowed and open for winter travel. The drive along these roads gives you amazing mountain views and chances for wildlife viewing. Come to Teton National Park in the winter if you don't want to deal with the crowds of summer and want to experience a true winter dreamscape.
Teton Aviation Center
Experience a one-of-a-kind perspective of the spectacular Grand Teton Mountains. Based in Driggs, Teton Aviation offers flights in single-engine props, gliders, and even bi-planes. They are backed by a stellar reputation of impressive knowledge, safety, and customer satisfaction. Your flight will take you closer to the peaks than you thought possible. Teton Aviation also offers flight classes for aspiring pilots and has cool collection of the retro snub-nosed Warbird fighter jet. This is the place to go for one of the most amazing sightseeing days ever.