Margaret Atwood once wrote, "In the spring, at the end of the day, you should smell like dirt." After a spring day in Golden, British Columbia, it's impossible not to.  
From the wash of winter snowpack swelling the local creeks and rivers to the laces of singletrack winding through massive trees, Golden's dirt offers access to the many wonders that its nearby mountains hold and this place seems custom made for getting into it. The town, a proudly down–to–earth hamlet nestled between the Columbia and Kicking Horse Rivers, is surrounded by six National Parks and some of Canada's finest mountains and wilderness areas. Built upon the glacial dirt delivered to the valley floor by eons of spring flows, Golden shines in the yearly celebration of these spring months and their lengthening days as the sun traces an ever-widening smile across the bright blue sky. Adventure abounds in every direction. Back in town, delicious restaurants and pubs stand at the ready to fuel, feed and quench before, during or after another great day in the hills or on the river. Cozy hotels, friendly locals, open parking spots and amazing craft beer add to the ever growing list of reasons we love Golden. Don't take our word for it though, get up there and check it out for yourself! Since we can't list all the amazing things to do, where to eat or places to stay, be sure to give tourismgolden.com a look, it's chock full of helpful suggestions and recommendations.   
Play 
If you're looking for an authentic mountain biking adventure, Golden has some of the best biking terrain in North America including 115 miles of dynamic cross–country trails along with a network of challenging and technical downhill tracks at Mount 7 and a lift assisted downhill park at Kicking Horse Mountain Resort. Thanks to all this dirt fueled goodness, Golden is fast becoming one of the key places in the Canadian Rockies for mountain biking and biking events.  
On the flanks of Mount 7, Golden local Sophie-Anne Blanchette's tires bank with practiced grip into corners packed with premium soil. The moisture in the ground is perfect during the springtime, and the traction is the best it will be all season. Not a speck of dust flies behind her mountain bike, kept at bay by the same water she was skiing in frozen form only a few weeks earlier. Sophie-Anne is part of a vanguard of new local riders who joyfully hammer up the 4,000 vertical feet from downtown Golden on purpose-built climbing trails before descending the smooth and dynamic downhill tracks, doing it all under her own human power. For Sophie-Anne, who's as strong on the way up as she is down, these trails are tailor-made. Golden offers a seemingly endless all-mountain buffet of modern flow and tech that she can spend two or 10 hours on. She can climb as high or as low as she wants, punching her lungs on the way up, and her forearms on the way down—all in an ecstatic blitz of roots, rollers and jumps that will stay prime from spring until late October or early November. 
Below her the whole time is the emerald green braid of the Columbia and Kicking Horse Rivers, and their pumping flows.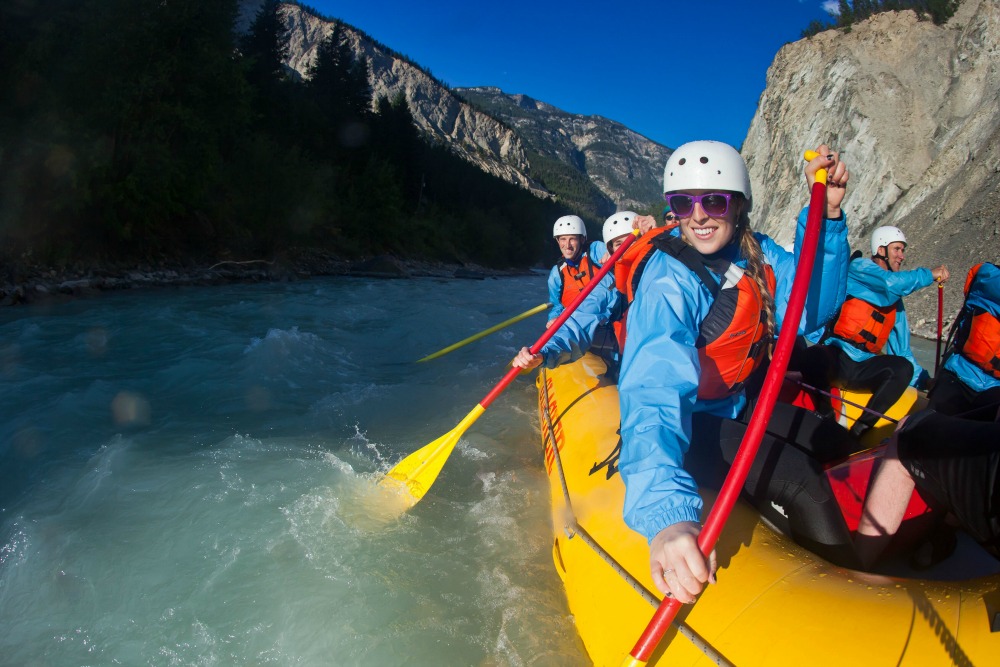 Spring is when rivers froth with waves and the local whitewater is at its best. Ryan Johannesen and Carmen Narancsik know this well, they've been guiding people down the class II-IV Kicking Horse River for over a decade with their company Glacier Rafting (glacierraft.com). Each spring, they tap the water cycle from glacier to ground, bringing guests down the gravity-fed roller coaster that is one of the world's greatest churners of H20. Rafters start in the calm upper reaches of the Rockies and are delivered over 15 miles downstream back to Golden. The bold will finish the journey by running the lower canyon. 
Rising from the ice-cold glacial waters of Wapta Lake, and joined by the tributaries of the Yoho, Emerald, Amiskwi and Ottertail Rivers, the Kicking Horse River falls steeply in its upper reaches before widening onto a flattened valley floor. Suddenly, it drops again, rushing recklessly through the narrow, turbulent channels of the infamous Kicking Horse Canyon. The Kicking Horse is a river of contrasts: wild and free, its water flows untamed and unobstructed through some of Canada's most spectacular mountain terrain and protected lands of Yoho National Park, part of the vast and beautiful Canadian Rocky Mountain Parks World Heritage Site. As an ecological, recreational, and historical jewel of the Canadian West, the Kicking Horse enjoys the distinction of being the first British Columbian river to be recognized as a Canadian Heritage River. 
While high water brings with it an adrenaline punch that attracts ambitious rafters and kayakers alike, it's not mandatory to run Kicking Horse's lower canyon. More gentle passage flows from its headwaters, in places only marginally more turbulent than the mellow Columbia—the Kicking Horse's sister river. One of the largest waterways in North America, the Columbia is a calmer experience, where you're just as likely to find swimmers and sunbathers as canoeists and SUPers on a sunny day. Not to mention trail runners and golfers, who also recreate along its shores, their playground equally nourished by its waters. 
If Golf is your game, look no further than the award–winning Golden Golf Club (goldengolf.com) and British Columbia's number one hidden gem. A small–town club with big–time golf and one of British Columbia's top 10 public access golf courses. The GCC welcomes local members and guests alike and takes its environmental sustainability seriously, creating a gorgeous golf course with minimal impact and a fun and easy–going vibe. The course is comprised of gently rolling isolated fairways, outstanding mountain views, numerous water features, and an occasional wildlife sighting. 
The GGC also features a RV Park, fully stocked pro shop, licensed clubhouse, driving range, and short game practice facility. 
Eat  
The Island Restaurant, Located in the heart of Golden, serves up tasty Rocky Mountain Cuisine with a blend of Asian and European flavors. Open daily for breakfast, lunch and dinner, guests can stop in for a soup, salad or sandwich, or relax and dine on an entree of local game. Kids and gluten-free menus also available. islandrestaurant.ca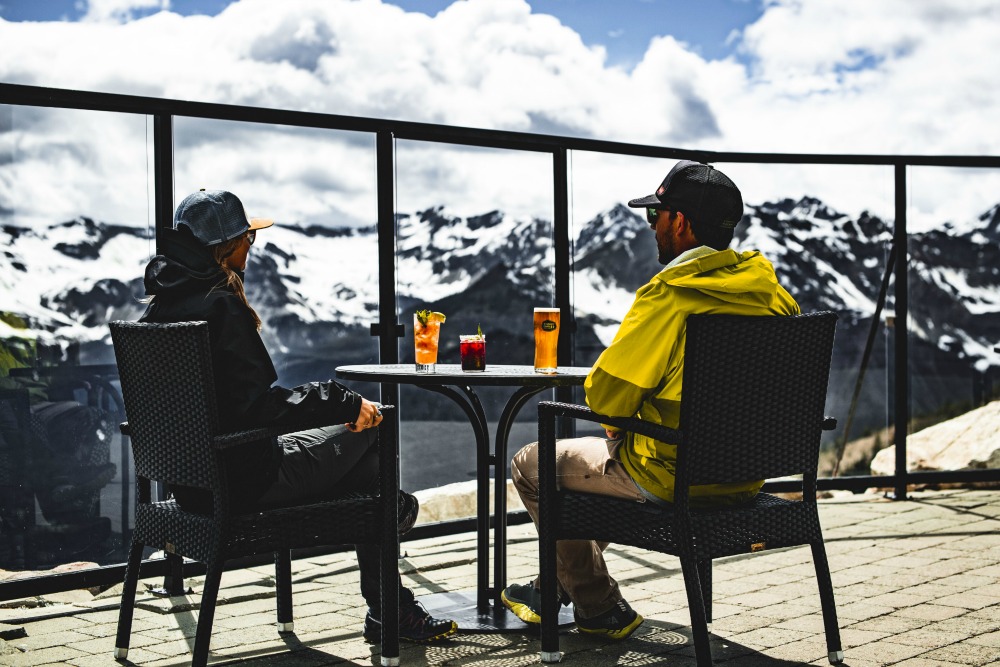 Whitetooth Mountain Bistro, a locals' favorite, is known for its use of fresh local ingredients, infused martinis, and Wine Spectator 'Award of Excellence' boutique Pacific Northwest wine list. The upscale yet casual atmosphere is great for romantic dinners, families and groups of skiers all at the same time. whitetoothbistro.com 
Eleven 22, Golden's best–known restaurant, reflects the easy going and surprisingly sophisticated local atmosphere of the town and offers a delicious menu full of original, modern, comfort cuisine drawn from chef/owner Konan Mar's talent fusing Canadian and Asian cuisine with a distinct European flair. Dishes are prepared with the finest ingredients and served in satisfying portions. An inspired selection of wines, beers, spirits and house-made desserts complete the experience. Eleven22restaurant.com 
Stay 
Mount 7 Lodges is a collection of three beautiful and well-appointed 2-, 3- and 4- bedroom log lodges located on a private mountainside location that boasts spectacular views, hot tubs, and modern appliances and amenities, all discretely set upon 68 acres on the edge of the wilderness but just 10 minutes from downtown Golden. Enjoy the private deck with hot tub, gas grill and a mountain view.  Spacious interiors with fully equipped kitchens, wireless internet, HDTV, satellite & DVD, fireplaces and more. Mount7lodges.com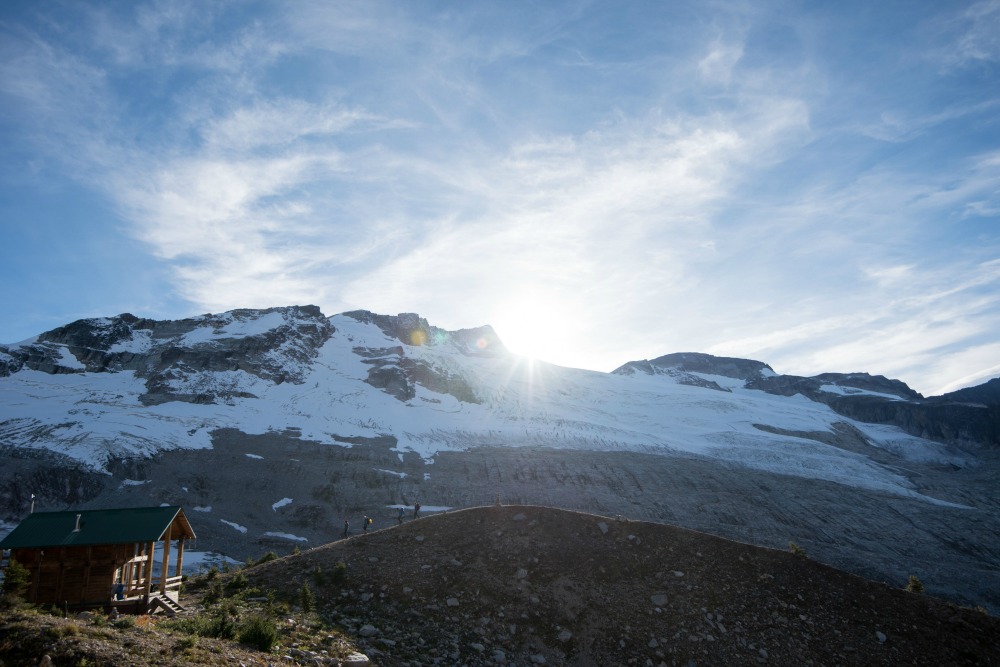 Kicking Horse River Lodge is nestled amidst the peaks of the Rocky and Purcell mountains, at the confluence of the Kicking Horse and Columbia rivers, The Kicking Horse River Lodge is perfectly located near the center of town but still feels far away from it all. Walking distance from downtown, its also only minutes away from the golf course and mountain resort. They offer private, family, and dorm-style rooming options to fit in everyone's budget. khrl.com 
With helicopter access, Mistaya Lodge is a family-owned backcountry lodge in the Canadian Rocky Mountains surrounded by pristine peaks, glaciers, and alpine meadows. It's the perfect spot for exploring the nearby mountain terrain, relaxing in the glow of mountaintop sunsets, and star gazing beneath immense skies. Their certified guides can plan excursions for all levels of alpine hiking, guided ski touring, snowshoeing, and mountaineering. At the end of each day, a warm sauna, comfortable couches, and home-cooked meals await. Mistayalodge.com 
Another family–owned gem of a hotel is the Prestige Inn. Located near the highway, it's easy to find, affordable, and comfortable. The hot tub, clean and cozy rooms and onsite bar and restaurant tick all the boxes and makes the Prestige one of those hotels that has everything you need and nothing you don't.  prestigehotelsandresorts.com