My parents moved us to McCall in the summer of 1976. I was five years old, independent for my age, and had a bike. The minute my frayed BMX tires hit the rough chip seal in front of our new house, I was immersed in the nature that surrounds town on all sides. Soon, I had a rat pack of buddies and our daily routine was like a scene from Stand By Me, minus the dead body. Our house was two blocks from the lake and right across the street from the North Fork of the Payette River. The wilderness all around us spoke to the wildness in each of us. It was the home to our forts, the instructor of Class IV inner-tubing, the holder of stashes of Tony's mom's Marlboros, Craig's dad's Old Milwaukee, and Adam's dad's Playboys. We connected our neighborhoods with a forbidden cable car from which we would launch bottle rockets at each other. We grew up learning to fish, swim, hunt, hide out, and generally flirt with death in this remarkable aquatic world, which seemed to us like the center of the universe.
For all intents and purposes, McCall is a water town. The Payette River rushes through the valley and the centerpiece of town is Payette Lake. Some 50 miles downstream, the North Fork of the Payette River gets constricted in a cataract that produces the longest, rowdiest stretch of Class V whitewater in the country.
For all intents and purposes, McCall is a water town. The Payette River rushes through the valley and the centerpiece of town is Payette Lake. Some 50 miles downstream, the North Fork of the Payette River gets constricted in a cataract that produces the longest, rowdiest stretch of Class V whitewater in the country.
McCall relies primarily on a mix of government jobs, tourism, and a small service industry to keep the lights on. An enclave of approximately 3,000 souls huddle on the southern shore of the lake in a mix of storefronts and a collection of dwellings that run the gamut from cabins and small bungalows to condominiums and over-the-top mega homes.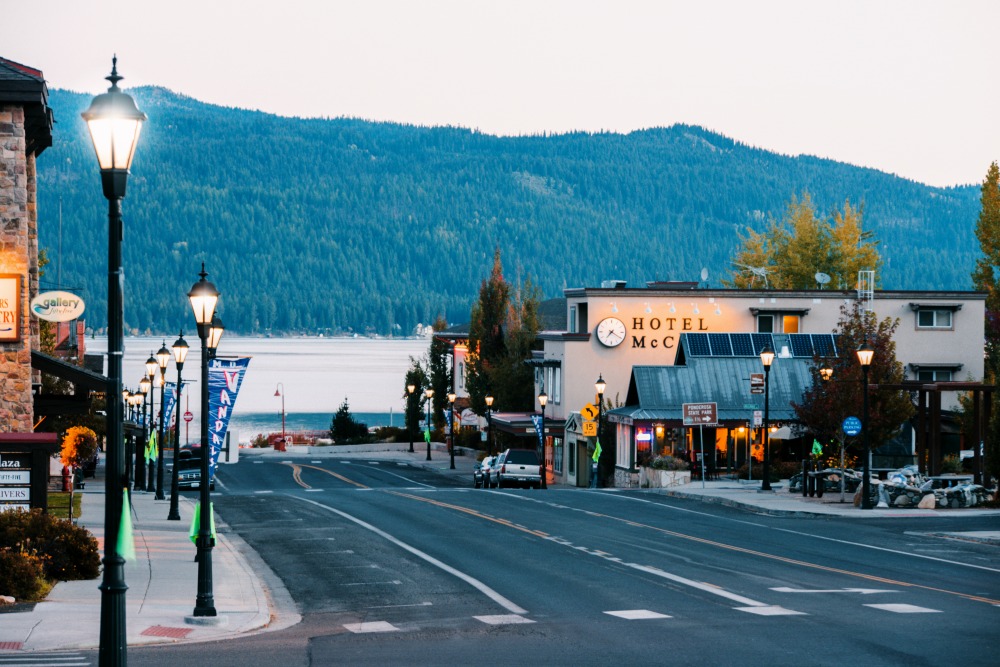 In its early days, McCall's economy was driven, like most mountainous Idaho outposts, by extraction industries like lumber and mining. Massive Ponderosa pines, which encircle the lake and climb the mountains, were felled and floated across the lake in massive bumping flats of logs to the mill adjacent to town to be turned into dimension lumber loaded on railcars headed for Boise. The mill's smelter was the iconic structure that defined McCall both as landmark and symbol of the rough freedom of the West. And with its lakes, pristine mountains, and river adventures, McCall has long been a tourist destination. The lake is a haven for boaters. Immaculate watercraft made of polished mahogany like those by Chris-Craft and MasterCraft joined a localized culture of boat building and these power-breathing vessels navigate the lake as soon as the ice melts into the glorious days of summer.
McCall is downhome and real. Ringed by mountains and rolling timbered hills, it isn't a glitzy place to go and be seen, and you're more likely to pass four-wheel-drive pickup trucks idling through town than polished Land Rovers and Mercedes Benzes. It's a funky mountain town, the destination of choice for Boise residents since hot weather was invented and a down-to-earth place that begs you to log off and power down. To roll into town on a warm summer night, pull up to the City Beach, and jump into the lake, feeling the cool water roll across your skin is to understand why this is a town we love.
A perfect summer day starts bright and early with a short pedal over to Mountain Java, a cramped little coffee house located a block from the lake next to the marina. After a stiff cappuccino, hop onto a boat and head out onto Payette Lake to catch the early glass on a typical warm, windless morning. The Payette is a relatively large body of water. Covering well over 5,000 acres, it looks like a thumb and forefinger from the air. The city sits at the tip of the finger, and Wagon Wheel Bay, the thumb, is home to a Moonlight Kingdom-esque system of granite islands and cliffs, perfect for swimming between and jumping from.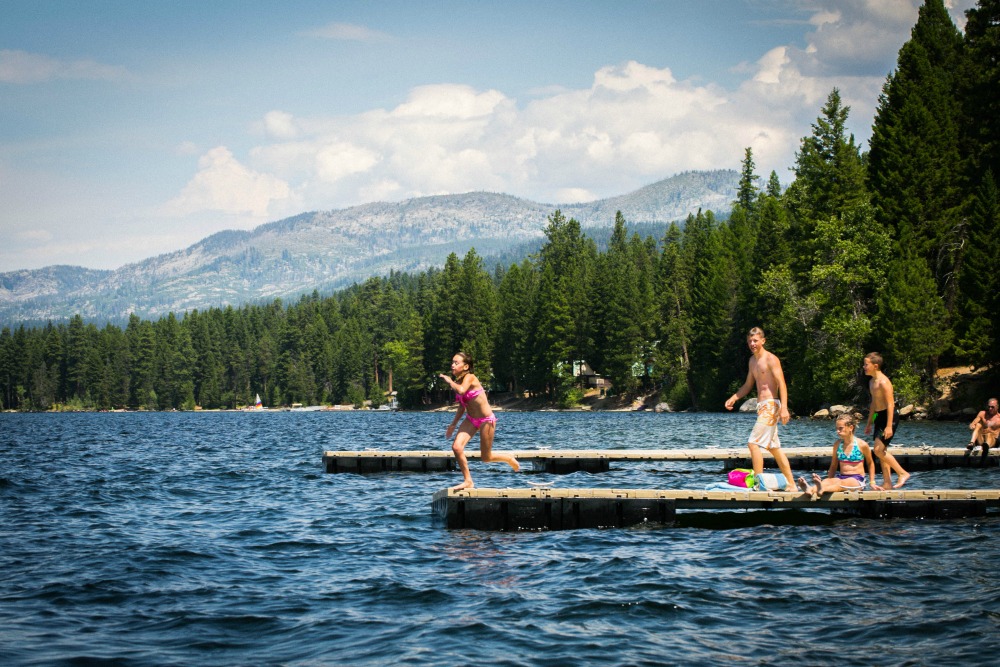 The landmass separating the thumb and forefinger is Ponderosa Park. Set aside as a park in 1906, this 1,000-acre preserve is a place of profound beauty surrounded on three sides by water. Originally identified by local loggers as a place too special to harvest, Ponderosa Park is home to miles of hiking and biking trails, sandy beaches, marshes and wetlands, day-use picnic areas, and a first-class campground. Dock your boat, pull out your picnic lunch, and set off on a hike or mountain bike ride through towering, 250- to 300-year-old Ponderosa pines, scouring the understory for plump, juicy huckleberries.
Like many ski towns, McCall has also experienced its share of booms and busts and managed to shake off consistent growth and development with its long winters and inconsistent economy. However, one thing has managed to weather the storm: the allure of mountain biking. Relative to its small size, the area has outpaced most other destinations with its leap to trail development. Since 1988, when Brundage Mountain, the area's main ski area, started spinning its lifts in the summer so you could hammer yourself on primitive, rigid mountain bikes, McCall was quick to get on the mountain bike bandwagon, before there was really a bandwagon. Trail development has accelerated in the past few years, and today you can ride next-generation flow trails and jump lines at Brundage and neighboring Bear Basin or drive a few miles to ride at Jug Mountain where they will shuttle your sorry ass in one of their customized uni-mogs. No matter where you go, expect a huge grin-cramp, because McCall has fully embraced the mountain bike bug. Presently, the local International Mountain Bicycling Association (IMBA) chapter, CIMBA (Central Idaho Mountain Bike Association), is busy constructing a robust trail network which, when completed in a few years, will completely encircle Payette Lake with an epic 33-mile loop (Payette Lake Trail) that affords endless vistas of the lake and granite domes which bump up to the sky on its northern and eastern flanks.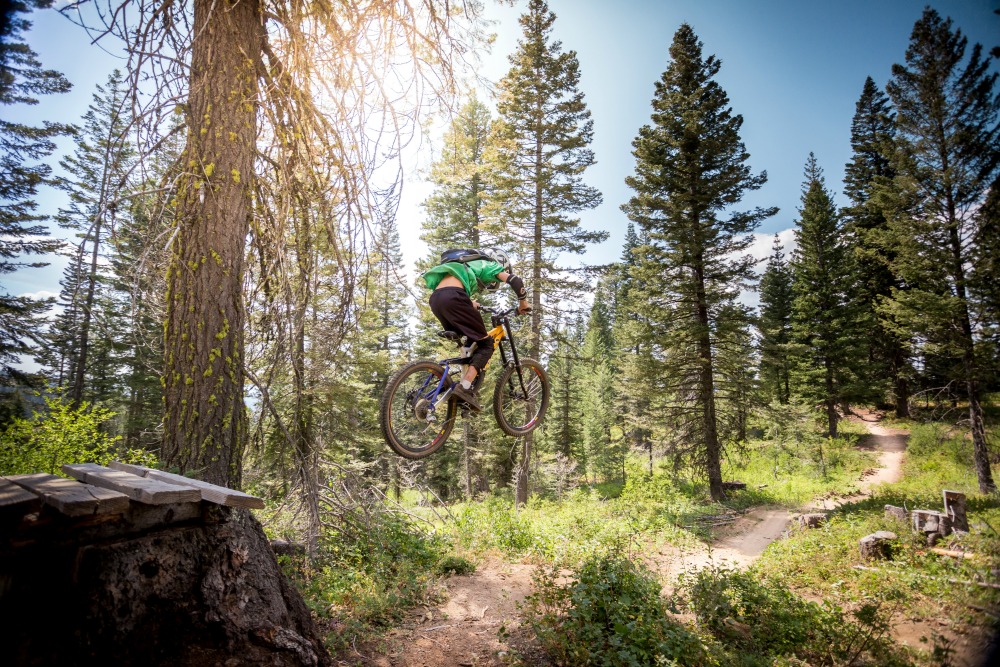 With its sleepy side streets and network of bike paths, you really don't need a car to navigate this little mountain burg. After a day of waterskiing, paddle boarding, and mountain biking, my preferred routine involves a ride into town with the kids for what I call the "bait and switch." The first stop is Ice Cream Alley, which is literally a tiny ice cream shop in an alley, scooping massive wads of cold, sugary goodness into cones. Don't let the long line dissuade you; it moves quickly and once your kids have their dripping cones, send them to the lake while you pedal a few strokes farther to Salmon River Brewery for a frosty pint. Relax in the shade and watch the day wind down on the lake. The crowd will inevitably be a mix of Chaco-wearing river rats, laid back locals, summer lake dwellers, and a smattering of just about everything else, all heartily enjoying the primo days of summer.
My dad will kill me for writing this next part, but… If you are the kind of person who likes to hike and fish, McCall is nearly impossible to beat. A brief glance at a topo map of the area will show you a patch of green, with impossibly steep contour lines, dotted with an almost equally impossible frequency of high mountain lakes. Be prepared to hike, grovel, crawl, and wade yourself into a lather to get to these spots, but like most things in life, with challenge comes reward. I'm not going to get into names of places, but many of these lakes hold cutthroat, rainbow, and brook trout, which might like your presentation or may swim right past your fly in inexplicable disinterest. To increase your odds, drop in to Taylor Outfitting or find a good seat at the end of the bar at the Forester's Club and look for a likely expert.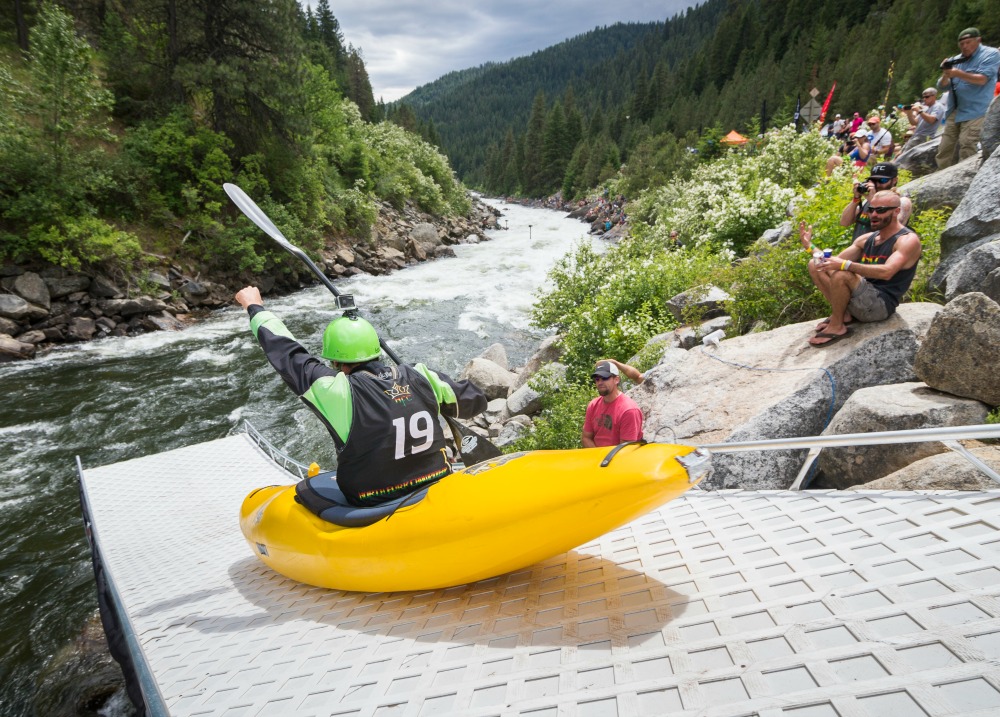 After the requisite daily ritual of beer and ice cream, the dining opportunities here run the gamut from the old standby of The Mill's steak and potatoes to local classic, Lardo's steaks, burgers, fries, and taxidermy to remarkably good sushi at The Sushi Bar all the way to the city limit-hugging Mexican at Pueblo Lindo.
I'm a guy who likes a few things the way they used to be, and Shore Lodge, a classic lakefront hotel, has a deck and white sand beach that just feel like home. Step through their doors and take a little trip back in time feeling immersed in the bygone years of water, skiing behind wooden boats and living the summertime dream.
Enjoy dinner at Rupert's. Known for his Southwest-, Asian-, and Mediterranean-inspired dishes, James Beard-nominated chef Gary Kucy and his kitchen create dishes that make you think you are in the city. But the kicker is, you're sitting on a patio under huge Ponderosa pines, a stone's throw from the lake. There are no horns or hassles here.
To really get in touch with the heart of the valley and what makes central Idaho tick, stick around long enough for the weekly farmer's market. Given its geography and climate, not a lot grows in McCall, but it is surrounded on all sides by lower-elevation banana belts. The produce that comes in each week is more Napa Valley than Valley County. From Salmon River berries to Council apples to lower Payette River corn and greens, along with the range of sauces, pies, and everything in between, a warm, humid morning at the market will make you feel like a local.
As a kid, I mostly remember McCall for its lake, river, mountains, and adventure. While all of that remains unchanged and I am sure some of those river fort caches still exist, much more is to be found here for the perfect break from the summer heat. So take a flyer and visit. Feel the center of the universe converge in this quiet mountain valley, but do me one small favor: Make memories and find the secret stashes, but please leave it like you found it. Life is too short on amazing areas like McCall, and we should keep it like it is for the next generation of rat packs.
eat:
The Mill
Since 1971 The Mill has been a favorite. This place is known for its succulent steaks, so you may want to try the Famous Prime Rib, Mills Medallions, or a classic 16-oz. Rib Eye. Feeling like some fresh fish? Go with the Idaho Rainbow Trout. themillsteakhousemccall.com
The Sushi Bar
Excellent sushi in central Idaho? You better believe it. Owner Jordan Ragsdale spent extensive time in Japan learning to prepare sushi the right way. Enjoy a lively atmosphere and views of the lake, an impressive collection of craft brews on tap, and the largest list of sake in Idaho. sushibarmccall.com
Rupert's at Hotel McCall
Chef Gary Kucy offers up fine Idaho fare in a great setting. Come for a cocktail and stay for dinner. The patio is prime for sunset cocktails and the food is delicious. rupertsathotelmccall.com
Ice Cream Alley
This place has become a McCall staple for locals and visitors alike. The keys are the "mountain size" scoops, friendly service, happy vibe, and some ridiculously good ice cream. Ice Cream Alley is truly a McCall summer rite of passage.
drink:
Salmon River Brewery
Head to this pub in McCall's old train depot area for some satisfying pints of locally-brewed craft goodness. Eighteen taps of the good stuff sit behind the bar with some go-tos being the P.F.D. Pale Ale, Big D.I.P.A., and Dark Villain Imperial Milk Stout. salmonriverbrewery.com
The Narrows
Because a drink on the lake is a must, have one at The Narrows, the new restaurant and bar at Shore Lodge. shorelodge.com
Mountain Java
If it's more like coffee time than cocktail hour, head over to Mountain Java for that authentically local café experience. No website so we like it even more.
stay:
Shore Lodge
Rated the Third Best Resort in the West in 2016 by Condé Nast Traveler, Shore Lodge is the quintessential McCall luxury lodging experience. Located on the banks of Payette Lake, Shore Lodge has 77 guest suites, immersion pools, and a full spa called The Cove. shorelodge.com
Hotel McCall
Also located right on the shores of Payette Lake, Hotel McCall offers condo-style rooms furnished in a pure mountain style and many come with views of the water. Guests can enjoy amenities ranging from an indoor pool to a professional spa. hotelmccall.com
play:
McCall Lake Cruises
Spend a glorious summer day or evening on a public or private cruise around pristine Payette Lake. The 62-foot IDAHO will glide you around in style with a main dining room that serves up to 40 people and a full bar. mccalllakecruises.com
McCall Summerfest 
Spend a week enjoying music in McCall! Summerfest runs from July 16-22 and features the best of the country's classical and pop orchestra performances. Check it out here.