Sibylle speaks like she paints. Her voice is soft and the concepts she shares are vast yet somehow exclamatory. She speaks of planet earth, universal elements, and the eternal world and you want to ask her what she means by all of it. But as you stand in front of her ceiling-height abstract watercolors–bright colors and bold shapes softened by the torrent of desert rains–you get a glimpse of Sibylle's essence as an artist. She creates art so that she can transcend words, languages, cultures, and politics. She creates art in order to speak to a deeper universal consciousness that's connected to and dependent on the earth and its environments.
As an environmental artist, Sibylle calls your attention to the very essence of the environment itself, from rain drops to grains of sand. Through her abstract works, she asks you to think about environmental concepts that are both expansive and finite–essential to the entire world and happening right before your eyes. In her paintings you can see fire and water, tree trunks and desert rock formations, cellular structures and open oceans. In her multimedia work you can hear and feel the heartbeats of ancient cultures and the delicate balance between destruction and renewal. In few words and with no concrete illustration, Sibylle seems to ask you, "How do I take part in this world; how do I impact the earth?" It's a beautiful and breathtaking nudge to be more conscious.
Born in Hamburg, Germany, Sibylle Szaggars Redford is a world-renowned multimedia artist whose artwork has been exhibited throughout Europe, Monaco, Peru, Singapore, Japan, and the United States. Her artistry spans across mediums and decades, from painted oil sketches and photographs of her Moroccan travels to large watercolor abstracts shaped by the monsoon rains of Santa Fe, New Mexico. Yet in all its variety, the core of Szaggars' work depicts a deep fascination with environmental elements, ancient landscapes, and the history of the natural world.
Szaggars first experimented with painting and sketching as a young girl, recording her admiration for the depth and mystery of indigenous cultures and ancient lands during extensive travels with her family. "I learned that all these peoples had one thing in common," Szaggars explains. "They respected nature and the environments they lived in, and they celebrated earth within their ceremonial acts." Even at a young age, Szaggars recalls, "I was more than aware that Western or "modernized" cultures had moved away from paying attention to all of this."
After moving to the U.S. in the late '80s, Szaggars split her time between the arid landscapes of the Southwest and the high mountains of Utah's Wasatch range. From desert lands to snow-capped ridgelines, Szaggars was drawn to the spirit of the lands around her and the cultures and conditions that preceded her. Over time her paintings began to reflect both admiration and fear for these peoples, animals, and environments, illustrating her concern for the changing landscapes, vanishing wilderness areas, and what she saw as a lack of cultural respect for wild places.
"From the beginning of my carrier as an artist," says Szaggars, "nature was the force that inspired me to be an activist from within my art, warning of the impending dangers of extinction, but also pointing out through color and beauty how incredible this earth is."
Szaggars' Buffalo Series, which she painted in the mid '90s, is a beautiful illustration of her artistic environmentalism. "I used the American Buffalo as a symbol for vanishing life," she explains. "The huge canvases show one, two, or three bison grazing—trying to find food on barren, arid ground. The bison are painted bright red against a hot desert landscape, and a dark blue sky with threatening thunderclouds rests in the distance."
Szaggars' installation titled "Vanishing Light," exhibited in 1996, takes another environmental approach, walking the viewer through increments of environmental destruction. "The viewer passed by large colorful oil-painted aspen trees," says Szaggars, noting that aspens carry the symbolism for overcoming fear and building community and strength through diversity. "From there the viewer was led to the Red Tree series, which showed canvases of dead, bright-red tree trunks. The closure of this installation showed thick, colorful oil-painted abstract pieces and each one was crossed out with thick black lines—the symbol for vanishing light."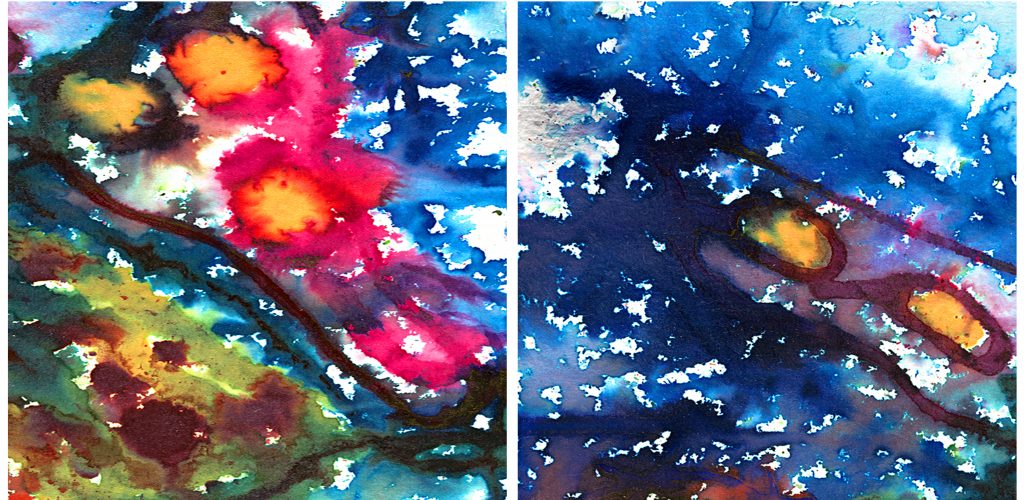 Most recently, Szaggars has entered the world of performance art, creating an interactive experience of landscapes and natural elements for viewers nationwide. It all started with a video of her rain paintings in Santa Fe, which recorded her process of applying dry watercolor paint to canvas and then waiting for the monsoon rains of New Mexico to fall and transform the work into an organic work of art. Using the rain as a collaborator, Szaggars explains, was an interesting way for her to illustrate the importance of desert rainfall and the necessity of all of earth's resources in keeping environments and communities alive.
In collaboration with Icelandic composer and musician David Thor Jonsson, Szaggars transformed the video of this process into a mixed-media installation exhibition at the Niman Fine Art gallery in Santa Fe. This exhibition sparked excitement and new ideas, and within the year Szaggars and Jonsson were on to a bigger concept: performance art as a homage to the universal elements and an artistic medium for environmentalism in action. Thus came "The Way of the Rain," a majestic work that combined painting, music, dance, words, light, art, and film.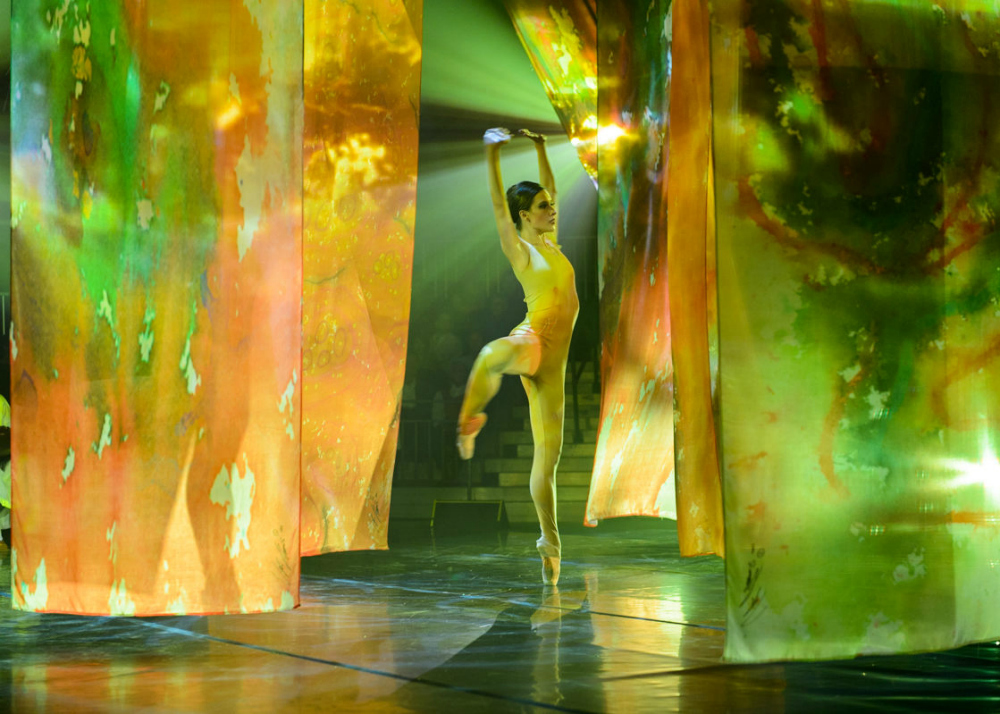 Szaggars printed her rain paintings on large silks that would hang above the performance floor, while Jonsson composed a new score to be performed live as dancers took stage in front of one of Szaggars' newest rain films. In July of 2013 this new creative piece was launched during the Film and Media Festival in Albuquerque, New Mexico. Since then, Szaggars started a new collaboration with world renowned musicians Will Calhoun, Dave Eggar, and Chuck Palmer to create new choreography, music, and stage design. In 2015, the Sundance Film Festival presented The Way of the Rain as "Official Selection" at the Complex Performing Arts Center in Salt Lake City, Utah.
Inspired by the success of the piece and its effects on communities near and far, Szaggars has founded The Way of the Rain Inc., a New Mexico-based nonprofit organized exclusively for charitable, cultural, and educational purposes. The goal of the organization, Szaggars explains, is to develop, produce, and perform educational and artistic performances themed and designed to promote public awareness and support for the protection of our environments.
On August 4th, The Way of The Rain will be performed at the Kimball Art Center featuring world renowned musicians Will Calhoun, Dave Eggar, Chuck Palmer, choreography by tap dancer Andrew Nemr, and guest artist Robert Redford. The Gala will also launch Sibylle Szaggars new art exhibit " Summer Rainfall," which will run in Kimball's main gallery from August 4-September 25th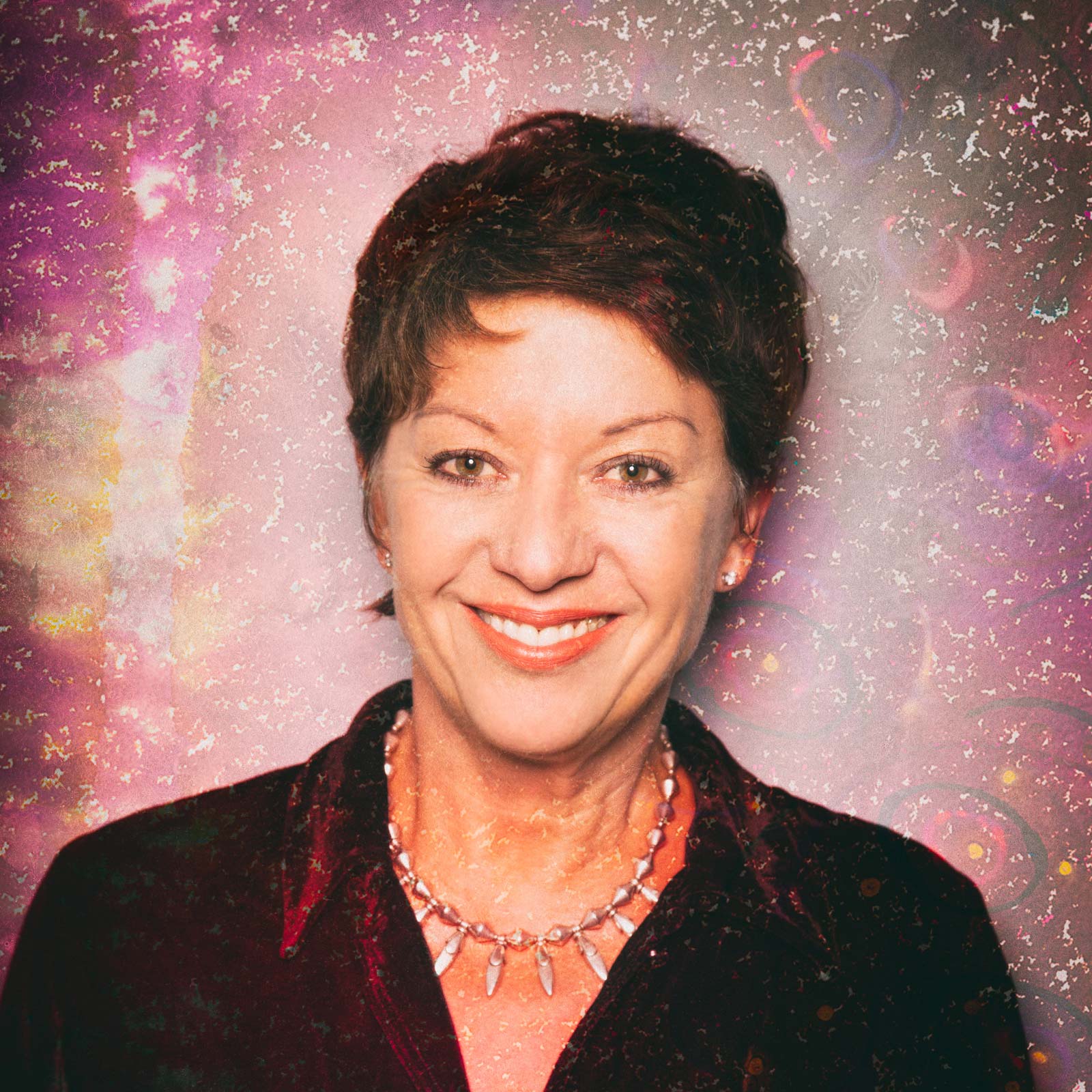 Sibylle Szaggars Redford is anything but ordinary—she's a charismatic world traveler, a passionate environmentalist, and an innovative artist. Married to Robert Redford, Szaggars rightfully commands the limelight on her own accord. We sat down with her to get an intimate look at her creative process and an insider's perspective on her upcoming performance piece.
Sarah Betts: What was the first artistic creation you brought to fruition? When was this?
Sibylle Szaggars Redford: When I was very young, after many oils of various subjects I decided to paint a self portrait. When I looked at the abstract self portrait I realized and became very excited that I could capture the essence and soul of something in an abstract way.
SB: How has your artistic process and/or approach evolved since then?
SSR: As a self-taught artist, it has been a very organic and natural evolution as I have explored various social and environmental issues through various mediums and materials.
SB: How many different mediums do you work in?
SSR: As a multimedia environmental artist I have worked with the traditional mediums of oil, charcoal, various watercolor pigments, photography, collage, and digital imagery, but in non-traditional ways. I apply these mediums to wooden fragments, for example, or plexi, silk, and other natural materials, in addition to linen canvas, board, and watercolor paper.
SB: You describe your art as "informed by spiritual consciousness of our connection to life, the land, and the world." How do you connect with these elements and translate them into art?
SSR: As a spiritual person, I have always been connected to the natural world. Nature has always been my guide in creating art. It is an intuitive process and I arrive through experiencing nature—in simple ways such as walking my five dogs very early every morning through our untouched landscape. Much of what I respond to is the fragility and imbalance of nature and the risk of overdevelopment in ancient and sacred places.
SB: What is your biggest source of inspiration
right now?
SSR: The precious element of rain and its imbalance.
SB: Biggest influencer on you and/or your art throughout your life?
SSR: My inner voice and inner force reacting to the injustices and imbalances in nature.
SB: Your performance piece, "The Way of The Rain," is based on your "Rainfall" series, a collection of watercolor paintings partially created by natural rainfall. For you, how does painting translate to a staged art performance piece that incorporates different art forms like music, dance, spoken word, film, and light?
SSR: Having been an environmental artist for decades, I felt I needed a stronger voice to create awareness and open up conscientiousness. I decided to create a staged, live, and moving painting through the addition of other art forms; music, sound, light, dance, film, and the spoken word. This underlined my concern for our planet and in collaboration with my rain painting process I envisioned "The Way of the Rain."
SB: You work to illustrate crucial environmental dilemmas through performance art. How do you think art bridges a sometimes tricky gap between environmental politics and social engagement?
SSR: "The Way of the Rain" is a collaboration, an homage to our planet Earth and by creating something engaging, beautiful, and full of joy and hope but with a strong message I hope to transcend politics while raising the viewers' conscientiousness through their experience.
SB: Most significant lesson you've learned thus far in your life?
SSR: Patience.
SB: Your current pipe dream?
SSR: That by continuing and growing "The Way of the Rain" performances, its message and impact will become a vehicle for ending all wars and create a sustained healing of our planet Earth.
SB: What is your favorite piece of art (your own or others)?
SSR: "Guernica" by Pablo Picasso.
SB: Biggest surprise in your life as an artist?
SSR: Each new body of work is a creative surprise to me!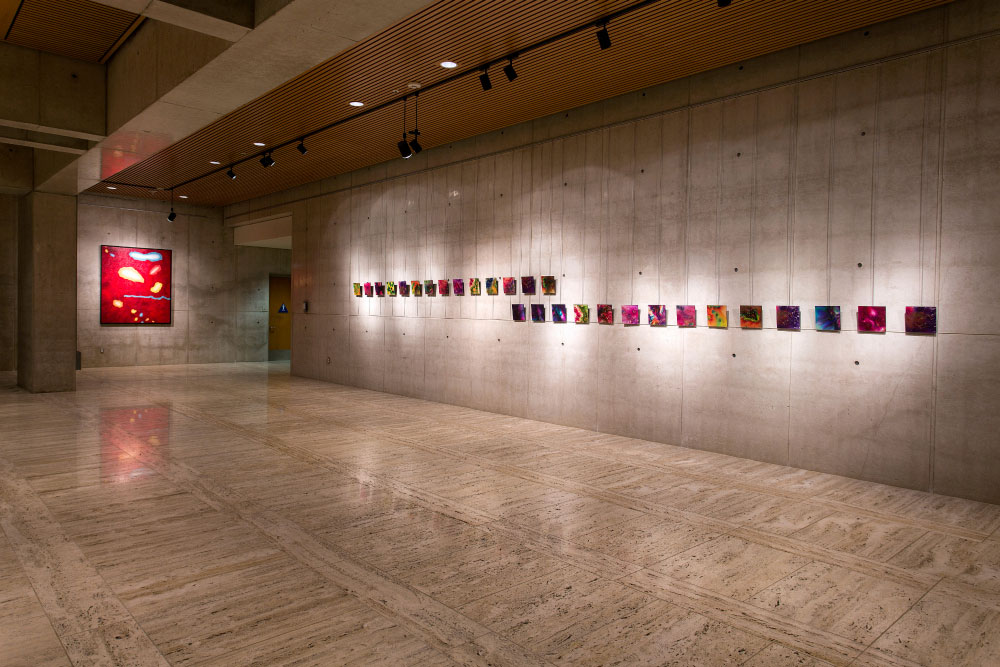 See Szaggars' work in Park City this summer:
"Way of the Rain" | Kimball Art Center Gala, August 4
"Summer Rainfall" | Exhibited at Kimball Art Center from August 4 through September 26
Visit kimballartcenter.org for more information on the performance and exhibition.