The only consistent sound here in Sandpoint, Idaho, registers somewhere between the quiet of the forest and the distant roar of the trains. Stand still by the lake or in the center of town, and you can hear the echoes of Thoreau in the sound of the trains passing by. In raw form, you can hear progress—the clank of machinery on the tracks moving the products of our modern world as it has for over a century. But, when the roar subsides, the forest absorbs the distant horns and gives way to bald eagles soaring overhead—reminding us of the importance of unplugging from one world and plugging into the one that surrounds us.
Sun Up In Sandpoint
The sun crests the northeastern skyline at 4:45am on pilgrimage to its daily zenith. At this latitude (48.2766° N, 116.5535° W), daylight during summer is generous enough that you can easily fit two or three days into one—or have a nice headstart to a moonlit all-nighter along the shoreline of Lake Pend Oreille. Your choice. Or better yet, you don't have to choose. Do both. I'm a light chaser, so I always look forward to the full moon closest to the Summer Solstice as it represents the greatest amount of light hitting this latitude in a 24-hour period all year. Translation: it hardly gets dark!
We begin our early morning twist down Bottle Bay Road en route to Trail 3, Gold Hill. Warm light shimmers off the lake and the heat is rising as we begin our ascent on foot. Train horns fade up the valley toward Canada. Curves, switchbacks—we meander up, up, up until mile three takes us to a bird's-eye perch above our little town. The best part of uphill one way is it can only mean one thing on the return: DOWN! And down we glide—gravity a gift this early in the morning.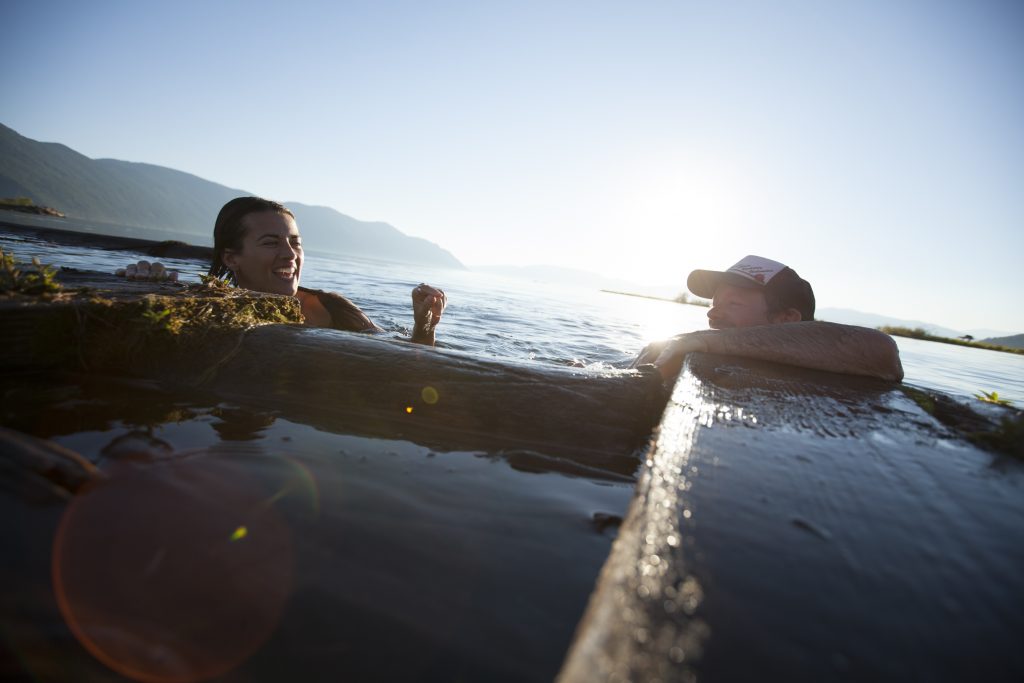 We run down with one thing in mind, taking a dip in Lake Pend Oreille, the largest lake in Idaho and the entity that roots us in Sandpoint. With an estimated 112 miles of shoreline, a stretch of wild beach is easily within reach. To extend this mini-morning exercise plan into a half-day adventure, continue out to the trails at Mineral Point and Green Bay for cliff jumping.
Around Town
If you have other things on the itinerary and can't wander around the lake for half the day, then refuel. The coffee compass points our needle to Evans Brothers Coffee in the Granary District. The award-winning, artisan's-touch coffee is served up by super-barista Daniel Gunter, who hooks us up with the best latte around. Yes please, may I have another? Owners Rick and Randy Evans, not-so-recent transplants from the South, have become an institution in this town and beyond—not only anchoring our funky progressive street corner with caffeinated goodness, but also earning national awards for their coffee and ramping up the whole idea of a hip, fun, small, family-run business in a small town.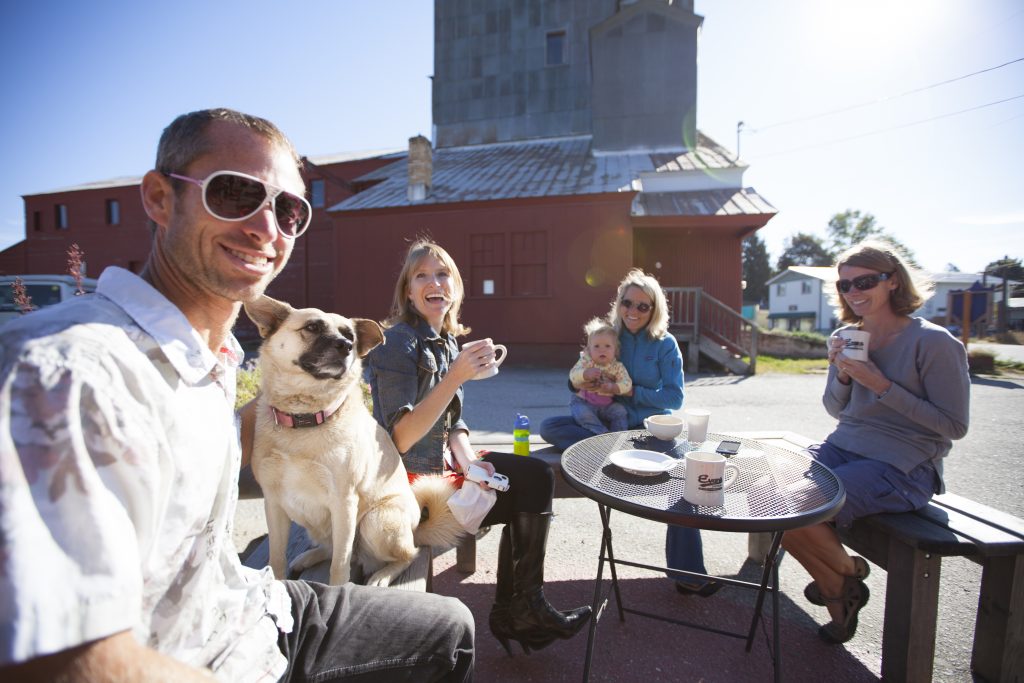 The Granary District is named for the 75-foot grain storage building still occupying the site at 6th and Church just off the main downtown grid of Sandpoint. Co-owned by two long-time locals, John Edwards and Steve Holt, the area hosts a variety of different events. Summer concerts fill the center parking lot and the surrounding buildings host a unique blend of small businesses—Shotski (maker of a ski-town essential, the Shotski—a ski with shot glasses attached so that a group can take a coordinated celebratory drink), the Sandpoint Climbing Gym, The Antique Marketplace, The Eureka Institute (an organization that supports and promotes lifelong learning and leadership through education, experiential, and recreational activities owned by Mr. Holt), the Evans Brothers Coffee Roasters, as well as a growing roster of food trucks and the Fresh Sunshine Flower Truck. The pride of place blooms in the front garden of the Granary every summer. It's an area of town that people love and love to help evolve.
I have a quick chat with Sprouts, our local gardener, philanthropist, plum-pickin', manure-spreadin' do gooder! "How you doing Sprouts?" His answer is usually one of the following—"Better than I look" or the more common "PLUM CRAZY!" We hatch a plan for a manure delivery later, and then he sticks a healthy handful of dried plums in my hand. Sprouts, Jeffrey Rich, works mostly pro bono and tends to over 40 different gardens in the county. With the help of the "Lil Hustler," his truck, he's a regular around town, hauling the makings of garden goodness or the (dried) fruits of his labor—usually cherries and plums. Sprouts is always making sure the children and their parents are eating and benefiting from the magic of dried plums. He demands that I eat a few of the dandelions scattered at our feet, then we part ways. Just like that.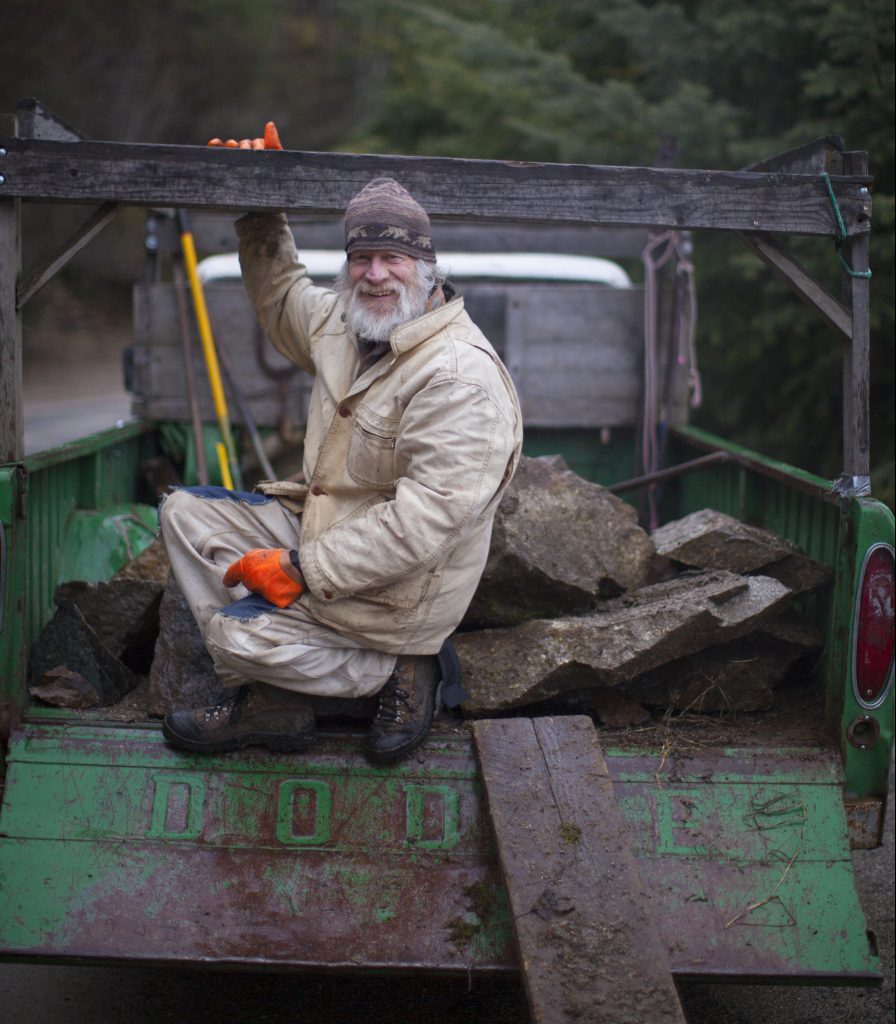 It takes all of another 14 seconds to run into someone we know on our way to the Farmer's Market and so our plan changes—it's to the Yard Sale Graveyard at Cedar and Boyer. The frequent friendly run-ins are not only coincidence, they are part of the DNA of living in a small town like Sandpoint. It's summer. It's bustling. It's Sandpoint. It's what happens.
Yard sale burnout develops quickly and the plan reverts back to the Farmer's Market. But first, my second swim. 3rd Avenue Pier. Boom. Done. Refreshed.
But, wait. How, you might be asking, are we covering all this ground so quickly? Bikes my friend. Bikes. Have one? Ride it. Need one? Mountain=Greasy Fingers. Used cruiser/townie=Bonner County Bikes. Need one fixed? See Dan Shook (Yes, he's the father of two beautiful strumming twin daughters, The Shook Twins). The trifecta of bike rehab is in full summer swing. All told, these guys restored and sold over 500 bikes last year.
Now, it's time for a little shopping. The Saturday Farmer's Market is an event that the community rallies around and recently the market has expanded, closing down one block of Oak Street and stretching into a newer food court area that bustles. With a diverse selection of fresh fruits and vegetables and an eclectic mix of local artisans, it's a weekend must-do.
The Perfect Punctuation
And for the final act of the day, we bike to the docks at Sand Creek to meet friends for an afternoon wake surf and beach time. Inevitably, splashing ensues and festivities begin. Sunglasses fall off people's heads as they dive in the lake. Soundtracks are selected for individual shred sessions, and we are all here now. The sun begins to sink and give its first hint that daylight won't last forever.
It's 7:15pm. Backflips and bare feet punctuate the day—it's summer in Sandpoint. That's the thing; no matter where you are or what you're doing in Sandpoint, that's exactly where you want to be.