I figured I took a wrong turn, or wrote down the wrong address at least. I get out of my car at the end of an industrial building that  butts up against just about nothing on the outskirts of Salt Lake City. There are no signs on the building, just a wall of grey concrete and a little opaque glass door. I open the door hesitantly, only to be greeted without the slightest hesitation from the other side of the room. "Hey, you must be Sarah," says the distant voice. "come on in. I'm just cleaning up after a lunch meeting."
The voice is Chris Barlow's, co-founder and managing partner of Beehive Distilling, and he welcomes me with a big grin and a hearty handshake. As he walks me into the small warehouse space, he pushes aside a couple cans of beer, chuckles and says, "That's how we do lunch meetings on a Tuesday around here."
We are only a few minutes into conversation when it all makes sense. "We're small," says Barlow, "but it's pretty fun to just make hooch." At that moment I realize that this is exactly where these guys want to be—out in the middle of nowhere, distilling gin without a storefront and the bothers that come with it.
Barlow and his business partners, Matt Aller and Erik Ostling, officially launched Beehive, Utah's first gin distillery since 1870, in August of 2013. Beehive is the product of a long-standing friendship between the three men.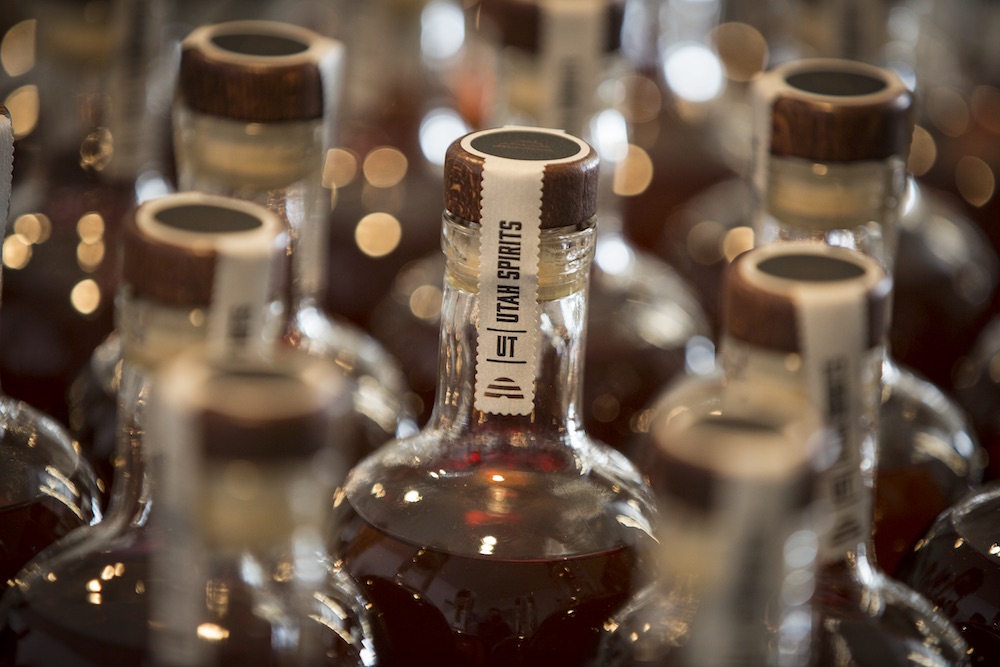 "We met each other in the early '90s," says Barlow, "and we've been going to the desert, biking, and hanging out since then. Eric was at my house one day picking up his daughter and while sitting out back drinking a beer he suggested we start a distillery."
The idea stuck. Barlow dove head first into the project, started doing the research, put together a budget, and toured other distilleries to see how it all worked.
Just shy of a year after its first mention, Beehive became a reality. It's clear that Barlow is an "I-do-things-how-and-when-I-want-to-do-them" sort of person, and in this case it appears to have paid off. With just three years under its belt, Beehive is making two varieties of artisan gin sold on every Utah liquor store shelf and distributed throughout Idaho, Montana, Wyoming, Colorado, New Mexico, and California.
"The process of starting up was not that bad honestly," says Barlow. "The biggest hurdle was dealing with the city because there are no other distilleries in Salt Lake County, and the process was entirely new to them and to us."
What's important to Barlow though is the actual "hooch," so let's get back to that. "We make gin, a traditional London dry-style gin, with a bit of our own creative edge," says Barlow as he walks me over to a giant stainless steel tank. "This is the still," he explains. "It's where the whole process starts."
Beehive does not make gin "grain to glass," instead they buy pure ethanol and start the process there. The ethanol, Barlow explains, is pumped into the still, which is heated like a double boiler. At this stage, Barlow adds some of Beehive's custom botanical blend: juniper berries, coriander seeds, orris root, and grains of paradise. The botanicals are bundled in a mesh cloth and the process (called maceration) is similar to steeping tea in hot water.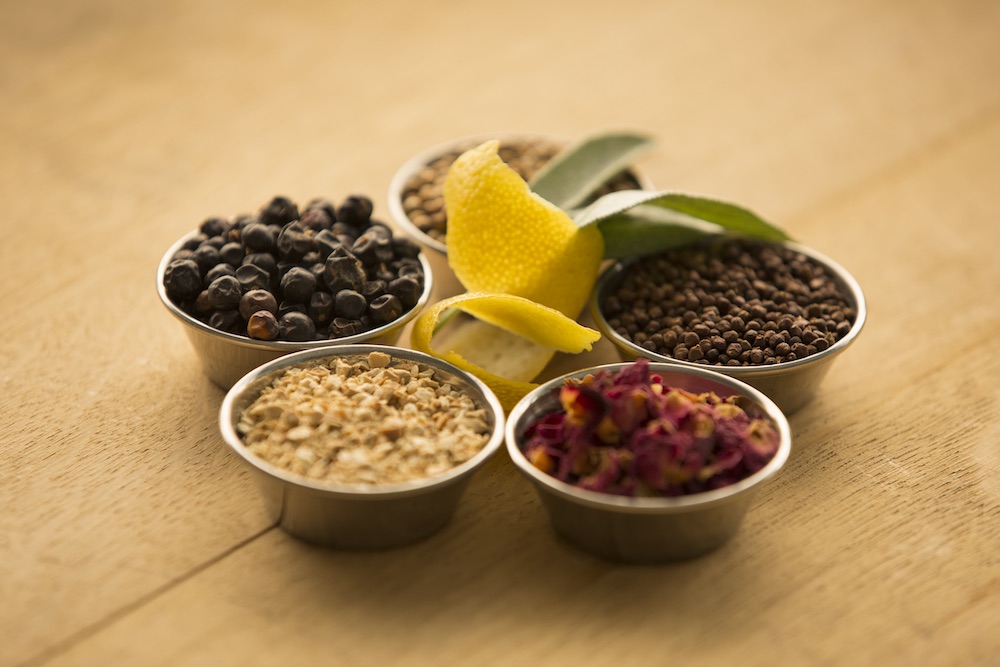 "As the ethanol heats up in the still, vapors rise and pass up through here," says Barlow as he points to what I later learn is called the Gin Basket. "This is where we put the sage, fresh lemon zest, and rose petals. As the vapor is drawn through here, it pulls out those flavors in a really fresh and bright way." 
There are two traditional styles of making London dry-style gin: maceration and vapor infusion. "A lot of people will do one or the other," Barlow explains, "but after a lot of testing, we decided we liked both. The crisp and bright flavors of the lemon zest and rose petals were lost if they were in the maceration so we put them up in the gin basket, but left the earthy botanicals in the maceration."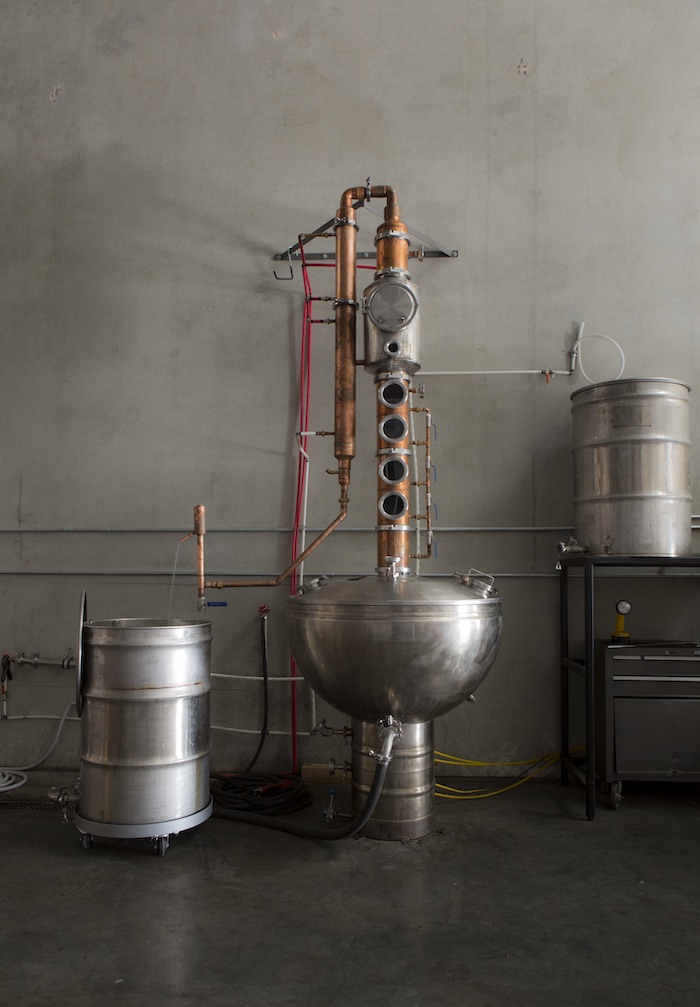 Once the vapors have passed through the gin basket, a cooling and condensation process takes place and the finished product runs down a big stainless steel tube into the storage tank. "The only thing we do post-distillation is water it down to bottling levels," says Barlow. "What's in this finished tank is about 110 proof. We water it down to 90 before putting it into the bottle."
Barlow lifts the lid of the storage tank so I can take a whiff of the 110-proof gin, warning me not to inhale too deeply or my sinuses will get drunk—he is right. "We also do the barrel-aged stuff," Barlow says as he waves his arms excitedly toward the back wall of the warehouse.
"We have these old chardonnay barrels here," says Barlow, "and we char them with a big propane- powered flame thrower."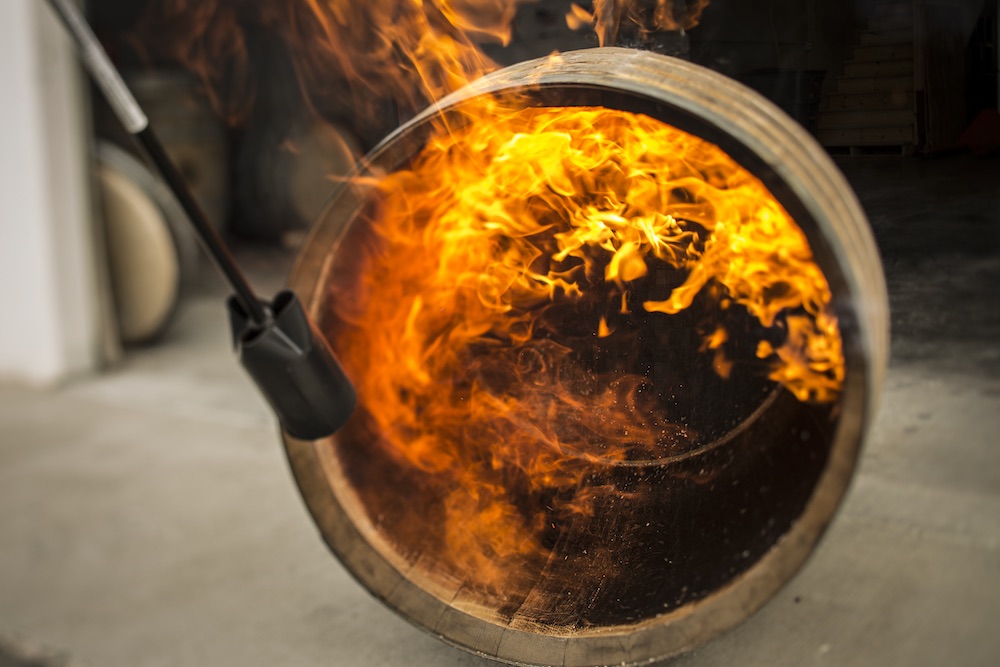 Their Barrel Reserve Gin is aged in the charred barrels for about a year before bottling, which is quite a bit longer than most aged gins on the market, according to Barlow. "We had stuff aging in barrels before we even put the fresh gin in glass to sell," says Barlow. "It was a risk, but we really loved the result of the barrel aging in our testing processes."
The end result (yes, we sat down at 2pm on a Tuesday for a gin tasting) is really unique, almost whiskey-like, but with hints of citrus and sage. It tasted like a desert night—slightly dusty, warm, and earthy with really subtle sweet notes that swirled across my palate. I guess that's what they were going for too. "We're from Utah," says Barlow, "and we like to think the blend of botanicals we've chosen reflects the essence of our home, the desert, the dry landscapes, the adventures."
"I tell people it's the whiskey-to-gin gateway drink," Barlow comments. "I love it in an Old Fashioned."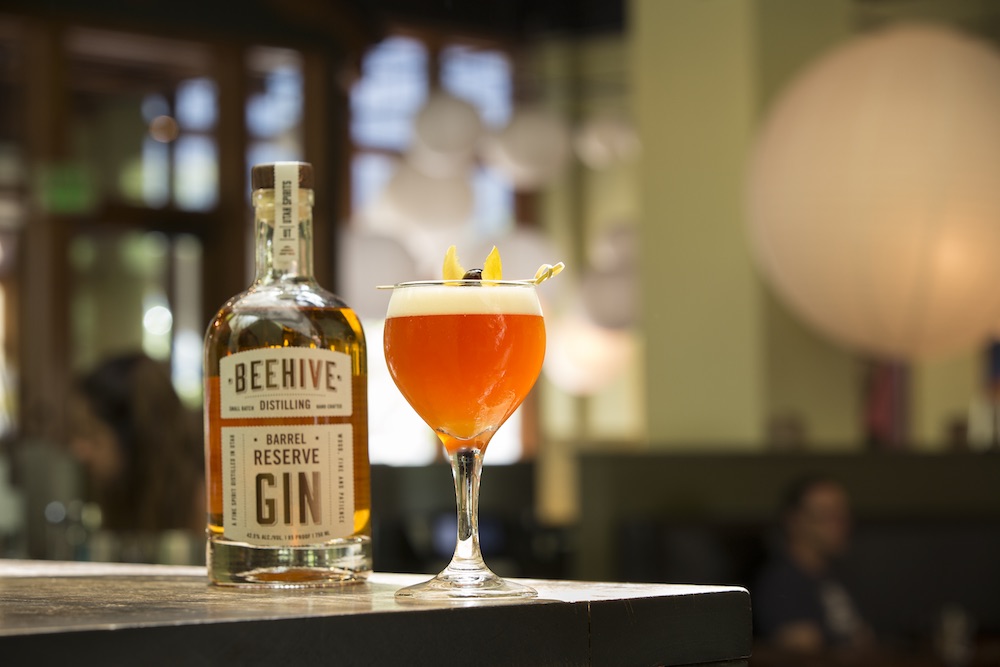 Barlow must get tired of tasting their gin, I figure, because by this point he's fetched another beer and seems to be quite content to let me do all the tasting.
"One out of ten people we come across," Barlow says, "tells us they don't drink gin. They think they had a bad experience in high school or something. But this is not that gin, you didn't steal this one out of your mom's cupboard. I try to get people to at least drink it first, then they can hate it if they want. But I like changing people's minds."
"Why gin?" I ask him.
"Creativity," he responds.
"With gin, the only rule we had to follow was the inclusion of juniper berries. So it gave us a lot of room to make a spirit that was ours, that didn't taste like anyone else's, and was a fun, creative thing to make. Especially with the barrel-aged gin, we love the uniqueness of the process. People ask us what it tastes like, and our response is, 'like nothing else you've tasted.' We're not here to replicate, we're here to innovate."
Get the recipes for Beehive's 364 Cocktail, Gin Mule, Gin Gimlet, and Barrel Sour.
Learn more and find Beehive: beehivedistilling.com