Nestled at the foothills of the mountains in Deschutes County, Bend sits in the middle of the beautiful high-desert terrain of eastern Oregon. The town sits on the Deschutes River and the architecture is an attractive blend of Old and New Mountain West. Bend simultaneously boasts an expanding population and economy while remaining classified as a large town or very small city. Settlement of the town dates back to the early 1900s when the area was a valuable logging destination. Now Bend is known as the premier place in Oregon for mountain enthusiasts to travel to for year-round recreation. Mount Bachelor Ski resort, the largest in the state, is about a 20 minute drive from town. Bend offers tourist activities for every season.
Why Bend?
A phenomenal place for mountain recreation activities including downhill skiing, Nordic skiing, hiking, mountain biking, road biking, fly fishing, rock climbing, and river floating, Bend has easy access to Mount Bachelor, the Deschutes River, and many different pristine mountain areas. It's the perfect home base for your mountain adventures. Bend also boasts a thriving cultural scene with award-winning restaurants, over 25 local craft breweries, spas, the Art in Public Places non-profit, and the local art scene known as Tin Pan Alley Art Collection. Bring your dogs as well. Bend was rated the Dog Friendliest City in 2012 by Dog Fancy Magazine. Yep, that's a thing.
Something for Every Season
Winter: Mount Bachelor skiing and snowboarding, Nordic skiing, backcountry skiing, sled dog rides, snowmobiling, snowshoeing with Wanderlust Tours, winter mountain biking (yes there is mountain biking in the winter), high-desert hiking in the winter, winter fishing, exploring underground lava tubes, ice skating, sleigh rides, art, festivals, nightlife.
Spring: Mount Bachelor skiing and snowboarding usually until mid May, Nordic skiing, hiking, mountain biking, road biking, fishing, golfing, the beginning of concert season at Les Schwab Amphitheater, art, festivals, nightlife, Spring Break camps for kids, Spring Break events for adults, slack season deals.
Summer: Mountain biking, road biking, hiking, backpacking/camping, river floating, canoeing, rafting, fishing, swimming, boating, concerts, summer symphony, golfing, art, festivals, nightlife, events, camps, etc.
Fall: Mountain biking, road biking, hiking, hunting, backpacking/camping, fishing, concerts, golfing, art, festivals, nightlife, slack season deals.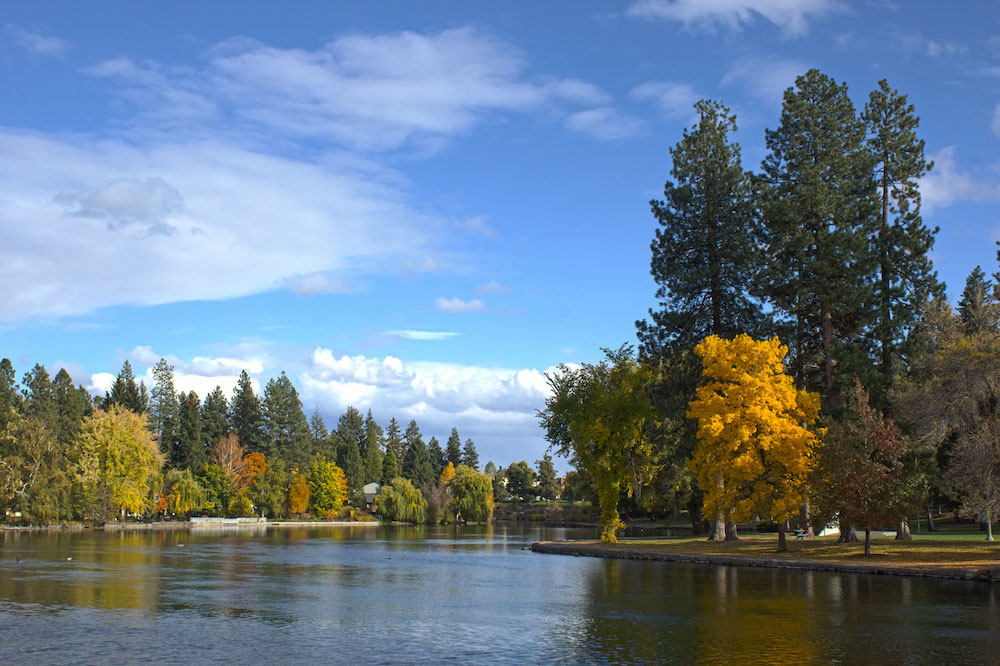 Stay:
Riverhouse on the Deschutes $$$
With an unmatched location on the edge of the Deschutes River, this hotel offers a truly unique lodging experience for those travelling to Bend. The Riverhouse has 221 pristine guest rooms, indoor and outdoor pools, a 36,000 square foot convention center, and pet accommodations. Guest packages for golf, skiing, and couples are also always on offer. The hotel also boasts a new lounge and restaurant that features creative interpretations of Pacific Northwest cuisine. The Riverhouse is the place to stay for those looking for a first-class experience that goes outside of the box. riverhouse.com
Mount Bachelor Village Resort $$$
Located just minutes outside of town and 18 minutes from the mountain, this resort stands tall among the pines on a ridge overlooking the Deschutes River. The architecture is Pacific Northwest Mountain Lodge at its best. The full range of lodging options are available: hotel rooms, condominiums, and full vacation homes. A full service conference center is also available as well as guest access to the Athletic Club of Bend. Mount Bachelor Village Resort is a place for travelers to enjoy a unique experience while having a multitude of options at their fingertips. mtbachelorvillage.com
Wall Street Suites $$
This luxury motel sits in the heart of downtown Bend but prides itself on being quiet and comfortable. It offers 15 suites and 2 guest rooms with natural stone showers, custom wood flooring, and eye-pleasing granite. The outdoor common area is well-maintained with tables and fire pits that promote a social atmosphere. Wall Street Suites is also dog-friendly. wallstreetsuitesbend.com
My Place Hotel $$
This hotel is a great choice for convenience, comfort, and value. Located just north of town, My Place is in a very convenient location for those who like to stroll. All rooms feature a small kitchen with refrigerator, cook top, and microwave. My Place Hotels is a rapidly-growing name in North America and they continue to get strong reviews.
Holiday Motel $
Holiday Motel is a classic-style motel located near the center of Bend near the Old Mill District and Les Schwab Amphitheater. 25 guest rooms are on offer with such amenities as a cafeteria, refrigerators, microwaves, and complimentary wi-fi. This is a great way to stay in town while saving significant cash.
Rainbow Motel $
This is a classic motor inn that is within a 15-minute walk from downtown Bend. Amenities include free wi-fi, microwave, refrigerator, and continental breakfast. Rainbow Motel boasts that it is a clean quiet place to stay for a great rate.
Drink
Crux Fermentation Project
This is a highly popular brewpub with 20 taps of predominately ales, IPAs, stouts, and imperial versions that are all brewed in-house. Crux is the place for true craft beer enthusiasts who like to get serious. Known for its always-friendly environment, Crux draws a diverse crowd of locals and non-locals alike. Go for the beer, stay for the atmosphere, and come back again because of the whole experience. cruxfermentation.com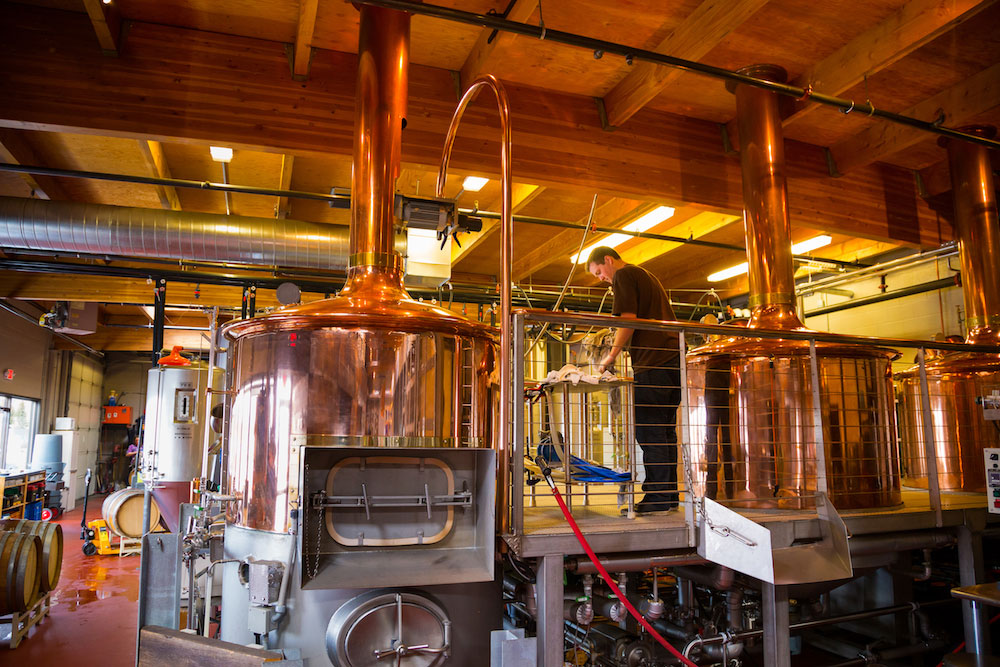 Bend Brewing Co.
Established in 1995, Bend Brewing Co has a history of winning craft beer awards and serving up excellent pub fare. Every brew on tap has one an international, continental, or national beer award. Try the Lovely Cherry Baltic Porter, the most-decorated beer on the list. Other notables include Salmonberry Sour and Black Diamond Black Lager. Bend Brewing Co creates unique beers that are beyond pleasing to the palate. bendbrewingco.com
Goodlife Brewing Bierhall
This brewery is without a doubt one of the most popular in Bend among locals and visitors alike. With taps centered around their signature Descender IPA, Sweet As Pale Ale, and Wildland Session Ale, the Bierhall also has a full bar with classic Mountain West cocktails such as the Moscow Mule. Kombucha, cider, and numerous guest beer taps round out the drink selection. The food is great as well and locally-sourced. goodlifebrewing.com
The Good Drop Wine Shoppe
We had to include at least one non beer-centric drinking spot on this list, even though Bend could be called Craft Beer Town USA. For all the oenophiles, head to The Good Drop for a relaxed atmosphere and highly-knowledgeable staff. This quaint wine bar and shop has an incredibly diverse selection of wines from France, California, Washington, and Oregon. The Good Drop also features a regular schedule of tastings and educational meetings for those who want to expand their knowledge. gooddropwineshoppe.com
Deschutes Brewery Public House
Deschutes Brewery has to be the most well-known, well-distributed, and successful craft brewery in all of Bend. Their original Public House is the building that Black Butte Porter and Jubelale were first concocted back in 1988. Being seasoned vets in the craft beer game, Deschutes knows how to run a damn fine brewpub. 16 taps of their own beer are available, with 11 being regulars and 5 being limited releases. If you're there this winter, some must-quaffs are the Obsidian Stout and Jubelale on Nitro or regular Co2. deschutesbrewery.com
10 Barrel Brewing
Bend has 27 craft breweries in town and 10 Barrel is among the most-established and most-respected, winning best brewpub in the area multiple times. The bar always has 14 taps of seasonal and one-off brews at its disposal and the entire place is family-friendly. Tanya's secret R&D beer concoctions are only available at 10 Barrel's Bend location. Be sure to try the trendy Crush Cucumber Sour and the classic Joe IPA. And grab a six pack of your favorite pick before you head out. 10barrel.com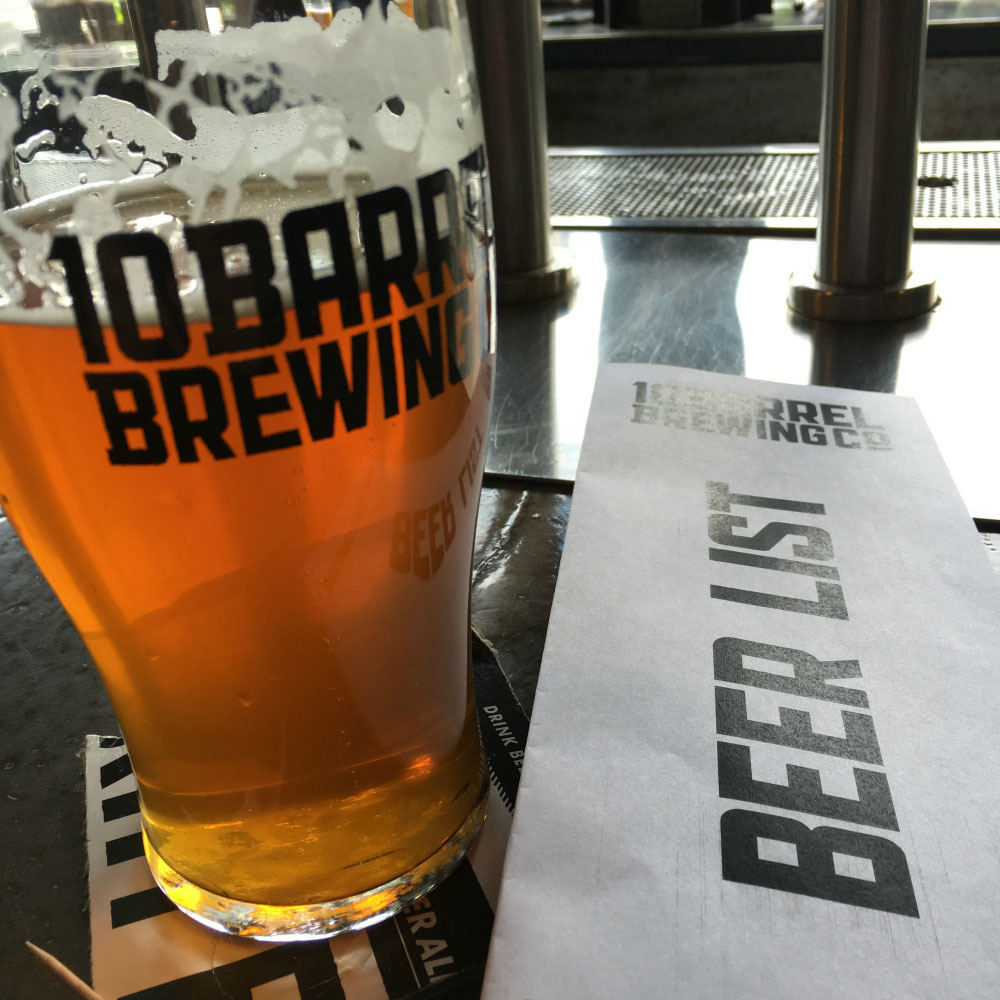 Eat
Ariana Restaurant $$$
Loved by locals and visitors alike, go to Ariana for the laid-back atmosphere and fine dining experience. The menu offers artisanal takes on traditional Pacific Northwest fare such as pastas, seafood, and meat entrees. Think a free range chicken with caramelized onions served with a corn pancake or wild scallops served over dungeness crab and herb risotto. Ariana is located in the heart of downtown Bend. If you go during high season, make sure to get a reservation as this place is ever-increasing in popularity.
Kayo's Dinner House & Lounge $$$
Kayo's serves up a relaxing atmosphere with an elegant yet un-stuffy vibe. This restaurant specializes in the areas of gourmet American, French, Steakhouse, and Seafood styles. Recommended by locals, Kayo's offers fresh dishes such as quail stuffed with spinach, bacon, and guere with berry sauce and mussels in a Thai curry sauce. Dinner entrees feature an Oregon huckleberry rack of lamb and parmesan-coated halibut. The menu is creative with many options to choose from.
Chow $$
Chow is unique in that it serves Brunch-style dishes all day long. This is a wholesome, farm-to-table establishment that is also vegan-friendly with gluten-free options. Chow is the perfect place to go after an epic night out on the town with plates such as The Blackstone (poached eggs, corn crusted tomatoes, spinach, bacon, béarnaise sauce) and seasonally-selected burgers and sandwiches. Don't forget the hand-made, roasted sweet potato fries and fried crispy polenta for extra fortification.
Pisano's Pizza $$
This wood-burning oven pizza joint is Bend staple. The menu offers more than just exceptional slices with other Italian plates including bruschetta and caprese. It also does a great job of blending Italian and American styles together with things such as Tuscan chicken wings and a good balance of Italian and American style pizzas (Diavola or Extreme BBQ Hawaiian). Don't forget to indulge in some locally-made gelato for dessert. This is the vacation life.
Parrilla Grill $
A highly popular, highly-rated Mexican place, Parrilla serves huge portions with quality ingredients at sweet prices (fish tacos, tacos, burritos, wraps all under $10, with most being $6.50). Another extremely important thing to mention is the PBR tallboys for $1 every day. Parilla is also a place with a well-diversified menu that allows people to be as gluttonous or as healthy as they want.
Pho Viet & Café $
Why not switch it up and go with something exotic, tasty, and healthy at an excellent price? Pho Viet gives you that option. There is nothing better to warm you up on a cold winter day in Bend than a big bowl of pho (pronounced "fah") with lots of hot sauce. Besides many different styles of pho, the menu also offers rice bowls, pad Thai, rolls, noodle bowls, and meat and seafood platters that are all authentic and traditional parts of Vietnamese cuisine. People love Pho Viet for its authenticity, friendly atmosphere, and great price point.
Do
Bend Ale Trail
The world famous Bend Ale Trail is the largest beer trail in the West. Two-thirds of the town's 27 breweries are within walking distance if you start downtown. Pick up a trail map and passport at participating breweries or the Bend Visitor Center. Collect stamps for some swag prizes. This has to literally be the best place to do a beer crawl.
Mount Bachelor
With over 3,600 acres of terrain and consistently strong snow fall, Mt. Bachelor Ski Resort is consistently voted as one of the Northwest's best skiing and snowboarding destinations. The mountain features any type of run that you can think of, with excellent beginner areas, freestyle parks and pipes, tree runs, and some pretty gnarly exposed faces up top. For the hardcore, do laps on Summit Express (now a high-speed quad that now takes you all the way to the top of the mountain) and hit endless lines on Cirque Bowl and Cow's Face. Bachelor is also great family draw with a Kids Ski Free program for those 12 and under.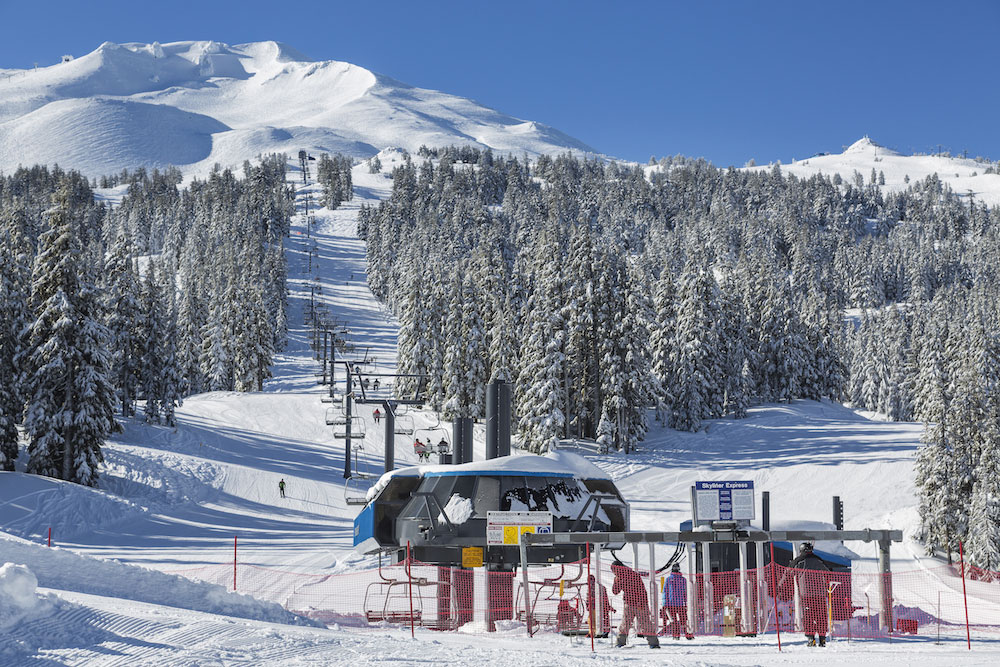 Tin Pan Alley Art Collection
Check out Bend's award-winning collection of works by local artists. These pieces are contemporary visions of inspirations found from the culture and landscape of Bend and the surrounding area. Currently featured artists are Katie Daisy, Jesse Roberts, Mark Rada, Andrew Wachs, and Megan McGuinness. Bend has a dedicated public art program and the artists at Tin Pan Alley contribute directly to it. Don't be surprised to see the work of some of these artists adorning walls while you're walking around town.
Wanderlust Tours
Wanderlust specializes in half-day winter snowhoe and cave tours in the Bend area. One of their most innovative and popular tours is known as Shoes, Brews, and Views. It combines a craft beer tasting with snowshoeing and is offered daily all through winter. Another one to check out is the Moonlight, Starlight, and Bonfire on the Snow starting at 7 in the evening and offered throughout the winter. Wanderlust Tours is well-established and has a phenomenal reputation.
Dog Sledding
Want to feel like a real pioneer of the Mountain West? Yes, dog sledding tours in the pristine and rugged wilderness of Eastern Oregon do exist. Under world-class Iditarod dog power, you will be taken by a guide deep into the Deschutes National Forest. Oregon Trail of Dreams provides a 1 hour family tour and a 26 mile "marathon" tour.
High Desert Museum
This museum offers a little bit of everything. From live indigenous animals such as porcupines and a bobcat to the Spirit of the West exhibit that chronicles the history of the High Desert, visitors never leave disappointed. Check out great temporary exhibits such as Smokejumpers: Firefighters from the Sky (ending February 12) and Ansel Adams: Masterworks (ending January 7). TripAdvisor rates High Desert Museum as the number 1 thing to do in Bend.
Shop
Old Mill District
This is the place to go for the widest variety of local, regional, and national retail shops. Check out the locally made and nationally acclaimed Nashelle jewelry store. Confluence Fly Shop is a high-end fishing outfitter that sells a great collection of fashionable mountain wear. Also new and noteworthy is Naked Winery which offers an impressive range of bottles from Oregon and Washington. Retail tenants in the Old Mill District utilize several historical locales such as the old fuel building and the iconic three smokestacks building.
Dudley's Bookshop Café
Sadly, the quaint local bookstore has become obsolete in most American towns. This is not the case in Bend. Dudley's is a classic that offers an impressive selection of new and used titles and a comfy environment. Go there on a brutally-cold winter day, grab some excellent coffee, and dig into that novel you've always been too busy to read. Dudley's also hosts live music on Friday and Saturday with a monthly banjo jam.
Bend Factory Stores
Not many mountain towns boast a large factory outlet mall. Outdoor brands such as Nike, Columbia Sportswear, Pearl Izumi, Eddie Bauer, and Izod are available if you need a new winter piece during your stay. Take advantage of the prices and the fact that Oregon has no sales tax.
Hot Box Betty
Bend contains many excellent boutique shops and Hot Box Betty has been at the top of list since 2001. The shop prides itself on personal customer service and having a well-balanced collection of upstart designers and established brands. Hip and slightly edgy but with a sense of humor is a good way to describe Hot Box Betty. The focus is on the individual style of each customer and a celebration of a personality.
Cowgirl Cash
This is another gem of a boutique clothing store for the ladies. The eclectic collection of vintage Western clothing is fun and unique. Cowgirl Cash sells boots, pearl snap shirts, raw organic honey, local artwork, and much more. This store also will pay cash for your unique offerings if they meet the criteria. Cowgirl Cash is all about the Bend lifestyle and women of the Mountain West.
Savory Spice Shop
Looking to do some cooking while in town? Looking to bring home some unique concoctions to add to your culinary skillset? Head to Savory Spice Shop for a large variety of seasonings and spices. All spices are ground weekly in small batches to ensure the freshest product. Savory Spice boasts over 140 seasonings that are original recipes. Extracts, sauces, and more are also available. You know what they say, sometimes it's the little things.
See
Crater Lake
This awe-inspiring lake was created 7,700 years ago when a violent eruption triggered the collapse of a massive volcano. Internationally famous, Crater Lake is the deepest lake in the U.S. and holds some of the most pristine water on earth. The jagged cuts of hulking rock that surround the lake make it a truly surreal and spectacular landmark. The drive from Bend usually only takes a little over 2 hours.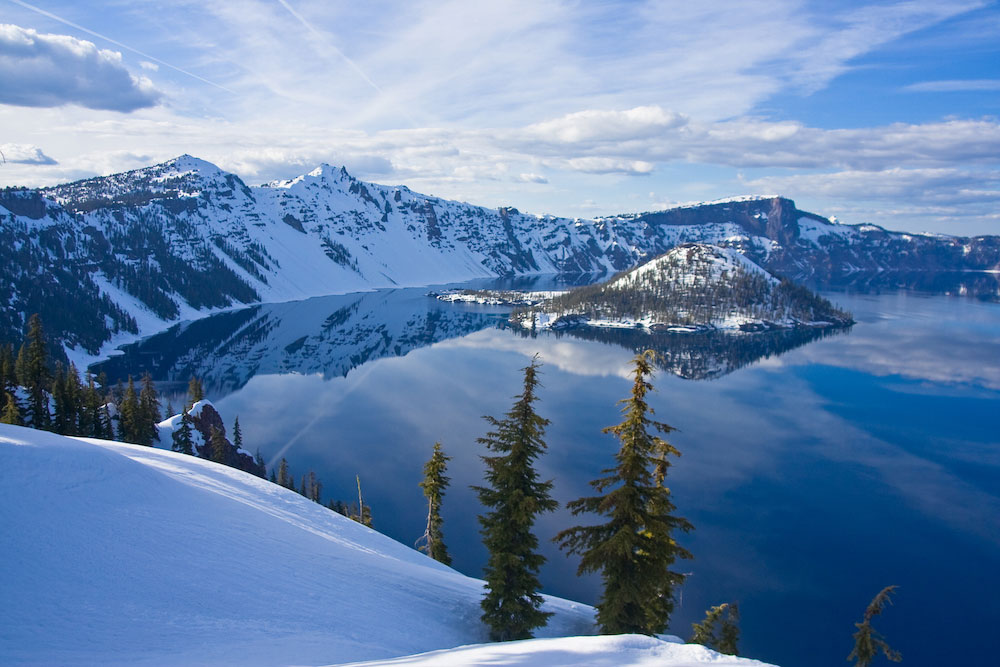 Lava River Cave
Explore one of the area's most remarkable geological landmarks. This is a mile-long lava tube that is accessed by walking down 55 stairs underground to the cave itself. Archaeologists have discovered the presence of obsidian flakes which led them to believe the tube was discovered by Native Americans at an unknown date. The environment of Lava River Cave is always in a state of flux do to the combination of sediments and water contact.
The Deschutes River
Amazingly scenic and integral to the development of the region, the Deschutes River is one of the most iconic rivers of the Mountain West. The Deschutes is mainly known for its warmer weather activities such as fly fishing, canoeing, and rafting. But walking its banks in the winter offers a different perspective and experience as a whole. The call of the river always beckons.
Sisters
Sisters is a town named after the beautiful Three Sisters mountains that dominate the western skyline. Only a 30 minute drive from Bend, this small and friendly town is definitely worth checking out. Sisters offers a great Old Western feel with that trademark Oregon quirkiness.
Black Butte Ranch
Located in the Sisters area, Black Butte prides itself on having numerous events and activities during the winter season. Enjoy Nordic skiing, snowshoeing, starlight campfires, outdoor live music, sleigh rides, and more in a pristine natural setting. The Lodge Restaurant, Lakeside Bistro, and Aspen Lounge have you covered for dining options and respite from the cold.