It's a testament to the allure of basil that even though, as lore has it, Europeans in the Middle Ages thought that basil was somehow connected to the spontaneous appearance of scorpions, the herb still grew in culinary popularity. A part of the mint family, basil is native to India, southeast Asia, and North Africa. Basil has many medicinal benefits; it's been credited with the ability to sharpen memory, alleviate discomfort from bites of insects and leeches, and reduce stress.
Basil is delicate and will bruise easily. If you are frustrated by your basil turning black after you chop it, you can slow down the oxidation process by drizzling oil on your basil leaves, rolling, and chopping as you normally do. The oil will coat the fresh cut in the basil and create a bit of a barrier so the air will not turn the edges of the basil black as quickly. There are over 160 varieties of basil, all differing in size and color of the leaves and flowers, which all affect the flavor of the plant. Basil has a high water content, therefore it cannot be dried like many other herbs. But freezing basil does work great for preserving the bounty of the harvest.
Caldera's Sunflower Pesto
Miga Rossetti
Owner, Pizzeria Caldera, Jackson, WY
pizzeriacaldera.com
Miga began cooking as a child beside her mother and grandmothers. Much of what they used was grown in one of her grandmother's gardens, and they cooked the other grandmother's recipes that came with her to the States from Italy. While living in Florence, Miga worked in the kitchen of the villa she lived in and learned much while shopping from the local markets. Her love of local food and her appreciation for small producers grew when she was the head deli cook for Food Front in Portland, Oregon. And even though Wilson, Wyoming, is a mix of zone 1 and 2 (translation for non-gardeners out there—the 2 coldest winter climates in the West), she maintains two vegetable gardens that flourish. The pizzas and other food at Pizzeria Caldera are designed by Miga and her husband Chris Hansen (with probably a bit of inspiration from her grandmothers). Miga says, "This is the base for our pesto but we've used it a few different ways. We deliberately don't use nuts, the seeds are yummy and eliminate allergy concerns."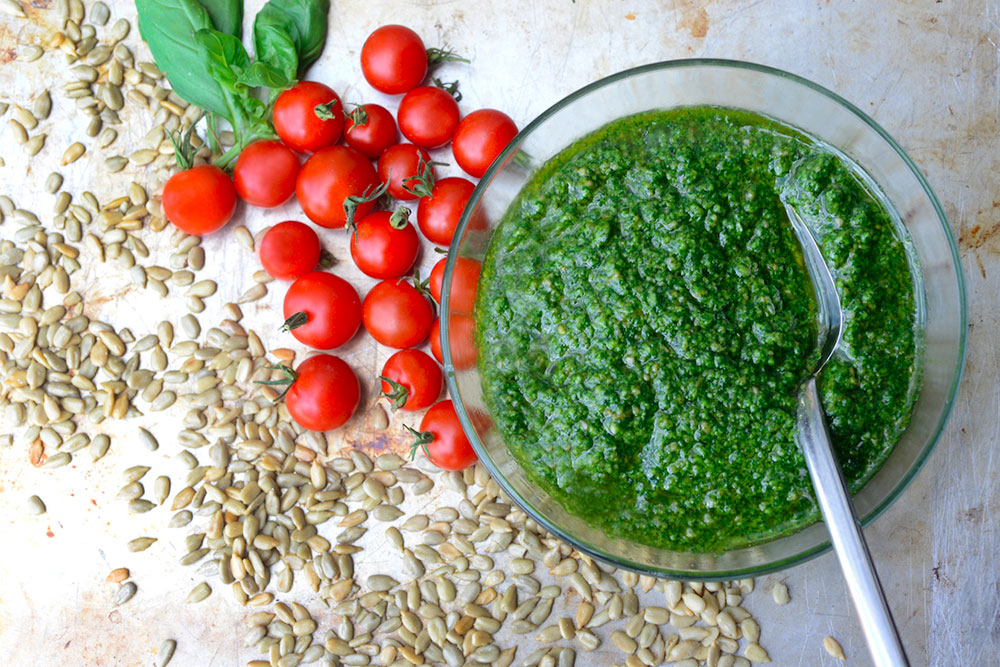 Ingredients:
Makes 2 cups

6 c loosely packed basil (de-stemmed)
¾  c olive oil
6 cloves garlic
½ c sunflower seeds
¼ tsp salt
1/8 tsp pepper
Instructions:
Remove all leaves from stems. Blend ½ cup of olive oil, garlic, seeds in food processor. Make sure seeds are blended to a fine consistency. Then add remaining oil with basil leaves, alternating. Add salt and pepper, adjust as needed.
Pizza Tips from Miga
For our popular Primavera pizza with sunflower seed pesto base, we spread this pesto on the dough quickly, then top with chunks of scattered fresh mozzarella, cherry tomatoes cut in half, yellow squash sticks, and pre-roasted green zucchini rounds. Bake at 550º for about six minutes while rotating.
Also, this is a great base for the Pesto Pollo pizza. Put tomato sauce down first, then 1 cup of shredded mozzarella everywhere, shredded roasted chicken, red onion, then use a squirt bottle with the pesto and do a checkerboard across the top, Bake at 550º for about 6 minutes while rotating. Finish with shaved parmesan after it comes out of the oven.
Basil Vinaigrette
Chef Briar Handly
Chef & Co-owner, Handle, Park City, UT & HSL Restaurant, Salt Lake City, UT
handle.com &
hslrestaurant.com
Local. Sustainable. Seasonal. For Executive Chef Briar Handly, these terms aren't trite industry buzzwords; they're his professional priority at HANDLE and HSL. It's a delicious dogma that fundamentally informs the restaurants' food and beverage selections, all curated by Handly directly from the region's highest-quality producers. Handly's culinary style reflects his passion for combining sophisticated, challenging, and unique ingredients that resonate in comforting, subtle, and familiar ways. Firmly rooted in the materials and character of the Mountain West, Handly's technical skill and preference for vibrant flavors echo his personal and professional food history.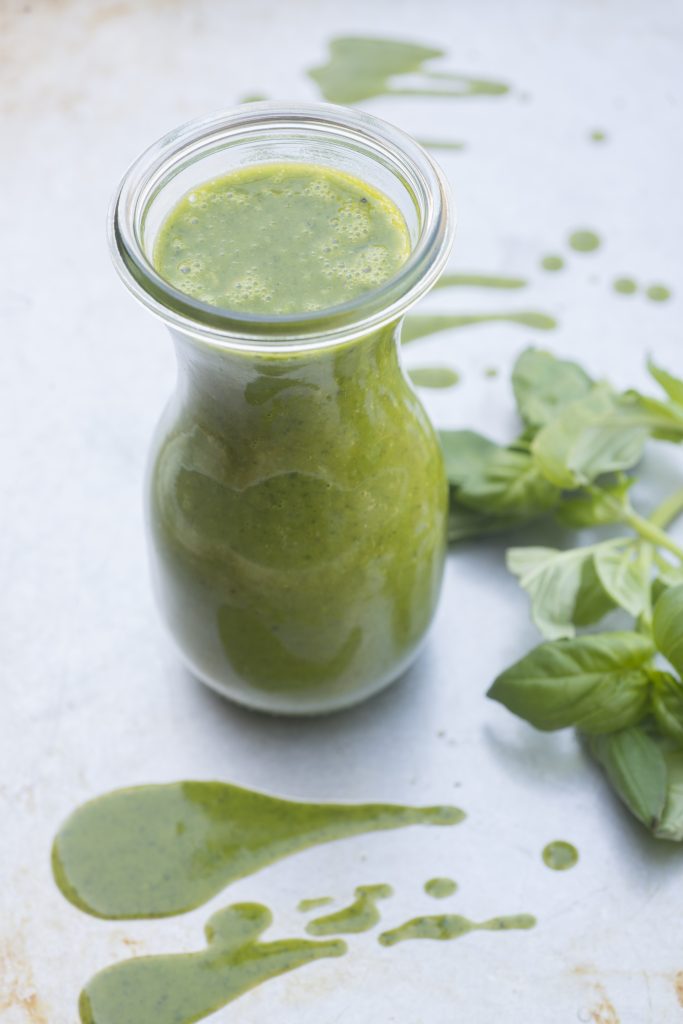 Ingredients:
Makes 2 cups
1 bunch basil leaves, picked
½ bunch Italian parsley leaves, picked
1 handful spinach
1 lemon, zested and blanched
2 tbsp dijon mustard
1 c extra virgin olive oil or grapeseed oil
¼ c honey
¼ c white balsamic vinegar
salt and pepper to taste
Instructions:
Blanch the basil, parsley, and spinach in salted water. Blanch the zest as well. Purée in a blender with the oil. When ready to serve, mix in the honey, mustard, and balsamic vinegar. Season to taste with salt and pepper.