Pallas Snowboards
Born and headquartered in Salt Lake City and tested in the Wasatch Mountains, Pallas holds the distinction of being a company that makes boards specifically designed for female riders. This brand is at the forefront of filling a long-neglected part of snowboarding by uniting the industries of female craftsmanship and creativity, creating boards that actually enhance the shredding experience for women, and bringing a sense of a tight-knit community in the snowboarding world for women. Pallas was established in 2014 when founder Stephanie Nitsch teamed up with board maker Alister Horn (founder of Chimera Snowboards). "Originally, I was looking to create something specifically for women in the mountain biking industry," says Nitsch. "But I had been hitting a lot of brick walls. Coincidentally, a friend called me and said that an acquaintance who owned a snowboard company was looking to start a sister brand for women and put us in contact. We were building our first prototype in the fall of 2013 and had it ready to go in early 2014. And later in the fall of 2014 we had our grand opening." Albeit in a different form of mountain recreation, Nitsch had found her niche and she was off and running.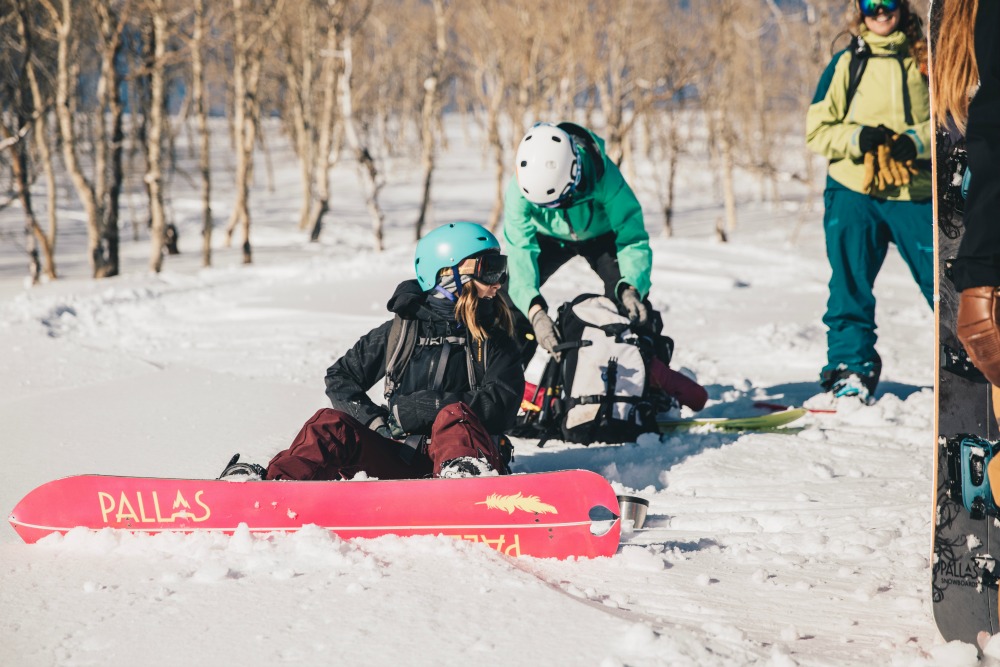 Pallas makes a point of keeping their production small and doing direct-to-consumer sales. Every single board is produced by hand in their small workshop in Salt Lake City. The response from the public to what they're doing and what they stand for "has been overwhelmingly positive from the beginning" says Nitsch. "I want to make the best possible snowboard for women in the industry, but I want to do it in a way that speaks to women in a way that hasn't been tapped into in the mass snowboard market. That approach seems to have taken off really well with our customers." Aside from creating products of the highest quality, Pallas makes it a priority to create events that help foster a bond between all female riders associated with their company. "For the last two winters we've hosted a number of splitboard clinics for women of different ability levels. Whether it's the first-time splitboarder to the advanced splitboarder, the kind of community and camaraderie that we've been building has been really exciting and fun to watch. Creating that tight-knit group of people to go exploring in the mountains with is what Pallas is all about." Although splitboards are a big part of the brand, Pallas is also fully in the solid board construction game. Plans for having an increased number of demos and tailgate events that feature their solid boards at resorts are already being made.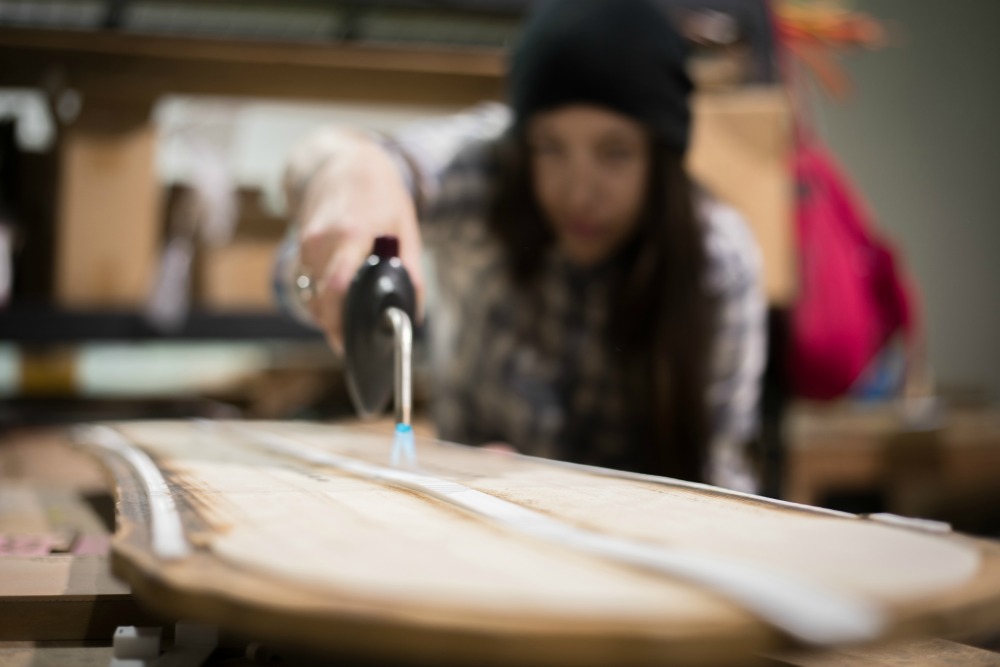 On the technical production side of things, Pallas has a proven formula that they base each product off of. "Thanks to Alister and Chimera, we've had a successful and strong recipe from the start," says Nitsch. "We use a pretty traditional material supply. We have a full Aspen core which is sandwiched with fiberglass on the top and bottom. The Aspen is really strong, snappy, and super responsive. It's also really light weight which is quite critical for the construction of women's snowboards. The result is a departure from a lot of women's boards that tend to be way to flexible and noodly." Pallas has also licensed a technology started by Chimera called BUHMPERS. "Where traditional splitboards have a steel edge in the middle, we use an ultra-high molecular weight compound (UHMW) which is a really strong tough plastic. The benefits that result are lighter weight, a much smoother ride, and a more efficient energy transfer. It's a much more seamless ride that feels very much like riding a solid snowboard."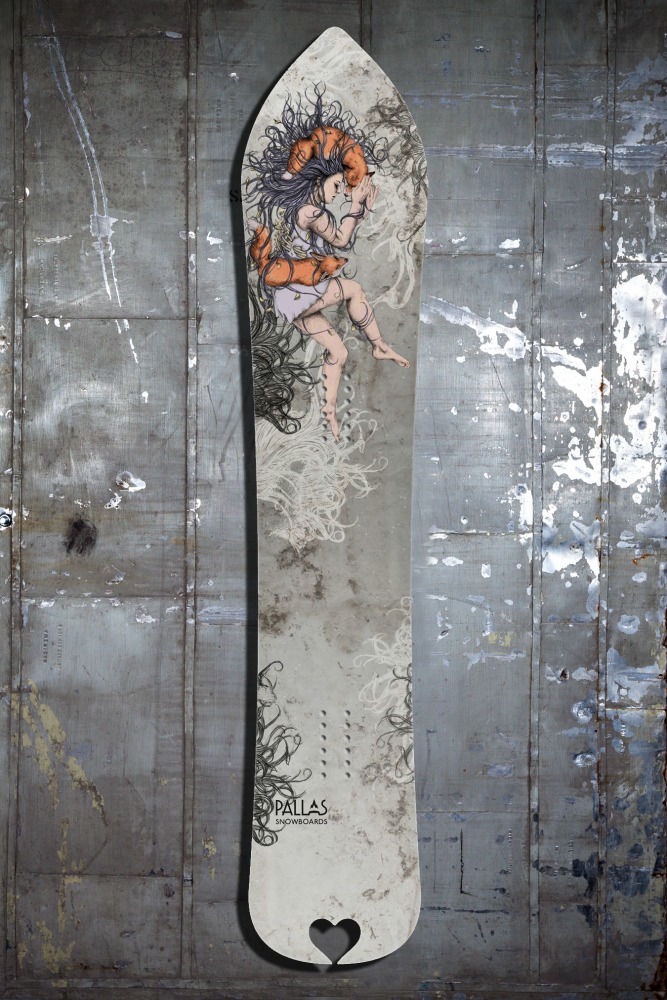 Aside from the shape and performance of their boards, the artwork that adorns each top sheet is something to behold. Nitsch describes it like this, "We worked with an illustrator in Brisbane, Australia named Gemma Davis. Her style and aesthetic have been so fitting for Pallas. Her goal was to create a very organic balance of masculine and feminine qualities working together. And you don't often see hand-drawn, striking, bold, and beautiful fine art pieces on top sheets." The depiction is a swirling atmosphere with a female figure floating in space and caressing two foxes who are wrapped around her. If you look closely you notice that she is decomposing and the materials of her body are becoming part of the natural world. It is certainly a striking image that embodies harmony with nature.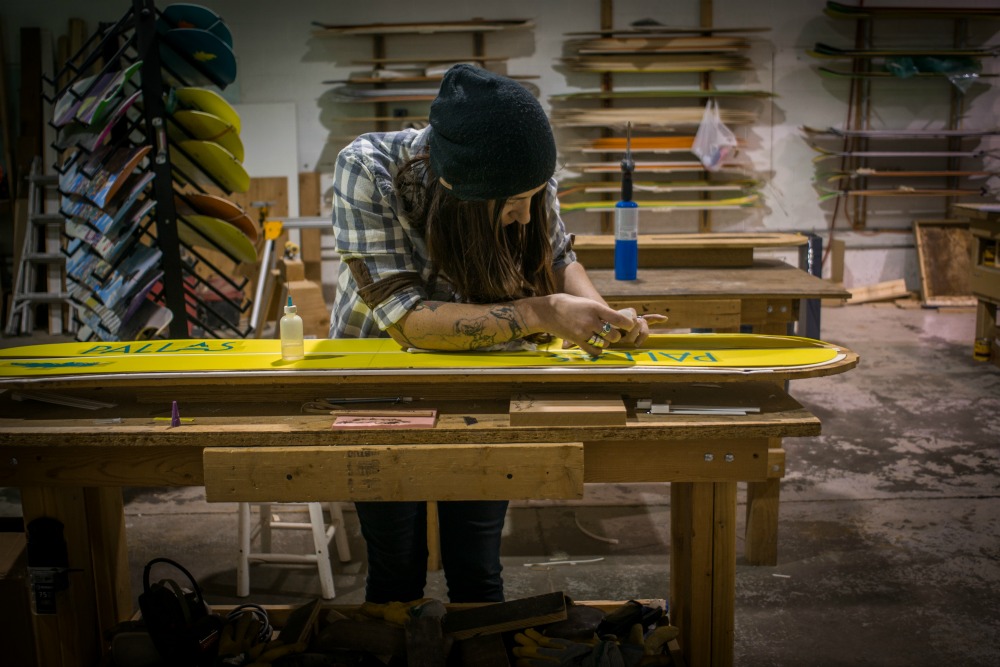 Pallas is definitely the cream of the crop when it comes to making limited production women's snowboards. Head to pallassnowboards.com for more information on finding the best models for your riding style and the terrain you love to shred on. And be on the lookout for events such as splitboard camps and demo days happening at a mountain near you. Pallas is breaking new ground in snowboarding and loving it.
***Nitsch's current favorite model to ride is the whole quiver (Hedonist, Zeitgeist, and Girl Scout) depending on the day.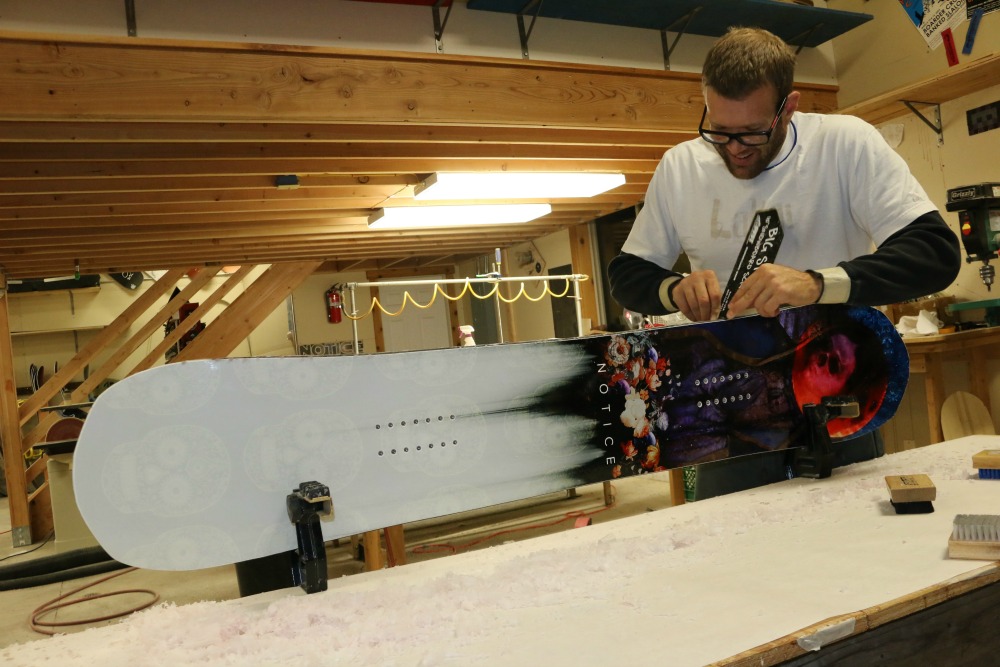 Notice Snowboards
Located in Whitefish, Montana, Notice designs and produces snowboards in a small shop space that sits just about 10 minutes away from Whitefish Mountain Resort. They also test their models in backcountry locations in an area the experiences an average of 300 inches of snowfall a year. Notice was born as a passion project that morphed into a real business for founder and lead shaper Brittan Ellingson. With an action sports background working for Teton Gravity Research, Ellingson was itching to get stay in the snowboarding industry full time.  "I got an internship with Never Summer in Colorado. They put me in the factory in the warranty department, and I learned a lot about repairing boards. It was kind of a blessing in disguise," says Ellingson. "I'm a carpenter and I've always loved tinkering and craftsmanship."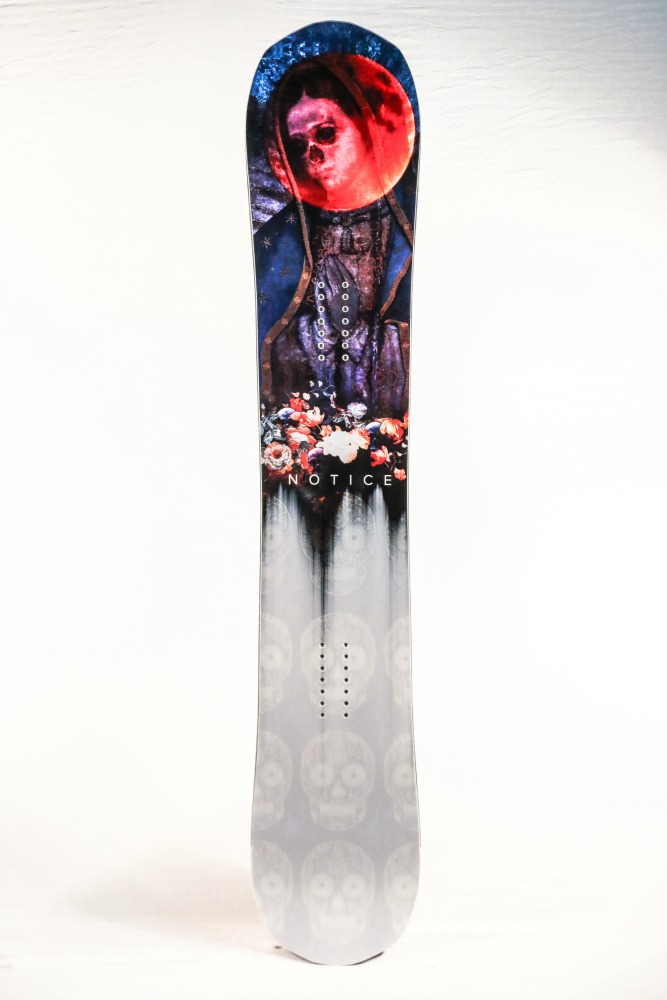 So after learning about the general process for making boards, Ellingson and his family moved back to Whitefish (where they had been living before Colorado), he sold his wakeboarding boat, and built a small snowboard factory. Simple right? "Up to that point I had experience with every kind of facet of building snowboards, minus the sublimation of the graphics side. So that was a steep learning curve. Sublimation is such a crazy, precise process. It took a while to figure it out." For the first year of Notice, Ellingson wanted to grow things really organically. He only made five or six shapes and gave them to friends who were really involved in the snowboarding industry. "I wasn't focused on selling a lot of boards that first year. We only sold like 16 I think. I wanted to make sure that we had the shapes really dialed in and that we were making a high quality product." Nowadays, Notice still keeps production on the smaller side with most of their business being custom orders and making boards for a few private label companies. Ensuring the highest level of performance, quality, and appearance of every board is the primary concern of Ellingson and company. Notice has also started making wake surfboards to keep you shredding when the snow is all gone.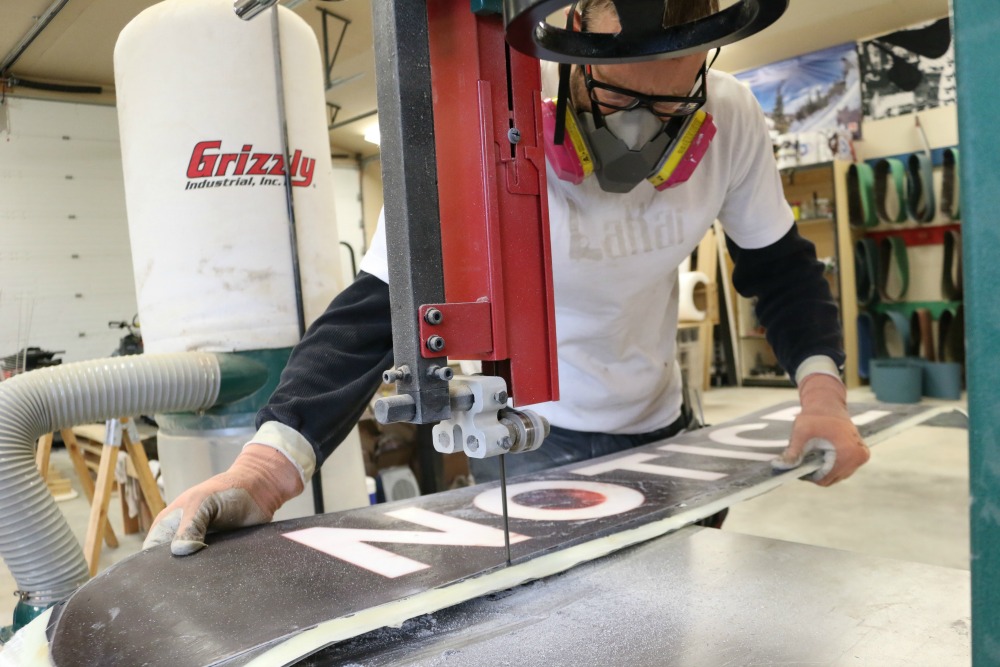 Exceeding the expectations of the riders of their products is only achieved by constant innovation and creativity being applied to the building process. "I'm constantly experimenting with new composites," explains Ellingson. "Also trying new shapes all the time is important. For example, we have one called the Jackson Hole Powwow which is the result of board builders from all over the world getting together in a competitive-free environment and just riding each other's snowboards. That experience has been invaluable to me. By this point I've ridden pretty much every board out there." One of Ellingson's favorite things about what he does is making a unique, custom, one-off model for a client and getting super positive feedback from a stoked customer. "The best thing to hear is something like 'Wow! I can't believe you did that!'"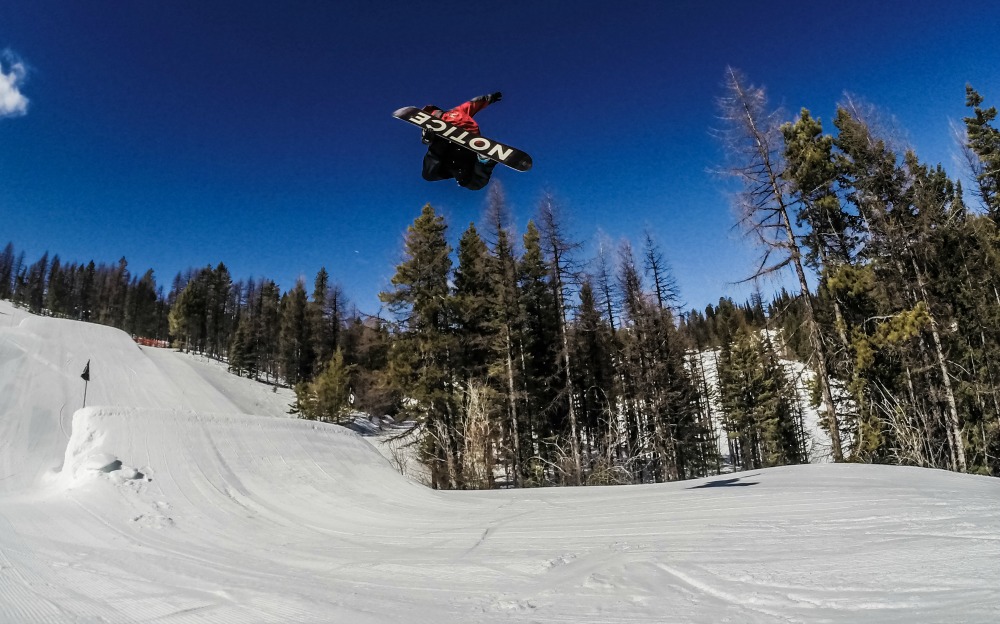 If you're looking for the perfect custom shaped dream board that will blow your mind and enhance the way you shred, check out noticesnowboards.com. Whether it's specifically for the park, backcountry, freeriding, racing, or all of the above, Ellingson and Notice have the experience to make the dream a reality. It's what they do.
***Ellingson's current favorite model to ride is the Lil' 156.