A Road Trip in a Van We Built…
It's 6:30am and the sky over the Eastern Sierra is changing from hot pink to a burning orange as the light moves across clusters of jagged peaks. My boyfriend John and I are soaking in a hand-built stone pool fed by a natural hot spring in the middle of a wide valley with mountains on all sides. It's tranquil and romantic, and we can't stop looking in every direction as the light changes the landscape around us. Every direction that is, except for about two feet to our right where a very nude older gentleman is sharing this beautiful moment with us, reveling in tales of the past and how magical this place was before "all those L.A. people" made it their playground.
The path that led us to an "adults-only" tub in Mammoth Lakes, California, began during a month-long winter deluge in Sonoma, where we were living in a small cottage. John and I both work seasonally as trip leaders for a large adventure travel company and have the winter "off." We decided to use the time to work on a project that grew out of our experience living on the move. We travel constantly for work and pleasure, yet we had grown tired of living out of bags, sleeping on friends' couches, and—this cannot be overstated—not having our own kitchen.
Our solution was to convert a Mercedes Sprinter cargo van into a little mobile home. We wanted a place of our own without being tied to any one place in particular. The idea is far from new, but thanks to some popular trends like tiny homes and simple living (not to mention the ever-skyrocketing cost of rent), conversion vans have experienced a surge of interest recently.
Our design was focused on three principal goals. We wanted to have our bikes with us and, due to urban security concerns, they needed to be stored somewhere inside the van. We wanted the most functional kitchen possible; we love to cook, and it is one of the things we miss most about being "at home." Finally, we wanted to be unpacked, organized, and living out of drawers and cabinets rather than backpacks.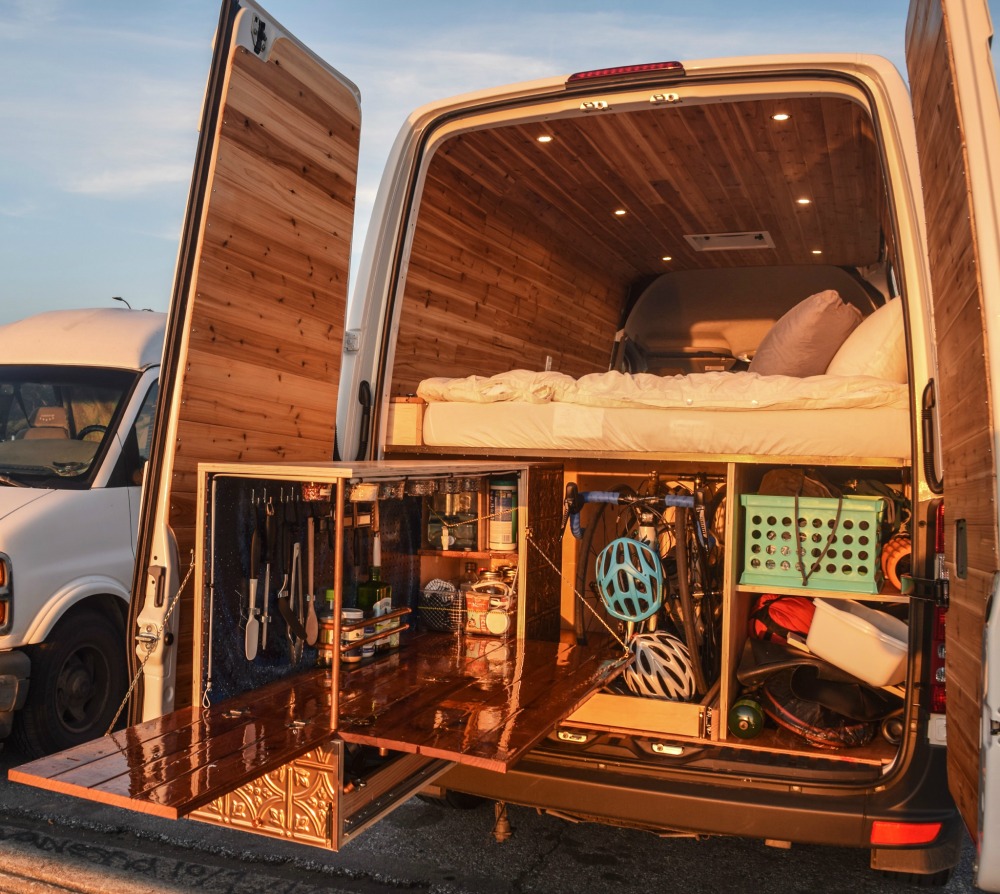 The whole project took three months, including time spent reading, researching, designing, watching YouTube videos, and standing side-by-side in the aisles of our local home improvement store, trying to look confident. We might have been faking it in January in our stiff and brand-new Carhartt overalls, but by the end of March, we had a lot more sawdust in our hair, wear and tear on our Carhartts, and a beautiful, functional, road-worthy home, lovingly named Vaniel Radcliffe. And we were ready for our first cross-country trip.
We needed to be in Asheville, North Carolina, by the beginning of May to start working again, and our lease in Sonoma ended March 31. We completed the van with hours to spare and loaded it up with everything we would need; bikes, clothing, backpacking gear, and a starter stock of La Croix (vanlife tip: Grapefruit La Croix plus cheap red wine makes for a delicious campfire spritzer). We had been so laser-focused on getting the project done while we still had access to tools and electricity that we spent effectively no time planning the trip. An out-of-character move on our part.
This lack of planning turned out to be our greatest blessing, as we soon discovered that when you're traveling around in a maneuverable little bedroom/gear garage/kitchen on wheels, letting an epic trip unfold in the moment is as easy as driving to wherever the weather looks good and listening to the people who know the road ahead best.
The first stretch of our trip took us down the edge of the Sierra Nevada mountains in California. Our time in the Eastern Sierra taught us that if you're looking for expansive public lands, very intimate, adults-only hot springs, gorgeous bike rides, and jaw-dropping landscapes, the area will provide. We began in Lake Tahoe, at a bluegrass festival in Squaw Valley, and headed south towards Death Valley on Highway 395. Western California gets a lot of road trip cred with Highway 1, but after this trip, 395 is our favorite California highway. The route takes you down the eastern edge of the Sierra Nevada mountain range, and as you steadily lose elevation, the mountains just keep getting bigger and bigger. 395 passes through Mammoth Lakes, Bishop, and Lone Pine, and is virtually surrounded by BLM land or Inyo National Forest the entire time, meaning that opportunities for private dispersed campsites with incredible views are free and easy to come by.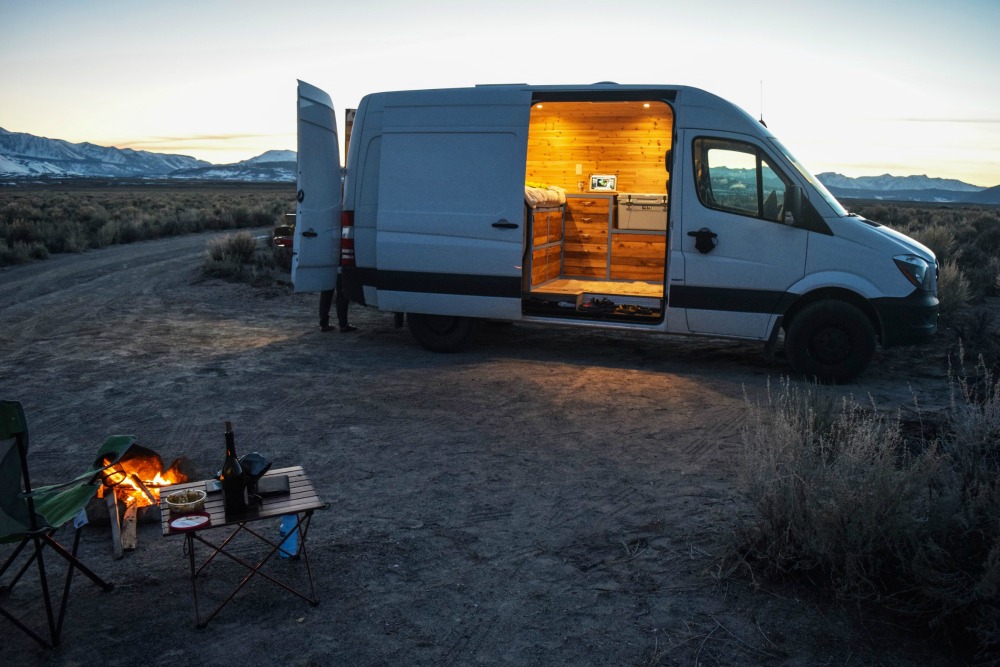 With our bed already made and our kitchen stocked, we could devote our time in camp to our favorite activities. Within minutes of pulling into a campsite, like the one in Alabama Hills that was perched amid an expansive boulder field right at the base of Mt. Whitney, John would start collecting firewood and building a campfire while I would make shakshuka in the kitchen (a drawer with fold-down wooden countertops that pulls out of the back of our van).
When you're never apart from your gear garage, any activity is a possibility. After an early-morning hot spring soak in Mammoth Lakes and scenic breakfast sandwiches, all we had to do was pull out the drawer from under our bed that houses our road bikes, and we were off on one of the most spectacular rides of our trip. If you ever find yourself hot spring hopping down the Eastern Sierra, take your road bike. Benton Crossing Road, where many of the hot springs in the area can be reached, provides 360-degree views of three different mountain ranges, perfect pavement, and "more cows than cars," according to local knowledge.
The wind started to pick up as we made our way south, and by the time we reached Death Valley, where we'd planned to spend the weekend, the 80mph gusts whipping up sandstorms around the van persuaded us to ditch our plans and keep driving until we could find some calm. The wind blew us right to southern Utah: home of spectacular and constantly changing landscapes, millions of acres of public lands, and 4% beer.
Like eastern California, southern Utah is perfectly suited to explore by van. We passed by an endless stream of enormous Cruise America RVs as we travelled through Utah, frequently patting Vaniel lovingly on the dashboard and thanking him for being maneuverable enough that we can take him down rutted-out desert roads in search of campsites the RVs could never reach. We drive the shorter wheelbase model of the Sprinter, which is about the same length as a Suburban. Though we opted out of the 4WD version, we've encountered few roads he couldn't handle.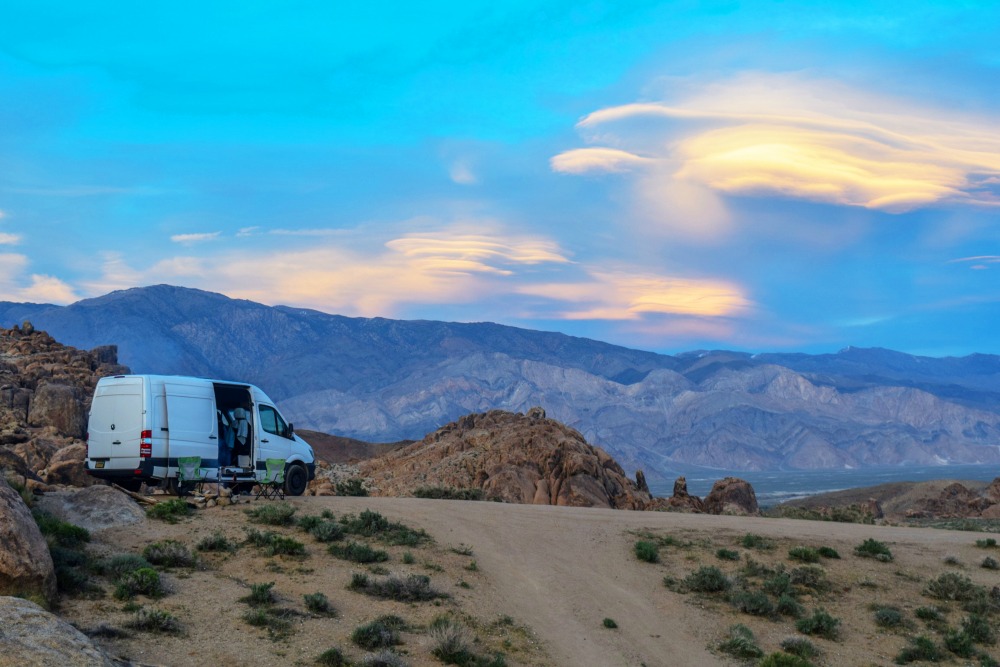 Utah is famous for its national parks, and we loved exploring Zion and Bryce Canyon, seeking out trail runs with the best views we could find. National Park campsites book up months in advance, so we took advantage of the fact that Zion and Bryce are both bordered by huge swaths of public land (BLM and Dixie National Forest), and camped for free minutes from the park entrances.
After exploring Escalante Grand Staircase National Monument for a few days, a remote 1.9-million-acre swath of breathtaking desert canyons and mountains that is, sadly, currently under review as a National Monument, we decided to head to Moab for some culture (showers and laundry) and mountain biking. Little did we know that everyone else in the West had the same idea, and we were heading to Moab during "Jeep Week." After two weeks in the desert interacting with few people besides each other, arriving to Moab during the height of Jeep Week was a shock to our systems. The desert was packed with Jeeps and trailers and people for 15 miles on either side of Moab, and the town itself was packed to the brim. After one pass through downtown, we pulled Vaniel over to catch our breath and came up with a new plan: Colorado. We opened up Google maps, and the town of Dolores, Colorado, jumped out at us. It's about two hours from Moab, surrounded by national forest, and a quick searched confirmed that this town had both mountain biking trails and a brewery. Check and check. We pulled back onto the highway and were on our way.
One of the things we appreciate most about traveling by van is the room for flexibility. Without hotel or flight reservations, we are free to change our plan. It's hard to get stuck in a rut or caught in bad weather when you can always just put the van in drive and head to the next destination.
After the craziness of Moab, Dolores feels like a dream. We go for a quiet run along the Dolores River and eat delicious pizzas at the Dolores River Brewery. There are only about five other people in the bar, and they all look up to welcome us when we walk through the door. They learn our names and the excitement on their faces is genuine as they rattle off all of the best things about living in southwest Colorado and what we need to do and see before we leave.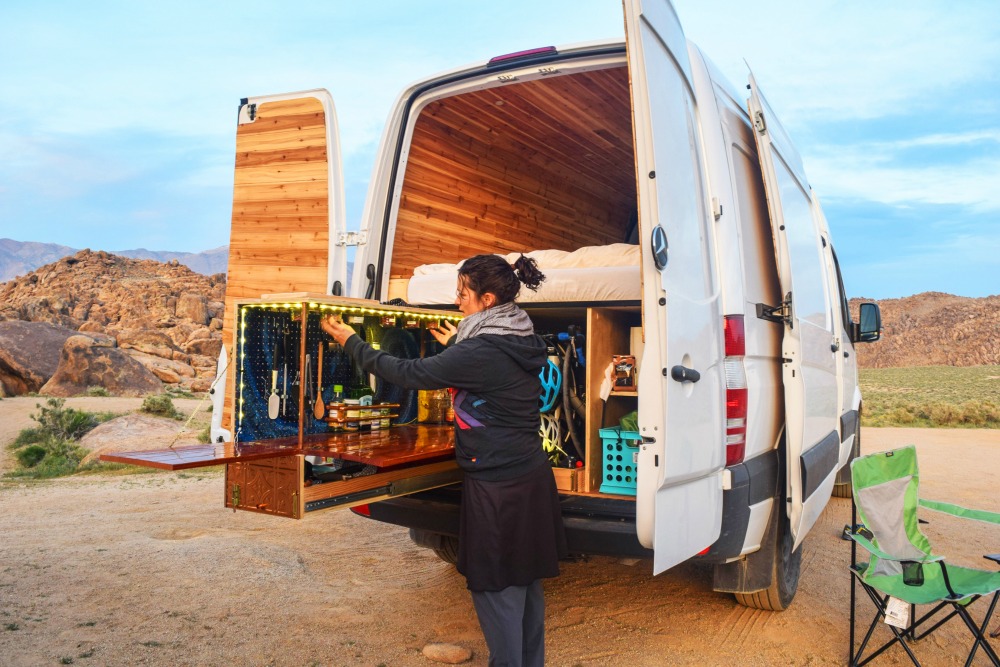 It is a perfect introduction to the rest of our time in the area. Time and again we meet the friendliest people who can't wait to help us discover the best that their home has to offer. We stop in to Kokopelli Bike and Board in Cortez to rent mountain bikes, and they take 45 minutes to get us set up and help us understand where the good riding is in the area. Everyone from our bartender the night before, to friends in Durango, to the guys in the bike shop agree that no trip to Cortez would be complete without riding Phil's World, an amazing system of trails near Mesa Verde National Park designed by the Southwest Colorado Cycling Association. Phil's World is notorious for a mile-long flow trail called The Rib Cage that feels like a rollercoaster and will have most adult riders whooping like little kids.
Each time we explore a new city in southwest Colorado, we find ourselves living what feels like a small-town life within the first few hours. We have so many repeat encounters with friendly people—at the bike shop, at the café, at the local trail system—that it has become a running joke between us. Not only do we run into the same people, but they remember our names, they ask us how we are doing, and they make sure we are enjoying our time in their town.
At Phil's World we hang out with some of the trail crew guys from the SWCCA and compare notes on conversion vans. They have Sprinters configured both to travel and to spend a comfortable day at the trailhead; complete with mobile bike shops and grills. We could stay in Dolores for another week, but we have miles to go before we sleep, so it's off to the next town.
Here's the thing about road trips: if you were to follow our route, eat at the same restaurants, see the same sights, and do the same bike rides, your experience would be entirely unique to you. The common thread would be that sense of freedom you feel when you have everything you need on four wheels and a plan yet to be made. You can flee storms and seek out solitary campsites with the best views and let your adventure unfold along the way.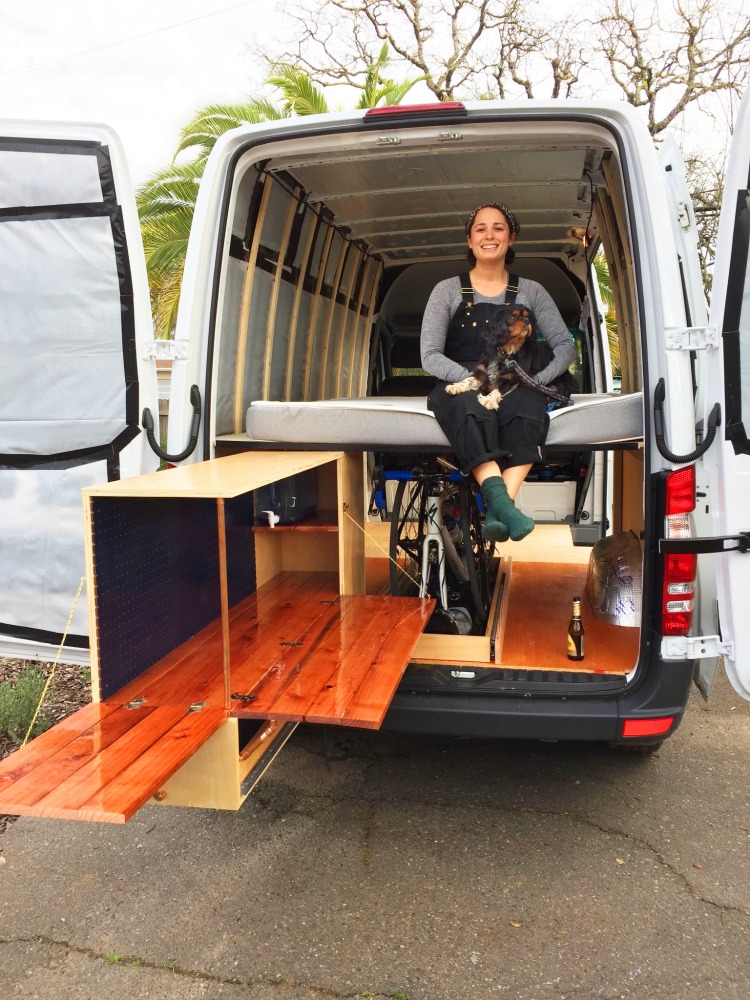 D.I.Y? NOT!
It's not in everyone's schedule or wheelhouse to convert a cargo van into a palace on wheels. That's what the experts are for. To get you started living large in a van of your own, here are a few van conversion companies who have it dialed in.
+ Outside Vans: Specialize in high-end design and solutions for hauling all your toys. outsidevan.com
+ R&B Components: Beautiful and well-crafted design. Nothing overlooked or underplanned. rbcomponents.com
+ Sportsmobile: One of the companies that can do the pop-top on the lower profile vans. sportsmobile.com
+ Sync Vans: Focus on rugged and efficient design with all the essentials. A Hailey, Idaho-based company that has nailed utility. syncvans.com
+ BarnDog Vans: A  van design and construction company from Cody Curran and John Work coming fall 2017. Creating camper vans customized to fit your adventure. barndogvans.com