Sure, It might be a tired metaphor—building a business can be like climbing a mountain. But the overuse of the metaphor has to point to something besides lack of creativity. There's bound to be some truth in it, right? Enter Dave Schaeffer and Tendi Sherpa, two men who have made lives out of scaling great heights—the high alpine sort and the entrepreneurial sort.  
A native of Colorado (south of the Denver area), Dave was always drawn to the mountains. He began rock climbing at 12 and that was the spark that lit the fire. He worked at REI in high school. Then, Dave took a trip to Nepal after graduating college and high altitude mountaineering became an obsession—as did the right gear for such pursuits. The leap to start his own company designing clothes for high altitude pursuits was certainly of interest, but Dave also wanted his brand to have meaning beyond being the best gear for the harshest climates.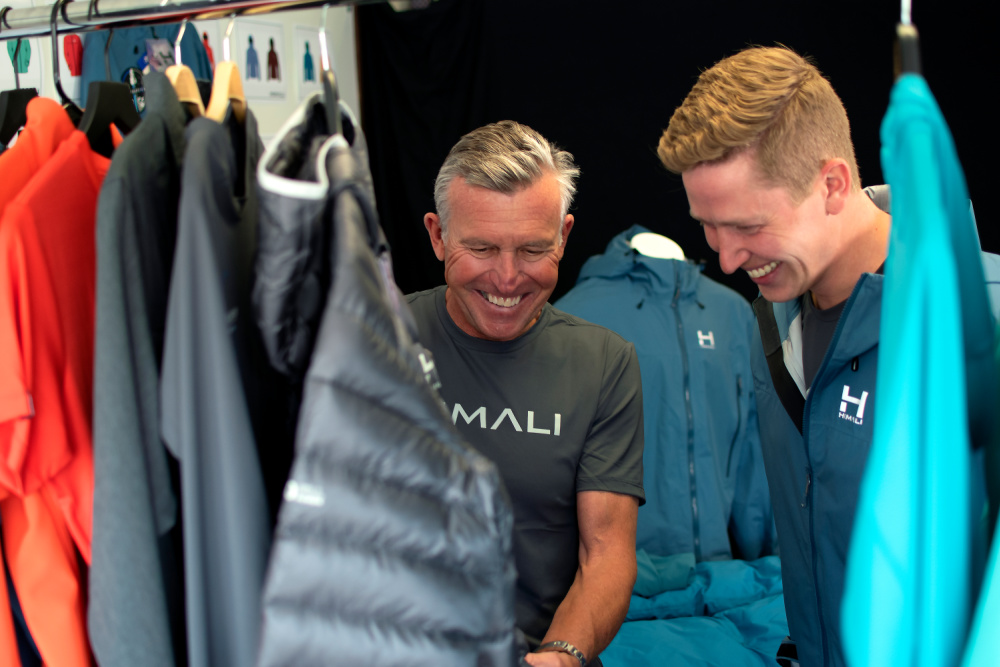 That's where Tendi comes in. Having met at the base of Aconcagua in South America, Dave and 13-time Everest summiteer and IFMGA climbing guide, Tendi, quickly formed a friendship out of mutual respect and a shared passion for being in the rarified air that you find above a certain altitude. Tendi's journey to becoming one of the world's most accomplished mountaineers started in a small village in Nepal when he was 13 years old and began working as a porter in the Annapurna region, a gig that took him on a 24-day expedition.  At the time, he was just trying to earn some extra money for his family. He did not have the proper equipment or a good pair of shoes. But he had plenty of heart. That heart took him to altitudes as high as 17,000 feet with 95 pounds on his back. That's right, at 13 years old.  
Tendi turned these early jobs as a porter into a career, including being one of the youngest guides on Everest, ever. He became one of the first Nepalese sherpa to become an IFMGA-certified guide. Tendi's aspirations also included giving back to the people of Nepal, those in the climbing community, and those that are impacted by natural disasters or hunger. And this is where Dave's desire to produce the best gear and create a company that has a positive impact meets Tendi's deep understanding of both what is needed in high altitude gear and important ways to give back.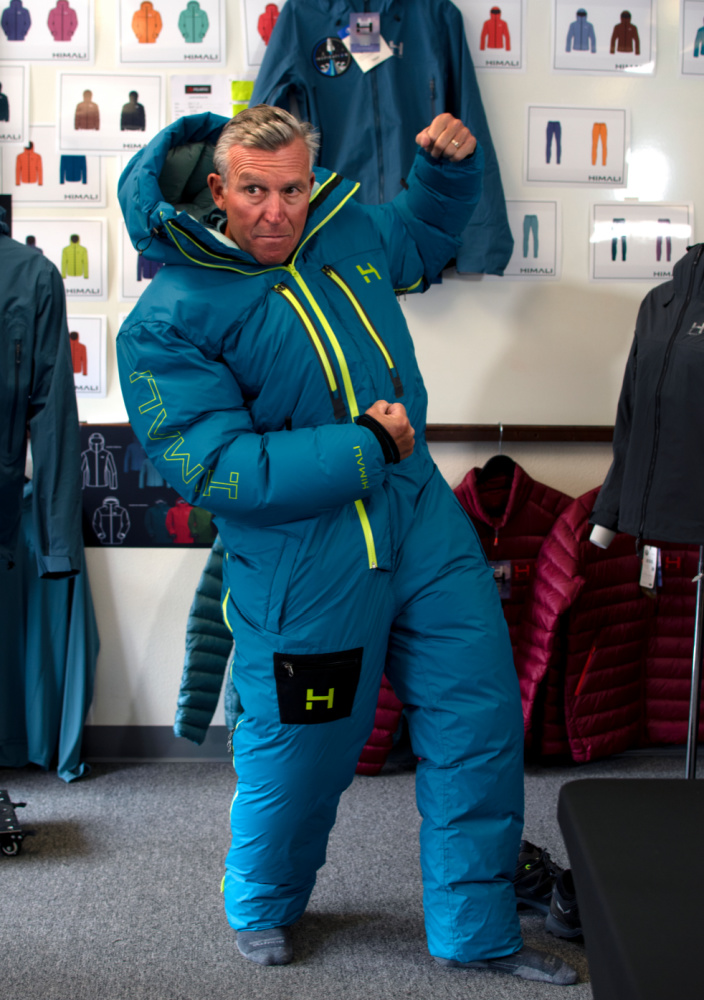 Himali was born out of a deep love of the place for which it is named. It's a mission-driven company with the dual purpose of outfitting people with the best high performance gear for the backcountry and giving back to the Himalayan region through specific and impactful water sanitation and education projects. 
Himali got off the ground through a series of Kickstarter campaigns that funded the first few products including their first down jackets. Fast forward a few years and find  Dave attending his first Outdoor Retailer trade show. While tending the small Himali booth, he had an auspicious encounter. Lauded climber Ed Viesturs happened by and Dave wasted no time getting Ed's attention and introducing him to the nascent Himali brand. Ed liked what he saw and started to learn more about the gear and the company's mission. When Dave asked Ed if he'd like to be involved, Dave responded that the time was right and it was a product he felt good about. So, Dave and Tendi added Ed Viesturs to the team. No small deal.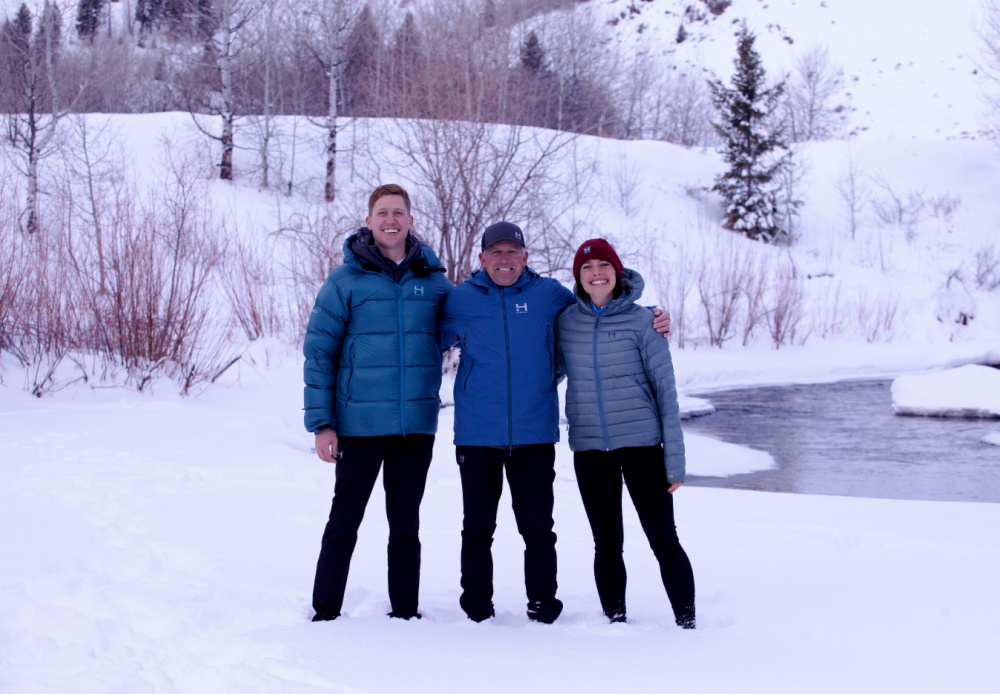 According to Dave, "It was the right time to meet Ed; if it had been 3 or 4 years ago, we wouldn't have had enough products to put Ed's design acumen and experience to work. By the time I did flag Ed down, we have enough products for him to test and give us meaningful feedback. Now, we have a Tendi line and an Ed line.  
As an entrepreneur, Dave has worn every hat and takes solace in the fact that he has surprised his family, who, admittedly, thought he'd lost his mind starting his own clothing company. He also points to the qualities that Reid Solomon of Goldman Sacs says he looks for—persistence and adaptability. About starting a business, Dave says, "It's amazing how support comes from the most unexpected places. I had followed Ed's career as a fan and now, he's the ultimate coach and business partner. He has helped Tendi and I take this to another level.  On what he's learned about getting an idea from a seed to the market? It's a triple P situation. "It's all about process (and the potential changes in that process), patience, and perfecting the product."  
check it out!
…or at their new flagship store in Boulder, Colorado