For those of us who crave the serenity (and thrill) of a life lived outdoors, a transition in season is merely a change in what gear we have hanging or stashed in the entryways of our homes. As the snow melts, ski goggles are swapped for fly rods and Simms waders take the place of Flylow bib pants. lift ticket collections from the various mountains we visited this winter are replaced by a fly collection. A paddle rests in that corner nook to the right of the front door where skis had been stationed for the past five months. for a ski junkie, it's imperative to find your off-season passion.  
Sun Valley, Idaho, is famous for a few things; the ski resort's high-speed groomers, endless miles of singletrack and, the sport that called to Hemingway—world-class fly fishing. For many living in the Mountain West, skiing and fishing go together like two bookends on either side of a season. Sun Valley is the perfect place to nurture a passion for both. In a valley shaped by the free-flowing Big Wood River, the waters around Sun Valley are a sanctuary for mayflies and the fly fishing faithful who follow them. And no matter how good your home situation, according to many fishing enthusiasts, there's no such thing as monogamy in fly fishing. There are your home waters—the ones you fish any free minute you get—but the call of other waters is always strong.
The Salmon River and its faucet of cold Sawtooth Mountain runoff lies to the north of Sun Valley in the Sawtooth Valley. Idaho's tallest peak, Mt. Borah, overlooks the swift Big Lost River to the east. And a 30-minute drive south of Sun Valley will take you to the notorious, spring-fed Silver Creek with its monster browns and rich hatches. With such waters around, it's no wonder fishing enthusiasts have a wandering eye.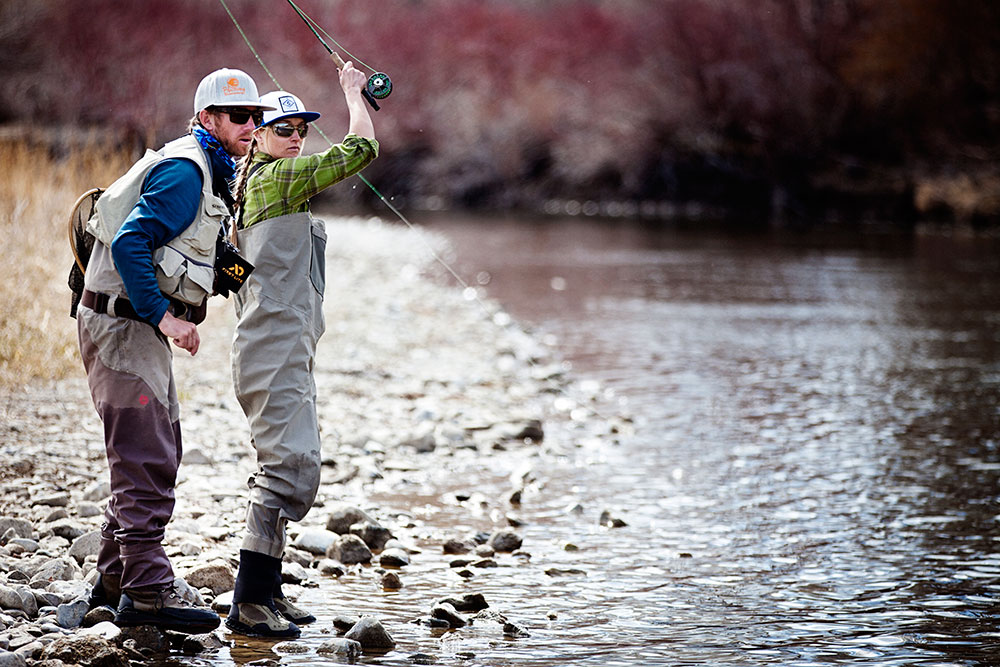 At least that's what the fishermen say. I grew up on the slopes of Sun Valley. But the waters I fished were Alaskan. Before this season, I had yet to cast a fly or hook a trout. I knew nothing of this 'Silver Creek' or its effect. I am a fisherman by trade, but the type of fisherman who is the antithesis to David James Duncan's image of peaceful summer mornings casting under a blue sky while mist rolls off the river banks. Messy hair, jean shorts, and without a care in the world…
A girl can dream, right?
The idea of a relaxing summer plays as an intermittent fantasy in my head. For the past 10 years I have dedicated my summer months to work, hard work. The kind of labor that leaves my arms numb, skin thick, and internal clock whacked. Commercial fishing. Difficult and exhausting? No doubt. Invigorating and enjoyable? Definitely. I love it and loathe it, at the same time. And anyone who has dabbled in this line of work will most likely tell you the same. Hunting (fishing) is innate to humans and enjoyment is rooted in that basic task. It's a game—granted, a game that my livelihood has been resting upon—but it is still a game. Complete with victory and upset, trial and error. The high comes from the duet of adrenaline and physical exertion. The low comes from the same. My experience has led me to categorize fishing as type II fun, a suffer-fest that is most enjoyed in retrospect. I fish in order to ski. Skiing is what I live for and fishing is how I live. Two ideals that define a greater part of my being. Here's to you, Sun Valley.
Some would consider it blasphemy to be a Sun Valley local who has never waded into a river with the intention of hooking a trout. I know that fishing has had the same effect on some that skiing has had on me. My passion for skiing has dictated where I live, what I do for work, who I spend time with, and why I am who I am. Skiing gives me purpose—and joy. I have met more than a few others who live a similar life to my own. Although instead of obsessing over snow totals and vertical skied they talk about fly hatchings and runoff rates. With all my time spent on the waters off the Alaskan coast, fishing never really got into my bones that way.
So, as I moved back to Sun Valley, I decided that I had to give fly fishing a try.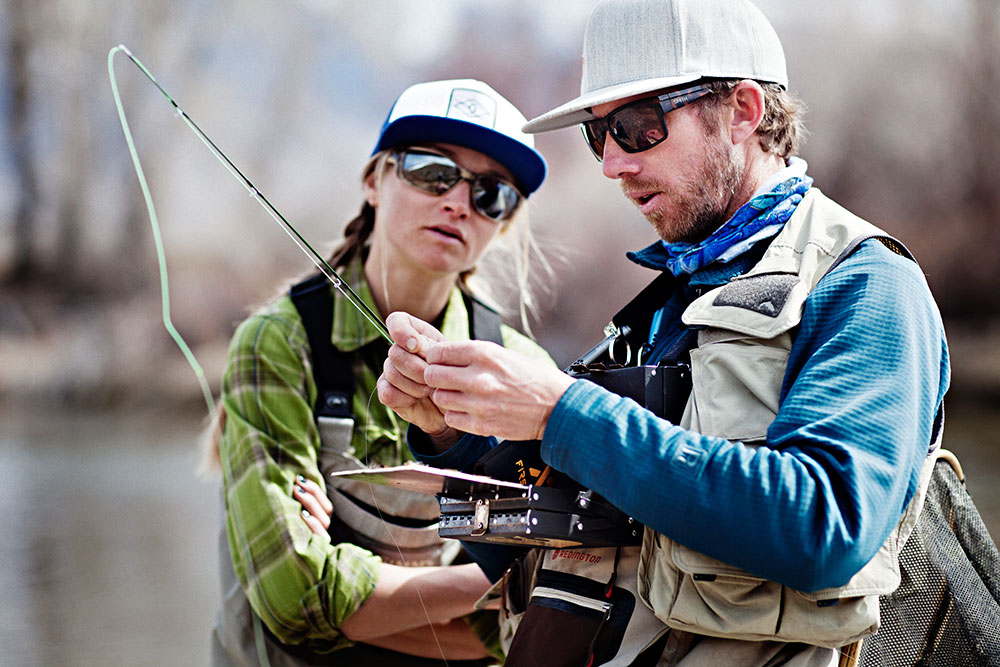 As with any new activity, anticipation filled the morning hours as I packed a small bag and drove to Ketchum to meet my guide, Jake Nelsen, of Silver Creek Outfitters. Jake is the kind of person who radiates joy—so much joy that you can't help but smile while in his company. As much of a people person as a fisherman, and a fisherman to the core, Jake's infectious positivity bounces up and down the river banks. A guaranteed good time.
My nerves calm the moment I meet Jake as I know I am in for a fun day, regardless of the weather or the fishing conditions… or my beginner status. We load up his Suburban, double-check that I have the necessary gear, and hit the road to Mackay, Idaho, where the Big Lost River flows with crystal-clear runoff down from the Pioneer Mountains. Our (not so secret) destination is somewhere between the Mackay Reservoir and where the Big Lost fades into the Snake River aquifer.
Unable to contrive a mental image of what the day will hold, I daydream about the ski terrain that surrounds Mackay. Visuals of the convoluted Mt. Church and the 'Super Gully' couloir on Lost River Peak dance through my mind. I can tell that Jake is in a similar state of daydream, flipping through his mental picture book of the meandering Big Lost. He rubbernecks out the window as we pass a small body of motionless water, mentioning that he has always been curious about that area but has never stopped to check it out. Later on, I will catch myself doing the same as the surrounding peaks come into view. Jake and I connect over the fact that our life paths have been carved by passion. Fishing grabbed him as a child and has held strong ever since. He has worked a multitude of odd jobs while chasing fish across the world, eventually taking up fly fishing guide as his full-time occupation.
I begin to ask questions about fishing and Jake's eyes light up. He answers with enthusiasm and I continue to prod (even though I don't have a clue what I am talking about), trying to absorb some of his excitement. It works. I learn that fishermen do, in fact, accidentally hook their buddies. That fishing calm water is equivalent to double black diamond skiing and swift water can be compared to a blue square. We will be starting in the swift water. The 45-minute drive flies by as I get fired up to try my hand at something foreign.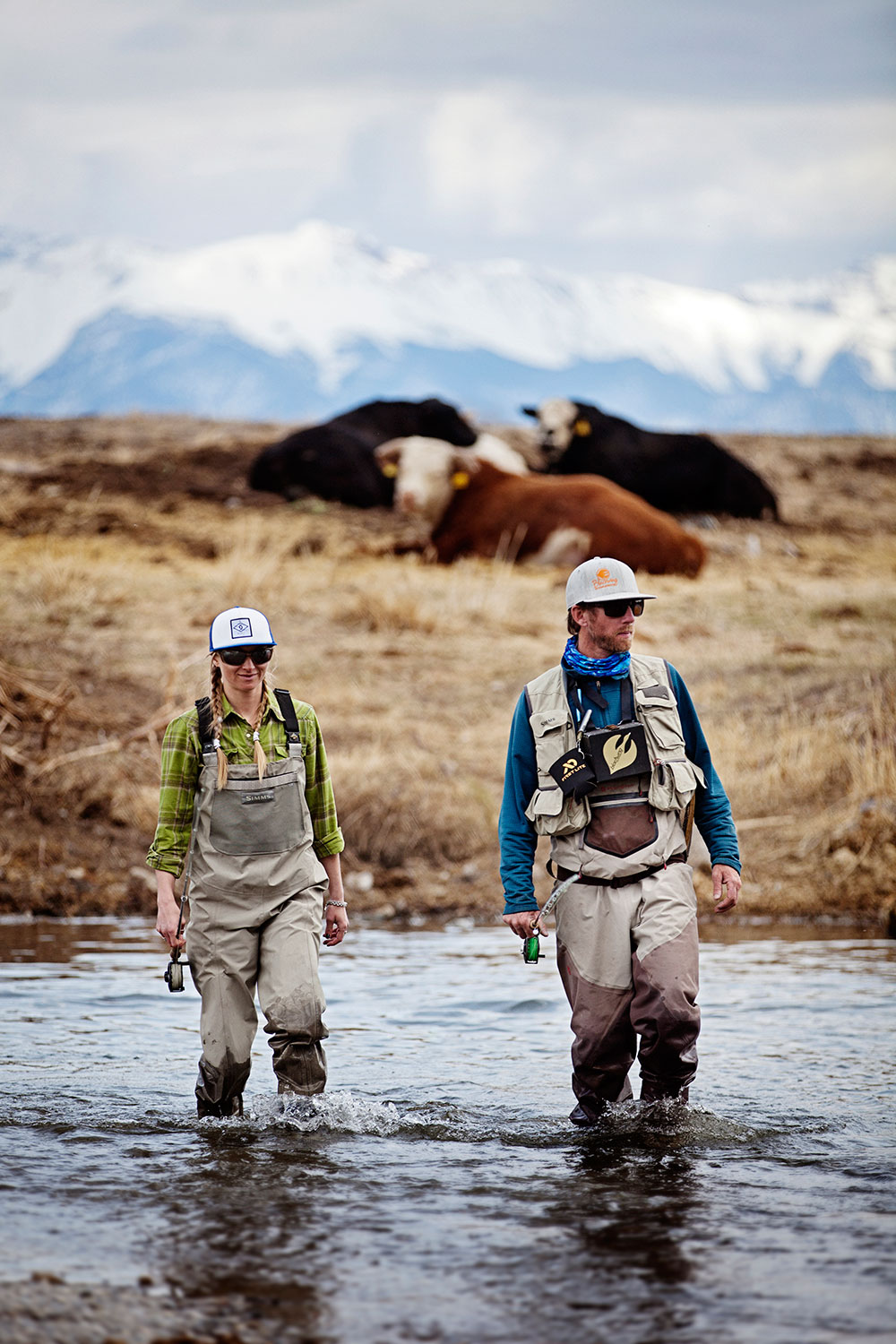 A classic Idaho dirt road and an easy ten-minute walk has us at a bend in the river where our only company is a herd of cattle. The scene is exactly as I had expected—clear, cold water and chaotically arranged river rock set against a backdrop of the tallest peaks in Idaho. Walking in waders is surprisingly easy. I wonder if I look the part in my flannel shirt and baseball cap, I have a swagger in my step bolstered by the sense that I must look a lot like a skier with a gaper gap and powder leashes. "How am I supposed to carry this fishing rod?" I sneak a glance at Jake, and mimic his every movement like a schoolgirl would her big brother. He laughs and keeps walking.
"Now," explains Jake in all seriousness, "there are only three things that you need to know." I look at him intently, ready to sink my teeth into every instruction. "Cast. Drift. Hook set. That is it. This is all you need to think about."
Too simple, I want more. What about the hundreds of oddly colored and shaped flies? What about casting technique? Does it really matter what colored feathery thing we tie to the end of the line? The fish can't tell the difference… Right? I am asking too many questions. Questions with answers that only come from experience, awareness, and feel. The answers would come with time.
My fingers feel huge as I awkwardly loop and tie the tiny baetis nymph to the clear line. The knot is straightforward enough. Walking around in the river feels odd yet comfortable. My footing is solid, no need to pay much attention to balance. Jake points out a fish, dangling in the current about six feet from where I stand. It seems easy—the fish sits in one spot waiting for food to land above his head. All I need to do is place the small black feathery thing near the fish's head and he will want to eat it, right? For the record, it's not that easy.
My first cast is uncoordinated and feels nothing like the image I have in my mind. The fly lands about half the distance between my target and me. Correcting my form and giving me pointers as I go, Jake lets me cast a few more times while explaining the art of the mend. "Now lift the line and place it slightly upstream—" Cast again. "—So that the line doesn't drag the fly faster than it would float naturally." I finish his sentence. I get it. The movement makes sense and eventually starts to come without thought. Jake nods with pride and I find a new confidence—I'm going to catch a fish!
My movements become more fluid as I cast over and over again. Both sets of eyes remain fixated on the target as we talk about flies. Jake yells "set" a few times but my reactions aren't quite up to speed and I miss. Grace and agility begin to sneak their way into my cast and mend, the movement feels clean and occasionally effortless. Like carving a turn down perfect corduroy, the cast feels right when it is right. And fittingly, this is when a fish is caught.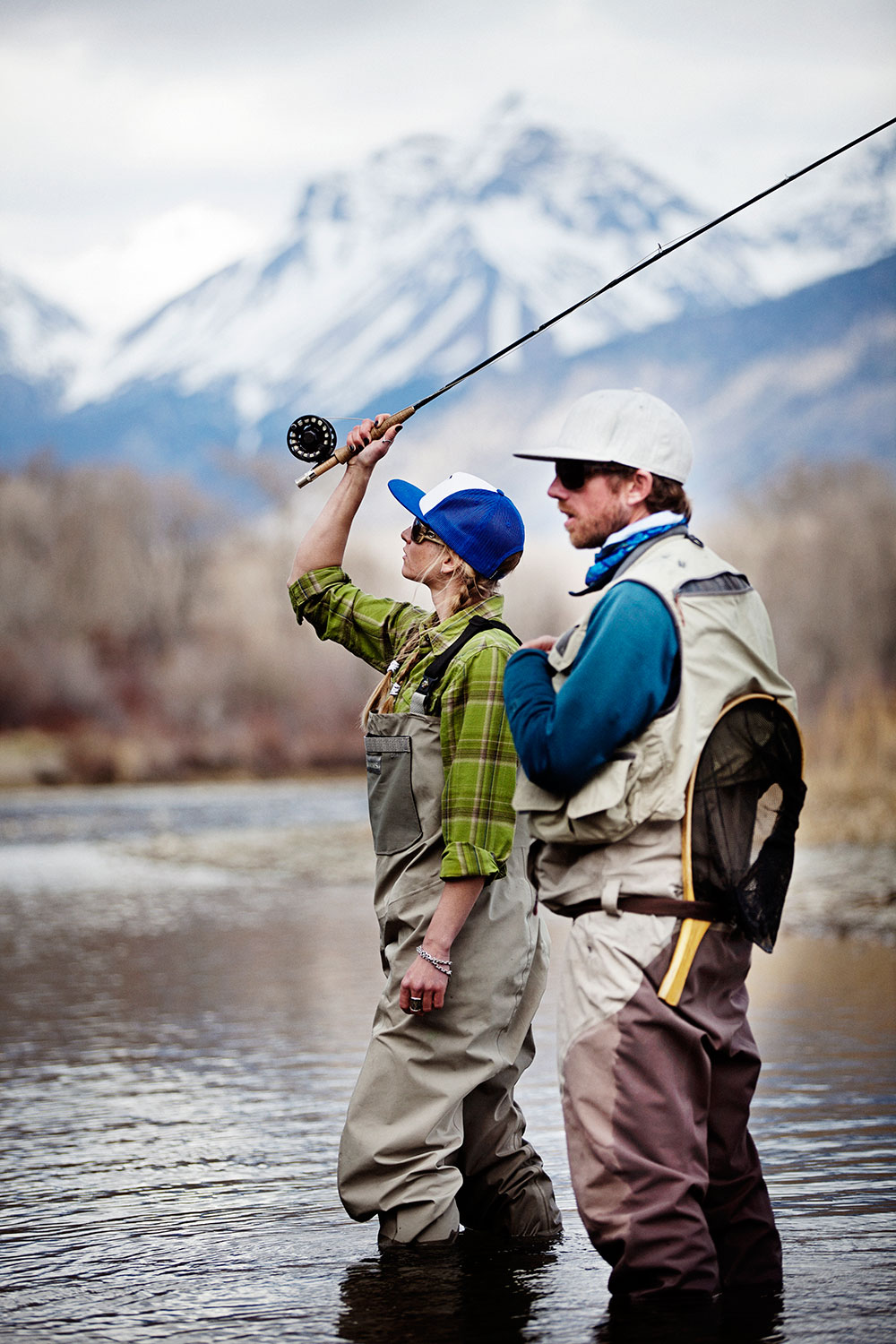 Jake yells "set!" I pull up with force and feel the weight on the end of the line. "I've got one, I've got one… Now what do I do?"
I reel and then let him run. Pull upward and then drop back down. The hook that I had looped onto the end of the line is no bigger than my pinky nail; I don't trust that it will hold my fish. My movements are slight and excessively gentle. I work back and forth with the fish as if we are trading leads in a slow tempo tango.
"See if you can put a little pressure on him—bring him in closer." I'm not sure why Jake is whispering but his quiet tone mimics my zen. I cut him off with an "I'm enjoying this moment—let's just slow down and not rush it." Laughter ensues as I follow the fish downstream, focus heightened. Feeling the fish, moving with the fish, communicating through tug and pull. I like to think he is fighting with me and we are dancing through the river. Regardless of what is actually happening, it feels good. I finally reel him in close enough to capture. Jake reaches out and nets the little guy. (Well, he isn't that little.)
All of my senses come back to life and I jump out of the water with excitement, obnoxiously loud and overjoyed. I reel myself in for a moment, trying to play it cool, when I realize that Jake is equally as joyful.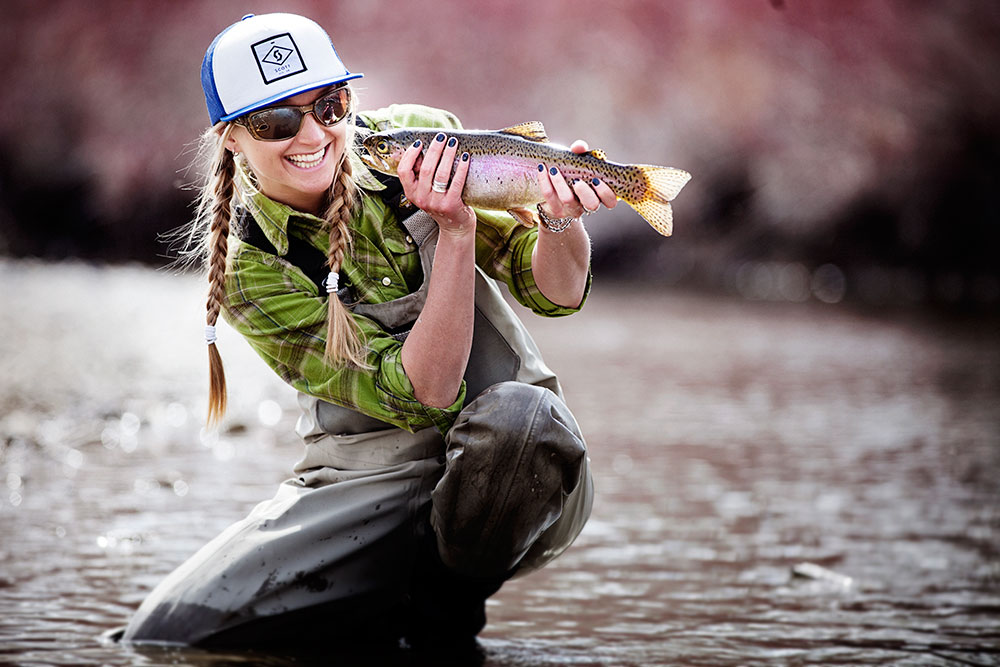 We high-five and I revel in how much pleasure can be gleaned from simply doing what we love. Jake has caught thousands of fish, each with their own story. To have him share with me the elation of catching my first rainbow trout is powerful. Like making a chest-deep powder turn; with fishing, novelty doesn't matter and the emotions never dull. A skier will always chase that turn and a fisherman will invariably pursue the next fish. Each catch is as sweet as the last.
And just like that, I'm hooked.
protect our waters
If you enjoy fishing it, you probably want to protect it. Here are some organizations working to protect rivers and their inhabitants in the West.