When it comes to what you eat while exercising, performance, value, and taste are obviously paramount. But it seems that all too often energy food brands will execute one of these things brilliantly and the others, not so much. Nobody wants to eat something that tastes 100% artificial and has to be forced down during an intense bike race or a long day bagging peaks. And nobody wants to experience the dreaded bonk—that feeling when your energy reserves have been wholly depleted because that bar you ate earlier tasted great but didn't walk the walk.
The question? What bars will provide the energy and taste to fuel our adventures? Here's the BigLife guide for what to nosh in order to keep your engine running smoothly.
Of Note: The Feed
This is the ultimate source for finding athletic food from over 100 available brands. Their website also features expert nutrition advice with guides on how to eat for specific sports, events, and body types. thefeed.com
Honey Stinger
ABOUT: Hailing from Steamboat Springs, Colorado, this company makes delicious honey-based on-the-go energy foods. Honey Stinger's mission has always been simple: use natural ingredients, have great taste, and be nutritious—all in the service of keeping you adventure hounds powered up. The original version of this brand began back in 1954 when husband-and-wife team Ralph and Luella Gamber wanted to develop energy bars as a healthy alternative to candy bars. Having each product be honey-based was an easy decision because Ralph was a beekeeper and the Gambers were the founders of Dutch Gold Honey, which is now the largest family-owned honey company in the country. We tested  two of the staples of the Honey Stinger brand: organic waffles and protein bars.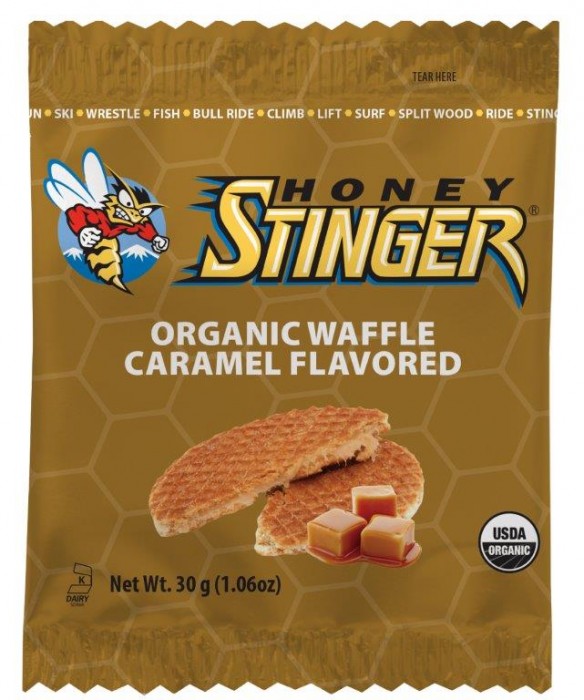 Honey Stinger Organic Waffles:
Honey Stinger organic waffles are the perfect option for those who are tired of the traditional American energy bar formula of dried out peanut butter and chocolate. For centuries, similar thin-style waffles have been sold on street corners throughout Europe and eaten by professional cyclists. Honey Stinger decided to create their own version of the waffle energy snack by sandwiching honey between two thin waffle wafers. They come in a variety of tasty flavors from and there are a few gluten free options as well. The Verdict? These are light and fits nicely into your jersey pocket. The waffles don't throw as heavy a caloric punch as some of the other, denser energy bars on the market, but they're so tasty and light, why not eat two? And they are simply delicious. We recommend the caramel and strawberry flavors.
Honey Stinger Protein Bars
Honey Stinger's 10g protein bars are billed as being perfect as an on-the-go meal replacement or post-workout recovery food. The ingredients include 30% USDA certified organic honey, 10 grams of whey protein, 23 vitamins and minerals, calcium, and antioxidants. All the ingredients are gluten free. We tried the Peanut Butta Pro and Dark Chocolate Mocha Cherry Pro flavors. Most protein bars have that terrible chalky, dry taste but that is not the case here. Honestly, these things taste like candy bars.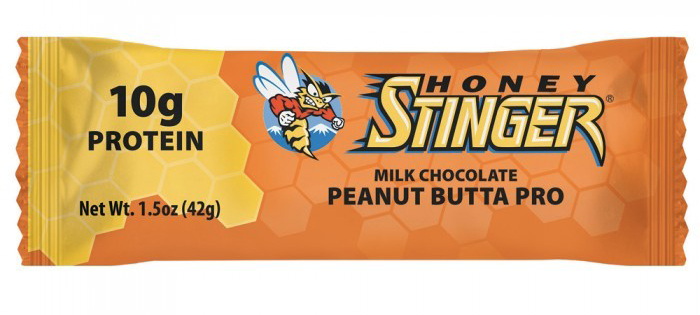 Kate's Bar
Often referred to as Tram Bars due to the popularity of this company's first original product, Kate's makes delicious pocket-sized energy bars that are made in Idaho with certified organic ingredients. The company was started in Jackson Hole during the early '90s and the bars quickly gained a devoted fan base due to having an unbelievably good taste and being packed with sustainable energy. Besides making an amazing product, Kate's mission is to promote outdoor recreation opportunities and advocate for sustainable organic farming practices.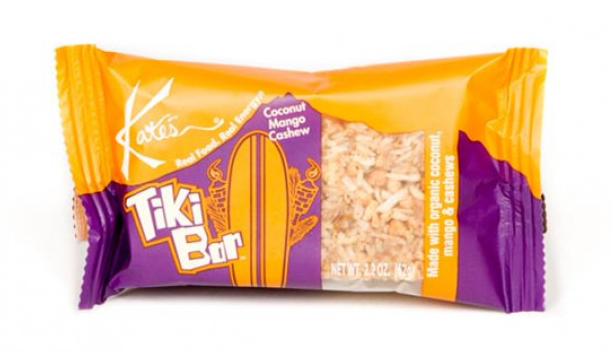 We got our hands on one of the newer flavors known as the Tiki Bar. The main combination is coconut, mango, and cashew. Other ingredients include almond butter, rice nuggets, honey, sea salt, and lemon extract. These pack quite an energy punch. The Taste? Herein lies the danger. These suckers taste good. So good in fact, that you'd be tempted to eat these even when you aren't scaling The Grand… but, beware: this bar has the most calories from fat of any on this list at 170g. But this is a small price to pay for the taste and amount of energy it gives you.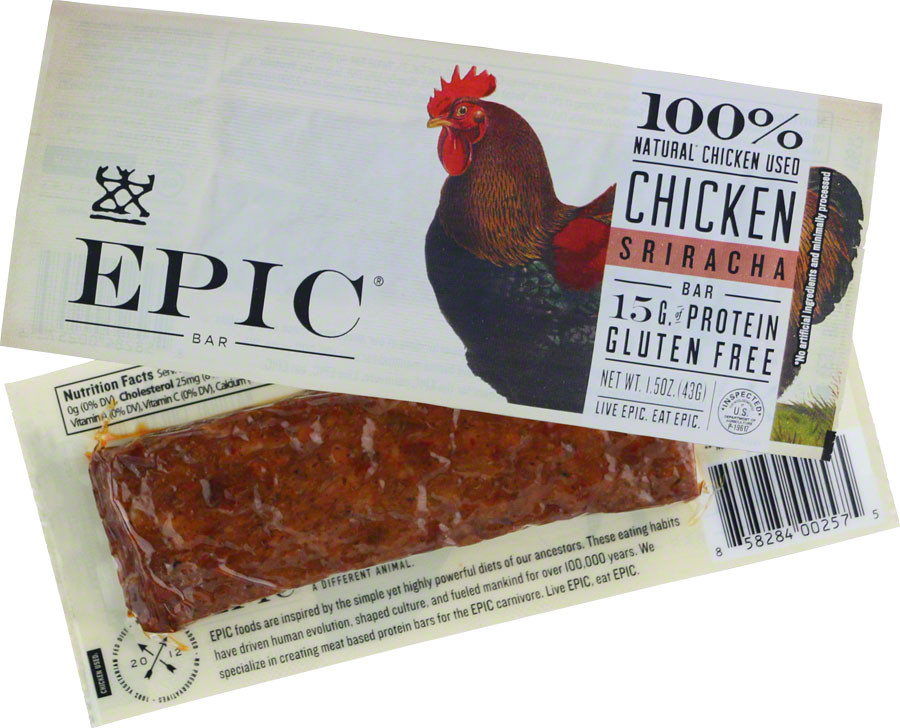 EPIC Bar
Tired of eating the usual energy bars that contain no meat products? Is producing an on-the-go energy bar with natural meat ingredients even possible? Enter the EPIC Bar brand. This is the only company in the energy food game that makes bars that are meat-based. EPIC sources their beef, venison, wild boar, lamb, bison, and chicken on open pasture just as nature intended. One of the goals of the company is to convert ranchers to the pasture-based livestock model through creating financial incentives to help change American agriculture. EPIC has a partnership with The Savory Institute to focus on global large-scale grassland restoration efforts. Healthy meat comes from healthy animals that live in a healthy habitat. Get your energy reserves up while doing good.
The Epic Bar is at the top of our list in the protein category with an impressive 15g—which is the bonus of the meat-base. It is also a great source of vitamins and minerals such as tryptophan, phosphorus, selenium, niacin, folic acid, and vitamin b6. With all this, the 100 calories go a long way. And some of the flavors are not for the meek. Chicken sriracha anyone? You gotta want that protein and you have to appreciate sriracha. It's a bolder flavor/texture combo for on the trail consumption. Other flavors incude beef apple bacon, bison bacon cranberry, venison sea salt pepper, turkey almond cranberry, lamb currant mint, and pulled pork. Paleo munchers will be happy.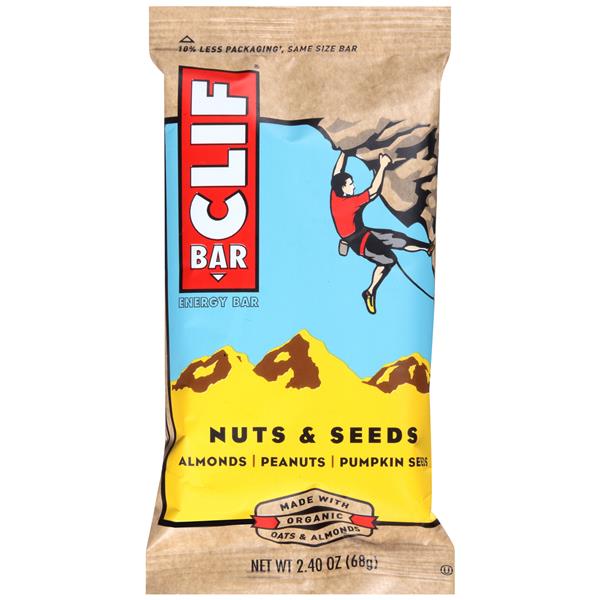 Clif Bar
Yes, this energy food giant still continues to produce one of the best bars for all outdoor recreation pursuits. Clif Bar is still a family and employee-owned company that aims for a healthier and more sustainable world. That's why their food is made with sustainable organic ingredients, baked with clean energy, and packed in environmentally friendly packaging.
Clif Bars are a highly reliable source of energy and new flavors are always being created. One of these new concoctions is called Nuts & Seeds. A single bar packs 270 calories and 38g of total carbs. The calories from fat count is remarkably low at 90g. A Nuts & Seeds bar is made with wholesome almonds, peanuts, and pumpkin seeds. This bar contains a long list of vitamins and minerals including dicalcium phosphate and magnesium oxide. The taste? A sweet and savory combo. It tastes like your favorite trail mix that has been densely packed and fused together with natural oils and cane syrup. The sunflower seeds are a great touch too. Other flavors from Clif Bar that we recommend are White Chocolate Macadamia Nut, Cool Mint Chocolate, Carrot Cake, and Blueberry Crisp.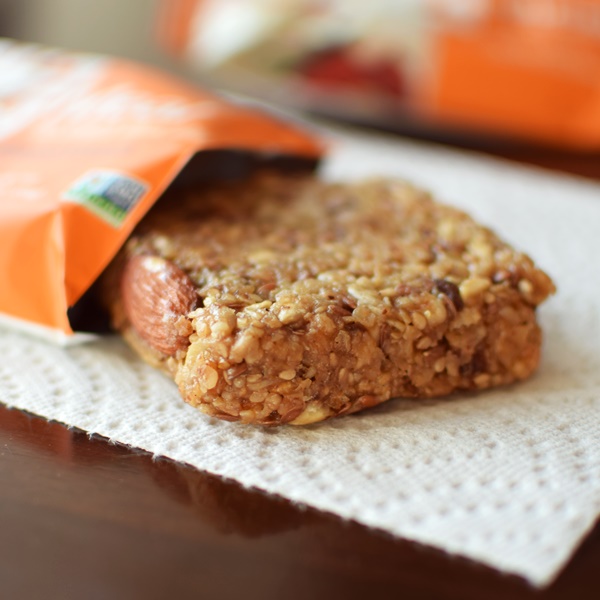 PROBAR
Based in Park City, Utah, PROBAR joined the energy food market in the early 2000s. This company is all about creating delicious, convenient, and healthy plant-based food products. PROBAR has always been committed to quality, sustainability, and superb taste. All of their products are Non-GMO Project Verified and use certified organic ingredients. PROBAR's most widely-distributed and popular product is their line of Meal Bars.
The Original Trail Mix flavor is absolutely packed with a whopping 360 calories and 49g of carbs. It's also gluten free. Made of whole grains, nuts, and fresh fruits, this Meal Bar is quite delicious. Think peanut butter, raisins, dates, sunflower seeds, cashews, almonds, dried pineapple, and dried papaya. This was arguably the most natural and wholesome tasting bar on the list. PROBAR Meal bars are an excellent combination of clean, natural ingredients and a very large amount of healthy energy. They also come in other flavors such as Almond Crunch, Koka Moka, Wholeberry Blast, and Chocolate Coconut.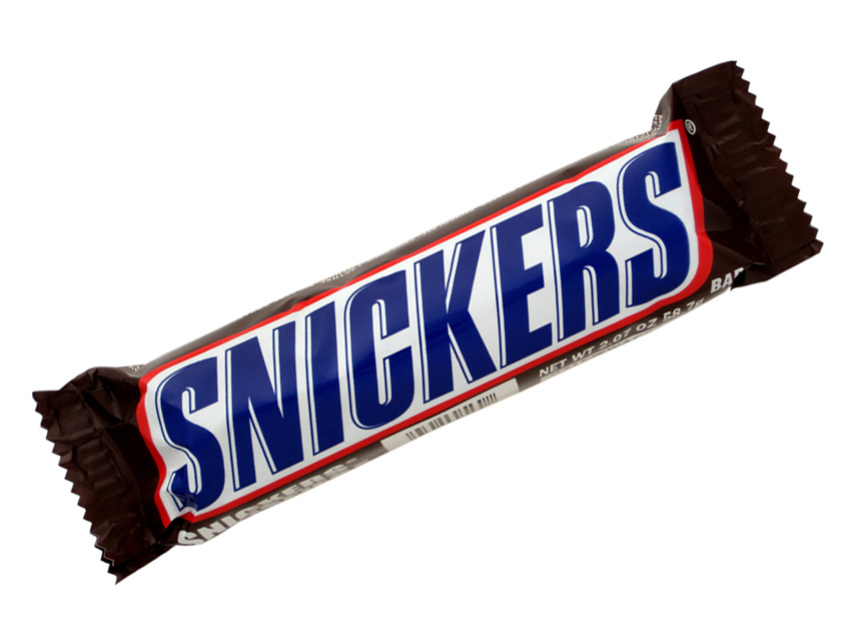 Snickers
We had to do it. Owned by Mars Incorporated, Snickers has long been one of the leading candy bar brands in the world. And yes, a Snickers bar does have nutritional value and can be useful during long energy outputs or during recovery. Besides, sometimes you just want something that completely satisfies the taste buds. I believe "Snickers Satisfies" has been one of this brand's long-time slogans?
As you probably know, Snickers bars are made with that glorious combination of peanuts, chocolate, caramel, and nougat. Each regular-sized bar contains 250 calories. This is almost as much as a Clif Bar. Total fat is 12g. This is less than the PROBAR and Kate's Bar we tested. So for its size and reputation as a candy bar it is a pretty good source of energy. The negative is the fact that Snickers bars are not made with organic ingredients like the other brands on this list.
Bonus: We thought you might want a few short reactions to some of these bars from an elite endurance athlete. BigLife staff member Annie Pokorny is a member of the Sun Valley Ski Education Foundation Cross Country Gold Team. Her highlights include being an NCAA All-American and U23 World Championship team member from 2013 to 2015. So she knows a thing or two about energy food.
Honey Stinger
"This Honey Stinger bar rests exclusively in the energy bar department. With 10g of protein veiled by a vaguely marshmallow-esque consistency, this bar has become my go-to for post-workout recovery. Unlike other bars, this one doesn't freeze solid in the winter, and the variety of flavors has me feeling fresh and ready to sting."
Kate's
"Pocket-sized "meal."  Nutty, salty and sweet, it comes without that glazed wheyish protein taste that comes with mass produced energy bars. Additionally, I'm really loving the crunch-to-chew ratio on this nugget. I would pack a couple of these in my pack for a long day running in the mountains (because pack-ability) and one in my work bag (because coffee breaks)."
Snickers
"Chewy, chocolaty, and crunchy with the added guise of health in three or four crunches of peanut. I'm sold."
Also, proof that this is an athletic energy bar: https://www.youtube.com/watch?v=1Cb48HH3dig