Gerry Moffatt's bio reads like a list of one-uppers. You've paddled some sick rivers? Well, Moffatt was the first man to descend all the major rivers in the Nepalese Himalayas. You're pretty proud of the time you climbed all the 14'ers in Colorado? Good for you, but Moffatt has two summits of Mount Everest while filming for various projects. Your local paper featured your adventure exploits? National Geographic says Moffatt is the most experienced river guide in the Himalayas, a title with which the government of Nepal agrees, since it recently named him International Ambassador for Adventure Travel and Tourism.
During much of his 30-plus-year career adventuring and guiding, Moffatt lived life as on-the-edge as you can get—and not just on the rivers or in the mountains. He had an affinity for the good times that came with the territory—the drinking, the drugs, and the no-holds-barred partying. Until the good times weren't so good anymore.
With his latest film project, The Tenth Step, Moffatt and his co-producer and wife Pia Saengswang weave a beautiful story of adventure, reflection, and redemption as they document the 2015 108-day, 4,000-mile solo journey the length of the Himalayas that Moffatt did on foot, by kayak, and by motorcycle to revisit the people and places that shaped his life.
COMING HOME
In graduate school I nourished myself on writers of the diaspora—writers who were exiled or set adrift from their homelands by some set of circumstances, some at such an early age that their understanding of their "homeland" was through the absence of it rather than through an immersion in it. The far-flung writers whom I loved the most were fueled by this sense of rootlessness; it energized them, gave them not only their stories but also their purpose.
When I listen to Gerry Moffatt talk about his life's journey from Scotland to Nepal to Ketchum, Idaho, and many, many places in between, I couldn't help but think about those writers because, inevitably, what happens to the rootless, the borderless wanderers, is that they become at home in the world. But Moffatt has taken it one step further—he is not only at home in the world, he has embraced and been embraced by many homes. The Tenth Step is, in many ways, about Moffatt finding peace within himself and in doing so, coming home.
Moffatt and Saengswang actually set out to make a different film, but along the way this story revealed itself, so (like all good adventurers) they changed course and adapted to it. Because Moffatt has spent his working life leading adventure trips around the world, he set out with a vision to confront the impact that adventure travel has had on the wild, spiritual, and fantastic places that he loves the most. Saengswang, who brings, according to Moffatt, "the intellectual firepower to our team," has a successful background in social entrepreneurship and filmmaking. She wanted to help tell that story through Moffatt's intimate relationship with India, Nepal, and Bhutan, and capture the way that adventure tourism can inspire people to ask the right questions about the places they travel and, most importantly, leave a positive lasting impact on those places.
After seeing the film and understanding that context, I walked away hoping that this is the first part of a two- or three-part project. Because, ultimately, the story that unfolds for us is the way that adventure travel impacted Moffatt's own wild, spiritual, and fantastic interior.
The film follows Moffatt on a 108-day solo expedition across the entire length of the Himalayas—a 4,000-mile trip that Moffatt traveled by kayak, foot, and motorcycle. The impetus behind this particular trip? Well, let's just say this, Gerry Moffatt doesn't turn 50 like anyone else.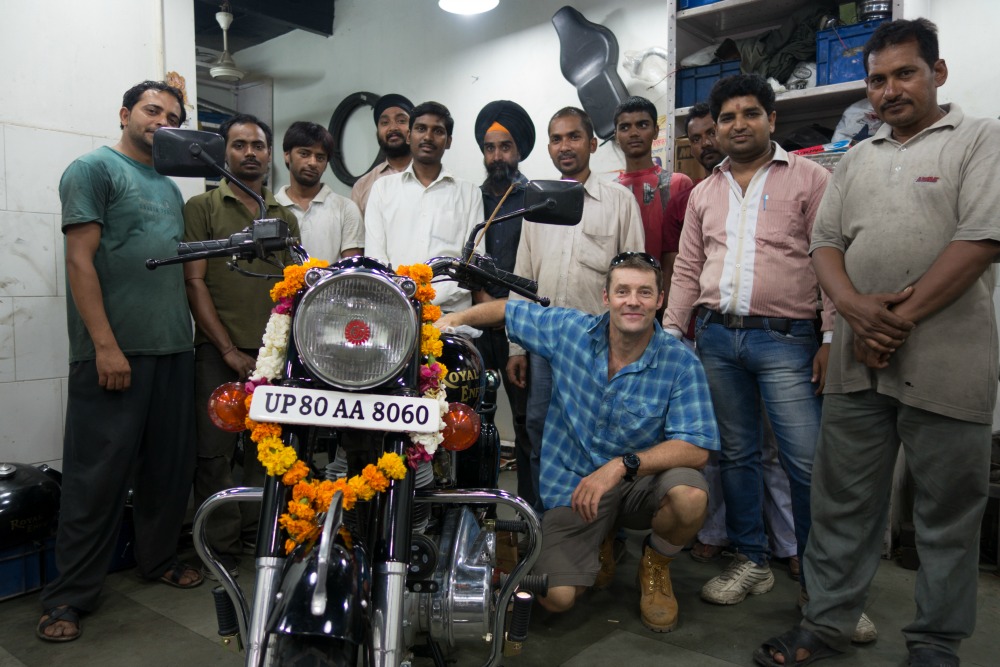 His journey began in New Delhi, India, where he bought a Royal Enfield motorcycle and worked with a team of mechanics to rebuild the bike, to know his tools from the inside out. He was going to be traveling through some of the most remote areas in the world, at some of the highest elevations and in some of the roughest conditions possible. He needed to know how to fix his bike.
One of the early scenes is of Moffatt, proud new owner and capable mechanic of this used Royal Enfield, kicking up the stand, looking over his shoulder, and merging into the crazy New Delhi traffic. It's a refrain throughout the film and throughout Moffatt's life—entering into the fray, into the current, and making the best of it.
WHERE IT ALL BEGAN
A native of Scotland who has retained that beautiful, lilting Scottish accent (and it gets thicker when he talks about his native country), Moffatt cut his teeth as a kayaker in the cold, wet Highland climes and immersed himself in outdoor education from an early age. He first ventured to Nepal when he was 18 years old as part of a British kayaking expedition in 1983, working for one of the pioneers of adventure tourism, Tony Jones, who ran overland journeys from London to Kathmandu and on other continents as well. About life in Kathmandu and its surrounding environs in the early '80s, Moffatt says, "The '80s in Kathmandu were probably similar to life in America in the '60s—there were no rules in that part of Asia. The only rule was 'Don't kill yourself.' But really, if you did, no one there would really care. There was such a sense of authentic adventure where you were really responsible for your own actions. And that was the environment I grew up in."
At the end of that first expedition, Moffatt says, "I faced the prospect of returning to Scotland, dead broke, in the middle of the winter." Instead, the outfitter he'd been working for offered him a job. The freedom that 18-year-old Moffatt first experienced in Nepal and the Himalayas ran through every aspect of his early years there, and at some point, Moffatt says, that freedom became too much for him. His partying and drinking took root in a way that left him powerless. He says, "Underneath my drinking, I was driven by fear and pride. And when those are the drivers, you sabotage every relationship and anything that you're trying to do. I could do all these really challenging things in the Himalayas and around the world, but when it came to drinking, I had lost control. I was powerless."
Moffatt's life in Nepal began to unravel just as the long-standing monarchy was overthrown in a Maoist rebellion—the politics of the country reflecting his inner turmoil in a way that was hard for him to ignore. "I was beginning to change and our guiding business was being threatened by this new political reality. The lifestyle I had lived for so long—the partying, drugs, craziness—it really wasn't working anymore. So I stepped out, went away, and rediscoverd myself. I got sober. When I came back on the scene, I was offered a gig in Bhutan."
BHUTAN ON YOUR OWN TERMS
"I don't think it was a coincidence that I was newly sober and living in the last remaining Buddhist kingdom on earth," Moffatt says as he opens the Bhutan section of the film. It was a place that gave him the space (as did his sobriety) to reflect on his life and renew his sense of purpose. Until 1999, Bhutan was closed to the outside world—no television, no Internet, no tourism to speak of. Moffatt explains, "When the government of Bhutan decided to open up the country to tourism, they did it carefully and intentionally. They wanted tourism on their terms, and they wanted to protect their environment and culture." The structure in Bhutan offered Moffatt a distinctly different experience from the Wild West of Kathmandu and Nepal during the '90s.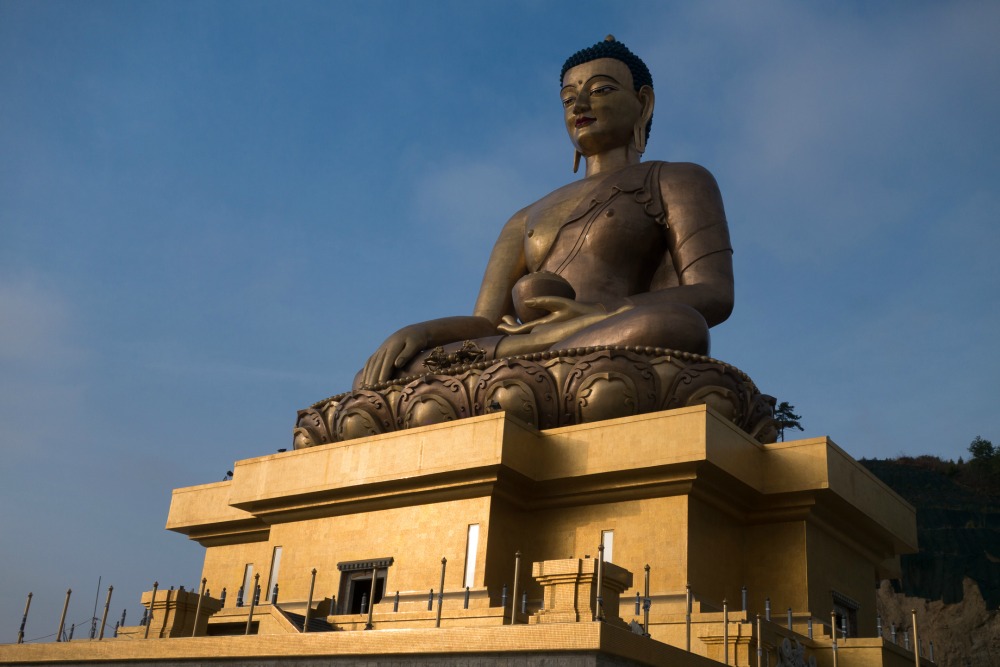 He began working with Bhutanese youth and teaching them to run and guide on rivers. "What a gift to watch these youngsters start participating in their own river environment. We were providing them an opportunity to experience their natural environment in a way they might not otherwise have accessed. Now, I think there are many rafting companies run by these students that we taught. That's success right there."
Certainly Moffatt sees the negative effects of tourism in Bhutan, even though the country has worked hard to mitigate the impact on their environment. There's not a perfect balance, Moffatt recognizes, but that doesn't mean we can't work toward one. When he returns to India, Nepal, and Bhutan for this expedition, Moffatt reflects, "The world has gotten so busy that it's hard to find peaceful places. Luckily for us, they still do exist."
TO LIVE A QUESTION
Moffatt opens The Tenth Step paraphrasing Heraclitus, "No man can step in the same river twice because it's not the same river, and he's not the same man." On the screen are images are of the Grand Canyon of the Stikine River in British Columbia, a river on which, we learn, Moffatt nearly died 20 years ago and a river to which he had never returned since. Until the making of this documentary. Moffatt says in the film, "The Stikine is very much like going to Everest in that you have to be prepared; there's no turning back. I know that I will never run it again. Soon, time and age will put it out of my reach. But as I was turning 50, I knew that I had one more Stikine in me, and I wanted to touch the lightning one more time."
For those unfamiliar with the world of whitewater kayaking, the Grand Canyon of the Stikine is a legendary 45-mile stretch where the river funnels through a deep canyon gorge with mile-high cliff walls that force a huge river into a narrows only a few car-lengths wide in a few places. Over the course of 45-miles, there is no other way out—it's straight into the belly of the beast and the rapids are off the charts at Class V+." Moffatt says, "Once you're in, you're IN."
Moffatt has now run this section of river three times; his first time was in 1995 with a team of three who represented the eighth, ninth, and tenth people to ever run the Grand Canyon of the Stikine. He went back a second time with a team to be the first kayakers to do the "Triple Crown"—running Devil's Canyon on the Susitna River, Turnback Canyon on the Alsek River, and the Grand Canyon on the Stikine. This expedition was filmed by National Geographic for the documentary Stikine Fever, a film that captured Moffatt's near-fatal pinning in the Scissors rapid.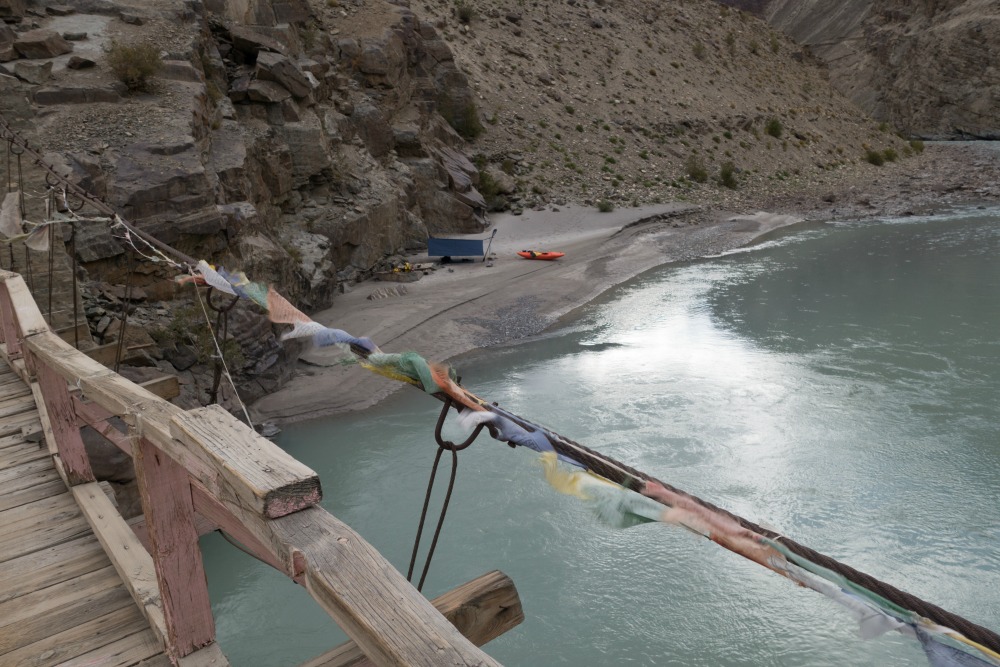 To face that beast again, two decades later, when he is in a completely different stage in his life, is a fitting closure and one that allows for the sort of reflection that Moffatt had been seeking during this milestone year. About his third trip to the Stikine, he says, "I wasn't there to conquer the river. I was there to live a question in the crucible of that canyon." And with that, you see how far Moffatt has come over the course of the years that The Tenth Step covers.
The final scenes of the movie are on calmer waters, in more ways than one. Pia and Finn join Moffatt at the tail end of his Stikine trip once the canyon opens up and the waters run smoother. We see scenes of Moffatt rafting, camping, and laughing with his family. And the once-rootless wanderer has come home.
The Tenth Step
World Premier at The Sun Valley Film Festival
Sunday,  March 19
Showings at The Sonoma International Film Festival
Friday, March 31 & Saturday, April 1
ONLINE BONUS: see extras from adventurer Gerry Moffatt's 108-day solo journey across the Himalayas.
Video of solo kayaking down the Tsarap Chu River