Pedal and play with no-stress guided bike adventures
In our never-ending search for the next great adventure, we are naturally drawn to remote places. Places we can get away from our screens, daily stresses of work and home, and all the other distractions that take away from our ability to fully connect with each other and the world around us. One of the best ways to tune out the noise and satisfy your soul is to explore the backcountry via mountain bike. Tacky trails that snake through old–growth forests, thin ribbons of dirt that climb high into the alpine, desert tracks in ancient canyons, and adrenaline filled descents through fields of electric wildflowers offer the type of experiences that fuel memories for a lifetime.  
The logistics involved in pulling off a multi-day bike packing trip in remote wilderness areas can be daunting. Food prep, trail selection, navigation, and shuttle running can produce the same stress that we are trying to escape. If this sounds familiar, consider the benefits of having a fully certified outfitter take care of all the details and logistics so the only thing you have to do is sit back, pedal and enjoy the ride. It's remarkably similar to taking a guided river trip, just on dirt instead of water.  
Imagine following an expert guide down the best singletrack of your life, then rolling into camp with your crew after a long day in the saddle only to find your tent already set up, a campfire crackling, and a professional chef busy cooking a gourmet dinner while the guides serve craft cocktails and delicious hors d'oeuvres.  
Too good to be true? It sure sounds like it is, but nowadays there's a growing number of outfitters and guides who will set up the entire adventure for a relatively reasonable price, creating a unique and fully customizable backcountry mountain biking experience. One you'll never forget with zero logistical hassles.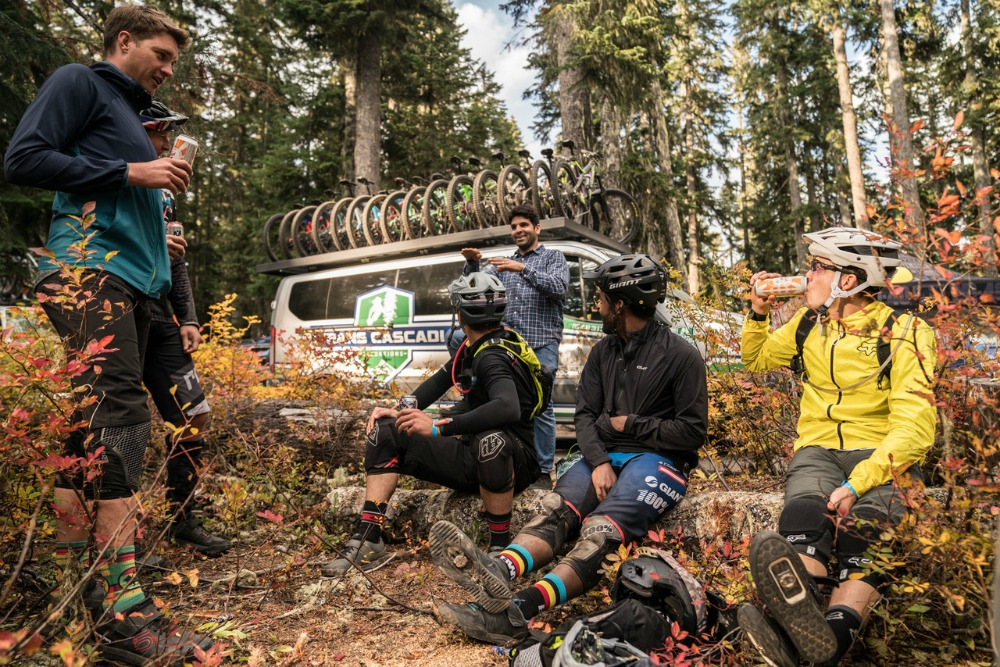 Explore Sasquatch Country with Trans–Cascadia Excursions 
Looking to get deep into the backcountry of the PNW? Trans–Cascadia Excursions is the premier mountain bike tour group in Oregon and Washington. Established by bike industry veteran Nick Gibson and his wife Jessi, Trans–Cascadia Excursions benefits from their deep knowledge of the most remote singletrack in Washington and Oregon and provides guests with a wide menu of fully custom backcountry tours. Spun off from the popular Trans-Cascadia Bike Race, a four–day blind stage race/party through the heart of the Cascades, Trans–Cascadia Excursions recreates that same vibe but without the racing element. By organizing several weekend–long trail building parties with land managers, the Forest Service, and other trail user groups each summer, Nick and his team have leveraged these relationships and permits to provide adventurous riders the opportunity to experience backcountry bliss in some of the most stunning terrain in the entire country.  
Trans–Cascadia Excursions offers custom turnkey riding experiences, from single–day shuttles to multi-day backcountry adventures. Just fly into Portland International Airport with a small bag of riding and camping clothes and Trans–Cascadia Excursions will take care of the rest. High–end demo bikes and camping supplies are provided, while two guides and a chef make sure your every need is tended to. Pesky chores such as firewood gathering, doing dishes, and setting up tents are all handled, giving you more time to focus on riding the best trails, eating the best food, and relaxing by the fire. transcascadiaexcursions.com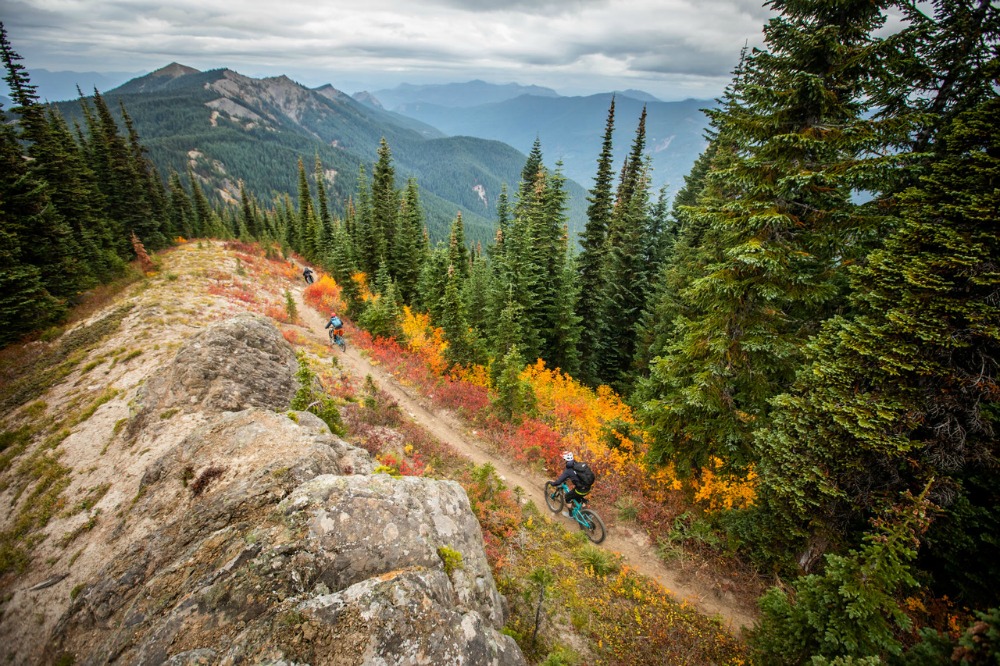 Rustic Luxury with Sun Valley Guides 
For those looking to experience a rugged backcountry adventure but still want a few creature comforts, Sun Valley Guides specializes in backcountry MTB tours based out of Idaho's Coyote Yurt. Nestled at 9,000 feet in the Smoky Mountains just 45 minutes outside of Sun Valley, the Coyote Yurt boasts incredible views of the surrounding Pioneer and Boulder Mountains, has a full–service a kitchen, comfortable living area, and cozy beds. A beautiful wood fired sauna is just steps away from the front door. Sun Valley Guides shuttles you and your gear to the yurt, allowing for extra items that bike packing won't allow. Pair these rustic amenities with a private chef and guides? It's a perfect base camp to explore the endless singletrack surrounding the yurt. Like a backcountry ski-hut trip, but on dirt instead of snow. 
Ride the popular Osberg Ridge Trail, a high–altitude rollercoaster with plenty of pedaling that leads to stunning views. The jumps, berms, and drops found on the backcountry flow trail of Alden Gulch or the steep descents of nearby Curly's will satisfy your love for the pull of gravity. When it comes time to pack up and head home, your re-entry to reality is softened as epic rides like Adam's Rib or the Oregon Gulch Trail lead you directly back to town while the shuttle takes care of transporting your gear. With many of these trails being open to e-bikes, there is the potential to broaden your group or link them all up in a single day. sunvalleyguides.com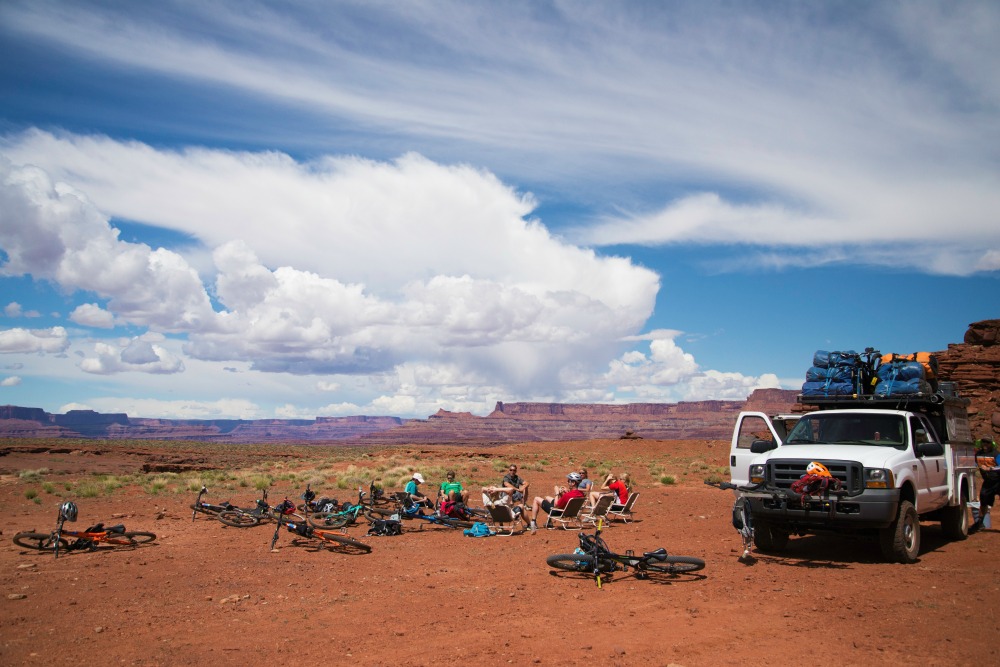 Canyonland Cruising with Moab's Rim Tours 
Rim Tours, based in the mountain biking mecca of Moab, Utah, is one of the original mountain bike adventure outfitters and have been operating backcountry tours for over 20 years. Their four-day guided ride from the Needles District of Canyonlands National Park to Moab is an absolute classic. Ride past the towering hoodoos and otherworldly rock formations of Lockhart Basin as you follow the Colorado River. It's an approachable route with a mix of 4×4 jeep roads, slick rock, and single track that offers fun and mostly moderate riding with a focus on the fantastic views of canyons, mesas, buttes and spires while enjoying the wide–open spaces and deep canyon solitude southern Utah is famous for.  
They also have a five-day guided tour that follows the North Rim of the Grand Canyon. Exploring the remote Kaibab Plateau high above the canyon the route takes riders through ponderosa and aspen forests in Northern Arizona before traversing the plateau and finishing the ride on the famous Rainbow Rim trail. High desert vistas, shady forests and alpine meadows provide incredible scenery while riders of varying abilities can camp and ride together, enjoying terrain that offers a multitude of riding options. From secluded and gentle 4×4 tracks to more challenging singletrack. 
All of Rim Tours trips are delightfully full-service. Guides, gear shuttles, camp set-up, meals and support vehicles are provided. rimtours.com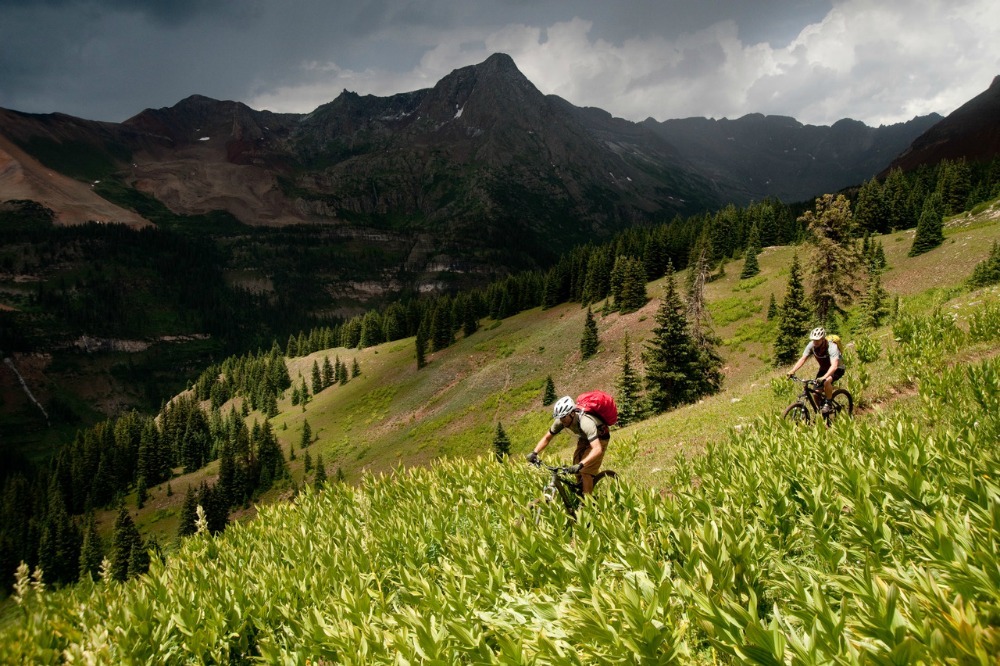 High Altitude Hammering with Western Spirit 
For experienced and confident riders who want to push their limits, Western Spirit offers a 5-day guided trip traversing from Telluride to Durango through the dramatic San Juan Mountains. Not for the faint of heart, this is a challenging ride in remote wilderness, with numerous sections of steep and technical singletrack, all at altitudes around and above 10,000. A highlight of the trip is riding the Hermosa Creek section, widely considered one of the best singletrack trails in the Rockies. Although the majority of the 18-mile track loses elevation, it remains a brutal workout and demanding technical challenge. Beginning in the open meadows of Hermosa Park, the trail rolls along Hermosa Creek for a few miles, winding through large stands of aspens and conifers before crossing Dutch Creek, where a short but strenuous climb leads to the best parts of the trail. Flowing along a fairly steady elevation high above the creek surrounded by towering snow-capped peaks. A final steep descent makes sure you're paying attention before ending at the highway just outside of Durango where the shuttle van and a few cold beers will be ready and waiting.  westernspirit.com