Travel the West in total comfort with Aero's flights to Aspen, Jackson Hole, and Sun Valley — bookable through April 2022.
We've all heard this tried-and-true axiom throughout our lives, "It's not about the destination, it's about the journey." Yes it can be redundant, but it always rings true. And for those of us with the adventuresome spirit of the Mountain West in our souls, these words become a part of what defines who we are more often than not. Our "inner nomad" is difficult to deny. Aero knows this all too well.
Pre-Flight Experience
Journeying and flying usually go hand-in-hand and sitting on a crammed-in, commercial plane can often be the most unpleasant part of the adventure. Launched in 2020, Aero believes that traveling shouldn't be a hassle, but an event to enjoy. They are committed to elevating the air industry and disrupting it from within. What does this mean? It means traveling first class via direct flights through private terminals. Say goodbye to layovers, lines, and the TSA. It also means having everything taken care of by a concierge staff and being hosted by an experienced flight team. If there are any unexpected changes, Aero is there to solve the problem for you. Let a courteous staff member grab the bags and usher you straight to a spacious lounge before the flight. Check-in literally comes to you while you're seated and enjoying a drink.

In-Flight Experience
Aero operates the finest. Each flight happens aboard one of their sleek and signature-black ERJ-135LR jets. A 16-passenger cabin boasts window and aisle access at every seat. Generous legroom allows even those above six feet in height to stretch out in comfort. Other thoughtfully crafted details include hand-stitched Italian leather seats, state-of-the-art lighting, and a custom sound system. A flight attendant is always there to bring any type of drink or bite that you desire. And no need to stress about the logistics of getting to your final destination when you land. While in-flight, the Aero concierge team will arrange for a professional driver to pick you and your crew up. All bags are automatically transferred to the waiting vehicle by an Aero host team after you land. It just doesn't get any easier.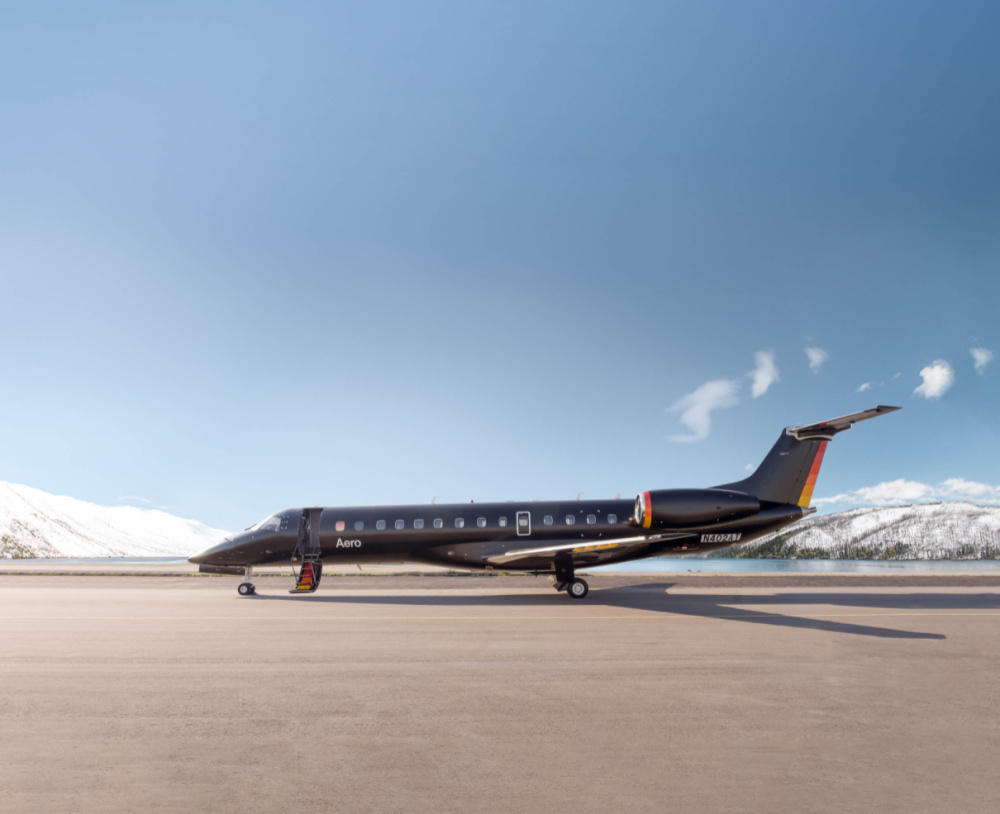 Coveted Destinations: Book Aspen, Sun Valley, Jackson Hole through April 2022
Short flights always win out over long flights. Aero believes in only flying short distances to storied places that are more difficult to reach than larger hubs. Aspen, Sun Valley, and Jackson Hole are quintessential mountain towns that have world-renowned character, stunning beauty, and can be difficult to reach. And with more demand for flights to these places (as well as others) being a factor, Aero has adjusted accordingly. They are proud to announce that you can now book flights to these three phenomenal locations all the way up to the spring of 2022. Planning an escape to somewhere warmer this season? Aero has launched new routes to Las Vegas and Los Cabos, Mexico. Fly on.
For more information and booking options, visit aero.com