Snow King Mountain Resort expands its domain with new terrain, new lifts, and more. And it's only the beginning.
Here's a fun little historical factoid: Snow King Mountain Resort – just six blocks away from Jackson Hole's fabled Town Square – is Wyoming's first ski resort. Since way back in 1939 this authentic ski area, known affectionately by the regulars as "Town Hill," has been a go-to spot for both locals and visitors alike. Whether it's learning from the expertise of a full-service mountain sports school, racing in well-run events from the junior to pro levels and everything in between, or just recreationally-ripping all kinds of ridiculously fun terrain, Snow King has been there and continues to thrill.
Going into the 2021-2022 winter season, Snow King Mountain will be doing what they do best in bigger and bolder ways than ever before. The resort's major expansion of infrastructure and accessible terrain has increased in recent years due to what is known as the Phase 2 Master Plan, introduced in 2016. And after a summer of massive transformation, the good folks at Snow King are beyond excited to welcome skiers and riders to their enhanced winter playground. Check out the details on what's happening below.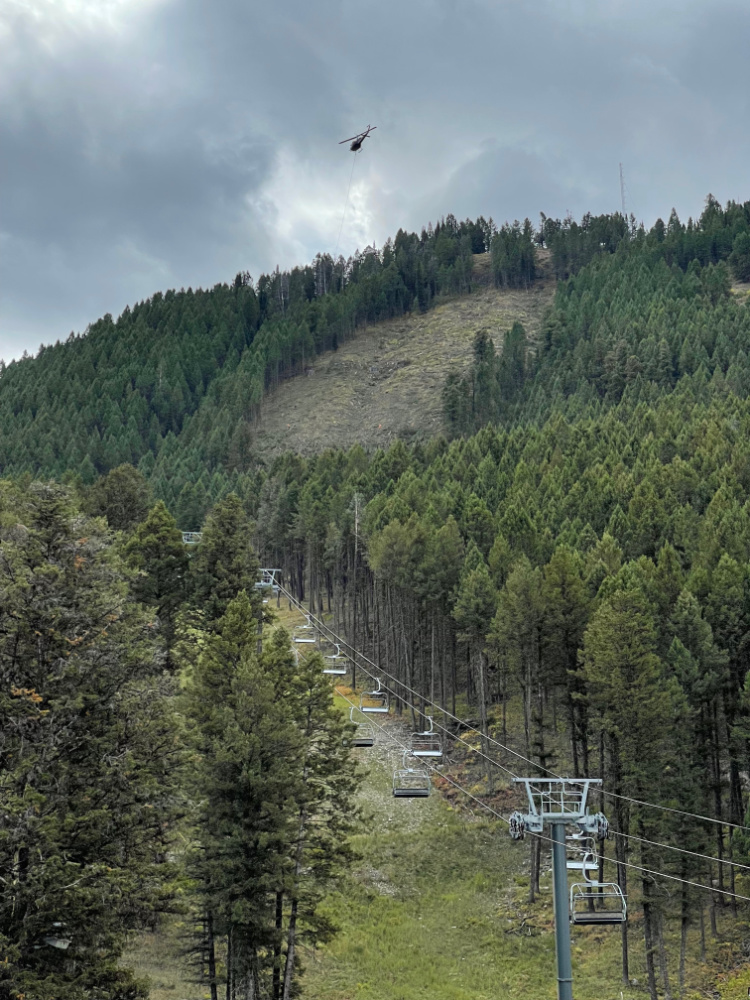 New Terrain
Up until now, in-bounds terrain at Snow King was strictly on the north-facing slopes of the mountain that face toward the town of Jackson and the Teton Range. Not anymore. The brand new boundary expansion showcases a lift-accessed ski area on the "backside" with a bowl and runs for a wider range of skiers. Get ready to shred. If you're a beginner or have the little ones in tow, no worries. Also included on this south-facing terrain that will receive more sunshine is a new beginner's route down from the summit. The huge acreage and variation of terrain that this boundary expansion creates truly caters to the full spectrum of skiing and 'boarding styles, as well as skill levels.
Having snow is um, kind of important at a ski area. And it can melt easier on the sunnier side of a mountain. This is why Snow King has upgraded its snowmaking infrastructure by adding 10 tower fan snow guns to the new backside of the resort. Most of us know that there is usually no shortage of snow in the Jackson area, but it definitely never hurts to have an insurance policy and a natural snow supplement.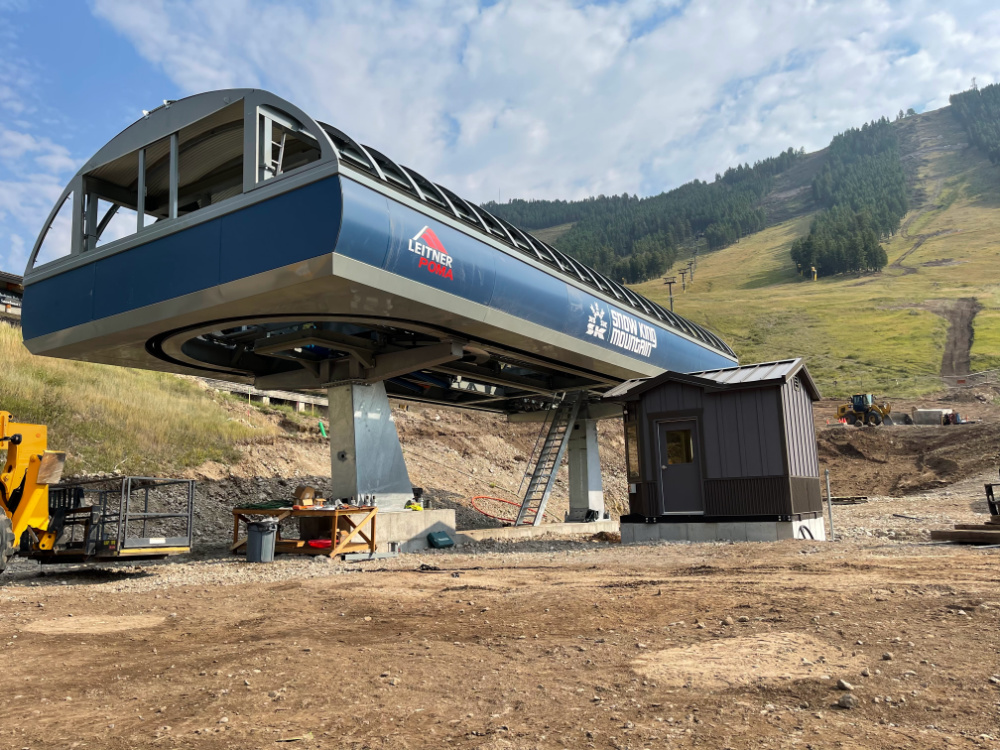 New Gondola, New Lift, and More
RIP to the classic Summit Lift after nearly 40 years of operating. Snow King's new blue gondola takes skiers and riders from the base to the top of the mountain in enclosed comfort. This eight passenger Leitner-Pomma piece of technical machinery whisks passengers up to the summit in five minutes.
The boundary expanded backside area of Snow King sees the edition of a brand new triple-passenger chairlift. On the south-facing side of the peak and appropriately dubbed Sunny Side, this lift is an easy way to find new lines and features on the brighter side of the mountain while making laps.
In addition to the gondola and triple chairlift, two new magic carpets have recently been installed along with the creation of a beginner ski zone at the summit of Snow King Mountain. Two all-new ski runs on the front side of the mountain have also come into existence and the Exhibition run has been widened.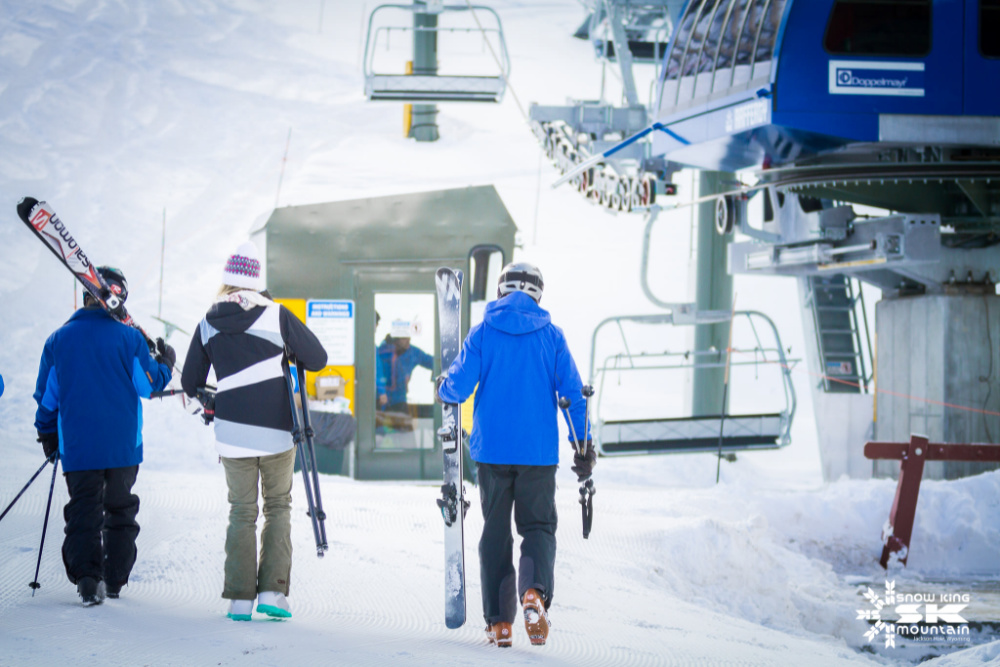 And the expansion at Snow King is only beginning. Future planned additions include a world-class observatory and planetarium located at the summit, a summer zip lining experience from the top of the mountain to the base, lift-served mountain biking, and a new guest facility with a full restaurant.
Achieving the feat of significant terrain expansion and capital improvements for a ski resort is never easy. It's the result of hard work and collaboration with various organizations as well as executing an extensive environmental analysis. And at Snow King, this entire expansion effort is being undertaken with Jackson's local community in mind.
"The ultimate goal of these projects is to create a financially sustainable year-round business," Ryan Stanley, Snow King Mountain Resort's General Manager, explains. "Should we succeed, Snow King Mountain will contribute to our community through world-class outdoor recreation activities, stable employment opportunities, and a thriving entertainment hub right in the heart of Jackson."