A selection of BigLife's favorite home goods crafted to light up your life!
THE LOVELY BONES: Working with clay, says Boulder ceramicist Liz Quan, is like being back in kindergarten. But there's nothing elementary about her organic creations, from necklaces to vases and bowls. Her White Coral Pendant Light, a cluster of handmade pieces of ceramics hung on a metal armature, seems to shine from within. "The light just beams through the piece," she says. "Creating this was a very organic, intuitive process for me—the whole notion of multiples is interesting to me. The pieces become something else, something bigger, when they are a collective." Small, $1,500; Medium, $2,800; Large, $5,500, plus shipping.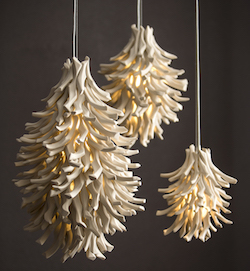 ---
OPPOSITES ATTRACT: Modern but timeless, elegant but rustic, these sterling and steel Arched Candlesticks are made by husband-and-wife design duo Nicole and Harry Hansen, second-generation metalsmiths and the owners of Sterling and Steel, based in Salida, Colo. The individually forged candlesticks can also be made taller or shorter, round or square, and can even be engraved with initials or important dates. 5.75" x 2" x 3"; $1,150 a pair.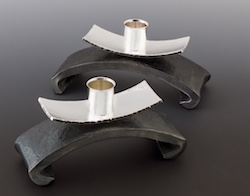 ---
RACK 'EM: Add a shot of cool to your toasty autumn hearth with the sleek, semicircular Chimo Round Wood Rack Log Holder by Blomus. Made of stainless steel, with black wooden legs and rubber grips on the sides for toting. From $195; 15.8" wide x 14" high.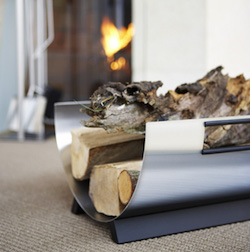 ---
WE'VE GOT YOUR NUMBER: Get your glow on (and make it easier for the FedEx truck or pizza delivery guy to find your house after dark) with a custom-made LED back-lit address sign. The numbers (4, 5, or 6 inches high) on the aluminum composite sign pop out in bright white at night but appear a sedate matte black during the day. Bonus points: With its built-in light sensor, the sign turns on automatically at night. 7.5" x 13" sign with two 5" numbers starts at $147.50.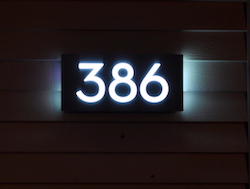 ---
HIP TO BE SQUARE: Anchor your patio with the see-through Outdoor Napa Fire Feature, custom built in blackened steel by Raw Urth Designs of Fort Collins, Colo. The company was founded by Amy and Stefan Sasick, a young couple who decided to go to blacksmithing camp after they couldn't find the kinds of unique steel features they wanted for their landscaping business. Now their team of "Urthlings," as they call themselves, make range hoods, countertops, railings, and backsplashes out of post-consumer recycled steel. So… earthy and earth-friendly. Price available upon request.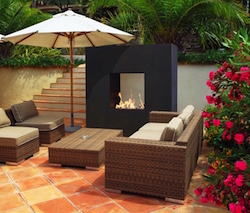 ---
LET THERE BE LIGHT: Lighting technologies have improved exponentially in the last few years. Eugene, Oregon's Imagilux specializes in LED panels, artfully rendered and expertly built. If you have something that you want backlit like this metal word sculpture, Imagilux can make it happen. Price depends on scope of the project.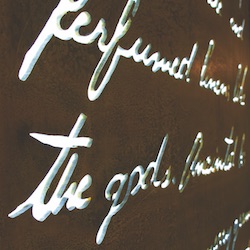 ---
LIT FROM WITHIN: Cozy up with Hemingway, Grisham, Krakauer, or Wodehouse next to an Acacia Bookshelf Lamp from Fuse Lighting. With a leather-box  base and cast in four different finishes, the organic Acacia lamp also comes in sconce and table lamp versions. All are the work of West Coast designer Kevin Kolanowski, who incorporates unusual materials like fur, stingray, hand-strung shells, and hand- blown glass. Price available upon request.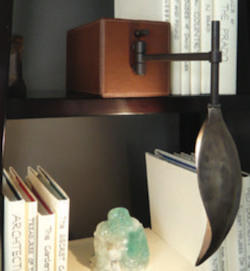 ---
WELCOME HOME: No wrought-iron curlicues here. No dangling crystals, either. Just a hand-forged chandelier that will add a touch of class to your entryway—the distinctively modern Cross-Arm Chandelier with Square Glass Globes, made using traditional bronze casting techniques by artisans at Rocky Mountain Hardware of Sun Valley, Idaho. Appropriate for outdoor use under a roof or eve (or indoor use, too), it comes in 10 different bronze finishes. 36 7/16" square, price contingent on finishes.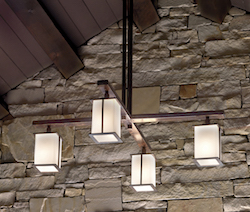 ---
BURN, BABY, BURN: Get the feeling of a genuine mountainside camp re from the comfort of your own backyard with a sculptural Carnegie Columbia Gorge fire feature from Inspired Iron of Kennewick, Washington. Every fire feature is hand- crafted-to-order out of iron (even the branches, which can be lifted in or out) and fueled by either propane or natural gas. Custom sizes, two feet and up; prices available upon request; 8 to 10 weeks for delivery.