Red Ants Pants and the Red Ants Pants Summer Music Festival
I can't remember when I was first told, "Everyone puts their pants on the same way in the morning." Honestly, I believe that I put my pants on in the morning with higher than average pep in my step, wiggle, shake, squat, and final zip before I head out the door. It wasn't so long ago that pants were a fashion (and social) faux pas for women. In the 1850s, Amelia Bloomer began advocating that women should be able to wear pants in a publication called Lily, and sported what became known as "bloomers." Though her wardrobe met with criticism, Amelia published over 6,000 pamphlets nationally, and received hundreds of letters asking her for sewing patterns. In the same decade, one woman bragged about being arrested repeatedly for "dressing like a man"—Dr. Mary Walker, thank you for your staunch distaste for skirts, and for being a pants-wearing pioneer for all women. Surprisingly, until World War I, there was a general belief that pants made women seem masculine, unattractive, and anti-authoritarian, instead of industrious, equal, and comfortable. Now, and nearly 150 years after Dr. Walker joined the National Dress Reform Association, women can wear pants peacefully at home, in public, and in the workplace, and we can be sexy doing it. It wasn't until roughly 10 years ago, however, that a new pants revolution began: women's workwear.
Enter Sarah Calhoun. In 2006 Sarah started a company called Red Ants Pants in White Sulphur Springs, Montana. This company designed, manufactured, and sold workpants specifically tailored for women. Each pair has reinforced thighs and crotch, and is riddled with handy pockets. As a gal who dons Canadian Tuxedos in all seasons (work pants and vests in the summer and an insulated and jacketed version of this uniform in the winter), I was elated to discover that Red Ants Pants offered two different cuts of pants, each showing a serious understanding of lady curves. No more waistband chafing, no more trying to maneuver in pants that don't fit. No more men's workwear. I felt like I had gained access to an elite secret society—one that embraces women who work with and on the land, and that understands what women's bodies need to feel beautiful while doing dirty work.
In 2011, the governor of Montana nominated Sarah as the state's Entrepreneur of the Year, and she served as a U.S. Delegate to the APEC Women in Business Summit hosted by Hillary Clinton. These events preceded her first visit to the White House with a personal invitation from President Obama to attend a forum on jobs and economic development. In 2012, she was recognized as a National Women in Business Champion by the Small Business Administration.
More recently, Sarah received her second invitation from the White House to attend the Small Business Leadership Summit this May. She has also given two TED Talks, keynote speeches from east to west, and has had glowing features written about her in magazines of all sorts. This is a woman in pants making some waves.
When I introduced myself, Sarah was outside her store, clearing the sidewalk of the first dusting of snow to fall on White Sulphur Springs since December. I noticed that she had something on her pants. In addition to being fabricated in traditional Red Ants Pants fashion—dark brown fabric with red stitching and the aforementioned handy pockets—Sarah's pants had a couple of unique eye-catchers on them: two silver, leather six-shooters stitched right there on the front pockets.
We exchanged a few brief pleasantries, and after introducing me to Nellie, the store's canine mascot, and the newly installed Hot Dawg propane heater (a source of great excitement), Sarah took me through the store. The bare-bones space was made cozy with shelves and clothing racks—each displaying pants—an open office, a till, and a corner decorated with Red Ants Pants accessories and handmade aprons. "This is it," she said, a smile on her face, and her hands hitting her thighs. "Welcome to the International Headquarters of Red Ants Pants!" Next, she opened a door leading into her apartment. Exposed, original brick walls, a gargantuan wood stove (the heat source for the entire building pre-Hot Dawg), a kitchen nook, a loft, and a hot cup of tea greeted me on the other side. The whole place, store included, was simple, beautiful, comfortable, and functional, much like her pants.
Sarah grew up on a llama farm in Cornwall, Connecticut, went to school in a rural district that served six different towns just to scrape together a student body, attended Gettysburg College in Pennsylvania, and moved into outdoor education with Outward Bound, though it was the Student Conservation Association (SCA) that brought her to the West. Through SCA, she spent time on the Navajo Reservation in Arizona and built trails in California, but neither state felt like home to her.
Sarah moved to Bozeman in 2004 simply because it called to her (she'd never even been to Montana before). Then, she made her pilgrimage to White Sulphur Springs in 2005 after reading Ivan Doig's book, This House of Sky. When I ask why Montana, she says, "In Montana you can still be a pioneer. You can do and dream about big things in this landscape." What Sarah dreamt about was making a good pair of pants—pants that fit a woman who is curvy or slender, tall or short, but definitely a woman who works hard.
So, why pants? More specifically, why work pants? Well, Sarah didn't have a choice about doing chores and labor on the farm as she grew up, and she wore out many a pair of her dad's old jeans getting rowdy, dirty, and plumb tuckered out after days of hard work. Furthermore, the butt was too tight, the hips too narrow, and the waistband was constricting. Complaints and frustrations mounted.
During her first week in Bozeman, she had a serendipitous encounter with Richard Siberell, a designer for Patagonia, in a small coffee shop where she sat reading How to Start a Business for Dummies. She told him her idea to start a company that made great work pants for women, and he jumped right on board. Right then and there, Red Ants Pants was born.
Now, 10 years later, the Red Ants Pants website reads, "We know butts, we know hips, and we know curves. In fact, we celebrate them. Our pants are designed to fit, function, and flatter." And that they do. These pants fulfill the company's mission to "provide women's workwear for the makers and the growers, for the builders and the doers."
Over the years, Sarah has recognized that the pants business, while important, is really more about the women it serves, not the product it sells. "It's about what women can do when they put their pants on," she says, her eyes brimming with confidence and emotion. To this end, once Sarah had designed pants that fit and got her business up and running, she began to focus on her passion: people. She started the Red Ants Pants Foundation in 2011.
This non-profit organization has hosted the Red Ants Pants Music Festival every July for the last four years in a hay field in White Sulphur Springs. Not only does this three-day jubilee feature music from big artists like Brandi Carlile, Merle Haggard, EmmyLou Harris and Josh Ritter, it also generates big bucks for the area. The Montana Department of Commerce estimates that nearly $3 million changes hands during the three days of the festival in what was once ranked the poorest county in the nation. What little profit the foundation makes from the festival goes directly to grant recipients—usually Montana women running agricultural businesses.
While the foundation honors rural communities and brings people together with music, it also focuses on teaching self-reliance and helping women gain skills in leadership, business, finances, chainsaw safety protocols, and developing profound connections that support building community in the vast Big Sky state, without devaluing the joys of living an independent lifestyle.
Nearly two hours after we first shook hands, the sun was high in the sky and we had talked about pants, people, parties, "femininity," small-town living, and women's leadership. The minute hand on the clock was pushing noon, Nellie was itching for some loving, and I had to hit the road, but the last thing I wanted to do at that moment was end our conversation. Sarah, much like Dr. Mary Walker and Amelia Bloomer, who donned pants with a purpose well before the world understood why, has vision, hope, drive, and an inspirational work ethic. She hunts, gathers her own firewood on solo missions, and has founded a business that has positively impacted her community both locally and regionally. As we wrap up the conversation, I ask her what her take-away message to other hopeful entrepreneurs with a mission would be.
"Good question," she says, pausing. "I think it would have to be, 'Be true and be brave.' We know, in our guts, what's true and what's right and whether it's starting a business or jumping into a relationship, there's a lot of risk in all of them. My gut has driven me this entire journey, and being still enough to listen to the lessons and directions, and having faith in my decisions has led me to that short and timeless coupling of words. So, yeah, be true and be brave." And with that, Sarah stands up, wipes her hands on her silver six shooters, and is off to do other things.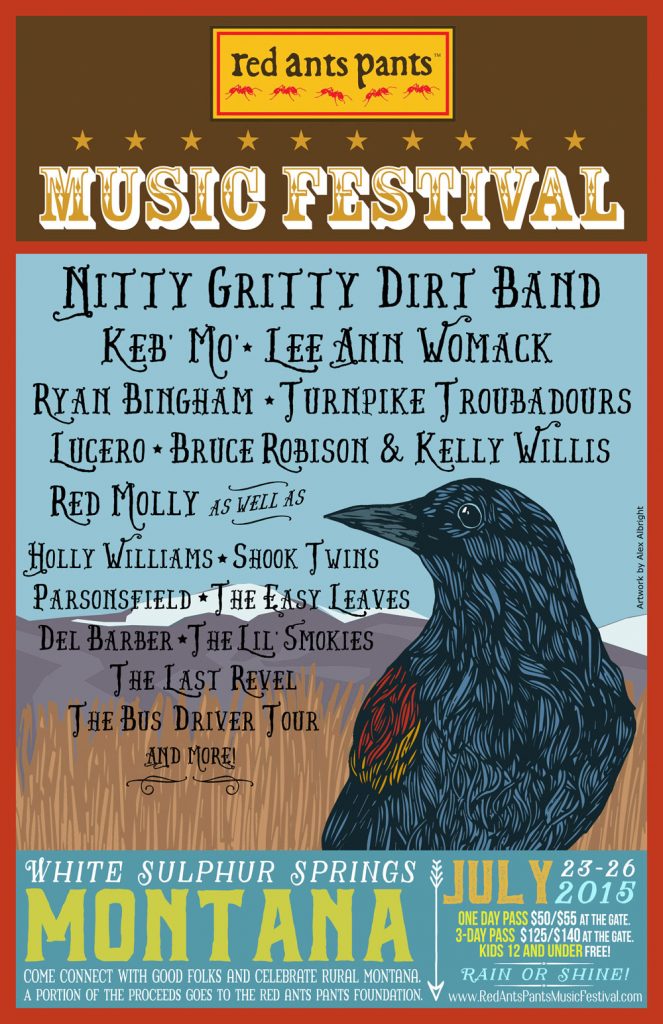 redantspantsmusicfestival.com
Dates: July 23-26
VIP Passes: (only 50 for sale!): $500 in advance, $550 at the gate
Festival Ticket Prices: $125 in advance, $140 at the gate
Day Pass Prices: $50 in advance, $55 at the gate
Camping Pass: $20, sold at the gate only
FREE for kids 12 and under with adult supervision. White Sulphur Springs, Montana.