As I sit here, rain pants around my ankles collecting puddles of steady raindrops, the beam from my headlamp vanishes into the darkness, leaving me to feel isolated, vulnerable. A field stretches out in front of me, framed by shadowy trees that line the bank of a winding section of northern Idaho's Middle Fork River. My raincoat had succumbed to the weather hours ago, limp and waterlogged on my shoulders. I shift slightly on the groover—a glorified bucket acting as an open-air outhouse set up a few hundred yards from the camp behind me—take a deep breath and try to concentrate. The early-season high water rages over rocks in a fury of white noise. It might be calming if I were in my tent, but in this moment, it seems like the kind of sound that would muffle a scream. Here I am, in the middle of the wilderness in the middle of the night in the middle of a rainstorm. Sitting on a toilet. I want to run back to my tent, but I have unfinished business. And it is incredibly hard to relax given the conditions.
The next morning, I wake to the smell of coffee. No alarm, just the noise of the river a dozen feet behind me. I sit up in my sleeping bag, surrounded by the orange glow of daylight illuminating my stand-up tent. Outside, the rain has calmed to a light mist and bright, cottony clouds hang low over the rocky cliffs on the other side of the river. The field is less scary and more welcoming as soft morning light bounces over low brush. Chatter fills the air from the nearby embankment, where a riverside kitchen has been erected for our stay. I am two days in and many miles down the Middle Fork. Midnight groover runs are as new to me as waking up sans alarm. I am a full-fledged river rookie out in the middle of Idaho on one of paddling's most heralded waterways.
Luckily, I am in good hands. I signed on for the first trip of the 2018 season with Far and Away Adventures, one of the original outfitters to secure a permit to lead trips on the Middle Fork. They have been guiding on the river for four decades. Started by husband and wife team, Steve and Annie Lentz, Far and Away blends the wild with luxury for an experience they have dubbed, "The Great American Safari." Spend the day braving pummeling rapids and get rewarded once you make camp with a three-course meal, cushy bedding, and local wine. It's a philosophy that I can 100% get behind. I love getting my feet wet and diving into the outdoors, but once I'm done, I'd really like a good drink and probably also need a snack. If that snack is charcoal-fired artichokes with a tangy homemade aioli, well, who am I to complain?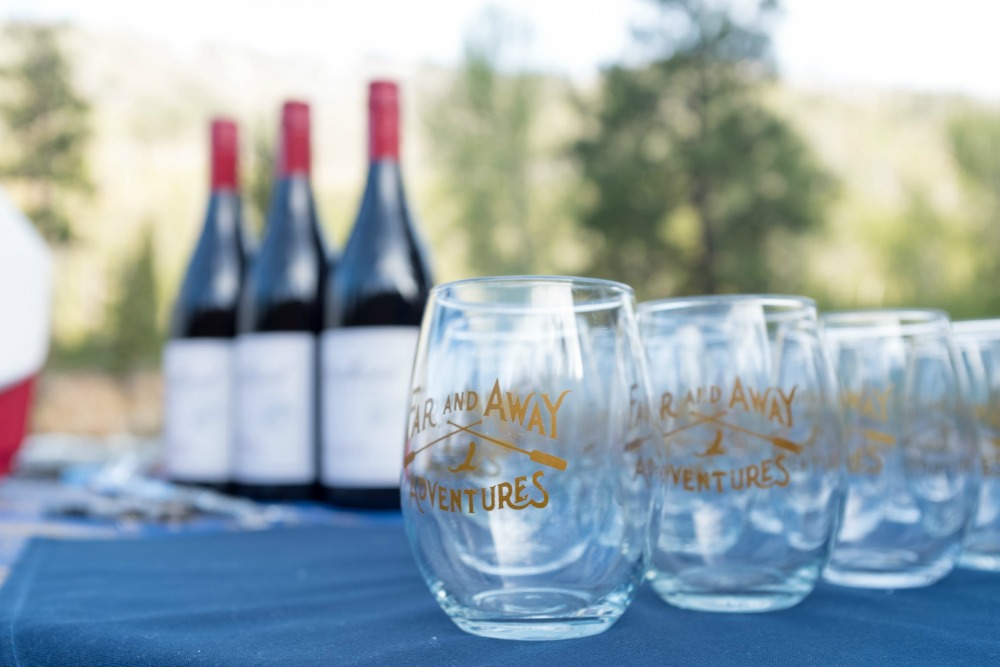 The Middle Fork winds for 104 miles through the Frank Church-River of No Return Wilderness, a name that is as appealing as it is accurate. It's as remote as remote can get in the Lower 48, rapid-after-rapid flanked by peaks that rise thousands of feet abruptly into the sky. The Frank Church is the largest swath of roadless wild in the continental U.S., boasting 2.2 million acres dotted by imposing mountains, covered in tall firs, pines, and ponderosas, and cut by deep chasms, including the aptly named Impassable Canyon, which lines the home stretch of the Middle Fork in stately seclusion. Once you put in your boat at Boundary Creek—1.5 hours northwest of Stanley, Idaho, in the Sawtooth National Forest—your only option for leaving is the take-out, where the Middle Fork meets the confluence of the Salmon. It's due both to this isolated wild, as well as practically unending rapids, that the Middle Fork is one of the world's most fabled rivers. It possesses a combination of technical rapids and big water so unique that when describing local conditions, guidebooks for rivers on other continents will reference this Idaho treasure in their descriptions, "Middle Fork at high water," and paddlers immediately understand. In 1968, it was one of the original eight rivers to be protected in the Wild and Scenic Rivers Act and since then, it has remained a stronghold of North America's remote and beautiful. And a bucket list destination for any paddler worth the zippers on their drysuit. It's a river that navigates a fine and unusual line as a destination for both the gnarliest paddlers looking for a challenge as well as families hoping for adventurous bonding on excursions with experienced guides. In the fall, it's a favorite of fly fishermen to cast about while floating through the flats. And then there is me, personal flotation device pulled tight, without expectations or experience. I am filled with both excitement and nervousness, though not necessarily in that order at any given time.
I signed on just 24 hours before my paddle actually hit the water. Spring was quickly turning to summer in Salt Lake City, where I have spent the past few winters, and the mountains were returning to shades of dusty brown and rust red. It was getting hot out, and the seasonal sensibilities that had brought me to the Wasatch Range in search of Utah's prolific snowfall and accessible backcountry snowboarding were out of place once the temps rose to triple digits. I was packing up my winter gear when the call came to go to Idaho. "Have you ever spent time on a river?" my editor asked. "I grew up on the ocean. We had a rowboat," I offered. "Perfect. They'll take care of you," she said. I took stock of what I had that could be useful for descending a river. Surfing wetsuit? Check. Various base layers for alpine temperatures? Check. The list ended there. To say that I was underprepared would have been generous. The next morning, I turned my Subaru Outback onto I-84 and headed north to Sun Valley.
When I arrive at Boundary Creek, it is the end of May and snowmelt is still engorging the river, pushing downstream boils, and undulating waves are deep green and gray. The Middle Fork is running extremely high at over six feet, and fast, at over 7,800 cubic feet per second. As I wander the banks, thermals covered in wetsuit covered in rain pants and rain jacket, barely able to move my arms and already sweating in the bright sun, the Far and Away staff are happily preparing for their first trip of the season. The guides hustle back and forth along the riverbank, tying drybags to boats and double-checking knots. There are about ten of them, women and men in their mid-to-late twenties, smiles huge on their faces as I, along with the rest of our motley bunch of boaters, squint into the sunshine trying to see what lies around the first bend in the river to our left. All I can tell is that it sounds loud.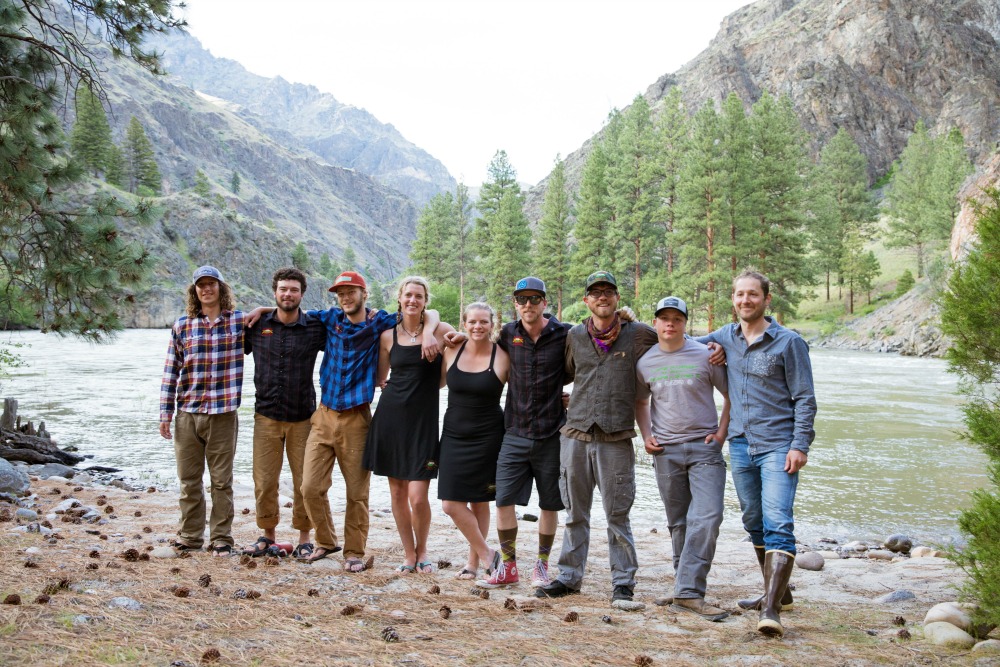 Far and Away boasts one of the most seasoned crews on the Middle Fork and the staff's bond, built on seasons spent running back-to-back river trips for months at a time, is apparent from the moment they welcome you into their rafts. For them, this particular trip was a reunion with each other and the Middle Fork. Finally, it is paddling season again, and the crew is falling into their summer routine. They arrived at Boundary Creek a few days before we did, breaking trail in the high-elevation snow and mud in order for us to arrive safely. There are four raft guides, two kayakers for extra safety on the high water, two sweep boat captains, and a swamper, the river-version of a gopher. Everyone wears dry suits—of which I was immediately envious—except for the guys on the two sweep boats, large, pontooned vessels unique to the Middle Fork that ferry supplies down river. Reed and Gaelin, the captains of the sweeps, stand high above the water clad in shirtsleeves, each holding two giant rudders running lengthwise down the boats, used to catch the current and flow down river with little threat of getting splashed. The sweeps are piled high with coolers, stacks of lawn chairs, and thick sleeping pads, tents, tables—everything that the staff would set up before the other guests and I arrive at each evening's camp—all organized neatly and tied down. The two young men pumped their fists into the sky and were the first to set off. Ross, a light-haired Sun Valley native and veteran guide, hands me a paddle. It is time to go.
I take to paddling quickly. I like the feeling of pulling through the water. The meditative quality of following the guide's commands for two strokes forward or one stroke back. Methodically plunging my paddle into the water during the first few miles of unending rapids offers a calmness in stark contrast to my normally smartphone-shackled life. I paddle. I look at the trees. I await the next command, acutely aware of the attention the river demands in every moment. It is like being a kid on a road trip where distance, time, and directions are decided by others and you get to just look out the window. With Ross's nimble instruction, we navigate rapid after rapid, narrowly missing a hole that flipped the boat next to ours before heading straight into the next set of waves. By the time we get to camp on the first night, I am exhausted, sucked dry of adrenaline, and smiling nearly as much as the Far and Away staff. Daniella Stokes, an experienced guide with an effervescent smile and quick wit, hands me a glass of wine. "How was today?" she asks. "Great," I reply. "I have no idea what I'm doing, but listening to you guys seems to help." She laughs. "Dinner will be ready in about half an hour." I couldn't imagine cooking after the long and physical day we'd had. She headed off to the prep station to continue working.
While the Middle Fork sets the stage, the crew sets the tone and it's because of their dedication to their craft that novice paddlers like me can enjoy the River of No Return. The skill, knowledge, and amount of work that goes into one excursion is staggering; the staff never stops. Each morning, they are the first up, prepping breakfast and going tent-to-tent with fresh coffee and hot towels. Every evening, they are the last awake, playing guitar and laughing around the campfire. And in between, they captain boats, educate guests about the river's history and environmental importance, set up camp, tear down camp, build impromptu wilderness kitchens, prepare multi-course meals, and generally make sure everyone is safe, happy, pampered, and having a good time. And even though it's clearly exhausting, intense work, the crew radiates happiness, because for them, sharing the river with others is paramount. They're a fine-tuned family, because for 12-15 trips a season they spend nearly every waking minute together with no cell phones, no internet, just the constant rush of the water through impassable hillsides. And they love it.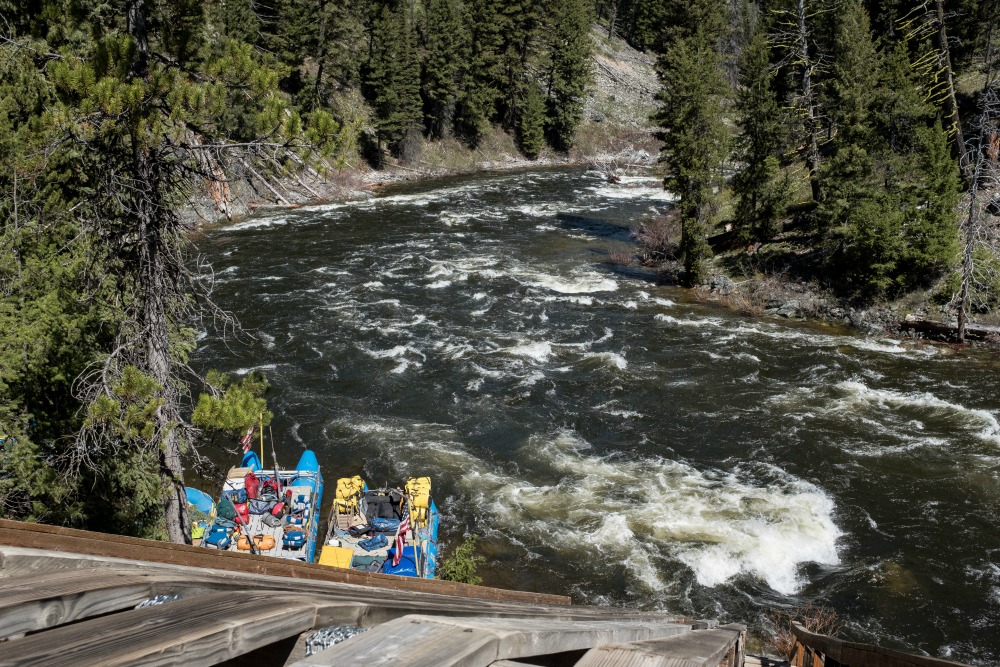 "I'm always looking around in wonder of this place. You never get over it," says Reed Stokes, older brother to Daniella and longtime sweep captain. "Even if you're going through a big rapid and there's a lot of noise, there's still a kind of serenity to it, just being a part of the river. And it's really cool to be able to see this place through the guests' eyes. It always offers new perspective."
The vast terrain surrounding the Middle Fork is a stark contrast to everyday life: it's at once centering, unnerving, and awe-inspiring. To be honest, there's no better way to contemplate your sense of smallness within the woods than sipping bourbon out of a metal camp mug before you've even removed your puddle-filled river shoes.
No aspect of the experience better showcases the duality of Far and Away's adventure philosophy than the meticulous attention to the culinary portion of each outing. The menu of "haute fire cuisine" is planned out by Chef Tia Lloyd, daughter of Far and Away's founders, and is nothing short of stunning: caprese skewers, grilled shrimp, black bean tacos, delicate salads with tangy dressings, and always a Dutch oven dessert. Wine pairings are included, BYO whiskey is encouraged, and every night there's a campfire that is the perfect crackling accompaniment for nightcaps. "I believe that the food makes half the trip. Well, maybe not half, but it makes up a lot of the experience," says Tia. "I really want to give our clients the 'wow factor' at every meal." This means a dedication to redefining what is possible when it comes to campfire cooking. Tia spends four days prepping the menu for each trip: shopping, making all the sauces, and proportioning and packing everything safely into coolers with thermometers. "I try to make it as easy as possible for the guides because they work so hard out there. We have what we call a 'food bible' with directions for every meal, but the guides have done it so much that they don't need it anymore. Often, they will put a twist on things themselves because they really love cooking, too." The welcoming scents wafting from the griddle every morning? "We go through 18 dozen eggs and 25 pounds of bacon every trip," says Tia. Delicate comfort food cargo moving downstream from May to September.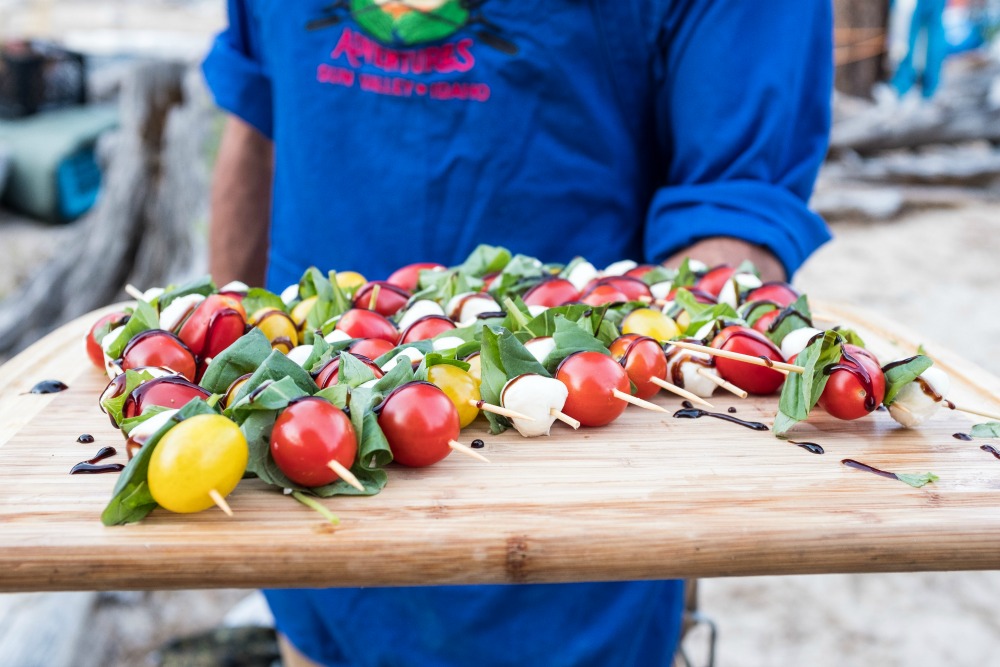 On the third day, we have just over 30 miles of river left to travel. The air is cold and my wetsuit is still damp from the day before as I stand next to the campfire and yank it over my underlayers, hoping the tendrils of smoke would dry it before I could get it all the way on. I hop in a boat with Daniella. Soon the sun disappears behind some springtime charcoal-gray storm clouds. It starts to lightly rain. The precipitation doesn't matter much; boat-bashing waves have already soaked our crew. We push on a few more miles and rolls of thunder echo in the distance. Daniella is focused in the raft's stern. Ahead of us, the river twists back and forth endlessly out of view. And then it starts pouring. We have hours of river ahead of us and rain gear that had called it quits miles back. Daniella calls out for us to paddle as the deluge increases. The joking and laughing that filled our boat earlier has stopped as everyone grits their teeth and tightens their grips on their paddles. I squint ahead, counting strokes and trying to wiggle my toes to keep them from going numb. Ten minutes go by. Thirty. Soon it has been an hour. The rain hasn't let up. I can't feel my fingers. This isn't a character-building day on the river anymore. This just sucks. And then the rapids return.
Daniella has been guiding on the Middle Fork for four years and her expertise shows in her calm approach to the rapids that she calls out by name. This one is a class III. We shove our feet into the creases of the boat to hold ourselves in and lean over the side, digging our paddles into the river. The cold water slaps us across our faces, we dig harder, and make it out. And then, we get caught in an eddy and the boat lurches forward, the front right side where I sit stuck and the stern still moving, vertically teetering over the bow trying to flip over. Daniella and fellow boater, Jean, are ejected as the rest of us strain ourselves to stay upright, our faces inches from the water as the raft stands nearly straight in the air. In slow motion, the raft freezes, the eddy spits us out, and we slap back down against the water. Daniella and Jean swim to the side of the raft and we pull them back in. The water around us is calm. And we laugh. Drenched and delirious, we dip our oars back into the river. By the time we make a pit stop for lunch, the other boats are waiting. Guide Sanne Hilbrich is setting up a barbeque, smiling and laughing with her crew. The sun begins to peek through the clouds, bathing the riverbank in summer warmth. Jake leads us a few minutes up a trail along a Loon Creek tributary that ends at a natural hot spring. As I dip my feet into the warm water, the morning's freezing downpour seems distant and inconsequential. I am in the woods, in a riverside hot tub, pastel green water rushing past toward the main current. That this place even exists blows my mind. And while the guides around me have been here nearly weekly summer after summer, they seem to be enjoying it as if it were their first time, too.
When asked why the Middle Fork and surrounding Frank Church-River of No Return Wilderness is so captivating for the paddlers who call the region home, a smile crosses Ross's face. "The acreage, drainage of the watershed, square miles of wilderness, depth of the canyons, height of the peaks, the geology—when you look at all of that, you're staring at one of the grandest scales in America," he riffs. A native of Ketchum, Ross has an encyclopedic knowledge of the Middle Fork. In between paddle commands, he points out settler homesteads, shares stories of the Tukadika, Shoshone American Indians, whose history in the region goes back over 7,000 years, and points out the geological formations that change drastically throughout the length of the river. "This place embodies the Wild West," he says. "Historically, it was a refuge for people, and now it is a place where people can be empowered through the wilderness."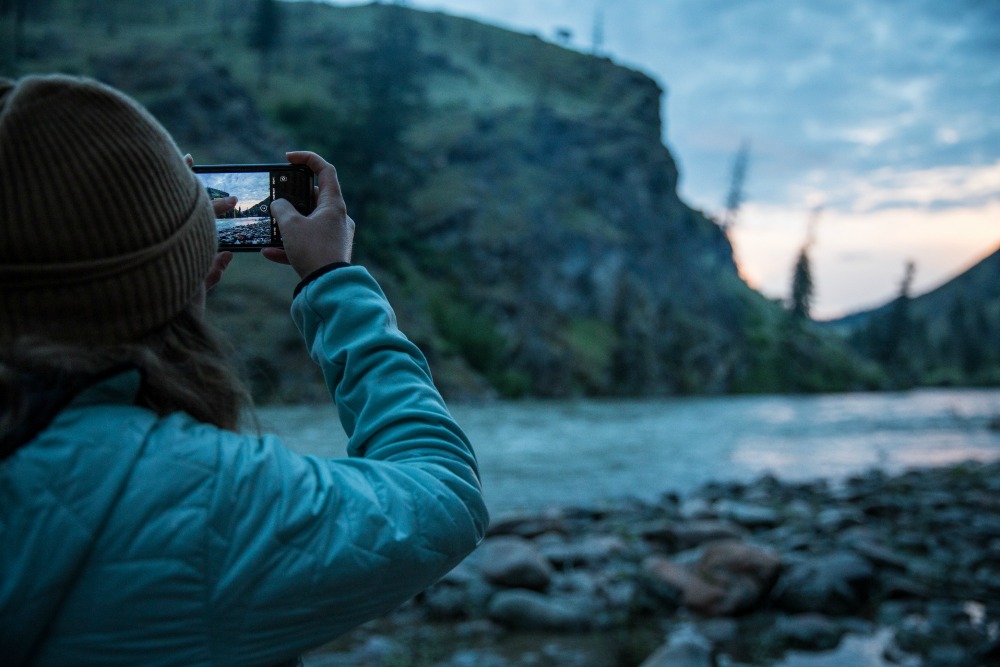 When we pull into Survey Creek, the final campsite before we make our way into the Impassable Canyon on the final stretch to the Main Salmon, our posse is pooped. The guides and the river have saved the best for last, though, and the beauty of the setting is invigorating. Our tents are pitched in a line next to a small beach that looks out onto the last stretch of river in front of us. As the sun sets, pink and orange fills the sky and reflects on the running water. Birds of prey float in air currents above and a family of deer watches us from a distance. The guides have changed into Far and Away shirts and sundresses for the final night of the trip. In the golden ambiance, they move around their beach kitchen, at home next to the rushing water.
"When going through a rapid, there's nothing else that you're thinking about other than where you want to be and how you want to get there," says Daniella. "You're just present in the life that you're living right then. It's the most present that some of the people we bring out here will ever be. It's really refreshing to be brought back to that state of living in the moment, working just to get things done to get through the day and to help share this place with people."
My wetsuit hasn't been dry since the first day. My shoes are waterlogged and I have blisters on my heels. But I feel fresh and renewed as I sit on the beach, cup of Pinot Noir in my hand, watching as the sun sets behind the hills. I have one more day of paddling ahead of me. One more day for my cell phone to remain off, packed in the bottom of a waterproof bag, collecting email and texts that I will eventually have to answer. One more day of feeling so far removed from the noise of the world. One more day living so completely in the moment. I may have started this journey a river trip novice, but I'm ending it as a river trip devotee.