Want to test ride all of the latest and greatest bikes and gear on the world-class trails of Moab or Whistler?  Mark Sevenoff, Founder of Outerbike and owner of Western Spirit Cycling Adventures, thought a few of you might say yes to the offer.
For the past seven years, Sevenoff has organized Outerbike, one of the world's premier bike expositions. During the four day festival, bike and gear companies, athletes, bike fanatics, and breweries (because no one really knows if you can separate good biking and good beer) gather to ride, learn, test and celebrate all things bike.
We sat down with Sevenoff to see how he got this whole movement started, and to pick his brain about the upcoming fall Outerbike in Moab, Utah. Here's what he has to say:
Sarah Betts: How did you get into biking? What was your first real memorable experience on a bike?
Mark Sevenoff: Well, like most kids I had a variety of hand me downs since I was very little. I got into mountain biking with some friends from Windsor, CT – where I grew up. They asked me to go on a ride down behind a private school on the banks of the Connecticut river to have bottle rocket wars when I was 14 yrs old, so I borrowed one of the kids bikes and, of course, had the greatest afternoon ever. My first real job of picking tobacco (Yes- they grow tobacco in Connecticut) paid for my 1985 Rockhopper. The rest, as they say, is history.
SB: When did you first start thinking about putting together the Outerbike festival and why?
MS: For years so many of our guests wanted to know HOW they could go to the bike industry trade show "Interbike" in Las Vegas. Unless you're in the industry, it's closed to consumers. So we said, why don't we start a consumer show right here in Moab where everyone is invited. We launched the first Outerbike in 2010, so this is our 7th Fall show. Now we offer spring and summer festivals too, so it has really grown since that first year.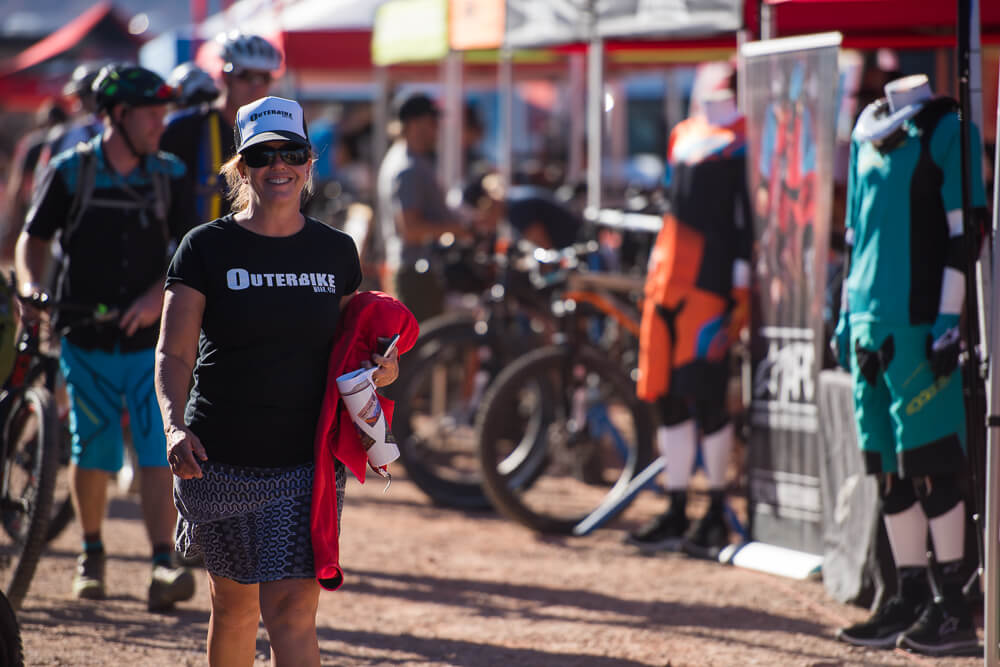 SB: How long did it take for you bring the Outerbike idea to fruition? What was involved?
MS: It didn't take much to convince the exhibitors to come. Everyone loves Moab, and October is one of the best times of the year to come here. Once the people found out all the best brands would be here for the weekend, it was a no brainer for them. It's part "Christmas for bike geeks" and part "end of the season" party. Being in Moab is just the icing on the cake. Perhaps the hardest thing is making sure the amount of attendees and the amount of demo bikes matches up. Too many bikes is OK, but not enough just doesn't work.
SB: The festival is growing and expanding quickly. Tell us a bit about its success in new locations and new seasons.
MS: Our original Fall show started small, but grew organically to nearly 1,000 people – a number we've capped to preserve the experience. We polled the exhibitors, and while they love the fall show, the spring is actually their selling season so we hence added the spring show. When we decided to add Whistler to the summer schedule it was party because of some great partners we have up there, but a big part of it was due to the fact it's just such a damn fun place to ride!
SB: What can an attendant expect to do and see in a typical day at Outerbike?
MS: Ride bikes, ride bikes, ride bikes. Eat great food, ride bikes, drink beer with old and new friends during the golden hour, head into town for food, drinks, parties, and repeat – for 3 days straight!
SB: What do you most look forward to doing or seeing at each festival?
MS: I'm one of the biggest bike geeks out there, so I still love seeing and riding the newest, latest, and greatest, but nowadays I look forward to seeing a lot of my industry friends I've known for over twenty years. The other thing I love is when folks are leaving on the last day and talking about how it was their best weekend of the whole year. It makes all the hard work worth it.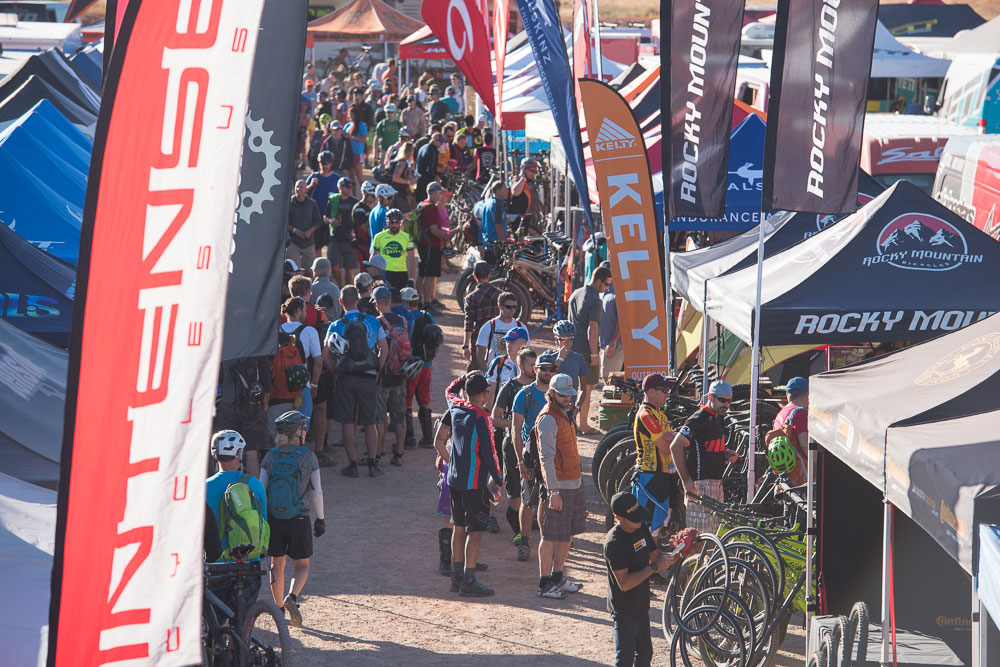 SB: Outerbike is happening this fall (September 30th – October 2nd) in Moab, UT. What are you most excited for this time around?
MS: We (Western Spirit) offer some guided rides the day before the expo opens (Thursday the 29th of September) and I'm looking forward to riding the Whole Enchilada with as many friends as I can corral up there.
SB: Are there any bike technologies and/or designs that you think are innovative and exciting this year?
MS: They'll be a bunch of new stuff at this year's show. Some that have been seen on the internet or in magazines, but 98% of the folks have never seen it in person, let alone had the chance to ride it. We'll see boost spacing, 27.5"+ bikes, E-bikes, and several amazing new 29er Enduro models just to name a few. Plus, SRAM's new 12 speed Eagle drivetrain and new carbon wheel sets. Like I said, it's like Christmas for bike geeks.
SB: What bike do you ride and why?
MS: I've owned lots of brands of bikes from bigger and smaller companies over the years including custom models made just to my specs, but for the last 15 years I've been on Specialized bikes. There's so many great ones out there today you really can't go wrong. But it sure is fun to try them all – just to make sure you've got the right one!
SB: What's the craziest bike ride you've ever been on?
MS: Probably that very 1st one when the sole purpose was to go have a bottle rocket war with teenage friends. That DID lead to some other crazy ones involving bb-guns…
SB: What is your all time favorite trail to ride?
MS: The original Slickrock bike trail- right here in Moab, UT. Basically my backyard.
Learn more about the festival and sign up to attend Outerbike this fall at www.Outerbike.com