New film celebrates Zion National Park's Centennial
Cold murky water snakes through the slot canyon. With backpacks, helmets, and ropes, a small group follow the flow—twisting their bodies in deference to sandstone and time. This is Zion National Park at its best.  
The labyrinthine route is Fat Man's Misery, a backcountry classic where navigation is everything. Its serpentine trails are easy to misread on a map, and some have spent days lost in its dark hollow. But this group of friends isn't just here for adventure. Buried deep in their drybags—next to smushed crackers and PB&J's—$80,000 worth of film gear will help tell the stories of this ancient environment for the next generation.  
From Butch Cassidy to Westworld, Hollywood's had its hands in southern Utah for decades. Yet the skeleton crew in the canyon today hails not from the Hollywood Hills, but the Wasatch Front. Part of a production company based out of Salt Lake City named Local.Studio.  
Nine months prior, Local.Studio heard of an opportunity down in the desert: the non-profit arm of Zion National Park wanted to make a film. The idea was still crystallizing, but in this film, the protagonist was not a rugged man like John Wayne. It was the rugged landscape itself. 
The film has become a case study in how public-private partnerships can promote conservation for the next generation. Local.Studio, the National Park Service, and the park's official non-profit partner, the Zion Natl Park Forever Project, have been producing a new film to inspire park-goers. Premiering this year on November 19th—the 100th anniversary of the legislation that created Zion National Park—the film centers on the stories of distinct characters who know Zion deeply: an artist, a climber, park rangers, and more. 
"Connections to public lands are almost like a relationship," says Philip Arrington, a concession management specialist at Zion National Park (and a character in the film). "It's like a love. Once you connect with something, you're more apt to feel empathy. You want to contribute. You want to do what your gut tells you is the right thing to do." For visitors who haven't spent much time in Zion, the film seeks to foster that connection—and in doing so, turn consumers into contributors. 
This is a powerful message to come directly from the park, as opposed to outside activism. And it's coming at an auspicious time: Zion National Park has become a poster child for public lands being loved to death. From the mid-1990's to about 2012, visitation numbers grew at a more-or-less steady pace. But the trickling increases of years past, which hovered at around 50,000 people or so, suddenly became flash floods. There were 3.6 million visitors in 2015—400,000 more than in the previous year. In 2016, that number jumped to 4.3 million.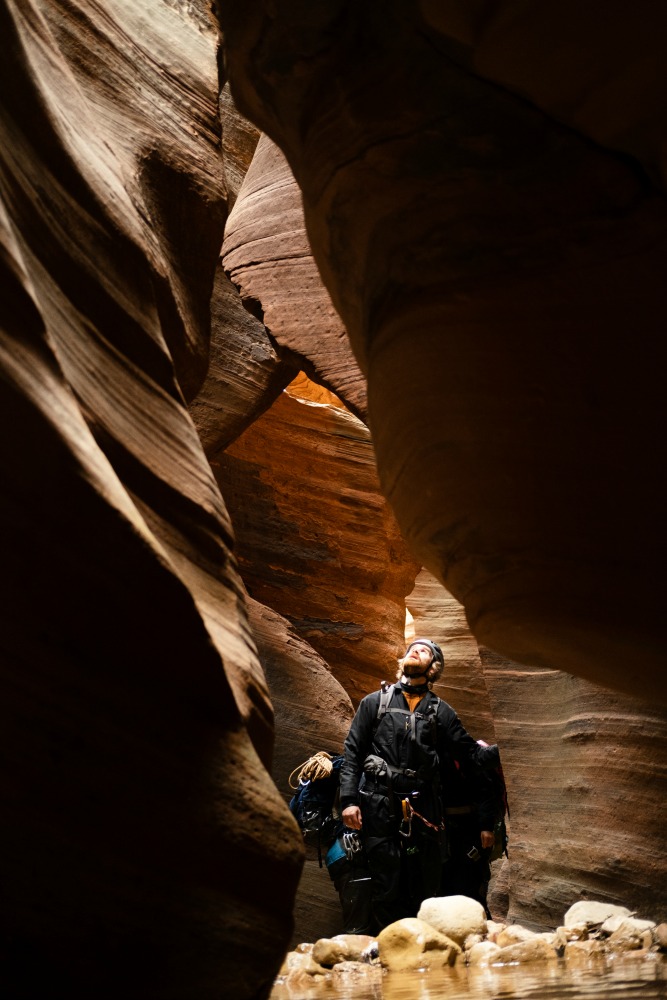 It's easy to look at these numbers and think of a culprit: social media. (Instagram launched in 2010). But for Arrington, the issue is more complex. "It's not so much about how social media may or may not be driving visitation to Zion, it's how it directs that visitation." The visual nature of social media concentrates visitors in just a handful of hikes and viewpoints. It's a challenge of flow, not just volume. "It's like an infinite feedback loop," says Arrington. "For us, as a land management agency, that poses challenges." 
As Zion looks to its next hundred years, it needs a new generation of park champions and conservation stewards. This takes investment, and federal appropriations are woefully lacking. To fill in the gaps, national parks often work with official non-profit partners. For Zion, it's the Zion Natl Park Forever Project. "We help create a margin of excellence," explains Lyman Hafen, its executive director. A non-profit is able to not just fundraise, but connect with the public and businesses in ways that a federal agency cannot do. 
Hafen and his team saw the needs of visitors shifting. Beyond concerns of volume and flow, a new style of park visitation is emerging. In a not-so-distant era, a family visiting Zion would simply pull the station wagon into one of many open spots, march right into the visitor center, and plop down in front of the orientation film. Not anymore. With social media, blogs, podcasts, and influencers, orientation often takes place prior to arrival. "Especially here in Zion, people generally jump right in and go up the canyon," says Hafen. "In many cases, they don't watch the visitor center film until they get back from the day."  
The current film in Zion's visitor center is around twenty years old. For the last few years, ZNPF squirreled away money for a new one, and outlined an initial script. With tangible funds and ideas in hand, they approached the NPS with the project—who agreed that the time was right. 
Park films are traditionally produced by the NPS. This time around, they offered the nonprofit creative license. "We were given an opportunity to do something new," said Hafen. "Not just to fundraise for this project, but to help produce it. I really appreciate and respect our park service partners for having that vision." 
But first: They needed filmmakers. 
In 2017, Sean Slobodan and Shandi Kano made a short film about Salt Lake City's eclectic music scene centered on local blues musician "Bad" Brad Wheeler. Hafen saw the project and loved it. In just a few minutes runtime, Slobodan's team wove together character and place in a way that was as narratively compelling as it was visually stunning. It was exactly the kind of storytelling Hafen envisioned for Zion's new park film.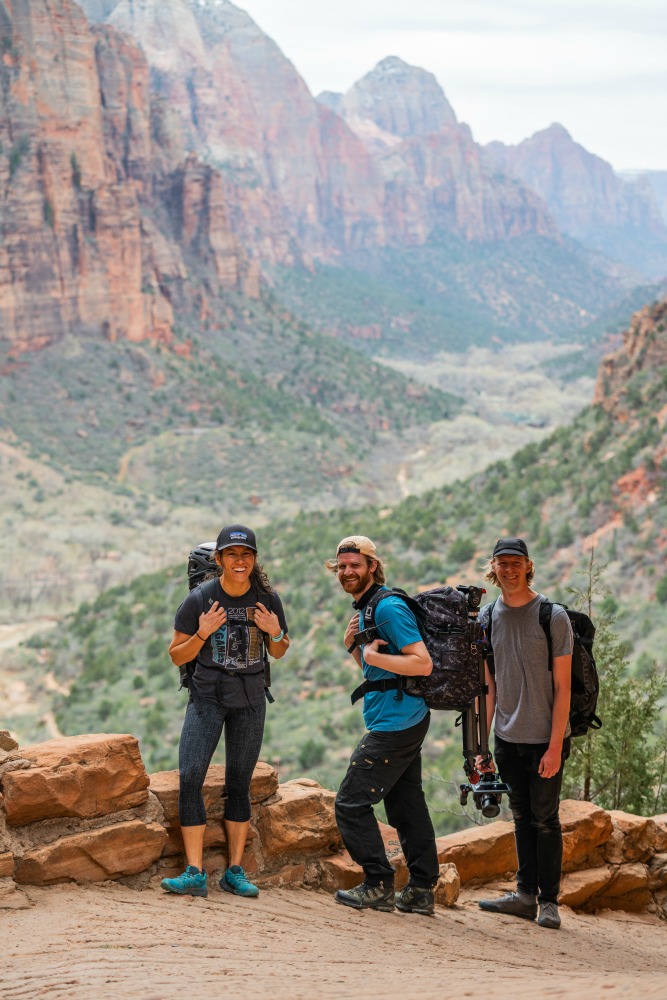 It was love at first conference call. Since production started last November, Local.Studio has virtually lived in Zion National Park. Filming extensively in every season, they've rappelled down slot canyons, waded through frigid spring runoff, and shimmied into climbing harnesses to film the first ascent of Moonshadow.  
In all this, their narrative compass has been steady. The film gives Zion a platform to speak for itself. Throughout the filmmaking process, a single idea unites its disparate stakeholders: What story would the land be telling?  
"The film is very pure in its approach," explains Slobodan. "We want people to understand that these places belong to all of us, that they have true ownership. That that's not just a saying, it's reality." 
Collectively, each character's perspective is meant to bridge that understanding—turning consumers into contributors. 
"People often check out when they go on vacation," says Shandi. "We want the visitors who see this film to check in. To be conscious and aware. With a little bit of education, or by hearing these characters' perspectives, it's so much easier to be that way." 
As an NPS employee and character in the film, Arrington hopes viewers will see themselves as part of a true public community. "Public lands are more than just pretty pictures," he says. "Take care of the park like it's one of your most prized possessions— it is one of your most prized possessions."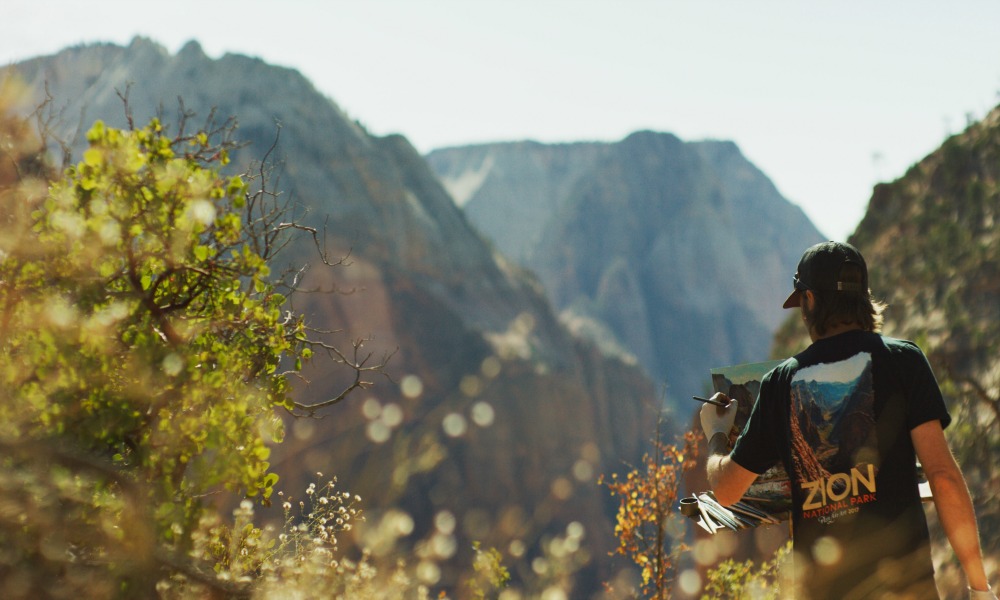 Not too long ago, that same small team from Fat Man's Misery stand on a canyon overlook. Filming a painter in the distance, working at his easel in the tall summer grass. As dusk falls over his silhouette, both the canvas and the canyon glow warmly in varying shades of gold and copper.  
"It was a transcendent moment," says Slobodan. "We wanted to capture emotion and a feeling, and we got it. At times like that, you can just exhale. And be grateful. Because those are the moments we need to capture for not just for the film or its viewers, but for Zion."