Cowboys, Horses, and Yellowstone Cutthroat at Bull Moose Camp
Cameron Mayo is in his early thirties; lean and rangy with a bow-legged gait that speaks to many hours in the saddle. Sweat trickles down his face as he patiently rigs the panniers on an ornery-looking buckskin pack mule, kicking up dust and coating his weathered cowboy hat, the canvas manty, and just about everything else with a fine layer of dirt. It's nearing noon and the sun is high and the air is heavy with the signature scent of horses, earth, and sweat.  
It's the scent of late summer in Montana. 
For Cameron, this is a normal day at work. When he's not leading groups of anglers and hunters into the backcountry of southern Montana, he's working the family ranch near Big Timber, Montana. Big Timber isn't much; the county seat of Sweet Grass County boasts less than 2,000 residents, most of whom are in the ranching or agricultural industries. It's a quintessential Western town; the main drag is a combination of bars, cafes, feed stores, and gas stations, designed to offer everything needed for life on a working ranch—and not much more.  
During the summer months into early fall, Cameron and his wife Lonny spend most of their days in the high country of the Absaroka-Beartooth Wilderness, one of the wildest swaths of land remaining in Montana. Just to the south of the wilderness lies Yellowstone National Park in all its summer-tourism glory, but in in the backcountry where Cameron and Lonny make their second home, it's easy to forget about the "bison–jams" and tourist buses crowding the roads in the park. 
Just north of the remote reaches of America's first national park, the vast Absaroka-Beartooth Wilderness is a land where lush green plateaus give way to craggy granite spires; where bears still roam freely and native Yellowstone cutthroat thrive in the rivers. It's paradise, an untouched land save for the small outpost of Bull Moose Camp, where Lonny and Cameron base their summertime operations. 
True locals of any sort are becoming a rare thing in Montana and the reverence felt for native fish is a tangible thing. The clean, cold water flowing through this particular drainage in the Absaroka-Beartooth Wilderness is well-suited for the fish, providing a steady diet of aquatic insects and, in the summer months, a plethora of terrestrials that fall into the water from the grassy banks. They face extremely low fishing pressure—few anglers make it this far into the backcountry—so are keen to rise for any flies that look remotely interesting. 
Scenes like this, however, don't come easily. The day-long ride into Bull Moose Camp is not for the faint-hearted; riders must traverse miles of rough trails through Big Sky Country, climbing sharply uphill and crossing over the Great Divide before dropping into bowl-like valleys carved by glaciers thousands of years ago. These are old mountains; home to history and myth, and it's easy to get lost watching the horizon, lulled by the gentle one-two sway of a long-striding horse. Descend further and the scene takes on the qualities of a Zane Grey novel; broad, sweeping meadows nestle in the valleys, lined by trees burned 31 years ago in the great Yellowstone fires of 1988. The land has recovered remarkably, but the burned trees remain, sentinels serving as a reminder of the harshness of this landscape. 
A congregation of wall tents becomes visible in the midst of a stand of tall pines. This is Bull Moose camp, situated strategically at the confluence of the three forks of Hellroaring Creek—the same Hellroaring that meanders into Yellowstone National Park a mere eight miles south and eventually feeds into the mighty Yellowstone River. 
There are no moose in Bull Moose camp. There are, however, plenty of fish in the nearby creek. My first fishing sessions turns into an impromptu bath after the long ride in. After the rinse, the rhythm of the camp takes over, where life is surprisingly luxe. Large wall tents with roomy cots provide comfortable shelter against cold mountain nights and the well-stocked kitchen is complete with a bear-proof snack cabinet that houses a healthy emergency supply of chocolate. An outdoor shower provides a bit of privacy for those who prefer not to rinse off in the river, and the tented pit toilet has a lovely view of the meadow. 
Eat, hike, ride, fish, sleep, talk by the fire… things are simple here. Things are good. For a Montana rodeo kid, the scent of horses, sweat and camp coffee smells comfortably like home.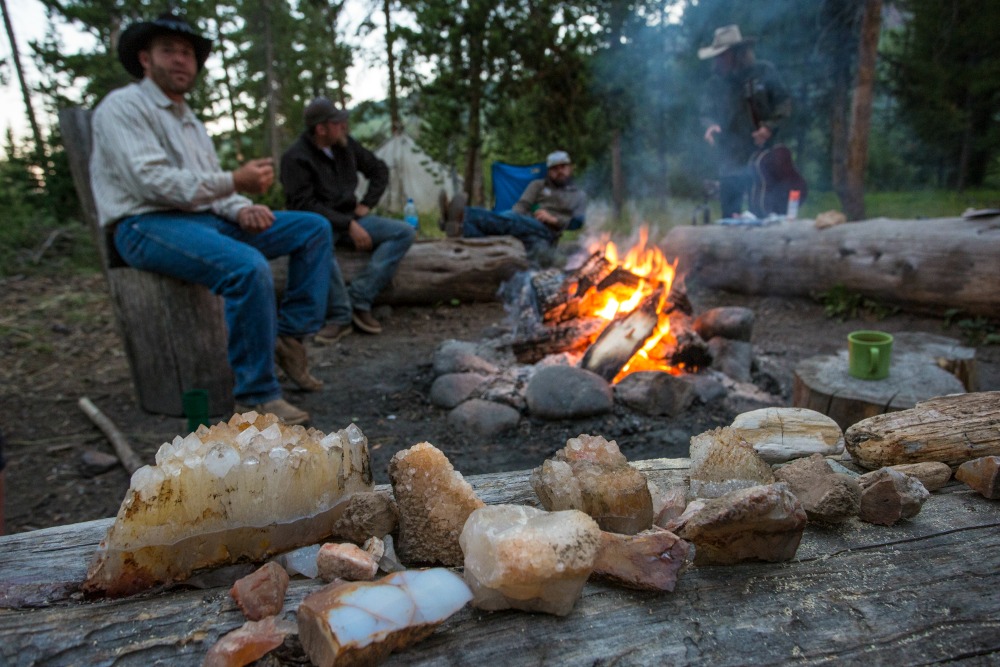 In the early mornings, the sun not yet peeking over the mountains and the air frosty, steadfast camp cook Pat rules over Bull Moose. When meals are ready, they are ready and there's to be no standing about. She's 70 but looks 15 years younger, with the gravelly voice of a lifelong smoker. The current temperature in camp hovers near 30F, but she's making cowboy coffee and prepping breakfast in a battered tank top, seemingly impervious to the cold. Meanwhile, I hunker in front of the fire, coffee in hand, watching the sun climb slowly over the horizon and begin to warm the tents.  
I ask if she gets lonely during those long days in the camp when everyone is out in the mountains, and she shoots me a sideways grin before taking another sip of coffee. 
"Nah, those are the best times," she shares conspiratorially. "I like having camp to myself, 'long as the bears stay away." 
Most anglers are used to accessing waterways via the traditional modes of transportation: some form of vehicle or occasionally on foot. As I load my reel and fly boxes into the saddlebags and tie my rod tube onto the saddle, I realize this is likely the first time I've relied on a horse to take me to the river. The big-boned bay gelding doesn't seem to really care much about what I'm putting on his back, ears flicking back patiently to listen when I mount, hooves trailing steadily along the rough terrain surrounding Hellroaring as we ride south.  
Eventually we stop next to a quiet, bubbling stretch of Hellroaring Creek and I drop from the bay, tying him off before assembling my rod. The trickling sound of the nearby creek draws my attention as I rig a Royal Wulff. It's a classic dry fly; a "prospecting" pattern that typically produces well and  is always one of the first dry flies I use in a new fishery. As usual, it doesn't disappoint, though way out here, I get the feeling the ambitious cutthroat will eat just about anything I throw at them. 
The fish, native Yellowstone cutthroat trout, look like something out of a coloring book; prominent crimson slashes mark their lower jaws, lean light brown, silver, and even yellow-tinted bodies are dotted with an artist's splatter of dark spots, the concentration heavier toward the fish's posterior. There's no mistaking these fish with their western kin, rainbow or brown trout.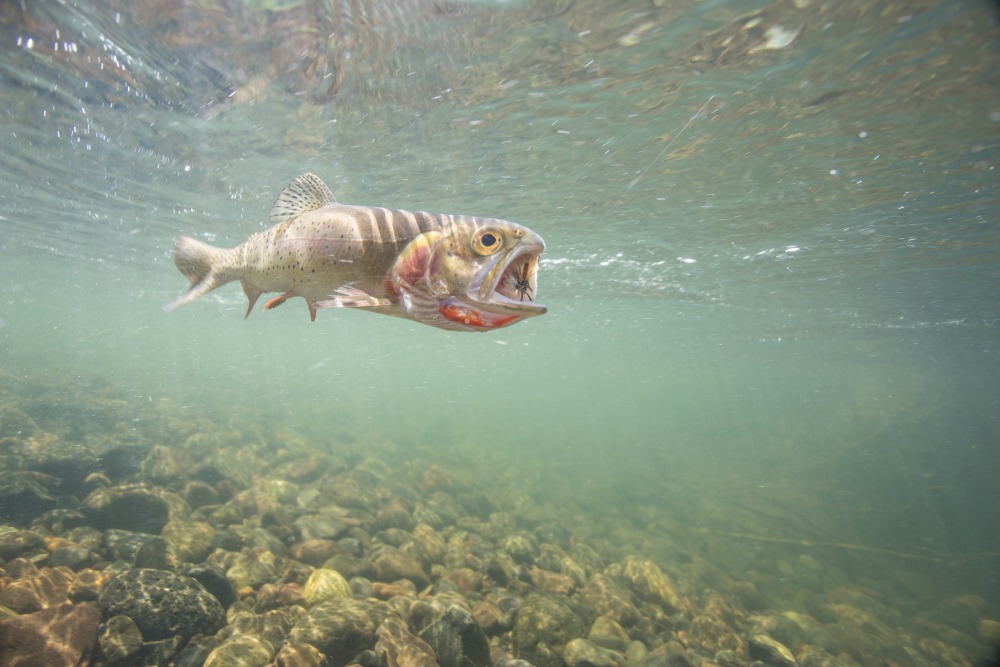 The combination of small water and eager fish makes Hellroaring a stellar fishery for new anglers. It's not technical; at one point I go eight fish for all eight casts before deciding to give the little eddy a rest and move on to other water.  
It's dry fly fishing at its finest. Light rods (I brought a 3-weight fiberglass rod and my old trusty five-weight), floating lines, and attractor dry flies are the program. Foamy terrestrials, Royal Wulffs and Stimulators are the obvious options, and work so well there's no reason to change. A hundred yards down stream I cast again, watching the fly drift lazily before being sipped by a nice sized fish. I set the hook and he's on, jumping just high enough to catch the hazy morning light peeking through the tall grass. 
Mountain lakes also dot the high-altitude countryside, offering a cold respite from the afternoon heat or a fresh fishing venue. Stripping a streamer through these lakes presented several opportunities at larger trout and, when coupled with a refreshing swim, makes for a delightful afternoon diversion. 
Whatever water is on the day's menu, Cameron joins the adventure. In his ever-present, weather-worn cowboy hat and ancient Simms fishing vest, Cameron is a jovial, endearing friend in the mountains. He's keen to share his favorite fishing spots and point out productive undercut banks, and isn't shy about picking up a rod and joining in the fun.  
The real magic of camp, however, lies around the fire pit. This is the soul of Bull Moose; where we gather after a long day of adventuring and fishing to trade stories and tell our tales. Smoky whiskey and burned s'mores are traded liberally as the hot late afternoon light fades into cooling dusk, then twilight and finally, the dark, chilly velvet of a Montana summer night.  
Comfortably ensconced on a dusty bed of dried pine needles, an oozing s'more in my hand, I look around at my companions. Most could have readily stepped from the screen of a John Wayne movie. Cameron and Lonny sit comfortably in their camp chairs, Cameron in the midst of telling some grand ranching tale, hand gestures and all. Lonny looks remarkably at home, and it's no wonder, really. Her family has been running sheep in these mountains for generations, she has the stories to prove it. For her, this is as much home as anywhere.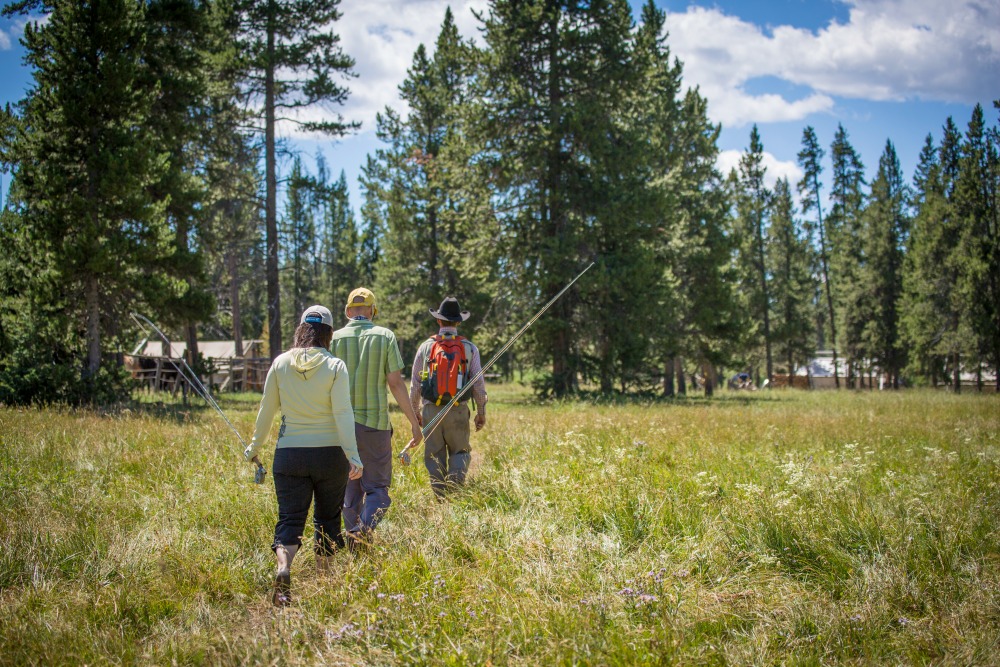 The wranglers are a wild bunch all their own; good guys who I would want by my side on any adventure. Seasoned ranch hand Patrick also runs a small-town bar (the Grizzly Bar in Roscoe, Montana) with his wife. Tall Jacob is a third-generation Montanan who competes in rodeo events when he's not working the family ranch or in the backcountry. And young Jeremiah brings a quick wit and good tales from the annual Miles City Bucking Horse Sale. 
It's a motley crew, but the conversation is real, flowing freely around the flickering fire. We laugh when a mouse jumps from the log behind me into my lap before scurrying off into the blackness surrounding us. Just another creature that calls this place home, and will continue to do so long after we ride back to civilization. 
But for the moment, we grin and laugh in the darkness, eyes flashing and the bottle of whiskey catching the firelight as it's passed around. The rest of the world fades away and I sit in the dirt, leaning back against a log, breathing deeply and watching the stars wheel overhead, tucked safely in the wilderness and surrounded by newfound friends on an adventure. I laugh as Patrick tells a story about a particularly ornery equine they'd been trying to break for the mule train, and note that while Bull Moose Camp might not have any moose in it, there are plenty of cowboys, horses, mules, and a curious supply of good boxed wine.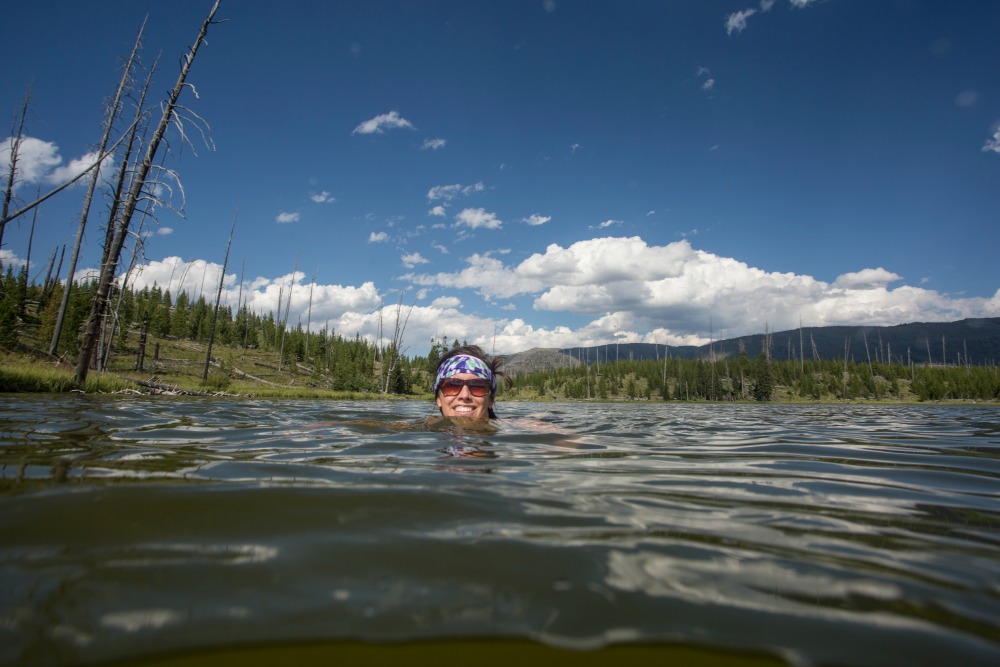 GEAR 
RODS: Consider bringing along a 3-weight fiberglass rod for fun with smaller creek fish, and a 5-weight in case it's windy or for longe casts. I like both the Orvis Superfine fiberglass and the Orvis Recon rods. 
REELS: For trout fishing, a reel is more often a line-holder than an actual fish-fighting tool; most trout won't require the muscle of a sturdy reel. That said, I like to be prepared in case I hook into a bigger fish. I pair the Orvis Battenkill click-and-pawl reel with my fiberglass 3-weight, and like the Orvis Hydros for my 5-weight. 
LINES: Packing floating lines for this trip; you don't need anything terribly weight-forward, as most of the casting is within the 30-foot range. Try either Scientific Anglers' Mastery Trout Line or Orvis lines (I like the Orvis Superfine on my 3-weight rig). 
FILES: Bring along a box (I always travel with Tacky Fly Boxes since they're streamlined, pack small, and cling to flies like velcro) stocked with a variety of dry flies. Stimulators, Royal Wulffs and colorful, foamy Chubby Chernobyls proved to be winners on Hellroaring in mid-July. 
FOOTWEAR: You'll need to bring along a sturdy pair of heeled hiking boots or cowboy boots for riding. On fishing days, I'd stick sandals in my saddlebag each morning so I could wet-wade freely once we got to the river. Explore options from both Chaco and Teva; both make good options for the water and camp shoes. 
SUNWEAR: High up in the mountains, the sun is strong and hot. Sun protection is key, and besides lathering up with sunscreen, I always bring along a few Buff multifunctional headwear pieces to cover up and protect against bugs, or even function as a washcloth in a pinch. My favorite is the CoolNet UV+ Buff, which feels cooler and softer on skin than the original Buff models, is made of 95% recycle microfiber and provides UPF 50+ coverage. 
READY TO PACK UP AND HEAD OUT?