Some of our favorite makers explain what it's like living and creating in the mountains.
The mountains have always attracted makers and innovators. For a long time, being a maker was somewhat of a necessity in the high country and mountain towns. If you wanted to live, and especially play, in the mountains, you had to be able to design it, make it, and fix it yourself, because no one else was going to do it for you. No matter wat "it" was. Chances are, those early mountain town denizens felt pretty strongly that if they didn't make it themselves, or at least  knew who made it personally, it wouldn't get done right…and a lot of them still think that way. Which is great. Believing that we can make something better than what was previously available is at the very foundation of mountain town culture. Whether it's women's specific outdoor gear, digital content, beer, whiskey, art, jewelry, vans, candles, or anything else, there's just something special about making it in the mountains.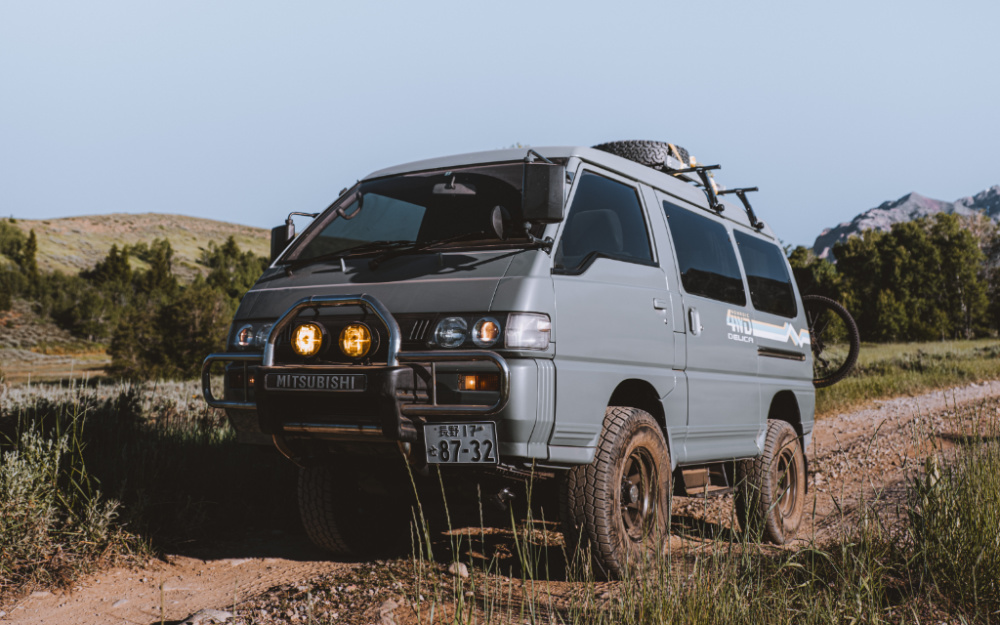 Nomadic Van
Gardner Cord and Ronald Arnold, Co-Founders & Best Friends, Ketchum, Idaho
First, tell us a little about yourself and how you ended up living and
working in a mountain town?
Gardner: My name is Gardner Cord and I was lucky enough to be born in the valley, with 4 generations preceding me in the Wood River Valley. After high school I went to UCSB and graduated with a degree in Environmental Science. I moved back to Sun Valley after traveling for half a year to see what opportunities I could dig up. I always had a drive to do my own thing and run my own business. Just before I was going to make the move to get my commercial pilots license, an opportunity arose to create what is now "Nomadic Van Sun Valley". Almost two years later and here we are as one of the top Delica import and tune shops in the States! 
Ronald: My name's Ronald Arnold, lots of people call me Rondo. I grew up near South Lake Tahoe in a town called Gardnerville, NV. After spending a few years in Portland, Oregon, I sold most of my stuff, saved every dime, quit my job and moved to New Zealand. After 341 days and 17 countries of traveling, I went back to Portland to save some cash. I had "one foot out of the door" as soon as I got back. About a week before I left Portland, I saw something on TV about Sun Valley, Idaho's mountain biking single track. That was the first time I heard of Sun Valley. So, I put it on my "best mountain towns" list. I went through 9 different spots throughout Washington, Idaho, Wyoming and Utah. All of them were good choices but it was clear that Ketchum was the place where I could reach my highest potential. That was almost 5 years ago and I couldn't be more grateful to call this place home.   
Now tell us about Nomadic vans? Where did it come from and where is it going?
Gardner: My first experience with Nomadic Van was watching Ron crack an egg into a Delica's engine in his backyard, but I am sure he will elaborate on how it got to that point. Needless to say I was quite intrigued as to what was going on with this trippy Japanese van in Ron's yard. We moved into our current location in November of 2019. Currently the sky seems to be the limit for Nomadic. Our main focus is special ordered vehicles, tunes and maintenance on vans that already have been imported into the states, and manufacturing and importing aftermarket parts for the vans. 
Rondo: In New Zealand, an awesome Scottish girl and I rented a two berth, bubble top campervan with all the amenities for 10 days. That was my first glimpse of van life. We had a basic travel plan but we changed our minds fifty times and that was ok because we had wheels! We saved so much money because we could cook anywhere, sleep anywhere, go anywhere; Spontaneity at its finest. On a deeper level, I knew everyone would love the kind of van life I experienced. After starting Nomadic with Gardner, it became a true reality. We've since developed products to make the van's engines and drivetrain more modern.  People are hooked and we're on track to help many people get on the road, Japanese Style.  
What are some of the best and worst parts about starting and building a business in a mountain town like Ketchum?
Gardner: Great question. Best is the immediate access to everything we love without going far. From mountain biking to skiing to backpacking, it is all within eyesight of the shop door. The worst may also lie in the location. Overhead costs are greatly inflated in Ketchum and the nearest seaport to import the vans is about 11 hours away. We try to use these "port days" as an excuse to get out of the valley for a day or two, at least before COVID-19 reality hit. 
Rondo:  The best part of starting a business here is that we're surrounded by the motivation of the outdoors. Every bit of development that goes into the vans has a direct correlation to our hobbies that take place in our backyard. Needless to say, we test our product constantly. The hardest parts are our overhead cost and the lack of access to skilled labor compared to if we lived in a port city. If you ask me, the location is worth the trouble.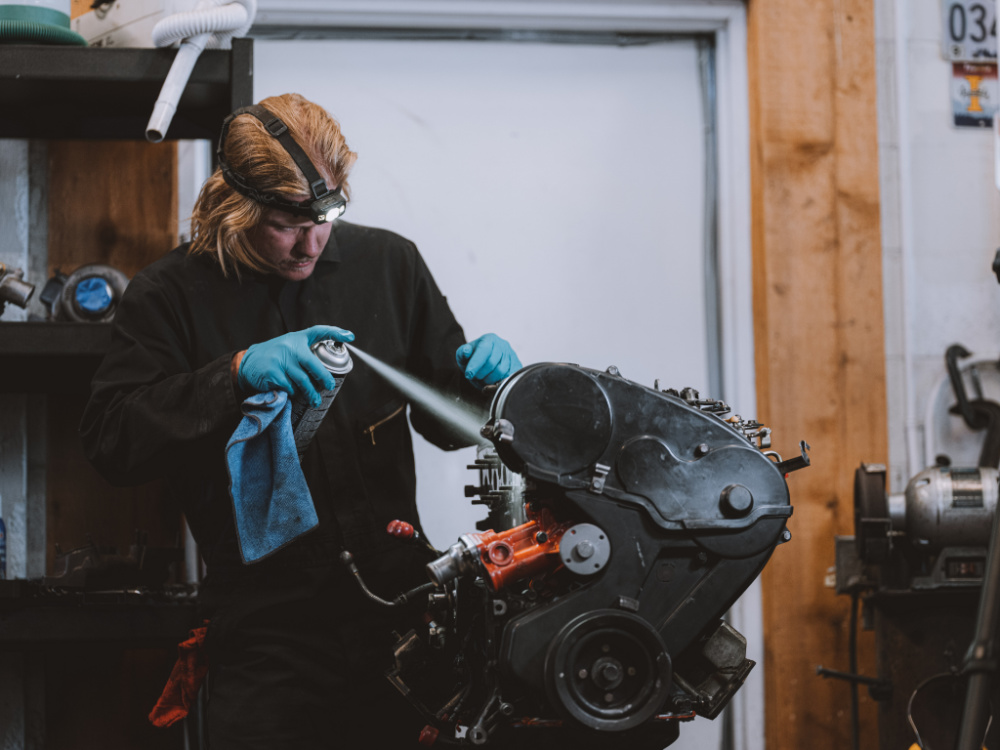 Is there a particular Van build-out that you're really proud of?
Gardner: We focus on the engine bay and aesthetics for the most part. The bulk
of the work is really unseen as it goes into the engine bay. However we are always doing aftermarket wheels, tires, tint, decals and it really sets us apart from the competition. That being said Ron did a great job on "Silver Fox."  
Rondo: The van I'm most proud of is one that went from being our "parts vans" to being one of our best looking, best running, and most powerful vans of 2020. It was originally named Manny, after its manual transmission. After I prepped and painted it "cement gray," added a decal and replaced the 1000 parts I had stolen from it, it became the Silver Fox, named by Mr. G's girlfriend. It is a true depiction of what I wanted to create.  
What is the building process like for Nomadic vans? How do you take it
from an idea to final production?
Gardner: It all starts with picking the right van in Japan. We know which vans are going to look and perform the best once our recipe is applied. Once we have the van we give the customer a few choices for accessories as well as a tiered system of "performance packages." Depending on how tricked out the customer wants to get, they can choose either stage 1, 2 or 3 for engine performance. After that it is all about wheels/tires, 2" lift, roof rack, tow hitch, ladder, gauges and of course decals. Typically with a Delica the bigger the better! We used to do pretty much anything the customer wanted to the van, but we realized this was not the most efficient way to run the business so had to streamline the decision making process for them. 
Rondo: Our process at Nomadic is complex, to say the least. Every van is aesthetically and mechanically different to a small degree. Given their similarities, they all need the same mechanical refurbishment since they're at least 25 years old. We spend thousands on parts and labor, in-house, to bring them all to the level that you can trust driving to South America, if you have the ambition. Interiors, for the most part, remain original. Curtains and the "Crystallite Roof" skylights as well as 5 rear passenger seats that fold into a bed platform, come standard. We let the customers add-on our performance tunes which include options from a 20% increase in power to over 40% from the stock format. Advanced cooling system and amphibious overlanding options are also available.  
Is there anyone in particular you'd like to thank? Any inspirations or
future plans you want to share?
Gardner: I definitely would like to thank my family for always supporting my ideas and ventures, no matter how crazy they may sound. Also would like to thank my girlfriend Eve for graciously accepting that my head will always be half in van land for the foreseeable future. Lastly I would like to thank Rondo for his originality, creative genius and dedication to Nomadic, it is after all his dream child. I'm glad we met at Grumpy's back in 2017! Maybe I should be thankful for schooner vision as well haha.
Rondo: I wouldn't be here if it wasn't for Gardner Cord and his family's support. I had an ambitious dream that needed help. I am truly grateful for the effort they've put into making this happen. Gardner is a man that wears many hats. Sometimes he's a mechanic, sometimes a pilot but mostly, he's the glue that holds the office together. Best business partner a friend could ask for! I have to thank all of my friends in this town for setting the pace. I look up to so many of them for their dedication to their trade, their creativity, their recreation, and their want for something greater. Also, I have to thank my Mom for encouraging me to follow my heart, my brothers for holding me accountable, and my dad for teaching me automotive mechanics and to have the discipline to work methodically so that the work doesn't have to be redone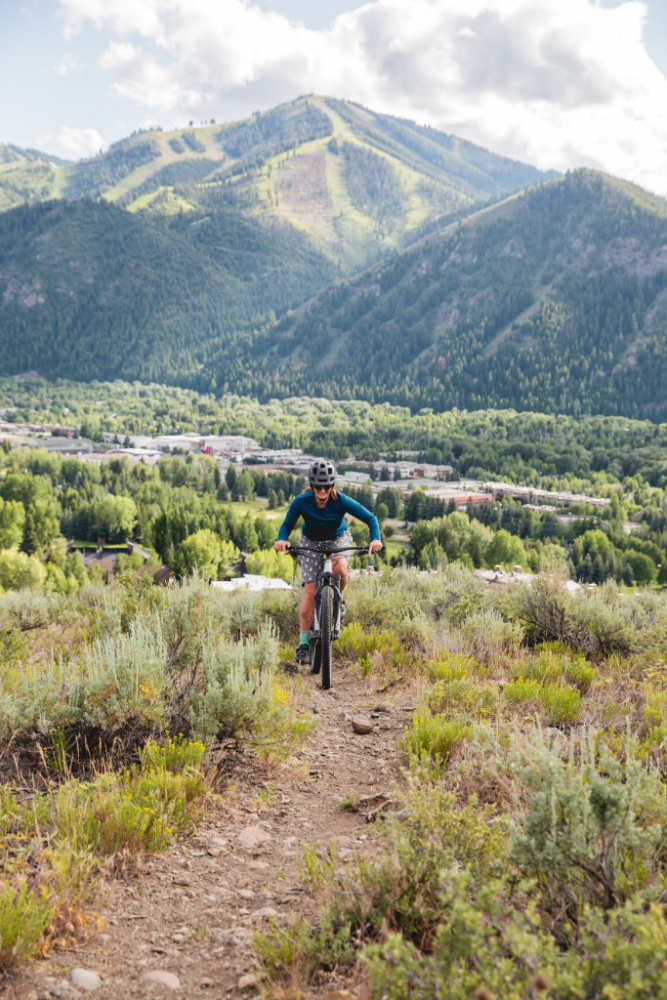 Wild Rye
Cassie Abel, Co-Founder & CEO, Sun Valley, Idaho
First, tell us a little about yourself and how you ended up living and working in a mountain town? 
I'm Cassie Abel, co-founder & CEO of Wild Rye. I landed in Sun Valley, Idaho for the first time as an awkward eight-year-old. Fast forward almost 20 years and I finally made my way back to Idaho full-time after stints in Denver, San Francisco and Teton Valley, this time with a career. I held the position of Communications Manager at Smith Optics here in the valley up until the brand relocated its headquarters to Portland…I stayed in Idaho and now I'm here for life, raising a family and growing a business – Wild Rye.  
 Tell us about Wild Rye? Where did it come from and where is it going? 
Wild Rye was born following my bittersweet departure from Smith and my very sweet decision to stay in Sun Valley, Idaho and forge my own path. My founding partner and I had both spent years in the outdoor, cycling, and snow sports industries, attending every major industry event out there. In addition to often finding ourselves as the only woman in the room on countless occasions, we saw progressive brands merging performance features and contemporary style for men, but nothing for women. In 2015 we put our heads together to change that. We launched Wild Rye in August 2016 to bring women both beautiful and technical mountain apparel that fits, inspires confidence and welcomes more women outside. In addition to creating a better product for women, Wild Rye is committed to shifting the narrative, celebrating the fresh air, time with friends, the thrills, the spills in addition to the podiums and summits. As a brand and as human beings, we're passionately dedicated to elevating women in the outdoors and in business (through our Women-Led Wednesday initiative) and protecting the places we play through a sustainable supply chain.   
 What are some of the best and worst parts about starting and building a business in a mountain town like Ketchum?  
The best part about building a business here in Sun Valley is that we have the world's most supportive community and we get to genuinely practice what we preach. We're out there daily, in our backyards, on bikes and skis or sleeping under the stars. We're constantly product testing and collecting product inspiration in our everyday lives. 
There are many challenges that come with growing a business in a small town: everything from shipping to getting tech support, but the most challenging part of growing a business as of late has been housing for our growing team. The mountain town housing crisis for the everyday young professional is a real problem.  
 What are some of the biggest challenges you've had to face building Wild Rye? 
Wild Rye is a 100% boot-strapped brand so I've had to learn (and run) every aspect of the business at various times with very limited resources and (wo)man power. As we grow, we come across new challenges daily, so we never quite know what each day is going to throw at us. A couple years ago it was factory mistakes, today it's dealing with FedEx and other shipping delays due to COVID-19, tomorrow it'll likely have something to do with our line of credit or staffing! There's always something, but that's running a business!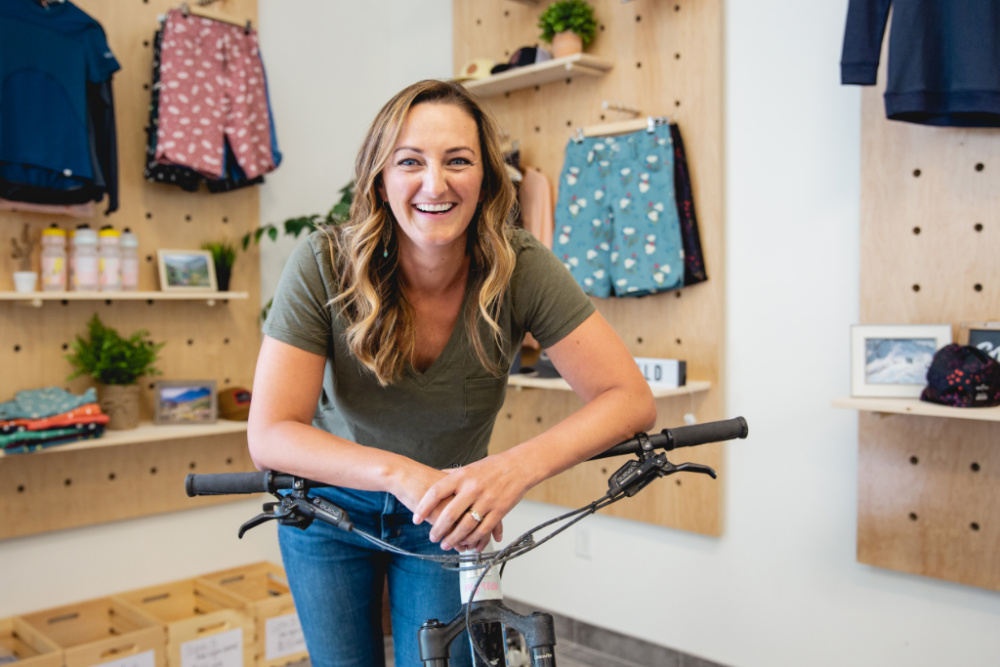 Is there a Wild Rye product in particular that you're really proud of?  
There are so many! We put so much care into every product we bring to market, designing from the ground up, exclusively for women. Our flagship Freel Women's MTB short has been our best–selling product since 2017 and its hands down the most comfortable and durable mountain bike short on the market (men's or women's). We're so proud of this piece and love growing our color options and size ranges every year – for the second year in a row, the Freel will be offered in sizes 0-18. Each print is hand designed by female illustrators, including our designer, Kelsey, who has illustrated the bulk of our 2021 line in addition to playing an integral part in our design process from start to finish.  
We're also particularly proud of our 100% non-museled merino Evie Raglan and Jane Leggings base layer sets. They're beautiful, soft and stand up to the rigors of the longest days in the backcountry. These kits will also be offered in a multitude of colors and hand-drawn prints in at least 10 sizes come fall 2021. I'm also really proud of our new accessories collection, in particular our new kick-ass Galena Gel Bike Glove debuting in late-March 2021!  
 What is the making process like for Wild Rye? How do you take it from an idea on the trail to final production and sales? 
We pride ourselves in asking and listening to our community, retailers and "Pro" Teamers at the start of every seasonal design process. In addition, we spend hours on bikes and skis ourselves, so we're constantly looking for ways to do things better. Every ride, I'm logging things in the back of my mind that are missing from my equipment, features that work and features that could be better. From there, we launch our seasonal design process over two years before the product appears in-market.  
We spend a week head down in intensive design sessions, studying color forecasts, print inspiration from the runway and in interior design and sketching and evaluating silhouettes for outdoor performance and use. Then we build out our line plan based on customer and retailer feedback. We build tech packs and start initial proto samples with our factory partners. We test, test, test. Then we work on fit, using multiple women of various shapes and sizes, and provide feedback to continue improving each sample until we're excited to bring it to market.  
From there, we start line showings with our retailers, forecast size and color breakdowns and book purchase orders with our factories. In the weeks pre-launch we're neck deep in delivery logistics and photoshoots, all of which feature real women from our greater Wild Rye community.  
 Is there anyone in particular you'd like to thank? Any inspirations or future plans you want to share? 
We have some really exciting collaborations and partnerships we're getting excited to share in early 2021, including a collector's edition product collaboration project with Pivot Cycles, a long-standing give-back partnership with SheJumps, becoming a Climate Neutral certified brand and more that we're not quite ready to share yet! Regarding thanks, there are countless people I owe thanks to, but in particular the greater Wild Rye community—mountain women, creative and retail partners who have shown up and support our brand since day one. And our Wild-Rye team—Holly, Kelsey, all the Wild Rye "Pro" Teamers, and of course, my family.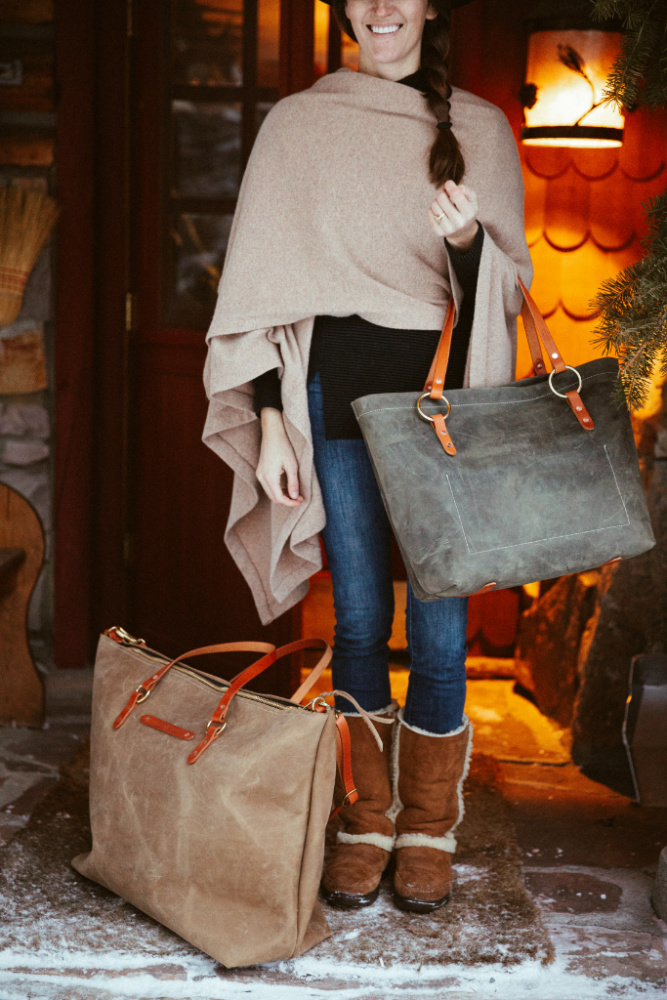 CopperDot
Pam Barlow, Owner & Designer, Jackson Hole, Wyoming
What is a CopperDot? 
A copper dot is a hand hammered copper rivet. The strongest way to secure two pieces of leather together. Our signature leather CopperDot handbag has 18 rivets. I dare you to try to pull it apart!
Why did you start making leather bags?  
Necessity is the mother of invention and I believe it's absolutely necessary to have a reliable, durable and good looking bag that won't fall apart on you.  
How did the CopperDot bag come to be? 
Many years ago I was traveling alone with two toddlers on a 14-hour trip—three airplanes, two hours of driving, and a ferry boat. So it was necessary to carry a well-stocked tote filled with food, clothing, and entertainment for three. I was a young mother muttering the motto "Be prepared…or else!" Well, else happened. At airport security my designer tote bag, "guaranteed to make my life pleasant and desirable," deconstructed. Or rather blew apart. Everything came spilling out right there on the airport carpet…Cheerios rolled, Benadryl bounced, sippy cups spun…my entire survival kit for the next 14 hours was strewn about like a battle scene. Along with any promises of my sanity. It turned out the cheap rivets on my trusty bag had popped out, and the whole thing literally came apart in my hands…After I crawled around on the floor and gathered up all of my stuff as the babies screamed and other travelers gave me a wide berth, offput by the messy scene…I vowed I would make a bag that was more reliable than an old friend. That wouldn't blow apart under stress. And could hold me together when it mattered most. The result of that vow is the CopperDot bag, built to outlive you—go anywhere, endure anything…and look dang good while doing it. 
Once you decided to make an indestructible bag, how did you get started?  
I always considered myself the ultimate 'bag lady.' Having spent a long time looking for the perfect leather bag to fit all my needs and trying lots of different options. So after the aforementioned blowout, I sat down with a piece of strong leather and pencil and paper and drew out my perfect leather bag. Then I had to learn how to make it. 
So how did you learn to make bags?  
The first bag was stitched together by my friend Tammy at the local saddle shop because I didn't have an industrial strength sewing machine yet. While I was there, I looked around for inspiration. When I picked up a pair of reigns, I knew I was on to something immediately and said out loud, "this will be perfect!" From then on it's been a process of trial and error and always making sure I'm working with the best materials possible. 
Where/how do you choose your leathers?  
It's simple really. What I quickly learned is that equestrian leathers are absolutely the highest quality, hardest working, longest lasting, and best looking. So I source all my equestrian leather from American and European equestrian tanneries. All my strapped goods come from the same family outfit that makes the Budweiser Clydesdale team harnesses.  
What is your design inspiration?  
Function is always first. Having studied architecture I'm a firm believer that form follows function. This helped me develop an eye for simplicity, and when you're working with really beautiful material it doesn't need any embellishment. I love that my bags are really quite simple. This way they can adapt to anyone's lifestyle.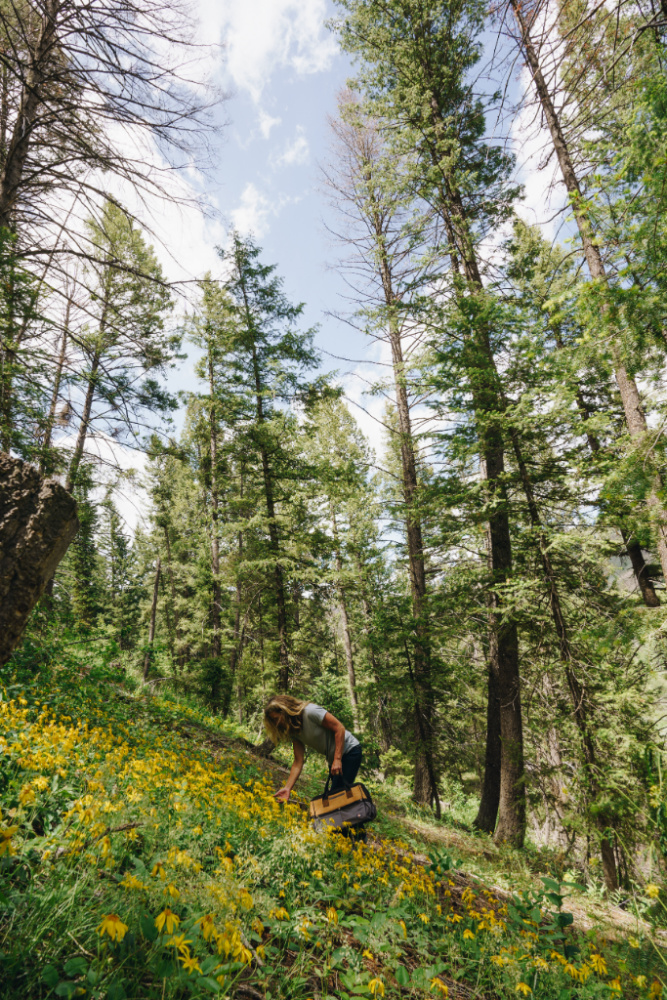 Annelies' Arnica
Aneelies Ware, Founder & CEO, Ketchum, Idaho
Tell us a little about yourself and how you ended up living, making and working in the mountains? 
I grew up in California and had a deep love affair with the ocean and the mountains. When I graduated from University of California Santa Cruz in 1992, I moved to Jackson, Wyoming and worked for a company called Wyoming Wildcrafters. There, my love for wildcrafted medicinal plants was born. The owner Clarissa Smith would take us out into the woods to help properly identify the medicinal plants and learn the ethical and conscious way to harvest. Having an Environmental Studies major and a botany minor, I spent plenty of time in the field studying flora and fauna with a scientific approach. The study I did with Wyoming Wildcrafters was also scientific but was also deeply rooted in the understanding that we are connected to this earth and the gifts that are given to us are not to be abused. The mountains are where I found my true love in literally ever sense—my husband, my daughter, my friends, and myself. 
 How did Annaliese Arnica come to be? 
Annelies Arnica came to be when Ketchum use to have something the locals affectionately called "slack"—when town quieted down, and we could ride our mountain bikes until our hearts were content. I was out riding one day and noticed arnica growing everywhere; I don't want to sound too "out there," but the plant called to me and my Idaho business was born. But I have to say if it wasn't for my friend Britt it would not have its name or its fabulous label. I have deep gratitude to many people for helping me keep the vision alive. 
 What are some of your favorite parts about living and working in a mountain town? 
Living and working in a mountain town like Ketchum is the greatest life I could ever imagine. I live steps away from where I work and play—that proximity is key. I love to get up early in any season to experience the sunrise—on dirt or snow. I start the day connecting to myself and to this amazing place. Connecting to what the forest, rivers and mountains give us is the greatest gift of living here. There have been a lot of people who have moved out of "the city" recently to be here, and I can only hope for everyone that the gift that the mountains give is not missed. These wild places are to be cherished and shared with future generations; We can only do this through mutual respect. 
 What are some of the challenges of being a maker in the mountains? 
My business is so connected to this place and the mountains that drew me here that I don't feel like I have any challenges due to location. But, my challenge is always going to be getting my product into more hands, and hands that could benefit from the arnica that this place provides! 
 Is there a product you are particularly proud of?  
The arnica salve. It's the original product that launched the company! 
What does the future hold for Annelies' Arnica? 
The future of Annelies' Arnica is always going to be driven by sustainability and respect for the plant that I harvest. I would love to see the company grow especially through direct–to–consumer lines. I have wanted to force or push this company to grow too quickly.  I have patience to see how it evolves organically. I know that I have an amazing high quality, effective product that has been tested and used over and over by a very discerning community. Now, I continue to harvest, make this great product, and wait. 
 Are there people you would like to thank?  
There are so many people to thank! The customers who buy my product over and over again and always give me wonderful feedback and share so many stories about how the arnica has helped them. My retailers in Ketchum that are constantly recommended it to people who are in pain. My friends who play in the woods with me in all seasons. These days are what fill my soul. The friends who are always there for me with their amazing skills of web design or graphic design. And, of course, my husband and daughter who make my life so rich with love.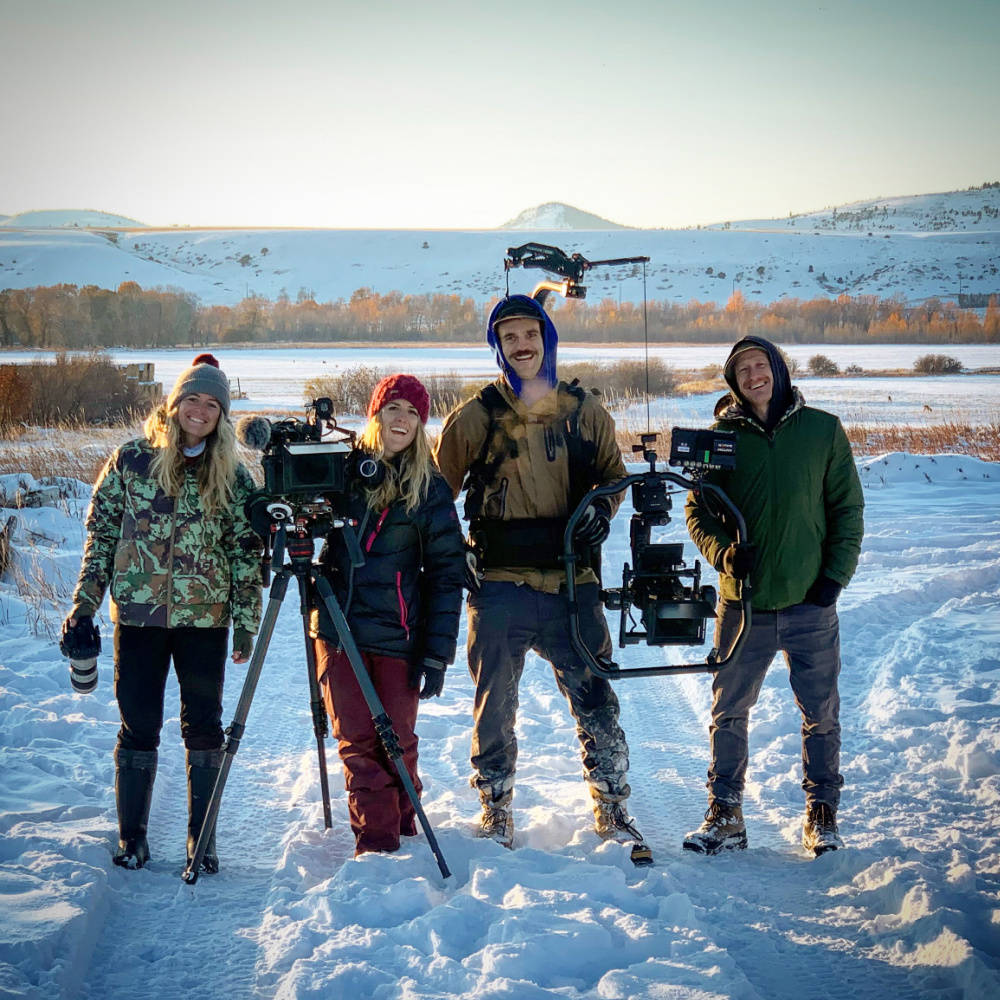 Idarado Media
Cory Smith, Founder, Ketchum, Idaho
Tell us your history with content creation and why and when you started up Idarado? 
At its core, I'd say that Idarado is a digital marketing business. So much of traditional adverting has changed in the last 10 years and we have evolved with it. People consume content daily whether it's photos or videos targeted to consumers based on their interests.  Most of this content is viewed on phones or tablets making it a very ubiquitous platform to market to customers. Personally, I worked at Smith Optics for 15 years and saw firsthand how we would market to our customers. I took that knowledge and applied it at Idarado Media and continue to watch and monitor digital platforms evolve to reach our clients and customers. 
Who are your main clients and what do you make for them?  
Our main clients are Traeger Grills, Dickies, Decked, First Lite, Sig Sauer and Lacrosse. We produce content for all of our clients as well as come up with creative marketing ideas. Traeger for example has been one of our longest running clients, we make monthly videos on their new products, brand influencers, recipes and internal communications. One of the unique marketing ideas we implemented for them was working with Indian Motorcycles and See See out of Portland to build and add a Traeger Grill as a sidecar to the motorcycle. This was very well received and even made an appearance on Jay Leno's Garage.  
What makes Idarado unique from other media production companies?  
I think what really sets us apart is our love of the outdoors and our home base location in Sun Valley. Everyone that works here is passionate about their sports and being outside. This plays well with our clients and the type of content they are looking to make.  We produce authentic imagery and avoid the contrived "model" looks. We are also well equipped to film in uncomfortable conditions, bad weather, long hikes with heavy camera bags, it's all in our wheelhouse. 
How does living in a small mountain town affect your business? Is it an advantage or a hindrance?  
It is very much an advantage I think.  It really comes down to a quality of life position.  We all want to live in the mountains and with Sun Valley out the back door we can head up on the hill for a few hours and be right back editing in minutes.  With so much of the world being remote, I find that our clients are ok with us not being based in LA. 
How many employees do you have?  
Currently we have 6 people working full-time at Idarado.  We have a great office space in the industrial zone of Ketchum and we all live within 5 minutes of the office.  
Where do you see your business in 5 years?  
Ideally we will continue to grow at a reasonable pace and bring on larger clients that will fit our brand. I want to continue focusing on the outdoor and action sports categories and do it in an authentic way.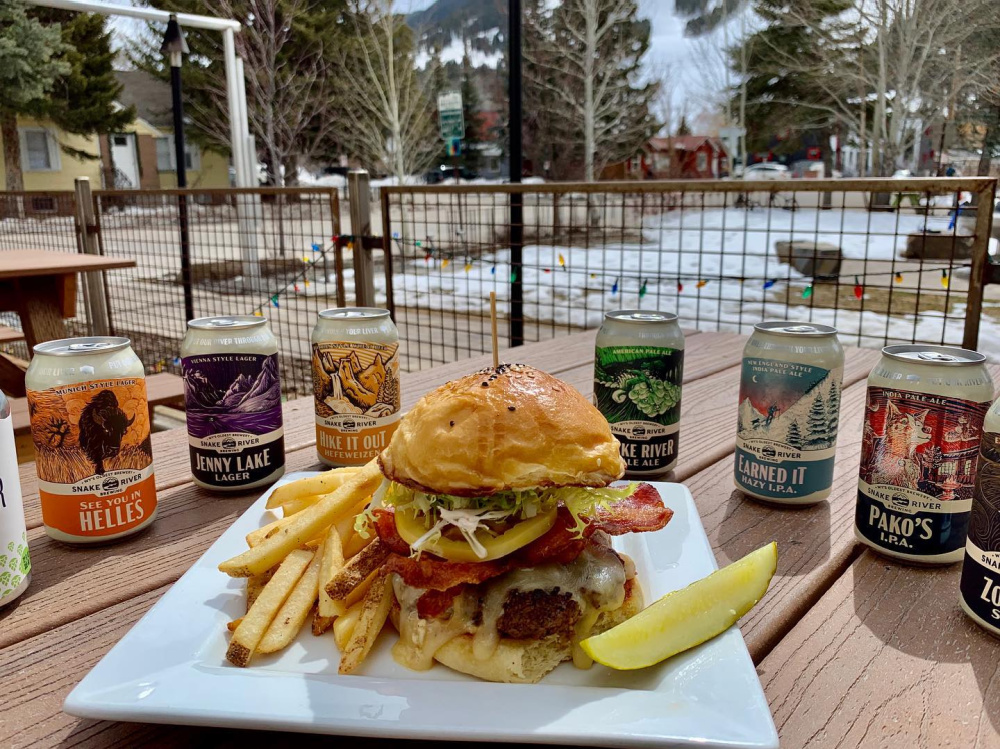 Snake River Brewery
Rudy Borrego, Brewmaster, Jackson Hole, Wyoming
First off, tell us a little about yourself and how you ended up living and working in Jackson Hole? 
Pretty much the usual story, I came for a winter, stayed for 28 years… 
What do you love about the makers in your local community? 
Jackson is so well known as a tourist destination. I think it's great that there is a small portion of the community dedicated to making/manufacturing. A lot of delivery trucks arrive in our community full and leave empty. It just makes sense to try and take advantage of all those empty trucks.  
Who are you excited to be working with at SRB and why? 
The brewing community is a pretty tight group, especially here in Wyoming. The Wyoming Brewers Guild does a really great job of organizing and promoting inter-brewery communication and collaboration. Things like the Paradise/Roosevelt Fire collaboration/fund raiser brew, and the Pink Boots Society Women that Brew collaboration brew day. 
What do you enjoy most about brewing beer?  
I like that we are still small enough to be able to experiment with different styles of beer and different ingredients. We are always tweaking our flagship beers to try and make them better as well as trying to come up with new and exciting recipes. 
What can we all do to help support our local makers? 
That's easy…Drink Local, Buy Local… 
Do you have a favorite beer that you want to tell us about? 
I really enjoy drinking German style light lagers…also American IPAs. I guess my favorite thing about our beer is that there is always something fresh. One of the keys to good beer is keeping it fresh.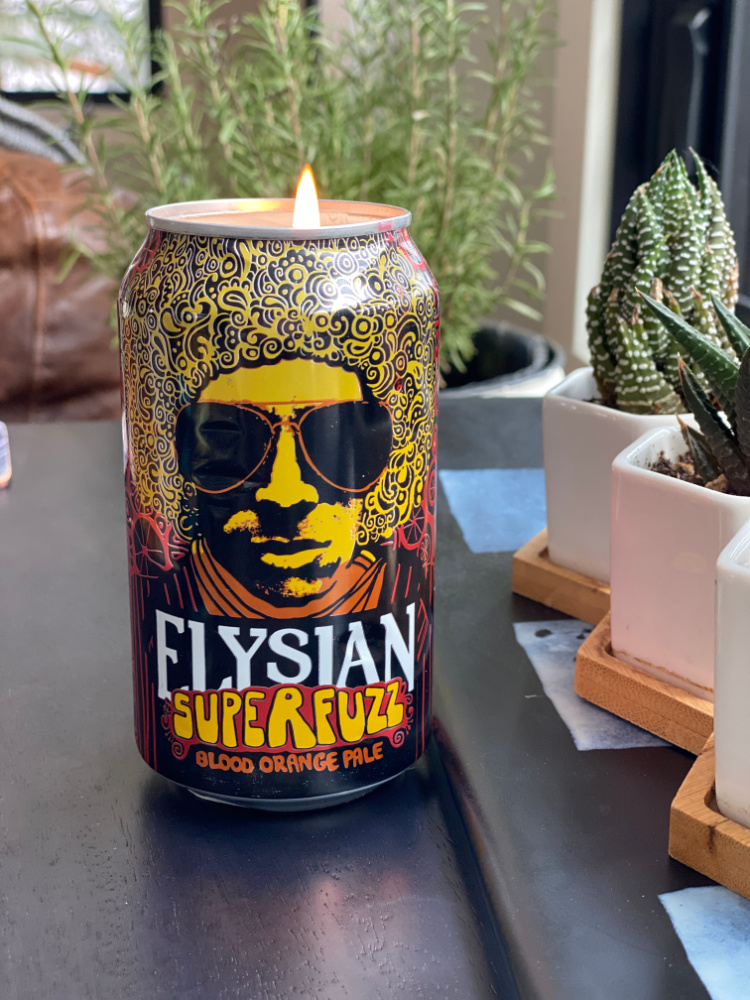 Beers to Burn
Claire Obverby, Co-Founder, Ketchum, Idaho
How did Beers to Burn first get started?  
During the start of COVID, my best friends and I would sit around, drink beer, and talk about how to keep ourselves busy. We wanted to continue to keep our brains active, so we ran a book club. One night, we were sitting around drinking beer and we had this idea of turning beer cans into soy candles. One of my girlfriends already makes soy candles for fun, one of them is incredibly into sustainability practices, and I have a background in the beer industry. We sat there that night for probably 30 minutes talking about this crazy idea and thought about the logistics. The next morning, we really still believed in the idea and wanted to make it happen. The process of making the candles is my favorite part because it gives us a reason to get together, get creative, and drink a bunch of beer. The three of us wanted to provide people with something that makes them smile. We've basically done everything through Instagram and we just want to make people laugh and bring some light to staying at home. It started off as a hobby and we sold some to family and friends. Our whole concept was to make people smile and  inspire all of our friends and family to do something positive with everything going on. They're all soy based and made with essential oils. We have lavender or tea tree scents that are supposed to be super soothing and take all the nasty stuff out of the air. We also have energizing candles which are citrus and grapefruit oils that are supposed to naturally release endorphins in your brain, and it kind of picks your mood up. And who doesn't love a candle when you're inside all day? It was kind of a perfect storm to get involved in creating something from the ground up digitally because people were more willing to purchase online than travel to stores. So far, it has been a fun adventure working with my friends and curating something positive and sustainable during these difficult times.  
You have a background in the beer industry. What exactly do you do and how has this helped with the growth of Beers to Burn?  
I work for Tavour, an online craft beer marketplace based in Seattle, WA. I work with a bunch of breweries across the country and order a bunch of beers from all over the place. I then hold on to all the beautiful cans and draw inspiration from them and repurpose them into the candles. I am also an artist, so my dream job is to create and design labels. Often, the better the label the better the beer, and we can help everyone hold onto their favorite can and bring more life to it. 
Could you describe the process of making the candles?  
So, we drink all the beer, which is the best part about the process. Then we take this little tool that's basically an internal can opener, but it just takes off the inside lip of the can. This allows the can to have a nice curl at the top without having a bunch of stray aluminum coming off. Then we melt all of our soy wax, and when you're using essential oils you basically bring it up to the correct boiling point to let them flow into the wax. We then have all the beer cans lined up, and we have the wicks inside and taped up so that they fall in the right place. We pour wax over them about three quarters full and leave them overnight. The last quarter is filled, and they are left with a really clean top on them. We finish with putting a little logo sticker on all of our candles. They burn super well and just give off a subtle scent that isn't too strong.  
How can we purchase a candle?  
We do everything via Instagram, and we are coming out with a website right now. Everyone can direct message us and ask for customized orders. We're doing a couple bigger batches and are trying to reach more people. Our orders grew as friends and family were sharing our candles. At one point we got a request from someone we didn't know, and it was the first time we realized that this could be bigger than we imagined. We're shipping a bunch of candles to Texas and California. It's been super fun, but it was just completely organic and was a snowball effect with the right connections.  
What is one little takeaway that you've learned from this new experience and what inspired you three to keep charging at this idea?  
My friend that makes the soy candles even before we had this idea, is into sustainability and is going into a career path surrounding sustainable practices. So, our biggest takeaway from this is repurposing something that you would usually just recycle or throw away. There's so much life in this material. Also, people can remember memories or moments at their favorite brewery and add their favorite label to a piece of art that will help lighten the mood at home. The three of us have realized that if you have an idea, jump on it. We have realized how supportive family and friends in our small mountain town can be about a fun idea that has made these times a little brighter.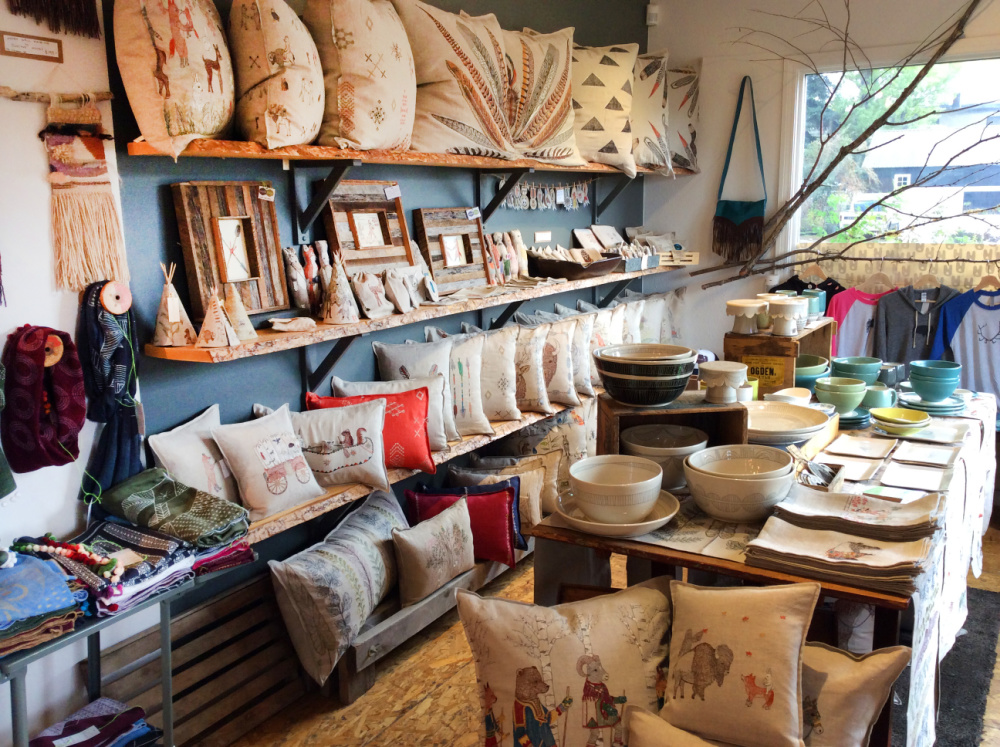 Workshop
Sue Fleming, Owner/Operator & Jewelry Maker, Jackson Hole, Wyoming
First off, tell us a little about yourself and how you ended up living and working in Jackson Hole? 
I am a jeweler, owner of a handmade boutique in Jackson called Workshop, mother of two amazing kids, and partner in adventures with my husband Doug. I first visited Jackson Hole and the surrounding area on a cross country trip with my family when I was ten. Then in my twenties, I made several trips out to Jackson to visit friends and fell in love with the beauty and adventures I encountered out here. I also fell in love with my (now) husband and so decided to make a permanent move from Maine.   
How did Workshop come to be?  
We moved up to Bozeman for several years while my husband was getting his master's degree. While we were up there I partnered in a retail space which also housed my jewelry studio. Upon returning to Jackson, I began looking for studio space (which was sparse at the time) so expanded my search to include a combined studio/retail space. I wanted a space to sell my own jewelry directly and a place to represent  some of the many talented local and regional artists that I had met. Perfect timing and luck led me to my current location which is a quaint old building, just off the town square. I think this suits our offerings of handmade goodies perfectly because those that are interested in something unique often look off the "beaten path".  Workshop is all about connecting the customer directly to the maker. With my jewelry studio located within Workshop, customers can see the work in progress and be a part of the making process. 
 What do you love about the makers in your local community? 
I love that there are so many makers in our local and regional community.  At the shop, I often get the comment that there are so many artists here. I think when you live in such an inspiring place and among so many inspiring people, you end up with a significant community of artists and a community that supports artists. I think there is also a shared commitment to our local artists between shop owners. Many of my artists are supported by multiple venues by making  shop specific items to avoid overlap, but reach a wider audience. I also love how artists incorporate their love of the surrounding area into their art – whether it's using local flora in a naturally made dye or a found feather as a sketch for an embroidered piece.  
Who are you excited to be working with at Workshop and why? What types of making processes do they use?   
I am excited about all of my makers at Workshop, although I feel particularly connected to and responsible for my local makers. During the pandemic especially, I really focused on promoting my local artists because selling through Workshop is part of their livelihood. The following is just  a few of many talented artists. Courtney Leavell of Bird & Buffalo turns her pen and ink drawings into block printed and screen printed cards, totes, tea towels, and shirts. Stephanie Housley of Coral & Tusk creates whimsical embroidered linen textiles for the home from her original pencil drawings. Jenny Dowd of Dowd House Studios uses a sgraffito, or "scratching",  technique in her wheel thrown porcelain mugs, trays, soap dispensers, and cupcake stands while potter Sevi Hagen offers wheel thrown earth toned mugs and farmhouse bowls. Lastly, Lisa Walker draws, prints, and sews her designs into a variety of products from bamboo scarves and bandanas to napkins and tea towels. 
What can we all do to help support our local makers? 
As shop owners, I think we can highlight and promote local artists through our shops and social media platforms. We can collaborate and offer opportunities through custom projects as well. As customers, we can shop for local goods wherever we go, and support direct sales through art fairs and websites. We can also take the time to learn about the artist's process and techniques so that we have more of an understanding and appreciation for what they are making. 
Do you have a favorite product in the store you want to tell us about? 
Yes! Our newest addition to the offerings at Workshop are by Studio Tinge founded by Mika Dubbe, my part-time shop manager. She is a multidisciplinary creative whose work spans from fiber arts to interior design. We carry her naturally dyed silk bandanas, organic cotton socks, and tabletop goods. She sources natural materials, washes, scours, and then treats each with mordant (which allows dye to naturally fix to the fiber). Next she adds a tinge of color, dye extracted from flowers, plants, bark, roots, and vegetable scraps, all from her foraging adventures. She uses a range of dyeing techniques to achieve one of a kind textile creations including hot-dying, solar dying and bundle dying. I just love the vibrant colors and how she interprets the local flora and environment in her work, and how cute the bandanas and socks look while wearing them of course! 
What is your process for creating and making jewelry? Are there any specific materials you like working with the most? 
I design and create two distinct collections of jewelry. In my semiprecious series, I combine sterling silver, 14K gold, 22K gold, diamonds, and a variety of colorful semi–precious stones to create classic enduring pieces. I use an antique hammer that I found at an old tool barn in Maine to form and texture many of the pieces in this collection. I love making mixed metal combinations that highlight the individual beauty of each stone. In my paper and resin collection, I set hand silk screened papers in sterling silver bezels and finish them with a layer of waterproof resin. I love extracting small scenes from these large format papers to create tiny vignettes in each piece. I am definitely a bit of a paper addict and really enjoy sitting down with my exacto–blade to cut the perfect little section to showcase. In both of my collections, I use recycled metals and conflict free diamonds and stones.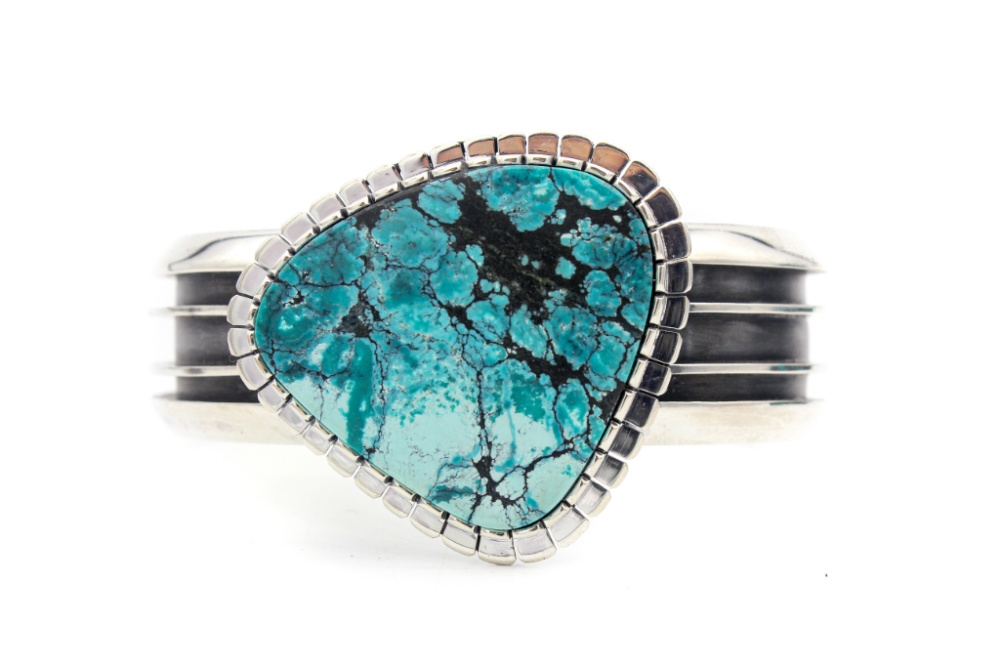 Rex Lynx Jewelry
Nic Rex, Founder & Authentic Mountain Town Man, Missoula, Montana
Tell us a little about yourself and how you ended up living, making and working in the mountains? 
I was born in Wisconsin, and I grew up on the water. Summers were filled with water activities, and I was wakeboarding by the age of 3. I wasn't blessed to be in the mountains yet, my local ski hill was an old landfill. Once I graduated high school, I loaded up my truck to head out to Colorado for a winter of snowboarding at Breckenridge. That's when I fell in love with snowboarding in a whole new way. I experienced powder and hiking in the backcountry. Fast forward almost a decade, & I was still longing for those mountains and all the beauty. In 2018, I got the opportunity to move to Montana. Once again, I packed up my truck & headed to Missoula, Montana to start a life in the mountains with my new girlfriend. She was doing trailwork, so she spent most of her time in the woods. On her off time, we were sleeping in our rigs and on friends' couches, with hopes to make the Missoula area home for good. Stressed about trying to find housing, I went by the local river park and sat near a bike path; I started making some chain to take my mind off the uncertainty. A tall bald man wearing all black came up to me and said "Hey what ya doing?" I replied, "I'm making a silver chain …  I do it by connecting these tiny links … " We chatted for a while and he knew I was looking for a place to live and was learning how to make jewelry. It turns out that he knew of a guy in the Bitterroot Valley, about 40 mins away, who mentored young artists like myself. Instantly I was interested and later looked up the man named Heyoka Merrifield, a native medicine man, living in Stevensville, MT with a 30ft temple shaped like the egyption pyramids. He sold jewelry to all the famous rock and roll stars of the 60's–Joni Mitchel, Bob Dylan, George Harrison among others. Within a couple of days of meeting him, he called asking when I'd like to start the apprenticeship. Shocked and thrilled, I knew that he would be a huge help in my career. We lived together for 2.5 years and I learned and developed my own style, while also helping Heyoka with his own work to keep inventory up in his galleries. I have started showing my work in two galleries in Bozeman, Montana (Blue Lotus, and Biome), and am working on building my online presence through this wild pandemic. Here's to hoping that the 2021 show season is a go! 
How did Rex Lynx Jewelry come to be? 
I had a dream of being a traveling artist, going to music festivals and keeping that vagabond life alive. 
What are some of your favorite parts about living working in a mountain town? 
Being surrounded by untouched places is humbling. I love all activities like mountain biking, river trips, fishing, backpacking, snowboarding, cross country skiing that get you enjoying and exploring new places.  Here in Montana there is such a strong community of local makers. It's very inspiring seeing so many small, unique, & slow-craft businesses thrive.  
What are some of the challenges of being a maker in the mountains? 
The small population definitely affects the amount of local sales and sometimes it's hard to stay focused on my work with all the outdoor activities to do here!  
Is there one product you make that you're especially proud of? 
When my mentor, Heyoka Merrifield commissioned some of my chains to be put on his work, the combination was powerful.  
What does the future hold for Rex Lynx? 
I'm in the process of building an airport shuttle bus into a mobile jewelry studio, and will be moving from Stevensville, to Missoula in May. I feel that there are new doors opening, and I will have a lot of progress in my work and business.  
Is there anyone you'd like to thank? 
My very supportive partner, Bonita. My mentor who recently passed away, Heyoka Merrifield. Thanks for the love, confidence, and inspiration.