Raising kids and changing the world, one adventure at a time.
Gen Padalecki is no stranger to adventure. An actress by trade, after meeting her husband Jared on the set of the hit TV show Supernatural, she dove into family life with the same sense of curiosity, gratitude and optimism that led to a successful acting career. As a mom of three, Gen channeled her creativity, sense of humor and can-do attitude into a popular blog called "Now & Gen," chronicling her adventures and mis-adventures as a mom and burgeoning homesteader in the hill country of Austin, Texas. Using her large and growing social platform to champion women making change in all aspects of society, Gen remains a mountain girl at heart. Growing up in Montana and Idaho, Gen knows how important nature and the outdoors are and works hard to instill those same feelings in her three kids. It also led her to her newest endeavor, TOWWN, an online resource and community dedicated to reducing burnout for people and the planet. To top it all off, she's been back on set recently, playing opposite her husband in his new show, Walker. I caught up with the real life super mom recently during a break in all the action and now have the privilege of introducing her to all of you.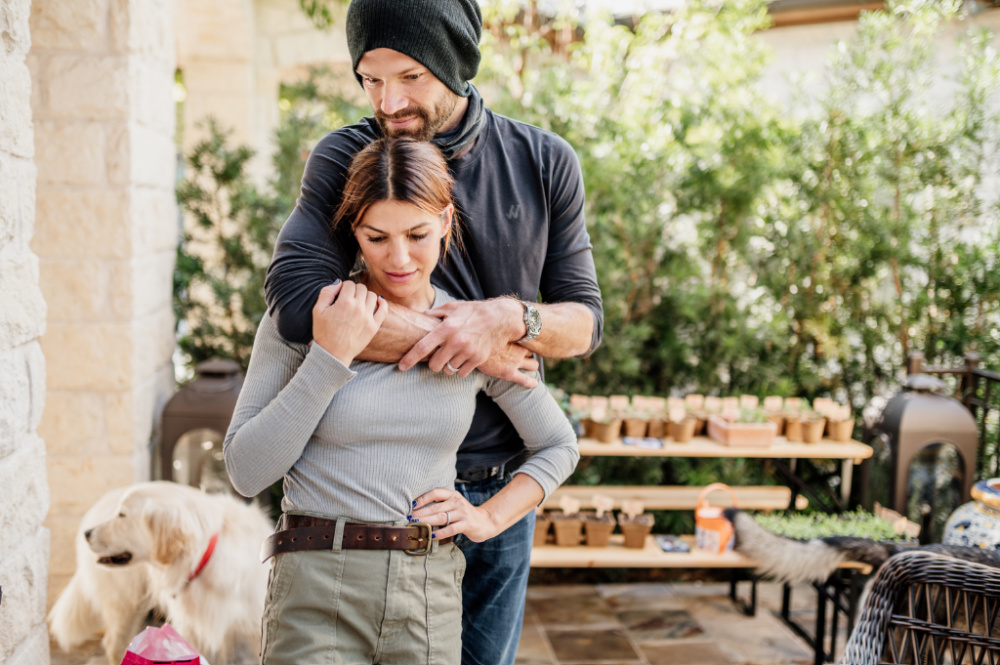 Hi Gen! Can you give us a little background about yourself and your family?  
Growing up in Northern California, my family and I used nature as our playground: hiking in Presidio Park on weekends, taking family excursions to Redwood Forest, swimming in the chilly waters of Lake Tahoe, even riding on horseback up Mt. Diablo (which I later recreated on my TV show Wildfire). Seeking new frontiers, my family moved to Whitefish, Montana for a few years before ultimately settling in Sun Valley, Idaho. It was in the mountains of Idaho that my passion for nature and the outdoors were cemented. So much of my personal growth occurred in the outdoors, and I have wonderful memories of hiking up Mt. Baldy in the summer and snowboarding down it in the winter. In high school I went trekking along the Oregon coast, solo camping in Moab at age 16, and learned winter survival skills by having to build, and sleep in, snow caves during winter camping trips. 
I went to the big city for college, graduating from NYU with degrees in Theater and English. Since then my work has has taken on many roles. I'm an actress, blogger, activist, wife to my husband Jared Padalecki who I met on set filming during TV show Supernatural, and most importantly, I'm a mother to three great kids, Tom, 8, Shep, 6, and Odette, 3.   
I launched a personal blog called Now & Gen (www.nowandgen.com), in 2017, sharing my life and new discoveries. In it, I try to navigate and share the wild world of parenting and urban homesteading in Austin, Texas, highlighting healthy recipes, taste-testing bourbon cocktails, sharing workouts, thoughts on relationships and self-care, and spreading the word about some of my favorite style finds. A recent trip to The Great Bear Rainforest in Canada inspired my latest venture: Towwn, an online resource and community dedicated to reducing burnout for people + planet. 
How about some of the cliff notes from your acting career? 
Cliff notes?! Ok here we go… I went to Tisch School of the Arts via NYU, got an internship at Jujamcyn and CAA.  Forged some great relationships and ended up in living in LA represented by CAA. I quickly got cast on my first show, Wildfire as the lead, which still makes me shake my head and ask WTF?!, then I got cast as Ruby in Supernatural, where I met my husband, got cast in Flash Forward. Then I got engaged, got married – in Sun Valley! and had 3 kiddos. Now I am playing opposite my husband on the CW's new hit show, Walker. Feeling pretty cool and so lucky right now!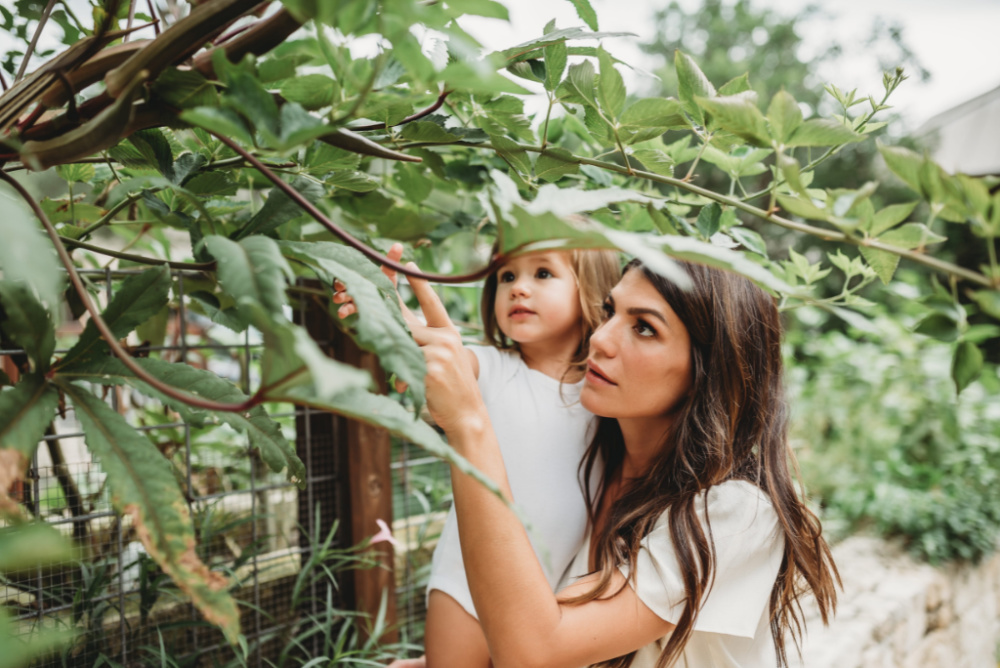 Any exciting current acting projects you want to tell us about…like…ahem, Walker: Texas Ranger?! 
Nepotism! Just kidding. Jared was first inspired to create a show when he read an article about ICE officers faced with difficult decisions of separating children from their parents. In the article, the officers struggled and couldn't bring themselves to go against their own morals and went against their duty. He found this story incredibly intriguing and compelling and felt that no matter what side of the line you were on it would/could/should inspire empathy. Cut to a year later when casting was going down. Jared's co-creator and showrunner, Anna Fricke, called Jared while we were celebrating our 10 year anniversary to suggest I be cast as his wife. It all went downhill from there…our kids do have questions like, "if dad created the show why did he want you dead?" Hahahaha. It's honestly so much fun and I love every minute I get to spend with my husband and this incredible cast. 
And what about your new endeavor TOWWN, inspired by the concept (and acronym) of Take Only What We Need?  
A lot of TOWWN came about through my upbringing and high school years at the Sun Valley Community School. The Dessert Solitaire days! I was raised and taught to respect and protect mother nature. Inspired by the Community School's outdoor program, the fall campouts, learning to dig our own snow caves to sleep in, avalanche safely, x–country skiing and hiking with skins…they all taught me so much and I've never forgotten how much fun they were. One of the biggest lessons I learned was how important "leaving no trace" is, bringing back EVERY morsel of trash that we brought with us on all those trips. I loved how on these outdoor trips we were given tools, literally and figuratively, that allowed us to depend on ourselves and work with each other. Those experiences really reinforced my own sense of self and independence. As I grew up and became a mother, I really wanted to instill the same kind of upbringing and lifestyle in my own children. This became all the more apparent when I was able to visit the Great Bear Rainforest in BC with my family. It was the jumping off point where I realized that I really want to bring the feeling, weight and respect of nature into our everyday lives. In addition, this means making more thoughtful decisions at home so we can protect nature. The way we live, eat and consume needs to change so that we can not only nurture ourselves better, but take better care of our planet. But I think it can all get so overwhelming and serious, which of course it is, but that can cause a certain amount of burnout and apathy for people. TOWWN is about encouraging everyone to get involved and supporting people to make good choices in all aspects of life, but without the heaviness and associated burnout.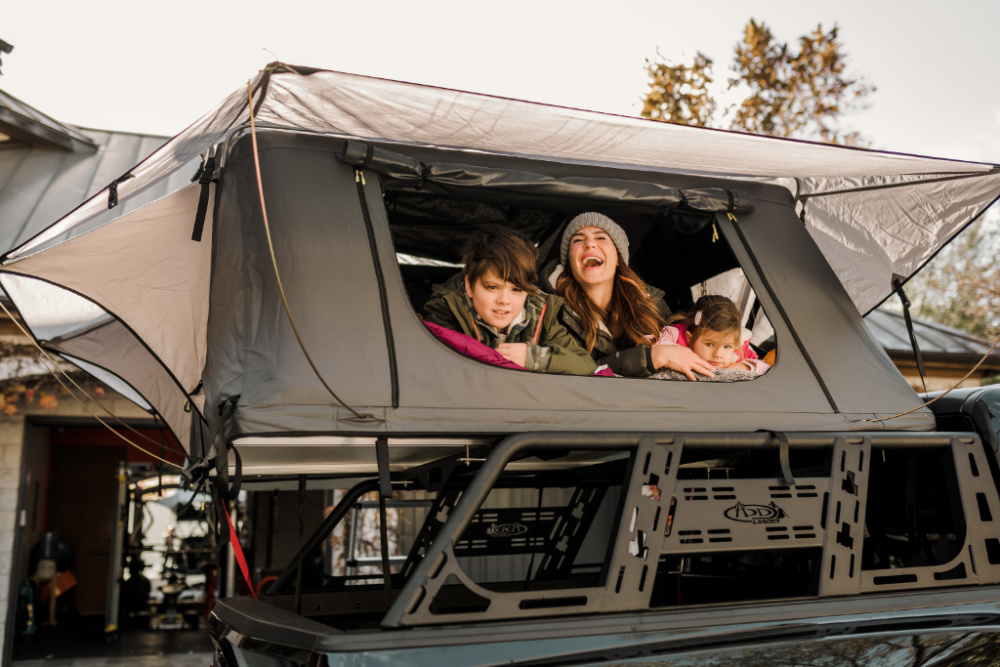 Tell us about the last thing you made from scratch and/or by hand?  
Well, during this last year of quarantine with three kids, I definitely jumped on the breadmaking bandwagon. I loved how I could feed the starter and keep it alive, but had mixed results with baking it so I am still a novice when it comes to breadmaking…I love gardening as well and recently grew carrots, butter lettuce, cauliflower and broccoli from seeds. Which felt, and tasted, fantastic. 
As a mom to three kids, what are some important lessons you try to teach them? 
To be forgiving. To not judge themselves or others. Be present. Go for the experience not the stuff. Be kind, always. Take care of mother nature. 
When was the last time you took the whole family on an adventure? Where did you go and what did you do? 
Over the summer we took a road trip from Austin to Whitefish, MT. I got to stop in all my favorite mountain towns along the way. It was the best way to connect with my family—very intimately in a car hahaha—and to pull over and just make a pit stop to stretch our legs and find a hike. We strategically chose spots where we could run around, hike and get the wiggles out. I am also a sucker for historical markers and try and stop at all of them – much to my husband's, and kid's chagrin. 
What's your favorite thing to do in the mountains? 
Breathe. I know it sounds so simple and silly but I love pushing myself up a trail and feeling the fresh mountain air, or lack thereof, in my lungs and the cool breeze on my face with the sun shining down. I love listening to the sounds the wind makes when blowing through the grass and the leaves of the trees, and the sound of the water moving down a stream. It's the simple things that I always seem to remember most and long for when I'm not in the mountains. 
What are some of the biggest challenges you've faced as a mom? 
Being present. Mom guilt. Letting go of my need to control things. 
What makes you feel most optimistic about the future? What scares you the most about that same future? 
Having young kids. It makes me feel like I'm reliving the mundane in a fantastical way. Seeing the world through my children's eyes makes me incredibly optimistic. To see them digest the world and simplify things. I suppose it scares me knowing the same planet I inherited is drastically different, but I am optimistic that our children are making it a better place.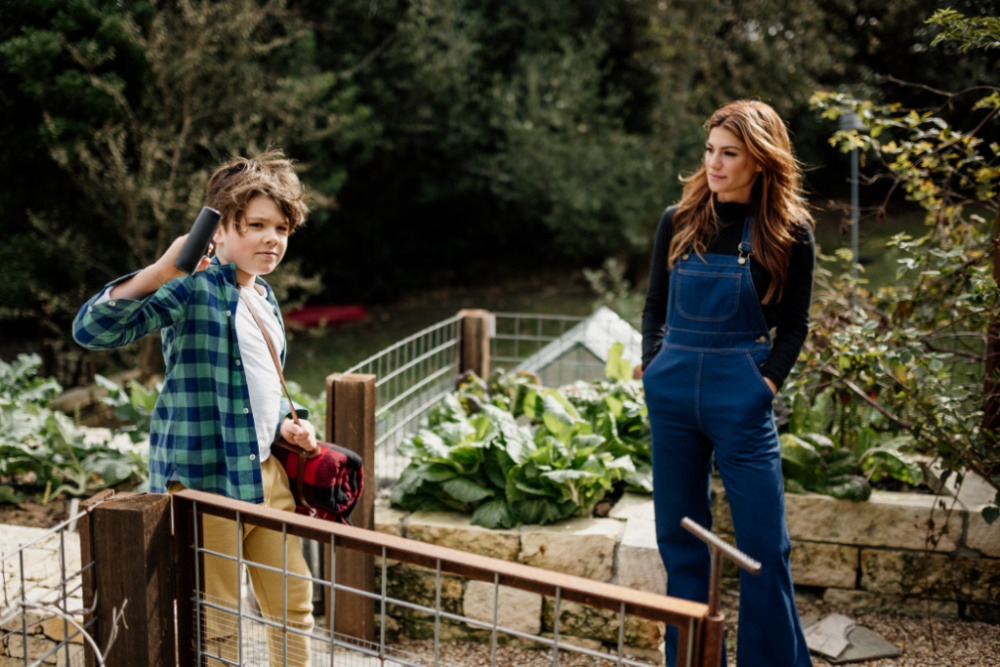 What are you most proud of? 
My family. They make me a better person.   
How about a few of your must read, favorite books, and must watch movies and TV shows? 
I've always loved the Plague. Another Community School assignment! The Four Agreements is just awesome when you need to recenter. Right now, I'm in the middle of Overstory, which is fantastic and I'm currently reading Under A White Sky,  the Nature of the Future. My friend, Violet Brinson, who plays my daughter on Walker, just gifted me Mythos – so fun!  And I enjoyed Untangled Life and Fantastic Fungi, I'm digging mycology lately. Also, anything by Jacqueline Woodson is fantastic!! As for TV…Obviously Walker!! I love my friend, Candace Nelson's, show Sugar Rush, Grace and Frankie is so fun to watch, Bridgerton is binge worthy, I love Emily in Paris and anything Planet Earth! Lately I'm obsessed with learning about regenerative farming. So movies that make me excited are Kiss the Ground, The Minimalists and Less is Now. When I need a jolt of adrenaline I love Lexi duPont's Shaped by Descent. Parasite was stunning, my kids have been obsessed with Spirited Away lately, I love the Great Escape, The Long Way Up is beautiful. For Podcasts? I love Green Dreamer, Oologies, Cocaine and Rhinestones, and The Daily.