Bonding with Best Friends Animal Sanctuary
My introduction to fostering began in a kindergarten class. Each student chose an animal to take care of every week—to feed, water, pet, and exercise. My school wanted its students to establish a relationship with animals early on and learn to care for them. I remember Friday afternoons, when my teacher watched me clean my animal's cage, inspecting the bedding and bowls. Often we were allowed to bring an animal home for the weekend. When asked, my hand shot up at the prospect of introducing a new friend to the others at home.  
It seemed perfectly normal to my five-year-old self because there were dogs, guinea pigs, rabbits, reptiles, and a couple of neighborhood cats roaming freely among the tennis racquets, bicycles, and wet bathing suits. As a Southern California native, life was lived outside in the endless sunshine, and whether it was the pool or a bike ride around the block, a dog was sure to follow. I was imprinted with animal ambiance from birth.  
There was a pair of Scottish Terriers, Duffy and Dickens, who soon gave way a couple of "singing" Dachshunds, Johann and Clara who then became second fiddle to Halston, my flashy Irish Setter, and Freebie, a Shepherd mix who never left my brother's side. Later, a pregnant stray, Mother Cat, found the linen closet an ideal birthing location for her four kittens. Several more animals discovered our home as their sanctuary of sorts throughout my adolescent and teenage years.  
However, it occurred to me recently that I never questioned where our animals came from—were they store-bought, adopted, or rescued? Except for my mother's carefully chosen Goldens (who with her excellent training) reliably celebrated their OTCH (Obedience Trial Champion) titles among our misfits, I wondered if the members of our menagerie arrived with papers from a respectable breeder or had we rescued them after being tied up overnight at the supermarket? Had our home been unofficially designated the neighborhood safe haven?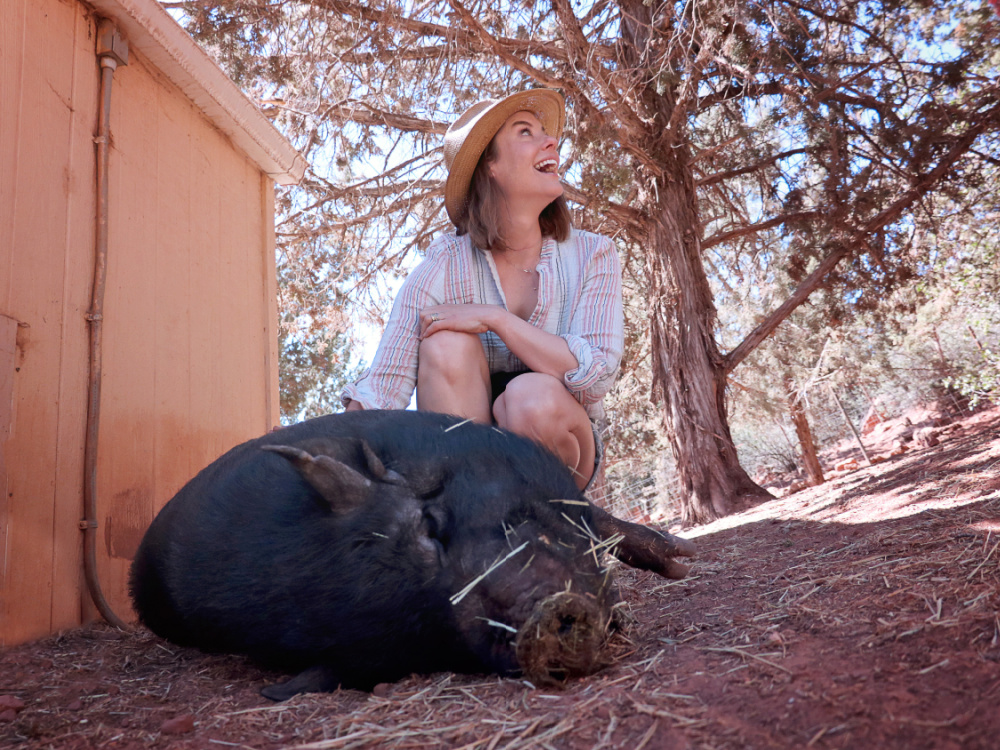 At the time, it wouldn't have mattered to me because animals represented unconditional love and companionship—their acceptance reigned supreme no matter my age or mood. They provided ritual, stability, and affection, and I regularly contemplated why some of my best friends at school didn't have best friends at home.  
I chose my first rescue, a purpose-built and uncharacteristically friendly Basset Hound I named Howie Long as an adult. Before long (pun intended), he stubbornly petitioned to accompany me to my riding club, where I rode my horse. Then, it was at a horse show at the neighboring Burbank Equestrian Center, where Howie and I were introduced to Best Friends Animal Society.  
The community event bursting with enthusiastic staff surrounded a dozen or more enclosures and crates that provided easy interaction with the dogs, cats, and birds. Signage and information about adoption were artfully placed on picnic tables, and representatives supported prospective parents in the process and its rewards. Their message of "kindness over killing" and the joy of uniting humans and animals resonated with my spiritual beliefs. When I left that afternoon, I knew I needed to visit their magical Sanctuary. So, a few weeks later, I announced to my then-husband I would be loading up the car with dog and horse supplies for donation and driving to southern Utah for a long weekend.  
That first visit to historic Kanab and the Sanctuary's stunning Angel Canyon led to two more, the latest in September 2021, where I was welcomed by exceptional staff from the Welcome Center to the tour guides and caregivers. The location's energy blushed with its captivating red-rock landscapes but was also charged by the organization's decades-long resourcefulness, innovative campaigns and partnerships, and its founders' eternal compassion. It was why it became and continues to be the nation's leading animal welfare organization and its Sanctuary, the nation's largest no-kill sanctuary for homeless animals.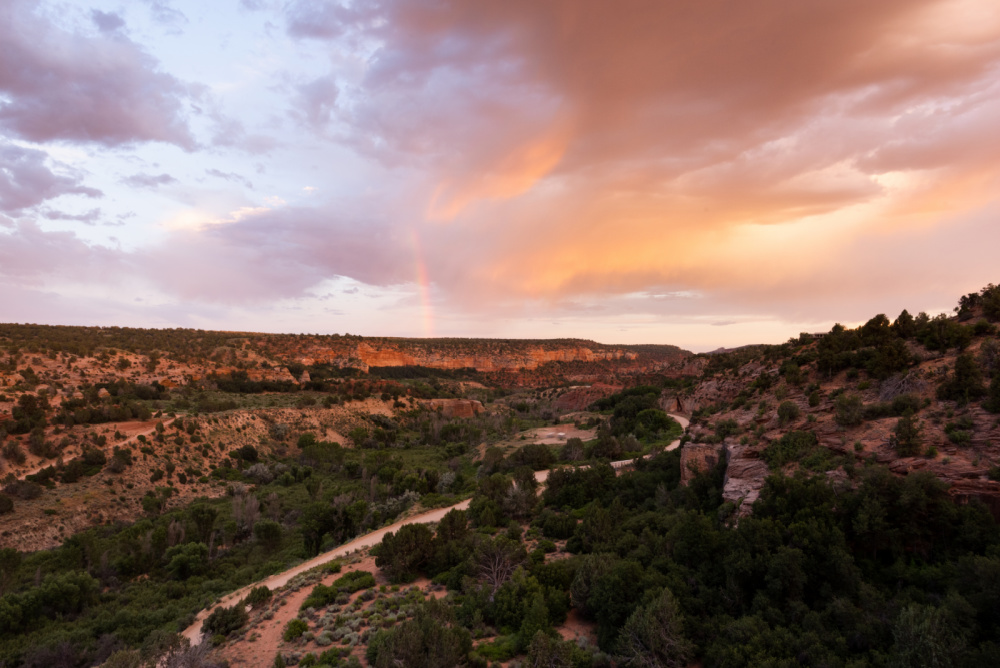 Situated on 3,700 acres, with approximately 1,000 – 1,600 animals at any one time, the Sanctuary is, by all accounts, a paradise for the safety and care it provides to its residents. And just as essential, the wide-eyed view it offers visitors and future adopters who witness the outcome of the vision that has guided Best Friends Animal Society since day one—a better world through kindness to animals. So, I'll readily admit, my hand shot up when I was offered the opportunity to volunteer.  
The Sanctuary's Kanab Canyon Road is a semi-circle of love that begins and ends on Highway 89. There are cabins and an RV park, cottages near Marshall's Piggy Paradise, an airy welcome center, Horse Haven, Angels Landing and Rest, Gratitude Garden, and that's all before Wild Friends HQ, Bunny House, and Cat World. Dogtown Heights, made famous by National Geographic Channel's series, DogTown, and its Puppy Preschool, complete the village near the Animal Clinic, where medicinal needs are met, and physical therapy, hydrotherapy, and acupuncture are on the menu. Centrally and auspiciously placed is Angel Village Café, where the spectacular view of the lower canyon embodies the soul of Best Friends' mission—Save Them All©.  
Best Friends started in 1984, and its history can be found on its well-organized and user-friendly website, along with current and detailed stats and information. I encourage a look, as it makes my love and appreciation for their work even stronger. For example, since announcing their no-kill goal in 2016, the number of dogs and cats killed in shelters has decreased by 76 percent! This reduction is substantial since the number had hovered around 1.5 million. Today, the nation is at an 83% save rate, with 347,000 dogs and cats killed in 2020 from 625,000 in 2019. This data is paramount to understanding the organization's goal for 2025, a no-kill United States… period.* 
*(When every shelter in a community achieves a 90% save rate for all cats and dogs, that community is designated as no-kill.)   
But first, an easy fact to digest—for the past six years, Best Friends took the 'measure to manage' assignment seriously by fronting an unparalleled data collection process "that involved coordinated outreach to every shelter in America followed by additional research, data analysis, and technology development." In other words, they set about collecting information from animal shelters, state and local coalitions, government websites, and Freedom of Information Act requests to further understand the who, what, where, when, and why of homeless animals. This process served them (and the public) well by deciphering and providing a genuine snapshot of their collaborative efforts (a network of 3,300+ shelter and rescue partners) across the United States. As a result, this June will be the fourth year Best Friends releases their Dashboard data. As of 2020, there were 4,404 shelters in the U.S., and nearly half are no-kill—the percentage doubled over the last five years.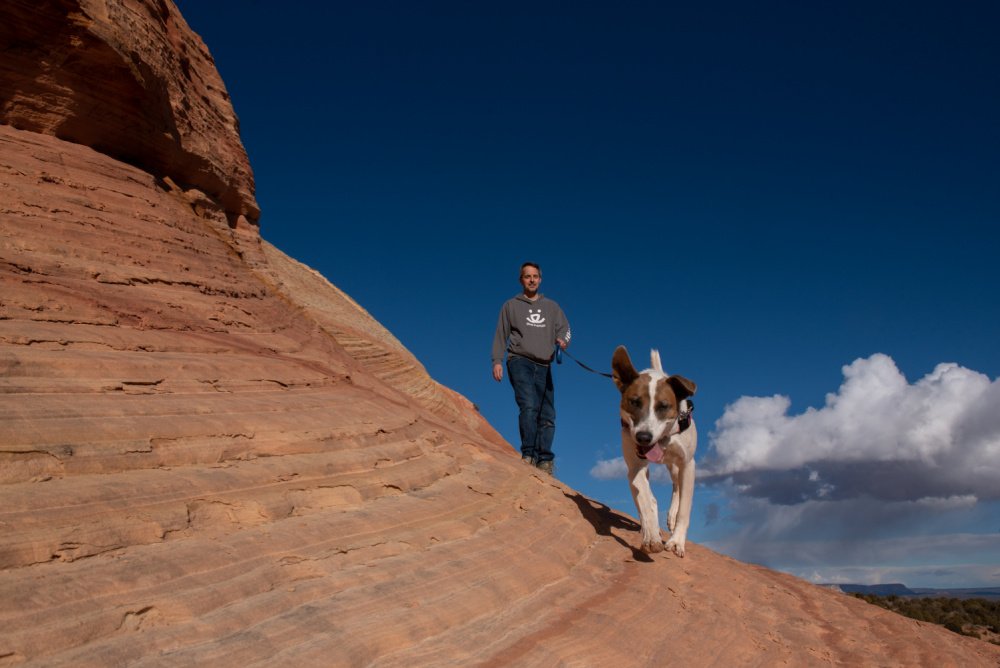 As vital as it is for people to learn about the organization, visit the Sanctuary, and get involved with local shelters and partners, there is a more powerful message. It comes down to individuals making good decisions about pet ownership, specifically now, since we are still experiencing the effects of the global pandemic. Fast fact: Acquisitions, not adoptions, were up during the pandemic. Many people acquired animals, but not necessarily from a rescue or shelter. They believed they were adopting because online retailers and puppy mills use the word "adopt" to make the public feel better about acquiring. Unfortunately, potential owners are often purchasing from someone who is not helping to reduce the number of dogs. Additionally, people think they are getting a healthy pet. They've spent a tidy sum of money because they equate high price with high quality, but often they are buying animals with considerable health and genetic issues.  
It's imperative to consider a pet's health and compatibility with other animals and kids before bringing a new member into a family. It's why fostering leads to permanent adoption—there is a weekend or more to determine a pet's integration into the home. It's also worth noting that dogs and cats can easily live for a decade or more. So thinking about a pet long-term means there could be training and certainly annual wellness checks and vaccinations, plus plenty of fresh air, food, water, exercise—and openheartedness. 
My thoughts about fostering quickly peaked during my tour of Puppy Preschool when I fell in love through the window with Golly, a mixed black breed who looked ready for a snack, adventure, and permanent home. As I'm only allowed one pet where I live, I put in a few calls to friends because that's how most adoptions happen—through friends and communities. Once departed, I began my volunteer shift where I walked a dog who had never been on a leash. What an experience! That was before meeting Big Boi, Matteo, Honest, and the crew whose "homes" I would sweep and mop, and beds and toys I would clean while music played and their caregiver attended to other work. Three hours later, I looked through each "home" through to their "backyards" and saw the boys snoozing before a sunset dinner.  
I'm grateful to have come from a family who embraced pets and the relationships born from them. I know the human-animal connection gave me perspective when I needed it, calmed my nerves when I didn't realize it and smothered me in kisses when I wasn't expecting it. The unspoken is spoken in the eyes and behaviors of animals who choose us as their partners. These partnerships change our lives and theirs in ways only we can fully comprehend as owners. I remember being bucked off a horse at 15, and although initially, I loved the sensation of being in the saddle, I swore I'd never mount again after being thrown against a fence by a barn sour mare. Yet, I wanted desperately to adopt or rescue my first horse.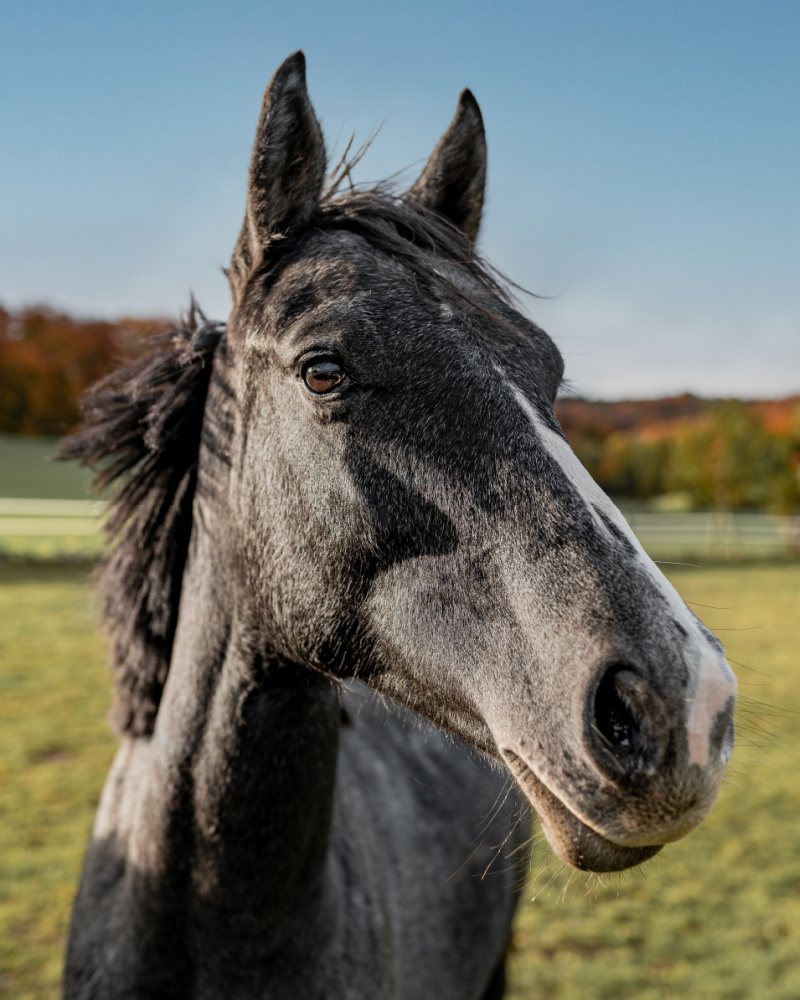 But I missed that sensation enough and discovered it again when at 30, I gingerly mounted an off-track Thoroughbred (OTTB) who had been available (read: neglected) for too long. I thought, if I can just stay on and trust… trust this "he's just as scared as you are horse who didn't race fast enough and now has been sent to this new place" moment—I might be next in line for a life-changing relationship. I found his truth and mine that day when we began our conversation, one that I cherished for its honesty. He moved me to tears with his generosity, and I've been riding and deeply in love with horses ever since. (BTW: I did get him and rode my Kid Charlemagne for seven years).  
If I've had any regrets, it was that I didn't attempt it earlier—I missed 15 years I could have bonded with a species that brought me uninhibited joy, laughter, and a sense of freedom I've yet to find anywhere else.  
April is National Volunteer Month, and May is National Pet Month—spring months where the Sanctuary and surrounding National Parks (Zion, Bryce, and Escalante) sparkle with the essence of new beginnings. Reasons to visit Best Friends are many, but a few I'll share are tours are free, voluntourism produces oxytocin loops (often referred to as the "love hormone"), and aspects of caregiving are noted for their positive effect on our mental health. Finally, adoption is an adventure that we know asks us to believe in ourselves, our animal partners, and our journeys as one—a bond created with purpose and meaning. What a gift! 
Soon it'll be time for a road trip from my home in Jackson, WY, to the red-rock warmth of Kanab with four-year-old Gigi, my rescue dog from the Shoshone reservation in Idaho. First, of course, I'll reserve a pet-friendly room at Best Friends Roadhouse. After that, I just wonder how many animal supplies I can fit in my car.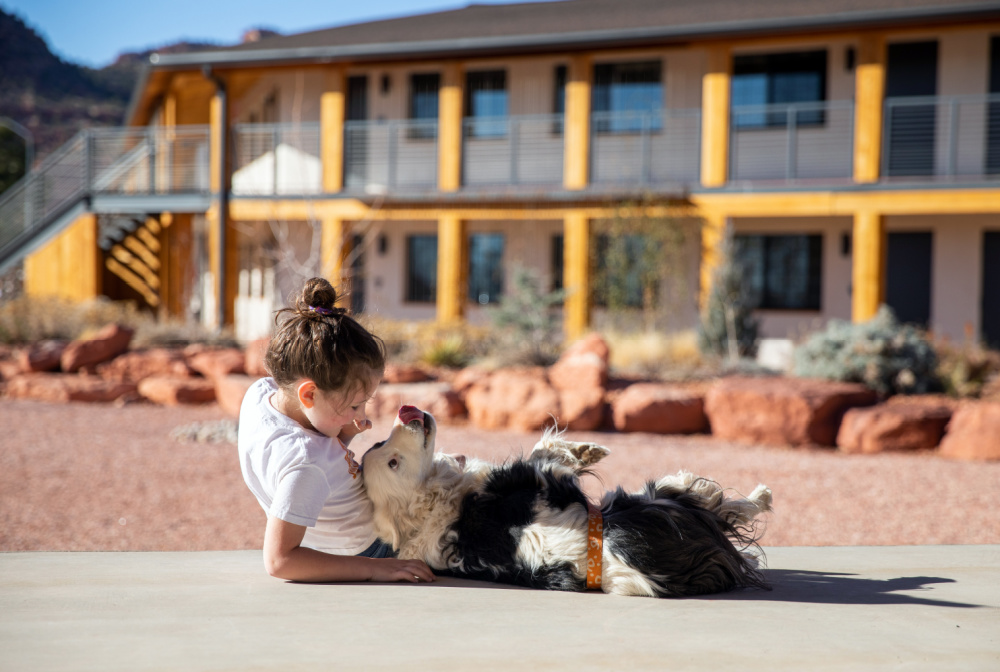 Pets + the Pandemic 
BFAS warns of a national shelter crisis 
Estimates show that 100,000 more dogs and cats are in US shelters awaiting adoption than last year at this time. 
A survey of 150 shelters responded: 
88% were short-staffed 
57% cut hours or programs due to short staffing 
41% are operating at 25% of normal staffing levels 
"Intake has increased, and adoptions have decreased at shelters, contributing to a challenging environment for lifesaving," says Best Friends' CEO, Julie Castle. "Adopting a pet can help to alleviate the stress shelters are experiencing, so if you can, I urge you to adopt now. During a time when many people are experiencing uncertainties, including job changes, housing insecurity, and economic issues, pets can be a source of comfort and companionship. So now especially is the perfect time to add a new pet into your home."
ICYMI 
The top 10 states that killed the most dogs and cats in 2020 were, in order: Texas, California, North Carolina, Florida, Alabama, Louisiana, Georgia, Oklahoma, Illinois, and Michigan.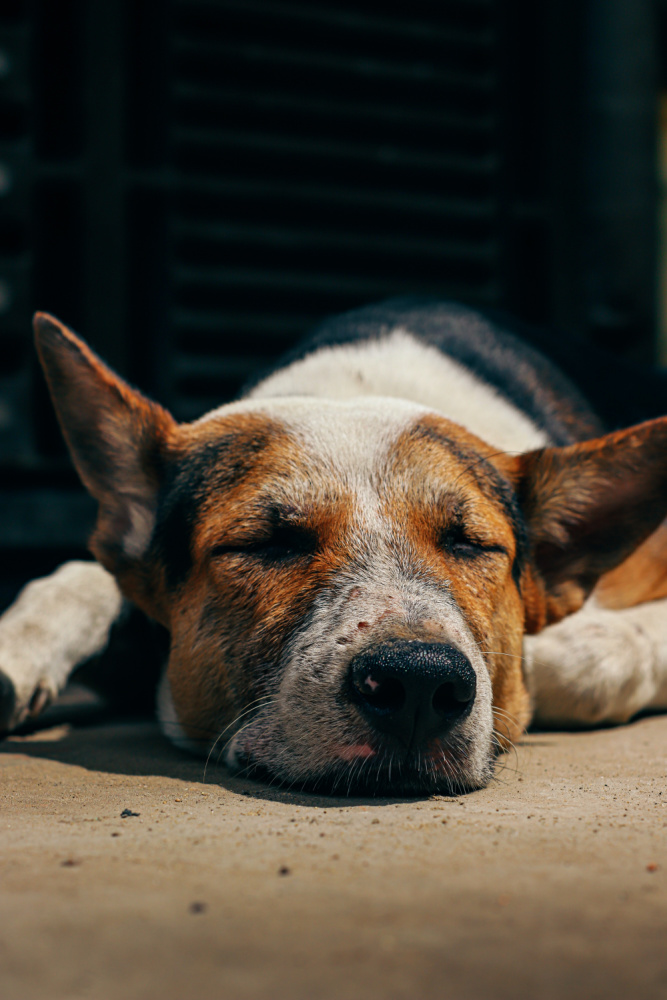 DID YOU KNOW? 
 The fur industry may be going out of style, but minx's hair is used for false eyelashes. Check your packaging!  
You should only pet parrots on their head or feet; petting them anywhere else causes them to become aggressive and pluck their feathers.  
Once birds of prey gorge on roadkill, they are heavier and struggle to get lifted and out of the way of a passing car. If you happen to hit one, attempt to rescue it and transport it to a vet or bird center. FYI: they have hollow bones, which heal very quickly, hence hurrying up to fix 'em up pronto!  
On the morning before my volunteer shift, I visited Cat HQ and met, Thursday, a one- eyed cat who coquettishly commanded the attention of her feline friends and others. Before the end of the day, her "forever home" mama had adopted her!
KITTEN SEASON IS SNEAKING UP! 
Every year, thousands of these tiny faces arrive at our nation's animal shelters, and your help is needed to make sure every life is saved. And when you open your home to fostering, that's exactly what you're doing: You're providing these adorable fuzzballs a chance to grow up and find families of their own. And they provide you with more love and laughter than you can shake a feather at. So, with kitten season right around the corner, shelters nationwide are hoping you'll raise your hand to help.  
Whether you're looking to post the ultimate cute on social media, need a daily dose of fun and silliness, or simply want to save lives and provide kittens a happy and healthy future, sign up today to become a foster. That way, you — and your local shelter — will be ready when the fuzzballs arrive.  
Visit bestfriends.org/kittens and we'll help connect you to a shelter in your area that's preparing its foster network. Sign up to save tiny lives near you.
WANT TO KNOW MORE BEFORE YOUR VISIT?  
Best Friends: The True Story of the World's Most Beloved Animal Sanctuary by Samantha Glen with an introduction by Mary Tyler Moore. 
DogTown: Tales of Rescue, Rehabilitation, and Redemption by Stefan Bechtel. 
VOLUNTEER. DONATE. ADOPT. 
bestfriends.org / bestfriendsroadhouse.org  
(Your stay helps support the lifesaving mission of Best Friends Animal Sanctuary.)
Thank you to Temma Martin, Public Relations Manager and Gabriel DePeyer, Co-Founder, both of Best Friends Animal Society. Thank you to Camille Johnson Taylor, Executive Director of Kane County Office of Tourism. Lastly, thank you to tour guide, Kira, and caretaker, Janna, and the all the animals I met during my visit.