Like many fleeing the industrial confines of the East Coast with a batch of bad lungs from tuberculosis, F.O. Stanley found himself awestruck by the natural beauty of the Rocky Mountains. He landed in Estes in 1903, and soon after, he began construction of The Stanley Hotel. The luxury spa—now most notable for its ghosts and its role in Stephen King's The Shining (see caption)—became a place for the social elite to summer.
Indeed, tourism has fueled the growth of Estes Park and it is still a healthy part of the local economy  today. The town can be luxurious, yes, but above all, it's the saddle of wild woods, a place to explore, clear one's mind, and bliss out on nature.
Estes Park is surrounded on three sides by Rocky Mountain National Park, and the other side is wilderness. As a base camp for the Rockies, Estes Park and its denizens take recreation very seriously.
And like any good base camp worth its sweat, activities and indulgences abound for winding down after bagging peaks or climbing world-class pitches. You will likely find yourself swooning over the town's rich history and never-ending fun.
Once you get Estes Park in your blood, it's hard to leave it behind.
A Place World-Class Climbers Call Home
Estes Park is home to the likes of climbing legend Tommy Caldwell and up-and-comer Paige Claassen  de Kock.
When Tommy Caldwell was three years old, he wanted to fly a new Spider-Man kite from the top of the iconic Twin Owls formation in Rocky Mountain National Park. Fair enough, said his father, a local hero in the guiding community. The wee little Caldwell just had to climb to the top via Bowels of the Owls.
And so began the climbing life of America's—if not the world's—greatest living climber. Right here in Estes Park.
Caldwell—known world-wide as the first person to continuously free climb the Dawn Wall in Yosemite National Park—cut his teeth climbing around Estes Park. He ascended the sheer-faced Diamond on the east face of Longs Peak before he was 10, and he went on to develop many internationally-famous routes in the area.
Estes Park and climbing go way back. In the 1860s, the first guiding services began climbing the captivating rock outside of town, and recreational and professional climbers have been bagging peaks here ever since. Caldwell and other local climbers have, among other things, developed two famous areas just a stone's throw outside of town. Chaos Canyon, Caldwell's backyard gym, is located within the National Park bounds. Its massive granite boulders, with challenges all the way up to V15, have put Estes Park bouldering on the international map. But Caldwell might be most famous for developing world-class sport climbing routes at the Monastery. With more than 100 routes to try out, ranging in difficulty from 5.6 to 5.14, it's a favorite for travelling climbers as well as locals, like professional climber Paige Claassen de Kock.
"It's a narrow gully of perfect, clean-cut granite. It climbs like a dream," de Kock says. The gully frames Longs Peak in the distance, so it's gorgeous year-round.
The 26-year-old climber is now living part-time in South Africa, because of a new marriage, but she finds solace in Estes Park. De Kock comes back to visit family to be sure, but it's a good bet that her fascination with the rock is one reason she says, "This will always be home."
"There's no chance of getting bored here," de Kock, primarily a sport climber, says with a laugh. There's an abundance of routes within an hour's drive, but most are isolated to themselves. A climber has to really pick what she's going to work on. "That makes the climbing really rewarding," de Kock says.
Other notable climbers who call Estes Park home include Harry Kent, Josh Wharton, and Eli Helmuth. But there are so many more world-class climbers here who are not in the limelight. Whereas Boulder, Colorado, is a hub for professional climbers, Estes Park attracts "more of the underground, who aren't trying to put their names out there, but who are in it simply for the love of climbing," de Kock says.
The grades are stiff and the rock is sharp. "It takes a lot of heart to climb here," she continues. "There's a big local community of talented climbers who love to explore and climb new routes."
De Kock started climbing at the age of nine when her family moved to Estes Park, because, as she says, "I was not skilled in many activities. I sank in the swimming pool, lacked the coordination needed for basketball, and my saxophone harmony left my audience cringing." So her parents took her to the local climbing gym. And "the sport of misfits opened its arms to me."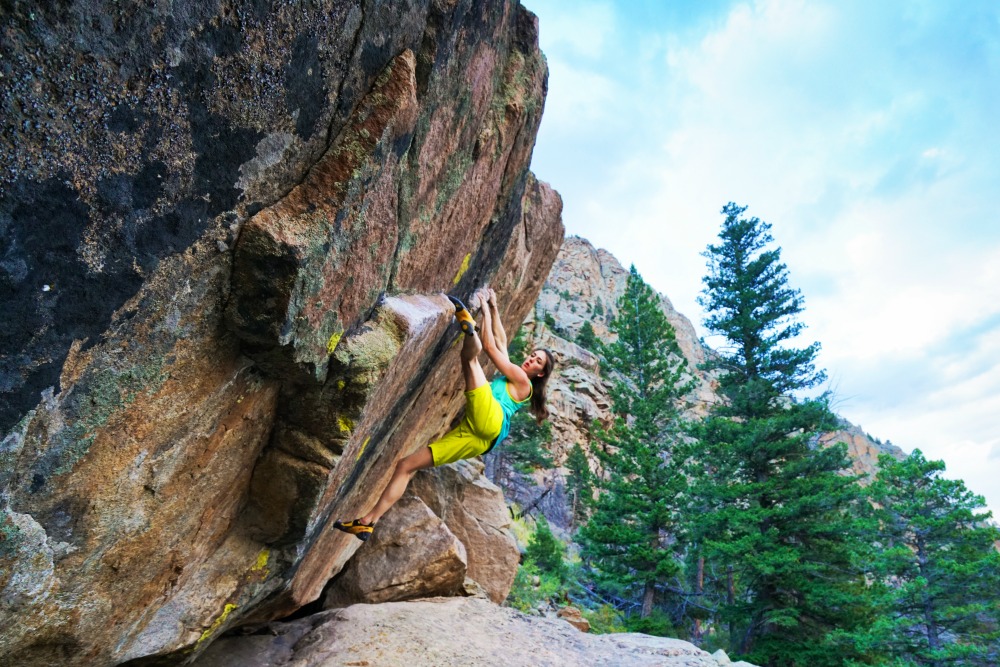 The Bucket List: The Estes Eight
Tie One on with Kirk
Take a guided fly fishing trip where llamas carry your junk to remote blue-ribbon streams in the wilderness. Kirk and a team of expert guides from Kirk's Fly Shop guarantee that everyone in your group will catch at least one. They'll leave it up to you, though, to embellish on how big it was. kirksflyshop.com 
Inn-to-Inn Backpacking with The Warming House
The Warming House has crafted a six-day itinerary modeled after the inn-to-inn hiking found in Europe. It pairs the best of Rocky Mountain National Park's epic scenery with quaint lodging. Best part: they transport your luggage, so you can focus on nature appreciation. Oh, and there are dinner and drinks waiting for you upon your arrival each night. Ok. That might be the best part. warminghouse.com
 Visit the "Land Above the Trees"
Rocky Mountain National Park boasts the largest expanse of tundra in the Lower 48. Nary a tree grows in this frost-shaped landscape, located at 12,000 feet above sea level. Hikes to satisfy all levels of abilities and fitness abound. nps.gov/romo
Give a Rut During Elktober
While tailgating to elk mating sounds admittedly weird, even "you know you're a redneck if," we swear it's not. People have a veritable heyday during the rut, or elk mating season. Folks camp out and picnic in RMNP to see the bucks wrangle their harem; it's what you do in Estes in October. Here's a little secret: The herd isn't native, because they were previously hunted to extinction by Lord Dunraven and his gang of hunters. Estes' hero, F.O. Stanley, actually bought a Canadian herd of 100 elk and shipped them here in a Stanley Steamer. Thanks F.O.! visitestespark.com/tailgate
Lazy B Chuckwagon Dinner & Show
Pile your tin plate high with your share of food—beans, barbecued meats, and a half a peach, pardner. Then, proceed to sip margaritas as you indulge in some dandy cowboy tunes. It's a real wild night—just like they used to have on the range. lazybranchandwranglers.com
Leave a Key/Leave a Buck 
The largest key museum in the country is located at The Baldpate Inn, a charming little inn in the woods of Estes Park. Find your state's section and add to the collection. You'll also find some rather odd historical keys, like the key to Adolf Hitler's desk drawer. At the Dunraven Inn enjoy fresh seafood  and damn tasty cocktails under a canopy of signed dollar bills left by patrons (the owners estimate the number at 16,000). Leave a buck, but don't take it out of your server's tip. baldpateinn.com and dunraveninn.com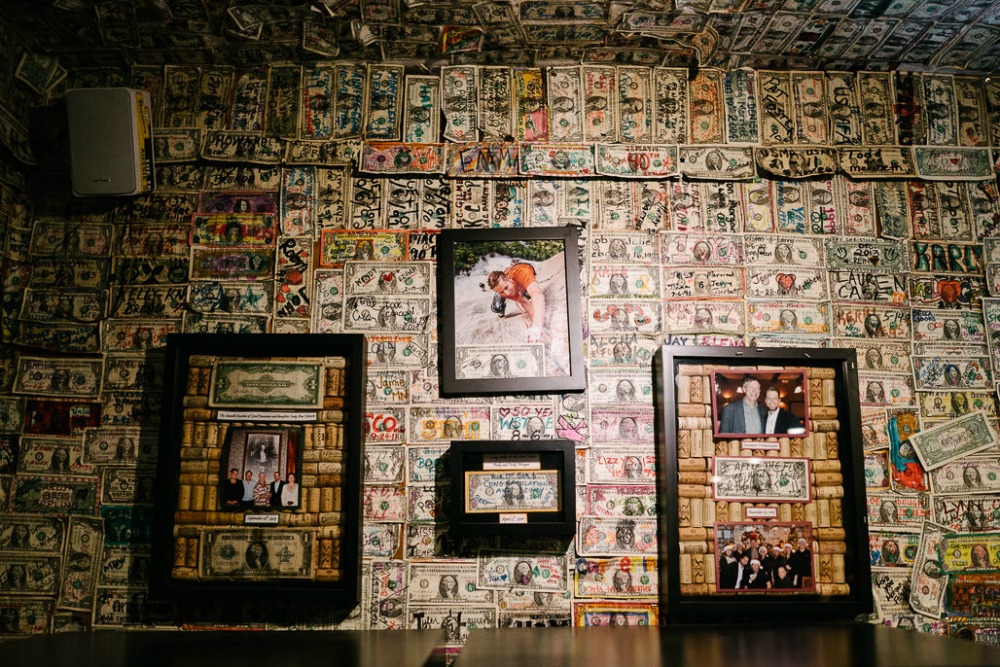 Kilt-Kickin' Good Times at the Longs Peak Scottish-Irish Highland Festival
See the tartan, hear the bagpipes, and smell the haggis. This big ol' hootenanny—held annually the weekend after Labor Day—pays homage to the roots of the early settlers of the valley. It's the largest event of its kind between the Mississippi and California and has been happening for three decades. scotfest.com
Whiskey Tasting at Cascades Restaurant in the Stanley Hotel
Home of the largest whiskey collection this side of the Mississippi, Cascades Restaurant has enough enticing cocktails that you'll forget you saw ghosts the night before. But, wait, there's education, too. Take a whiskey flight that  includes Colorado whiskey and some dandy Kentucky bourbon and hear all about how whiskey is made and best appreciated. stanleyhotel.com
 Eat
Twin Owls Steakhouse
Searching for steak nirvana? Settle into this rustic, log-framed building with mountain views and buckle up for The MacGregor—a filet mignon with Béarnaise, pistachios, and asparagus. Mind. Blown.  twinowls.net
Donut Haus
A hub for climbers and families alike, the Donut Haus has slung O-shaped treats for 30 years. Grab a box en route to the crag—for fuel or to make new climbing friends. donuthaus-estespark.com
Drink
The Barrel
Craft-beer connoisseurs hear "Colorado" and salivate like Pavlov's dogs. With more than 60 beers on tap, The Barrel is your palate's best friend. This downtown outdoor beer garden is a prime place for a cold one. thebarrel.beer
Wheel Bar
Enjoy small-town Estes Park history looking at the old photos hanging throughout this establishment. But The Wheel isn't a museum. Come here to relax, kick a few back, and gawk at oodles of wheel-themed relics. thewheelbar.com
Stay
YMCA of the Rockies
It's not your typical city-gym-type YMCA. The YMCA of the Rockies is surrounded on three sides by a national park and the fourth side is wilderness. Yeah, that's our type of "gym." Welcome to the largest YMCA in the country, offering woodsy cabins and low-key hotel rooms. With loads of recreational options—from hikes to horseback riding—it's more than just a place to sleep. ymcarockies.org
Camping in Rocky Mountain National Park
Experience the high-alpine wonderland that is Rocky Mountain National Park in the best way possible: sleeping under a canopy of stars. Pitch your tent and you'll be well positioned to enjoy sunrise hikes and sunset picnic vistas. nps.gov/romo/planyourvisit/camping.htm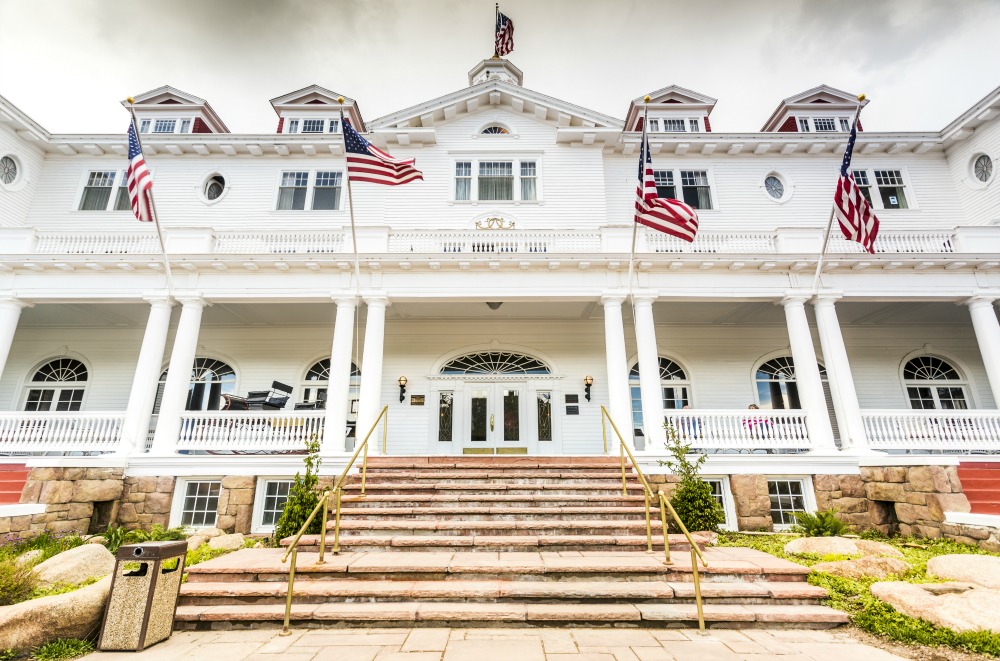 The Stanley Hotel
Curious about Stephen King's wild night that inspired The Shining, why Jim Carrey checked out after only a few hours, and all the local tales of the mostly-friendly ghosts? Check in at Estes Park's luxury historic accommodation… if you dare. stanleyhotel.com