Snowboarding's Outcast Origins and Commitment to Creativity
It's somewhere in Mountain Town, U.S.A. in the late 1970s. If you're one of a small but growing crowd that has discovered the pure joy of shredding powder sideways, you are not welcome on your local ski hill. In fact, you are banned. So, to get your fix, you may or may not be doing things like disguising yourself as a liftie, hiking up in the dark before or after the chairs are operating, or even finding that secret spot that's technically in bounds and taking the chance of getting your pass pulled just so you can build a few kickers. You are an outcast because of the gear you choose, the way you ride. Traditional norms don't exist or are meant to be broken. You find yourself fearlessly adapting to change and embracing creativity. Because when the system is set up to keep you out, you gotta adapt or change the system. Here's to the early renegades of snowsports, the pioneers of boarding, and those creative and inspired individuals who continue to create more avenues for snowboarders to pursue their passion.
Jake Burton Carpenter (yes, the Burton Snowboards founder, est. 1977) convinced a tiny place in Vermont called Suicide Six to become the world's first ski resort to allow snowboarding in 1982. But mass acceptance of the sport didn't happen across the country. Jackson Hole-based Mikey Franco has been a professional guide, coach, trainer, instructor, and board shaper over the course of his lifelong involvement in snowboarding. He fondly remembers his "outcast" moment from 1986-87: "It was at a little ski mountain near where I grew up in Pennsylvania. I was already a skateboarder and snowboarder, but my skier friends convinced me to learn how to ski so I could get a job checking tickets and get a free pass. When I wasn't working, though, I was snowboarding. Eventually, a friend and I got caught by the general manager. After getting caught two more times, he fired us." The experience convinced Franco to move out to Wyoming where freedom already existed for snowboarders (boarding was never banned at Jackson Hole Mountain Resort) and the burly terrain of the Tetons held endless possibilities.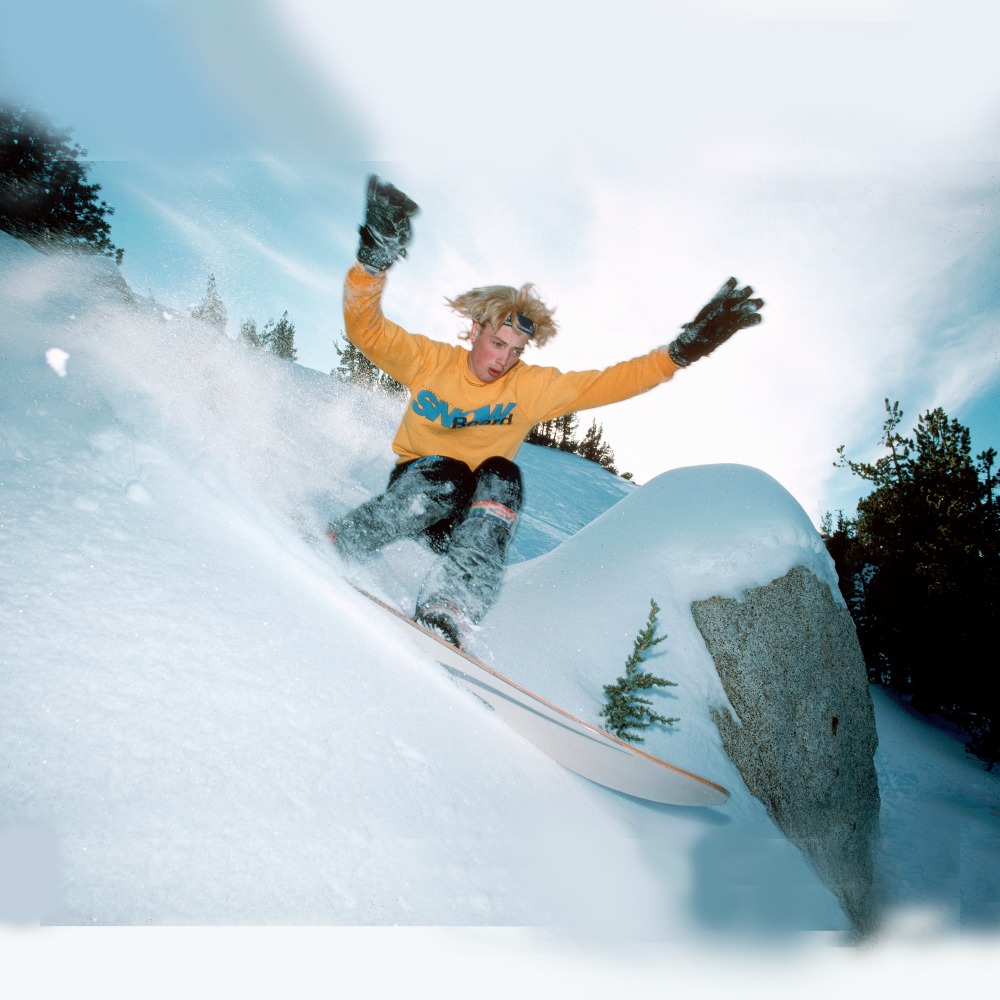 Franco wasn't alone. "I grew up in a really small mountain town called Silverton, Colorado. We were always playing in the snow and skiing," says Cory Smith, Sun Valley, Idaho resident and founder of MTNApproach, a backcountry gear system for snowboarders. He says, "I was a skateboarder, so when I saw snowboarding for the first time I was blown away. Here was the missing link." Smith's experience in the world of snowboarding includes being an ex-pro backcountry and freestyle rider, equipment designer, team manager, and videographer. Similar to Franco, his "outcast" experiences in the early days were thankfully tame compared to the aggro situations that were rumored to be happening at bigger ski areas like Vail and Tahoe. "Purgatory (a 40-minute drive) was our local hill and you had to get certified to get on the chairlift with a snowboard. We were looked at as not being worthy of being on the mountain. I still have my little official certificate card from 1987," says Smith. For many, the certificate was almost like a badge of honor.
The relatively young history of snowboarding's industry and technology also shows that the existence of unparalleled creativity and innovation was alive from the get-go. These renegades were pioneers working from no established reference points. For example, in 1963, a 13-year-old Tom Sims (yep, the SIMS Snowboards Tom Sims) built the very first snowboard during his seventh grade shop class in New Jersey. He and his buddy John Murray, who built it with him, called it a skiboard, a way to combine their two favorite sports, skiing and skateboarding. During the late 1960s, the earliest forms of snowsurfers (binding-less boards made for surfing on powder) and more snowboard prototypes began to emerge. Things slowly progressed through the early '70s as this radical approach to sliding on snow made its way from New England to the big mountains of the West.
In 1976, an East Coast transplant developing boards in Utah's Wasatch backcountry named Dimitrije Milovich officially founded Winterstick Snowboards. That same year, Winterstick exhibited their products at Snowsports Industries America and National Sporting Goods Association tradeshows. Despite a lack of enthusiasm from retailers, snowboarding's popularity as a form of recreation and as a culture continued to expand. It was spreading word-of-mouth in organic, informal ways, boards were being made in garages, and the simple stoke of those looking for something different was growing.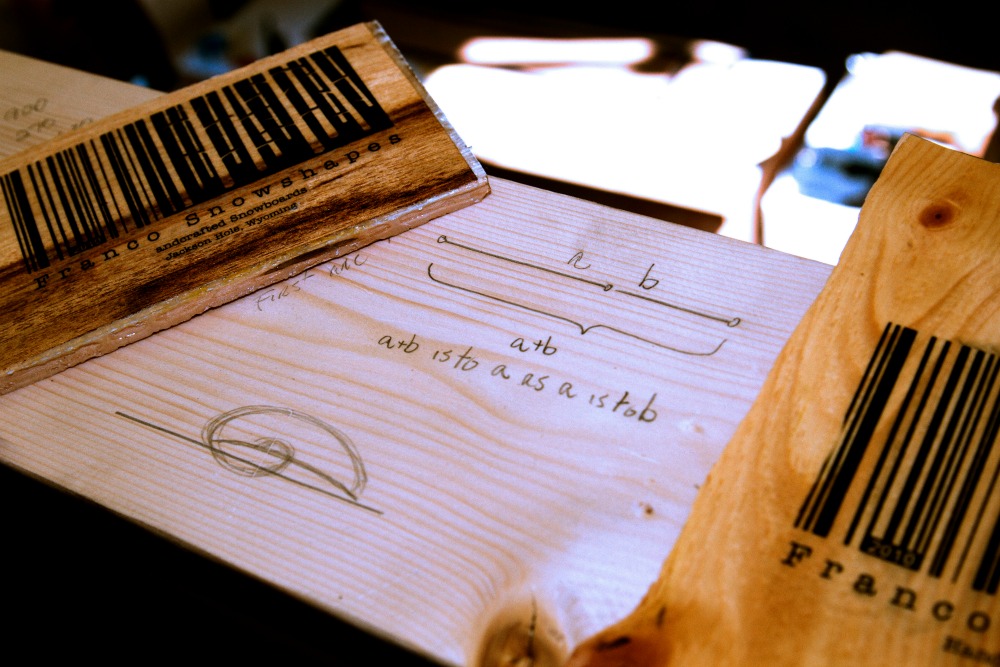 Founder of the independent, women's-specific brand Pallas Snowboards based in Utah, Stephanie Nitsch believes in the value of doing things in this grass-roots style in the present day as well. She says, "We regularly host clinics and get-togethers at various mountain areas. Seeing that spark of excitement spread like wildfire among all these women to create this tight-knit community has 
been a huge benefit to what we're doing."
If you talk to any ski shop owner nowadays, he or she will tell you that snowboarding helped save the skiing retail business during the 1990s and early 2000s. There's no denying those snowboarding-influenced ideas such as fat skis, twin tips, trick selection, and ways to approach terrain features—all of which have had a strong effect on the evolution of the ski industry.
Because, when you break it all down to the essence, snowboarding at its core exists for pure enjoyment. First there was surfing, created for the simple joy of riding waves. And skateboarding started as a way to surf on concrete. The core intent of snowboarding is an extension of both surfing and skating in a physical and mental sense. "When you look back at the history of surfing, which is over 4,000 years old, it's always been about play," explains Franco. "It wasn't used for warfare, and it wasn't used for hunting. I truly believe that has had a profound impact on snowboarders today."
"Snowboarding was created without the utilitarian aspect that you see in skiing's long history. That's why, aside from Boardercross and Banked Slalom races, traditional snowboard racing never took off." In other words, Franco continues, "Competition detracted from the pure fun, freedom, and creativity so many boarders were looking for."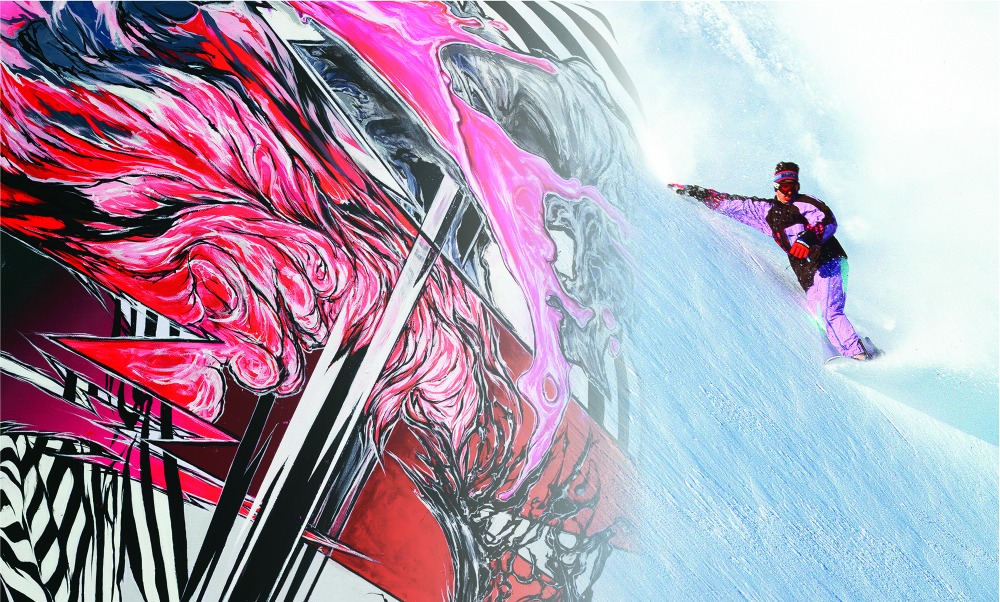 Asymbol Gallery is headquartered in Jackson, Wyoming, and was established in 2009. Modern professional snowboarding superstar Travis Rice and pro-rider-turned-established-artist Mike Parillo created this art collective. The mantra is about emphasizing the image makers who play an integral role in making snowboarding culture meaningful, powerful, and communal. Here's how Rice puts it: "We wanted to assemble the family of artists and focus on their most symbolic images and photos, which really conveys where we come from." Featured works at Asymbol embody everything from early graffiti-style board graphics to mixed-media creations and various forms of photography.
Asymbol is the pure present-day example of the snowboarding culture that embraces change and is uncompromisingly creative. As longtime snowboarding writer and Asymbol family member Josi Stephens explains, "Art and snowboarding exist in the same sacred space; both are motivated by expression, innovation, and creativity. Our mission is to ensure that the art and artisans of our culture continue to thrive. The art and photography of Asymbol is a tribute to how far we've come and how far we'll continue to go as a community."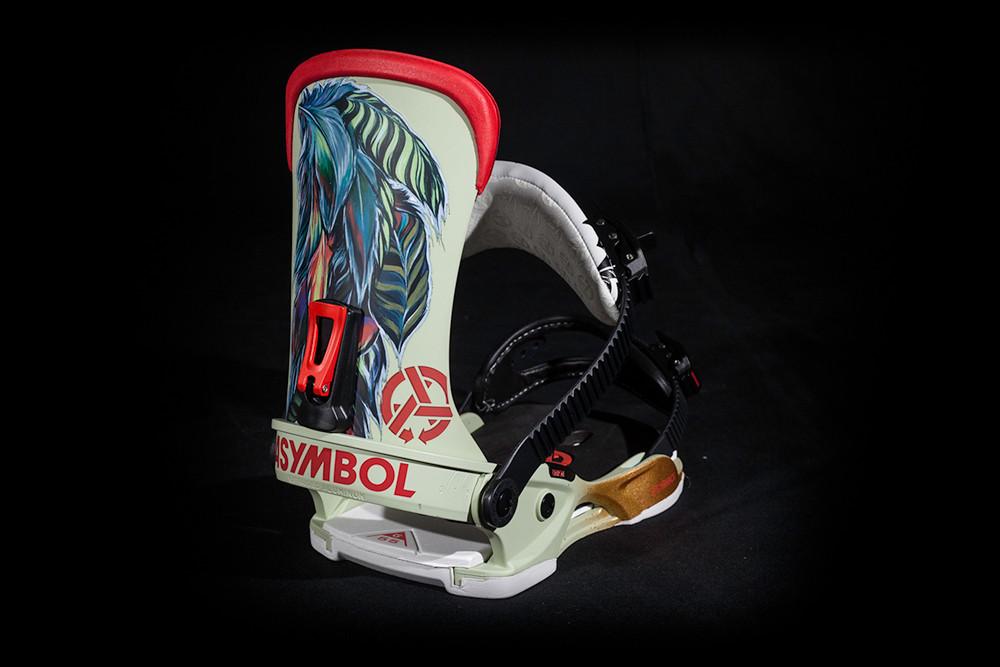 In other words, forget the thinking outside of the box. For the renegades who gave snowboarding life to the creatives who are sustaining that energy today, there is no box.
———————————————————————
The Independent Shop: Board Bin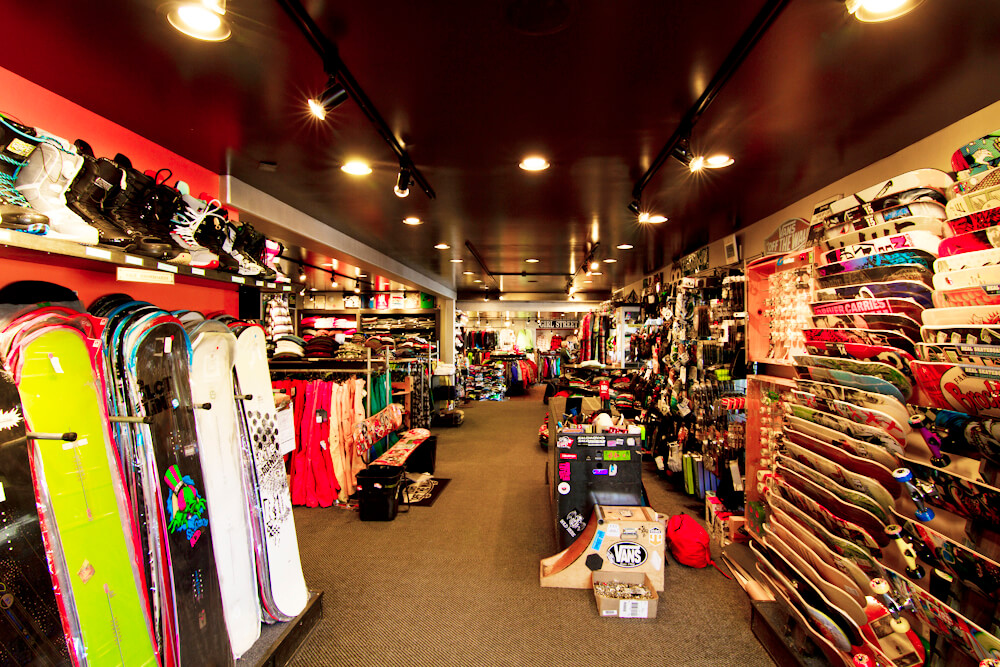 Truly down from day one, The Board Bin was started in 1988 and has the distinctive title of being the oldest specialty snowboarding shop in the American Northwest. With the southern Rockies of Idaho as their backdrop, founders Jim Slanetz and Karin Reichow started their board shop in a garage and then graduated to some in-town commercial spaces—one of which required that their customers enter through the side door because, as Jim Slanetz remembers being told, "snowboarders shouldn't go through the front door." Currently housed in a historic blue house in the town of Ketchum, just blocks away from Sun Valley Resort's Bald Mountain, The Board Bin is more than just a store­—it's a community hang-out for boarders of all kinds (snow or skate) with a mission to support young people who want to pursue their board-based sports. Half of the staff members are women, and The Board Bin has a "store within the store" called Girl Street, which is dedicated to the riding and style preferences of all female customers. This is truly an independent, community board shop that prides itself on doing things like getting the local youth on snowboards at an early age and advocating for quality skateparks. Newly remodeled, the shop floor houses a consistently impressive collection of products and the vibe is always mellow and welcoming. The best board technicians, a very knowledgeable family of employees, and great gear deals round out the package. Some things should never change. boardbin.com
Shapers: Pallas Snowboards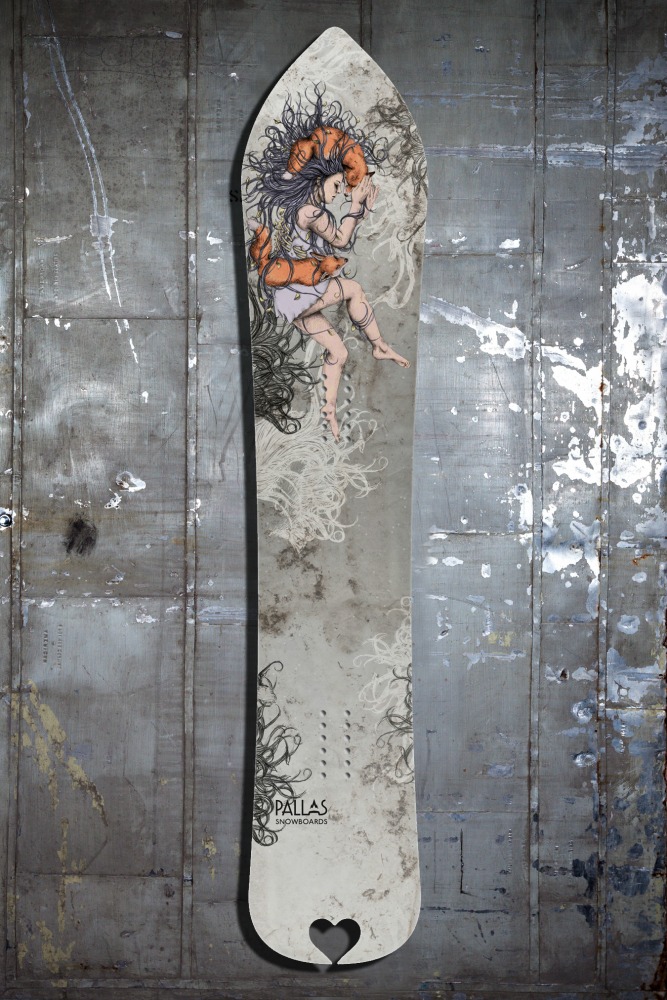 Born and headquartered in Utah and tested in the Wasatch Mountains, Pallas holds the distinction of being a company that makes boards specifically designed for female riders. The brand was officially established in 2014 when founder Stephanie Nitsch teamed up with Chimera Snowboards. Pallas makes a point of keeping their production small and doing direct-to-consumer sales. Every single board is produced by hand in their small workshop in Salt Lake City. Here's how Nitsch describes the mission of what they do: "We strive to make the best possible snowboards for women in the industry. The key is an approach that hasn't been tapped into within the mass snowboarding market." Pallas makes it a priority to create events that help foster a bond between all female riders associated with their company. "For the last two winters we've hosted a number of clinics for women of different ability levels," Nitsch explains. "Creating that tight-knit group of people to go exploring in the mountains is what Pallas is all about." On the technical side, innovative blends of materials, creative board shapes, and stunning hand-drawn artwork is the trifecta that goes into every product. pallassnowboards.com
Shapers: Franco Snowshapes
An independent snowboard company that completely redefines the term "custom made," Franco Snowshapes' factory sits right at the base of Rendezvous Mountain in Jackson Hole, Wyoming. Founder Mikey Franco cut his teeth in the trade of board making with the help of his good friends at Igneous Skis. He started the brand in 2010 with the mission of providing each individual rider with the most personally-tailored snowboard possible. "The engineering is only a part of it. To me, the most crucial thing is knowing exactly how a person's body is going to react with each piece of equipment," he explains. "So I created the Franco Experience, which is one of the options when getting a board from us. You can come here, we'll ride together, and the board is designed based on that riding. We're making the snowboard from your head down to your feet, not the other way around." Franco Snowshapes makes any type of board. Local and domestically-sourced wood cores can be combined with high-tech ingredients. The options are endless. As far as style goes, the brand likes to keep things refreshingly clean. "There aren't actually that many graphics on our boards. The idea behind that is to keep the boards timeless. My intention is that the board is kept and ridden for ten-plus years. It's not this year's throwaway." francosnowshapes.com 
Makers: MTNApproach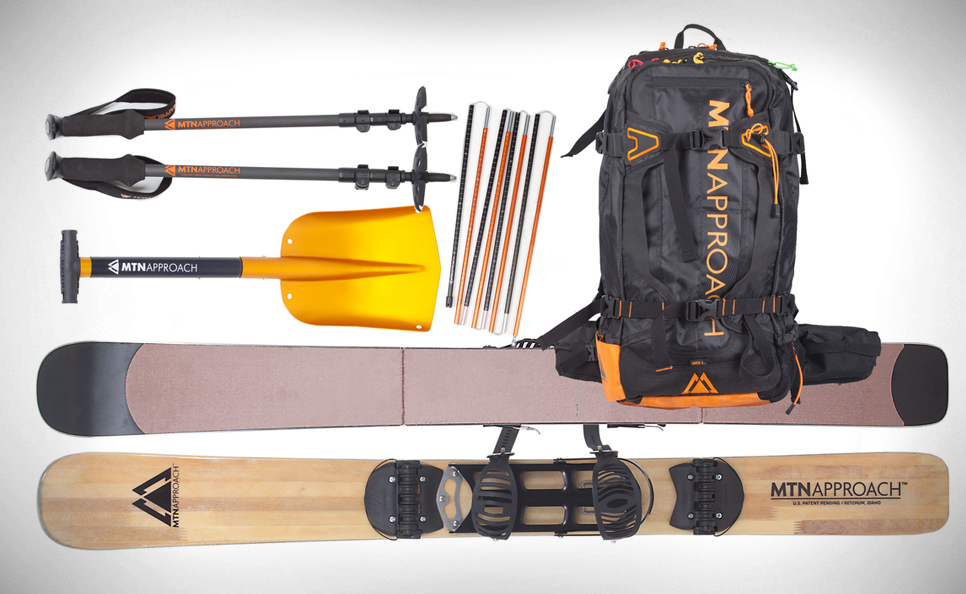 Sun Valley, Idaho's multiple mountain playgrounds are where this snowboarding-specific backcountry brand tests everything. MTNApproach was started by full-time local and Idarado Media leader Cory Smith. The foldable approach skis that this brand produces are a certifiable game-changer for all snowboarders who are looking to earn their turns and get away from crowds. A heavy-duty rubber strap binding system enables the use of any type of boot and the rider's favorite regular, solid snowboard. This also allows for faster transitions when switching from uphill to downhill mode. As Smith explains, "I have splitboarded in the past and for me the transition process is a pain. And I like riding whatever board I want where the ride quality isn't compromised one bit." Each ski is made with an ultralight wood core, fully wrapped steel edges, and permanently fixed nylon skins on the base for climbing. MTNApproach also makes a backpack that is perfectly designed for carrying a board and the approach skis, as well as all other backcountry essentials with ease. Rumor has it that a prototype carbon fiber hinge design is in the works that would make the skis even lighter than they already are. Stay tuned. mtnapproach.com