The Olympic Dream with Steve Nyman and Resi Stiegler
Picture this: you are standing at the start wand, listening to the beeping countdown clock. Cold wind brushes against your neck, your legs lean in anticipation. This moment, standing at the start line, is the result of a chain of events that include hard choices, missed opportunities, focus, determination, a lot of sweat, and a fair bit of luck. It's the result of you cropping every choice in your life, every second of your day toward one singular goal. Standing here, you've nearly reached it. Noise and stimulation swirls around you in an anticipatory storm, but you don't feel it. You don't hear the announcer, or think of your sacrifices—you just feel the hard pack beneath your boots, the steady beat of your own heart. You sense a presence, a focus, which makes you feel ready. Set. Go.
As Olympic narratives fill our screens, a certain storyline grows familiar: athlete A is deeply talented, faces adversity X, overcomes adversity X with great characteristic Z, conquers the world, and stands atop podiums inspiring youth for generations to come. Once upon a time, there was a Wheaties box in the mix. Now it's expensive watches. In one way or another, most athletic journeys fit this formula, and we as fans and audience members get to revel in these stories once every four years, and then wait for the next batch.
However, the Olympic dream as athletes experience it is altogether different than our once-every-four-years syndicate. Competing at the professional level in snow sports is a full-time, lifelong, all-consuming endeavor. It requires a whole-body focus at a young age, in order to prioritize the athletic dream over academics, social life, and romantic relationships. Throughout the journey, athletes face can adversities X, Y, and Z in the form of fundraising, injury, and pure bad luck.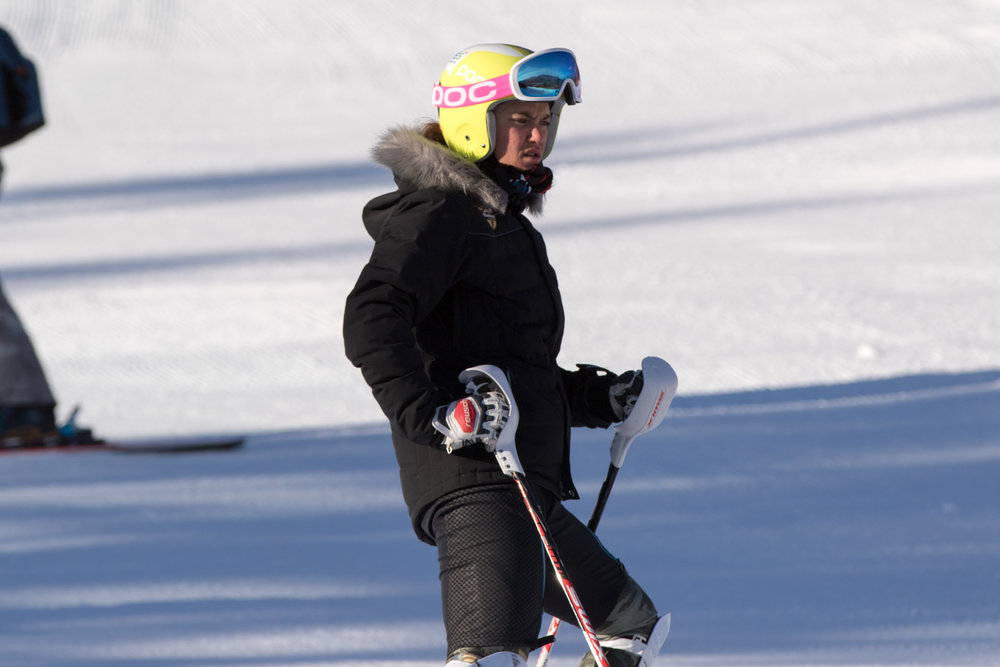 And yet.
And yet, they still push, grind, and work to get to that start line again and again. They yearn for the purity of competition, the rush of challenge. They don't see in their lives any such sacrifice, but rather a compendium of rich experiences piling, one after the other. A look into the lives and minds of these athletes will tell you as much.
---
Like most athletes at this level, Steve Nyman has grown up living and breathing his sport. The three-time Olympian, World Cup regular, and World Junior champion was born into a family of skiers. He enjoyed the privilege of having a ripping mom, ski school dad, and two talented brothers to chase around their hometown of Sundance, Utah. Unlike many alpine athletes, however, Nyman's family had limited financial resources. In a sport as costly as alpine skiing, being able to finance a skiing career can make or break an athlete.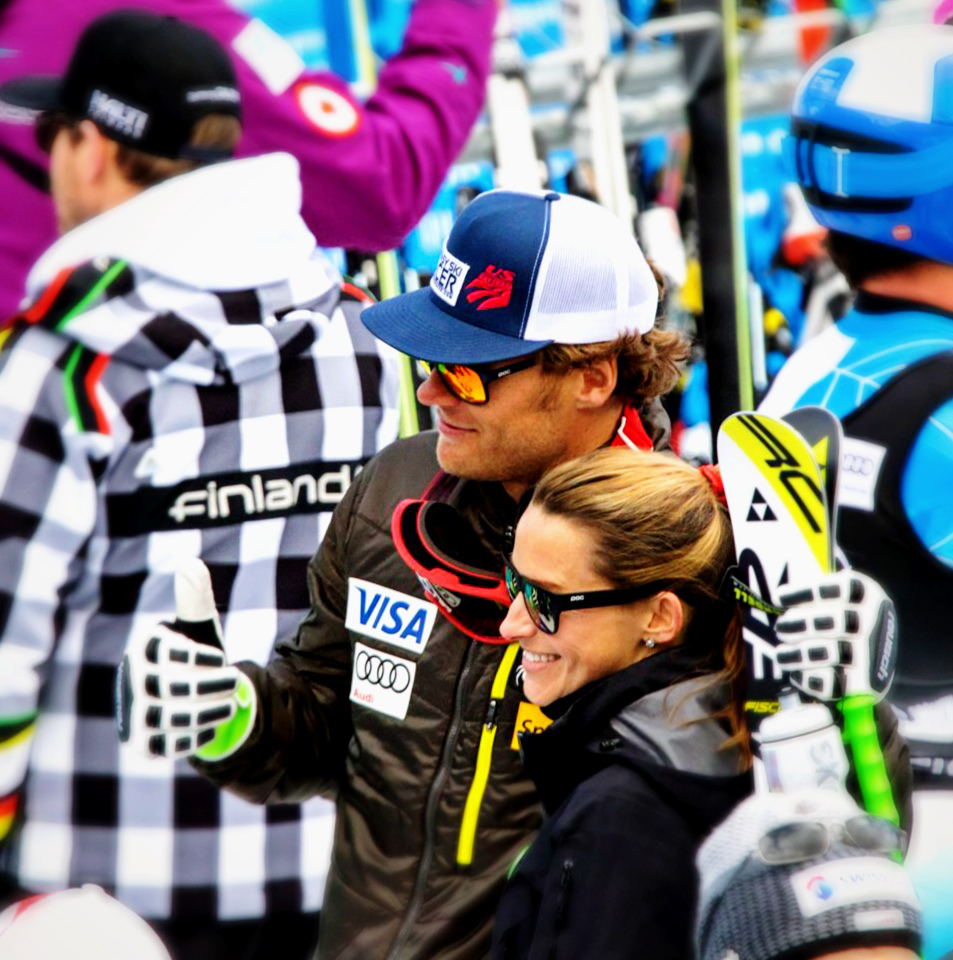 "My parents saw that I had potential and wanted to give me all the opportunities that they could," recalls Nyman, whose sport can cost families up to $40K a year per athlete to compete internationally. "It makes me cry to think of it. My parents believed in me, they helped me move schools, find sponsors, and mortgaged their house to give me the opportunity to race. And we pulled it off."
Pull it off, he did, but it wasn't without a fair bit of negotiation on the part of his teenage self. Unable to afford a ski academy, Nyman made a deal with the Sundance public school to allow him to leave class at noon and drive an hour up Highway 189 to Park City and train with other junior standouts like Ted Ligety, TJ Lanning, and Adam Cole. "It just so happens that Park City had one of the best ski programs in the nation; we had so many guys and gals who had speed and I wanted to chase them, and get pushed by them—I knew back then that I had to make it happen." Schools don't let just anyone rearrange their schedules to accommodate extracurriculars.
Through his promising results, Nyman was offered a discretion spot on the U.S. World Junior Team, for which he sourced his uniform from the Park City ski swap. "I went to World Juniors and won the slalom in '90s stretch pants, a cut-off top, and a backwards billy hat," says Nyman. Because he won World Juniors, he got a starting spot at the World Cup finals, where he finished 15th and scored well enough to place him on the U.S. Ski and Snowboard B Team.
"I went from the Park City Ski Team to the U.S. B Team in a few months and was suddenly the next big hope," he recalls. No pressure. He then began a career riddled with pivots and decision points. Injury led him from slalom to downhill, in and out of competition. But Nyman's focus, these days, is not as singular as it once was. Recently, he started a family with his wife and fellow skier Charlotte Moats, a development that has him shifting priorities and making decisions in ways he's never done before.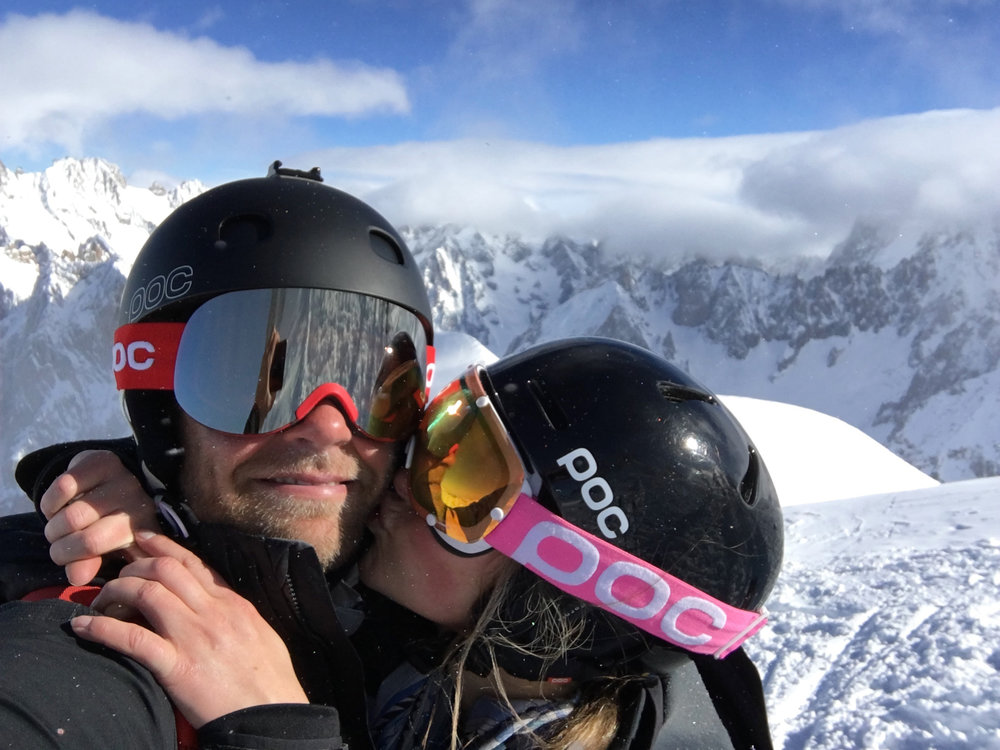 Why keep going? "Why not?" responds Nyman. "My energy is higher than it's ever been. It's fulfilling to have something to set your mind and heart to. I would do this for many more years."
---
Resi Stiegler's path mirrors Nyman's in striking ways. She, too, moved to Park City to race with the best juniors of her time. She, too, found her way to the U.S. Ski Team at a young age (16, to be exact) and began rearranging her life to fit her Olympic goals. Coming from an Olympic family (her father, Pepi, won gold for Austria in 1964), Stiegler has made skiing a lifelong pursuit, and isn't planning to stop anytime soon.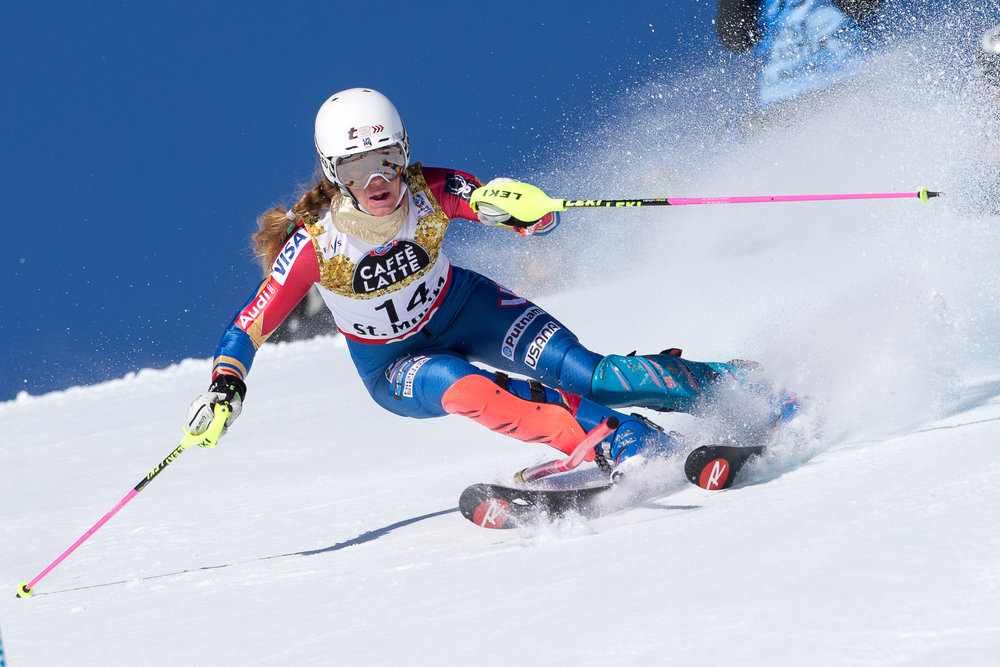 "My love for skiing just keeps getting stronger and stronger," says the Jackson, Wyoming, native who is known to always cross the line with a smile on her face. "For me, skiing has always given me a playground where I can freely explore in the mountains, find my identity and independence in the wilderness." She thrives in that independence as an athlete, a daughter, and a woman, stealing away to the hill to seek the momentum that sustains the duffel-bag-gypsy-lifestyle of the American professional skier.
Stiegler has skied at the top level in the world since she joined the U.S. Ski Team, competing in two Olympics, seven World Championships, and regularly finishing her World Cup season ranked Top 30 in the world. When she passed the age threshold of 25, when an athlete has to be ranked in the Top 25 in the world to remain on the ski team, she was cut from the National Team. "I never for one second thought that I should be done. I love what I do and wanted to keep going," she says, describing how that year—where she had to find private donors, design a training and racing plan, and fight her way back onto the National Team—was transformative for her as an athlete.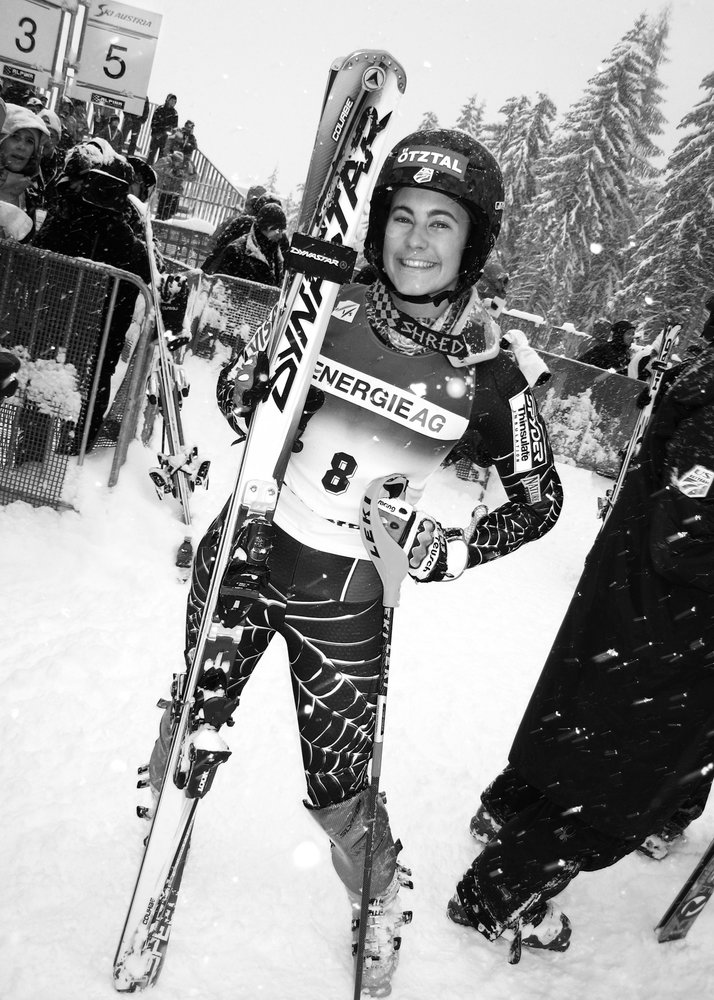 That is perhaps the single most indicative characteristic of these athletes: persistence. Persistence through injury, low funding, team cuts, and losses. Persistence through academic schedules, constant travel, even racing success. Persistence through the perceptions and expectations of others in order to access the meditative and empowering state of sport.
"Skiing feels like freedom," says Stiegler when asked what makes her persist. "It's a space in your mind that is calm. You get addicted to the moments, like watching the sun come up for early training, and feeling the wind in your face. It's natural, organic freedom. It's truly being yourself." She yearns for the presence of it all, and drapes herself and her endeavors in gratitude.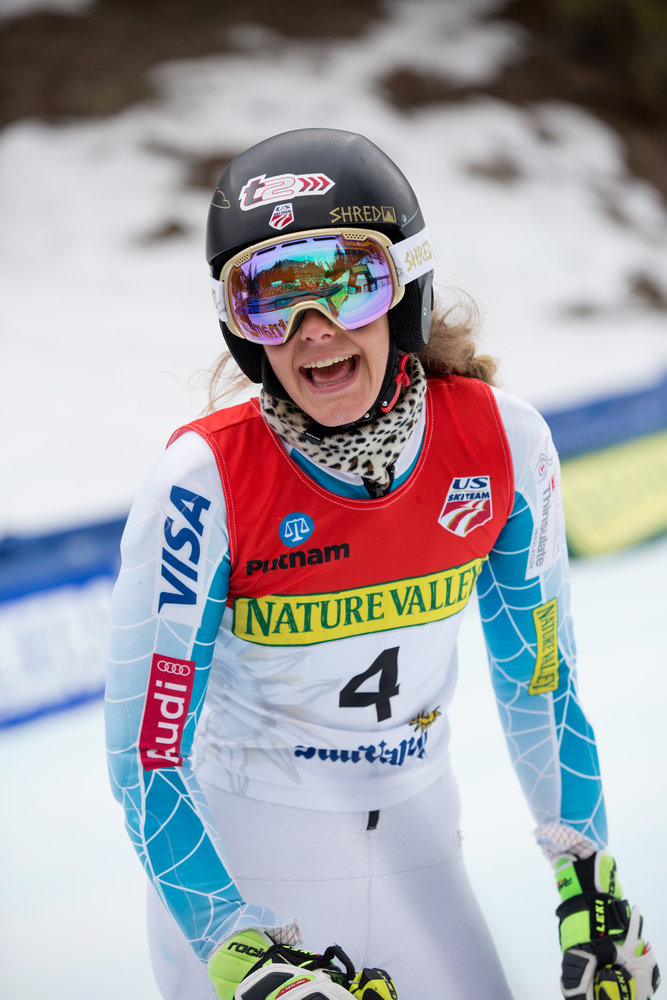 Because, in the end, you know that you're doing the right thing when pursuing it doesn't feel like a sacrifice. "There's no way I would ever think that I gave up anything to do what I do," says Stiegler. "Somehow I get to live this amazing life; how could you possibly not cross the finish line with anything but a smile?"
***If you're anywhere near southern Idaho this coming spring, a diehard ski racing tifoso, or both, be sure to head to Sun Valley where the 2018 Toyota U.S. Alpine Championships will be going off (March 19-26). For more info, click here.