Go For The Glow With These Smoothies!
BigLife Food Editor, Paulette Phlipot gathered the prettiest, tastiest, and healthiest recipes from her kitchen, and the latest cookbooks, Radiant and A New Way to Food, that we think will make your blender blush. You can thank us later for showing you all the colors in the rainbow!
Blended smoothies—in honor of spring, a blend of "can't let go of winter" and "can't get enough warm weather and long days."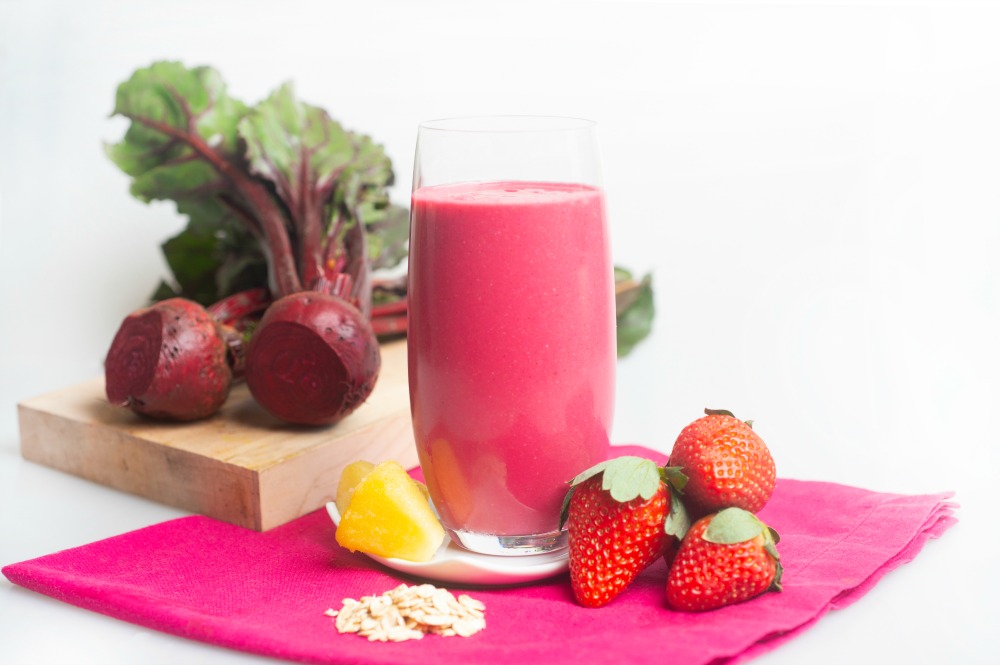 Photograph by Paulette PhlipotElena Levin, Proprietor at Ghost Town, Telluride, Colorado
Ghost Town is an organic cafe featuring local and artisanal groceries, coffee and loose-leaf tea, and vegan-friendly fare. ghosttowntelluride.com
RED SMOOTHIE 
We believe the first bite (or sip in this case) is with your eyes, therefore we use red beets to make our take on a strawberry banana smoothie a beautiful bright red. Our red smoothie is formulated to be a whole meal. We don't use any fillers or ice and use only plant-based ingredients.
Serves: one
4-5 frozen strawberries
4-5 chunks of frozen pineapple
2 chunks cooked red beets (can be frozen or fresh)
1 fresh banana
2 tbsp oats
1 tsp agave
dash vanilla extract
1 c cashew milk (homemade if possible)
Add all ingredients to a blender. Start blending on a medium speed to break up larger pieces of fruit. Then increase to high speed and blend for 1 to 2 minutes.
We buy frozen organic fruit. It's usually more cost-effective than freezing fresh fruit. You can buy frozen beets, however if you're making beets for a meal just boil a few extra ones and keep them in the freezer for smoothies. Lay them flat in a plastic bag so they don't freeze into a big chunk. Once they're frozen you can store them however works best for your space. We love to make our own cashew milk. There are a lot of recipes available online, and all you need is cashews and water. Pro tip: Look for unpasteurized cashews for really creamy nut milk!
We buy beets from High Desert Seeds in Colona and from Mountain Roots Produce in Mancos, Colorado.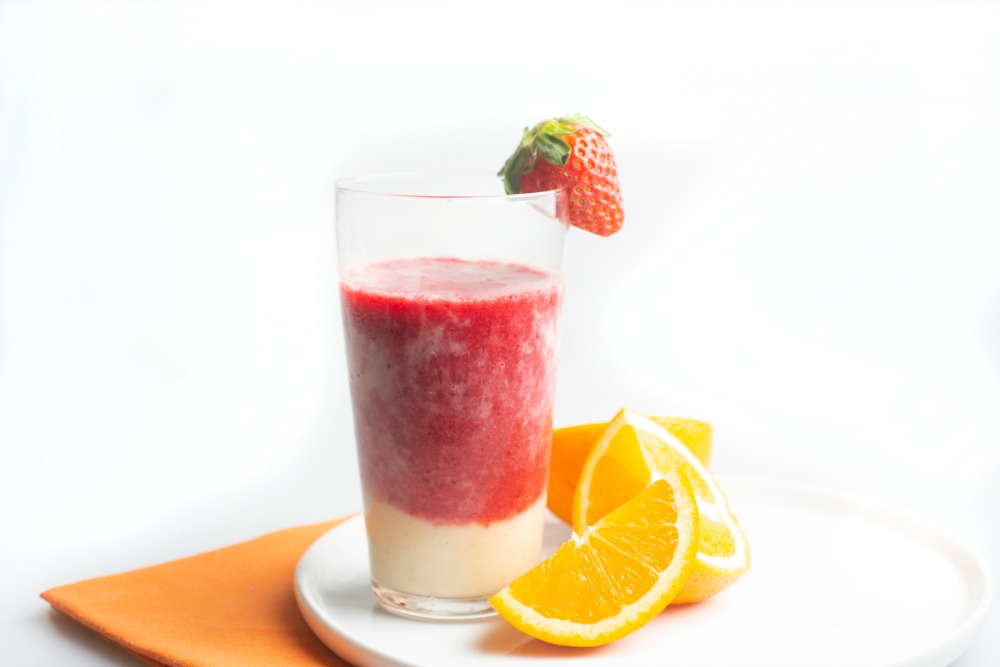 Molly Brown, D.N.M, owner of Glow, plant-based and organic cafe in Ketchum, Idaho
Molly opened Glow in 2008 as a space for local, plant-based and organic foods, juices, superfood smoothies, and energizing desserts and cacao truffles. glowlivefood.com, mollybrownholistic.com
"Sunrise" smoothie is a favorite for kids and adults alike. It is a smooth-tasting, sweet pick-me-up at any time of the day. It blends high-quality nutrition with high-quality taste and beautiful color and toppings using frozen, organic berries, fresh orange juice, and hemp seeds for a bit of a creamy foundation.
"SUNRISE" SMOOTHIE
Serves: four
1 c frozen banana
2 c hemp milk
1 c orange juice
1 c frozen cherries
12 frozen strawberries
2 tbsp lemon juice
Blend banana, hemp milk, and lemon. Pour into 4 glasses. Blend orange juice, cherries, and strawberries together, pour over bottom layer.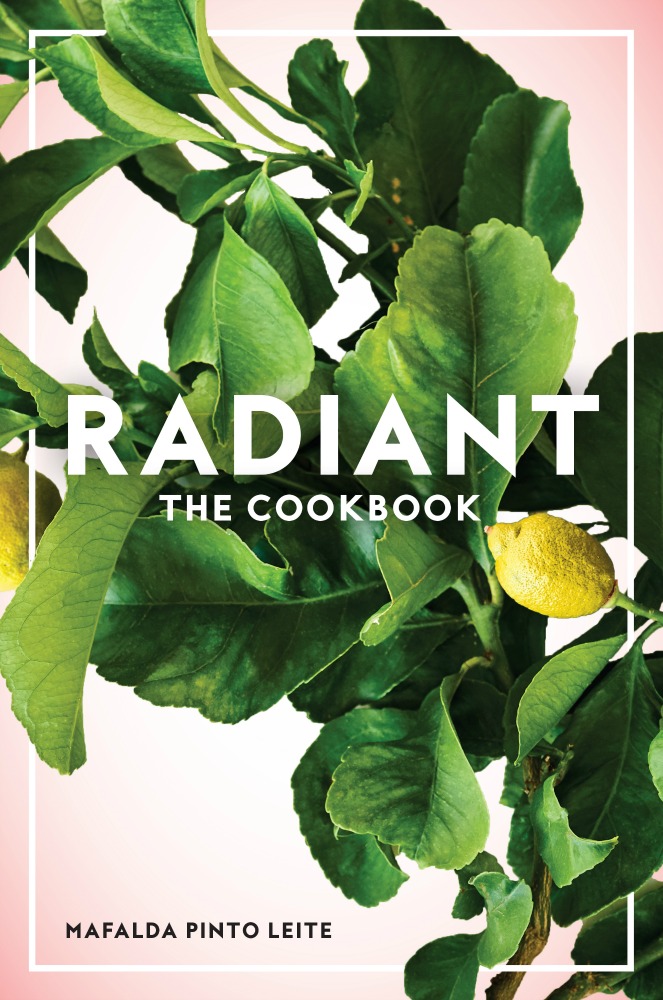 From Radiant by Mafalda Pinto Leite, © 2018 by Mafalda Pinto Leite. Cover Photograph © 2018 António Nascimento. Cover Props and styling by Ana Trancoso. Reprinted by arrangement with Roost Books, an imprint of Shambhala Publications, Inc. Boulder, CO.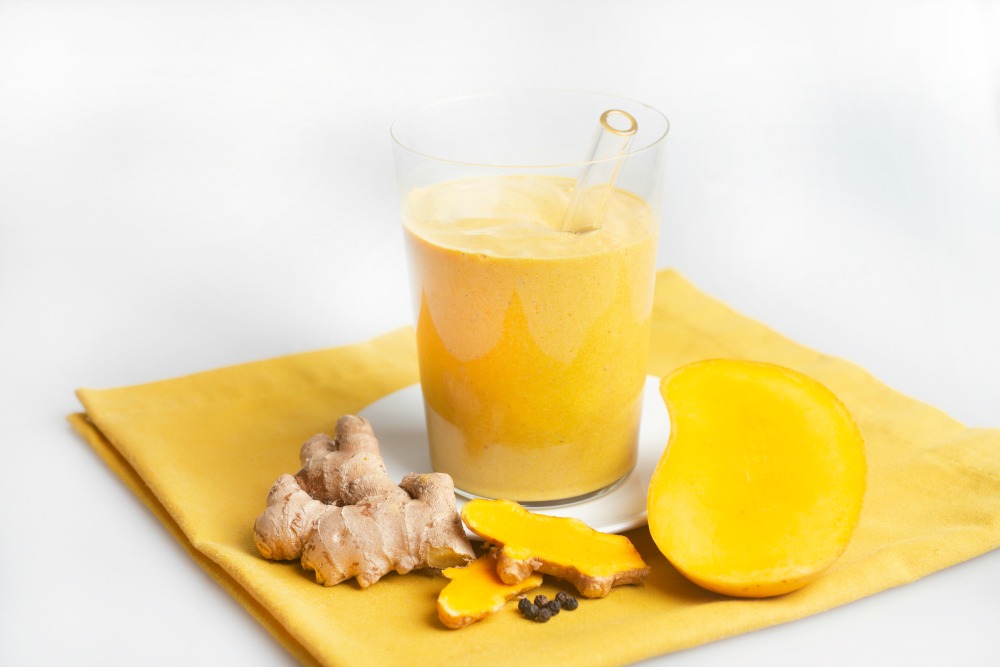 Paulette Phlipot, Editorial, Commercial and Fine Art Culinary Photographer focused on the People, Plates and Places that surround real food. BigLife Magazine Food Editor. paulettephlipot.com
GOLDEN SMOOTHIE
This smoothie is inspired by my love of the ever-popular and beneficial Golden Milk. The combination of the mango and coconut give it a bit of a tropical twist. Be sure to use full-fat coconut milk and don't forget the black pepper. Both are beneficial in helping your body absorb curcumin—the major active and helpful compound in turmeric.
Serves: one
1 frozen banana, chopped
1 c full-fat coconut milk
1 Alphonso mango, peeled and roughly chopped
1 tsp ground turmeric
¼ tsp ground cardamom 
¼ tsp ground ginger
Dash of maple
¼ tsp vanilla bean powder or a dash of vanilla extract
Dash of black pepper
Add all ingredients into a high-speed blender and process until smooth.
From Radiant by Mafalda Pinto Leite, © 2018 by Mafalda Pinto Leite. Cover photograph © 2018 António Nascimento. Cover props and styling by Ana Trancoso. Reprinted by arrangement with Roost Books, an imprint of Shambhala Publications, Inc. Boulder, CO.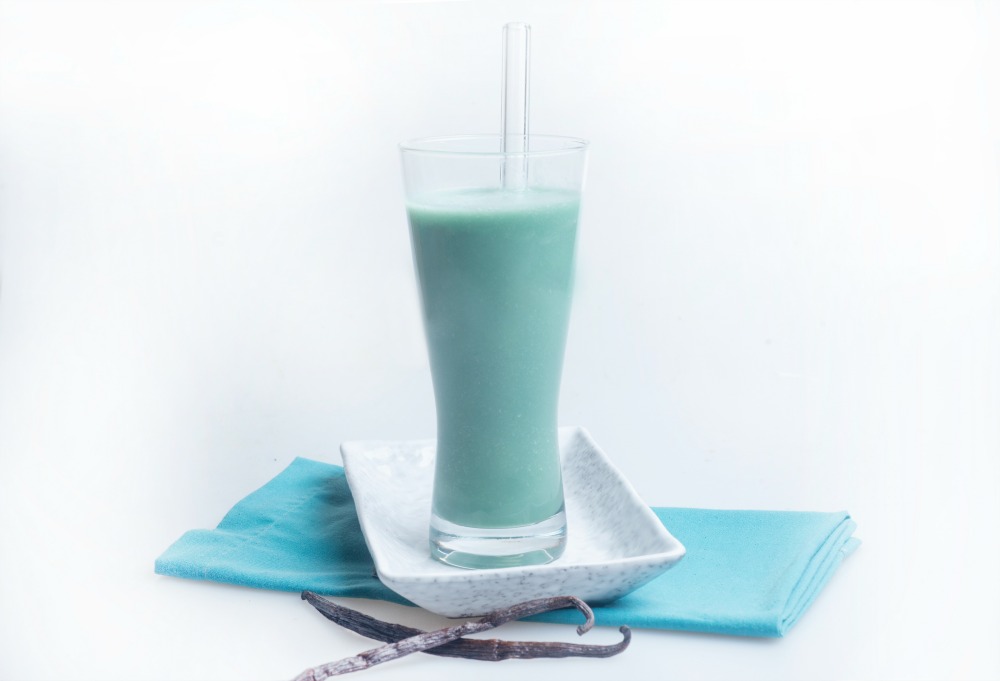 THE BIG BLUE
This alluring blue beauty milk gets its color from mineral-rich blue-green algae. Its name was inspired by one of my favorite movies, The Big Blue, because its gorgeous color reminds me of all those amazing deep-water dives, the dolphins, and how much I love the sea. Algae is packed with powerful nutrients (over 65 of them) and antioxidants, and it is an inflammation-tamer too.
Makes 2 cups
2 c coconut water
¼ c fresh coconut meat
¼ tsp blue-green algae
¼ tsp vanilla bean powder
Sweetener of choice (optional)
Beauty Add-Ins (optional)
1 tsp lucuma powder
½ tsp he shou wu powder
Combine all the ingredients in a blender and blend on high speed until smooth. Add sweetener to taste, if desired.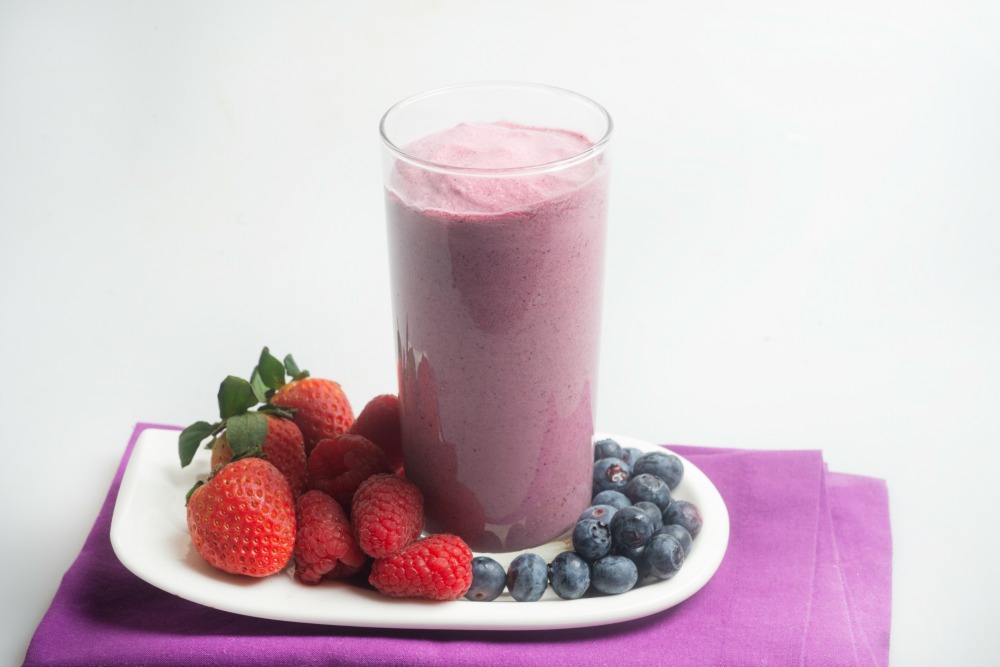 NATURAL BEAUTY
Why not kick-start your day with a hydrating, wrinkle-preventing berry smoothie? This drink is bubbling with detoxifying antioxidants and packed with collagen-forming Vitamin C. The good fats in the coconut milk will help with maximum absorption of these nutrients, and the acai makes it the ultimate skin tonic for an overall glow.
Makes 2 cups
2 c unsweetened coconut milk or plant milk of choice
1 frozen banana
4 Medjool dates, pitted
¼ c fresh or frozen blueberries
¼ c fresh or frozen strawberries
¼ c fresh or frozen raspberries
Zest and juice of 1 lime
2 tsps acai powder
1 tsp chia seeds
¼ tsp vanilla bean powder
Combine all the ingredients in a blender and blend on high speed until smooth and creamy. Pour into a glass and serve.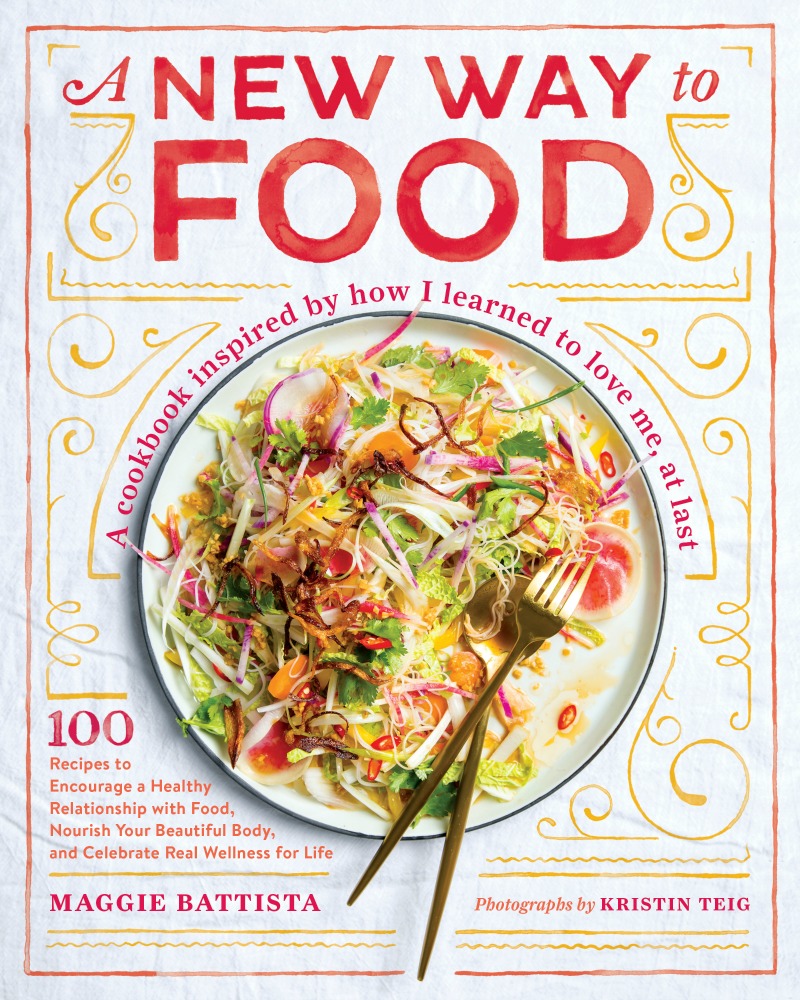 From A New Way to Food by Maggie Battista © 2019 by Maggie Battista. Cover Photograph by Kristin Teig. Reprinted in arrangement with Roost Books, an imprint of Shambhala Publications, Inc.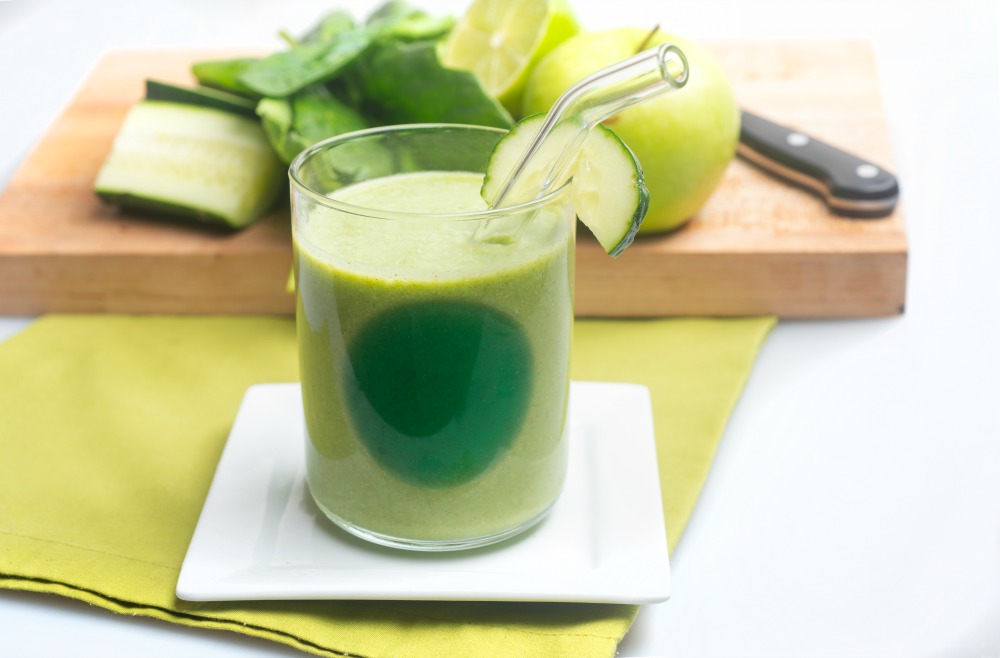 EVERYTHING GREEN SMOOTHIE
It feels so strange to love smoothies. It's like I've come to the dark side as some sort of health geek who craves pureed produce with delicately sliced fruit and perfectly placed granola pieces on top. That's so not me, people. But this smoothie is an easy, fresh way to nourish my body and feel full for much of the morning.
Makes about 2 cups
1 c cleaned, roughly chopped, tightly packed greens (such as swiss chard, kale, spinach)
One 2-inch stub of cucumber, unpeeled, cleaned
1 small green apple, stem and core removed
2 tbsp protein or superfood (such as rolled oats, black chia seeds, flax seeds, hemp seeds, protein powder)
1 tbsp refined coconut oil
2 tsps maple syrup, more or less as you prefer
Pinch of sea salt
2 tbsp lime juice (from about 1 lime)
½ c cashew milk or other unsweetened plant milk
½ cup water
4 to 6 small ice cubes
Add all the ingredients in the order listed to a powerful blender. Blend on high (or on the smoothie setting, if you have one) until smooth and cold, adding more water if your blender stalls. Enjoy immediately but sip slowly.
*My favorite non-plastic straw: https://www.strawesome.com/