Named after the largest planet in our solar system, the gas giant Jupiter, the massive winter storm in the first half January did more than live up to its name.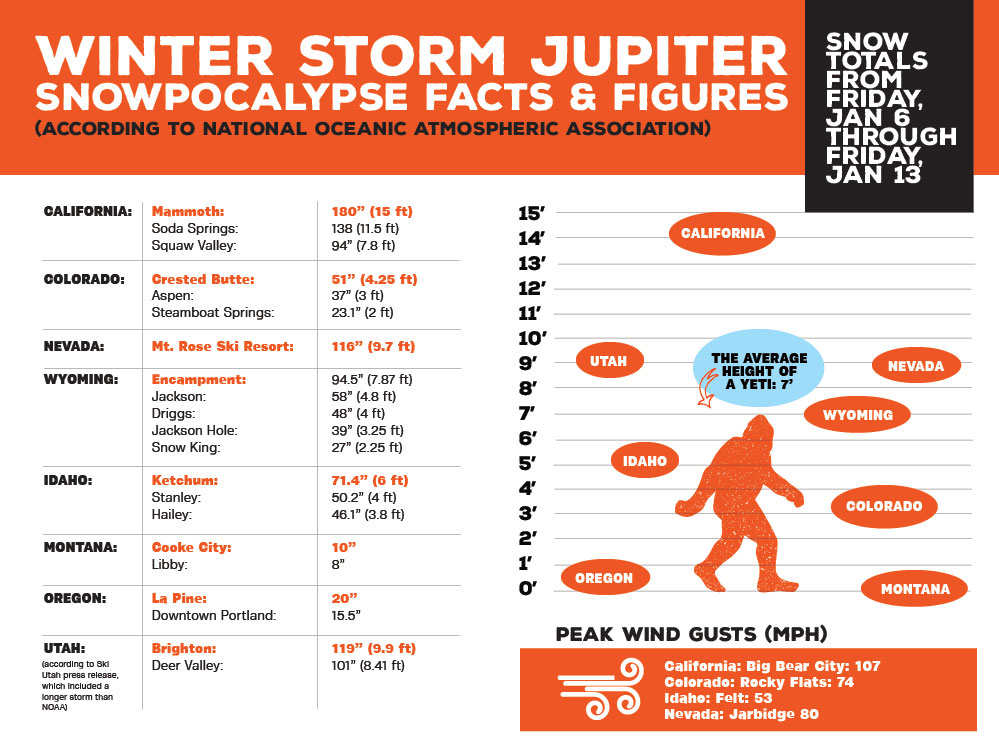 Coating the Rocky Mountain West in anywhere from two to 15 feet of snow, the storm gained a Snow-pocalyptic reputation as it gained momentum. Locals and visitors in towns all across the West encountered the emotional cocktail of both stress and stoke: stress due to power outages, lift closures, flooding, and massive avalanche danger, and stoke for all. of. the. pow. We chatted with people in these towns for stories from this storm of the century and advice on how to prep for the next one (Please. Let. There. Be. another. One).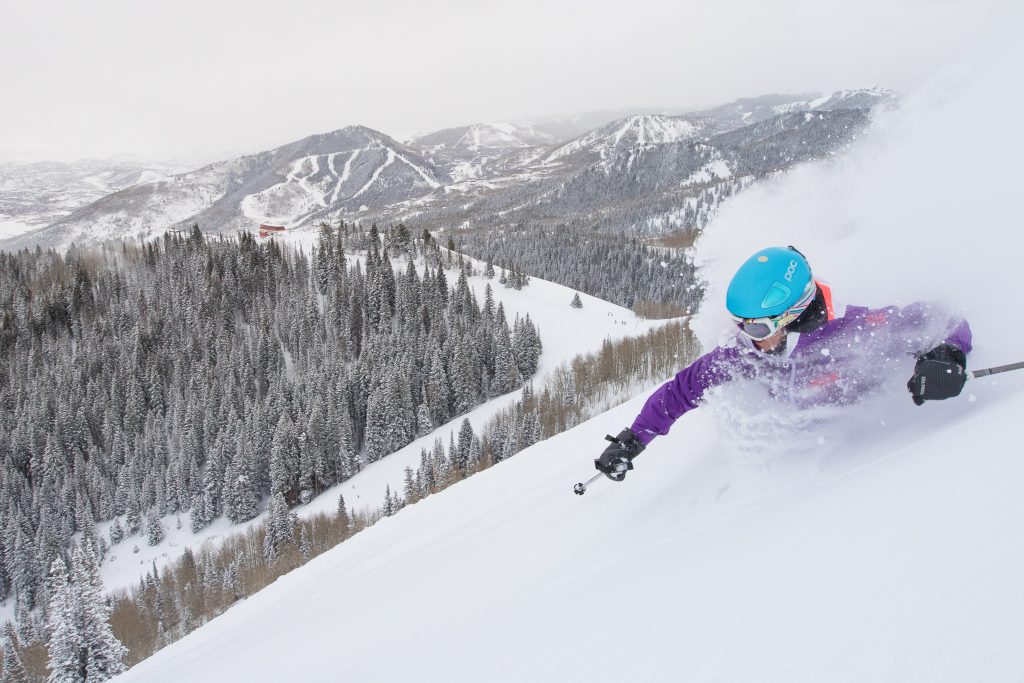 Colorado
Although only on the outskirts of the storm, Colorado still managed to accumulate several feet of snow, high wind and crazy good skiing conditions. Crested Butte took the cake for most snow accumulation, bringing in 51" (just over four feet) of new snow over the storm's seven-day period while Aspen's Pitkin county followed with 37 inches.
Filmmaker, photographer and general outdoor adventurer Oliver Sutro, who calls Ridgeway home, expressed apprehension in addition to his excitement for the new layers of snowpack. "I'm feeling a bit of anxiety because I know that I'm going to go skiing, I know I'm going to go to a hut," he said just before returning home from Outdoor Retailer in Salt Lake City. "I want to ski everything, but I really don't want to get lanched." By 'lanched,' Sutro means "avalanched." His is a valid concern, considering Avy danger closed three interstate roads in Colorado, one resort and caused several near-deaths for recreationalists.
And, to repeat, the storm barely brushed Colorado.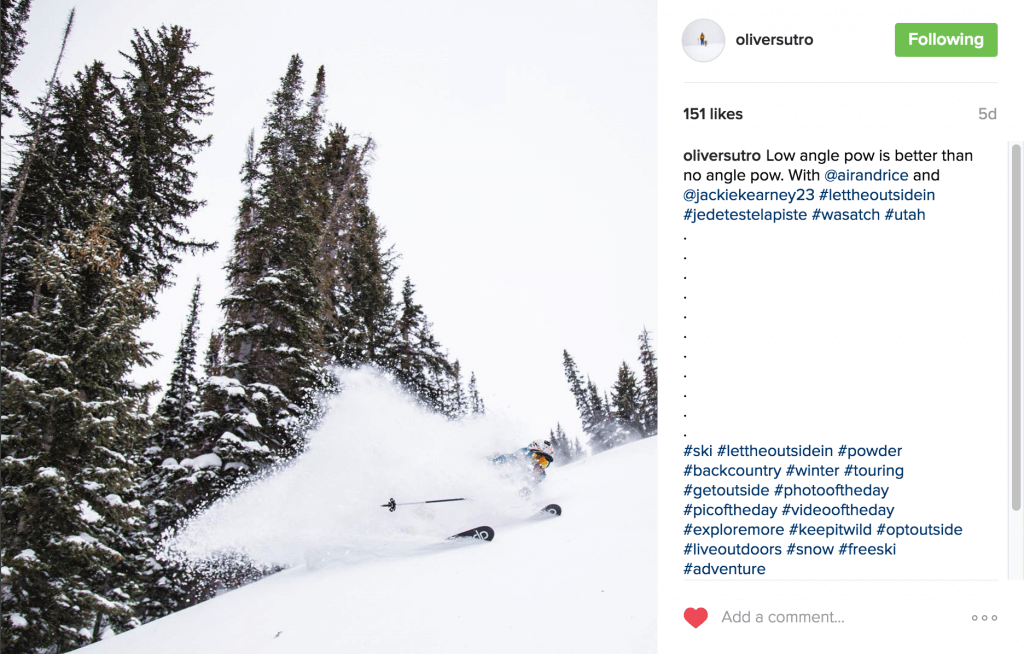 Utah
Utah reported record snow totals, including but not limited to 119 inches of new snow in 11 days at Brighton Resort, 101 inches at Deer Valley and over six feet of snow at all of the areas surrounding resorts. All the while, representatives of the outdoor industry flocked (read: slowly drove through feet of snow, slush and panicking tourists) to attend Salt Lake City's Outdoor Retailer Winter Market. Social media feeds sparkled with posts on escaping the fluorescent lights to ski powder in the mountains, while locals celebrated the long awaited storm.
"There's nothing like waking up to the sound of the howitzer shoot across the valley and big, fat flakes falling outside the window," says Mary Sackbauer, a chef, skier and resident of Alta Lodge. She said that while this storm was comparable to many others she's seen in the past, its lunar coincidence made it strikingly magical.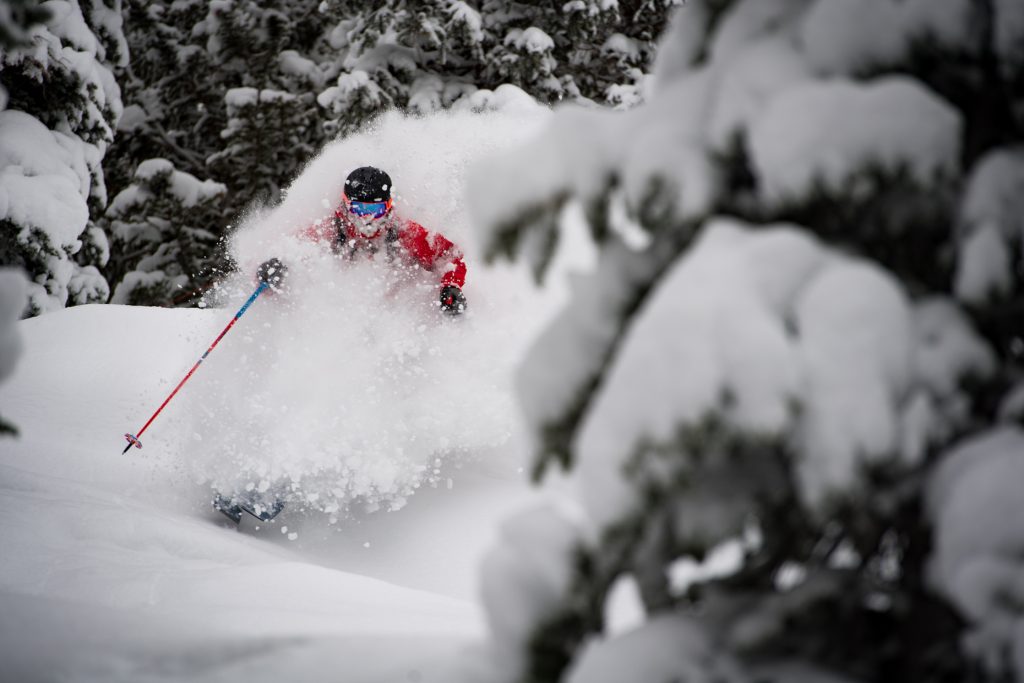 "We had the rare chance to ski moon powder, which only happens when the end of a storm and full moon line up perfectly," she says. "It was the most visibility we had all week, we had no need for a headlamp or goggles!" While rain and snow mixed through the storm around Utah, the days following its passing were brilliant, bright and sunny, making for remarkable skiing and outdoor touring.
Wyoming
Extreme avalanche danger and several feet of snow added up to a wild, but brilliant storm in and around Jackson. Around the 10th of January, the majority of the snow hit in a heavy, dramatic fashion. With 6-8 feet of snow falling on the major roadways, the Wyoming department of transportation scrambled to clear roads and manage conditions. Extreme Avy danger sent outdoor recreationalists to the resort, where the tram was unusually closed for until noon on more than one day.
One such recreationalist, land surveyor and Jackson local Mark Fellermann tried to go backcountry skiing on Tuesday, but high winds and degrading avalanche conditions sent him home early. The next day, assisted by the Ramer raw data, he chose to go to the resort. "I hate to miss good storm skiing and with the avalanche rating peaking at 'Extreme' I knew the resort was my only sane option," he recalls.
Despite the big storm, lift closers and varied snow conditions hampered the mood of his storm-chasing compatriots. "Morale was high but not the fever pitch that sometimes pervades the base area on days like that," he says. "The conditions matched the stoke as I found the snow to be on the heavier side and a little bit upside down; not the deep smoke that dominates my dreams."
That night, cooler temperatures sucked the moisture out of the day's heavy snow, lowering Avy danger from "Extreme" to "Considerable." The changing conditions gave Fellermann the green light to head to out to Glory again on Thursday and Friday, where he experienced the best two days of skiing of the entire storm.
While heavy snow and sketchy travel conditions hampered skiers' ability to reach a 'fever pitch,' one only had to look 200 miles west for such stoke.
Idaho
"Remember what a snow day was like as a kid?" Asks seventh grade math and science teacher Annie DeAngelo, "Take that emotion, multiply it by 10, and you get what it is like to be a teacher on a snow day." The Ketchum local, alongside hundreds of other snow enthusiasts, found the bright light in the storm on Bald Mountain in the midst of the storm. About six feet of accumulation fell around Ketchum, as reported by the National Oceanic and Atmospheric Administration. All that snow caused significant traffic, high avalanche danger and multiple business closures, in addition to massive amounts of powder to be had on the mountain.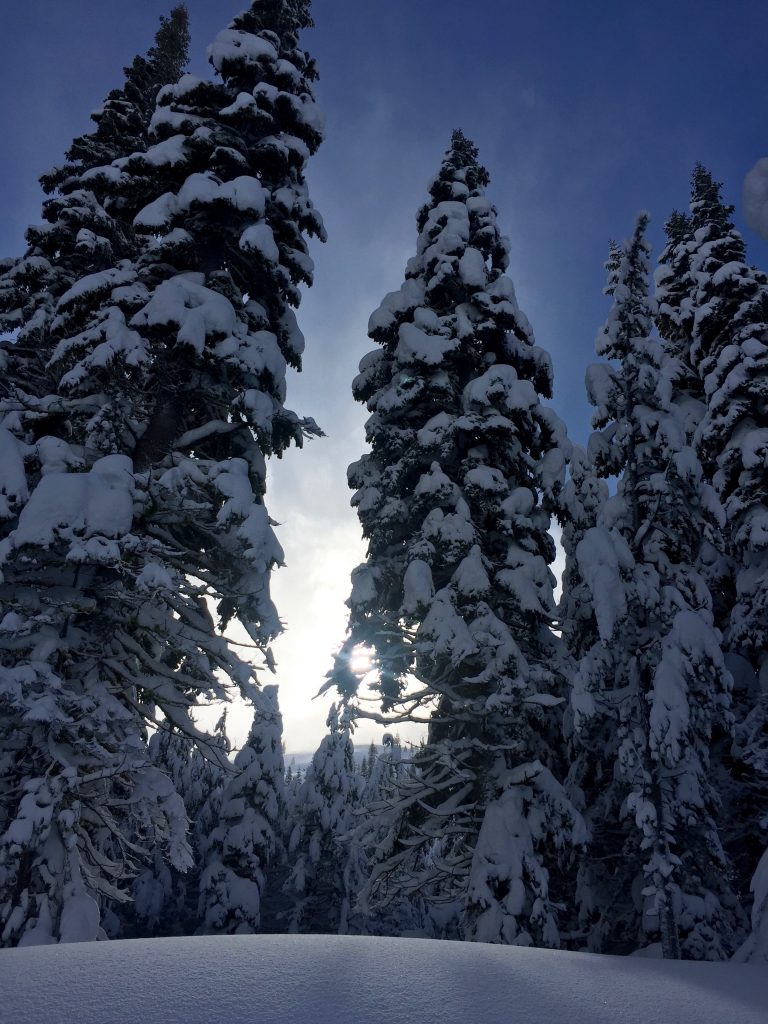 "Snowpocalypse was one of the best days of my youngish life," says DeAngelo. "Baldy was as close to perfect as I imagine a resort can ever be. The snow was light and the people were giddy and playful. People cheered from lifts as others below skied up to their chests in powder." The biggest highlight for DeAngelo? Learning how to ski. Rather, after years of skiing in the mountain west, experiencing the moment where instruction and execution come together and one feels invincible in the snow.
Per her description of the mountain that day, she wasn't the only one.
California
In the categories of both stress and stoke, California takes the Jupiter Storm prize for outstanding performance by a state, mountain range and townspeople. In the first half of January, the Sierra Nevada range had multiple reports of snow accumulations over 15 feet. In just this storm, Mammoth Mountain received 180" of snow. Such numbers led to multiple road, business and mountain closures (no surprise, it's hard to ride a lift that's buried in powder).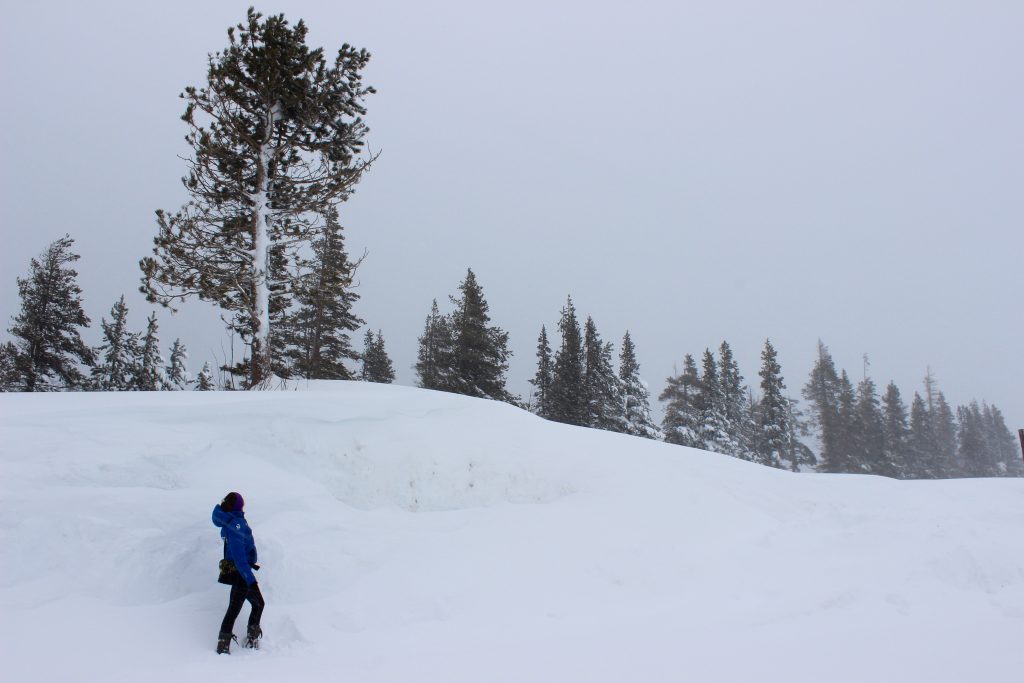 In storm Jupiter, the Truckee/Tahoe area got particularly pounded. Throughout the event, officials urged locals to stay in their homes, avoid roof slides and heed to massive and changing avalanche danger, power outages, flooding and fatal road hazards. During the storm, Tahoe City's Bridgetender Tavern was one of the only places with a generator in a days-long power outage. Escaping chilly rooms and frozen pipes, locals flocked to the bar to warm up and share tales of the storm with each other.
"It was kind of community-building in that way," says Rachael Blum, a skier and Tahoe local who rode out both the good and bad of the storm amongst neighbors in the Bridgetender. "People are super stoked but super intense," she describes, noting that, in a lot of ways, these are the kinds of storms that Tahoe used to experience every winter. After three years in the California drought, longtime locals are celebrating a return to how winter used to be.
"Woohoo! It's finally winter!" Cheers Blum, who has spent the past three winters wishing for more snow. She adds that morale in town is high now that resorts have reopened and tourists have returned to reap the benefits of the storm. "People are really excited, but this was a good reminder that we need to be prepared for anything winter can bring."