It's fall, and the grilling is easy and should be all year long. However, if this is your first adventure to the deck or premiere pilgrimage into grilling and smoking, let's review the basics. There are gas and charcoal grills (the most widely used—charcoal burns hotter than propane or natural gas) and their cousins, pellet, kamado, and electric. And there's George Forman. Determine what type of grill you prefer and if you have an opportunity, flip a few burgers, sear a steak, and attempt your best grilling grin at a neighbor's home, a dealer, or an outdoor cooking fair or demonstration while you test the heat, smell, and taste. Here are a handful (from hundreds) of grills to investigate, plus several cookbooks (from thousands!), and naturally, condiments that can be used to elevate your status from greenhorn to grandmaster. Oh, and a knife that belongs in your culinary arsenal.
GRILLS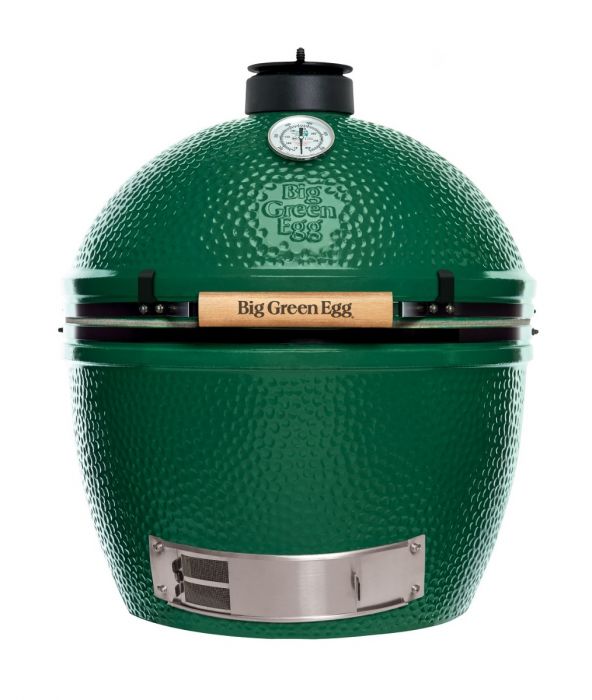 Big Green Egg 
Kamado or ceramic grills use charcoal and can reach very hot temperatures up to 750 degrees like a pizza oven and retain heat for low and slow smokes for hours. In multiple sizes, from Mini to 2XL, the Big Green Egg, a Japanese kamado-style EGG, is versatile and has ceramic roots from the NASA® space program. The Large can cook a dozen burgers, six chickens (vertically), or your Thanksgiving turkey (up to 20 pounds). Then, before grilling eight steaks, it can bake, roast, or smoke and make that pizza. Placing it in a nest, on a table, or island is required. There are several EGGcessories (including BGE charcoal) to choose from, in addition to recipes and The Grilling Show (on YouTube). 
$999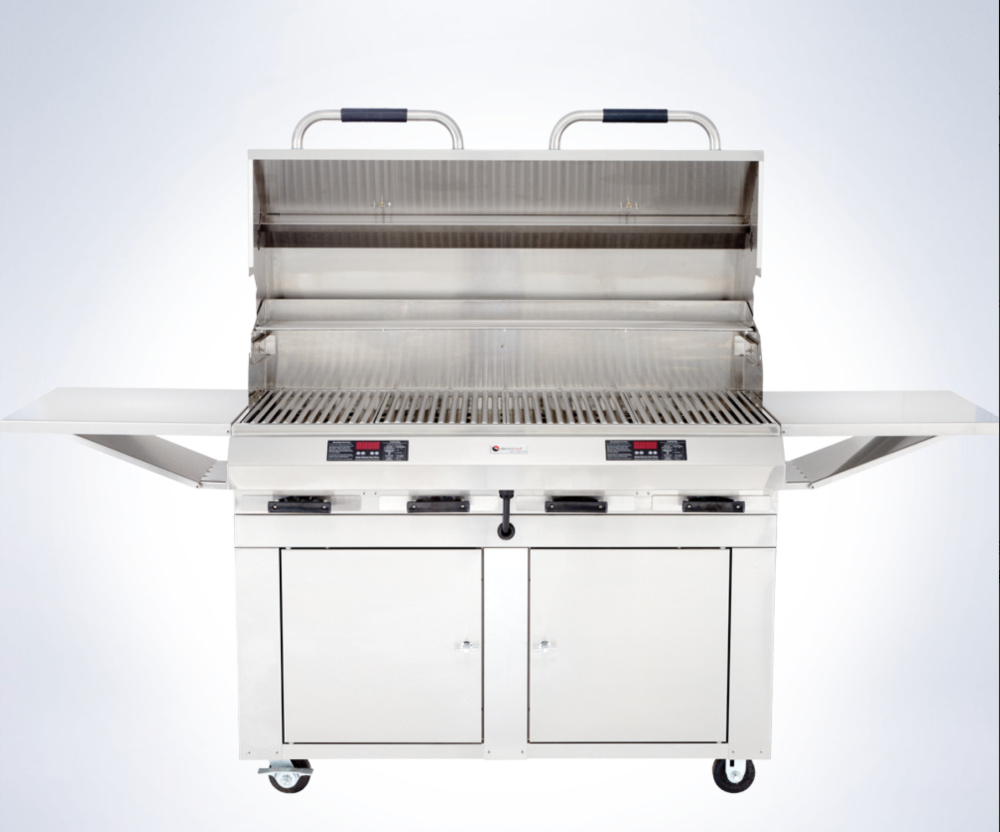 Electri-Chef Diamond Grill 
For some folks, flameless grilling is preferred and their only way to grill (think of no open-flame ordinances). Plug in Electri-Chef's 48″ closed-base grill and get grilling. Dual temperature controls ensure the option of grilling two different types of meat or veggies simultaneously. With side-by-side cabinets, storage is plenty, and because it's on wheels, mobility means you can stash this self-contained kitchen at the end of the deck or patio when not in use. It might not taste the same, but you'll have the ease of use and grilling experience with this luxurious grill with no carbon emissions or heavy propane bottles to replace and will never run out of fuel.  
$8,982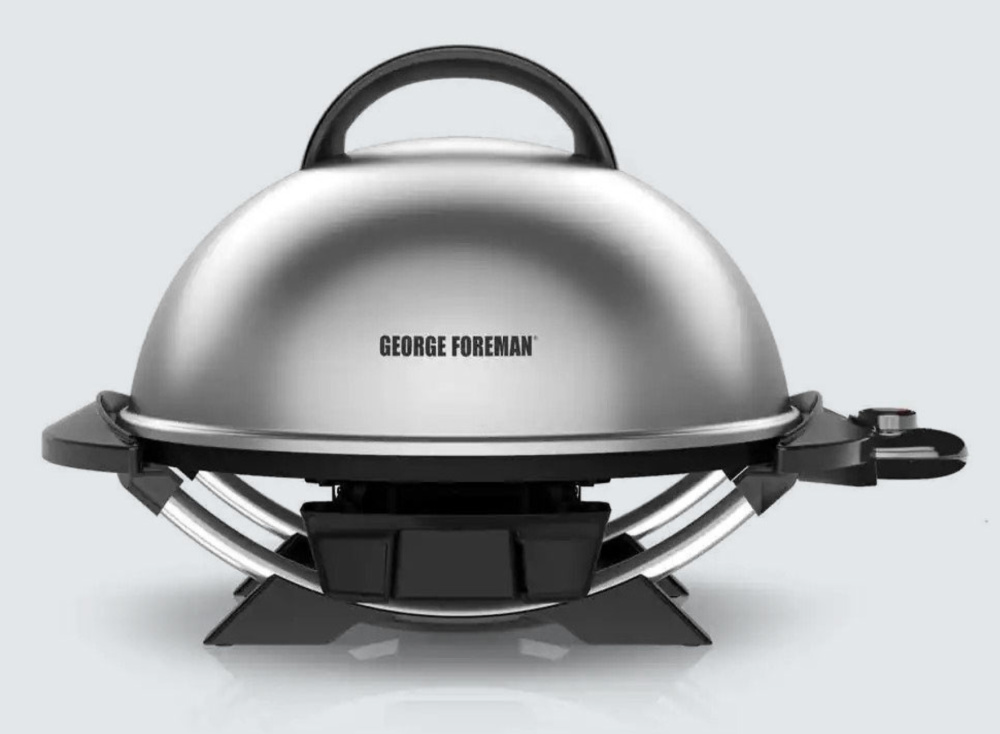 George Forman Indoor/Outdoor Electric Grill 
Yes, George Forman Grills are a thing, and if you've owned one, you might be a devout worshipper (aka Forman Fanatic) for their durability and versatility. You can put it anywhere (on its grill stand) or remove the stand and place it on a countertop. Five temperature settings ensure you can control the heat and 240 inches of circular grilling surface allows you to serve 15 people. With its domed lid and dishwasher-safe drip tray, it's fast and easy to clean. Add the George Tough Nonstick Coating and patented-lid removing slope (removes 42% of fat), and you'll quickly understand why Forman grills have long been the favorite for apartment patios, smaller backyards, and folks who just like "to get their grill on."  
$129.99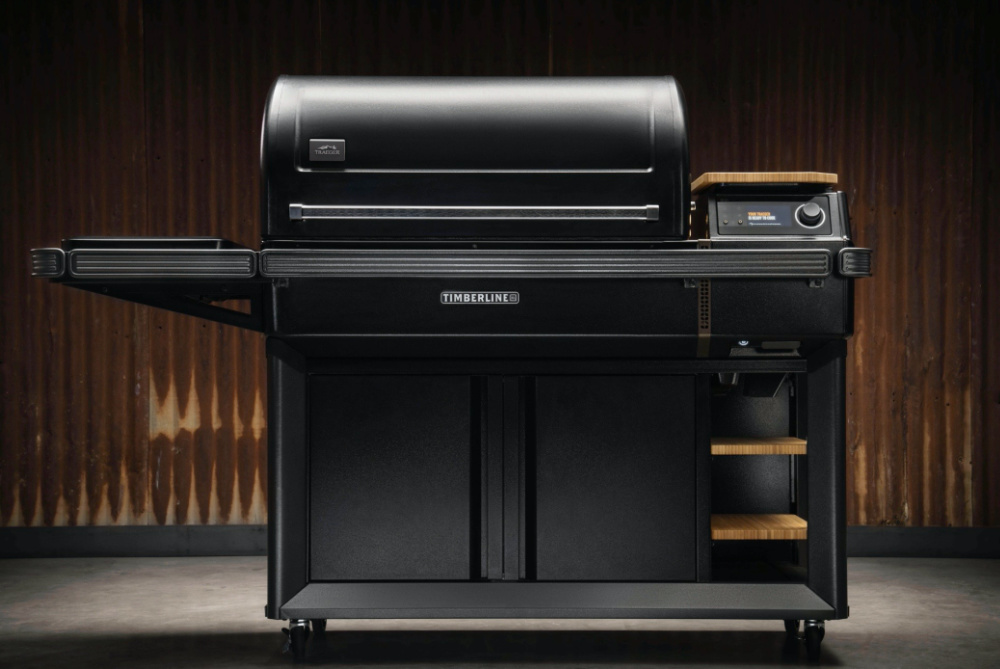 Traeger Timberline 
The grill, billed as "everything you ever wanted in one of the most advanced and customizable pellet grills and then some more," wants you to grill, smoke, bake, roast, braise, sear, sauté, simmer, and utilize its WiFIRE® technology and MEATER® Wireless Meat thermometers to command and monitor your grill from anywhere. This gorgeous addition to any backyard environment places 800 sq. inches of 500F with a 22 lbs. hopper in your capable hands to make culinary statements with incredible wood-fired flavor. There is no limit to what you can cook on this grill—accessories like ModiFIRE® cooking surfaces, Pop-and-Lock Rail, and storage bin set this grill apart from the pack. For the ultimate in "an elevated cooking experience," with touchscreen units, an extra side burner, built-in illumination, and a new self-cleaning collection system, invest in the Timberline.  
$3,499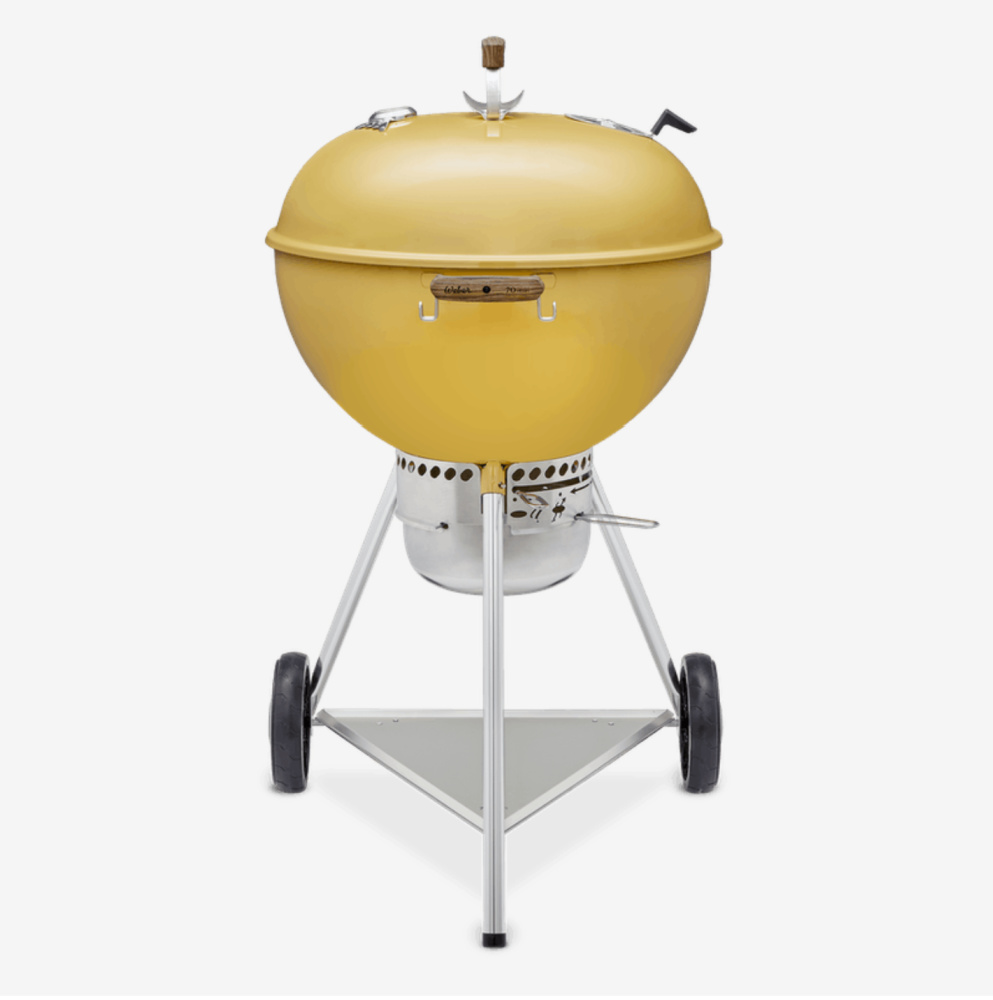 Weber 70th Anniversary Edition Kettle Charcoal Grill 22″ 
There's a good chance that your first grilling experience was on a Weber. If you missed it, then now's the time to have it with Weber's 70th Anniversary Edition charcoal grill. The limited edition is nostalgic yet balanced with modern features. Portable and durable, it's available in Rock N Roll Blue, Hot Rod Yellow, Hollywood Gray, and Diner Green—these exteriors "harken back to a time when the kettle originated." There's a '50s hood-ornament-themed lid thermometer, white-walled wheels, and wood-like nylon handles, but the classic delicious smokey taste signals Weber's domination in the sport of grilling becoming the world's leading barbecue brand. The 22″ grill fits 13 burgers with its 363 sq. inches of cooking area, is easy to assemble, performs consistently, and cleans up fast. Did you know the design was inspired by the shape of a buoy?  
$439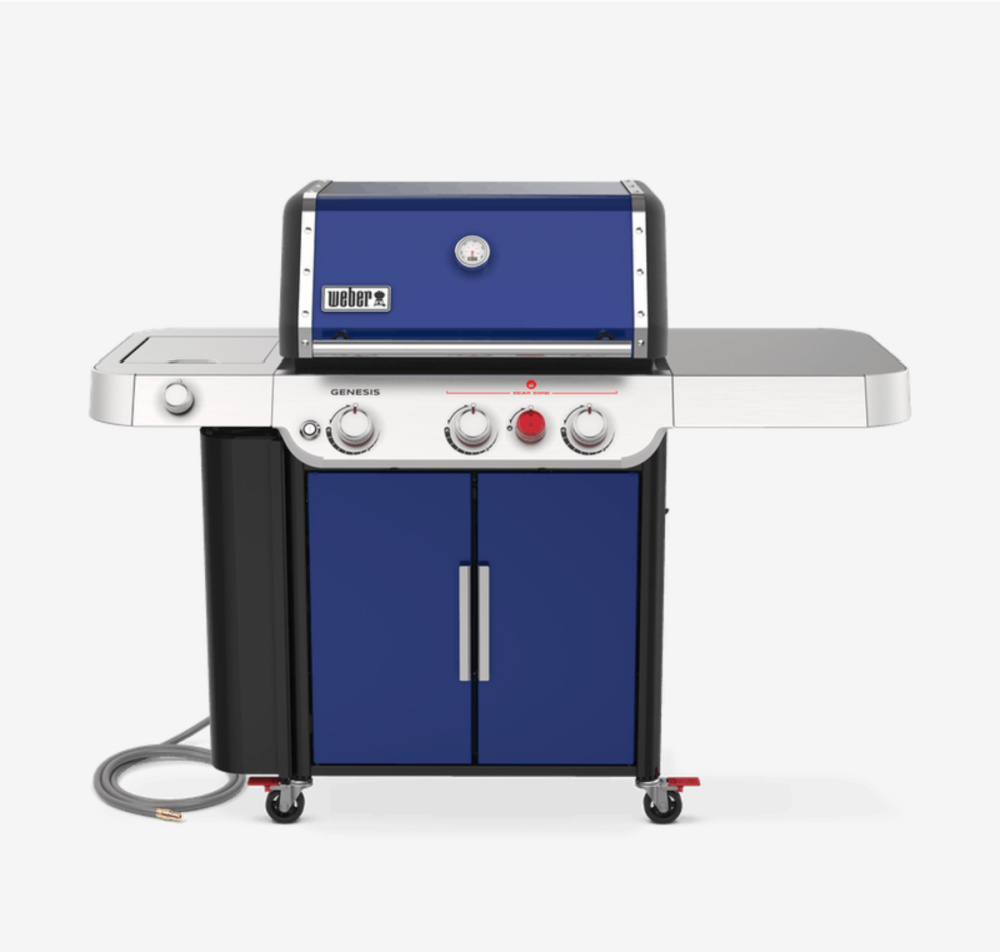 Weber Genesis E-335 Gas Grill 
Three burners with a total cooking area that fits 20 burgers (787 sq. inches), a choice of liquid propane or natural gas, options for a side burner, grill locker, Weber CONNECT Smart Technology, grill lighting, and a selection of stainless, black, copper, and deep ocean blue—be prepared to build your Genesis (39,000 BTU-per-hour input). Feel Weber's largest and hottest sear zone (13,000 BTU) and enjoy its expandable top cooking grate. This grill is a favorite among those who love pushing a button and little maintenance. The deep ocean blue is a scene-stealer and conversation starter, just right for starting up the grill.  
$1,319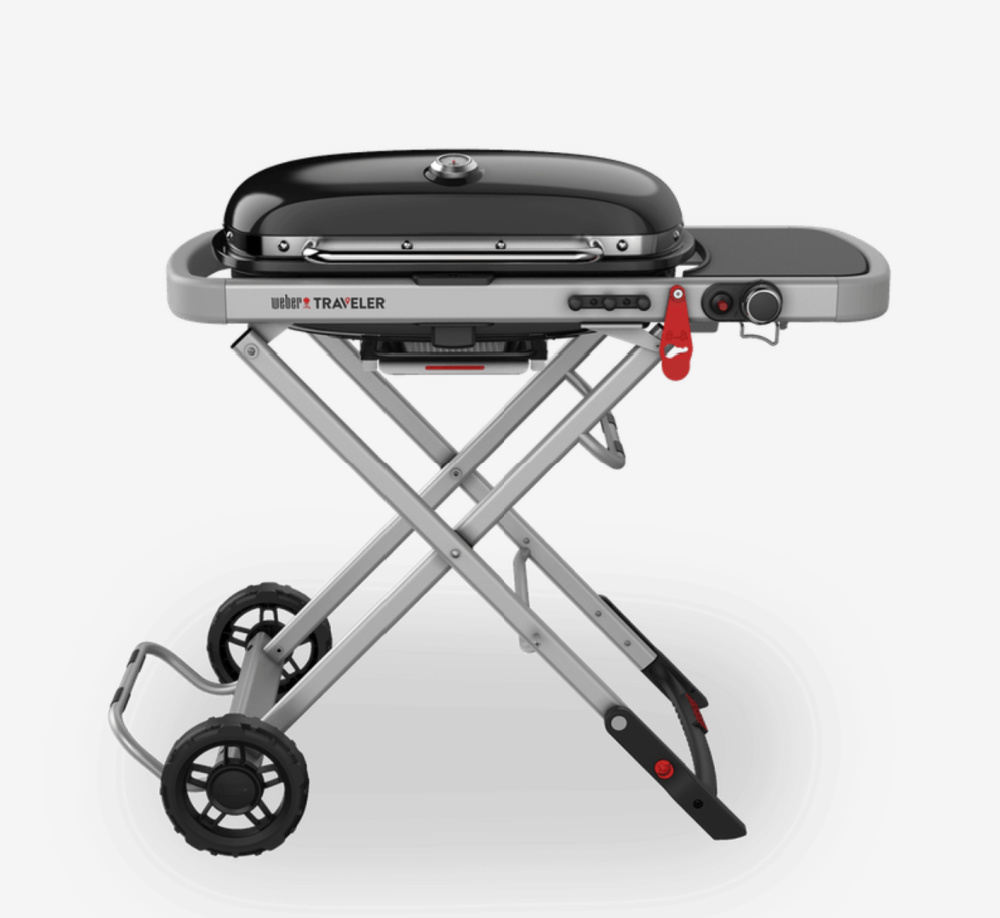 Weber Traveler 
The Weber Traveler is your answer if you want or need to travel and can have just one grill. Perfect the art of tailgating or picnicking with this compact size (approx.. 37″x43″x23″) while grilling up to 15 burgers with a one-pound propane tank (with the option for a full-size 20 lb. tank with an adapter hose). Easy, one-handed set-up and fold (the automatic lid lock latches the lid in place when it's folded) make the Traveler the right size to pop into your car's trunk. Solid and sturdy, this grilling partner is always ready to go when you are.  
$399 
CONDIMENTS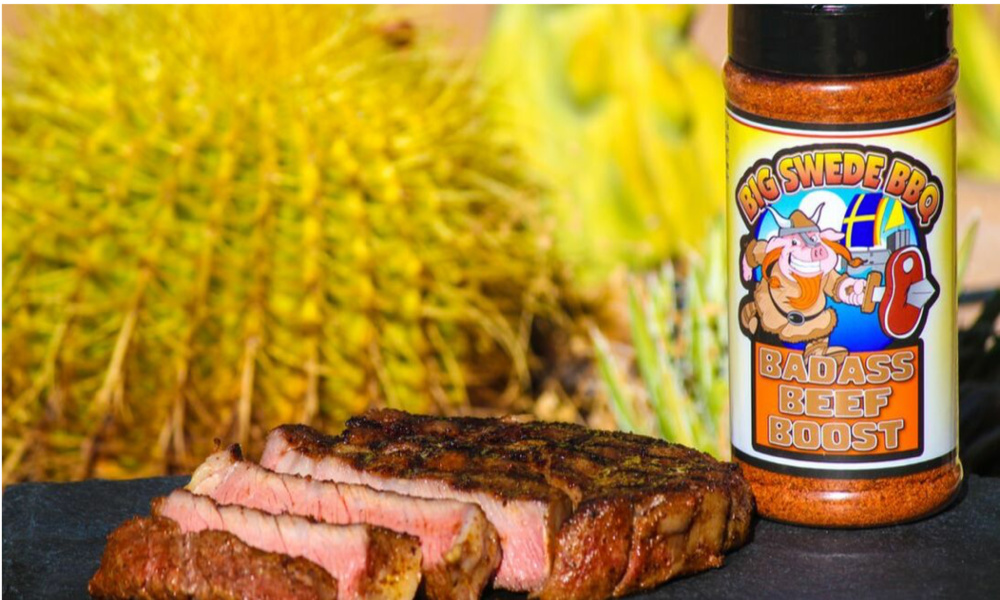 Con• di• ment: 
~ something used to enhance the flavor of food; sauce, seasoning, spice, zest, juice, essence, flavoring, mixture, concoction; typically added during or after cooking.  
There are classic condiments like salt and pepper, ketchup and mustard, pickles and onions followed by chimichurri and sriracha, and other classics, and then there are sauces and rubs that uphold entire communities, cities, and regions in the United States where BBQ is a religion. Need some condiment inspiration? 
Below are the 2022 National BBQ and Grilling Association Awards of Excellence (acknowledging the commercial side of BBQ) first place winners in their respective categories.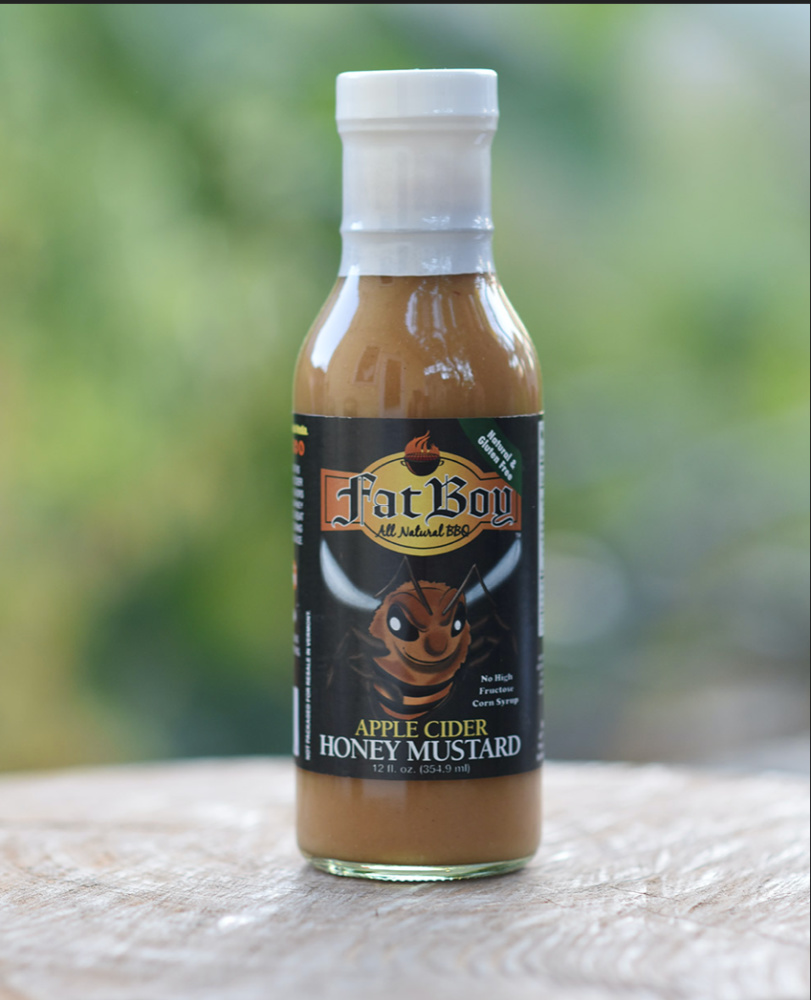 Original BBQ Sauce: Smokin' Coals Original Sauce 
Mustard BBQ Sauce: Fat Boy Apple Cider Honey Mustard 
Tomato Mild BBQ Sauce: Old Arthur's Barbecue Sauce Original 
Tomato Spicy BBQ Sauce: Sweet with a Little Heat from Memphis Original 
Vinegar Mild BBQ Sauce: Smokehouse Hickory with Lime from Hoosier Daddy 
Vinegar Spicy BBQ Sauce: Whomp BBQ Sauce from Meat Mitch 
Fruit BBQ Sauce: Eroc's Rasberry Chipotle Mild 
Beef Rub: Big Swede BBQ Badass Beef Boost 
Pork Rub: SoFa King Awesome BBQ Top Secret Dust 
Poultry Rub: Honey Rub from Butcher BBQ 
Seafood Rub: All Purpose Run from Smokin' Ghost 
Spicy Rub: Flying Swine Seasonings Sweet N' Spicy 
Original BBQ Rub: Whomp Rub from Meat Mitch  
BBQ Marinade: The Rib Doctor Caribbean Sweet Marinade 
Want to make your own marinade? Start with an oil (olive, canola, vegetable, or coconut), add an acid (lemon, lime, or vinegar), add flavors (fresh herbs, garlic, ginger, sugar, chili paste) and salt (salt, soy sauce, or Worcestershire sauce).
BOOKS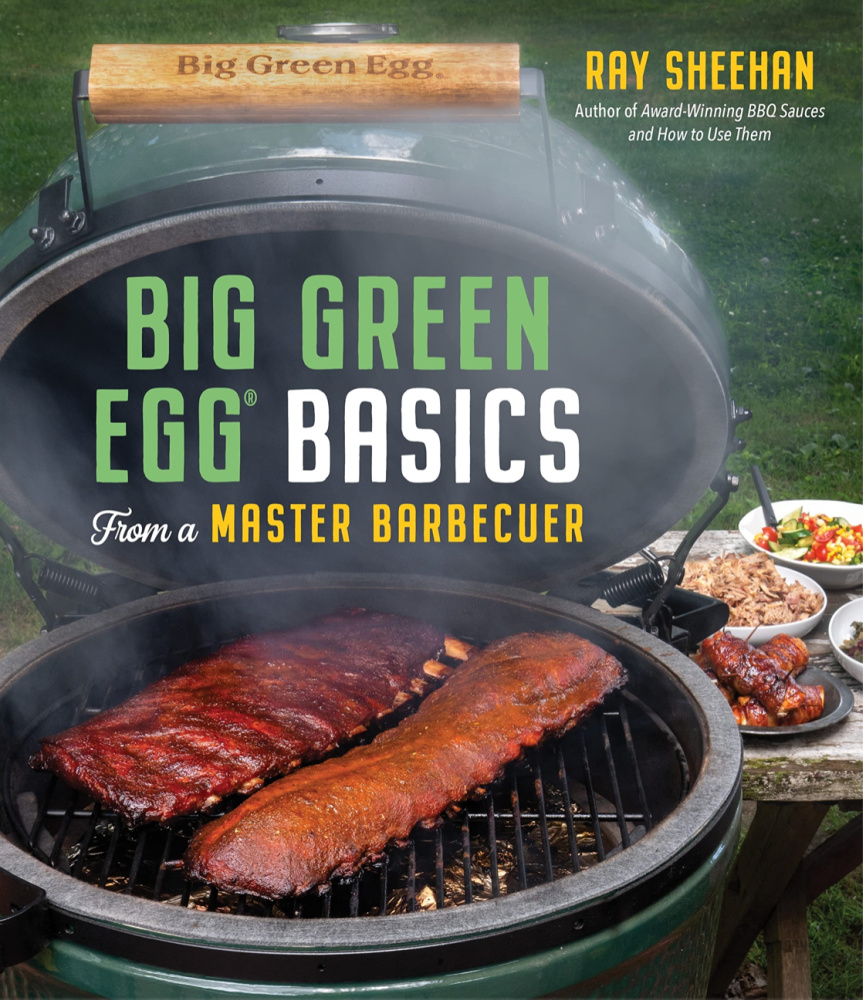 Big Green Egg Basics 
In Ray Sheehan's second book, he works his Big Green Egg magic for the enthusiast or veteran EGGhead with techniques and recipes plus guides on maintaining the Egg. Sear, smoke, roast, and bake in this versatile ceramic cooker.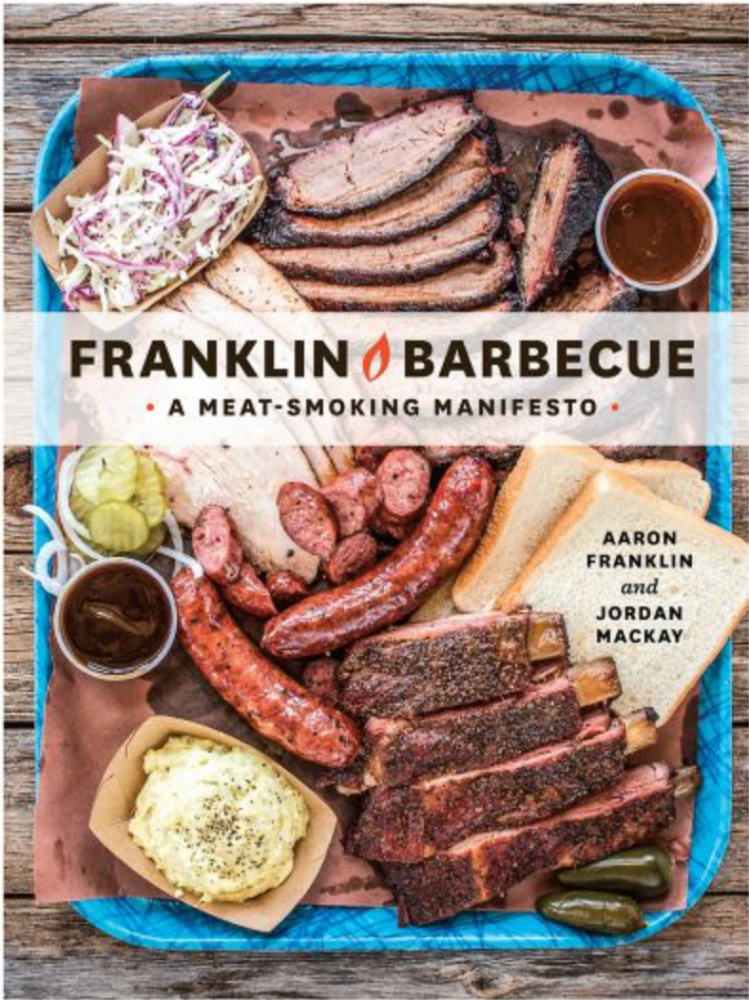 Franklin Barbecue: A Meat-Smoking Manifesto 
The definitive resource for the backyard pitmaster by the master himself, Arron Franklin of world-renown Franklin Barbecue in Austin, Texas. This book was published in 2015 and has gained more popularity than ever before.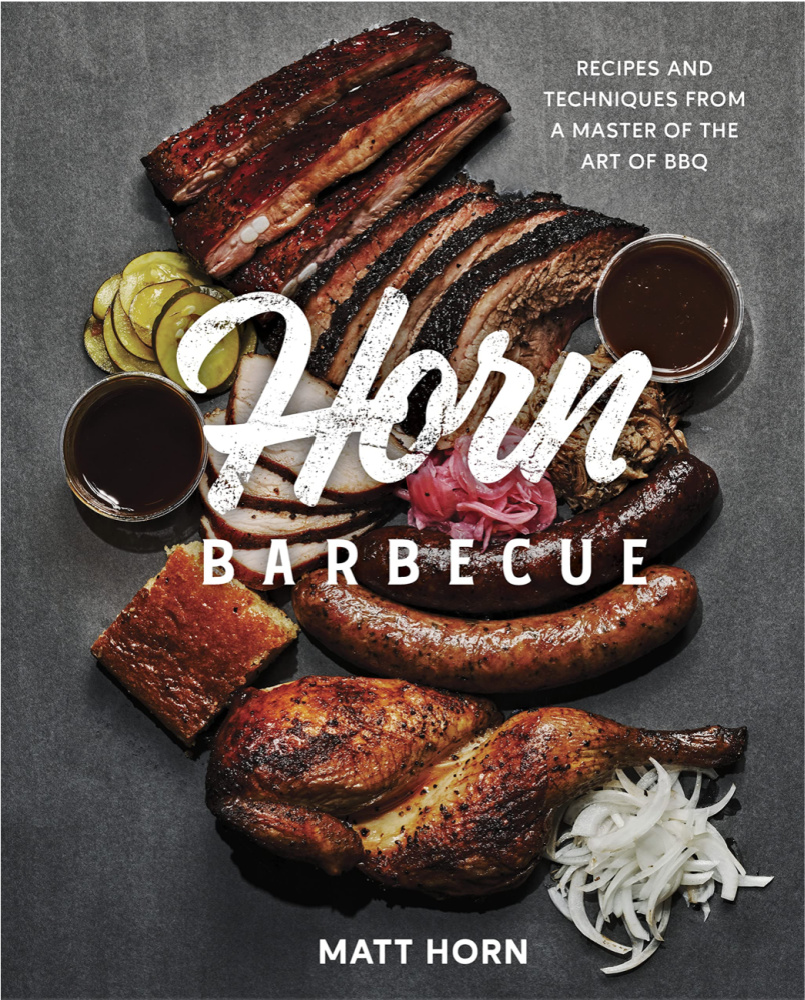 Horn Barbecue: Recipes and Techniques from a Master of the Art of BBQ 
Matt Horn, one of Food & Wine's ten "Best New Chefs," earned a rare Michelin Guide Restaurant destination for his eponymous restaurant in Oakland, CA, by defining his West Coast style barbecue—a combo of Texas and the Carolinas in this book with 70 incredible recipes for rookies and seasoned pros.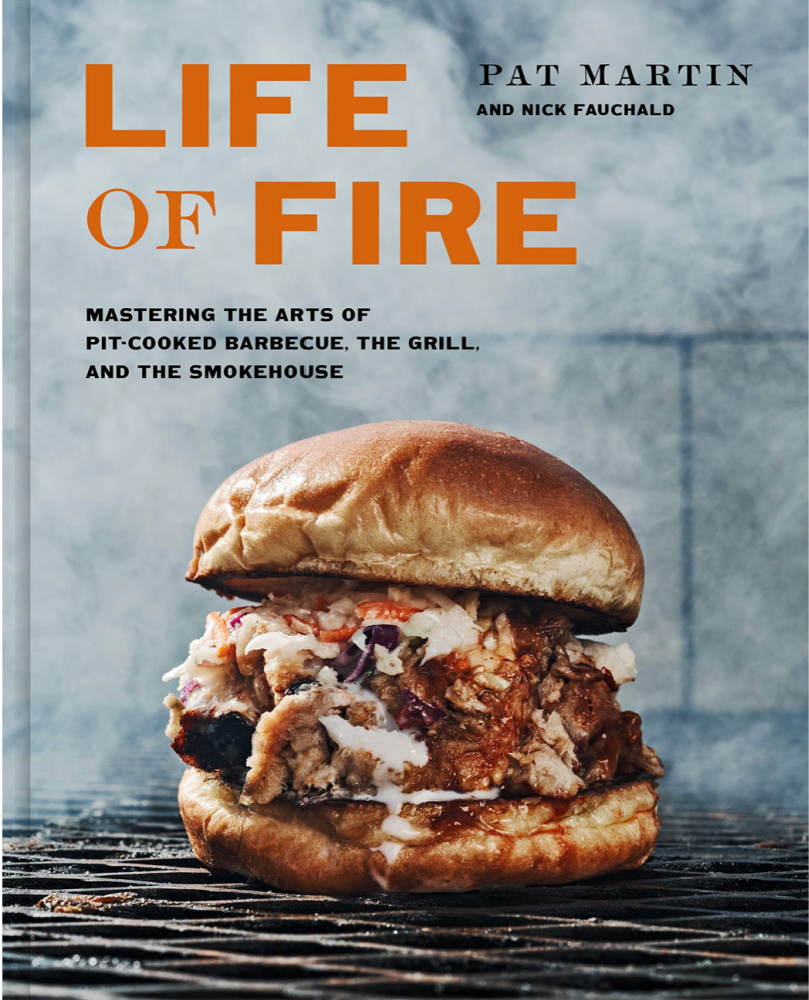 Life of Fire: Mastering the Arts of Pit-Cooked Barbecue, the Grill, and the Smokehouse 
For Nashville's Pat Martin, grilling, barbecuing, and smoking is a lifetime's worth of practice and pleasure, and he goes literally whole hog in this book that thrills with simple, delicious recipes while detailing cooking through all the stages of a fire's life.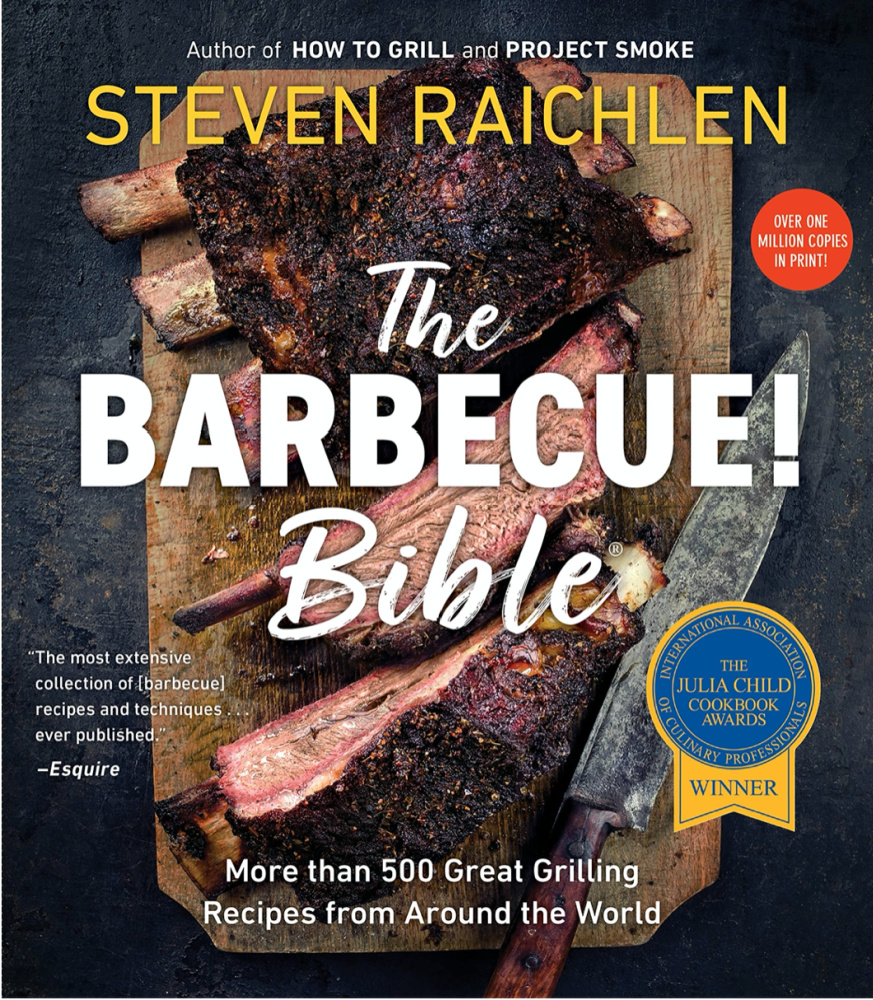 The Barbecue! Bible and More 
Steven Raichlen's four books, The Barbecue! Bible, Project Smoke, Barbecue Sauces, Rubs, and Marinade (Bastes, Butters & Glazes Too), and How to Grill Vegetables: The New Bible for Barbecuing Vegetables over Live Fire are must-haves from America's award-winning master griller.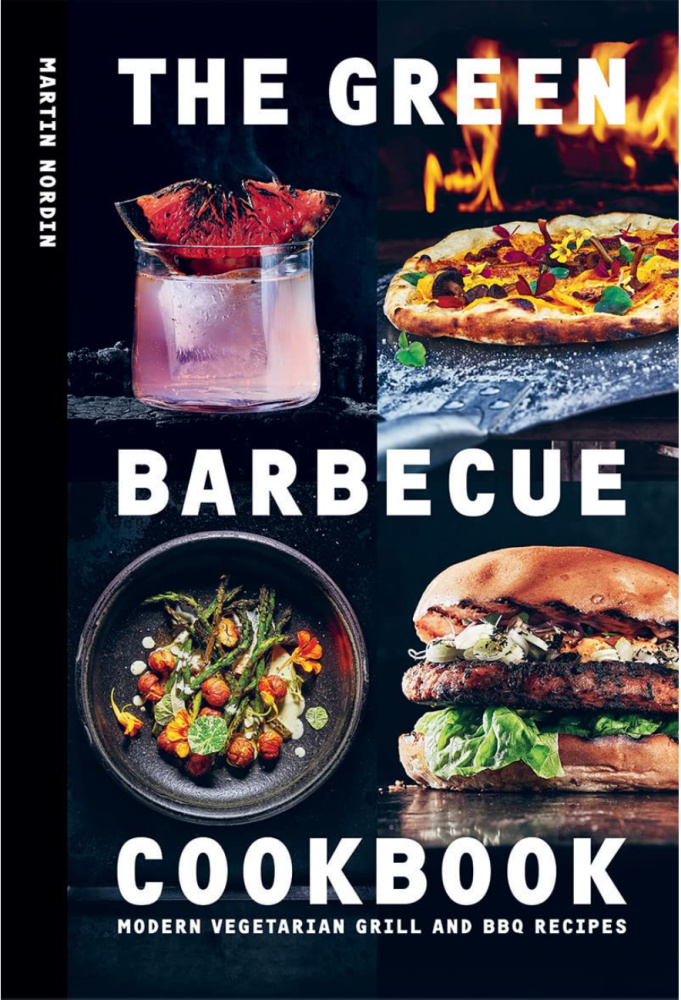 The Green Barbecue Cookbook: Modern Vegetarian Grill and BBQ Recipes 
Martin Nordin's approach to cooking over the flame is modern and mouthwatering. Dreamy photography plus cocktail recipes make this a worthy vegetarian option.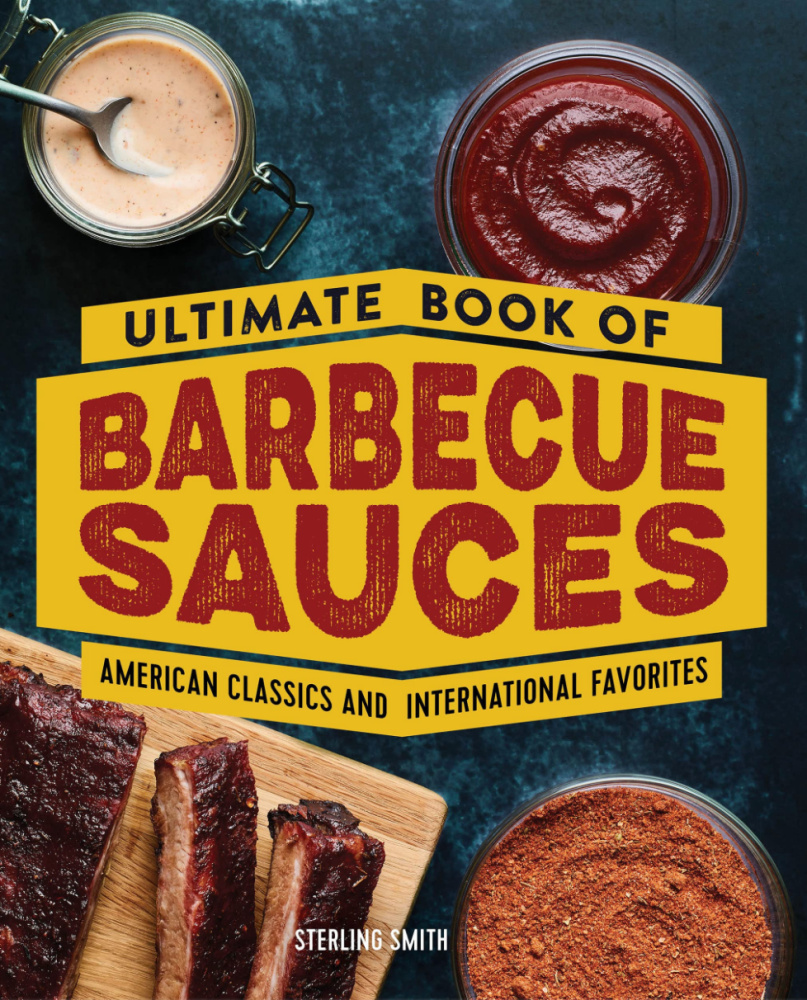 The Ultimate Book of Barbecue Sauces: American Classics and International Favorites 
Mild, sweet, tangy, spicy—Sterling Smith shows you how to make your own sauces from scratch. Go next level with rubs and marinades and learn how to pair them with various meats, veggies, and fish for a lip-smacking barbecue.
KNIFE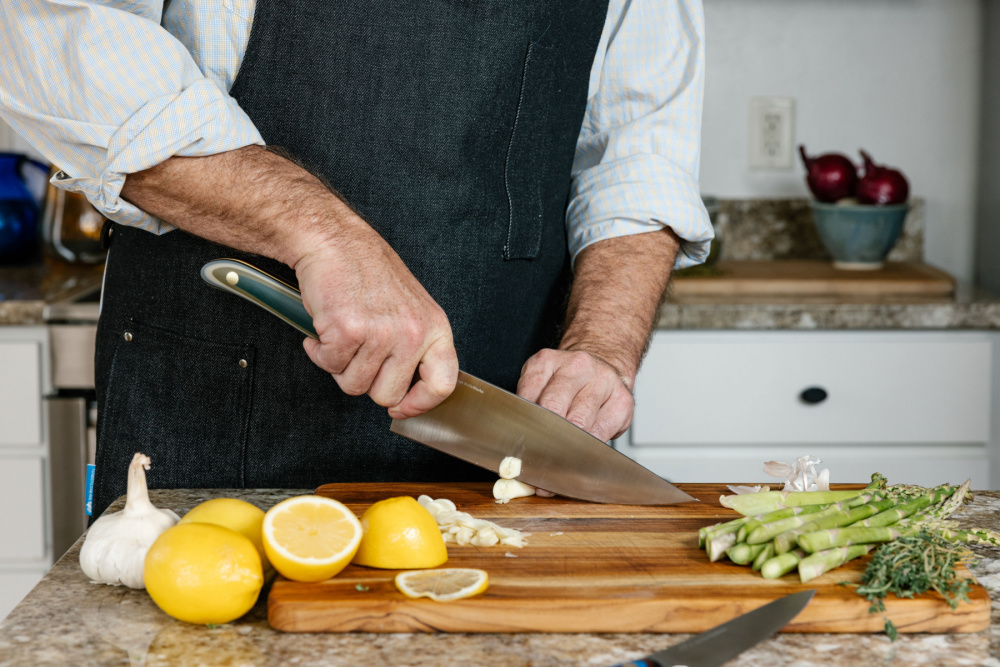 You've prepped, smoked, and grilled—meat, fin, or feather, in the kitchen, on the deck, at the river, or at camp. But where's your blade? American-made, Jackson Hole-designed New West KnifeWorks' Western Chef knife is your partner-in-fine (dining, that is!) The 8" clip-point blade goes Western with its cleaver-width elite steel that's as strong as a bull and as sharp as a boss mare. So, wrangle this mighty, hot-looking high-carbon steed and claim ownership by engraving your name on this limited-edition knife that's ready for any chopping, dicing, cutting culinary adventure. Pre-order here.