Each year on April 30, a stream of cars forms around Jackson Hole's Town Square, waiting to drive across the National Elk Refuge lands to the border of the National Forest, where wintering wildlife protective closures end at midnight on May 1. Once the road is opened, in a mere matter of minutes, the rolling foothills of pine forest and sagebrush are peppered with people wearing headlamps, spreading out, some at a running pace. My friends and I stick to our plan; we pull up at the base of a butte and spill out into two groups. At as quick of a clip as we can manage up the steep hillside, we fan out, eyes peeled like everyone else, searching for sheds—coveted elk
antler racks—dropped by bulls early each spring.
Over the 10 years I have lived in Jackson, the May 1 shed hunting opener event passed each spring, and I paid no attention. Antlers were not high on my list of interests: just once I had found a small reindeer antler near the summit of a peak we had climbed to ski in arctic Norway, but after marveling at it for a few minutes, I put it back where I found it. But, I learned later that shed hunting is about much more than the shed. For many, the ritual is about spending time in nature and with friends, the need for conservation and preservation, and a peek into the fascinating lives of our fellow creatures right under our noses.
The May 1 event is the re-opening of public lands closed to people during winter. Across states like Wyoming, Colorado, Idaho, Montana, and up into western Canada, winter wildlife closures on public lands are commonly used by land managers to help protect big game animals from the stresses of human activity.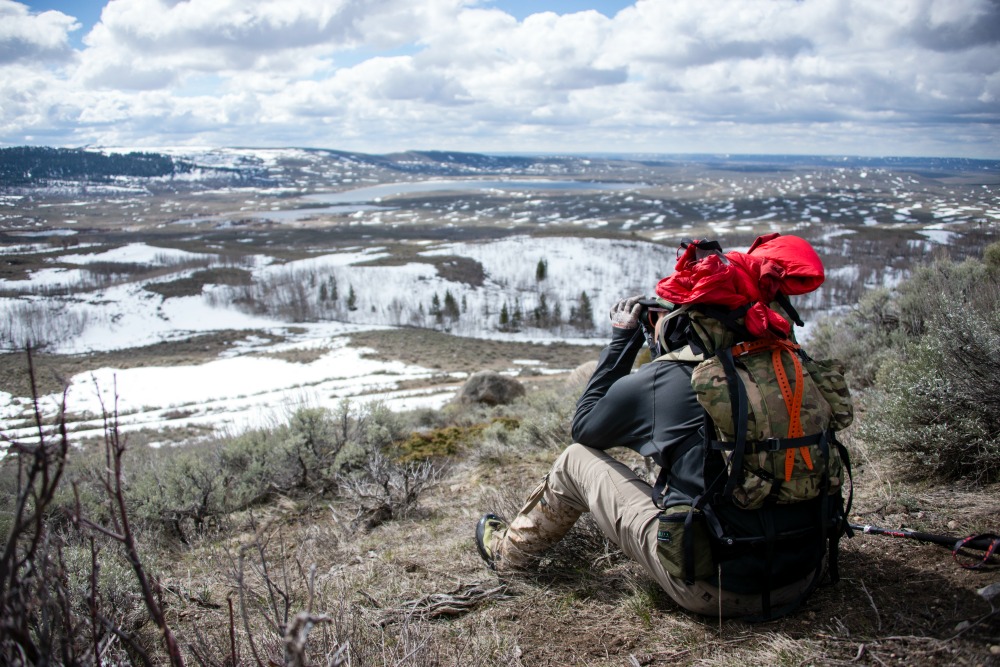 Winter is very difficult for wildlife, and allowing them undisturbed spaces can increase their chances of survival. The closures are lifted in late spring when the animals have regained strength and moved off to summer ranges. Male deer and elk shed their antler growth yearly in late winter and early spring, so for a shed hunting enthusiast, this means those areas are likely chock-full of big deer and elk antlers. A public land opening right by a wildlife refuge where thousands of elk have been wintering can be an antler gold mine.
Avid shed hunters are often rifle or bow hunters as well, and interested in the health, size, and location of animals in a certain area. It's a reason to get out into rugged terrain and learn about the ecosystem these big game  are part of first-hand. It's a different nature than you experience if you are out on, say, a ski tour. The pace is different and necessitates a different sort of attention.
Shed hunters must make sure to know whose land they are on, and whether or not it is closed to human activity. "The basic idea [of a closure] is to protect wildlife when they are nutritionally and energetically stressed," says Brian Glaspell, the project manager at the National Elk Refuge in Jackson. "It's the user's responsibility to determine the land jurisdiction and contact land managers about closures. In the eye of the law, ignorance is no excuse for any sort of poaching," he cautioned.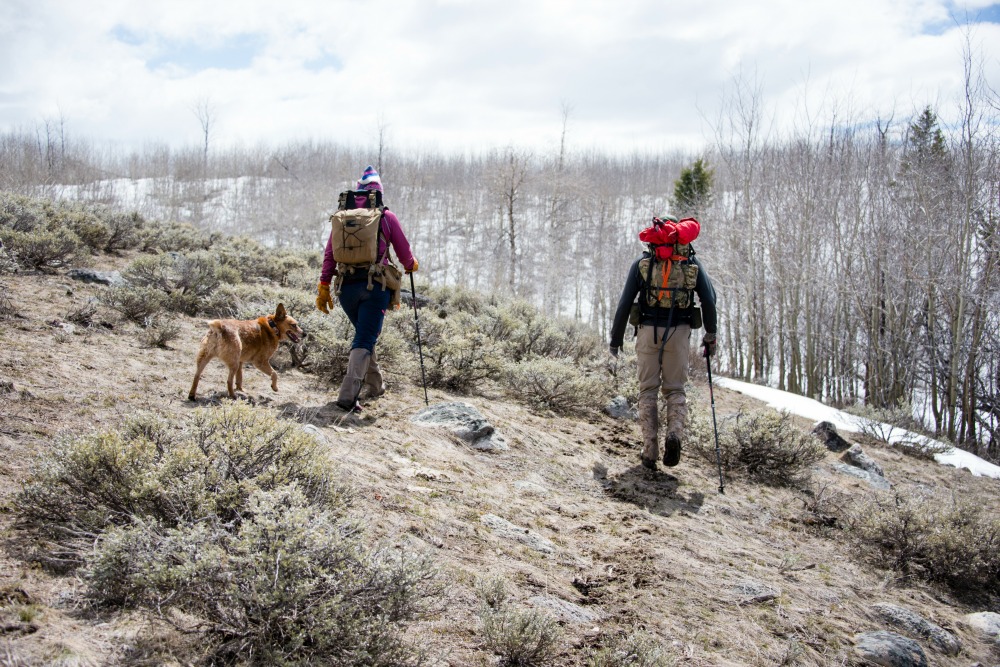 My path to the midnight shed hunting opener began the previous February, when my boyfriend, Andrew, asked if I wanted to spend a day about two hours to the northeast of Jackson to see if we could find some deer sheds in the sagey foothills of the Wind River Range. I hesitated. Winter is ski season. But, I decided to tag along, in the interest of a possible broadening of my horizons.
A lurching ride along some dirt roads past the tiny town of Dubois found us squinting at weather-worn signs along the road and comparing the information on those signs to Andrew's maps. We found access to a swath of public land without any winter wildlife closures, and the adventure was on.
Across a snowy creek bottom through bare aspens and cottonwoods, and up a drainage, deer hoofprints covered the thin snow. Where the red sandy dirt showed, it, too, was pocked with myriad signs of deer.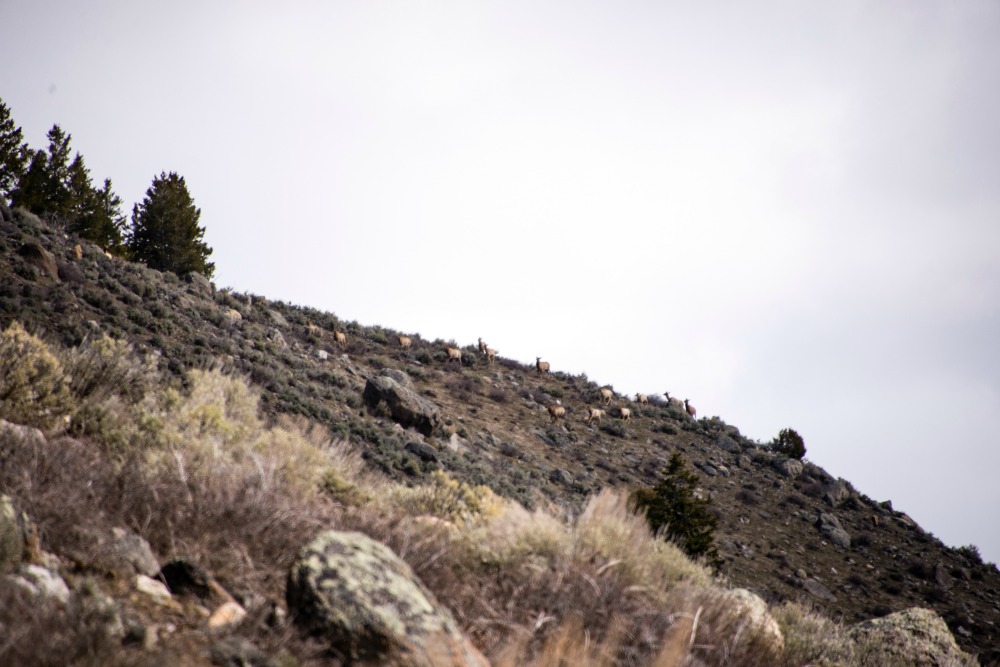 I figured we would find antlers about every hundred feet, sprinkled all over the beautiful alpine desert landscape. The sky was a pale, cold blue, with wintery silver sage and occasional stands of green scrub pines poking up from the snow and red rocks. We went up a hillside, down a hillside, and along ridges, crunching in the sparse snow cover. We stopped and had a few snacks. We took frequent breaks to scan the hills with binoculars—what's known as glassing—for antlers farther from us. It looked to me as if six thousand deer had wintered here: little marks from hooves and droppings covered everything. But, no antlers.
We did see a few small groups of mule deer, high on distant ridges. They had already spotted us, their enormous ears assessing any possible danger. We watched them through binoculars, and Andrew explained how to tell which were bucks, even after they'd dropped antlers and hadn't begun to regrow a bigger set. He pointed out the signs indicating where they had chosen to bed at night, where they had been eating the plants, and where they liked to hang out so they can be in the best position to detect and evade any predators, from humans to wolves. I imagined the life of a deer here, and thought how tough it must be for the Jackson deer, where the snow was much, much deeper. I was fascinated. For the first six hours, that is.
"Miles equal piles," the undaunted Andrew told me, some sort of shed hunter mantra, to which I sullenly said nothing. But with the sun setting, I was thinking only of returning to the car. Until I looked down while crossing a small snow patch. "Look." I held up a gracefully curvy, four-pointed deer antler. Andrew, ecstatic, launched a search in the vicinity but we found no more. Later, back in the car, I imagined the deer my first antler had come from, and his deer life out in the wild.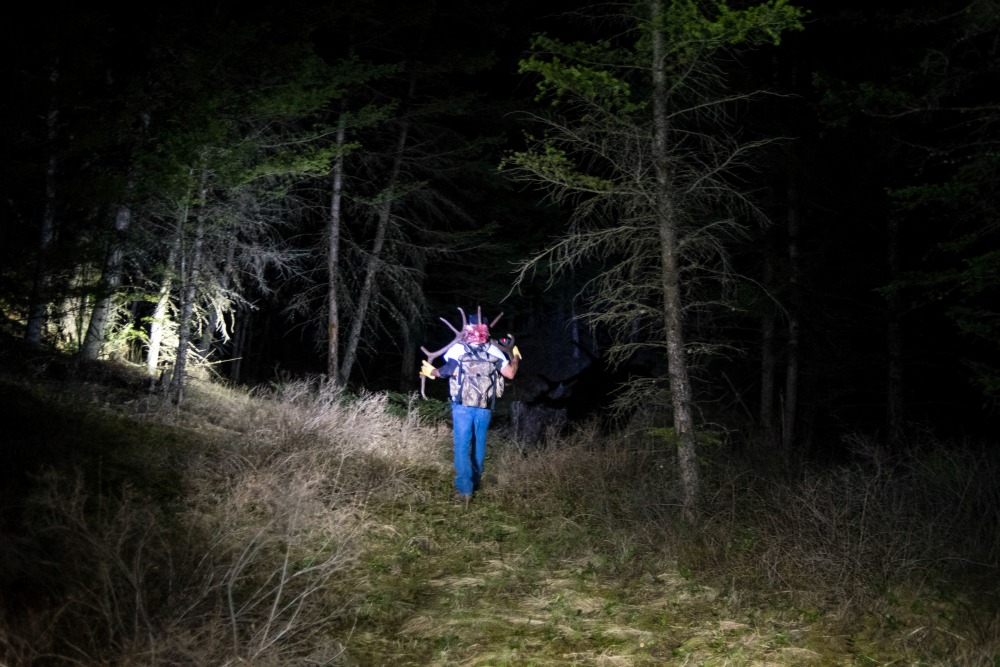 The next time Andrew asked if I wanted to go, it was April. This time he'd scoped out some bigger terrain, in the same vicinity, and we hoped for elk antlers. More miles and steeper hiking had me again immersed in imagining the life of all the animals, from the prey to the predators, and all the drama that happened, out of view of our coddled, modern human existence.
In a sunny meadow near the bottom of a steep drainage, we found a bachelor hangout. Brown antlers with white tines lay on the grass here and there, and Andrew educated me on qualities of the spot that made the bulls like it so much. We scoured till we found no more, and moved on. Packs heavy with four-point and six-point antlers, we returned to the car at dark, exhausted from a fifteen-plus mile day. "Miles equal piles," Andrew said, gleefully. And as it turned out, in the early morning hours of opening day (night?), after wandering in the woods and sage for hours, my friends Sarah and John and I came out empty-handed at 5am. Andrew and his group had more luck, which somehow made our night a success as well. Over coffee and eggs at sunrise in a kitchen full of tired friends, I was reminded once again that while finding the antlers is nice, it is more about connecting to nature and friends that makes the hunt worthwhile.
TAKE NOTE:
+ It is illegal to take, collect, retrieve, possess, sell, purchase, or transport any natural product including shed antlers from the National Elk Refuge. If you are collecting shed antlers, do so on land without restrictions. The National Elk Refuge has ample information on what is allowed in association with shed hunting. Visit their website for more information.
+ It is YOUR responsibility to understand land usage policies where you are. Ignorance is no excuse.
+ Keep in mind what is good for the animals and the land.  Practice the Leave No Trace ethic while you're out.
+ It's not essential to race out at Midnight on May 1 to shed hunt. If you do line up in town prior to the road opening, please respect the community and be aware of the impact of the event on people living and staying on or near Town Square.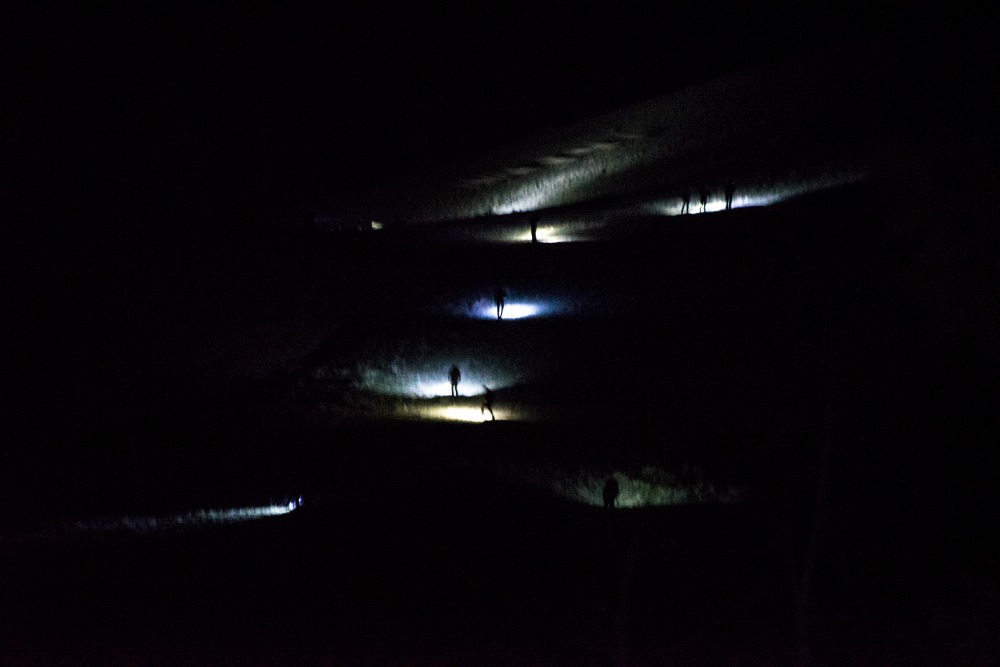 The National Elk Refuge, established in 1912 in Jackson, Wyoming, has since preserved a critical winter habitat for the Jackson elk herd, an integral part of the Greater Yellowstone ecosystem. The 24,700-acre parcel, managed by the U.S. Fish and Wildlife Service, provides winter haven not only for elk, but also for bison, wolves, coyotes, and more. In the summer, it's a thriving ecosystem for swans, songbirds, fish, pronghorn, moose, and many native plants. Maintaining such a pristine habitat takes resources. To supplement the operating budget, in 1967 then-refuge manager Don Redfearn had an idea, which still occurs each spring. The Jackson District Boy Scouts of America are granted access to refuge land (where the general public is never permitted) after the elk have left, and, through a special-use permit and with supervision by Refuge staff, they collect as many antlers as they can find. Thousands of volunteer hours go into sorting, followed by an auction, with artists, individuals, and wholesale buyers. Seventy-five percent of the profits go back into maintaining the elk habitat on the refuge, and the remainder to the Scouts. In 2017, the sale of 9,672 pounds of antlers raised $192,000.
To learn more go to fws.gov/refuge/national_elk_refuge or call 307.733.9212.