Legends. It's another "L" word that shouldn't be thrown around lightly. But in the world of avalanche safety, fishing products, and homerun entrepreneurship, John Simms is simply a legend. As a young ski patrolman at Arapaho Basin in the late 1950s and early 1960s, Simms started a pattern that would inform the rest of his life—see a problem and fix it. And when the tools to fix it don't exist, create them. There's a generative quality to John Simms, a man still in his prime with one lung and 79 years under his belt. You see it in his life's work—and the many iterations of that work. There's also a generous nature that has defined his endeavors. As the founder of Life-Link Avalanche Safety and SIMMS Fishing Products, Simms' driving force was to make everyone's experience doing what they loved to do that much better. And now, in the latest chapter of his life, Simms is a large-metal sculptor whose work dots the landscape around Idaho and Wyoming. It's an artistic punctuation to an artfully lived life.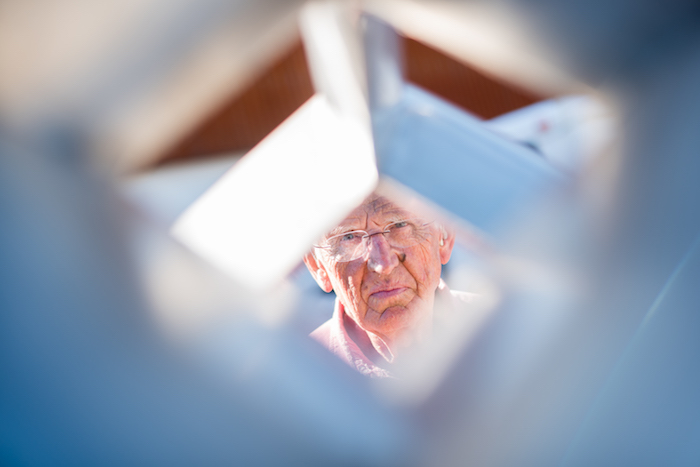 I had a chance to see this generous nature first-hand when Simms took my seven-year-old son, his best friend (also seven), and me out for our inaugural day of fly fishing. Not first day this season. First day fly fishing ever. Before meeting Simms at Dornan's, a launching pad for many adventures in the Jackson Hole area, I tried to explain to the kids that they were about to meet a legend. But I quickly realized, to a seven-year-old, that the word really carries no weight. Recognizing a legend, and understanding the impact that person has had on a community, comes with perspective, and in only seven years, what sort of perspective can someone really gain?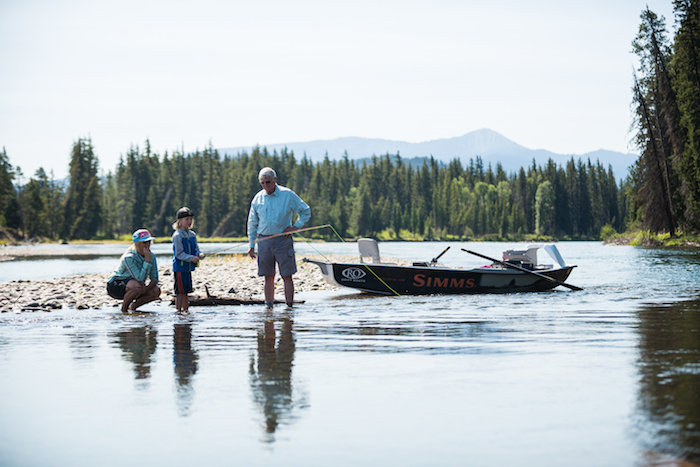 But, as Simms talked the boys through the first few casts, they began to understand. As he handed a beautiful rod engraved with "To John on his 70th birthday" to my son Townes and talked to him about wrist angles, the rhythms of the river, and the ways of fish, I could see a whole new world open up to my wide-eyed son. A world on the river, fishing.
We stood in the river casting for the first part of the morning, "getting a feel for it," as Simms said. Then we took off in one of his many boats—he and his wife have a six-car garage at home and I get the feeling it's not for the cars—to fish. The idea of spending a day in a small boat with two seven-year-olds didn't seem to shake Simms, although it's enough to give me pause. With two curious, active, energetic, and strong-willed boys, you never know when antsy antics will take over, but you do know that when they do, all of Yellowstone isn't large enough to give you respite from it. Much less a small boat large enough for four.
The father of three grown women and a grandfather a few times over, Simms has been on the water with many young ones. and today, the constant barrage of questions doesn't phase him. He answers the ones he hears—"All of us who did avalanche control and bombing in those early days at A-Basin have to wear these things," he says as he indicates his hearing aids—and peppers the boys with encouragement and instruction— but not too much.
A master fisherman, Simms understands that you can't come on too strong—it will scare the fish (and the kids) away. "Give the fish a little time once you cast your line," Simms tells the boys, who are rapid-fire casting. "Let the line linger out there." Essentially, he's telling them to be patient—the holy grail of parenting—and they oblige.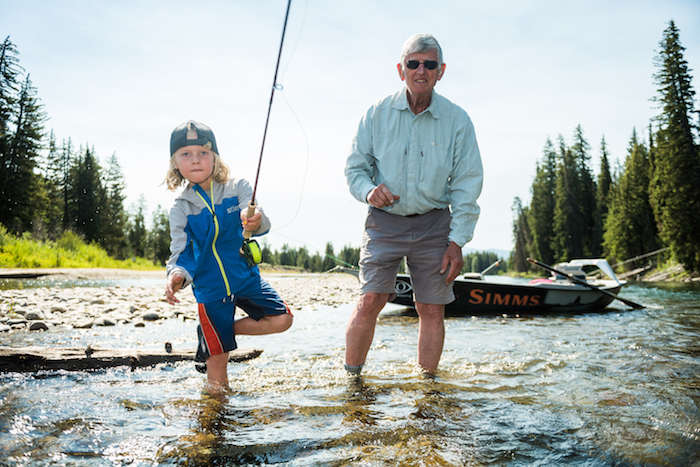 A few of my casts go awry and Simms explains that it's because I'm breaking at the wrist. "Here, roll down your sleeve and pull your cuff over your wrist and hand. It will keep you from doing that." And with that, I see how Simms came up with his very first SIMMS product, a wrist guard that helped would-be fishermen learn the motions that they'd build their fishing practice on.
In between instructions, I talk with Simms about how he was called to the West, how he landed at Colorado's Arapaho Basin, and how he helped grow the avalanche science field. Originally from New York, Simms took off after college—where he studied English and Non-Euclidian Geometry—with skiing in mind, but didn't quite know where he would land. An auspicious day of making turns at A-Basin with a man who turned out to be the manager for the hill landed Simms a job offer to be on their ski patrol. Not one to turn down opportunity, Simms accepted, found a place to live and a night job bartending by day's end. "As far as I was concerned, I'd made it! What more could you want? A ski patrol job and a bartending gig? I was set." So his wandering ways came to a halt for a while and with the energy that other young men might put into finding their way in the world, Simms set about changing the world of avalanche science.
"Part of the gig was to go collect snow and study the moisture content. We would pack PVC pipes full of snow and take it back to the patrol hut to measure the water content." The inefficiency of the process sparked an idea—why not have the tools to measure and understand the make-up of the snow while out in the field? And with that, Snow Research Associates was born.
Simms moved to Jackson Hole, Wyoming, in the early '60s, before the ski area was developed. He was one of the first ski patrolmen at the resort and continued to contribute to the study and understanding of avalanche science in that role. But all of this work in preventing avalanches didn't necessarily help once there were people caught in avalanches. "People out here love skiing the backcountry—where we aren't bombing for avalanche control—but they didn't have the tools to help each other if someone was caught in a slide."
Simms had a new mission—to outfit backcountry skiers with the right equipment. Life-Link International was the first company to produce and promote avalanche probes and shovels that made sense in the backcountry.
Does he hear from people whose lives have been impacted—read saved—by his innovations? You betcha. "I get letters all the time from people who have been caught in a slide and saved by Life-Link's probe and shovel." He stops there, doesn't add much more, but I can see there are stories behind the silence, stories of friends, friends of friends, strangers too, but sometimes those stories are best left untold.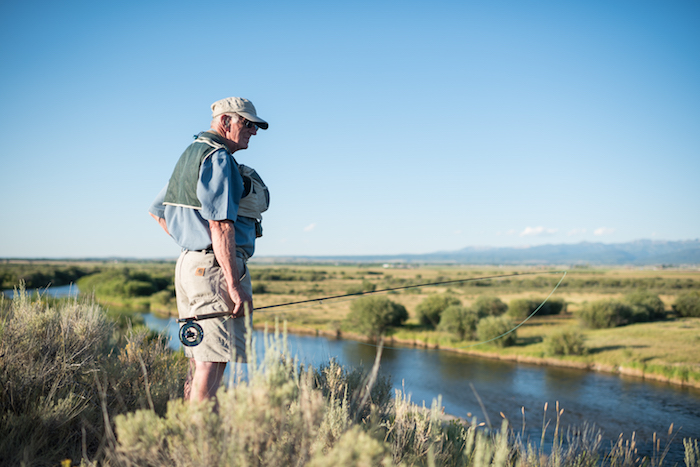 For a man who has reinvented himself so many times, water is a constant. Whether it's measuring the water content of a snow pack to understand its likely behavior or pioneering whitewater trips down the Snake River Canyon, Simms has spent his life around water and sharing his love of water in all its forms with others.
Wanting to be on the water, skiing in the mountains or fishing in the rivers as much as he could, inspired his eponymous company which KC Walsh acquired in 1993. "I've been a fishing guide out here for as long as I can remember. SIMMS really started because I couldn't find the gear that I needed to stay on the water as long as I wanted to." The first to make neoprene waders, SIMMS Fishing Products succeeded initially because of three things: 1) a natural inclination towards innovation; 2) the brand was making an authentic product—gear that guides would want to wear and could wear day in and day out; and 3) an unwavering commitment to quality. And according to all my guide friends out there—SIMMS today is still leading the charge in innovation, authenticity, and quality.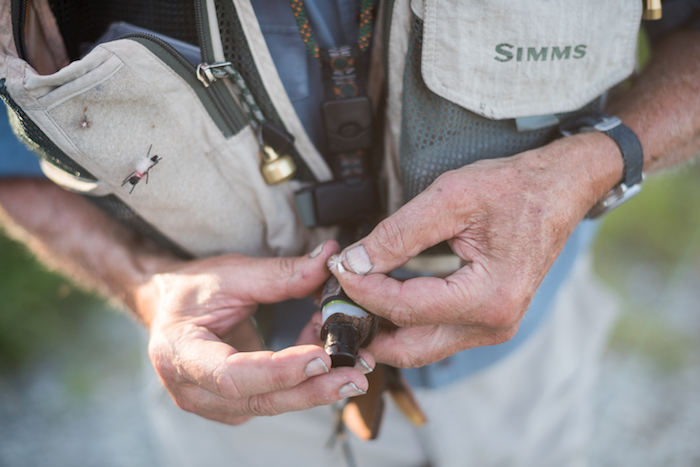 Today, Simms has added fire to his elemental repertoire. And with that fire, he takes steel and creates metal sculptures that play on his background in geometry. He says, "My work took a definite leap into the mathematical and geometric. I am fascinated by the possibilities inherent in the most basic forms—the circle, triangle, and rectangle. My sculptures transcend these Euclidean shapes by bending, warping, and fastening them into unexpected shapes and surprising relationships."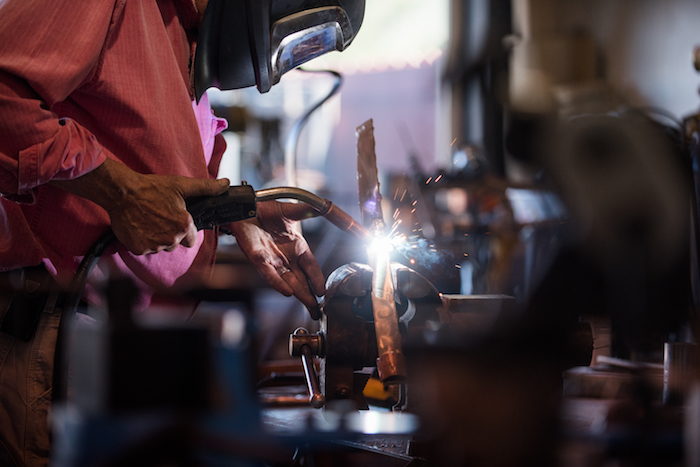 His sculptures range from static to dynamic, from elegant to powerful, but they are always, like Simms, a product of their place. And while the process is an ever-evolving one and his vision for the final piece is clear ("I often wake up in the middle of the night full of creative energy and head to my studio…"), there's always some element of surprise for him when the sculpture takes shape and finds a home. Simms says, "I am aware of the negative spaces only after the construction of the piece and consider them serendipitous after-effects. There is so much more to the piece than its structure—much of the beauty is in the shadows cast and the changing organic negative spaces."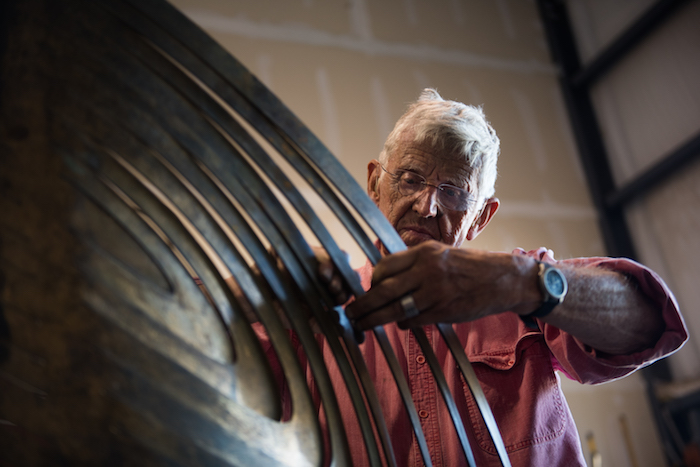 Simms has not slowed down, nevermind the many years of beating his body up doing the things he loves. He's a 79-year-old powerhouse who hauls his own large-metal sculptures up and down the mountain passes to their new homes. He shares a shop/studio with his middle daughter who is an industrial designer. Although she thinks he keeps the shop a little on the messy side, he does appreciate the time he gets to spend with her.
Watching Simms work with my son and his friend on their wrist action, their patience, and their understanding of the river and the fish swimming in it, I think about the organic shadow Simms has cast throughout his life—it's a long, tall, and impressive one.
FOR MORE INFORMATION ON JOHN SIMMS' SCULPTURE WORK:
johnesimms.com
JOHN SIMMS' SCULPTURES CAN ALSO BE FOUND AT DIEHL GALLERY IN JACKSON HOLE.