The placement of 'the long table' upon the land is, in itself, art.
This site-specific decision and many others that go into shaping an Outstanding in the Field dinner form a special relationship between the guest and nature. Where and how dinner is served gives physical form to the artistry at the heart of Jim Denevan's movement. The founder of Outstanding in the Field, this 'director of experience' effortlessly transforms an evening of superb food grown by an area's most caring farmers, prepared by its notable local chefs, and hosted by ranchers and vintners into an experience that fosters deep ties within a community and a shared memory that centers around the way we experience food. There might be a formula, but nothing is formulaic. Denevan knows exactly the ambience he's looking to create, and it's one of connection to the land and all it represents. His 'high' comes in the form of gratitude and living with the impermanence of his art.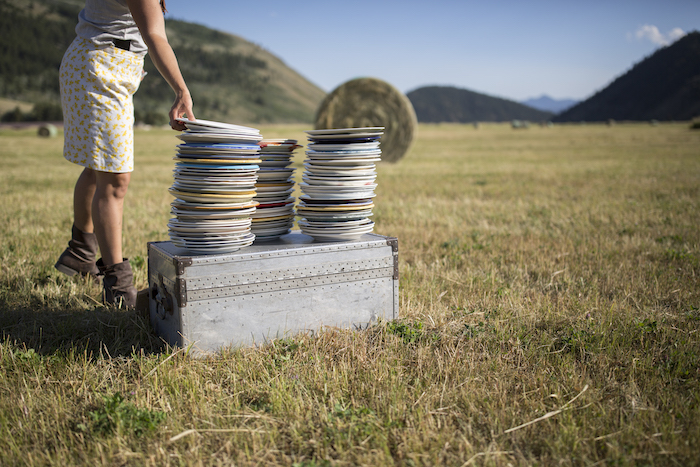 In 1999, as a laid-back surfer and chef from Santa Cruz, California, Denevan decided the conventional route to foodie stardom might not be suited to his artistic nature or his gypsy-like ways. So he began visiting the region's farms and putting the freshest ingredients directly into creative and authentic dishes for his traveling show called 'Outstanding in the Field.' He was one of the first doing the farm-to-table thing. The movement's humble beginnings as a tiny operation with a large, red 1950s bus named 'Outstanding' and a clutch of friends who believed Denevan was onto something might sound like a carefree carnival, yet it was quite the contrary. Denevan, a well-known artist who designs exquisite and thoughtful large-scale sand drawings at international art fairs and for corporate clients, knew his guests would catch on to his idea of a good time. They did, and guests around the world have raised a glass in his honor ever since.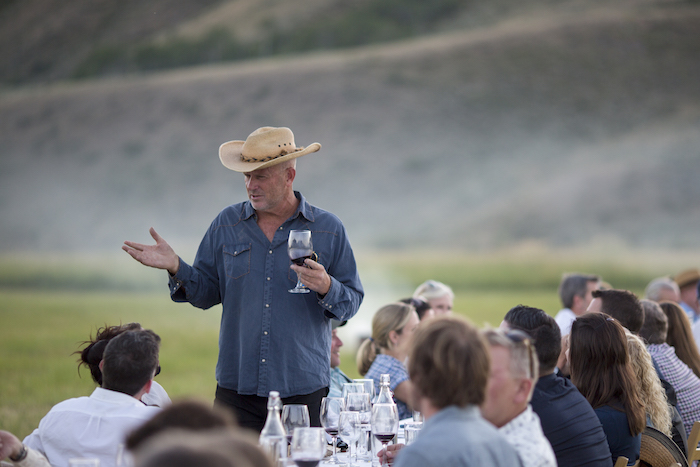 Denevan's weathered straw hat has seen hundreds of sunrises and sunsets. He might be mistaken for a guest, but here's what's beneath the hat: with over 900 dinner tables set throughout the United States (all 50 of them) and in nine countries, this is a man who can inspire a collection of spirited and committed staff, guest chefs, ranching hosts, and vintners, while entertaining and making the many guests at his dinners feel welcome; a man who has an innate gift for sniffing out extraordinary locales that are less backdrop and more top-billed star at his events; and, most importantly, a man who loves good food and gathering good people to eat it.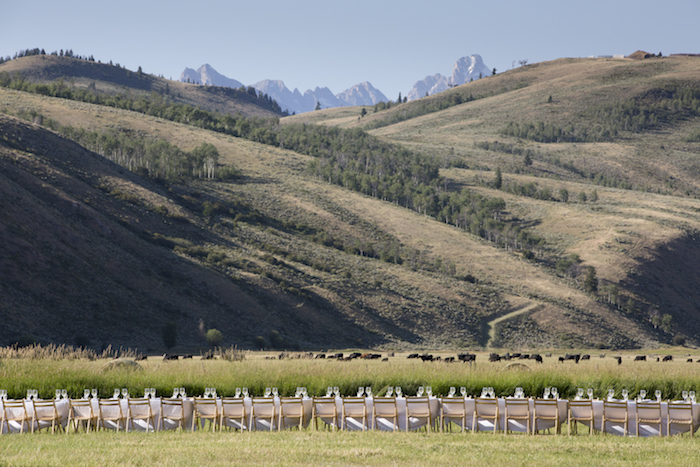 For this year's Outstanding in the Field experience in Jackson, people gather at the Mead Ranch. The night begins with an informal gathering on the back porch while golden-faced servers pass an appetizer of Robinson Family Farm 'nduja with spicy peppers on a crostini along with other tasty options. Guests enjoy a divine Niner Wine Estates Sauvignon Blanc, two ales from hometown Melvin Brewery, and bourbon from small-batch distiller Wyoming Whiskey. Denevan introduces himself and speaks briefly about the origin of OITF, before he kindly asks guests to say hello to the ranch owner, participating farmers, chefs, and vintners. His alignment with farmers' values and his passion for showcasing the talents of chefs as they prepare a bounty in new and exciting ways energizes the evening. Then he gestures to a location in the distance and everyone begins to head out.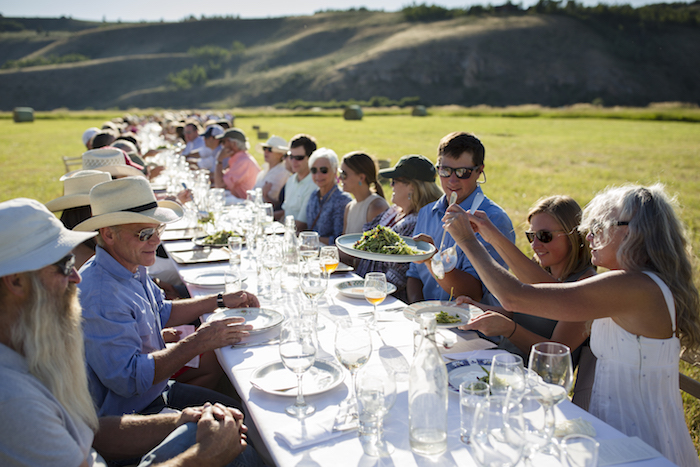 The guests walk across a vast amber field to a 300-foot-long table. Once seated, white tablecloths flutter against cowboy boots and hiking shoes, and the hum of voices floats up into the fragrant mountain air. For the first course, the long table is decorated by colorful platters overflowing with beautifully prepared salads, one of which is comprised of shaved Cosmic Apple Gardens' summer squash, kohlrabi, and sugar snap peas, Cakebread Ranch tricolor wax beans, zucchini, and cucumber, and toasted pumpkin seeds. Then the servers present a rich dish of polenta with grilled corn, onions, kale, spinach, and mustard flowers using both farms' ingredients. Expertly prepared Mead Ranch beef with new potato salad, horseradish crème, and wild arugula follows. It's cloud nine times ten.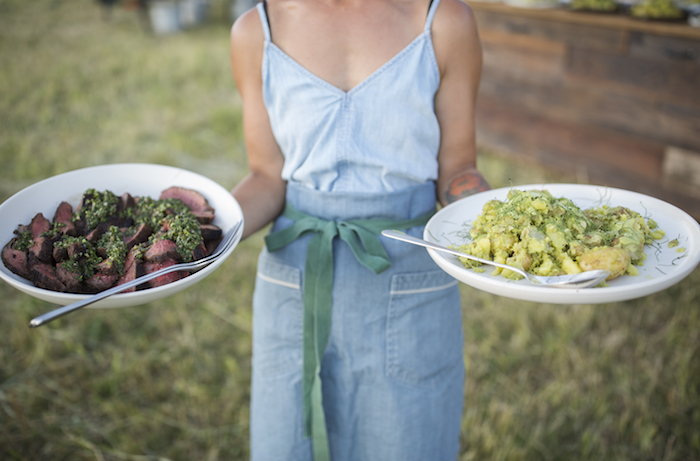 Denevan scans the land replete with hay bales and roaming cattle. As he walks the length of the table, pausing to add comments and receive compliments, his gentle smile is one of a purveyor of peace. Is Denevan a steward who preserves a sense of place and community? And, if so, is his gentle reminder to sit down and eat dinner together more often a harbinger for an increased willingness to unplug and relish in the immediate? What is obvious from one course to the next is that strangers become acquaintances, and acquaintances become friends. No one is in a hurry and nary a screen interrupts the immediate, tactile experience. Dining with friends is not new; however, meeting friends for the sole purpose of dining away from home without distractions is an emotional, ecologic, economic act of love.
By sharing food, we gain perspective for others during our conversations. By eating that food, we provide economic stability to farms and chefs and encourage safer and more environmentally conscious meals. And, lastly, we show that we care, not just about food, but also about each other. This is exactly what happens at an Outstanding dinner.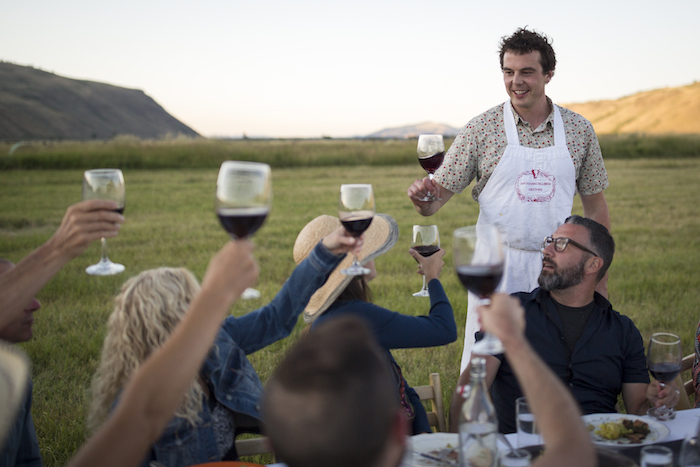 When the Persephone Bakery mixed berry tart with whipped vanilla mascarpone appears, it accents the dreamy landscape and long table. With a sense that we will all see each other again, Denevan brings out his chefs and crew for a thank you. Enchanted by the simplicity of the evening and satiated by the artfully prepared food, no one feels the need to leave, but rather we discuss where we can all meet again.
Outstanding in the Field's Winter Tour
Chile: Jan 1, 2017 – Jan 4, 2017
Argentina: Jan 4, 2017 – Jan 8, 2017
Hawai'i: Jan 10, 2017 – Jan 15, 2017
Florida: Jan 21, 2017 – Feb 3, 2017
Mexico: Feb 4, 2017 – Feb 12, 2017
Tickets on sale September 22 | outstandinginthefield.com