A Tale of Grand Teton Distillery
A libation fabrication with a tradition as spirited as its stock flourishes in Teton Valley.  
Family owned, Grand Teton Distillery crafts a gluten-free beverage that has earned international acclaim, piqued the interest of Tinsel Town and continues to pop the bottle to new possibilities. 
As the best do, this story begins with good company and a refreshing beverage.  
Lea and Bill Beckett, love birds who adore the Tetons, were looking out across that striking geography when they got to wondering how best to develop a parcel of its potato-rich land. They happened to be sipping vodka at the time. Don't potatoes make good vodka?  
A nip of naughty water, a fortuitous brainstorm, and a simple question; the Becketts were on their way to big things in craft distilling. In fact, the praise has practically been pouring in ever since. 
Grand Teton Distillery, located on North Nighway 33 at Driggs, is the 6,000 square-foot result of dedication, 'green' industry and, of course, good spirit. Today it is steered by Lea and Bill's sons, Andrew and John Boczar. 
"Here we produce the quality of spirit that, personally, we would want to drink," Andrew, the Vice President of Grand Teton Distillery is pointing toward the production facility where his brother John holds court as Head Distiller.  
"The goal here is a product as full-bodied as it is full-tasting," he explains.    
The process behind achieving that goal is both exacting and un-inhibited.     
From the start line of careful ingredient selection to the acclaim-winning finish of a beverage bottled by hand, the brothers Boczar, and the Grand Teton family, administer an operation which focuses upon local sourcing, meticulous distillation, and calling card personalization in the form of a final product noted as "earthy smooth."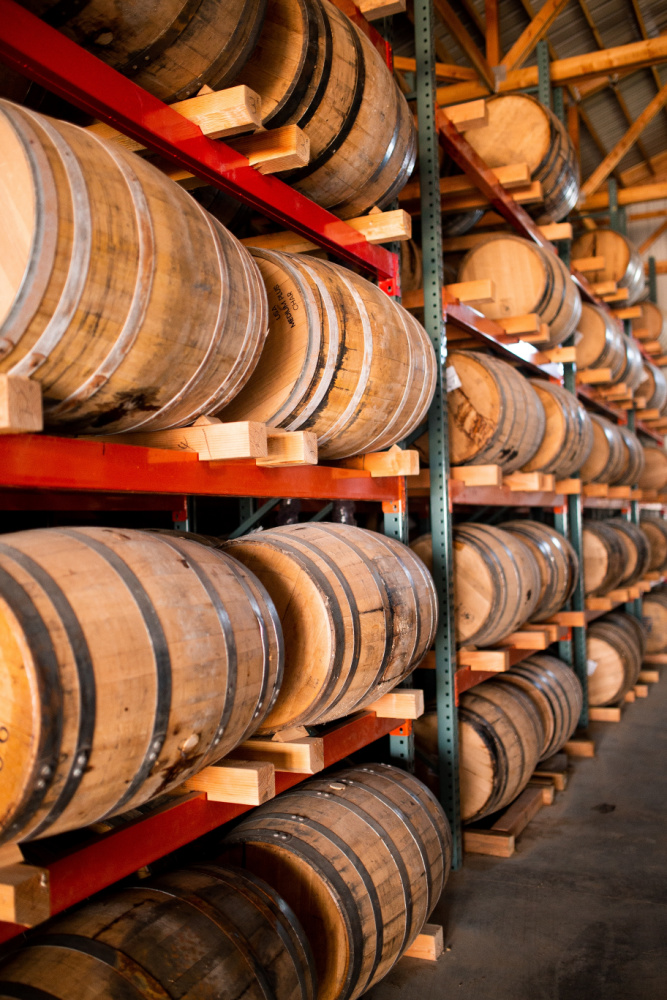 Said simply, Grand Teton is a tall pour of solid lab science with a dash of Evel Knievel. 
And operating a distillery they themselves own grants the Boczar family freedom to play with the production process, to tinker and taste what happens. But it's far from child's play for John. As Head Distiller he's an amalgam of views on distilling, mindful of tastes which really can't be quantified yet fixated on scientific method. He digs the magic behind his craft yet errs to the side of rigorous technique–reviewing industry forums, reading books, and making informed, unapologetic decisions. If that also means placing taste before yield, so be it.  
From batch number one, Andrew and John mitigated variables by notating everything…and taste-testing with relish. The payoff was a big industry splash early.   
Only three months in and Grand Teton received the first of what would accumulate to be many accolades, namely, consecutive Double Gold's at the San Francisco World Spirits Competition. Suddenly it was time to reexamine the company's scope.   
Subsequent expansion put Grand Teton into new territories before new judges, and gleaned further praise.  
USA Today listed the company among its Top 10 Best Craft Vodka Distilleries of 2019. In one International Review of Spirits run by Tastings.com, Director Jerald O'Kennard lavishly described Grand Teton's Ultra Premium Vodka as "fresh aromas of spring rain, banana taffy, and coconut water with glycerous bright, dry medium-to-full body and a warming, interesting, medium-long marshmallow fluff, peanut butter, wonder bread, and clarified butter finish." No fluid ounce had ever been such a mouthful. 
By now, Grand Teton had the attention of the world, and a new, intriguing co-owner.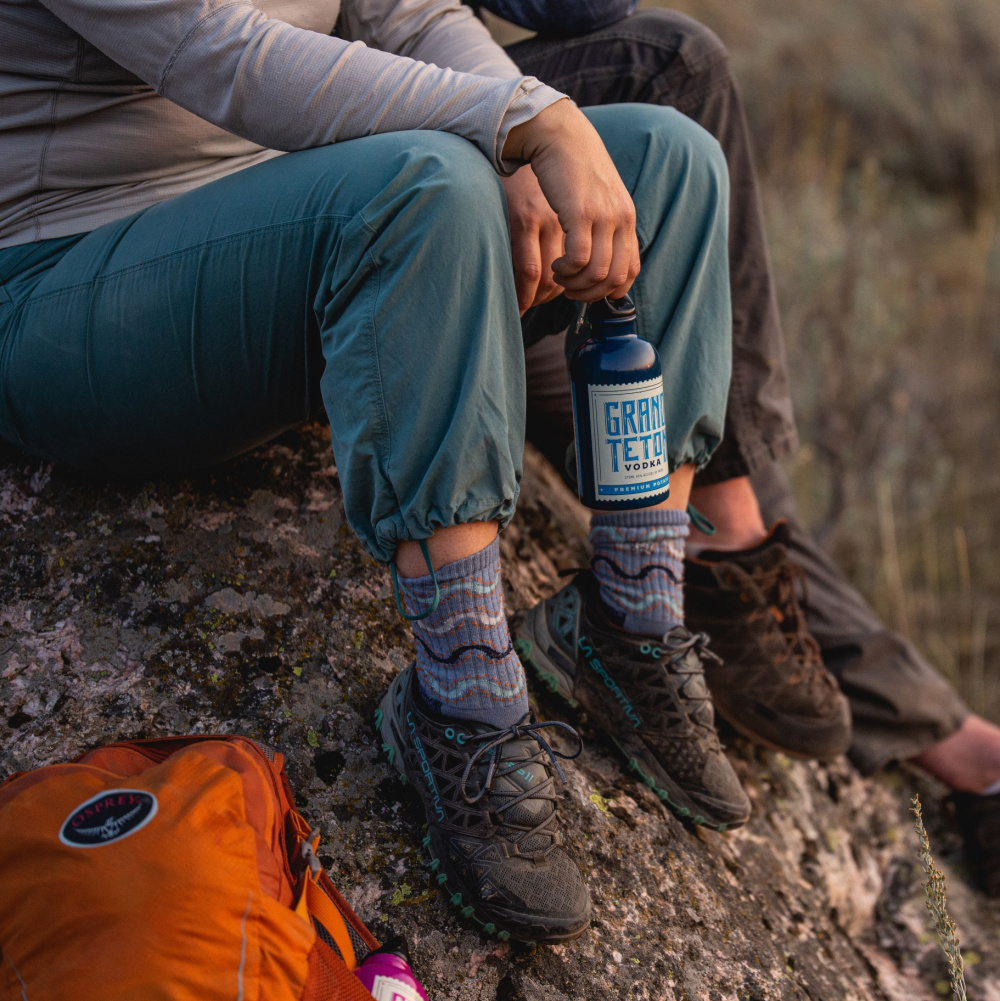 The wires lit up when actor/producer Channing Tatum (aka "Magic Mike") joined the company's ownership. The heartthrob had a soft spot for US-made spirit and collaborated with Grand Teton to create Born and Bred. 
According to Andrew, the aim with Born and Bred was clean, sweet-tasting vodka. What they got is an extra-refined, soft-meets-coy libation, which the company reports to be its highest seller, accounting for approximately half of total production volume. 
But still, it is conscious evolution that really continues to pave Grand Teton's way. Even now, with an 80,000 bottle annual production level, the company keeps true to its tread-lightly roots.  
 Grand Teton's vodka range includes eight-week infusions of wild huckleberry and sour pie cherry. And the distillery has undertaken the aging and bottling of Double Gold medal whiskey labels such as Colter's Run, Catamount, and Gamekeeper. "We wanted to see how whiskey would age in our unique environment," Andrew says of the distillery's spacious interior and coolly temperate exterior environment. "As it turns out whiskey ages very well here," he adds.  And it is, 'whiskey' which just may prove the hot-word of a next era. 
For the past four years, the company has been barrel-aging a malt whiskey and crossing its fingers. The libation produced thanks to that practice-in-faith is described as American Single Malt Whiskey, born thanks to hard work and 2-Row Barley.  
And the beverage itself?  It is double-distilled before maturing within ex-bourbon barrels and capped off by double-barrel finishing in red wine casks. They call it an American Single, and its profile is rich, smooth, and complex.  
"It's great how multi-faceted and dynamic we are," Andrew says of the distillery he co-steers. "It's about owning that thing that you do, while working with people to create something fresh." 
It's a palpable passion for excellence, exemplifying Grand Teton Distillery's love for what they do. And that dedication is leaving quite a pleasant finish on the palettes of craft connoisseurs the world over.   
drink it in
WHO
Grand Teton Distillery
WHERE
1755 ID-HWY 33, Driggs, Idaho
WHEN
11am – 5pm, Mondays – Saturdays
CONTACT
208.354.7263