Located in southern California's San Bernardino National Forest, this alpine town (elevation 6,752 ft.) sits on the southern shores of the remarkably pristine Big Bear Lake. The Big Bear region was populated by the indigenous Serrano Indians for over 2,000 years before being "discovered" by Benjamin Wilson in the 1800s. Big Bear was named after the large grizzly bear population that flourished at the time. During the California Gold Rush, the town of Big Bear Lake saw major expansion. The trend continued during the early 1900s when the area became the first mountain recreation destination in southern California and boasted an impressive natural hot spring. Hollywood celebrities used Big Bear as a retreat and several movies were filmed in the region. A mere 2.5 hours by car (on a good traffic day) from downtown Los Angeles, the Big Bear area boasts pure mountain air with a refreshing pine scent, picturesque aqua-blue lakes, well-preserved forests, mountain peaks, jaw-dropping views, and a phenomenal network of paved roads and dirt trails. In town, you will find friendly locals and the down-home charm of California in its golden years. With all of the massive changes that have taken place in this beautiful state, Big Bear Lake has remained true to its roots.
Why Big Bear?
Big Bear Lake and the surrounding area of Big Bear boast a solid list of hidden and not-so-hidden gems. Generally, people seem to know this area only for its small and often overcrowded ski resorts. This makes it an untapped resource when it comes to having an awesome overall mountain experience. Going to most mountain towns during the spring season can be a bit hit or miss with the presence of snowmelt, mud, volatile weather, and fewer recreational and cultural opportunities in general. This is not the case at Big Bear.  The area dries out from winter much quicker than most destinations. Sun and warmth are the norm, especially in April and May. Big Bear Lake offers a surprising number of excellent restaurants, bars, shops, hotels, and events considering its modest size. Simply said, put Big Bear on your dream travel destinations.
Something for Every Season
Winter: skiing, snowboarding, sledding, tubing, snow shoeing, fat biking, wildlife, snowmobiling, backcountry tours, ski jumping, hiking, horseback riding, fishing, helicopter rides, alpine slide, festivals, art, nightlife, and spas.
Spring: skiing, snowboarding, road biking, mountain biking, trail running, zip lining, snow shoeing, sledding, tubing, fat biking, wildlife, backcountry tours, ski jumping, hiking, horseback riding, boating, water skiing, wake boarding, fishing, swimming, helicopter rides, alpine slide, camping, festivals, art, nightlife, and spas.
Summer: road biking, mountain biking, trail running, zip lining, boating, swimming, water skiing, wake boarding, fishing, backpacking, camping, hiking, helicopter rides, alpine slide, festivals, art, nightlife, and spas.
Fall: road biking, mountain biking, trail running, zip lining, boating, fishing, swimming, wake boarding, water skiing, backpacking, camping, hiking, helicopter rides, alpine slide, festivals, art, nightlife, and spas.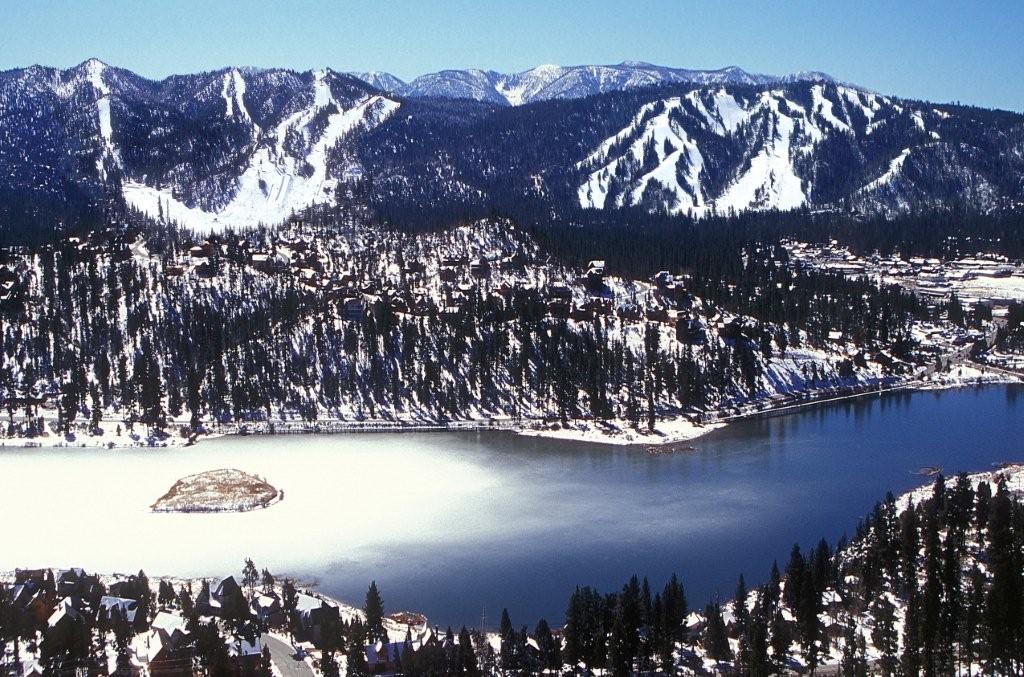 Stay:
Worldmark at Big Bear $$$
Situated on a hill overlooking Big Bear Lake, the Worldmark is a Wyndham property with family suites that live like condos. Packages include a full kitchen, fireplace, barbeque grill, and separate living areas. Besides being right by the lake, this resort is just blocks from the center of town. The Worldmark also boasts a large outdoor pool, hot tub, tennis court, sport court, children's playground, pool tables, ping pong, fitness center, and more. This is an excellent place to splurge for a high quality family vacation. worldmarktheclub.com/resorts/bb
Alpenhorn Bed and Breakfast Inn $$$
A well-established and charming inn within walking distance of Big Bear Lake's bustling Pine Knot Avenue, the Alpenhorn specializes in making your getaway as carefree as possible. Accommodations include seven large rooms in the main house and one well-appointed luxury cabin. Included for all guests is a full gourmet breakfast as well as complimentary appetizers and cocktails. The architecture and interior design of the Alpenhorn is all rustic California Gold Rush flavor with advantages of the modern comforts to boot. alpenhorn.com
Cozy Hollow Lodge $$
Cozy Hollow offers a mix of small cabins and guest rooms at a very convenient location right next to the center of town. Most of the cabins come equipped with full kitchens, fireplaces, private hot tubs, barbeque grills, and game tables. Enjoy being in the vicinity of several excellent recreational opportunities including a golf course and marina at the lake. This place is all rustic mountain charm and is situated in a fragrant pine forest. The Cozy Hollow Lodge is a place where you can truly unplug. bigbearlakevacationhomerentals.com
Marina Resort $$
True to its name, Marina Resort sits right at the edge of Big Bear Lake. This large, 3-story building hotel boasts amazing views from every single guest room. Enjoy sandy beaches on an alpine lake right outside your door. Take a short walk into Big Bear Village. The Marina was originally opened in 1969 and underwent an impressive remodel that began in 2012. It is a truly unique building and is a major part of the historical fabric of the town of Big Bear Lake. Rooms feature cabin-style décor, granite showers, private balconies, and more. This is the place to stay if you want to be in the center of the action. marinaresort.com
Robinhood Resort $
This budget-friendly resort features a total of 60 rooms and three different buildings. It is located conveniently in central Big Bear Lake Village just across the street from the lake. Guest rooms include lake views, gas fireplaces, private spas, and extra comfy furniture. The on-site restaurant Nottingham's Tavern serves breakfast, lunch, and dinner in three dining rooms and a full bar. The Robinhood also has a spacious lobby with a large stone fireplace that serves as a great place to convene and relax. Considering the nightly rates, this place is a phenomenal deal. robinhoodresorts.com
Travelodge Big Bear Lake $
This is the place to go if you are looking for a solid deal with no frills. The Travelodge sits within walking distance of the lake and has an outdoor pool and hot tub. Other amenities include a full bar, free breakfast, free Wi-Fi, refrigerator, and RV parking. This is for those who want to experience the Big Bear area without devoting their entire budget to the lodging situation.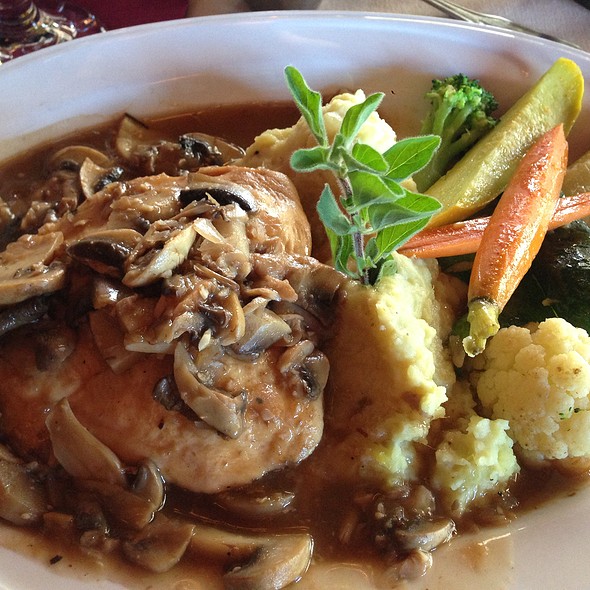 Eat:
Peppercorn Grille $$$
Located in a charming Old English style building, Peppercorn Grille is definitely one of the finest dining establishments in the town of Big Bear Lake. The décor is slightly formal but the ambiance is all about hospitality. The diverse menu has a great variety of fusion dishes and stand-bys like pastas and pizzas to seafood and steaks. The beer, wine, and cocktail menu is always well-rounded with great variety. peppercorngrille.com
The Pines Lakefront $$$
This is the only lakeside fine dining experience in Big Bear Lake. The sight of this establishment dates back to the 1920s with the building being restored and now including a spacious outdoor seating area with one-of-a-kind views of the Big Bear Lake and the surrounding mountains. The Pines definitely harkens back to the style of the 1930s and '40s with live piano and even a small ballroom inside. The menu also relies heavily on classic hearty American fare with Black Angus beef, midwestern pork, poultry, fish, seafood, and game such as wild boar and elk being some of the main focuses. A robust wine list of vintages from all over the world helps to round out the dining experience. thepineslakefront.com
Himalayan Restaurant $$
It's time to get into a new style of cuisine. This restaurant features a massive array of authentic selections that are popular in Nepal, Tibet, and Northern India. Many of the entrees feature lamb or chicken as the central focus such as variations of Sekuwa, Tandoori, Masala, Vindaloo, Saag, and Curry. Think tender, boneless marinated lamb with tomatoes, onions, ginger, and homemade spices. The kitchen also produces fresh homemade Naan bread with your choice of blended flavors and meat. Wines and Indian beers are always available. Don't forget to try the traditional rice pudding known as Kheer for dessert. Expand your culinary horizons at the Himalayan Restaurant. himalayanbigbear.com
Big Bear Lake Brewing Company $$
Every mountain town needs a great brew pub. With a convenient location just off of Pine Knot Avenue near the center of town, this spot is definitely about more than just the beer. But of course, if it were just about the beer, we wouldn't argue with that. The food menu is a very impressive list of sophisticated modern pub food with a nice mix of Asian fusion and good old American fare. A must-have app has to be the original Avocado Bomb. This is a unique collection of a honey ale tempura battered avocado, spicy sashimi ahi, crab and shrimp cake, ponzu, chipotle aioli, and wanton crisps. Stand-out entrees include the Chicken Pesto Pasts Caprese, Beer Battered Fish N' Chips (it's a brewery after all), and Red Ale BBQ Burger. Also on the menu is a tasty list of flatbread plates featuring the Pork's Delight and Prosciutto Apple Pesto options. This has to be one of the most diverse brew pub food menus in existence. bblbc.com
Grizzly Manor Café $
This is a good-old, down-and-dirty American breakfast and lunch place in the best way possible. Grizzly Manor is known by locals and visitors alike as the go-to place for a hearty first or second meal of the day. Family owned and operated since 1992, this place features signature plates such as The Blob, The Mess, The Polar Bear, and Fat Pat. Think massive plates of bacon, sausage, eggs, fresh pancakes, made-to-order omelets, waffles, chicken fried steak, and biscuits and gravy. If you go for lunch be sure to try the Gringo Tacos or something from the long list of burgers and fresh sandwiches. Head to Grizzly Manor with the appetite of a bear going into hibernation. grizzlymanorcafe.com
Amangela's Sandwich and Bagel House $
Amangela's is always popular thanks to their homemade bread and trademark bagel sandwiches. Breakfast and lunch are the options and the menu features Boar's Head meats, vegetarian selections, and gluten free dishes. Standout breakfast sandwiches include the Lox and Cream Cheese and Angela's Special (your choice of bagel served with turkey, chive cream cheese, avocado, tomato, onion, lettuce, and lemon pepper). For lunch, choose from an excellent variety of fresh salads, bagel sandwiches, wraps, and appetizers such as focaccia humus. Drinks include fresh-blended smoothies, teas, and tasty coffee variations. amangelas.com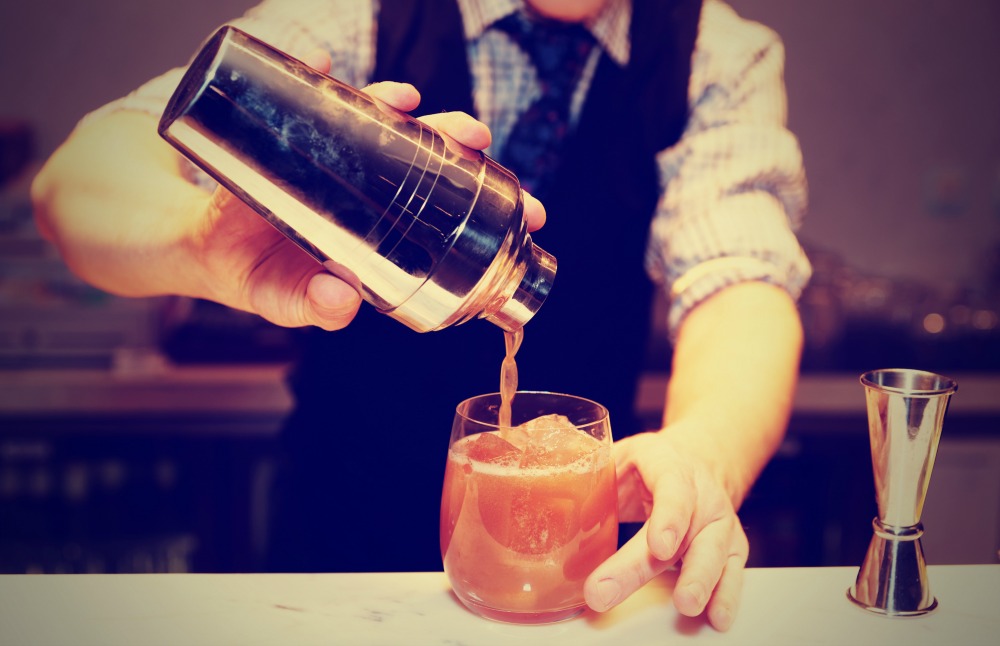 Drink:
Black Diamond Tavern
Black Diamond is the place to go for a sophisticated but relaxed and cozy bar atmosphere. The interior is classy and attractive with dark wood tones and a large stone fireplace. Happy Hour goes Sunday through Friday from 3-6 pm and there is live music each Friday and Saturday evening. Sip on classic cocktails such as a Moonshine Mule, Black Diamond Bloody Mary, or Margarita. Some Black Diamond signature must-have concoctions are Gordon's Cup (Death's Door Gin, fresh lime, simple syrup, and cucumber) and Spicy Julio (Don Julio blanco, lime juice, agave, and muddled jalapenos). If you're feeling like more of xenophile, choose something from an impressive wine list that features whites, reds, and sparkling options from all over the world and many special labels from California. And rounding out the drink selection is a large selection of draft and bottled beers predominately from the Golden State. blackdiamondtavern.com
Big Bear Lake Brewing Company
Aside from being one of the best places to eat in Big Bear, you obviously need to get yourself to this craft brewpub to quaff some delectable brews as well. Go-to flagships include the Whispering Pine IPA (medium-bodied, five hop blended then dry hopped to enhance citrus & pine flavors) and the Sidewinder Red Ale (unique blend of bold malt and light hops that produce an undertone of pineapple and citrus with pine aromas). Stand-out seasonals and limited batches feature the Golden Mine Pale Ale (two-row Munich & crystal malts, four-hop blend, dry hopped with citra) and the Ode to Winslow Chocolate Porter. The bar also features rotating guest taps, a wine list, and a full bar. Enjoy live shows on Friday and Saturday nights with some great classic rock cover bands and more. bblbc.com
AV Bar & Nightclub
Located in the center of the village at Big Bear Lake, AV is consistently a hotspot for the younger crowd that is feeling the need to let loose. This place is prepared for everything with five flat screens for watching the game, ping pong tables, beer pong tables, and VIP booths with bottle service. Live DJs are featured every Thursday through Saturday and the dance floor goes wild. The bar is fully stocked and the staff are always efficient and friendly. AV also is the venue for many special events hosted by companies such as Red Bull, Skull Candy, Neff, and Lost N Thought Entertainment. avbigbear.com
Murray's Saloon & Eatery
Murray's is a local's favorite watering hole that has been in existence for over 20 years. This bar is famous for offering karaoke seven days a week and attracting eccentric characters from all walks of life. The classic California mountain style interior has been recently renovated as well as the draught beer system. The new system offers 12 taps that feature mainly local and regional craft beers. Murray's also has an impressive list of red and white wines from California and a deep selection of cocktails and shots from the bar. Come experience a local institution that welcomes you with that classic old California vibe.
Whiskey Dave's
Whiskey Dave's is a happening dive that offers a full bar, pool tables, and live music. Legend has it that the building is still haunted by hell-raising mountain man Whiskey Dave, who was said to be killed in a fight with Lefty Dalton at the bar in 1944. The style of the interior embraces all things Western outlaw and the front of the stage is adorned with American flags. Live music lights up the stage every Friday and Saturday night and the place is known to get wild. The space also includes 16 TVs, six pool tables, foosball, and darts. whiskeydaves.com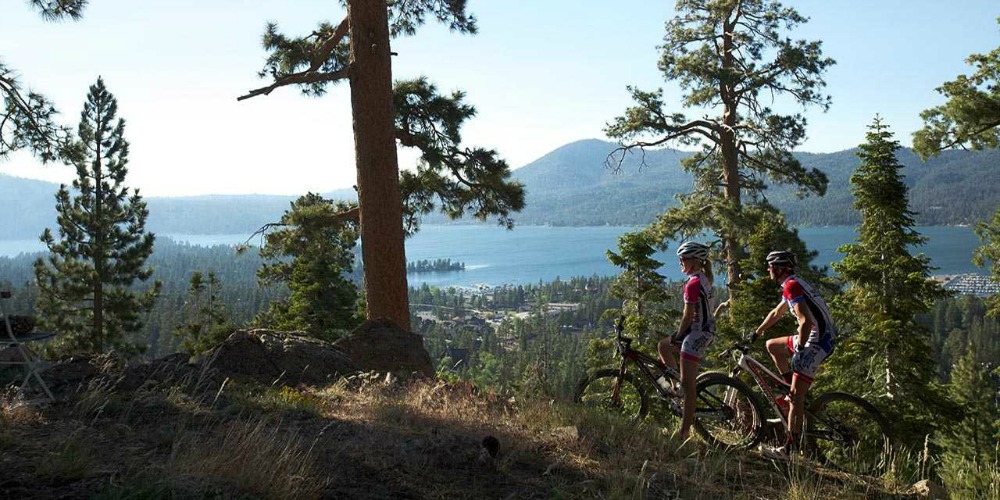 Play:
Cycling
The Big Bear region is an untapped mecca when it comes to riding on the skinny or fat tires. The Amgen Tour of California week-long stage race, soon to become a UCI Worldtour event, has helped to illuminate the fact that this area has some of the best roads to ride on in North America. If you're heading to Big Bear this May, check out Stage 6 individual time trial on May 19 that will likely decide who will be the overall winner. This helped to spark the local club Big Bear Cycling and its tagline "Come Ride With Us" which has been influential in starting the annual Tour de Big Bear granfondo happening every August. When you picture riding in Big Bear, think of constantly undulating and twisting roads with a minimal amount of traffic. Or think of relentless, lung-searing, sustained climbs such as Onyx Summit at 8,443 ft. elevation. Or think of a leisurely cruise on the gently rolling roads that circle around the sparkling blue waters of Big Bear and Baldwin lakes. Views while rolling on the roads of the Big Bear region are often shockingly spectacular. With towering peaks that are just roughly over 100 miles away from the Pacific Ocean, you will often find yourself on ribbons of tarmac with dramatic cliffs and expansive views on either side. For mountain biking, Big Bear is known for having the most single track of any destination in Southern California. A network of over 100 miles of trails that can satisfy all riders from beginner to pro has put Big Bear on the fat tire map. Snow Summit ski resort offers some exceptional single track rides for the cross country and downhill rider alike. And the dirt dries out much quicker in the spring than most high-mountain areas around the country.
Fishing
Big Bear has long been regarded as one of the best areas to fish in all of Southern California. The waters in and around Big Bear Lake are often filled with quality trout and bass. Big Bear Lake itself is home to an abundant supply of catfish, crappie, blue gill, and sunfish. The lake is known to be a great place to rent a boat and take the little ones out for their first angling excursion. Every year this 73,000 acre ft. lake is stocked with tagged fish. Big Bear also has yearly trout and bass fishing tournaments such as Aaron's Big Bear Tournament Championship Series and the Big Bear Lake October Troutfest. Want a guide to help you catch all fish you can handle? Big Bear Charter Fishing (bigbearfishing.com) has you covered with three-hour fishing trips on a pontoon boat loaded with all of the finest fishing gear. The fishing on Big Bear Lake is good spring, summer, and fall.
Skiing and Snowboarding
While not being one of the premier big-mountain destinations of the Mountain West, Big Bear offers some fun shredding at their two main resorts of Snow Summit and Bear Mountain. Big Bear Mountain Resorts manages both mountains and offers a single pass that is valid at both. The two resorts combine for 436 developed acres, 26 lifts, 4 high-speed chairs, 1,800 vertical ft. and more than 200 park features. They are also linked by a convenient free ground shuttle. Snow Summit and Big Bear both boast consistent conditions with advanced snowmaking technology and a reliable water supply. Snow Summit boasts a wide-open top face, tree runs, isolated trails, and the Family Park with mellow jumps, bumps, and rollers. Bear Mountain is generally referred to as the more advanced of the two. It features more vertical terrain, a massive terrain park with over 100 snow features, and Southern California's only superpipe.
Cross Country Skiing and Snowshoeing
The Big Bear region is certainly beautiful when covered in snow. Cross country skiing and snowshoeing both offer fulfilling ways to explore the winter wonderlands of the area and expand your soul through nature. Take the whole family and teach the little ones how to recognize animal tracks. For cross country skiing, head to Rim Nordic Ski Area. This is the only area in Southern California with machine groomed trails. Equipment rentals and skiing lessons are on offer at the park's retail shop. The snowshoeing options are more plentiful, which is almost always the case. Some snowshoeing trails worth checking out are Gray's Peak, Pine Knot, Town Trail, and Grandview Point. In February Big Bear even hosts a snowshoe race called Snowshoe the Bear. Local gym Mountain Fitness specializes in workouts that are designed to make you stronger for snowshoeing and they have weekly guided tours including moonlight ones during the middle of the week.
Boating and Water Sports
Big Bear Lake is an alpine town that features one of the best bodies of water to enjoy while on a floating vessel and/or having fun in the water itself. The fact that the town sits at the shores of this beautiful mountain lake allows for supreme ease of access and convenience. Big Bear Lake offers the whole gambit of options with paddle boarding, pontoon boating, sailing, power boating, windsurfing, sailboarding, wakeboarding, waterskiing, jet skiing, canoeing, and kayaking. 23 miles of shoreline make up the lake and several marinas are set up with everything you need from boat permits and equipment rentals. Boating and water sports can be done in spring, summer, and fall because of the usually warmer temperatures and milder weather than most mountain areas. In the summer months, Big Bear Lake is usually the number one tourist attraction. You will see boats of all different kinds and all different kinds of groups out on the water enjoying life. For wakeboarding, there is now a cable wake park that allows for tearing up the water without a boat and is said to be a great place for beginners to progress. If you enjoy the mountain lake life, Big Bear is where it's at.
Hiking
Hiking is one of the most popular ways to recreate in the Big Bear area and it's easy to understand why. Multiple trailheads with easy access points exist throughout the valley. Even the world-famous Pacific Crest Trail winds its way through the north and east ends of Big Bear Valley. Popular local trails feature the Woodland Interpretive Trail, Pine Knot, Cougar Crest, Castle Rock, and the Champion Lodgepole Trail. Check out the trails map at bigbear.com for a full layout of the hiking trails in the area. If you don't feel like climbing but still want to get a spectacular 360 degree view from the top of a mountain peak, head to Snow Summit Resort and take the chairlift up before strolling down the back side of the mountain on the glorious Skyline Trail. If peak bagging is more your thing, go on a mission and conquer Bertha Peak, Sugarloaf Mountain, Delamar Peak, Sugarlump Peak, and many others. The San Bernardino National Forest is famous for containing stunning mountain peaks that are usually not very technical to access. Amazing views of the Mojave Desert, Baldwin Lake, and Mount San Gorgonio (highest in Southern California) can be experienced. Hit the dirt in autumn and you will be treated to some stunning colors of fall foliage and the bliss of solitude in the woods. Foliage in Southern California? It happens in Big Bear.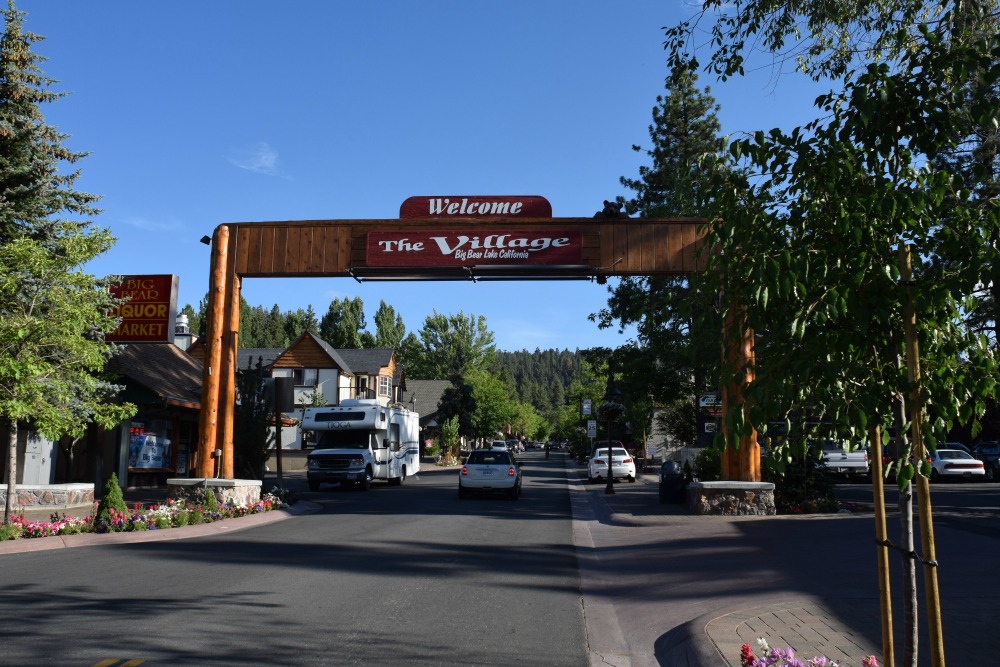 Shop:
Gold Rush Mining Adventures & Gift Emporium
This place is billed as the most unique gift shop in Big Bear. Located just off of Big Bear Boulevard in the west part of the village, come to Gold Rush for unique jewelry, dinosaur artifacts and dig kits, rare rocks, crystals, minerals, gold pans, and gold panning kits. Bring home a gift for someone of any age that is unique to the history and culture of the Big Bear region. Gold Rush also has an old fashioned sweet shop with nostalgic candies, handcrafted fudge, and sodas. Activities such as Geode breaking or Fossil panning are even on offer for those who want to harness their inner prospector, miner, or geologist.
Hunter Hall's Haberdashery
All of you ladies out there who are looking for that chic, local boutique women's clothing shop, look no further. This is where you can find everything from Victorian carpet bags to accessories, jewelry, and gifts. Hunter Hall's is well-known for its eclectic and well-rounded selection of over 50 brands. Located on Village Drive in the heart of the village at Big Bear Lake, this specialty boutique has been going strong since 1997.
Village Faire
Known to offer a little bit of everything, Village Faire is a souvenir shop, clothing store, book shop, toy store, and arts and crafts establishment all combined. One noteworthy piece of knowledge: this place has the best homemade beef jerky you're likely to ever taste. A whopping 20 local vendors and artists feature their goods and works at Village Faire as well. The setting is very friendly and the decorum is signature turn-of-the-century California mountain style. Come to the Village Faire for that unique shopping experience that only a quirky mountain town can offer.
Stupididiotic Factory Outlet
As you can tell by the name, this place definitely doesn't take things too seriously. They pride themselves on being an edgy version of Shaper Image and claim that they sell everything you want but don't need. The ever-changing collection of items are always goofy and unique. Think of everything from gag gifts to a fleece blanket with sleeves. Get anything from games like Cards Against Humanity to grappling hooks and mop slippers. This is the kind of novelty store with hilarious and rare items that you have to visit.
Wings Jewelry and Gifts
Locals and visitors alike call Wings one of the best jewelry stores they've ever had the privilege of visiting. This shop specializes in engagement and wedding rings and creates its own unique designs. "Born in the mountains, inspired by nature, built on experience" is the mantra at Wings. This is a family-run business started by the owner's father in 1983. The belief in working with each customer to create something completely original and unique is absolutely paramount.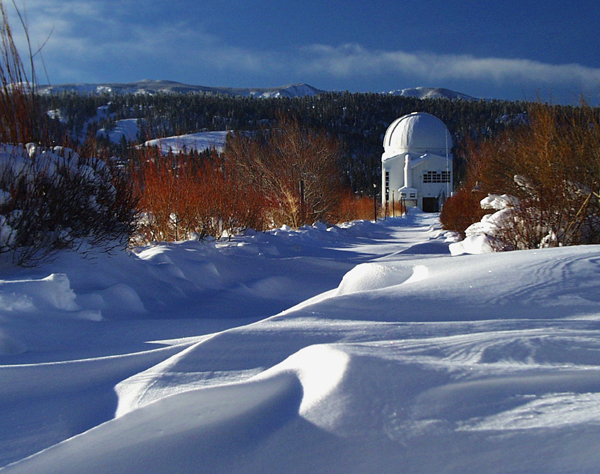 Do:
The Cave
This is an intimate and state-of-the-art concert hall that gives you a great entertainment experience no matter where you are sitting. The Cave features live music, comedy, and theatrical performances every weekend all year round. The lineup is often predominately filled with great cover bands who offer excellent renditions of classics from artists such as Led Zeppelin, Eric Clapton, Sublime, Bob Seger, Pink Floyd, and more. The Cave also has presents works from local artists every Wednesday night and live music from local musicians every Friday night.
Massage and Spa         
Why not get pampered? You're on vacation after all. Big Bear has several spa locations of the highest quality where you can truly live like royalty for a day. Every type of pampering is available with Swedish massage, acupressure/shiatsu, foot reflexology, deep tissue massage, and aromatherapy body wraps all on the menu. Mountain Mobile Massage & Spa will even come to wherever you are staying. They have been ranked Best Massage in Big Bear for the last 15 years. Altitudes Massage is located mountainside and is said to offer the most eclectic collection of modalities, highly-knowledgeable therapists, and an amazing amount of care and attention.
Big Bear Alpine Zoo
Featuring a very impressive collection of over 160 different animals representing 80 species, this zoo is the place to go to see the amazing creatures of the San Bernardino National Forest and beyond up close. Premier residents include a family of grizzly bears, a 3-legged bear named Huckleberry, mountain lions, wood bison, black bears, a pack of wolves, and a ringtail cat. Be sure to check out the reptile room and bald eagles exhibit. There is an "animal of the day" presentation every day at noon. The Big Bear Alpine Zoo is a must-do for families, friends, and people of all ages.
Big Bear Solar Observatory
This striking structure is located on the northern edge of Big Bear Lake. The technologies and instruments here are specifically used for studying the phenomena of our solar system's sun. Free public tours are being offered twice a month starting this spring. The observatory was constructed in 1969 and utilizes the optimal location of being on a large body of water and having a remarkably clear sky. Originally, three solar telescopes were operated until a larger, ventilated dome was constructed and the smaller two telescopes were removed. The current telescope in use is one of the largest clear aperture solar telescopes in the world. This is the place to go if you are intrigued by astronomy and want to learn about the subject in a beautiful location at a remarkable facility.
Helicopter Big Bear
How can you make witnessing a spectacular mountain landscape even more spectacular? Hop into a chopper and get a completely new perspective on the every-changing terrain of the Big Bear region. Helicopter Big Bear is the place to go for this exhilarating, one-of-a-kind experience. They offer a variety of tour options with ten different flights with flight times running from 7 to 45 minutes of flying time. Get a bird's eye view of the Mojave Desert, San Gorgonio mountain range, and the Santa Ana canyon. Deals and discounts for families are always on offer. Book your helicopter ride with Helicopter Big Bear and check another item off that bucket list.