One of Sun Valley, Idaho's time-honored events returned to Sun Valley this spring, complete with the costumes, races, and of course, the party! The Janss Pro-Am Classic was founded in 1998 as a tribute to Bill Janss and continues to celebrate his unrelenting commitment to Sun Valley's junior racing programs and the broader winter sports community. Under sunshine and bluebird skies, the 23rd rendition of the three-day "best party on snow" lived up to its name while raising scholarship funds to support athletes in the Sun Valley Ski Education Foundation's skiing and snowboarding programs.
"After two long years of reflection, adaptation, and planning, it was an inspired return of our iconic Janss Pro-Am," said SVSEF Executive Director, Scott McGrew. "By hosting a variety of new venues, and highlighting our unique culture and history with each and every aspect of the event, we were able to create a truly authentic and memorable experience for our friends and supporters. The event was a magnificent success for our programs, our kids, and our community of mountain lovers."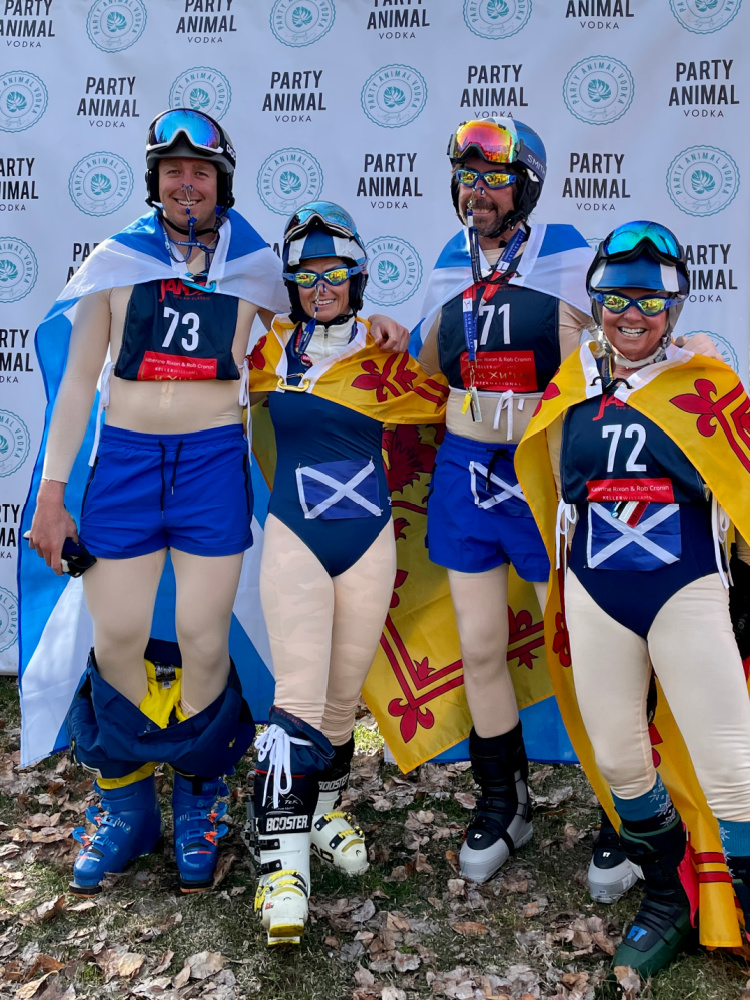 The warm-up to the weekend was the welcome reception at Michel's Christiania restaurant, where 14 teams met their pros and the first of many costume changes were unveiled in accordance with this year's theme, "Elite Average Games." Teams were encouraged to pick a country, pick a sport, and/or in their own unique way, represent the spirit of the "games." From the American Downhillers, Antarctica Synchronized Swimming Team, and Blades of Glory, to the Australian Surf Team, Norwegian Biathlon, Original Olympians, and Sun Valley Ski Patrol (as themselves)—the teams were set to compete in more than just a ski race.
Six different games of skill and hilarity were thrown in the mix over the course of the three days, where teams earned points going head-to-head in contests involving rigatoni noodles and skewers (Noodling Around), pedometers (Shake What Your Momma Gave Ya), ping pong balls (Tilt A Cup), slinkies (Pink Elephant), and the proverbial attempt to put portable sunshade tents back in their case (This Is In-Tents).
Good times and great food included a private fondue lunch at the Roundhouse mid-mountain, an après ski party sponsored by Sturtevants of Sun Valley at Apple's Bar & Grill, a BBQ lunch sponsored by PK's Ski & Sports, and a gala dinner with dancing and live music by local favorites The Pisten Bullys. Handicapping runs for the Janss marquis dual giant slalom ski race took place on Friday in the lead up to the finals on Saturday, with fierce competition announced over the PA by NBC commentator and former U.S. Ski Team member, Steve Porino alongside McGrew.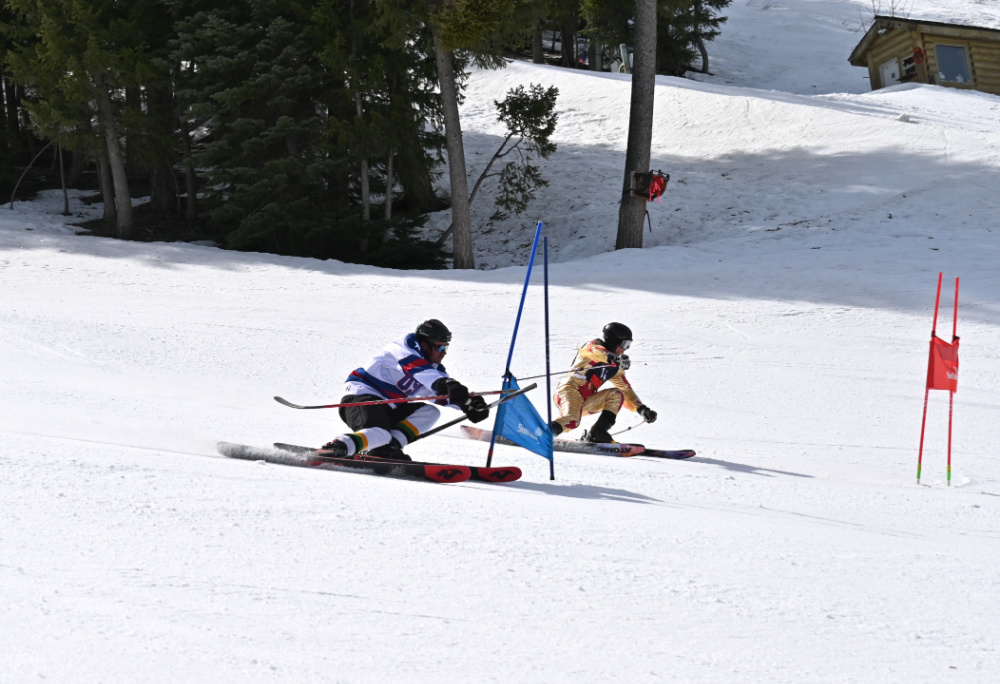 The pros led the charge for their teams and their backgrounds ran the gamut from Olympic-level, collegiate, and current U.S. Ski Team ski racers, to a world champion water skier, former pro mogul skiers, with several SVSEF Alumni amongst the group. Amber Acker-Sanborn, Will Brandenburg, Miles Fink-Debray, Michael Desler, Charlotte Gourlay, DJ Hart, Mike Hattrup, Sean Higgins, Bob LaPoint, Wes Powell, Erika Rixon, Jack Smith, James Tautkus (Taco), and John Zuck laid it all on the line for their teams both socially and athletically in the quest to take home this year's Janss Pro-Am Classic awards, presented at the final gala event.
A special appearance at the gala by Olympic gold medalist and SVSEF Alum, Picabo Street, brought the event full circle to its purpose: raising money for SVSEF scholarship funds that support many of the 850-plus athletes taking part in skiing and snowboarding from the grass roots to the grand stage. Street shared her story of growing up in the mining village of Triumph and the generosity and opportunity through SVSEF that drove her to success as a ski racer. More than $360,000 in financial aid has been distributed this season to athletes in SVSEF programs thanks to generous donors and the commitment our community displays through events like the Janss.
In this 56th year of the Sun Valley Ski Education Foundation, SVSEF cheered on six Olympians and Paralympians in the 2022 Beijing Olympic Games and celebrated nine athletes as members of U.S. National Teams for the 2021/22 season. In part through the generosity and the proceeds generated during the Janss Pro-Am Classic, SVSEF can continue to raise the bar and help guide kids to success in all facets of life including sport, family, work, and community.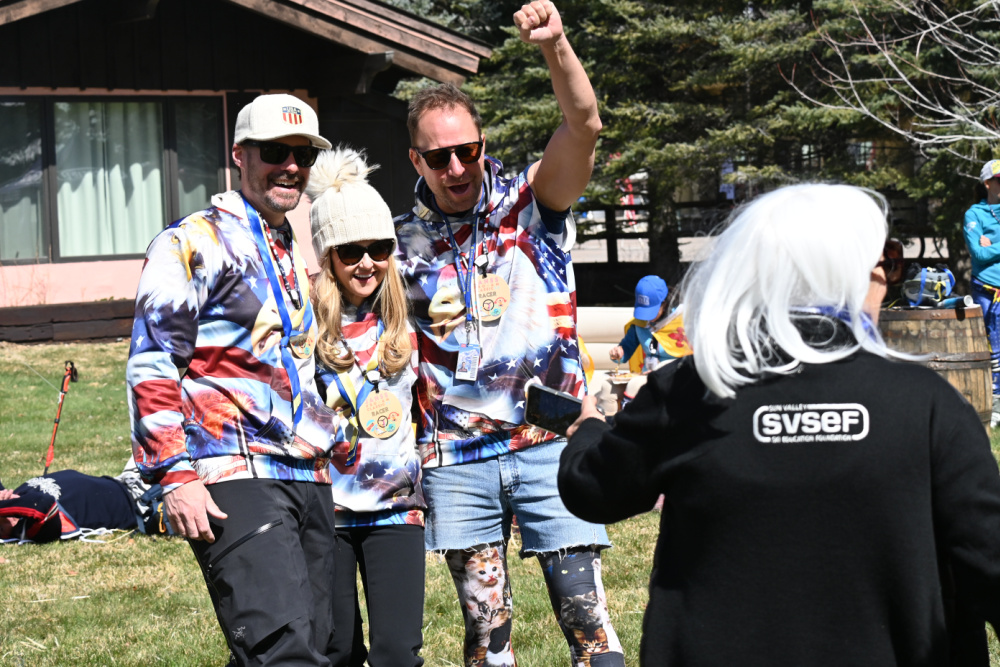 2022 Janss Pro-Am Classic Awards
Speed Cup – Dream Team – Miles Fink-Debray (Pro), Ben Erichson, Wes Fluechaus, Mark Masur, Carl Rixon, Ben Selznick
1st Place Team – Olympic Spirit – Charlotte Gourlay (Pro), Janet Appleton, Liz Brown, Julie Daniels West, Paige Lethbridge, Christy Luby Johnson
2nd Place Team – Original Olympians – Wes Powell (Pro), James Fisher, Mike Gilman, Tor Jensen, Josiah Rosser, Bill Shaw
3rd Place Team – Australian Surf Team – Erika Rixon (Pro), Jordan Fitzgerald, Laurel Holland, Buffalo Rixon, Katherine Rixon, Matt Walker
Spirit Award – Bill Cimino
Best Crash – Tie between Taco and Wes Powell
Best Costumes – Scottish Synchronized Swim Team – Jack Smith (Pro), Dell-Ann Benson, Tom Benson, Heather Black, Betsy Service, David Service
Most Elite-ly Average – Team 'Merica – Amber Acker-Sanborn (Pro), Mark Acker, Randy Acker, Travis Jones, Reid Sanborn, Ryder Sanborn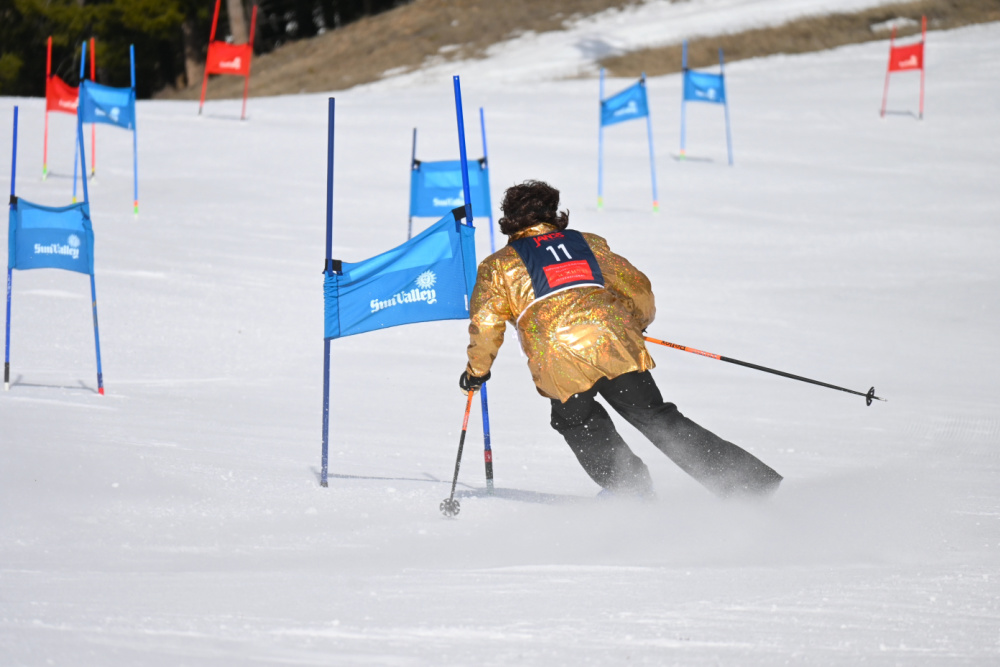 More about Sun Valley Ski Education Foundation:
Since its inception in 1966, the Sun Valley Ski Education Foundation has been a longstanding pillar in the community, providing snowsport programs and offering academic assistance to support student-athletes in reaching their highest potential. SVSEF offers an array of programs for athletes ages five and up, and no experience is necessary to join. The organization offers financial assistance to families, so that anyone who wishes to may participate. For more info head to svsef.org