Being an amazing skier isn't just about the lines you take or how you carve your turns. Being an amazing mountain biker isn't just about the difficulty of the trails or the speed you race down the mountain. For those that are deeply embedded in outdoor athletics, they know that to be an elite in these extreme sports—or at least prepared for whatever the trails throw your way—you need to have the proper eyewear that provides both protection for your eyes and additive style. While there may be some options for stylish adventure glasses out there, they come with a hefty price tag. This is the issue that Chris Jensen found when his son, Grady who was 11 at the time, found a pair of glasses for his mountain biking adventures. While the glasses had style, they came with a two hundred dollar price tag. Chris, a successful digital marketer, knew that this price is often a result of mark-ups, not necessarily production costs. Discovering this gap in the market, Chris and Grady created DAS Optics, a glasses company based in Drigg, Idaho, that exists in the elusive overlap of style, affordability, and supporting a good cause.  
What makes DAS optics notable, isn't just their product mix, but that this company is fueled by a father and son team and their excitement for this product. The joy that Chris and Grady get from this endeavor is clear. When asked about the more numerical aspect of the company, Chris chuckled, noting that this endeavor is really more about having fun and enjoying the process, their own measurement of profit. Beyond a fun activity for father and son, DAS optics donates ten dollars to consumer-chosen philanthropies with each purchase. To Chris and Grady, it was important that supporting worthy causes was substantial. Chris's list of checks they have written shows their consumer's wide range of interests. From animal shelters, food banks, and ski education foundations, these philanthropies receive a handwritten note from Grady, explaining the initiative with DAS optics. "Our goal with this is to hopefully create relationships with these organizations where they help promote our glasses and we donate back to them" says Chris.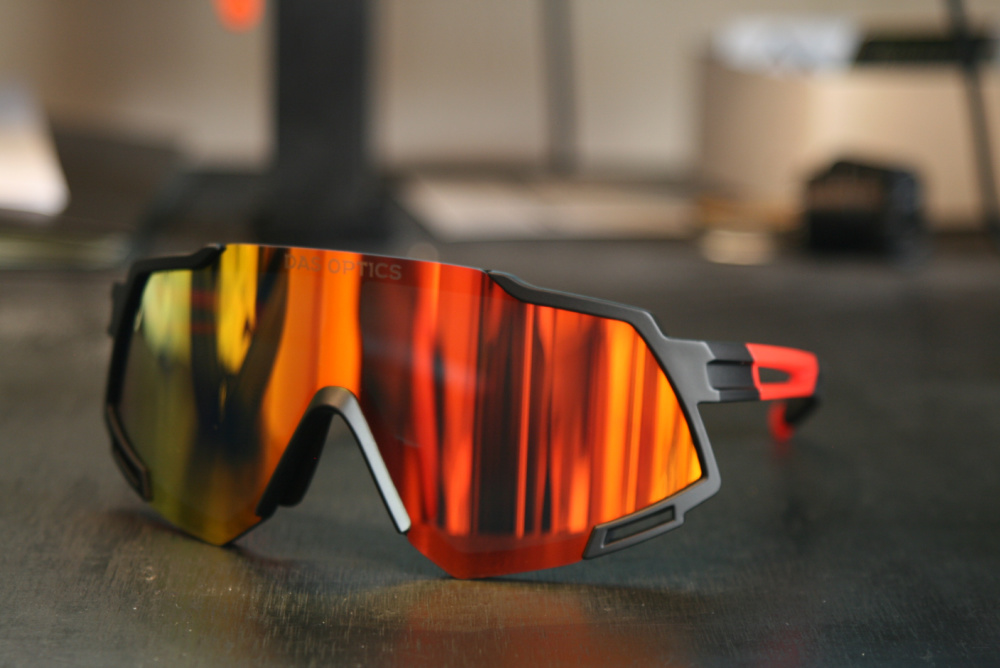 To choose the styles, Chris looks to Grady. After perusing through the manufacturer's available styles and ordering samples of their favorite, Grady and his friends test drive the glasses to make sure that they are a perfect fit for their adventurous target consumer. In addition, the Jensens know how important it is to listen to their customers, often crowdsourcing styles on the suggestions of friends. While in their early days, their main customer base was their friend group in Driggs, their consumer base has now extended far. Chris noted that on a recent trip to Sun Valley, Idaho, they saw a whole group of young boys sporting DAS optics. This is thanks to, for one, their presence at the Wydaho Rendezvous, a Teton Valley bike festival. This festival attracts biking enthusiasts from around the country and has booths with various biking gear, providing the perfect sales opportunity for Chris and Grady. While Chris's speciality is online sales, he loves seeing Grady thrive at events like Wydaho. Chris notes that at these events, Grady is off making friends with other founders and even bartering glasses for other cool biking gear.  
Even for some adults, having to be a big personality for a brand can be intimidating, Grady is unphased. This is due, largely, to his other side hustle, DJing. Chris, also a DJ, told me that his DJing gigs helped prepare him to be outgoing, something that has been essential for DAS optics. Beyond Chris and Grady, the entire Jensen family has a heavy hand in the business. DAS optics is even named after the Jensen's adorable lab and their favorite ski run in Grand Targhee, DAS Boat. This business has been incredibly fruitful– creating a fun family experience, donating to numerous important causes, and giving all that love the outdoors an affordable place for glasses. As for the future of DAS optics, it will always be about having fun and giving back. That said, Grady might also have his eye on a snowmobile that he'd like to buy.  
LOOK COOL + GIVE BACK