Since way back in the days of the Lewis and Clark Expedition and the Oregon Trail, the city of St. Louis, MO has existed as the official gateway to the West and the staging grounds for adventure. The fire of the independent spirit and passion for exploration still burns brightly in the souls of the area's locals to this day. And with any adventure, the need for skillfully-crafted, reliable, durable, and comfortable gear is undeniably important. This principal definitely applies to clothing with the add-on of style, naturally.
The good folks at DKOTA Grizzly, transitioned from brandname spelling Dakota Grizzly as of fall 2021, know and embody all of the above extremely well. They weren't born craftsmen, but they were born explorers. It's their unwavering independent spirit, akin with the spirit of St. Louis and the American Heartland, that sparked a passion to produce premium and durable men's apparel that looks damn sharp at the same time. DKOTA Grizzly is a multigenerational brand built from decades of tried-and-true methods of laying, cutting, stitching, and marking. Their DNA can be traced back to the earliest days of garment manufacturing, when time and quality were valued over everything else. They also like to sweat the small things. Distinctive features such as triple-needle stitching, embossed leather logos, and microsuede trim accents help create a style that is unique to DKOTA Grizzly.
It's also a style that we here at BigLife unanimously agree is fully at home in towns around the Mountain West. And it doesn't matter what the age of the wearer is. It works for the young, old, and in between. We were lucky enough to recently get our hands on a few of the choicest pieces of clothing in the DG lineup. Read on to hear what we think so far.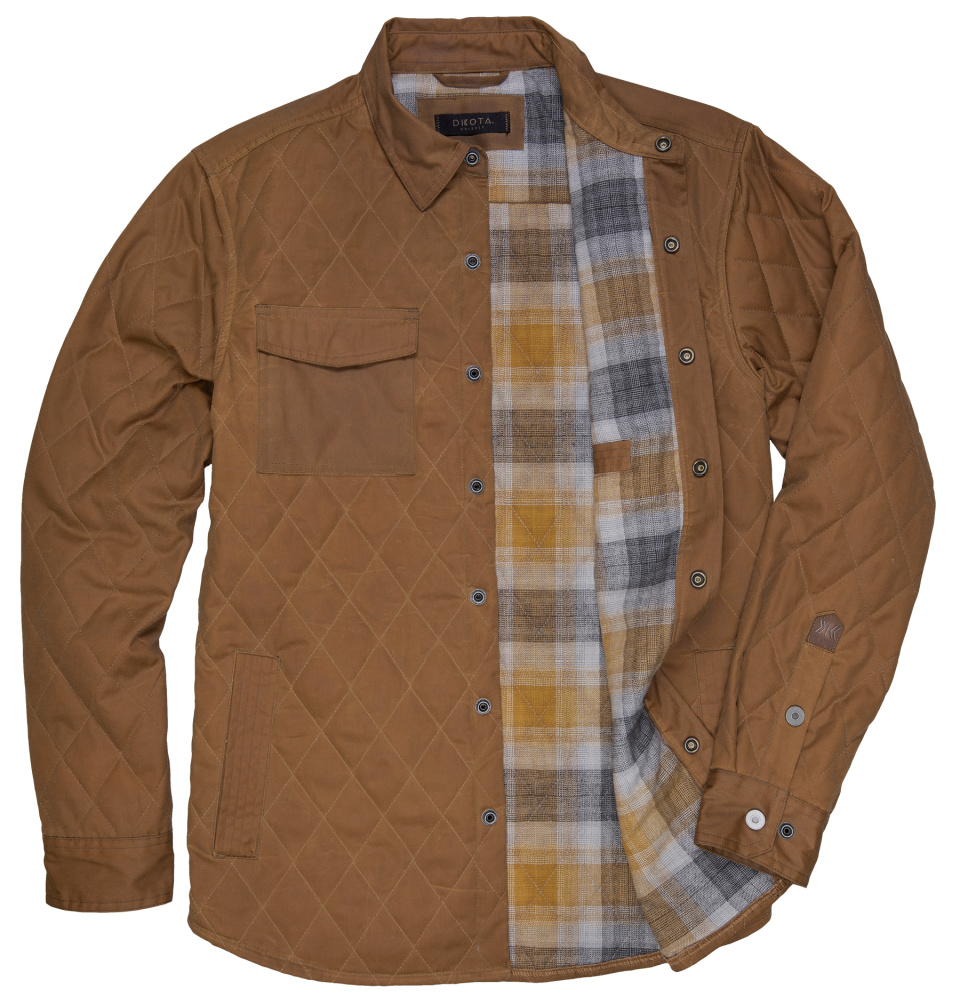 Drager Shirt Jacket
Alright, this might sound over-the-top and somewhat absurd, but when you first pull on the Drager it's sometimes difficult to not feel like you are THE MAN. It just seems to give you a little bit more swagger in an understated way. If you're a fan of the Yellowstone series you may find yourself channeling Casey or John Dutton (depending on your age) with this thing on. Easily a mountain town staple, it can be worn to a classy restaurant, the office, the bar, or out on a ranch. The Drager originally debuted as part of DKOTA Grizzly's fall line, but it's perfect as a mid-weight jacket or layer during the volatile spring weather we've been having here lately in the southern Idaho mountains.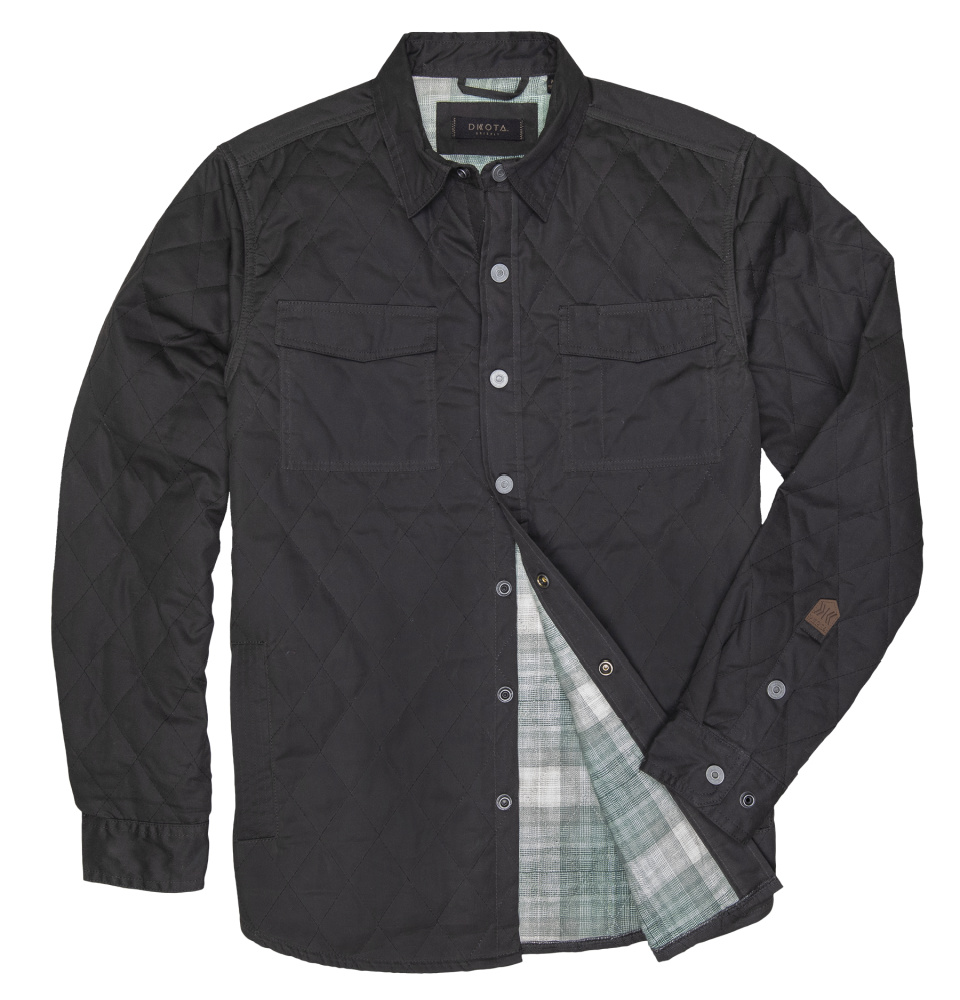 This piece's versatility starts with the material of the shell. The stylish diamond-stitched outer is made with quilted water-resistant, waxed cotton. When exposed to light rain or wet snow, this thing hangs in there surprisingly well without getting soaked through. The interior of the Drager offers the utmost in comfort. Plush quilted flannel makes up the body portion of the lining and provides ample warmth. Smooth nylon is provided for the inside of the sleeves for excellent ease of movement.
As for the signature distinctive and subtle details that DKOTA Grizzly is known for, the Drager features shell casing style snap button closures, two snap button outer chest pockets, and one inner side pocket. Subtle and sharp looking leather logo patches at the end of the left sleeve buttons and back of the neck round out the package.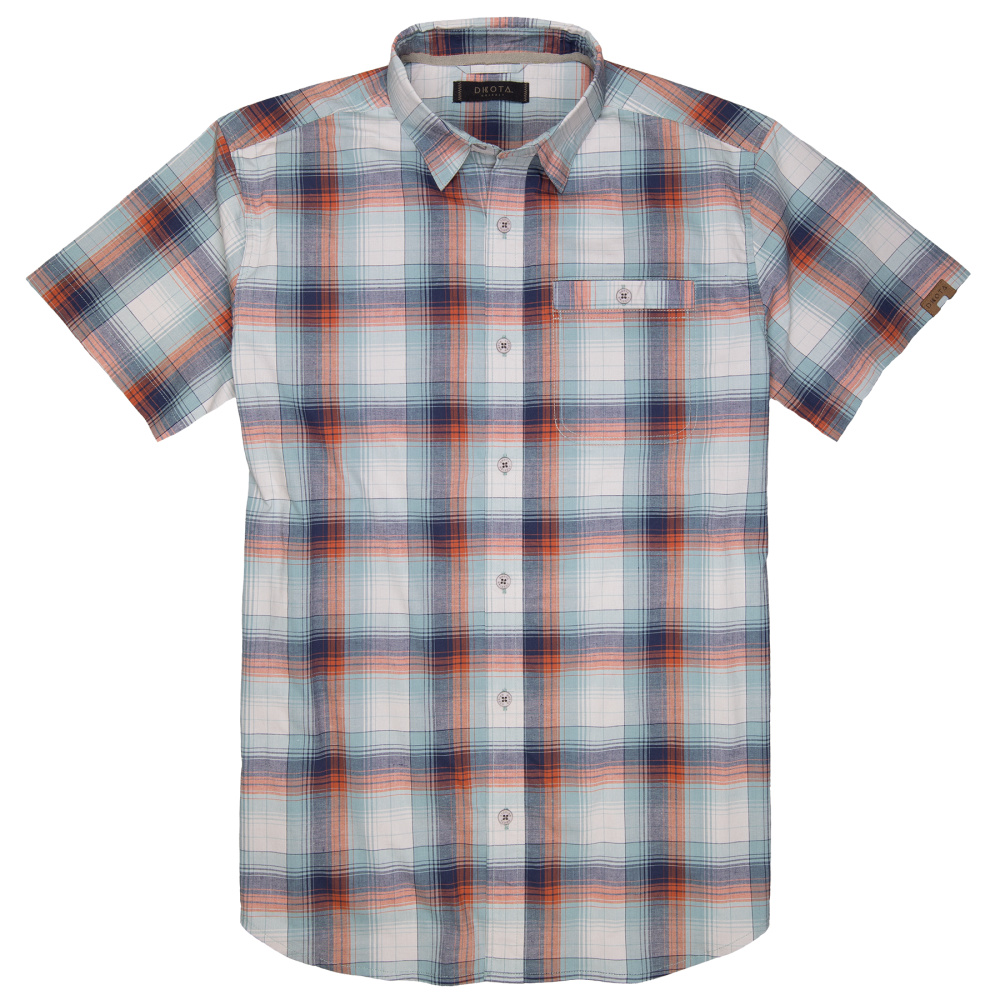 Ajax Shirt
With spring going strong and summer just around the corner, we once again find ourselves looking for another go-to short-sleeved shirt that works in any situation we throw at it. Enter the Ajax. What are the first words that come to mind with this one? Timeless. Tailored. Technical. Tough. True. Alliteration aside, we can confidently say that the Ajax embodies each of these qualities in equal measure.
The Ajax has a fabric content of 97% cotton and 3% spandex. What exactly does this mean? It means that this shirt is lightweight and stretchy in all the right places. DKOTA Grizzly co-owner Rob Rosenblum puts their approach to stretch in spring shirts into perspective by knowing what we're all looking for, "Stretch isn't new to the outdoor industry of course, and it's more important than ever across our Spring 22 line. Our customers expect it to some degree." This puts spring and summer activities such as hiking, rowing, and climbing right in its wheelhouse. That's right. The Ajax is a short-sleeved, collared shirt that you can literally wear on the river all day and then wear to a nice dinner out at a gourmet restaurant. But you might want to at least take a shower, wash the shirt, or both, before dinner.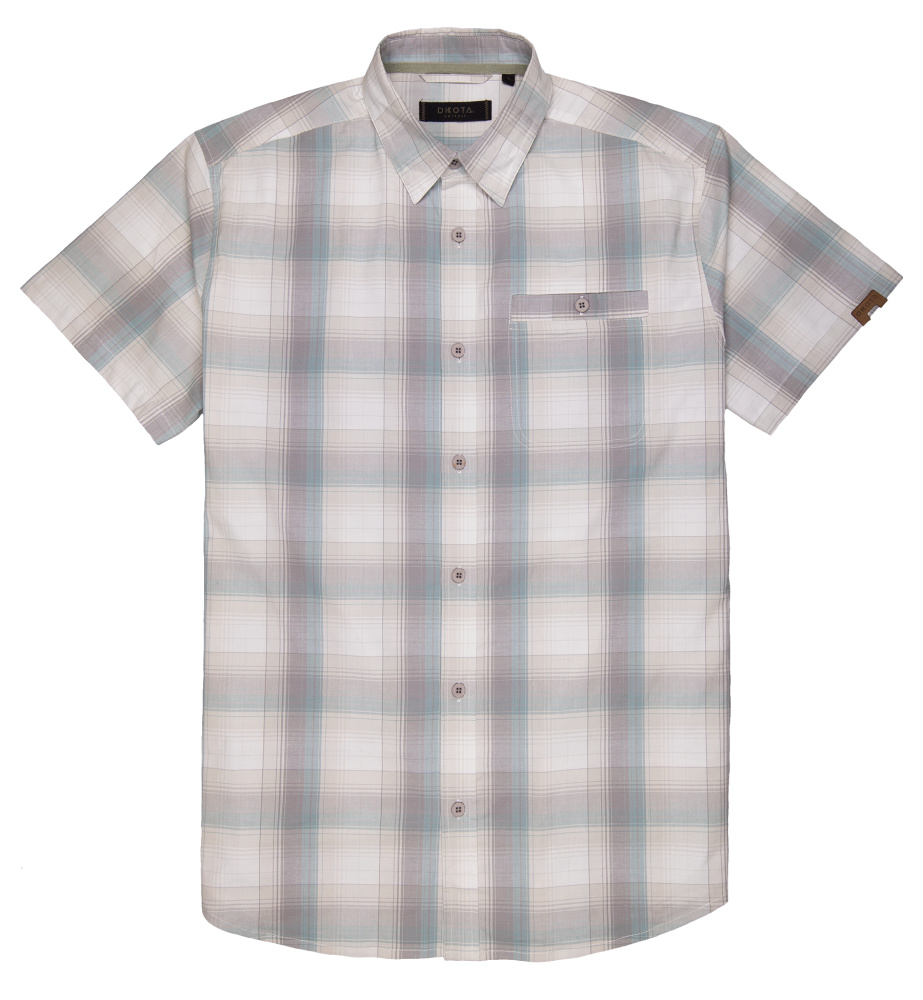 Here at BigLife, we often get annoyed by high-quality collared shirts that just don't fit well. At 6'4", 180 lbs., one of our testers has often lamented the case of buying a nice button-down only to find that the sleeves are too short, the fit is boxy, and the tail of the shirt flairs out creating the dreaded "tent" effect. We are pleased to report that the Ajax has none of these problems. The perfect fit combo of relaxed and sleek is what the wearer gets with this one. For practicality, this piece also comes with a buttoned chest pocket. For DKOTA Grizzly's signature small details, the Ajax boasts buttons with a laser edged side logo and an embossed leather DKOTA sleeve clip.
DKOTA Grizzly's RSVP Program and Relationship with its Retailers
Originally launched in 2017, DKOTA Grizzly's RSVP revenue-sharing program was developed as a way to support independent retailers. The RSVP program identifies for every online sale shipped in North America, the qualifying retailers will share in the profit of the order sold.
"Those first checks for 2017 weren't big. They were a small down payment on a big promise we made to our independent retailers, a promise to make their storefronts the center of our universe as we built DKOTA Grizzly together. We could have never imagined the scenario playing out today," says Rob Rosenblum. "Many of our retailers have built their businesses for decades and are multigenerational, just like DKOTA Grizzly."
Fasting forward to today, DG still believes in supporting the retail experience over online sales, but naturally they are willing to be flexible with these uncertain times. This is how Rob puts it:
DKOTA Grizzly learned early on that our customers like to discover the brand at their favorite outdoor retailer and appreciate the expertise of their sales staff. The same customer may hop online to learn more about the brand. DKOTA tells its story there in support of the retailer. And while we will from time-to-time offer product online, we put our retailers at the center of our universe. In fact we feature retailers several times on the site each year. Last fall we allocated 100% of our in season inventory to our retailers. Our site was closed for consumer purchases as it is this spring until stores receive their orders.